Vegan Shortbread
Posted on - Last updated: This post may contain affiliate links
These vegan shortbread biscuits are sweet, crumbly and taste authentically Scottish! With just 5 ingredients, this is a fool proof dairy-free recipe that's perfect for novice bakers or little helpers!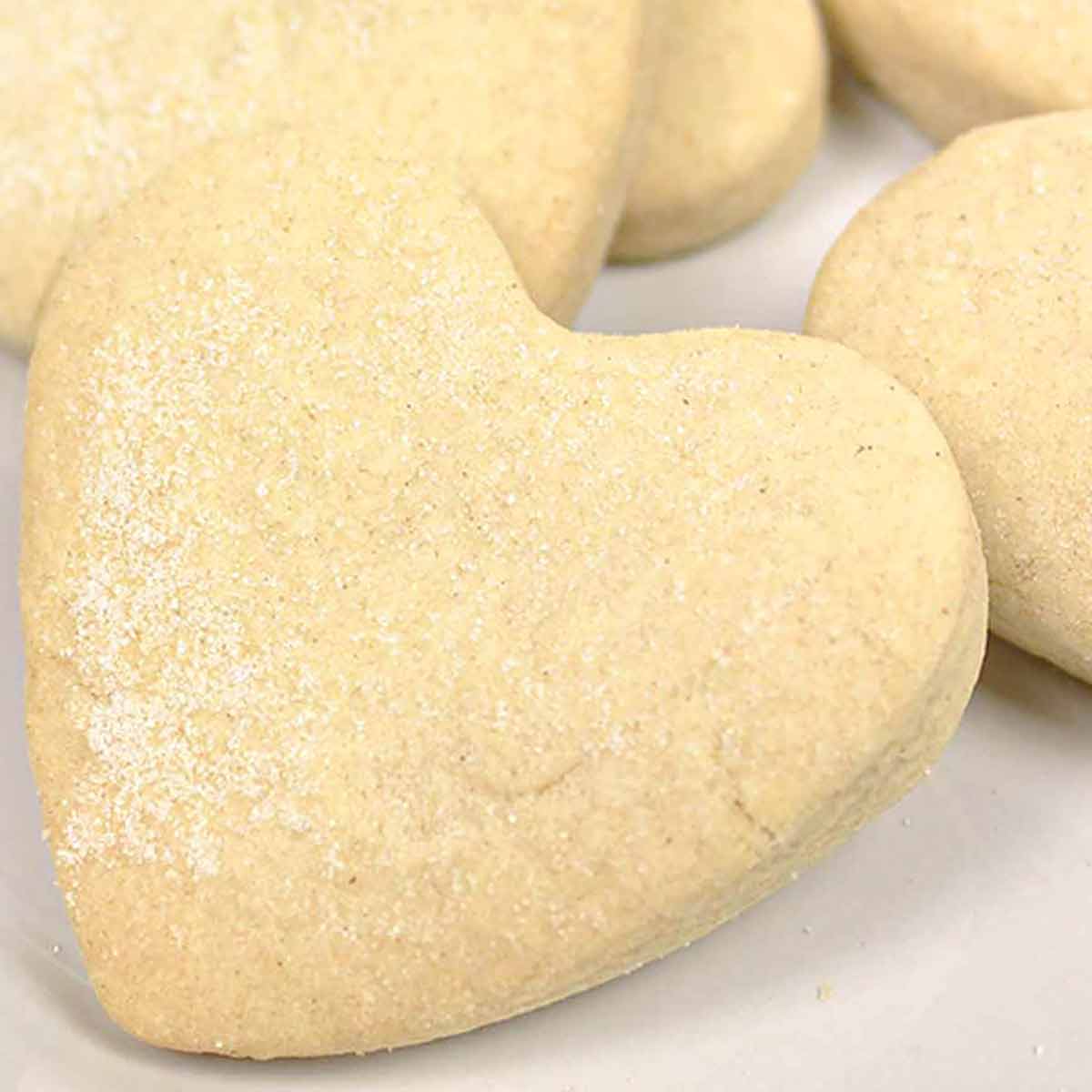 Shortbread. I love the stuff.
Being Scottish, it's been a staple in households across the country for as long as I can remember. Particularly around Christmas time.
My family and I used to give and receive boxes of Paterson's shortbread each year. So to this day, it always feels like a festive treat, no matter what time of the year it is!
I created this vegan shortbread biscuits recipe a while ago but with Burns night having just passed here in Scotland, I thought it would be the perfect time to update this post and photos!
A dairy-free twist on the Scottish shortbread biscuit
In case you haven't figured it out yet, shortbread is a traditionally Scottish biscuit/cookie. It's typically made up of flour, sugar and lots of butter. But of course, this is a recipe for vegan shortbread, so I had to change it up a little bit.
Shortbread is traditionally made without eggs so that wasn't an issue. And thanks to the genius invention of vegan margarine, it wasn't hard at all to create dairy-free shortbread.
I did consider using coconut oil instead, but it tends to make dough a lot harder to work with and also lacks that buttery flavour that shortbread is so well known for.
More Scottish Vegan Desserts:
Before posting this recipe, I thought that it was the first time I'd ever made shortbread. That is, until I remembered the time that I found my gran's "Microwave Recipes" cookbook when I was 12.
I attempted to make shortbread IN THE MICROWAVE, without any adult supervision, and what a shocker… the whole thing failed miserably. It ended up completely burnt and glued to the dish.
In fact, it burned so badly that the dish also had to be disposed of. My cousin still likes to make fun of me for that and bring it up at every opportunity…over a decade later.
Good times.
Luckily for you (and my kitchenware), this attempt was much more successful. This time I actually used a recipe that I found in my granny's old-school (non-microwave) recipe book as a rough guide. The book is missing lots of pages including the cover but dates way back to 1950. How cool!
How To Make Vegan Shortbread Biscuits
As well as switching out dairy butter for dairy-free margarine, I took out some of the flour and switched it for cornflour. This makes it much crumblier and more shortbread-like!
The end result is a bunch of beautiful dairy-free shortbread biscuits that taste just like the traditional version. What a treat!
Step 1:
Preheat your oven to 170°C / 340°F and line a baking tray with parchment paper.
Step 2:
In a large bowl, mix together 100g (½ a cup) of caster/superfine sugar, 200g (¾ cup) of dairy-free margarine and 1 teaspoon of vanilla extract. Mix until everything is well combined.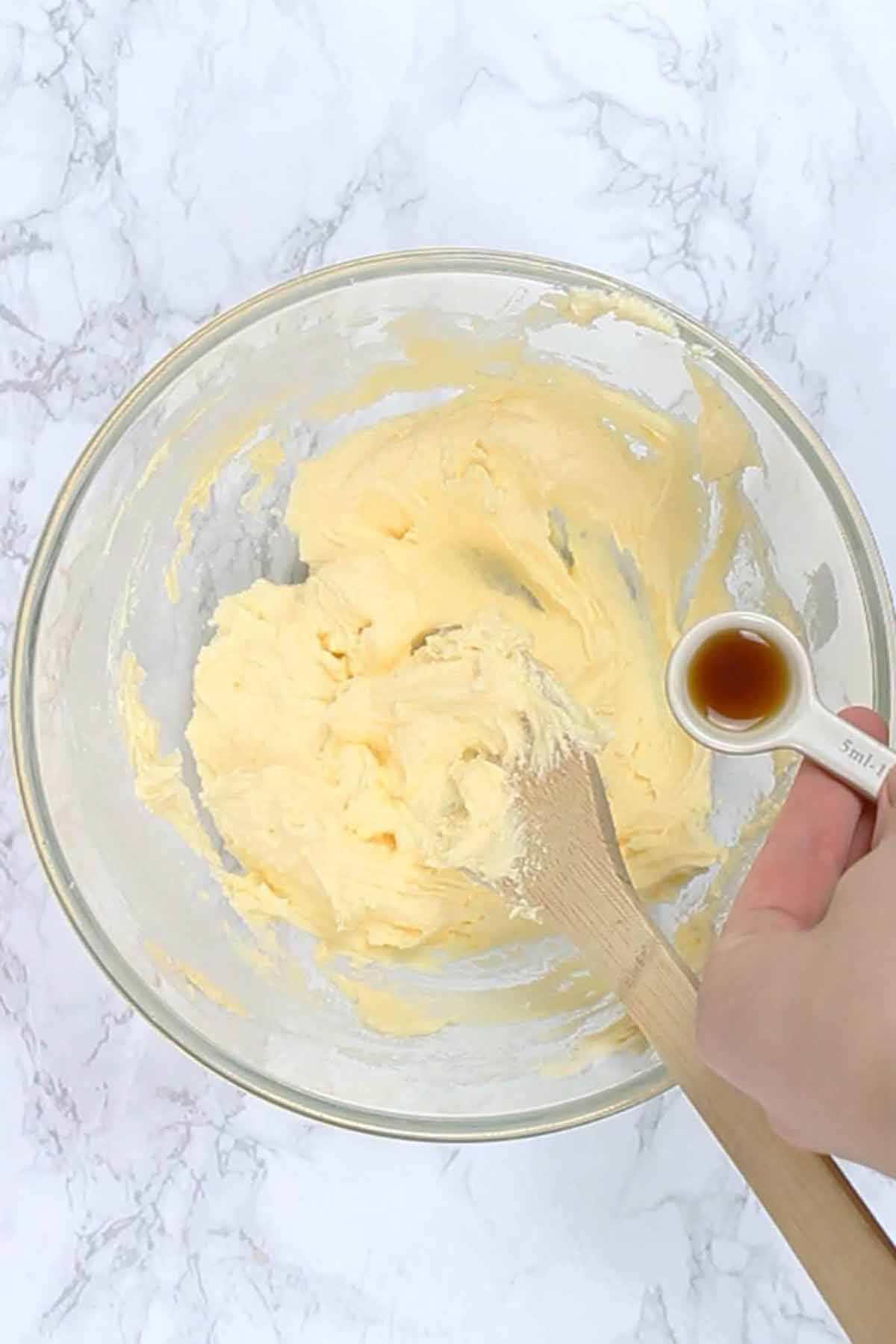 Step 3:
Next, add 280g of all-purpose flour (2 cups + 1 tablespoon), and 2 tablespoons of cornflour (also known as corn starch). Mix it into the margarine mixture until it starts to stick together, then use your (clean) hands to form a dough.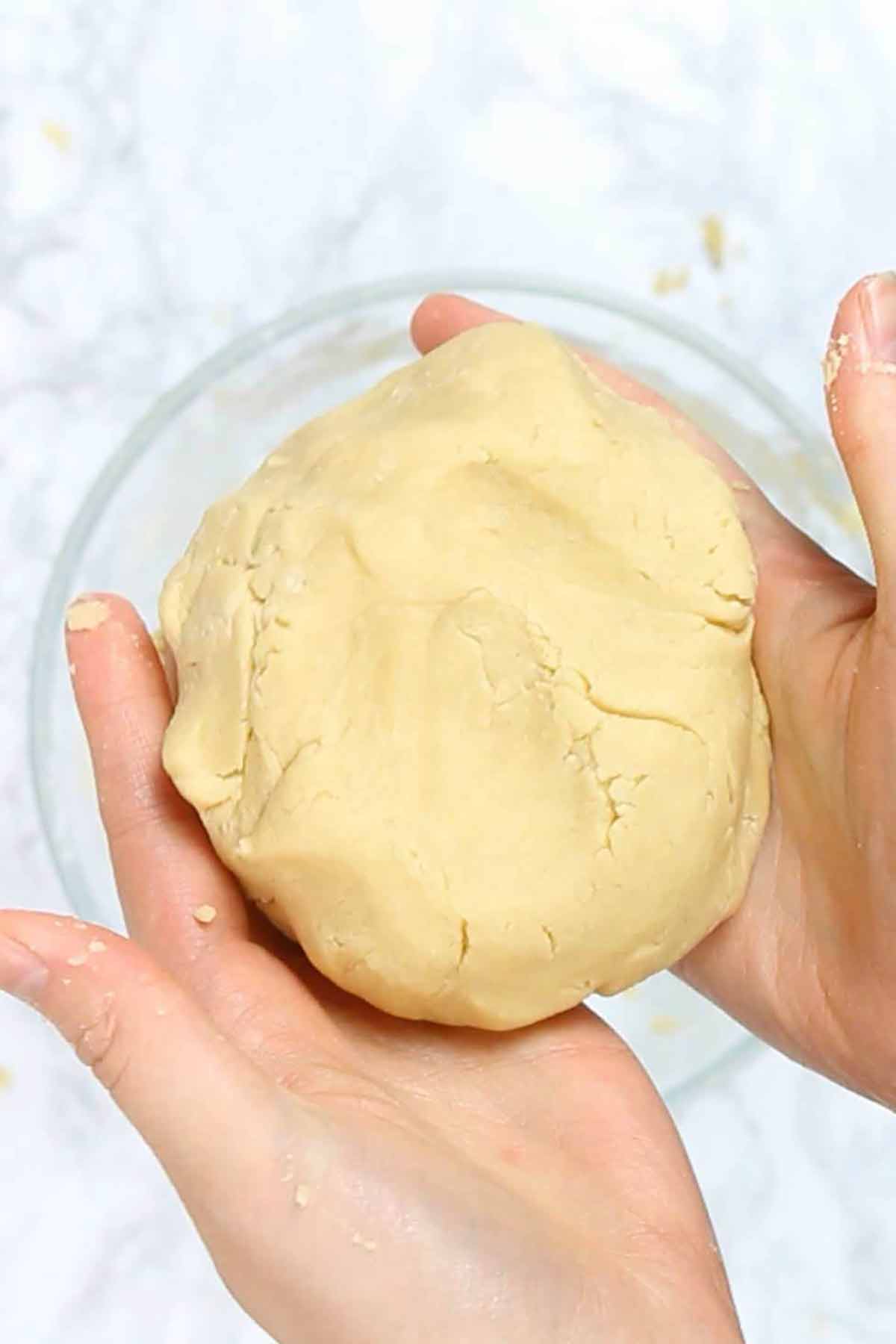 Step 4:
Place the dough into the fridge for 30 minutes.
This will give it time to bind together and allow the vegan margarine to firm up, making it easier to roll out. It also helps the shortbread to hold its shape better as it bakes.
Step 5:
After the dough has been chilled, gently knead it to get rid of any cracks then roll it out onto a floured surface.
Note that I have only tested this recipe in grams, so my cup measurements are a rough estimate. If you find that the dough is too sticky to roll out (on a floured surface), simply add more flour until you can roll it out nicely. If it's too dry, add a little more vegan margarine, 1 teaspoon at a time until you get the desired consistency.
Step 6:
Roll the dough out until it's around 1/2 an inch thick.
To cut out your shortbread, you can either use a cookie cutter for circular shaped shortbread or use a knife to cut it into equal-sized fingers.
They taste the same either way so it's down to your personal preference!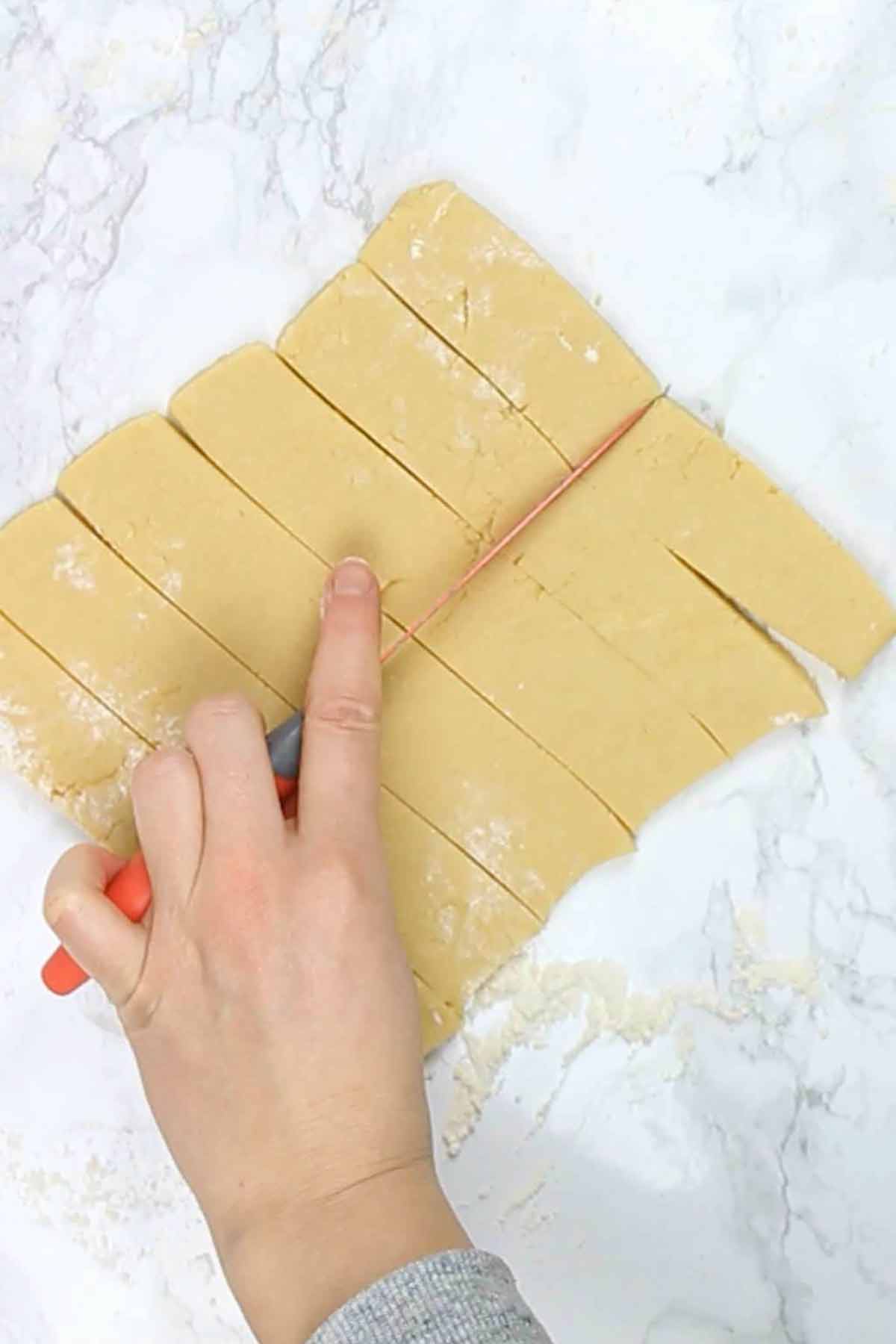 Step 7:
Place your shortbread onto the lined baking tray then use a fork to dock each one.
If you don't know what docking is, it simply means to pierce little holes into the dough. Typically, this helps the heat to escape during baking, preventing the shortbread from becoming soggy in the middle!
It isn't essential for this recipe but I'd recommend it if you're making shortbread fingers as it makes them look more authentic!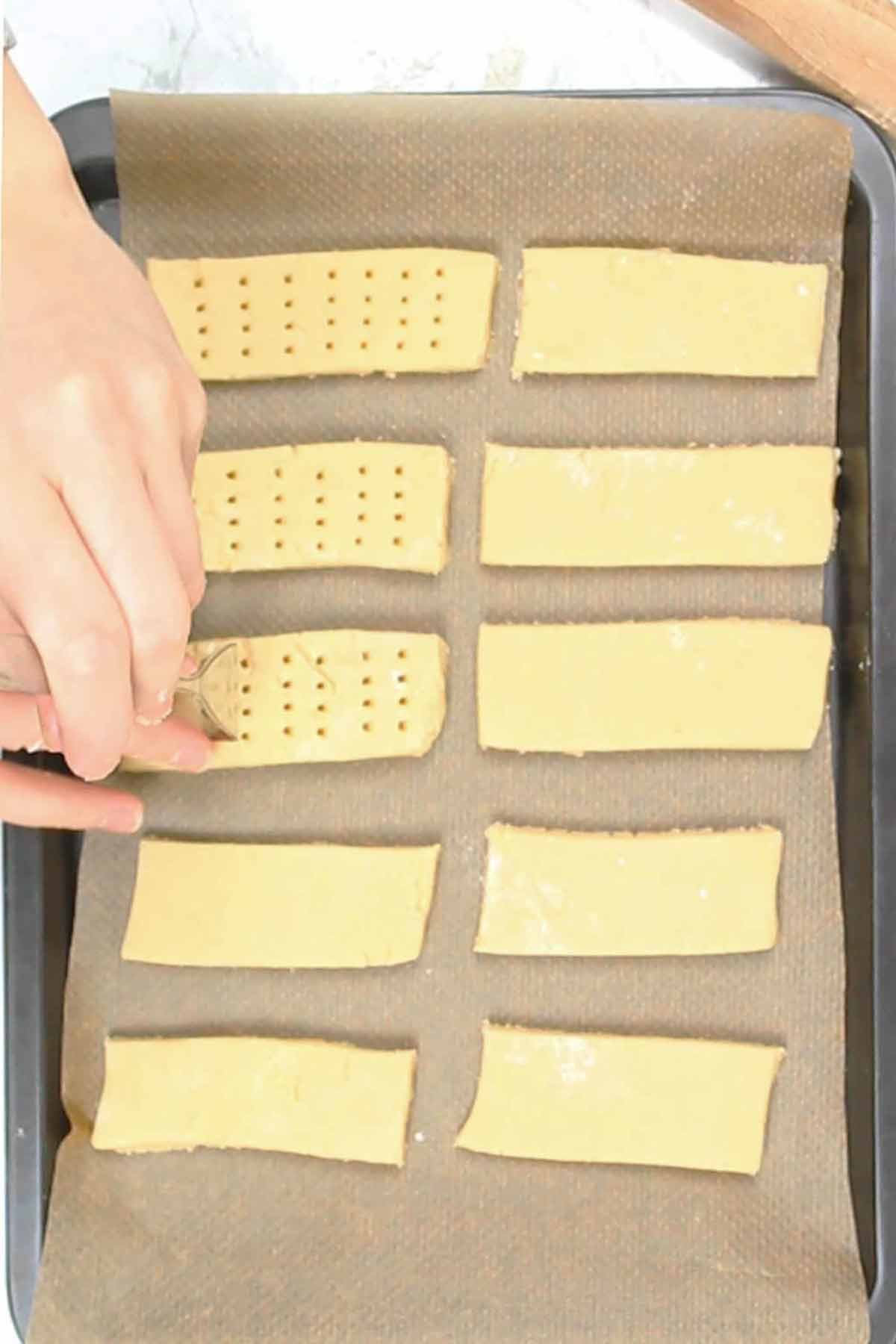 Step 8:
Bake your Scottish shortbread for 20-25 minutes (this will depend on the size of them so keep an eye on them). They will be pale in colour but you'll know they're ready when they become slightly firm around the edges.
They will still be slightly soft in the middle at first but will become crunchier as they cool, so resist the urge to keep baking them at this point!
It's also important that you allow them to cool completely before lifting them off the tray, otherwise they will break.
Step 9:
Take a tablespoon or two of caster (superfine) sugar and lightly sprinkle it over the cooled shortbread. Alternatively, top with my vegan royal icing!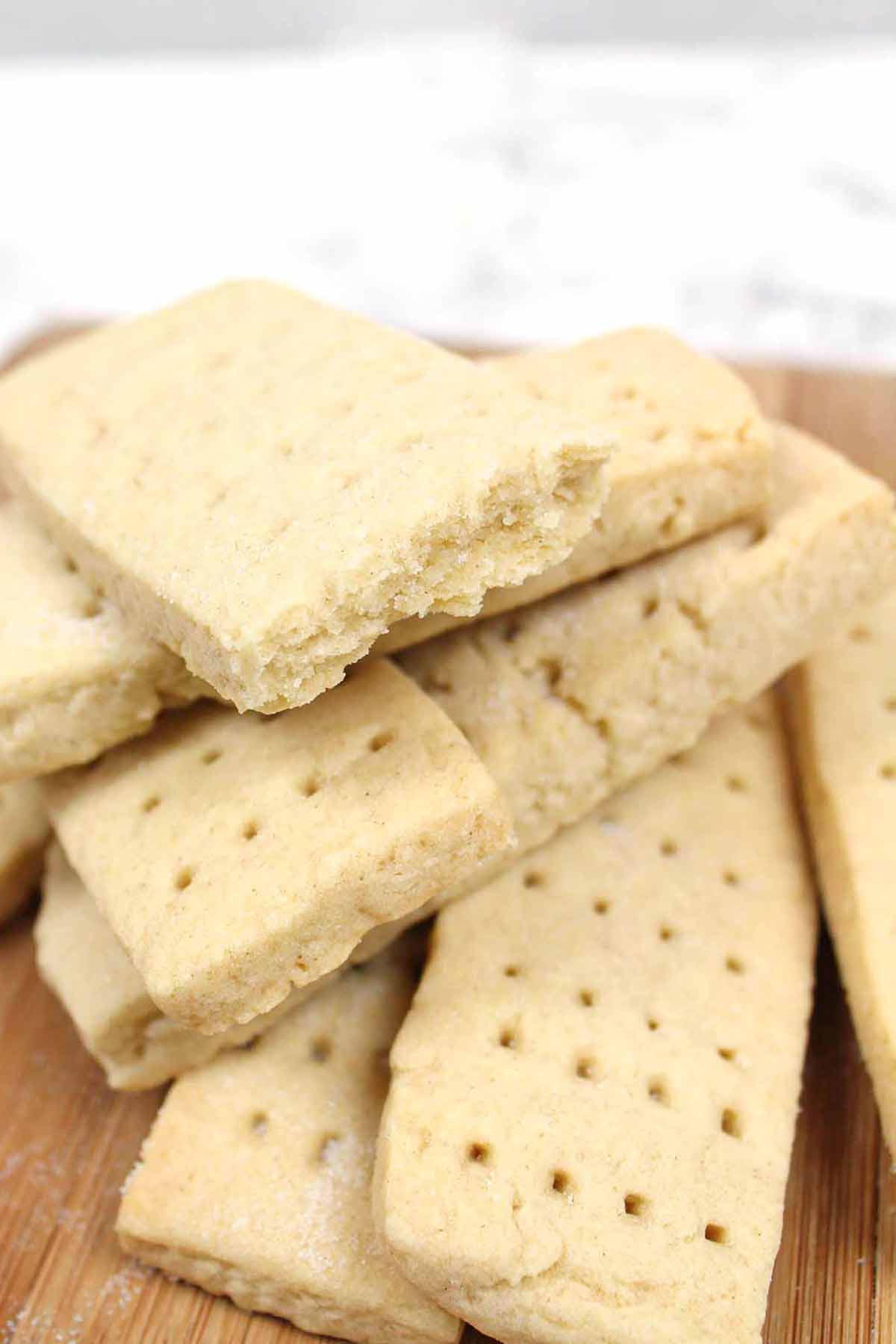 Top Tips
Use dairy-free margarine (not coconut oil) for an authentic flavour.
Adding cornflour to the mixture gives that nice crumbly finish that Scottish shortbread biscuits are so well known for!
Refrigerate the dough. Doing this helps the shortbread hold its shape in the oven and makes the dough easier to manage.
FAQ:
How should dairy-free shortbread be stored?
To keep them nice and crunchy, the shortbread should be stored in an airtight container at room temperature. It should last around 3 days this way.

If you leave them any longer than that they will start to become soft. But to be honest, they are so addictive that they never last much longer than a day or two in my house anyway!
Can I use anything in place of cornflour?
Yes, simply replace the cornflour in the recipe for equal amounts of all-purpose flour.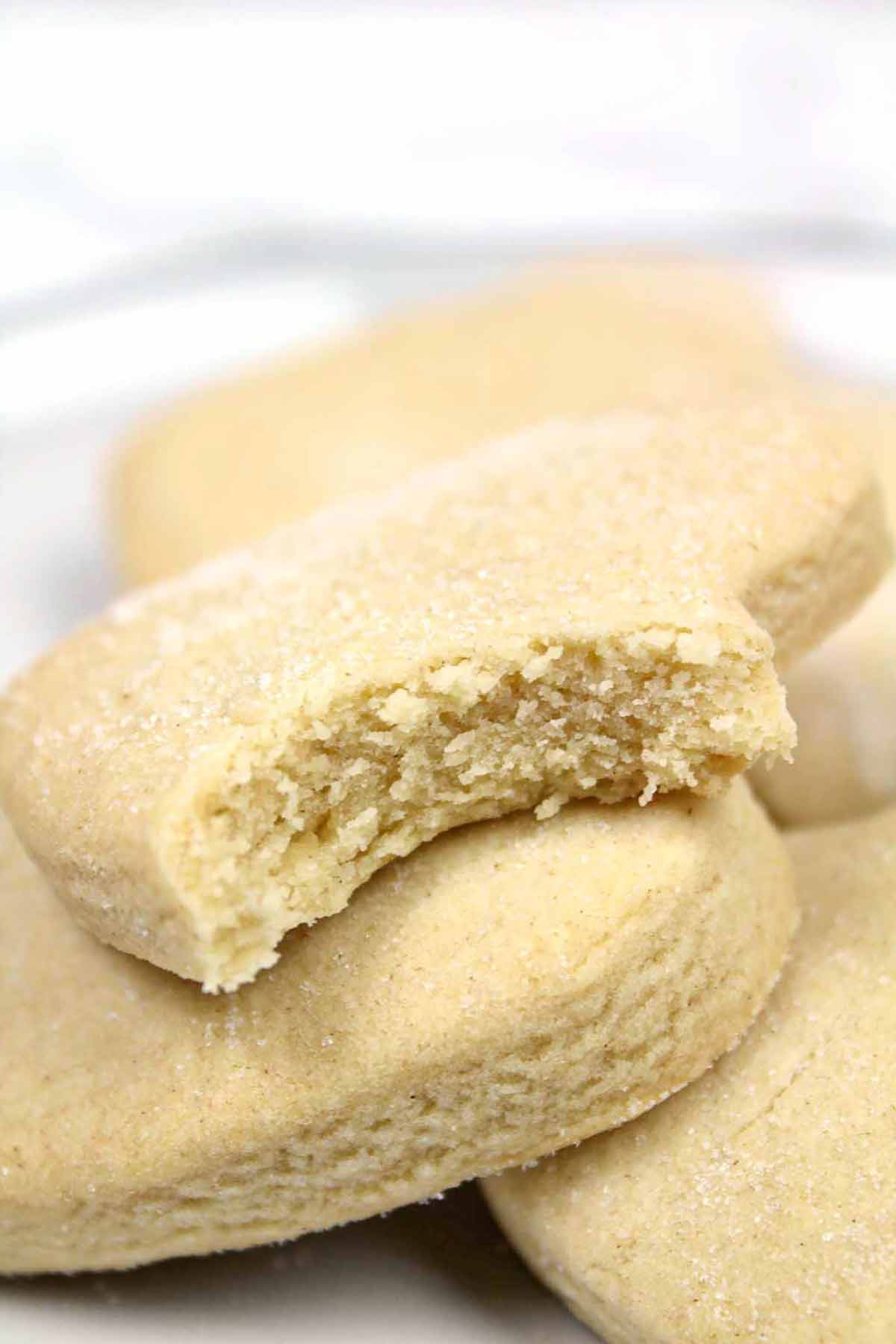 More dairy-free shortbread recipes:
I hope you love this vegan shortbread as much as I enjoyed making it. If you decide to make these for yourself, please leave me a comment and/or rating to let me know. I love to hear from you. Happy baking! xo

Vegan Shortbread
Dairy-free shortbread biscuits that are crunchy, crumbly and authentically Scottish.
Ingredients
100

g

Caster sugar

(½ cup)

200

g

Vegan margarine*

(¾ cup)

1

Teaspoon

Vanilla extract

280

g

All-purpose flour

(2 cups + 1 tablespoon)

2

Tablespoons

Cornflour

(corn starch)

2

Tablespoons

Caster sugar, to sprinkle on top
Instructions
Preheat oven to 170°C/340°F (or 150°C/310°F if using a fan or convection oven) and line a tray with baking paper.

Cream together the sugar, margarine and vanilla.

Add in the flour and the cornflour. Mix until it begins to stick together then use your hands to press it into a dough. Refrigerate the dough for 30 minutes.

Knead the chilled dough to get any cracks out then gently roll it out to about ½-inch thick on a floured surface. Cut into fingers or use a cookie cutter of choice and carefully transfer them onto your baking tray.

You can dock the shortbread with a fork for an authentic look but this is not essential.

Bake for ~20-25 minutes (this will depend on the size of your shortbread so keep an eye on it) until firm at the edges. The shortbread should still be mostly pale in colour and will be slightly soft in the middle- it will firm up as it cools.

Allow to cool completely before attempting to remove them from the tray. Sprinkle the extra sugar on top and enjoy!
Recipe Notes
*Use spreadable vegan margarine, not the blocky type.
If the dough is too sticky, add more flour. If it's too dry, add a splash of plant-based milk to help it come together.
Store in an airtight container for up to 3 days.
Nutrition Facts
Vegan Shortbread
Amount Per Serving (1 shortbread biscuit)
Calories 160
Calories from Fat 72
% Daily Value*
Fat 8g12%
Sodium 78mg3%
Carbohydrates 20g7%
Protein 2g4%
* All values are an estimate only and will vary depending on the food brands used.
BakedByClo is a participant in the Amazon Services LLC Associates Program, an affiliate advertising program designed to provide a means for sites to earn advertising fees by advertising and linking to Amazon.com. This site may contain some of these links to Amazon.com & other affiliate programs. If you make a purchase through one of those links, BakedByClo will receive a small commission from the purchase at no additional cost to you.