Vegan Chocolate Mug Cake
This vegan chocolate mug cake is light, fluffy and filled with tasty chocolate chips. It can be whipped up in just a few minutes and there's minimal mess to clean up afterwards, making it the perfect single-serving dessert!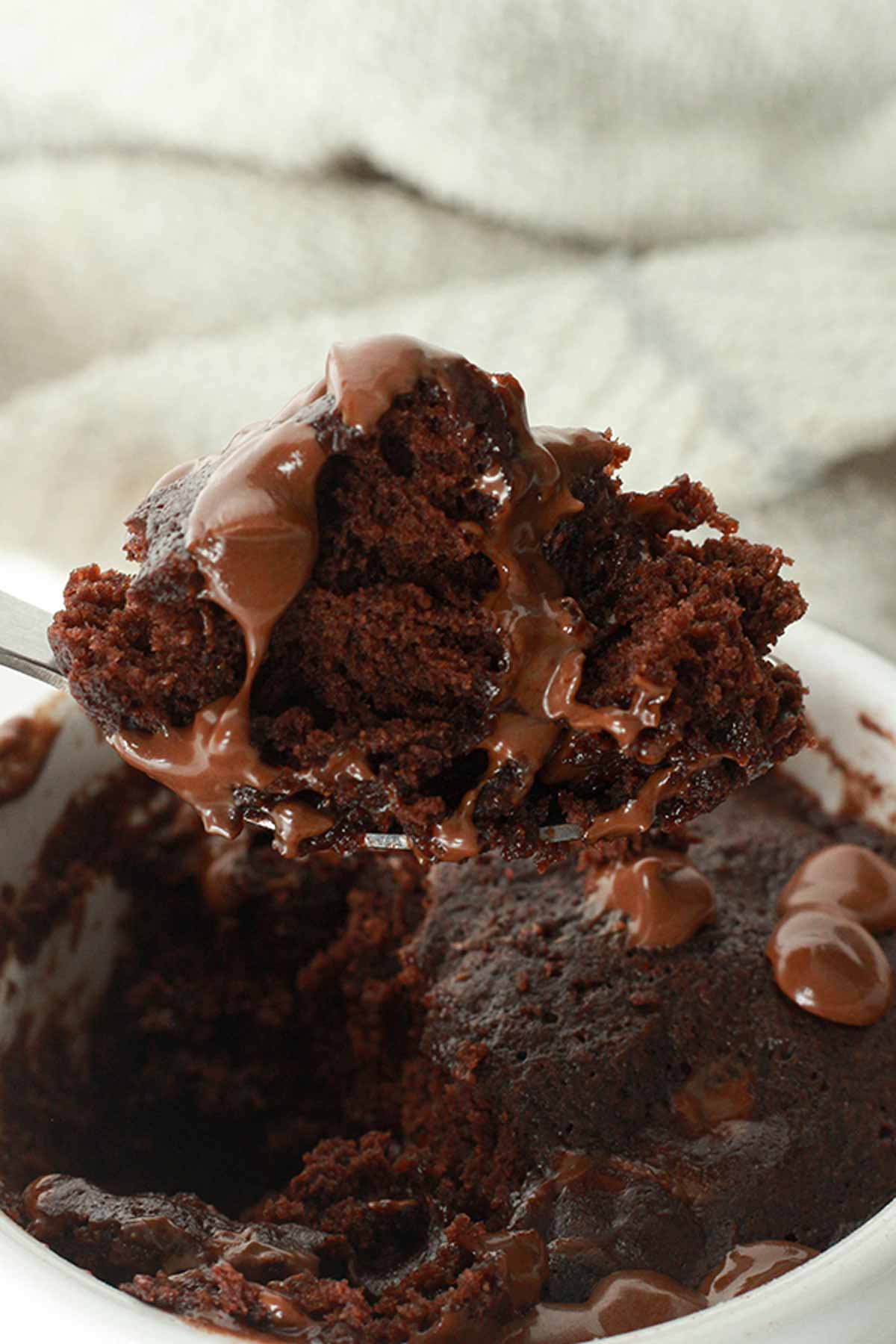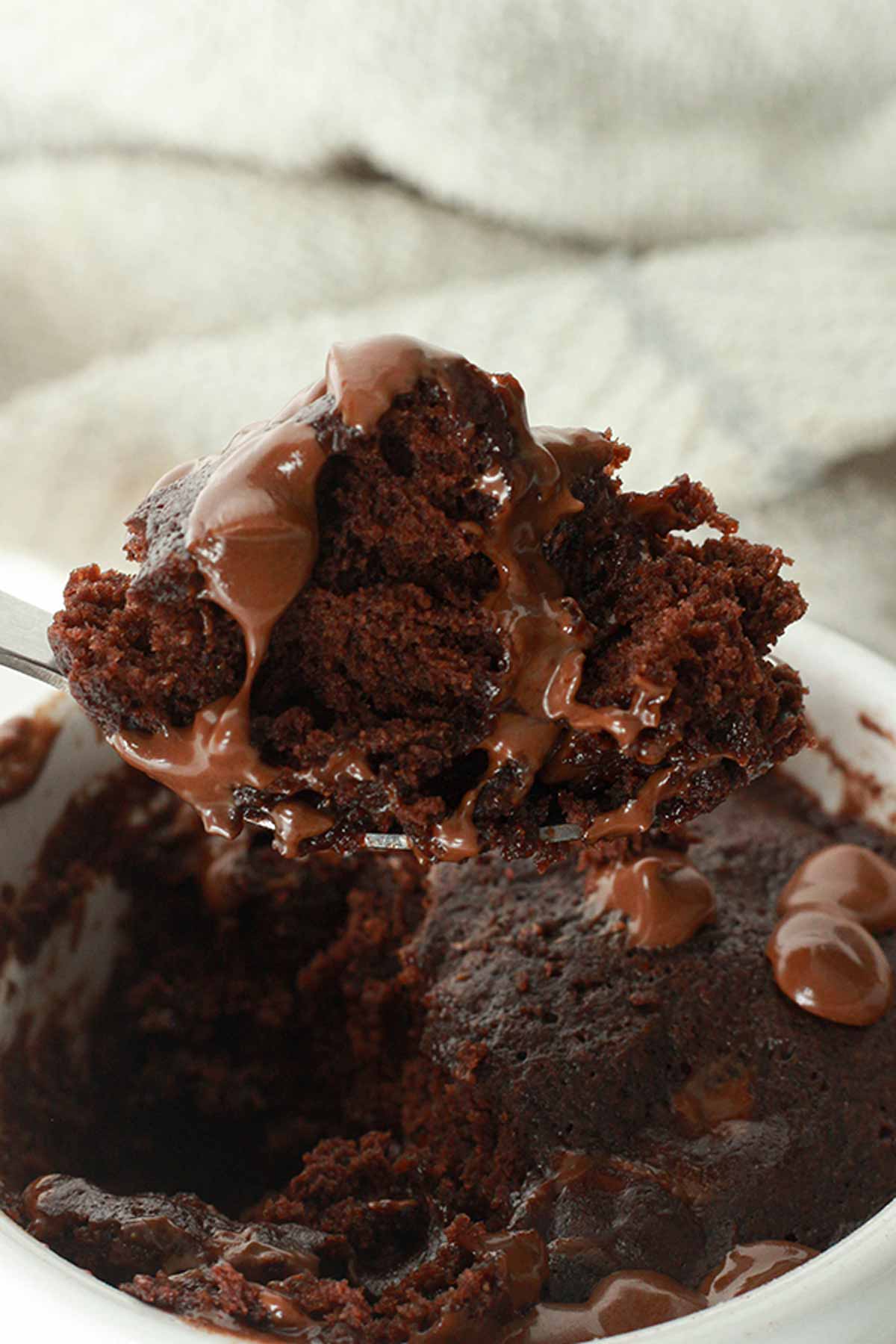 I recently posted my vegan vanilla mug cake recipe and shortly after making it, I just knew I needed a chocolate one on the blog too! So here we are.
I have been loving mug cakes recently because of how little mess they make. If you're anything like me and sick of the sight of dishes piling up constantly, you're going to love this cake. Promise.
All you need is a small mug or ramekin dish and a teaspoon to do the mixing. And that's it! There is nothing else to clean up afterwards. How convenient is that?
Plus, with mug cakes, you can just make it, eat it and be done. Baking a giant chocolate cake and planning to eat just one teeny-tiny slice doesn't always work out that way, let's be honest.
Usually, you'll end up eating way more than planned and end up feeling regretful. So this little chocolate mug cake is a perfect alternative.
More vegan dessert recipes:
How to make a vegan chocolate mug cake
To make this cake, you'll need a mug, dish or ramekin that is around 3.5-inches wide. It should be the same width all the way down and not get narrower at the bottom (like a teacup does). This will ensure that the baking instructions work perfectly and that your cake will bake evenly all the way through.
Step 1:
Add 1 tablespoon of vegan butter or margarine and 2 tablespoons of caster sugar to your mug or ramekin dish. Cream it together using a teaspoon until smooth.
Now add in half a teaspoon of vanilla extract and mix it in.
Step 2:
Next, add 3 tablespoons of self-raising flour, 1 tablespoon of cocoa powder and 2+1/2 tablespoons of plant-based milk. Mix well until you have a smooth, slightly thick chocolate cake batter.
If you can't find self-raising flour where you live, simply use equal amount of plain flour instead and add 1/4 teaspoon of baking powder. You may also need to add an extra splash of plant-based milk.
You can use any plant-based milk you like for this recipe. I always use soy but almond or oat would be good alternatives.
Step 3:
Add in a small handful of vegan chocolate chips to the batter and gently mix then in. Use a teaspoon to spread the cake batter out smoothly at the top, to help it bake more evenly.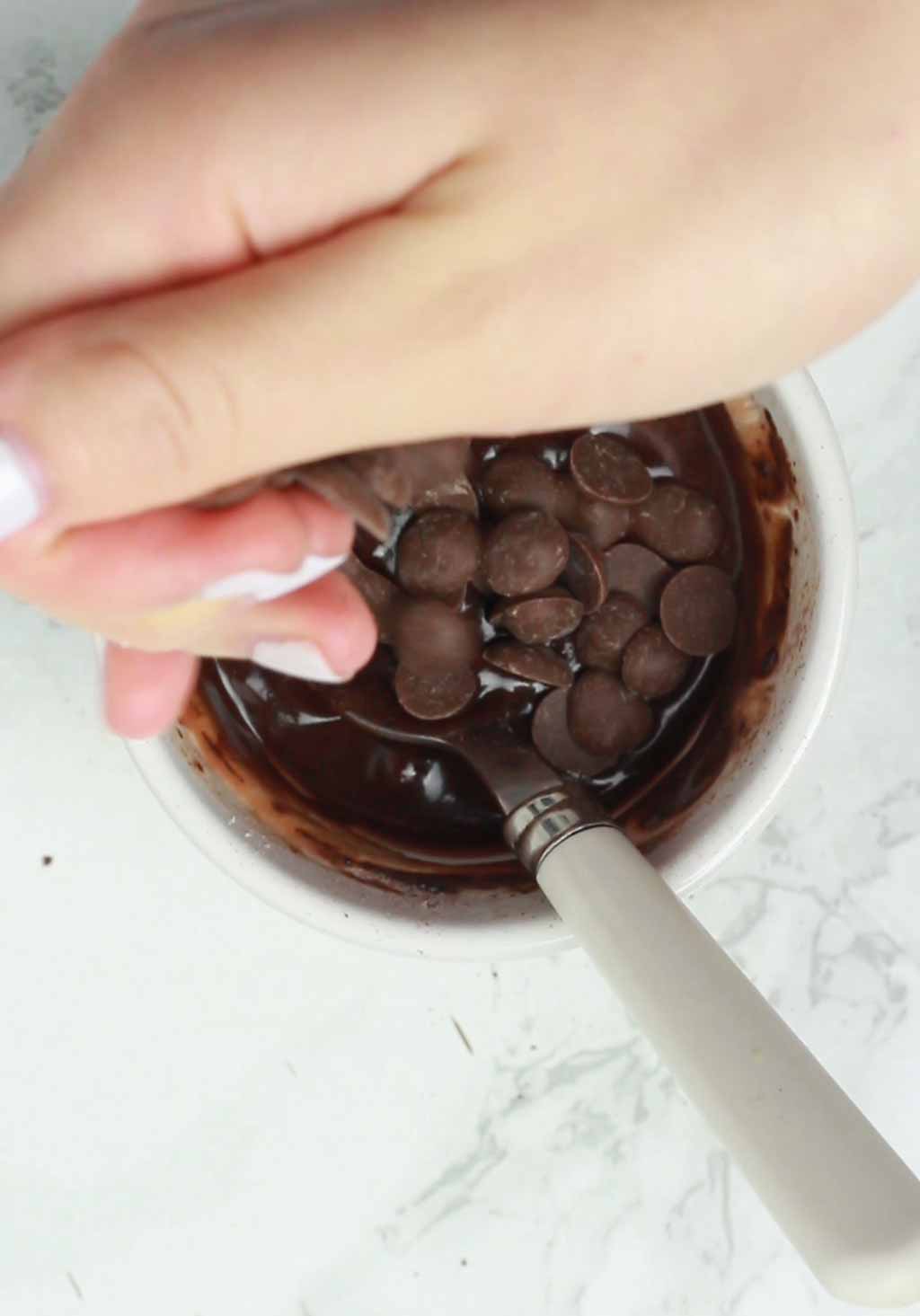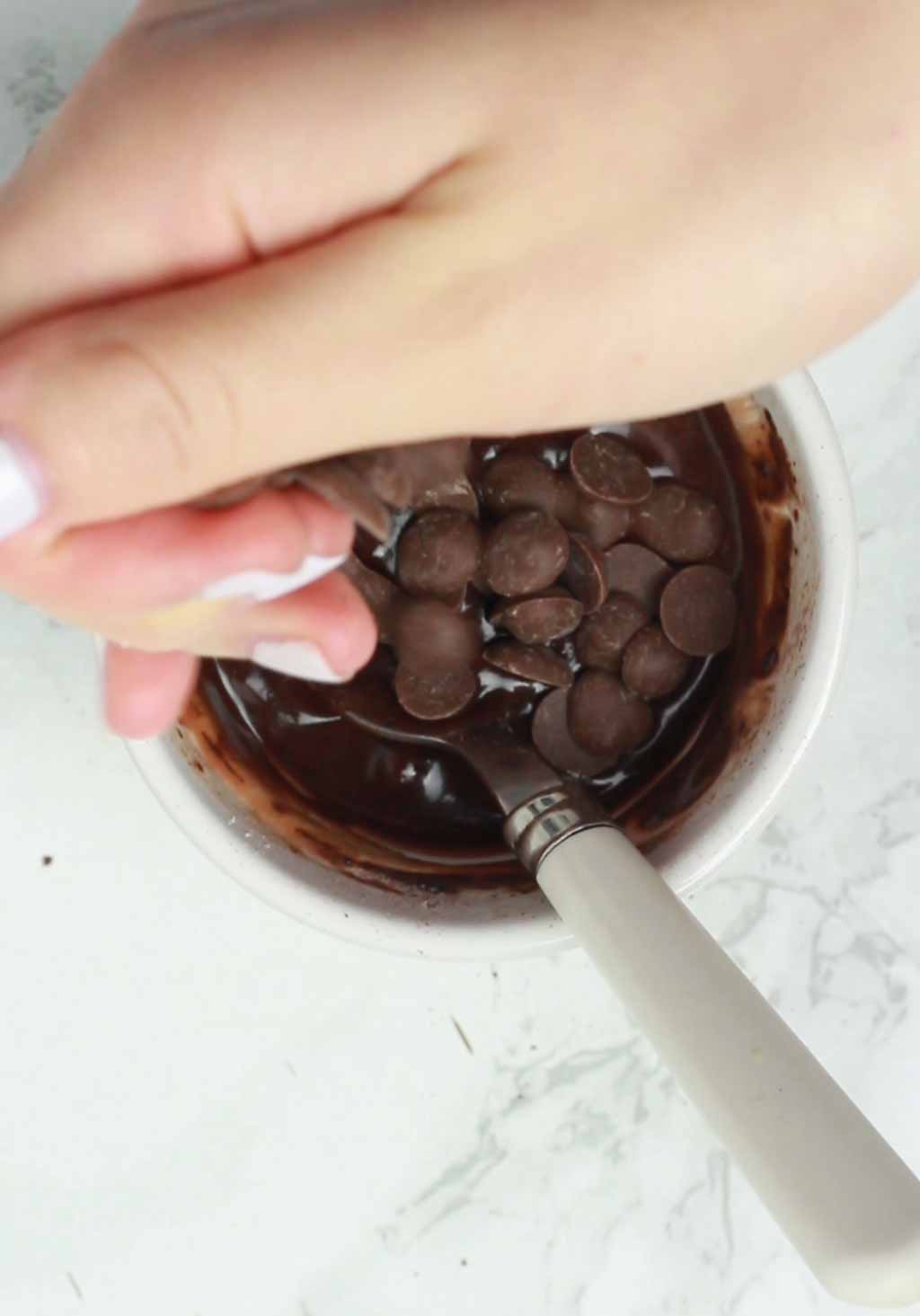 I used Dr. Oetker dark jumbo chocolate chips. Make sure to get the jumbo version as the regular dark chocolate chips do contain dairy. See my chocolate guide for more vegan chocolate chip options.
Step 4:
Bake your mug cake in the microwave for 50 seconds up to 1 minute and 45 seconds. This will depend on your microwave wattage. Please see the correct baking time for your microwave below.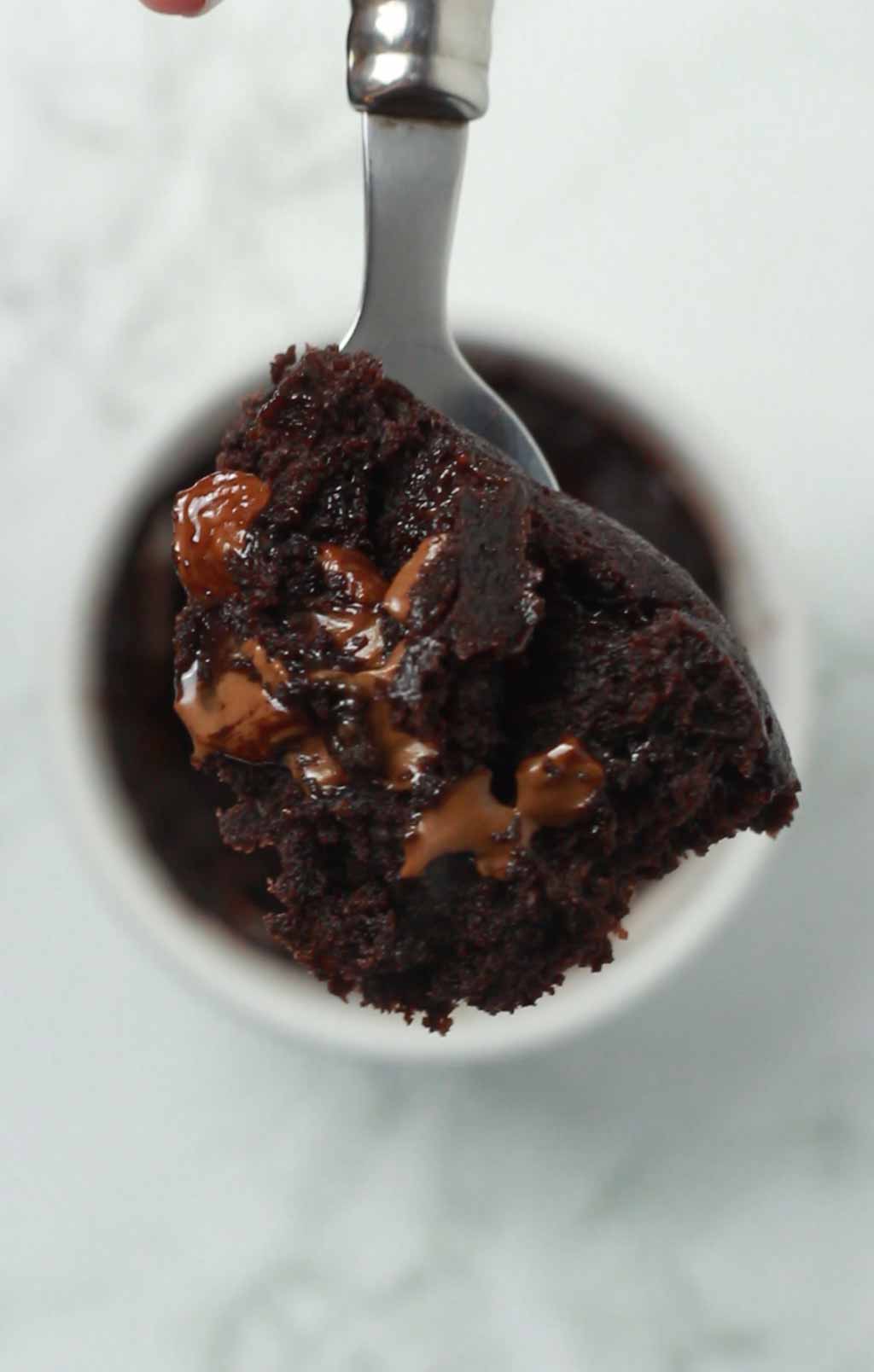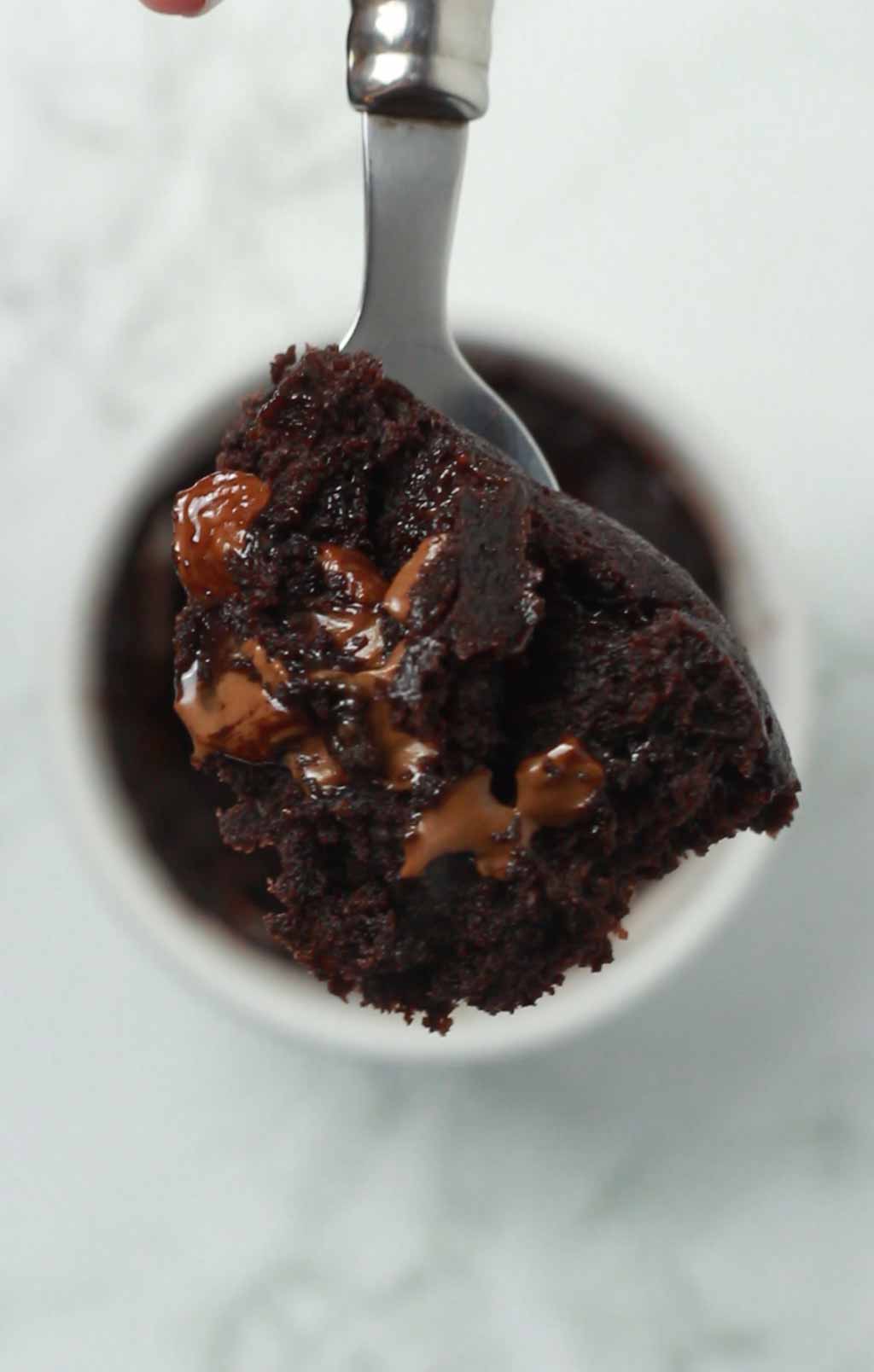 Chocolate mug cake baking times
As mentioned above, different microwaves will bake your mug cake in varying amounts of time, depending on how powerful it is. Check the front of your microwave for the small symbol that tells you the wattage and bake for the correct time as listed below:
| | |
| --- | --- |
| Wattage | Baking time |
| 600w | 1 minute and 45 seconds |
| 700w | 1 minute and 30 seconds |
| 800w | 1 minute and 20 seconds |
| 900w | 1 minute and 10 seconds |
| 1000w | 1 minute |
| 1100w | 55 seconds |
| 1200w | 50 seconds |
FAQ:
What can I use instead of vegan butter?
I know that vegan butter or margarine can be hard to find in some places. For this recipe, it's fine to substitute it for 1 tablespoon of oil, as the cocoa powder and chocolate chips help to add lots of flavour. I recommend using a neutral tasting oil such as rapeseed to let the chocolate flavour really shine!
Can I double the recipe?
The baking time for this recipe is very dependent on the size of the mug/ramekin and the amount of batter in there. If you want to double the recipe, I recommend making 2 separate mug cakes.
What other mix-ins can I use?
Aside from chocolate chips, you can add some chopped nuts, vegan sprinkles, or dried fruit to the cake batter. If you really want to enhance the chocolate flavour, you can substitute the vanilla extract for 1/2 a teaspoon of (cold) coffee.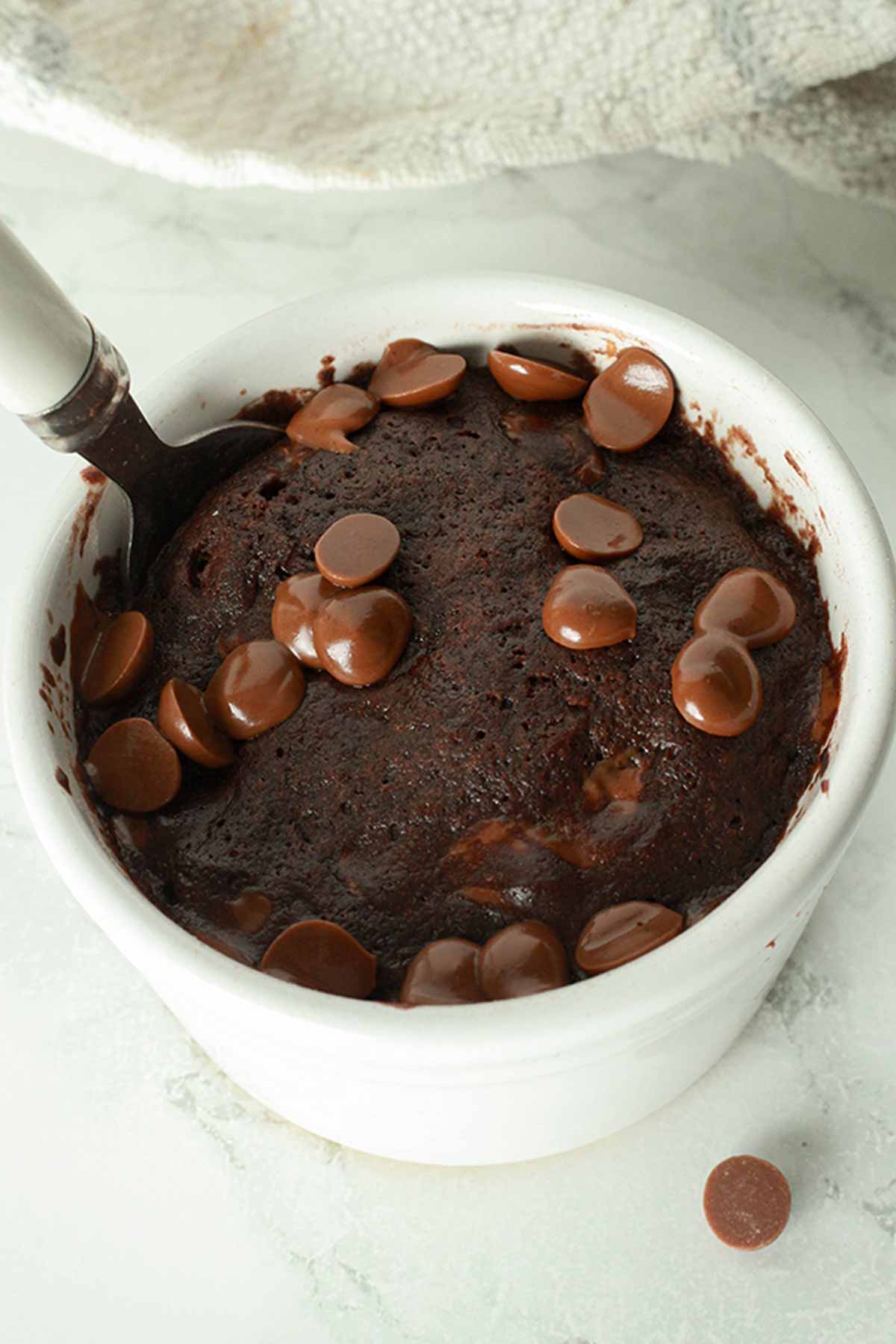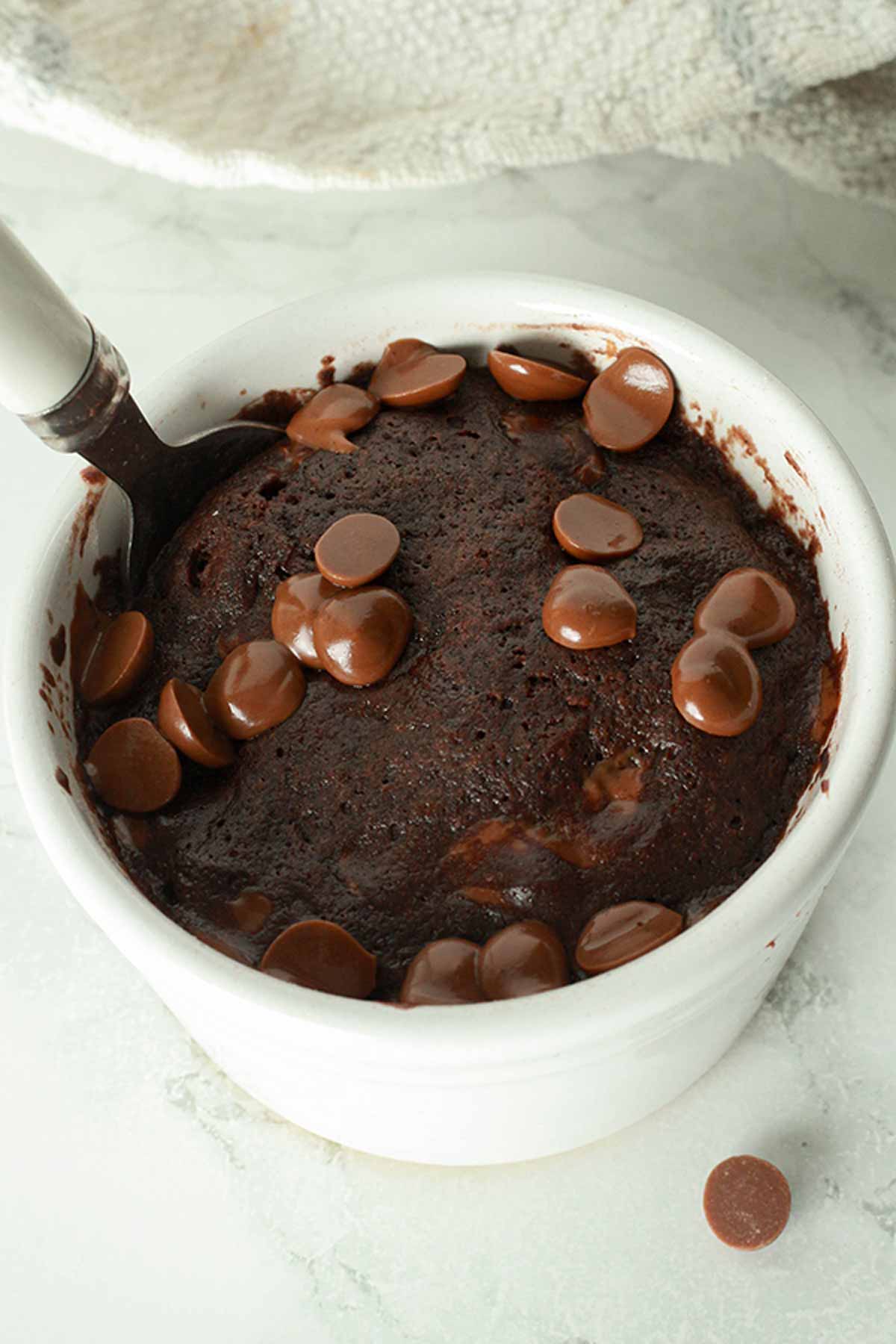 That's all for now! I hope you enjoy the recipe. If you make it at home please let me know how you get on by leaving a rating and/or comment below. Make sure to check out my chocolate cake round-up too. Happy baking! xo

Vegan Chocolate Mug Cake
Fluffy vegan chocolate cake in a mug that can be baked in the microwave!
Ingredients
1

Tablespoon

Vegan margarine or butter

2

Tablespoons

Caster sugar

½

Teaspoon

Vanilla extract

(or cold coffee)

3

Tablespoons

Self-raising flour

1

Tablespoon

Cocoa powder

2+½

Tablespoons

Plant-based milk

(I used soy)

Small

handful

Vegan chocolate chips or chunks
Instructions
Mix the margarine and sugar together in a mug or ramekin. I recommend using one that's 3.5-inches wide to ensure even cooking all the way through.

Add the vanilla extract or cold coffee and stir it in.

Now add the flour, cocoa powder and plant-based milk. Mix well until you have a smooth, slightly thick chocolate cake batter.

Add the chocolate chips and mix them in. Use a teaspoon to smooth out the top evenly.

Bake in the microwave for 50seconds to 1 minute and 45 seconds. Please see the recipe notes for the correct baking time for your microwave.
Recipe Notes
Chocolate mug cake baking times:
600w = 1 minute 45 seconds
700w = 1 minute 30 seconds
800w = 1 minute 20 seconds
900w = 1 minute 10 seconds
1000w = 1 minute
1100w = 55 seconds
1200w = 50 seconds
Nutrition Facts
Vegan Chocolate Mug Cake
Amount Per Serving (1 mug cake)
Calories 341
Calories from Fat 117
% Daily Value*
Fat 13g20%
Sodium 85mg4%
Carbohydrates 47g16%
Protein 5g10%
* All values are an estimate only and will vary depending on the food brands used.
BakedByClo is a participant in the Amazon Services LLC Associates Program, an affiliate advertising program designed to provide a means for sites to earn advertising fees by advertising and linking to Amazon.com. This site may contain some of these links to Amazon.com & other affiliate programs. If you make a purchase through one of those links, BakedByClo will receive a small commission from the purchase at no additional cost to you.