Dairy-Free Buttermilk Substitute
Ever wondered how to make a dairy-free buttermilk substitute for baking? Look no further! With just 2 simple ingredients, you can make it at home with ease. Use it in cakes, cupcakes, pancakes and more!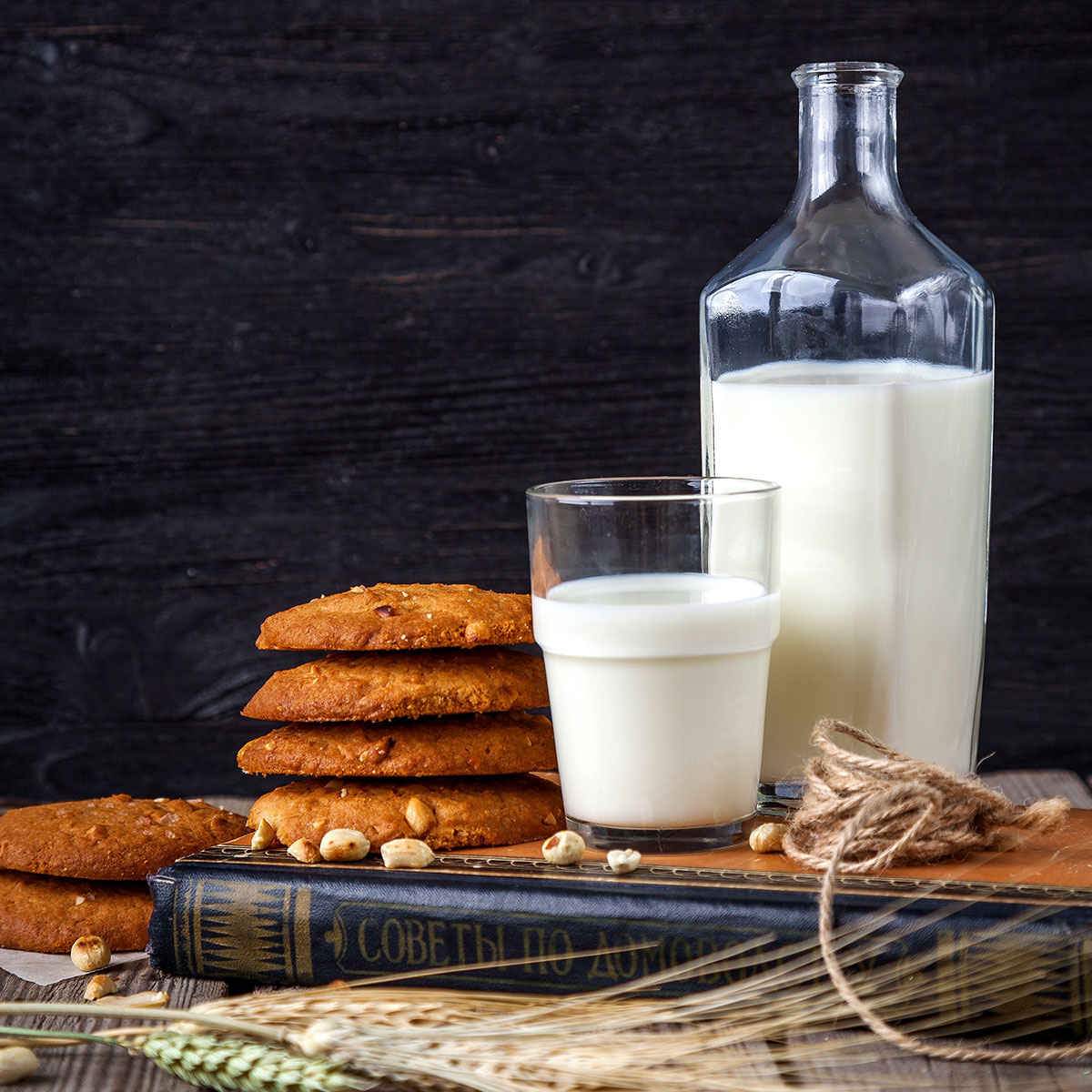 I've recently started a "vegan baking basics" series for newbie vegan bakers. I thought I'd make a buttermilk post simple because people always ask me, is buttermilk is vegan?
If you've never heard of buttermilk, it's a cultured or soured milk that has a consistency somewhere between milk and cream. It is a dairy product that's typically served with fried chicken, salads and other savoury foods. But did you know it's also great for baking? And it's super easy to make it dairy-free!
I use vegan buttermilk in almost all of my cake recipes and in many of my other dessert recipes too. Combined with a raising agent such as baking soda, it helps to produce a light, fluffy and moist texture in a way that plant-based milk just can't do on its own.
Desserts to make with buttermilk:
How to make dairy-free buttermilk
Step 1:
In a bowl or mug, mix 250ml (1 cup) of plant-based milk with 1 tablespoon of apple cider vinegar. Give it a quick mix with a fork and let it sit at room temperature for around 5 minutes.
Step 2:
After the 5 minutes have passed, the plant-based milk should be thicker and slightly curdled. Give it another mix with your fork and it's ready to use! Use as a 1:1 substitute for buttermilk in any recipe.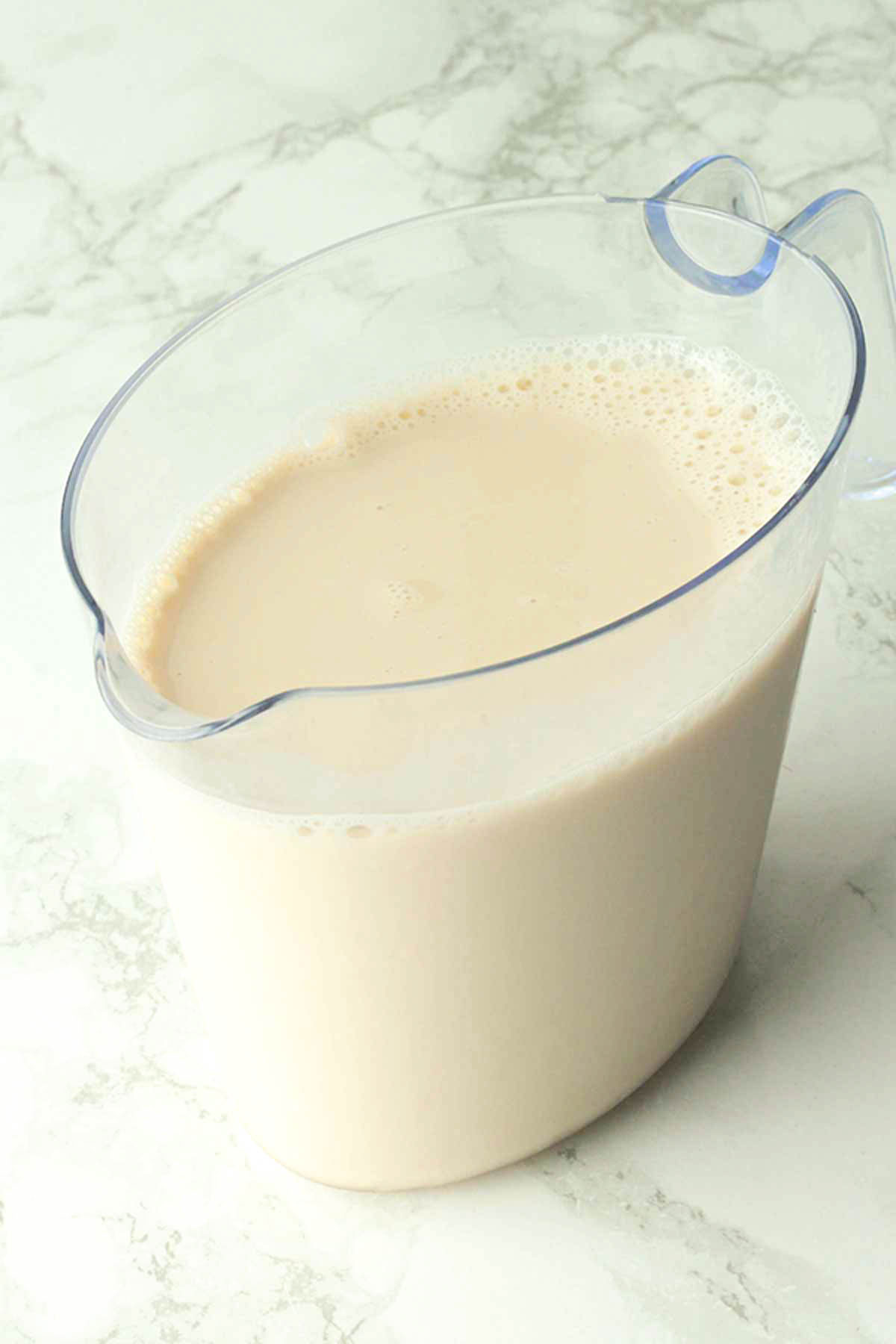 Best plant-based milks to use
If you've been vegan for any length of time, you'll know there is a multitude of plant-based milks out there to choose from!
In my opinion and experience, unsweetened organic soy is the best vegan milk for buttermilk. I use Tesco organic. I find that soy milk makes the creamiest buttermilk and using an unsweetened, organic version without tonnes of additives makes it even better.
If you are allergic to or don't like soy, I'd say oat milk comes a close second. Again, unsweetened is best. I've tested buttermilk with almond milk and coconut milk (the one that comes in a carton, not the tinned kind) but they did not curdle very much and therefore did not thicken at all. To get the true buttermilk experience, you want it to be thick and creamy.
Things to use instead of apple cider vinegar
When making my buttermilk substitute, I'll typically use raw organic apple cider vinegar, the one with "the mother".
If you don't want to use apple cider vinegar, don't worry! This can be substituted for equal amounts of white vinegar or lemon juice. Lemon juice is particularly good to use when you're making lemon flavoured desserts, and the white vinegar will be undetectable in your final product.
I don't recommend using any other type of vinegar for buttermilk substitute, such as red wine vinegar, rice vinegar or malt vinegar. These have a much stronger flavour and won't work well in buttermilk for baking!
FAQ:
How should I store leftover dairy-free buttermilk?
This buttermilk substitute can be stored in an airtight container in the fridge for up to 3 days, although this is only if you're using unsweetened organic soy milk. The length of time that it'll keep well for depends on the type of milk you use, but it should last at least a day or two anyway. You can also store it in a glass jar with the lid on if you prefer. Before using, give it a quick mix with a fork to make it smooth and creamy again.
Can I freeze it?
Yes. Buttermilk can be frozen in a freezer-proof, airtight container for up to 3 months. When you're ready to use it, let it sit at room temperature for an hour or two until fully defrosted then return it to the fridge.

To be honest, though, it is so easy and quick to make that I would just recommend making it from scratch when you're about to use it.
I hope you like this easy vegan buttermilk substitute! If you make it at home, please let me know what you think by leaving a rating or comment below. I'd love to hear what you baked with it!

Dairy-Free Buttermilk Substitute
How to make a vegan buttermilk substitute from scratch.
Ingredients
250

ml

Unsweetened soy milk

(1 cup)

1

Tablespoon

Apple cider vinegar or lemon juice
Instructions
Mix the soy milk and vinegar together with a fork. Let it sit at room temperature for around 5 minutes, until it becomes thicker and curdles slightly.

Give it another quick stir with your fork and use in place of buttermilk, as instructed in your recipe.
Recipe Notes
Store any leftovers in an airtight container in the fridge for up to 3 days.
Nutrition Facts
Dairy-Free Buttermilk Substitute
Amount Per Serving (250 ml)
Calories 87
Calories from Fat 45
% Daily Value*
Fat 5g8%
Sodium 3mg0%
Carbohydrates 2g1%
Protein 9g18%
* All values are an estimate only and will vary depending on the food brands used.
BakedByClo is a participant in the Amazon Services LLC Associates Program, an affiliate advertising program designed to provide a means for sites to earn advertising fees by advertising and linking to Amazon.com. This site may contain some of these links to Amazon.com & other affiliate programs. If you make a purchase through one of those links, BakedByClo will receive a small commission from the purchase at no additional cost to you.