UK Oven Temperature Conversion Chart Printable
If you're having trouble converting Fahrenheit to Celsius, this handy oven temperature conversion chart printable PDF will help you out! Whether you're following a new baking recipe or learning how to cook, this chart will be useful to you.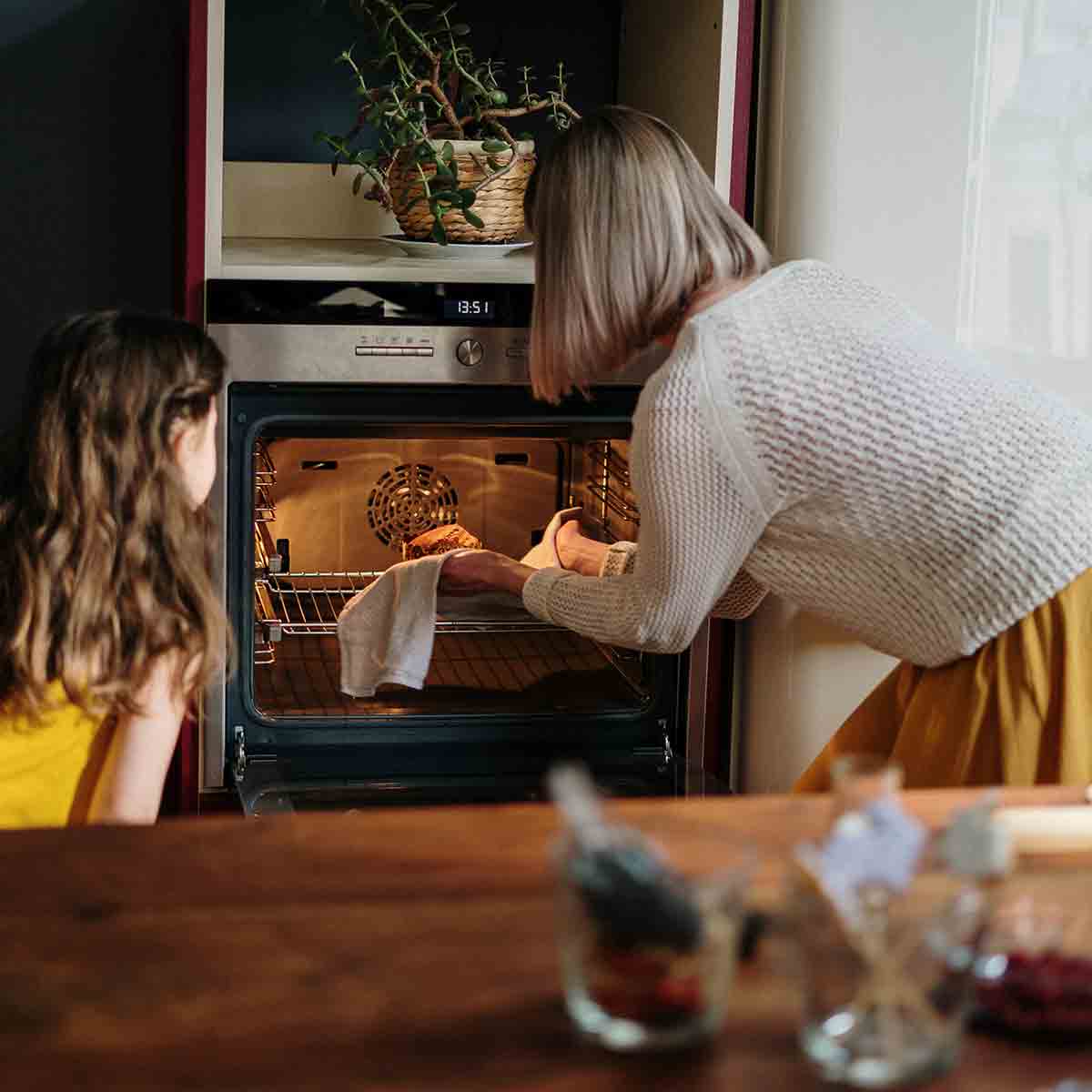 Have you ever followed an US recipe in the UK, only to get your oven temperature mixed up and be disappointed with the end result? I know I have!
There was even a time in my life, when I was brand new to baking, that I got confused with 450°C and 450°F when making box brownies. My oven didn't go up to 450°C so I turned it up to the highest possible setting and assumed I was good to go, LOL.
It's fair to say my brownies came out a *little* more burnt than they should have. It's even fairer to say that they looked like volcanic ash after 10 minutes and were completely inedible. To my defence, I didn't realise the box was imported from the US, and 15 year old me didn't quite grasp that Celsius and Fahrenheit are two very different things.
Another thing I didn't realise when I started baking is that you need to slightly reduce the temperature if you're using a fan oven. This will prevent your cakes and bakes from getting burnt on the top while still being underbaked inside.
You live and you learn, and luckily I now very clearly know the difference between all the different types of oven temperatures. That's exactly why I created this UK printable oven temperature conversion chart PDF, to prevent new cooks and bakers from making the same mistakes that I did.
You can print it out and stick it to your kitchen cupboard or you can keep it on your computer for easy digital access. It's a very simple chart and I made it black and white to help save on ink costs for printing. It includes conversions from Celsius to Fahrenheit, gas mark and fan oven.
I also recommend using an oven thermometer alongside this chart, to help with accuracy when it comes to baking/cooking time.
Free printable oven temperature conversion chart
All you need to do to get your free printable is click on the image below. Alternatively, use the download button near the bottom of the page. It will take you to a PDF copy of the chart, where you can print it out or just save it to your computer for later.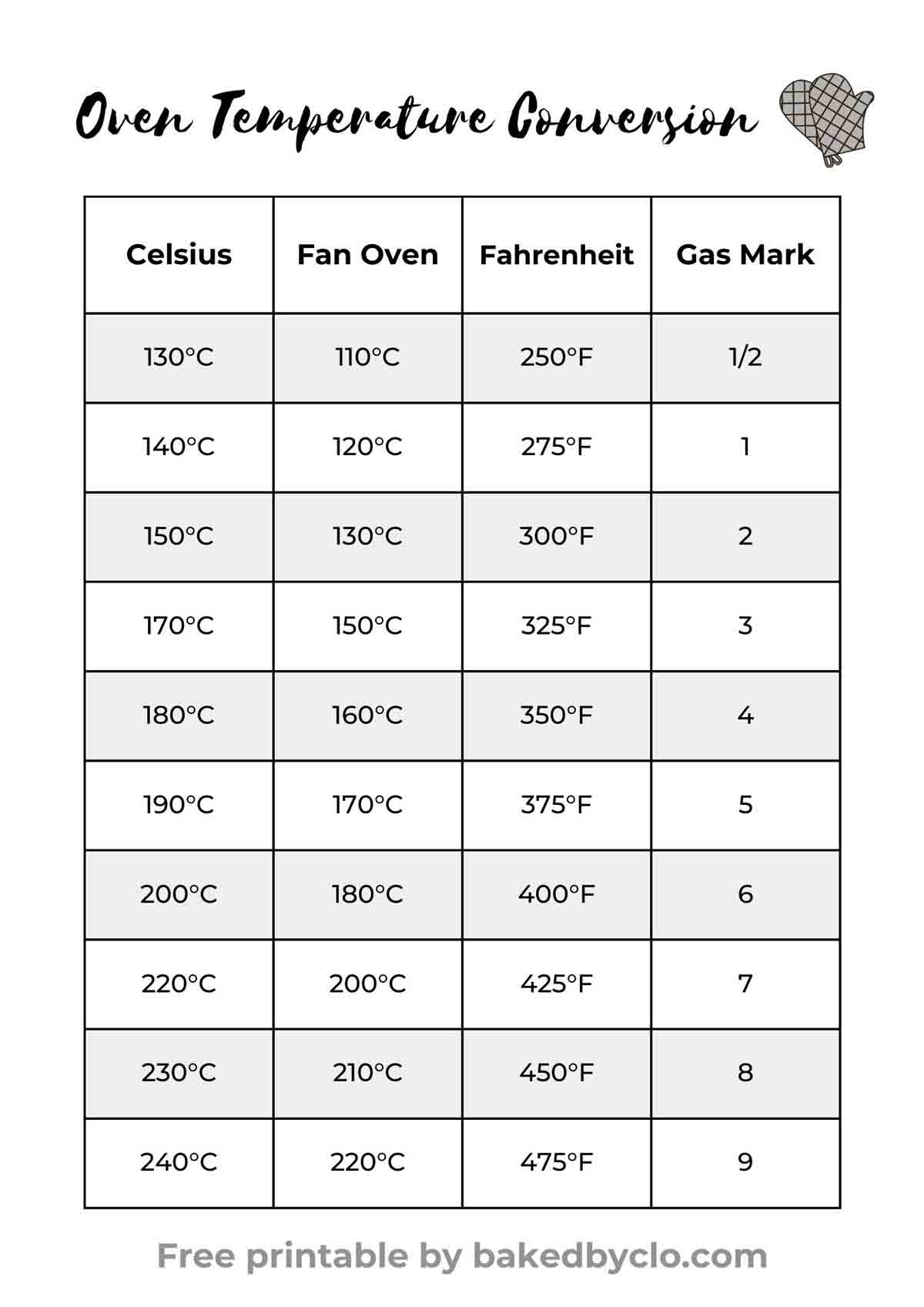 Text-Based Accessible Conversion Chart
Just in case or you're unable to print it, or for anyone using a text reader, I've included a text version of the chart below.
| | | | |
| --- | --- | --- | --- |
| Celsius | Fan Oven | Fahrenheit | Gas Mark |
| 130°C | 110°C | 250°F | 1/2 |
| 140°C | 120°C | 275°F | 1 |
| 150°C | 130°C | 300°F | 2 |
| 170°C | 150°C | 325°F | 3 |
| 180°C | 160°C | 350°F | 4 |
| 190°C | 170°C | 375°F | 5 |
| 200°C | 180°C | 400°F | 6 |
| 220°C | 200°C | 425°F | 7 |
| 230°C | 210°C | 450°F | 8 |
| 240°C | 220°C | 475°F | 9 |
I hope this UK oven temperature conversion chart is useful to you. Do let me know what you'll be baking or cooking next! Enjoy!
BakedByClo is a participant in the Amazon Services LLC Associates Program, an affiliate advertising program designed to provide a means for sites to earn advertising fees by advertising and linking to Amazon.com. This site may contain some of these links to Amazon.com & other affiliate programs. If you make a purchase through one of those links, BakedByClo will receive a small commission from the purchase at no additional cost to you.