Vegan Chocolate Peanut Butter Bars
These vegan chocolate peanut butter bars are healthy, low in sugar and require no baking. They contain just 4 ingredients and are basically a healthy version of peanut butter cups!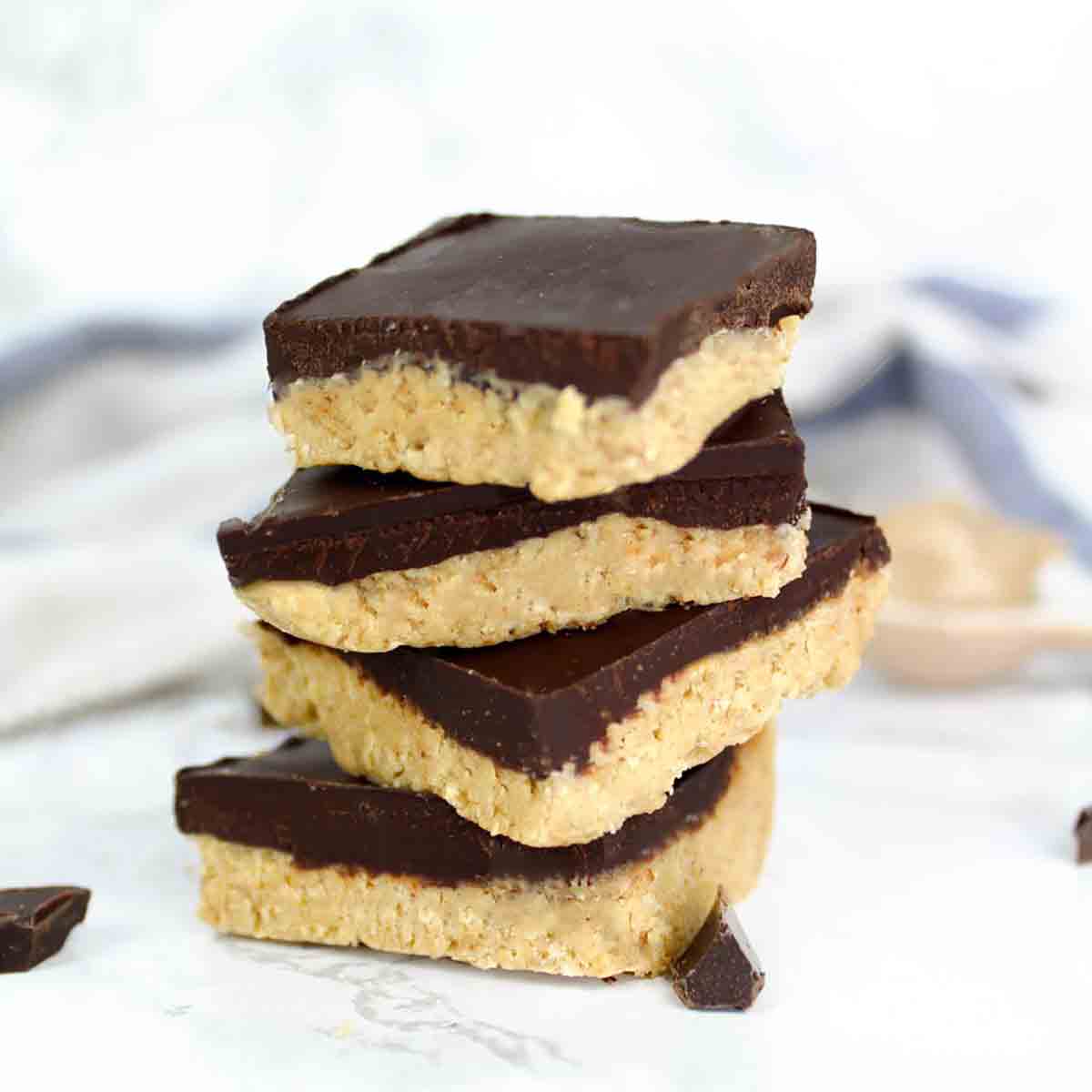 Peanut butter is one of my favourite ingredients to make desserts with. It's so versatile and it's super handy for no bake recipes! I've used it in cookies, cakes, granola, flapjacks and protein bars with great success.
I made this recipe a few years ago, when I first started my blog, but I decided that the post could do with a revamp. Since my blog contains a lot of vegan dessert recipes filled with sugar, butter and flour, I thought it would be nice to promote some of the healthier ones too!
I created this recipe because I was having terrible low blood sugar during the night at one point. I needed an enjoyable snack filled with healthy fats and a little bit of protein, to keep me satiated all the way through to the morning.
As much as I love peanut butter, eating it straight from the spoon is *NOT* it. Eating it as a healthy dessert is much better, both for the taste and texture!
A UK recipe with no Graham Crackers!
I took inspiration from my American friends to make these vegan chocolate peanut butter bars. I have never had an official one so I have absolutely no idea if they taste the way they are *supposed* to or not.
This version is made without Graham crackers, for two reasons: they are very hard to find in the UK and they are full of refined sugar and wheat, which is no good for a healthy dessert!
So instead of Graham crackers, I used oat flour. Making your dairy-free chocolate peanut butter bars with oats still gives them a nice soft bite, just without the extra nasties. Oat flour provides complex carbohydrates, a good dose of fibre to keep your gut happy, and a little extra protein to help stabilise your blood sugar.
Naturally Sweetened
Unlike most of the other recipes I saw online, I made these peanut butter chocolate bars without powdered sugar/icing sugar. Instead, I used agave syrup which has a much lower glycemic index.
This means that the sugar is released into your bloodstream much more slowly, and therefore doesn't make your blood sugar spike and crash.
The only refined sugar in these bars come from the layer of dark chocolate on top. But because I used 85% cocoa chocolate, it was very minimal.
Each one of these dairy-free chocolate peanut butter bars contains only 5 grams of sugar and are packed with healthy fats. I used to eat one before bed every night and it helped to keep my blood sugar stable all night.
How To Make Vegan Chocolate Peanut Butter Bars
These no-bake bars are SO simple to make. The steps are very quick and easy to follow.
Step 1:
Line an 8×10-inch tin with baking paper. You can use a different size if that's all you have but please note your bars may end up thicker/thinner.
Step 2:
Mix 200g peanut butter and 100ml agave nectar together. Whole Earth peanut butter is the best one to use if you can get it.
Add in 150g oat flour and mix it in to form a sticky dough. My advice would be to use your hands for this step because it gets super sticky!
Step 3:
Press the peanut butter dough into a lined dish or pan. Place this in the fridge while your make the chocolate topping.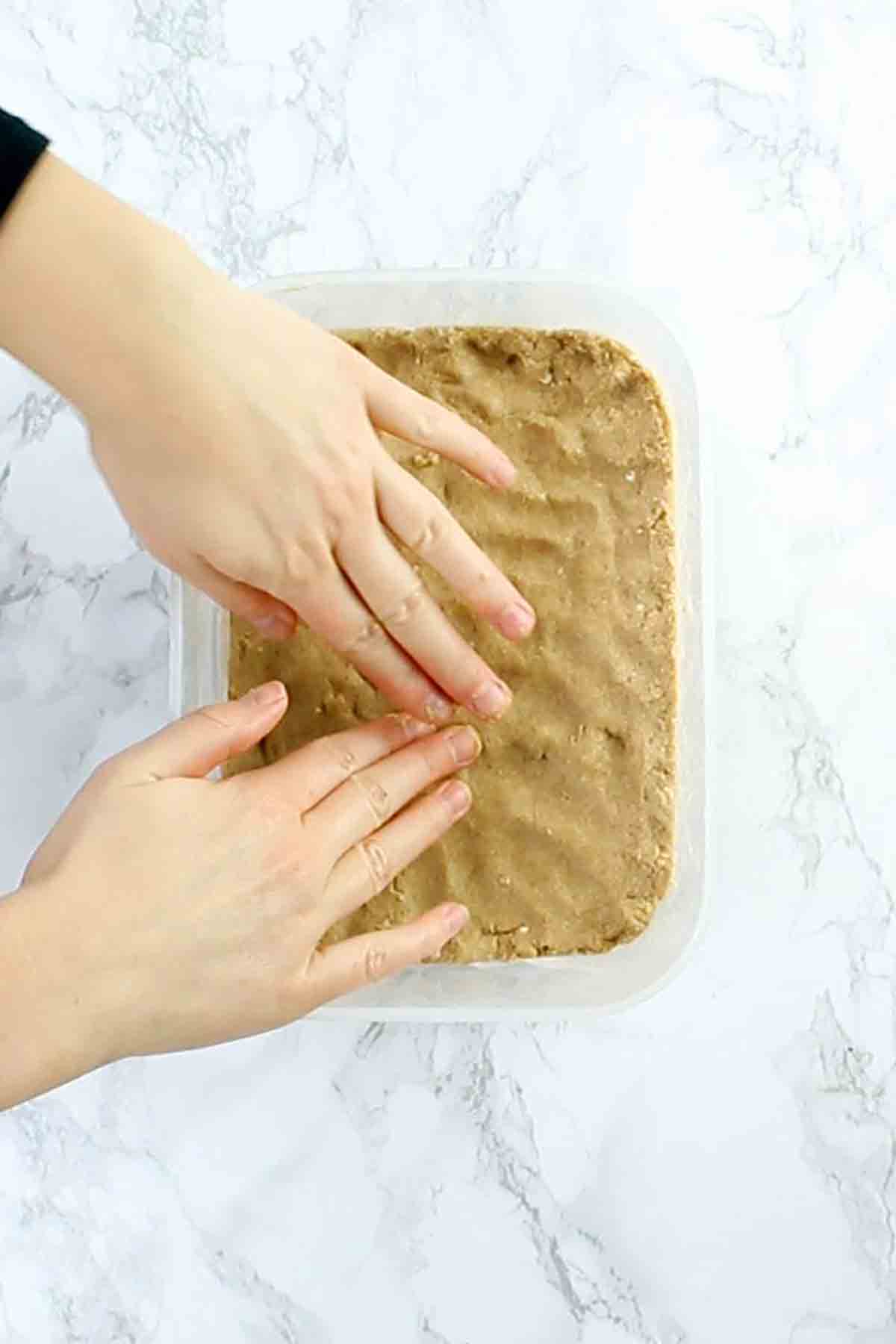 Step 4:
For the topping, melt 150g of vegan dark chocolate and a 2 tablespoons of peanut butter together over a low heat. I used Lindt 70% chocolate.
Pour this over the peanut butter base and spread it out using the back of a spoon or spatula.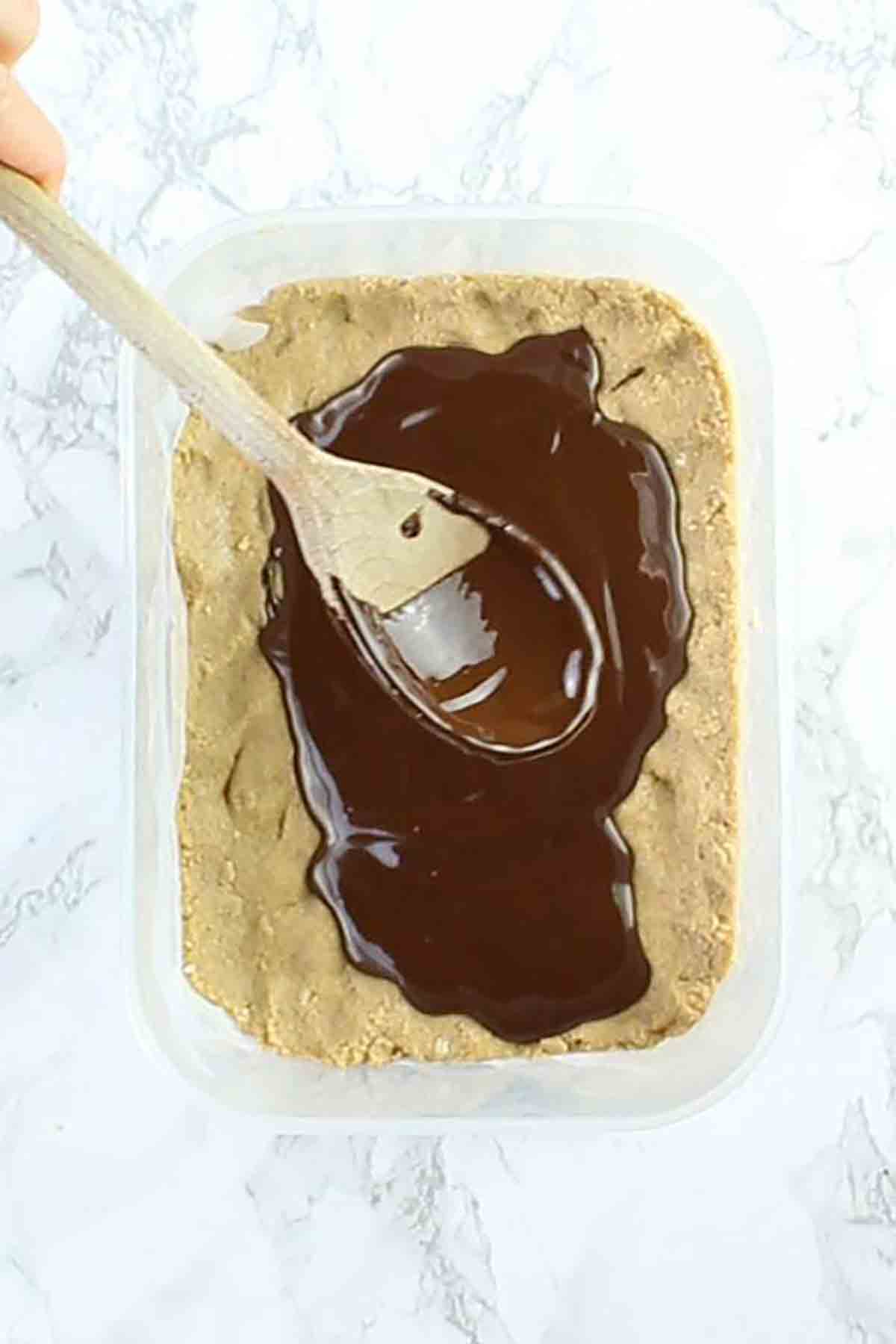 Step 6:
Place the whole thing in the fridge for at least 3 hours to set. Cut into 12-16 squares, depending on your desired size.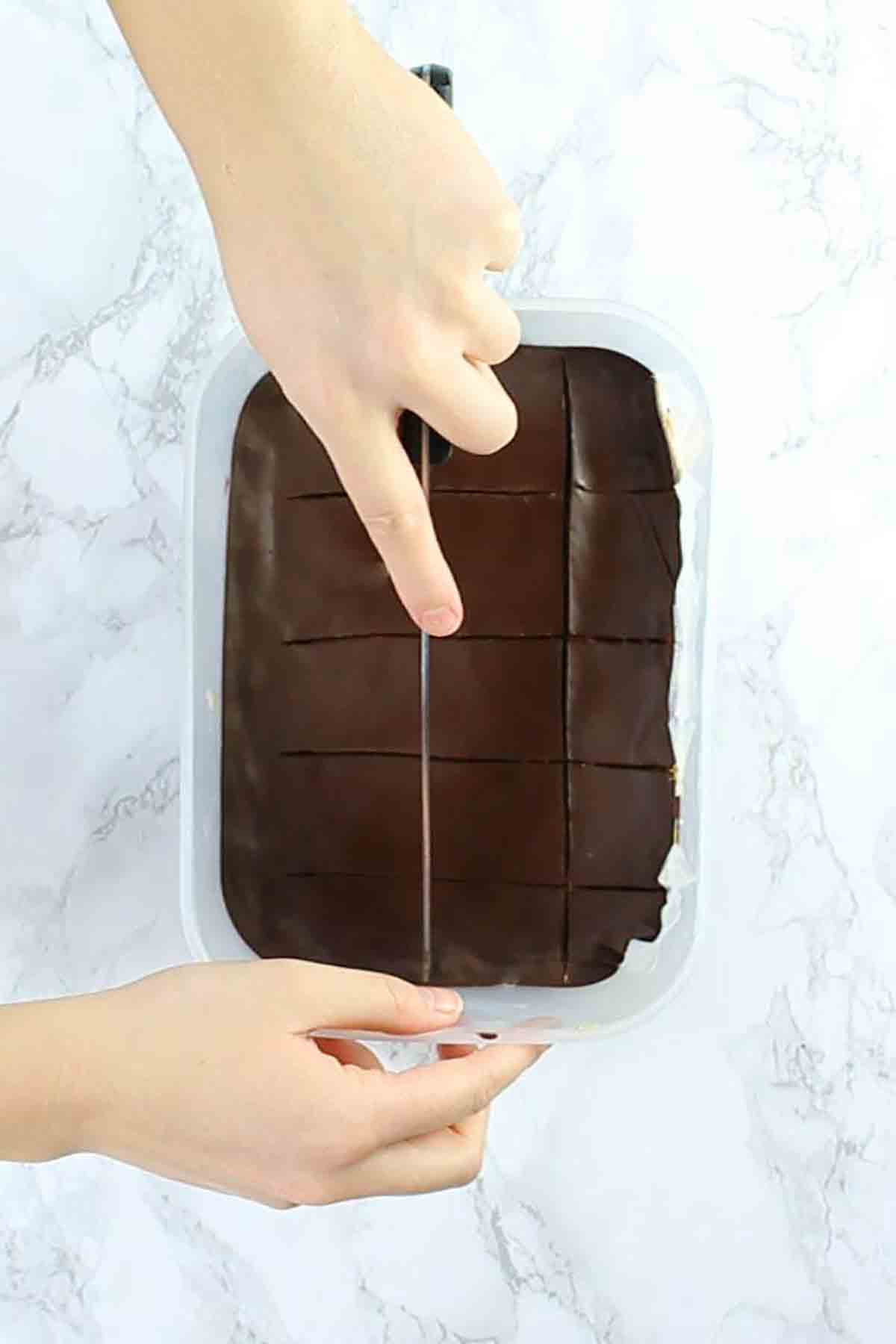 A Low-Fat Alternative
I know that the word "healthy" means different things to different people, so if you'd prefer to make your chocolate peanut butter bars low fat, you can use powdered peanut butter. I experimented with PB2 and had pretty good results.
The low-fat PB2 chocolate peanut butter bars have only 2g of fat, compared to 10g if you use regular peanut butter!
Another change I'd recommend if you're using powdered peanut butter is to use whole oats rather than oat flour. I found the oat flour mixed with the powder was a bit too dry and chewy, but whole oats worked really well.
Recipe for low-fat chocolate peanut bars:
200g PB2 Powdered peanut butter (1.5 Cups)
300ml Water (1 Cup + 3 Tablespoons)
125g Oats (3/4 Cup + 1 Tablespoon)
6 tablespoons Agave nectar or maple syrup
150g Dark chopped chocolate (1 Cup)
1 Teaspoon powdered peanut butter
Mix the powdered peanut butter, water, oats and agave together in a bowl to form a wet dough. Press the dough into a lined 8×10-inch tin and set aside.
Melt the chocolate and powdered peanut butter on low heat until smooth. Pour this over the peanut butter base and chill in the fridge for 3 hours.
Cut into squares and enjoy!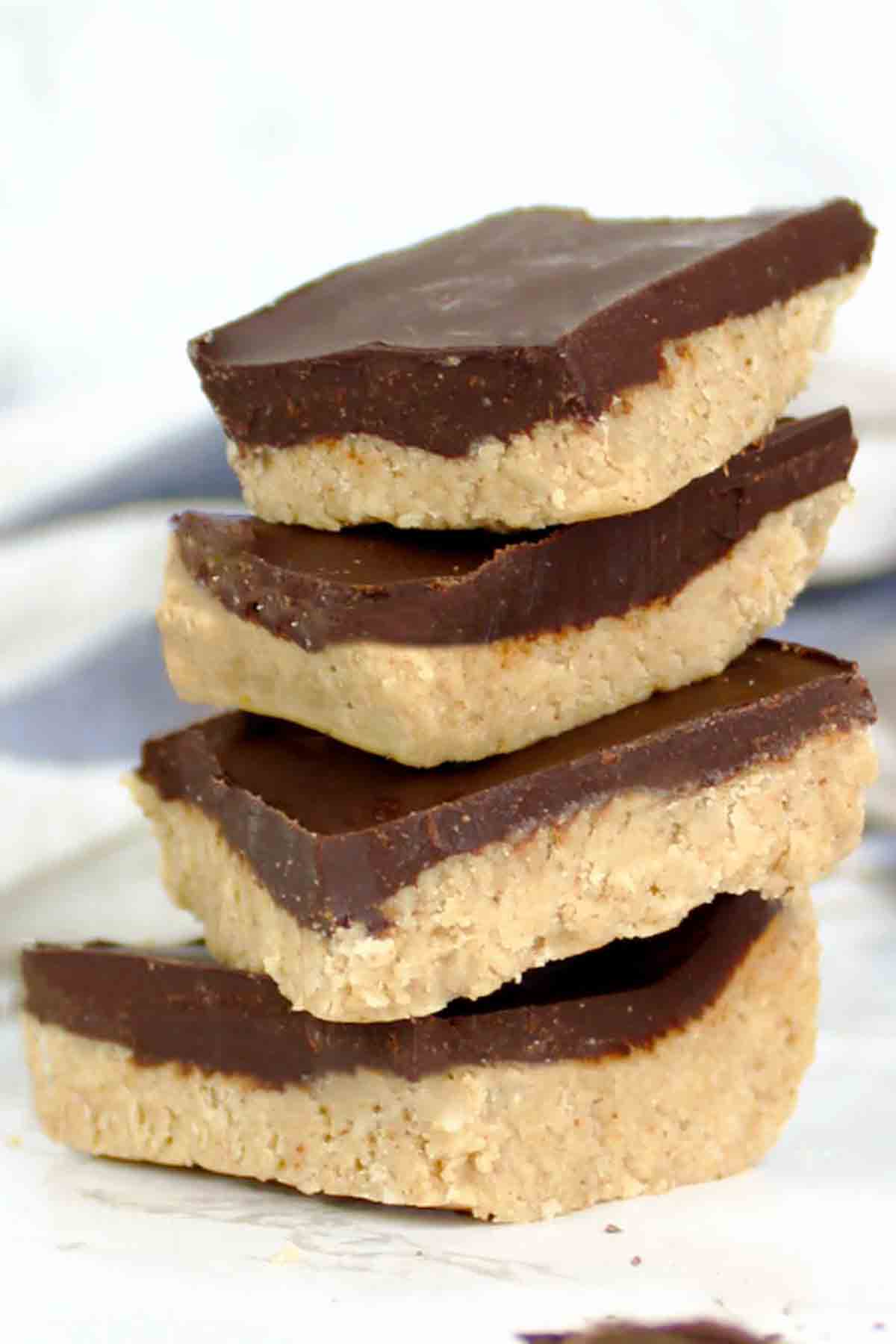 More vegan peanut butter recipes:
Whichever version you decide to go with, I hope you love these vegan chocolate peanut butter bars! If you do make them, please let me know how it went! Leave a review, tag me on Instagram @bakedbyclo or share your creations with me on Facebook! xo

Vegan Chocolate Peanut Bars
Easy, 4-ingredient healthy bars that are perfect for dessert. A soft peanut butter base and a hard, chocolatey topping.
Ingredients
Peanut butter base
200

g

Peanut butter

this recipe was tested with Whole Earth peanut butter (3/4 Cup)

100

ml

Agave nectar

or maple syrup (∼7 tablespoons)

150

g

Oats flour

(1+½ Cups)
Chocolate topping
2

Tablespoons

Peanut butter

150

g

Dairy-free dark chocolate, chopped into small pieces

(∼5oz)
Instructions
For the peanut butter base:
Line an 8×10-inch tin with baking paper.

Mix the peanut butter and agave together in a bowl. Add the oat flour and use your hands to form a wet dough.

Firmly press the peanut butter dough into your lined baking tin.
For the chocolate topping:
In a pot over low heat on the stove, gently melt the chocolate and the peanut butter.

Once the chocolate has fully melted, pour it over the peanut butter base and spread it out evenly.

Place the whole the fridge for at least 3 hours to set.

Once set, cut into 12-16 squares and enjoy.
Recipe Notes
These bars will last for up to 1 week in an airtight container in the fridge.
Nutrition Facts
Vegan Chocolate Peanut Bars
Amount Per Serving (1 square (16th))
Calories 150
Calories from Fat 90
% Daily Value*
Fat 10g15%
Sodium 40mg2%
Carbohydrates 10g3%
Protein 5g10%
* All values are an estimate only and will vary depending on the food brands used.
BakedByClo is a participant in the Amazon Services LLC Associates Program, an affiliate advertising program designed to provide a means for sites to earn advertising fees by advertising and linking to Amazon.com. This site may contain some of these links to Amazon.com & other affiliate programs. If you make a purchase through one of those links, BakedByClo will receive a small commission from the purchase at no additional cost to you.