Vegan Ice Cream Cone Cupcakes
These vegan ice cream cone cupcakes make for a delicious summer treat! The wafer cone is filled with a light and fluffy vegan sponge cake, then topped with creamy vanilla frosting to make it look exactly like soft-serve ice cream!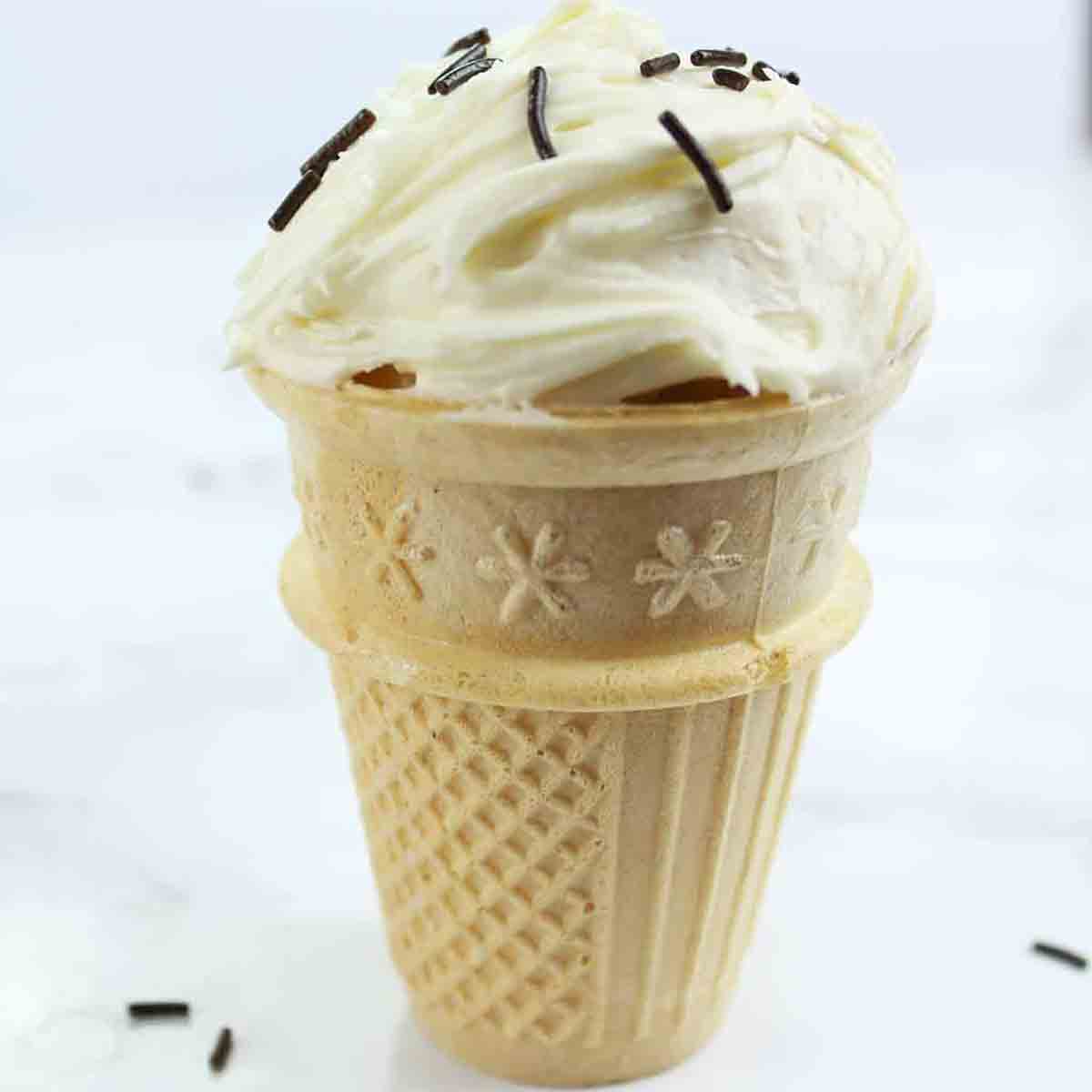 With summer coming up (I use that term lightly, Scotland), I thought these ice cream cone cupcakes would be a great addition to the blog.
I first came across this super cute idea a few years ago. I can't remember exactly where I saw them (probably Facebook or Pinterest) but I made them immediately and I was very impressed with the results.
All you have to do is bake the sponge cupcakes inside of some ice cream cones then decorate them to look like ice creams. So simple but so cute, and I bet these would go down great with kids. I switched things up a little to make the cupcakes vegan-friendly but the results were pretty much the same.
The thing that I love most about these cupcakes is that there are so many different ways to decorate them. You could experiment with different flavours or colours of sponge, use different flavours or colours of icing, and top with all kinds of edible decorations or sauces. I kept it very simple with a classic vanilla ice cream cone cupcake.
Alternative flavour and decoration ideas
Chocolate sponge. Swap 2 tablespoons of flour for 2 tablespoons of cocoa powder when preparing the cake batter.
Lemon sponge. Add 2 teaspoons of lemon zest to the batter and use lemon juice where the recipe calls for vinegar.
Neapolitan sponge. Split the cake batter into 3 bowls. Add 1 tsp pink food colouring to one bowl, 1 tsp cocoa powder to another, and leave the last one as-is. Alternate the 3 batters as you fill-up the ice cream cones.
Mint choc-chip frosting. Omit the vanilla, add 1/4 teaspoon of peppermint extract and green food colouring to the frosting until you get the desired colour. And of course, decorate with some dairy-free chocolate chips!
Vegan Ice cream sauce
Adding a sauce on top of your frosting would be an excellent addition to make the cupcakes look even more like ice cream! The majority of ice cream sauces in the supermarkets are suitable for vegans. There are also lots available on Amazon.
Things to watch out for would be milk (especially common in toffee sauces), gelatine (yes, really!), and certain E numbers that may not be vegan. Keep my vegan e-number guide handy if you're unsure.
My two favourite vegan-friendly ice cream sauces are by Askeys and I think they have quite a few different flavours. These are also available in Sainsbury's, Tesco and Asda: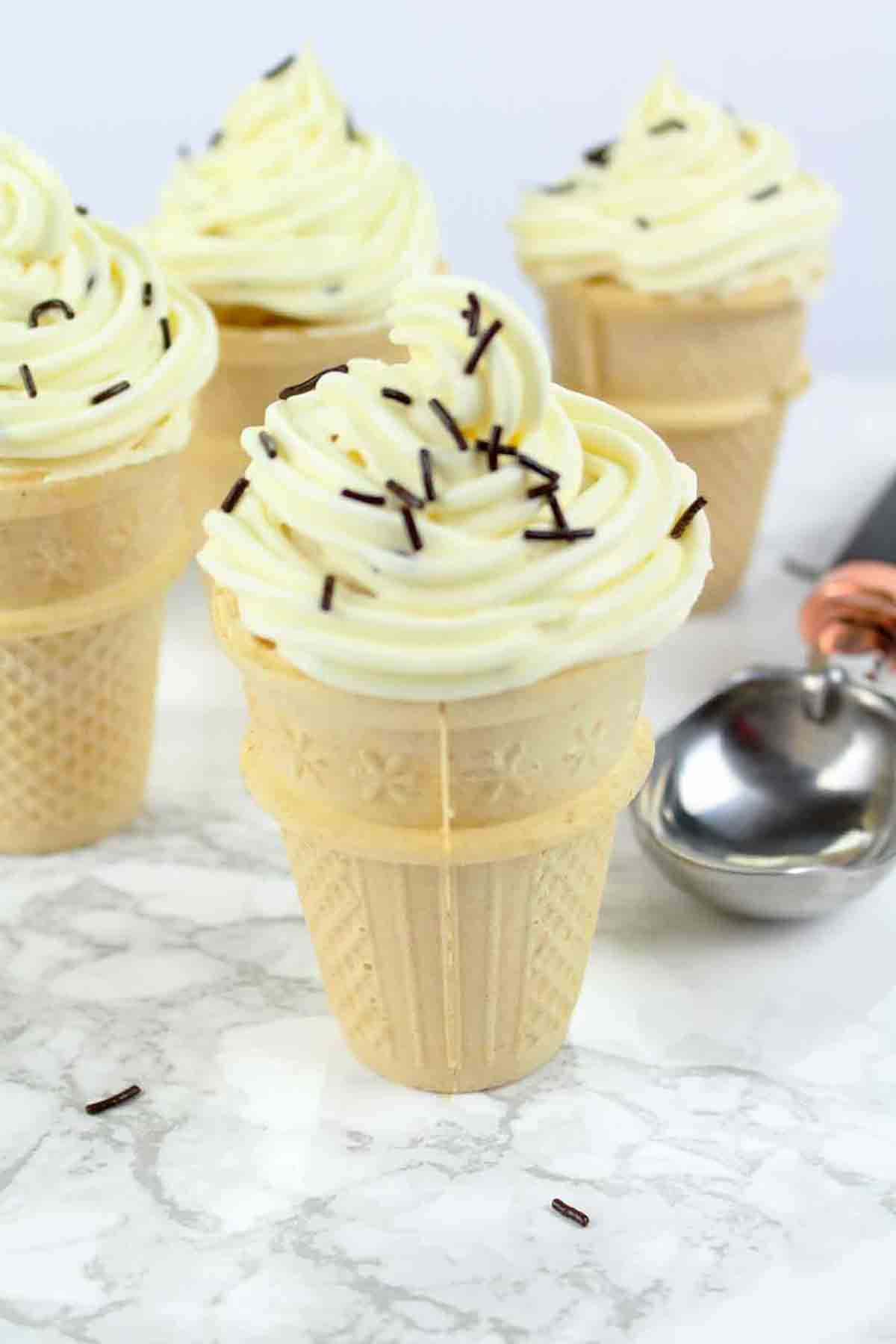 How To Make Vegan Ice Cream Cone Cupcakes
Step 1:
Preheat your oven to 180°C. Line a cupcake pan with 8 ice cream cup cones.
Step 2:
Mix together 1 teaspoon of apple cider vinegar (or white vinegar) and 280ml of soy milk. Set it aside for 5 minutes to thicken.
Step 3:
Next, mix together 230g of self-raising flour, 1/2 teaspoon of baking soda and 180g of caster sugar.
Step 4:
Now add the milk mixture from earlier, along with 3 teaspoons of vanilla extract and 6 tablespoons of vegetable oil. Mix together gently until you get a smooth, creamy cake batter. Make sure to scrape the bottom of the bowl to ensure no dry mixture is stuck there.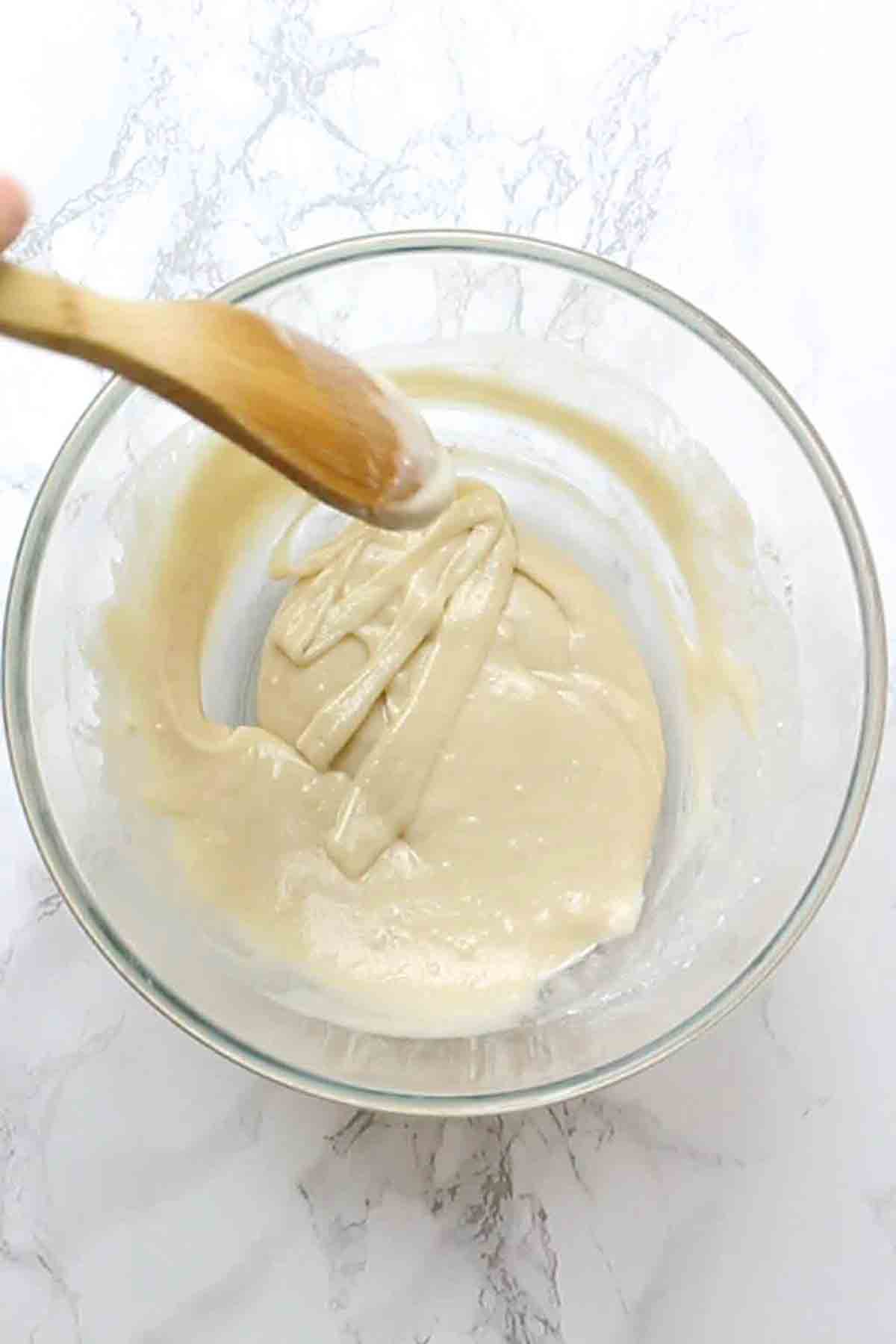 Step 5:
Using a spoon or piping bag, fill each cone until it's around 3/4 full. It's important that you leave 1-2 inches to allow the cupcakes to expand in the oven. Otherwise, you'll end up with overflowing ice cream cones!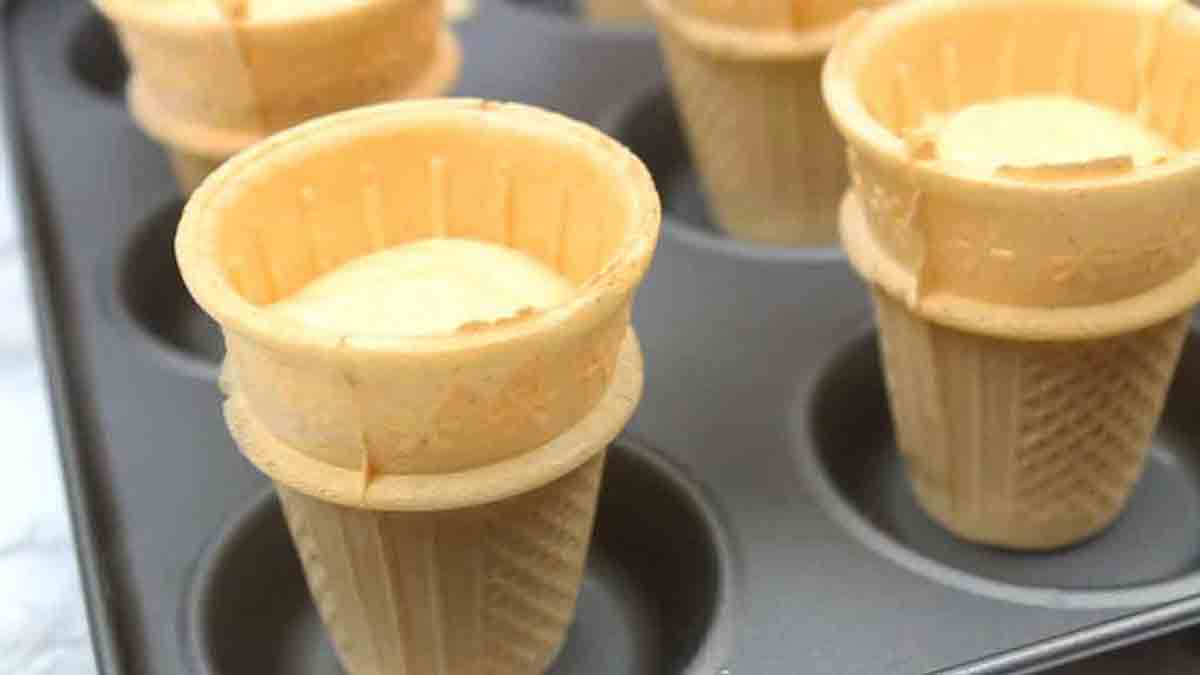 Step 6:
Bake the cupcakes for 15-20 minutes. Make sure they are cooked all the way through by inserting a toothpick through the middle- it should come out clean. If there's still cake batter on the toothpick, pop them back into the oven until they're done, checking every few minutes.
Step 7:
While the cakes cool, prepare the frosting by mixing 150g of vegan margarine and 500g of icing sugar together. Add 1 teaspoon of vanilla extract and gently stir in until combined.
Pipe the frosting onto the cakes (once they are completely cool) and decorate with your chosen sprinkles or sauces. If you don't have a piping bag, you can just spoon the frosting on- it still looks really cute!
FAQ:
How should I store ice cream cone cupcakes?
These cupcakes can be quite tricky to store and transport around, especially with the frosting on top. To store mine, I used aluminum foil trays from Amazon. I turned the trays upside down then cut out holes big enough for the ice cream cones to slot into. I then covered the whole lot loosely with tin foil. They'll last for 3-4 days.
How can I prevent the cones from falling over when baking?
Simply pop the ice cream cones into the holes of a cupcake pan. This will help to prevent them from falling over but you'll still need to be careful when putting them into the oven and removing them.
Where can I find vegan-friendly sprinkles?
If you're planning to decorate your cupcakes with sprinkles, be careful to watch out for carmine, shellac and beeswax, which are commonly added to cake decorations. For vegan recommendations, check out my post about the best vegan sprinkles for baking.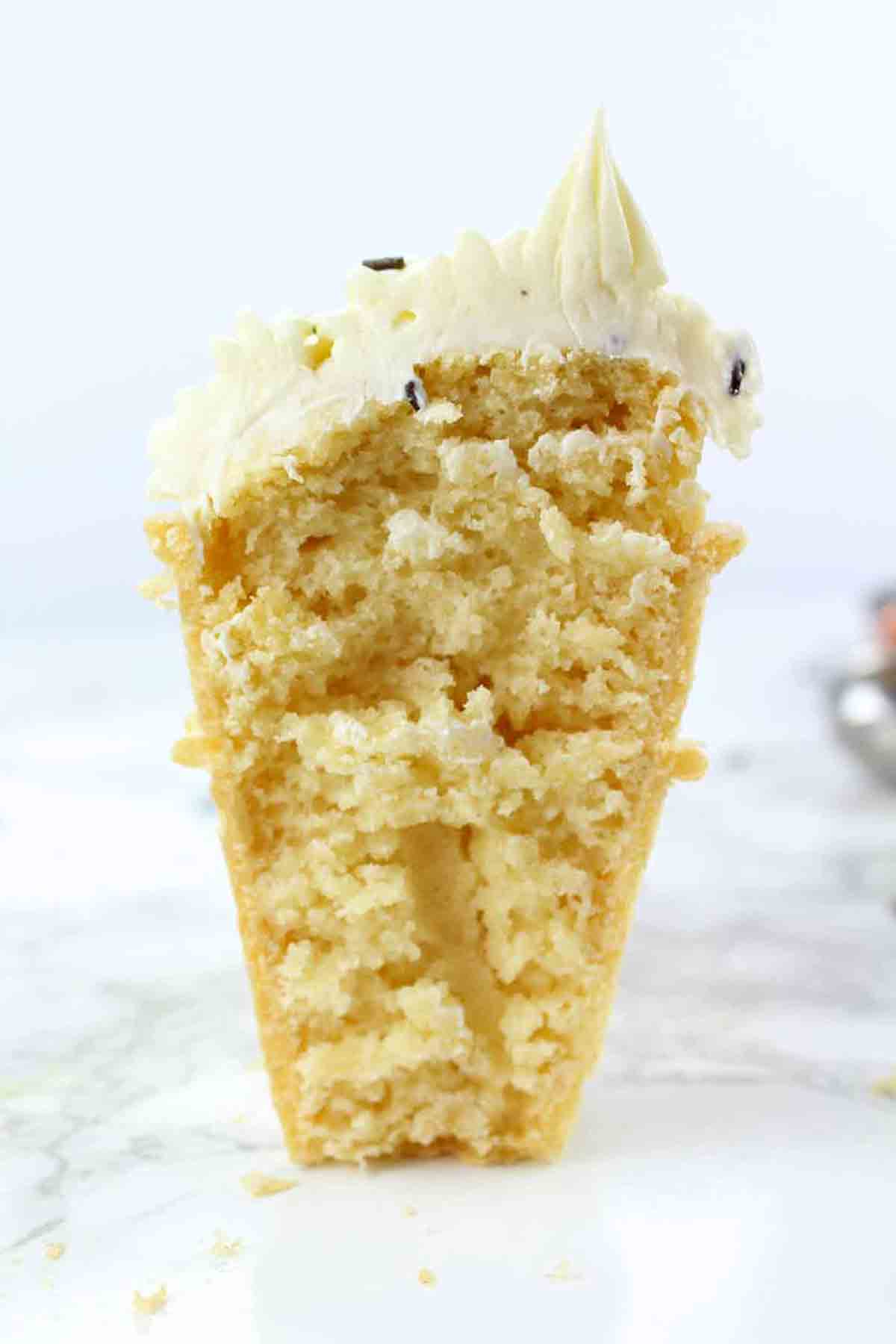 More vegan cupcake recipes:
I hope you enjoy these vegan ice cream cone cupcakes. Let me know how you get on with the recipe by leaving a comment, and feel free to share which combination of flavours, colours and toppings you used! Happy baking! xo

Vegan Ice Cream Cone Cupcakes
Light and fluffy vanilla cupcakes disguised as a soft-serve ice cream cone!
Ingredients
8

Vegan ice cream cup cones

(the small ones with the flat bottom) I used Askey's

280

ml

Soy milk

1

Teaspoon

Apple cider vinegar

(sub for white vinegar or lemon juice)

230

g

Self-raising flour

½

Teaspoon

Baking soda

180

g

Caster sugar

6

Tablespoons

Vegetable oil

3

Teaspoons

Vanilla extract
For the frosting:
150

g

Vegan margarine

500

g

Icing sugar

1

Teaspoon

Vanilla extract
Instructions
Preheat your oven to 180°C (160°C if using a fan or convection oven). Place the ice cream cones into the holes of a cupcake tin.

Mix the soy milk and vinegar together and set aside for 5 minutes.

In a large bowl, mix together the flour, baking soda and sugar.

Add the milk mixture to the bowl, along with the oil and the vanilla extract. Mix everything together to form a smooth cake batter.

Fill up each ice cream cone around 3/4 the way full, leaving a couple of inches to allow the cakes to rise.

Bake for 15-20 minutes. Check they're cooked by inserting a toothpick through the centre. Leave them to cool completely.
For the frosting:
In a large bowl, mix together the margarine and icing sugar with a wooden spoon. Gently stir in the vanilla extract.

Pipe or scoop the frosting onto the cooled cupcakes and decorate with sprinkles.
Recipe Notes
Cut holes into an upside-down aluminum foil tray then place a cupcake in each hole for storing. Cover loosely with tin foil or similar.
You can store them for up to 3-4 days this way in a cool, dry place.

If frosting is too thick, add a little plant-based milk until you get your desired consistency. To make it thicker, add more icing sugar.
Nutrition Facts
Vegan Ice Cream Cone Cupcakes
Amount Per Serving (1 cupcake with buttercream frosting)
Calories 407
Calories from Fat 117
% Daily Value*
Fat 13g20%
Sodium 97mg4%
Carbohydrates 68g23%
Protein 3g6%
* All values are an estimate only and will vary depending on the food brands used.
BakedByClo is a participant in the Amazon Services LLC Associates Program, an affiliate advertising program designed to provide a means for sites to earn advertising fees by advertising and linking to Amazon.com. This site may contain some of these links to Amazon.com & other affiliate programs. If you make a purchase through one of those links, BakedByClo will receive a small commission from the purchase at no additional cost to you.