Vegan Rice Crispy Cakes
These vegan chocolate rice crispy cakes are a nostalgic classic! Only 4 simple ingredients make up a super easy, no-bake recipe that's perfect for kids helping out in the kitchen!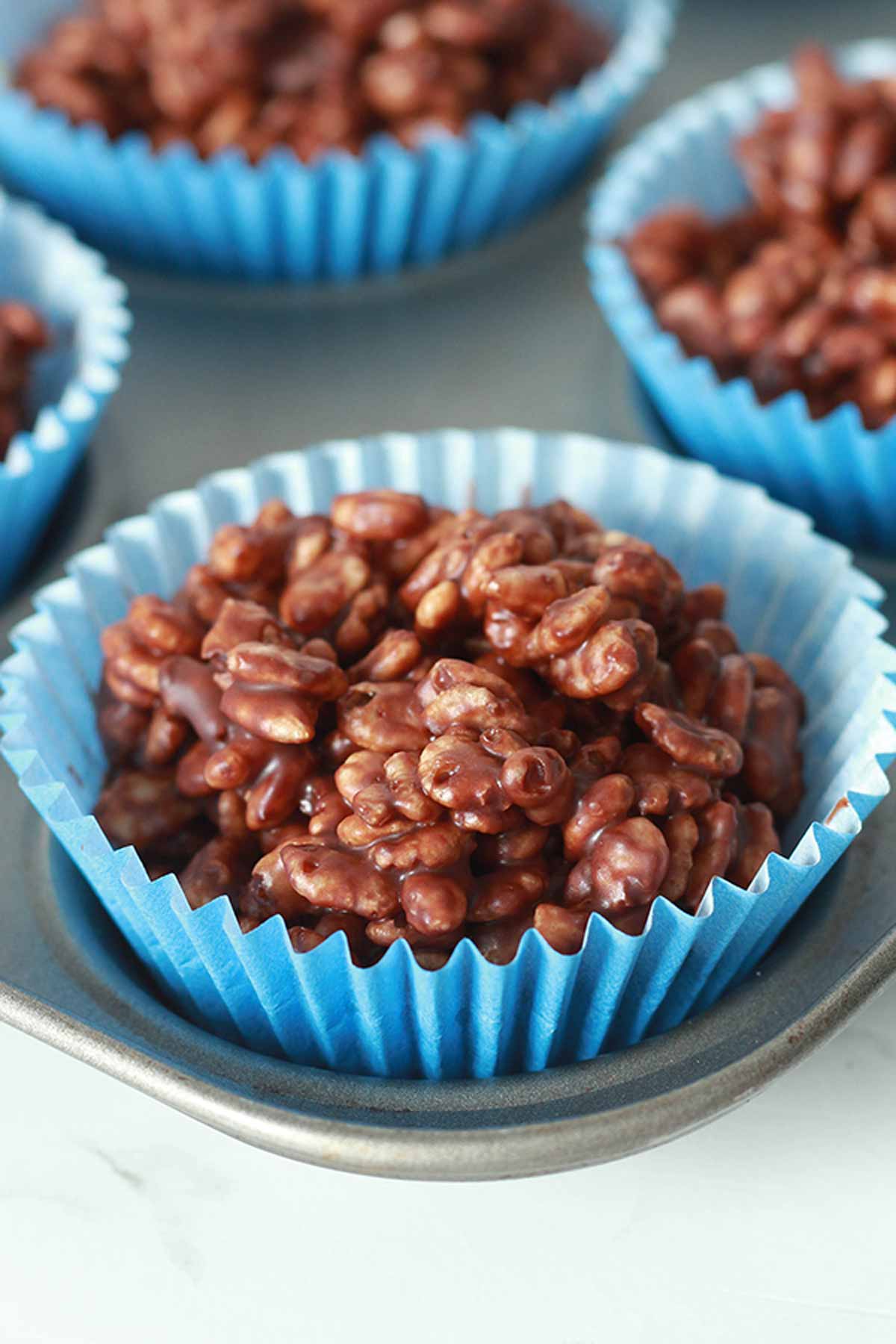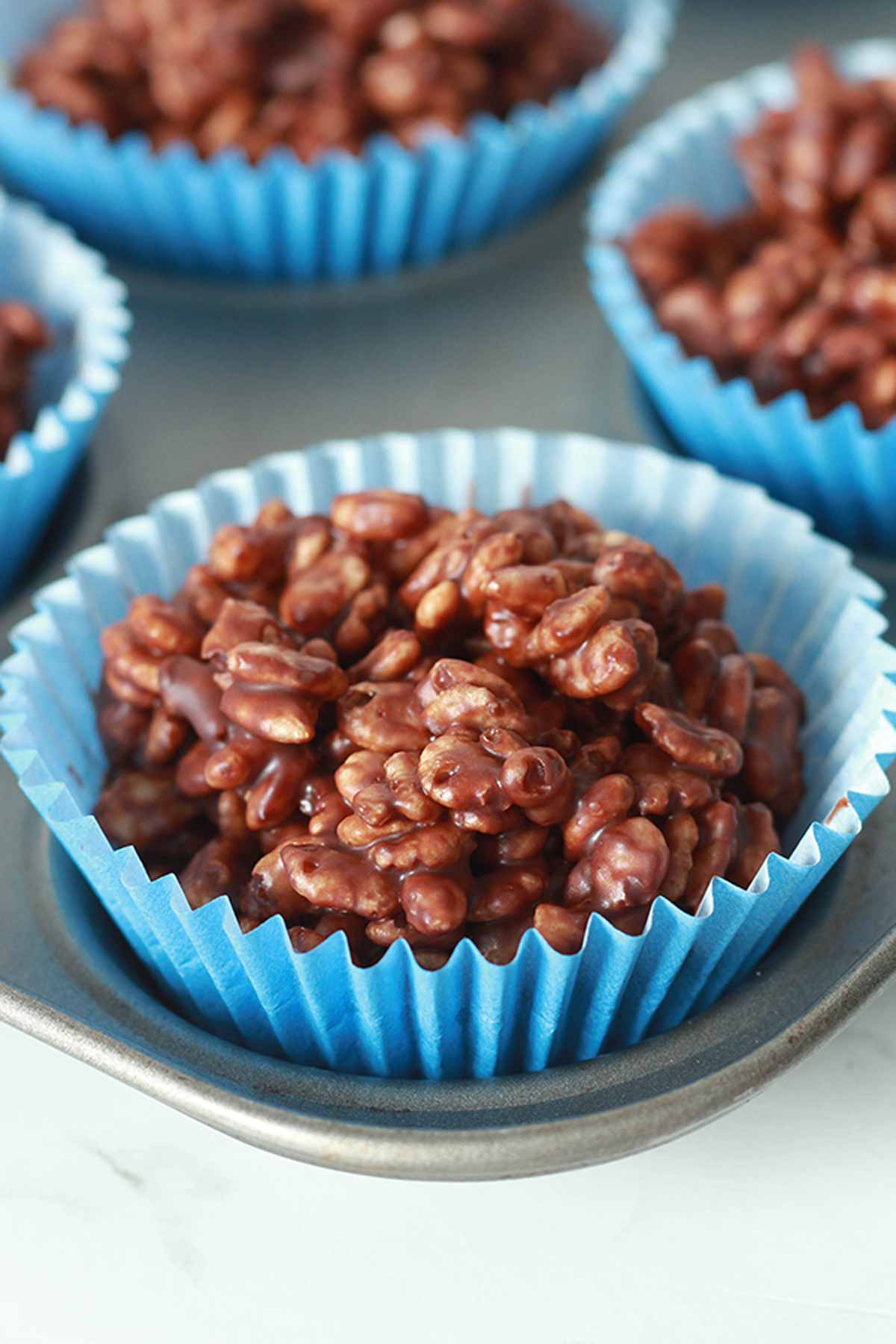 I have absolutely loved recreating my favourite childhood desserts since I started this blog a few years ago. It's so nice to be able to enjoy all of the classic desserts again, without any of the eggs or dairy.
Next up on my list of things to bake was these chocolate vegan "Rice Krispie" cakes. If you live in the UK, I'm sure you will agree that you can't get any more of a nostalgic dessert than these babies!
These crispy cakes used to be a staple in my family when I was a child. At every birthday party or special occasion, you could be sure you'd find a plate full of them on a table somewhere. I don't know if they are still as popular as they used to be in the 90's but because they are a classic, I had to include them on my blog!
They are perfect for little helpers in the kitchen because there are only 4 basic ingredients in the recipe. Aside from melting the chocolate, it's a completely heat-free, safe recipe that everyone can get involved with.
More old-school vegan desserts: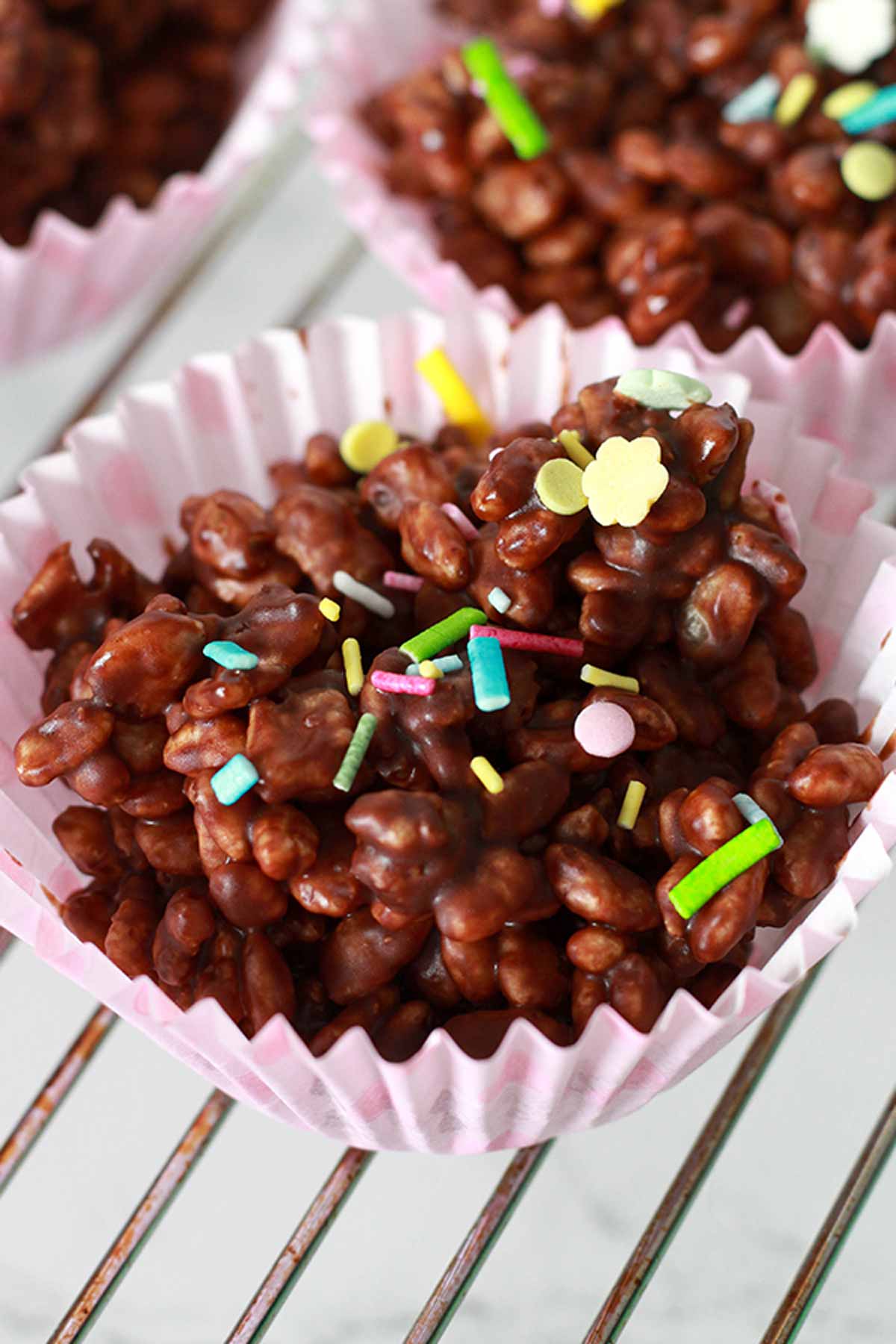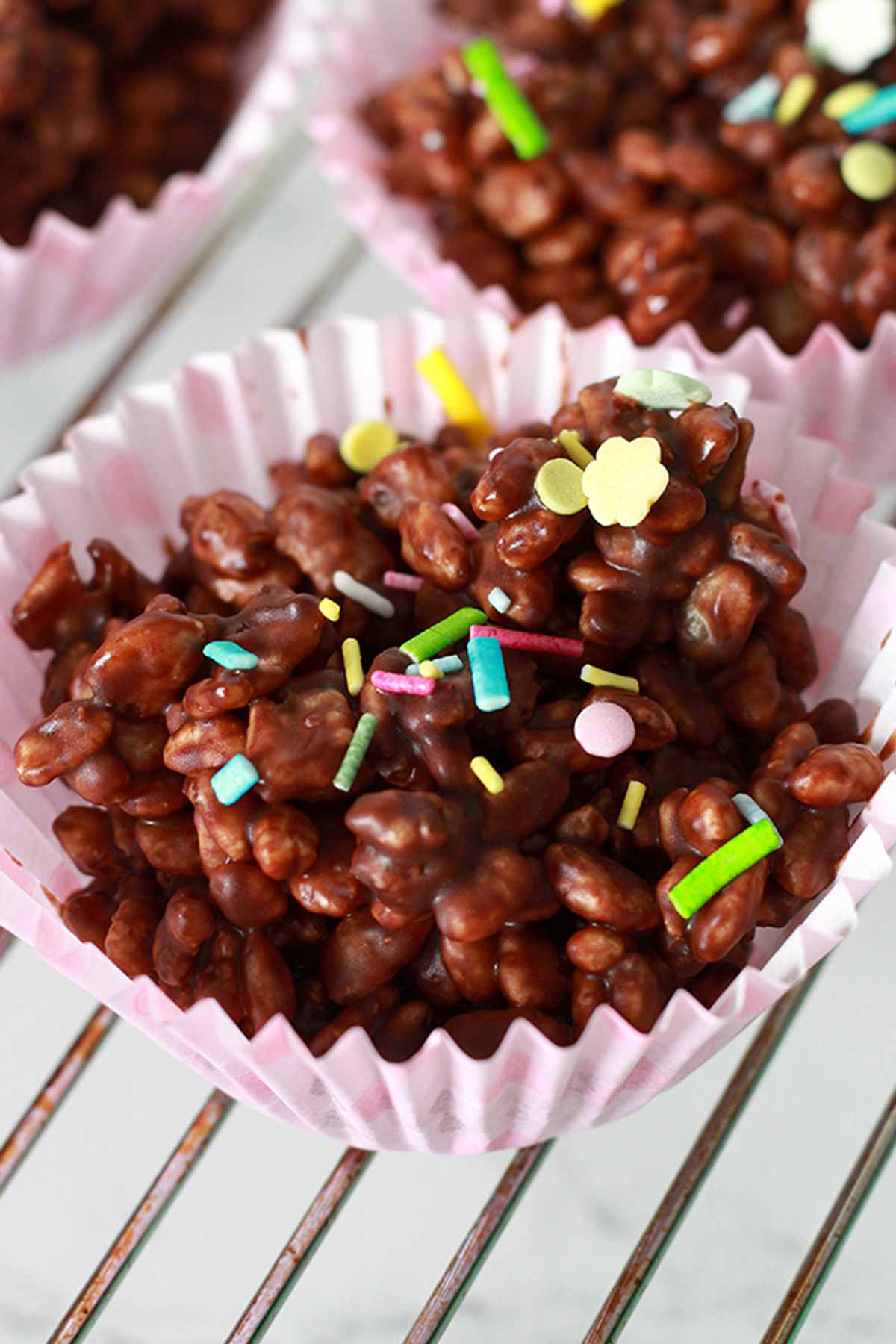 Which crispy rice cereals are vegan?
In case you didn't know, the OG rice cereal Kellogg's Rice Krispies aren't actually vegan. They don't contain milk or eggs, but the vitamin D they add to the cereal is derived from sheep's wool.
However, there are a few other crispy rice cereals that are vegan-friendly. Here are the ones I know of:
If you know of any more, please let me know so I can add them to the list!
How to make chocolate vegan rice crispy cakes
There aren't many steps to this recipe so I hope it will be easy to understand and follow! Before you begin, I recommend preparing your cupcake cases. I lined a cupcake tin with 12 paper liners although I think you could probably get a few more out of this recipe, depending on what size you want them to be.
Step 1:
To a heat-proof bowl, add 160g of vegan chocolate, 2 tablespoons of dairy-free margarine and 2 tablespoons of vegan golden syrup. I used Lovett's chocolate, Vitalite margarine and Lyle's squeezy golden syrup.
Place the bowl over a double boiler and stir gently until completely melted. Alternatively, pop the bowl in the microwave in 30 second bursts, stirring each time, until it's melted.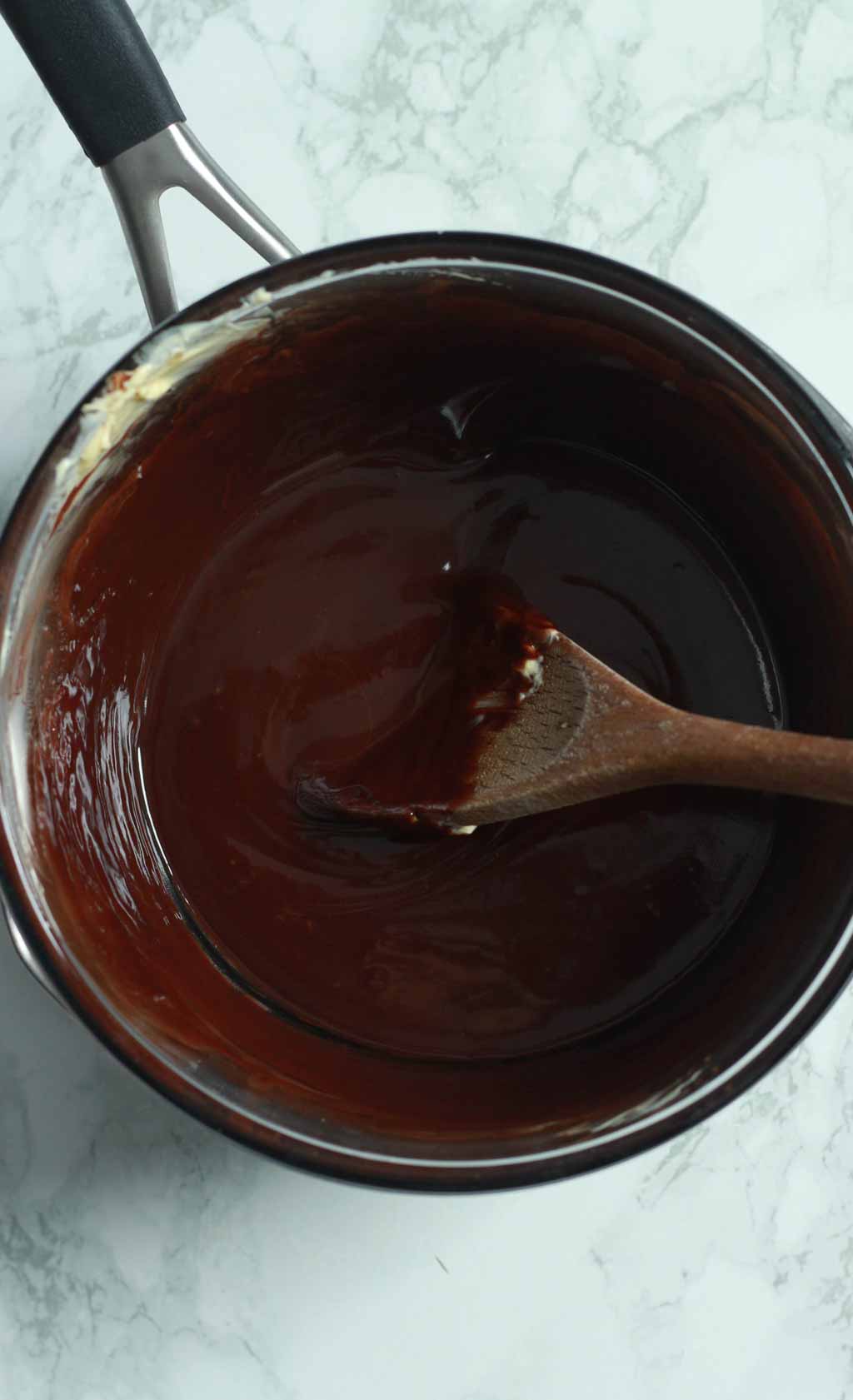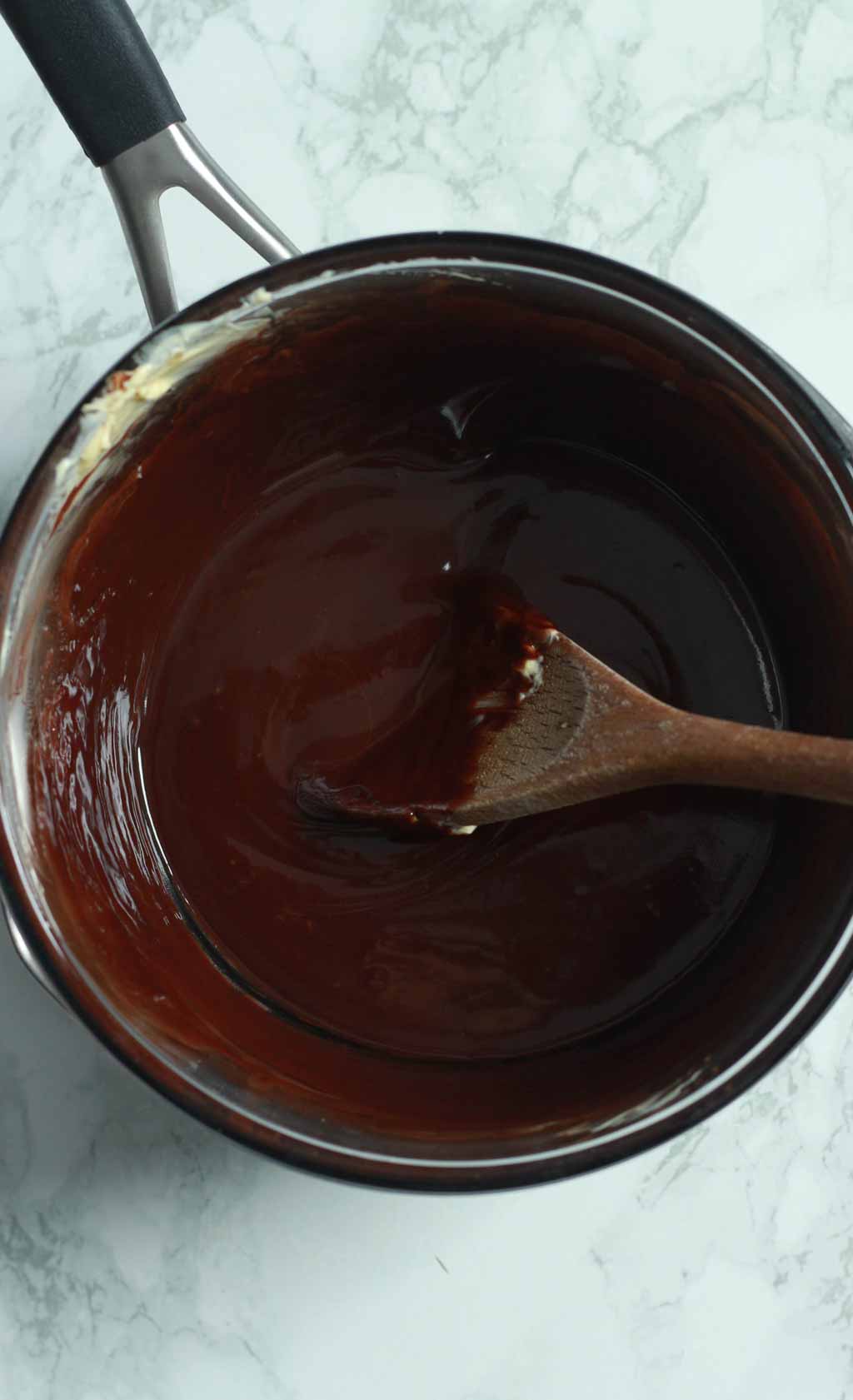 Step 2:
Measure out 120g of crispy rice cereal and add it to a large bowl. Pour the chocolate mixture into that same bowl and mix well with a wooden spoon, until all of the rice crispies are coated properly in the chocolate.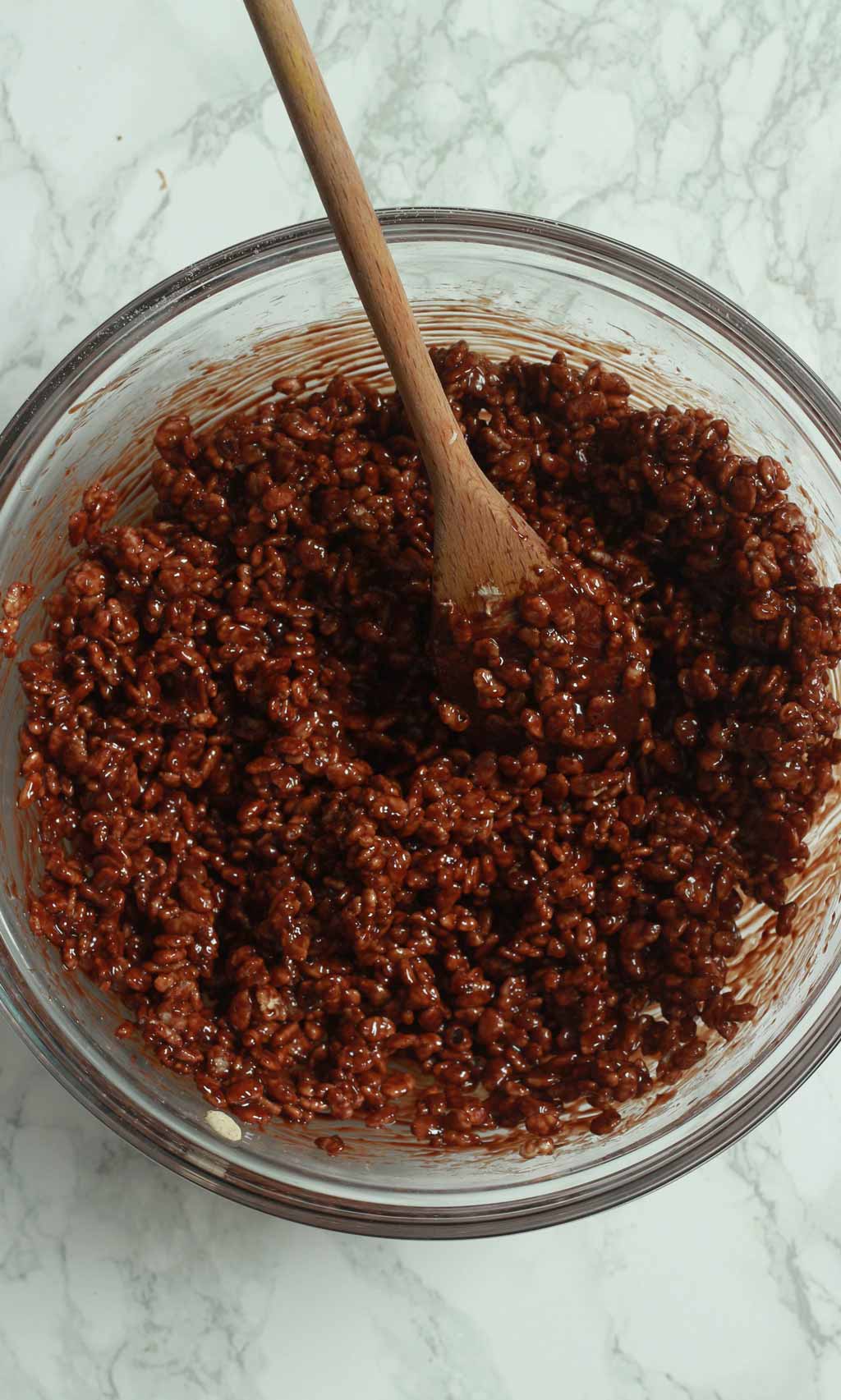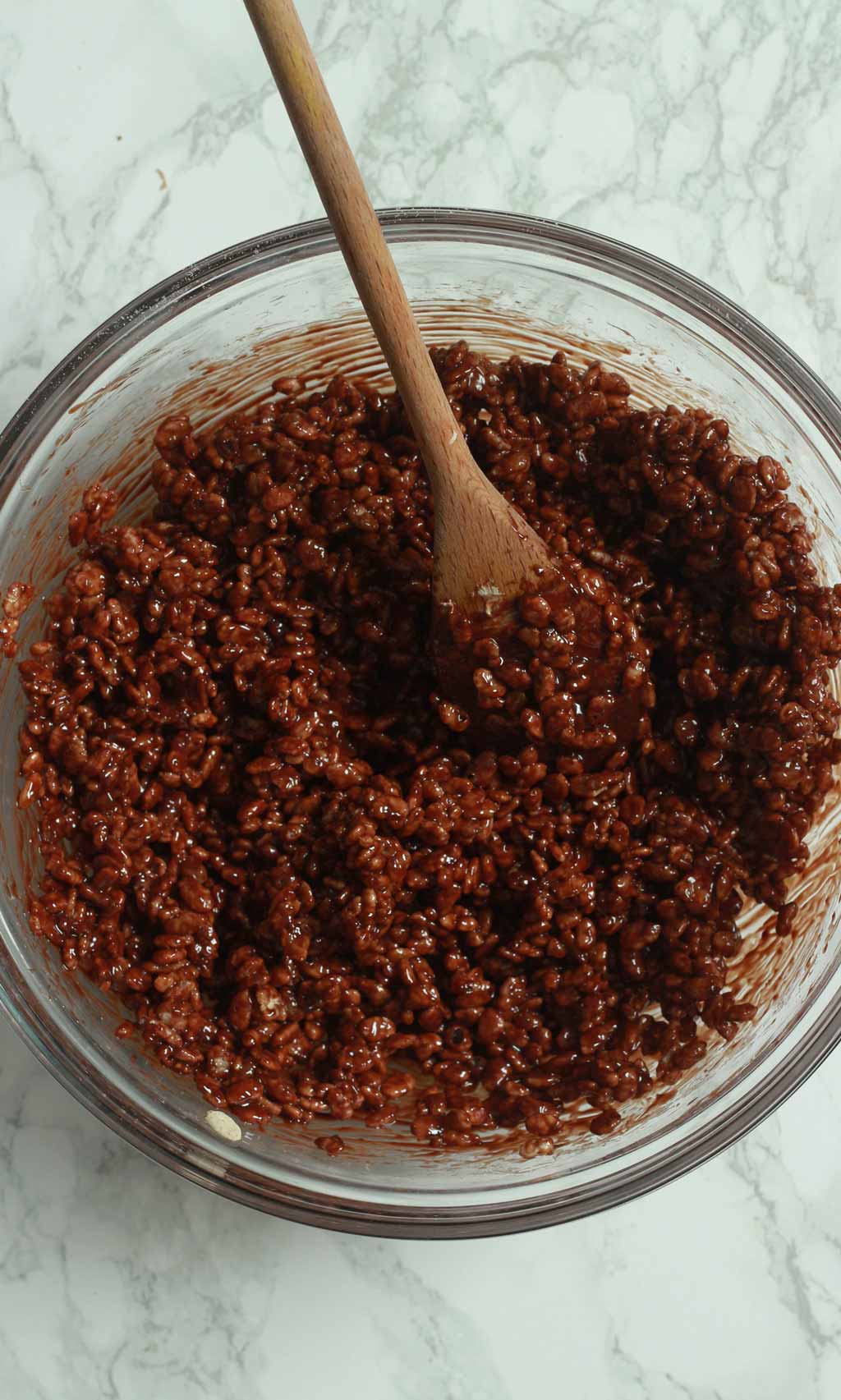 Step 3:
Place a few spoonfuls of the mixture into each of your paper cupcake cases. You can press it down slightly if you wish but this isn't totally necessary. As the chocolate hardens, it will set the mixture together in a cake-like ball without crumbling.
Add any toppings that you'd like to use while the chocolate is still wet. I kept half of mine plain and added sprinkles to the other half.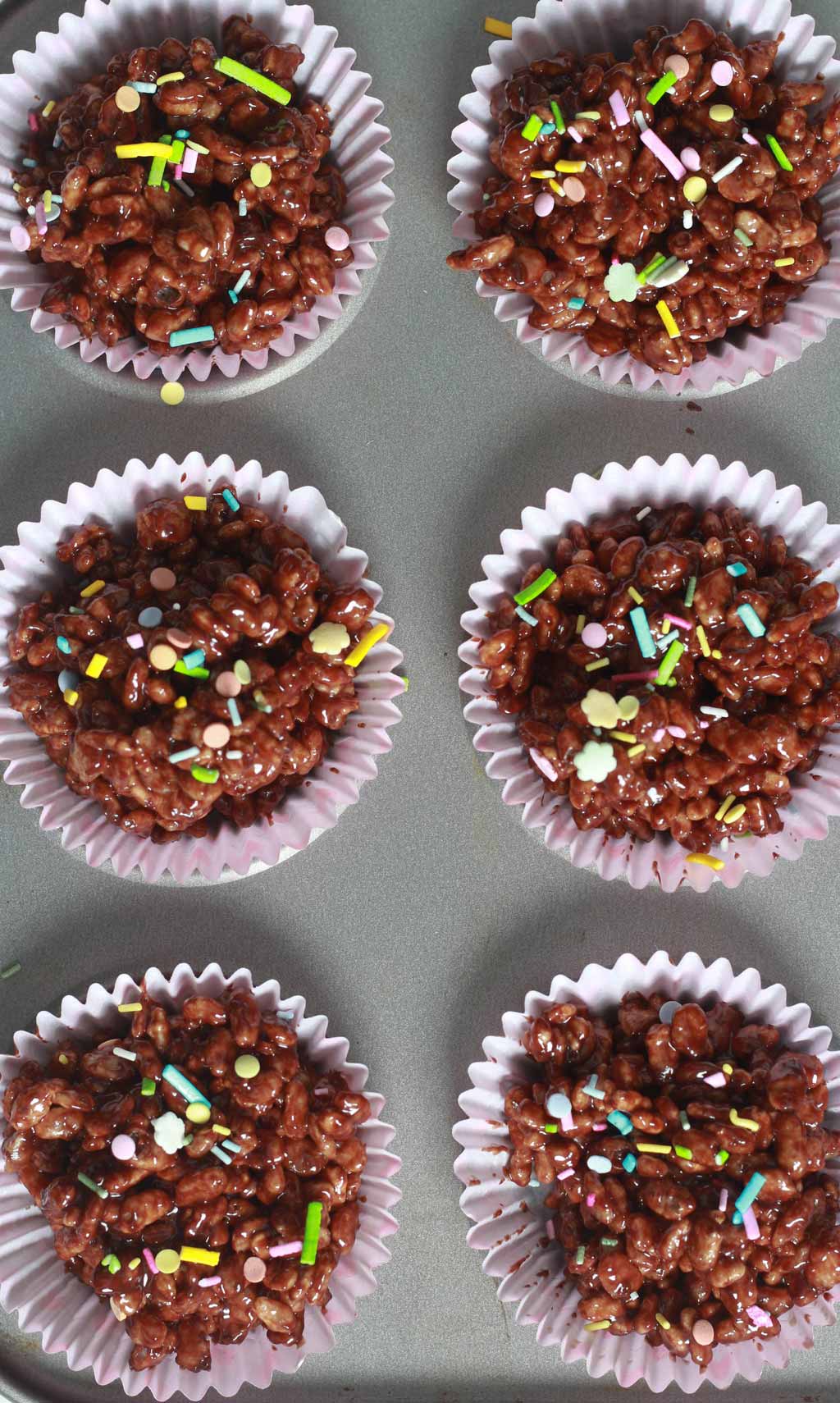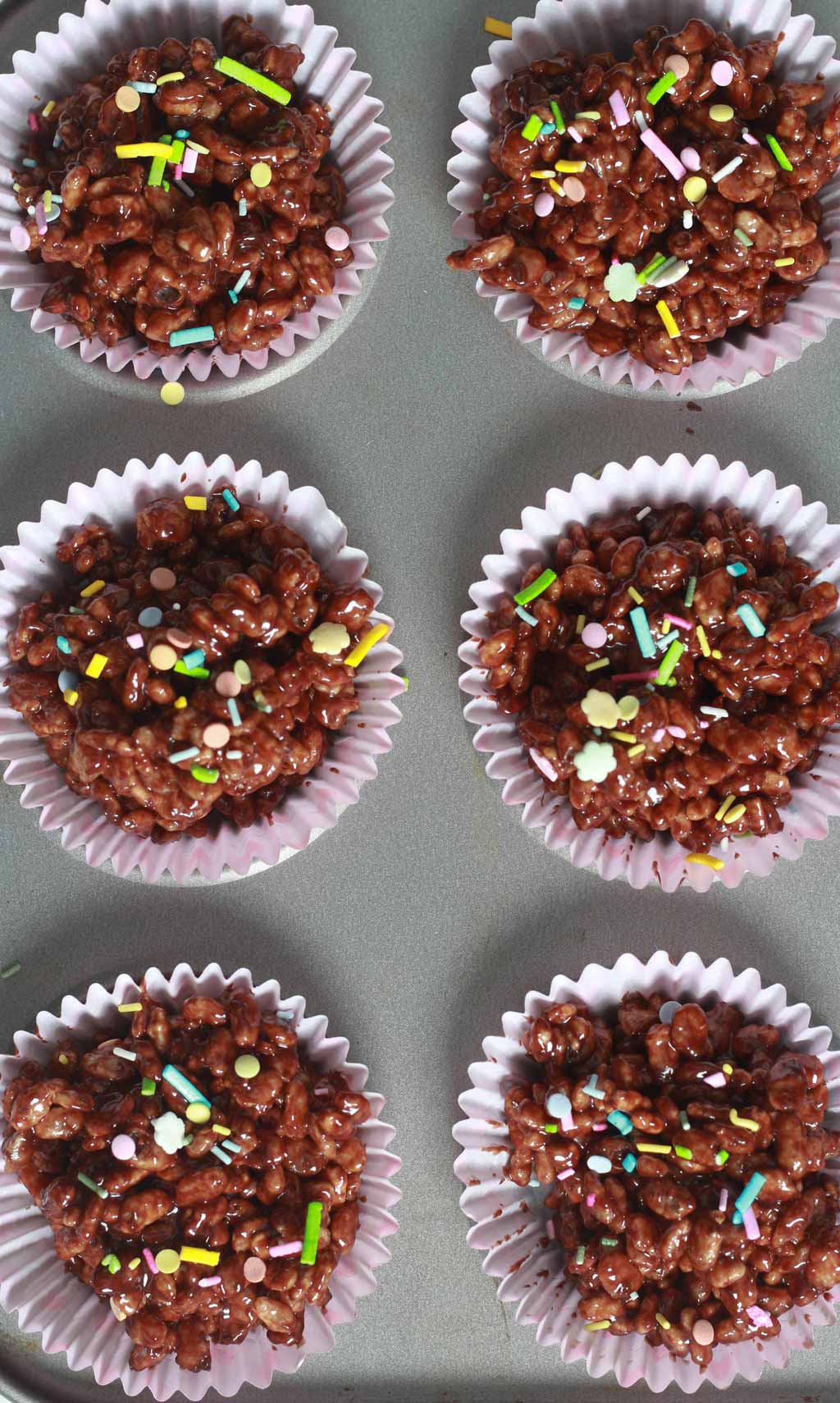 Step 4:
Place your vegan rice crispy cakes in the fridge for around 1 hour, until the chocolate has fully set. Then all that's left to do is enjoy!
Topping ideas
As a child, we always just had our rice crispy cakes plain with just the chocolate. But times change and sometimes it's nice to add a little extra something to spice it up a bit. Whenever you're adding toppings, you'll need to do so while the chocolate is still wet so that they don't fall off. Here are some of my ideas:
FAQ:
How should chocolate rice crispy cakes be stored?
Keep them in an airtight container and store them at room temperature. No need to keep them in the fridge! They will last for up to 5 days.
Can they be frozen?
I haven't tried this yet but I wouldn't recommend it due to the delicate nature of the crispy rice cereal. They don't take too long to make so it'd be best to make them fresh on the day that you need them, or the night before.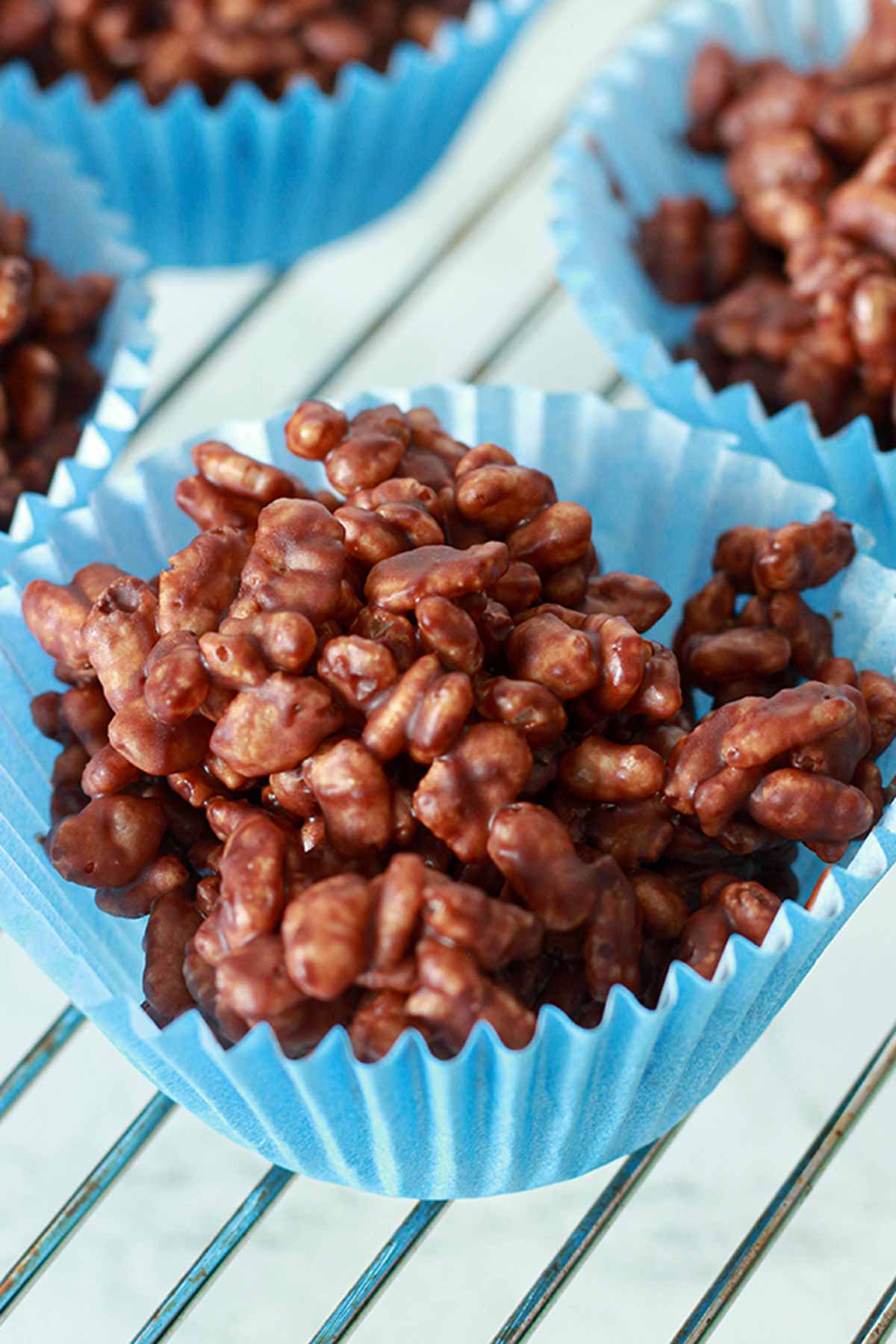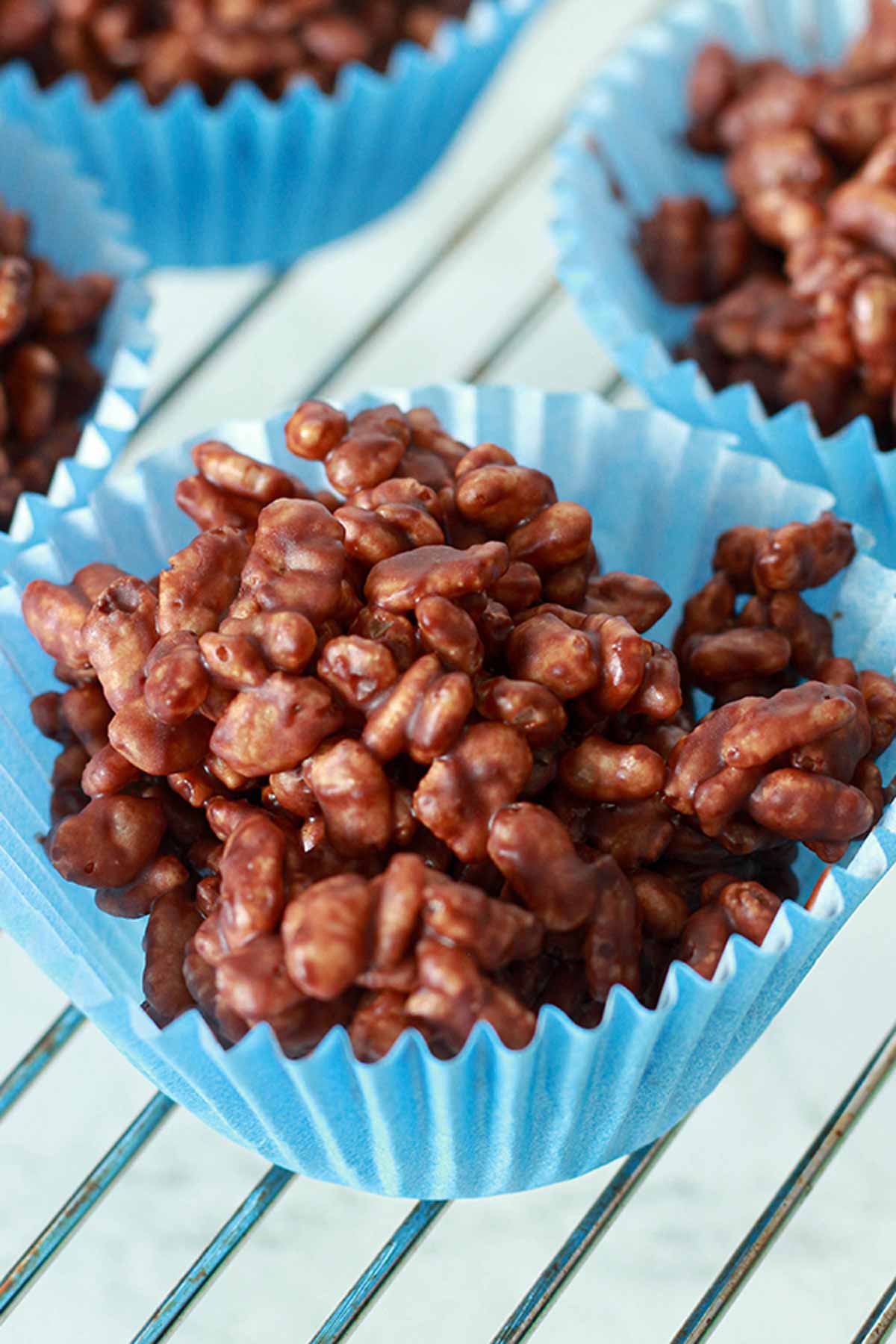 That's all for now. I hope you like these nostalgic treats and have fun making them. I'd love to hear what you think of the recipe- please do leave a comment or rating below to let me know! Happy baking! xo

Vegan Rice Crispy Cakes
Chocolate rice crispy cakes that are dairy-free!
Ingredients
160

g

Chocolate of choice

(5.6oz)

2

Tablespoons

Vegan margarine

2

Tablespoons

Golden syrup

120

g

Crispy rice cereal

(4.2oz)
Instructions
Line a cupcake tin with 12 paper cases.

Melt the chocolate, margarine and golden syrup together. I did this on a double boiler but you can do it in short bursts in the microwave too, mixing each time.

Add the rice crispies and melted chocolate mixture to a large bowl. Mix well using a wooden spoon, until all of the crispies are well coated in chocolate.

Place a few spoonfuls of the mixture into each paper case. You may be able to get a few more cakes out of this mixture, depending on what size you make them.

Place the crispy cakes into the fridge for 1 hour, or until the chocolate has fully set.
Recipe Notes
Store in an airtight container at room temperature for up to 5 days.
Nutrition Facts
Vegan Rice Crispy Cakes
Amount Per Serving (1 crispy cake)
Calories 126
Calories from Fat 45
% Daily Value*
Fat 5g8%
Carbohydrates 22g7%
Protein 2g4%
* All values are an estimate only and will vary depending on the food brands used.
BakedByClo is a participant in the Amazon Services LLC Associates Program, an affiliate advertising program designed to provide a means for sites to earn advertising fees by advertising and linking to Amazon.com. This site may contain some of these links to Amazon.com & other affiliate programs. If you make a purchase through one of those links, BakedByClo will receive a small commission from the purchase at no additional cost to you.