These 3 easy recipes for overnight oats with almond milk make a creamy, sweet and indulgent breakfast using healthy ingredients. They are also great for a fast and convenient on-the-go breakfast!
Using almond milk to make the best overnight oats 
Once upon a time I loved oats. I had porridge every single day of the week, sometimes even multiple times a day.
Then I think I overdid it a bit and I got sick of them. I ended up dreading the sludgy, lukewarm mess I'd end up with after postponing eating for as long as possible.
Back then I used to also make my oats with soy milk, which for me is fine in moderation, but I noticed that when I consumed it every day, it made me gassy and bloated.
Making oatmeal on the stove every day can be pretty messy and time-consuming too, especially if you're in a hurry to get out the door in the mornings.
I needed a solution and tried having other things for breakfast such as pancakes, protein bars and muffins. But I was really missing the health benefits that good old-fashioned oats provide.
Then I discovered overnight oats with almond milk.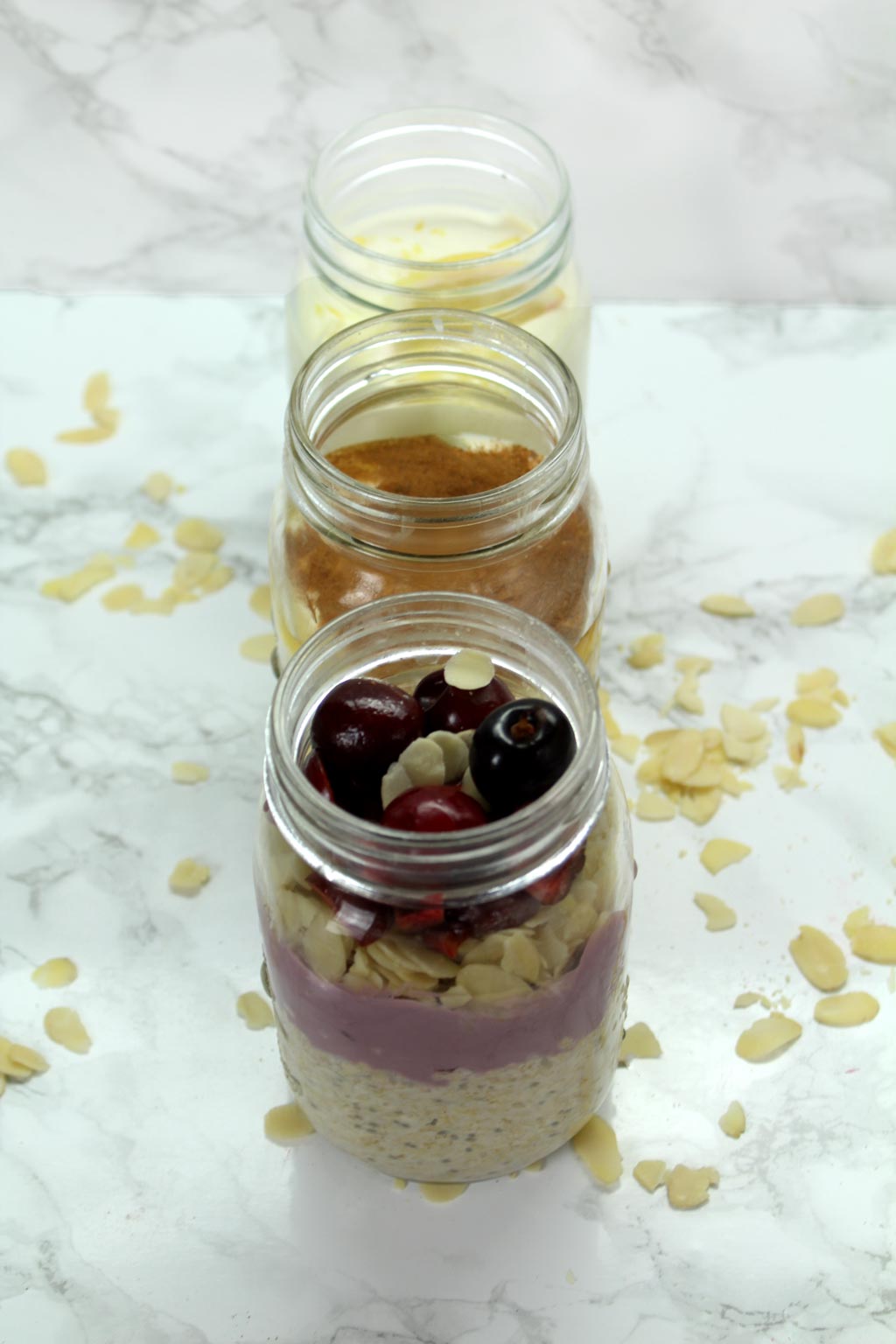 Overnight oats = convenient breakfast
I stumbled across a recipe for overnight oats in one of my cookbooks and thought I'd give it a try. Except instead of making my oats with soy milk like I usually did, I made them with almond milk.
It was amazing. I instantly fell back in love with oats and began making them regularly. Even better, I no longer felt sluggish and bloated after breakfast.
I love making overnight oats because you can make hundreds of different variations from one basic recipe.
It's great knowing that I don't have to cook anything in the mornings, and that I have a quick breakfast to grab and go.
All I need to do is quickly mix the ingredients at night (it literally takes 5 minutes!), pop them in a jar or Tupperware box and leave them in the fridge until the morning. It's so easy!
Sometimes I just eat my overnight oats plain but I loooove getting creative with flavour combinations.
I created 3 different dessert inspired overnight oats recipes to share with you today and I know you're going to love them!
How to make overnight oats with almond milk and chia seeds
The four main ingredients for these recipes are oats, chia seeds, yogurt and almond milk. (Feel free to sub for any other plant-based milk that you like.)
Then, all you need to do is add your desired flavourings, mix-ins or toppings.
Step 1: The first step is to mix your oats, almond milk and chia seeds together. This creates a creamy, delicious mix.
You can add the yogurt in at this point if you like, but I prefer to add it right before I eat it, to ensure extra creaminess.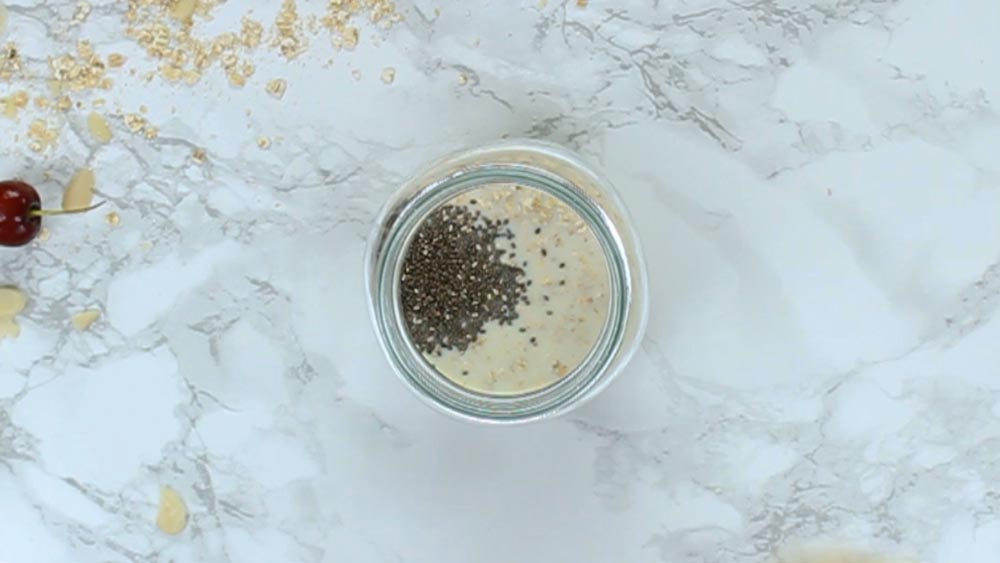 Step 2: Add your sweetener. I personally like to use agave nectar as it is the most gentle on my blood sugar. But you can also use maple syrup, coconut sugar or any other sweetener you like.
Step 3: Add in any flavourings or mix-ins you want to use. Some examples might be extracts (vanilla, orange, almond etc.), chopped fruit, nuts, seeds or sweet spices such as cinnamon or ginger.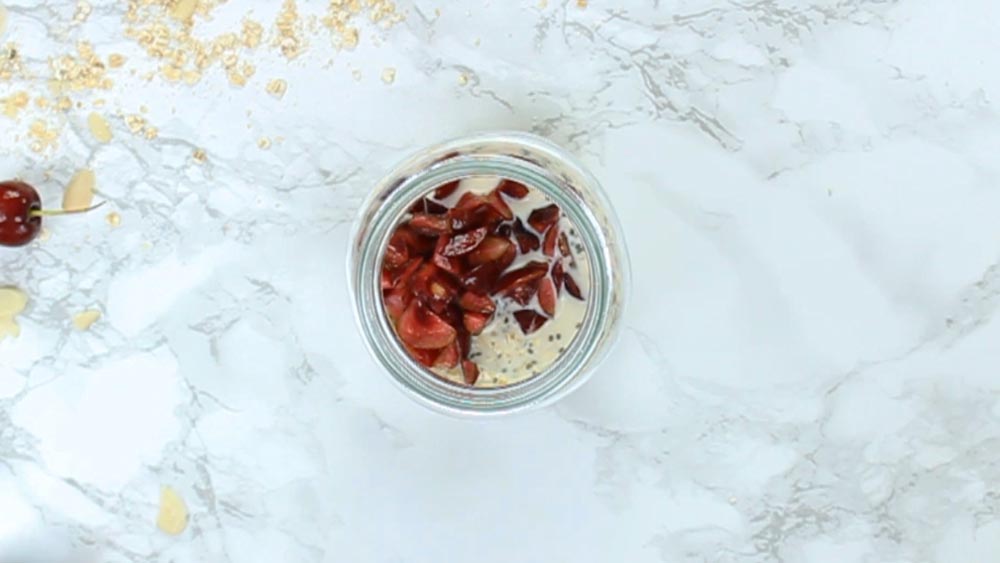 Step 4: Put the lid on your jar/container and place in the fridge for at least one hour, but preferably overnight.
Step 5: Give the oats a quick stir. Mix the yogurt in at this point too, if you haven't done so already. You can also add some more chopped fruit or nuts on top if you wish.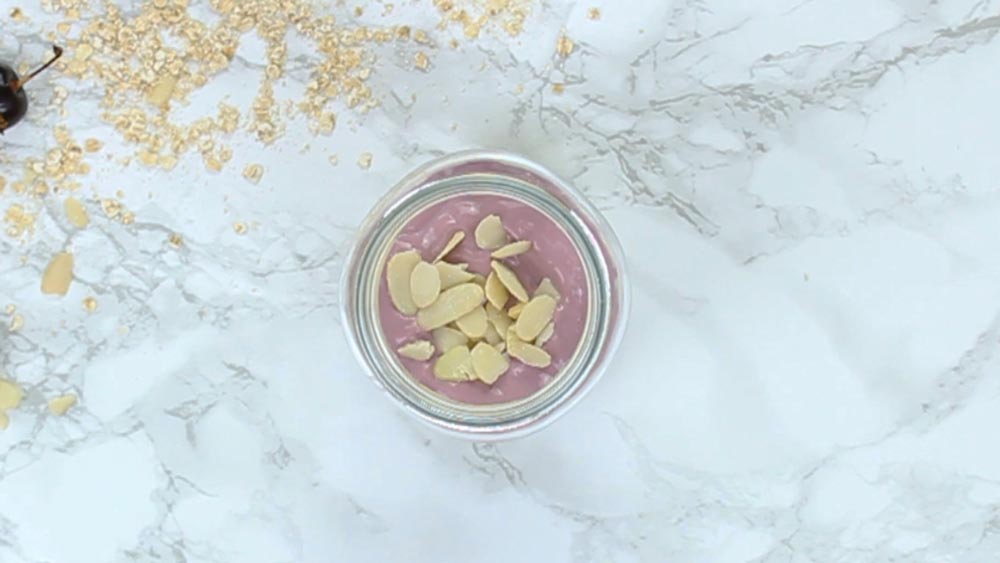 It really is that easy!
Like I said, the flavour combinations are endless. Feel free to get creative and make your own concoctions. Here are 3 of my favourites…
3 healthy overnight oats recipes
I wanted to make sure these were healthy overnight oats recipes so I just stuck to fruit, nuts and spices for my toppings.
I also decided to make these vegan overnight oats without bananas, because I know bananas are super common in vegan recipes. And not everyone likes bananas!
Cherry Bakewell oats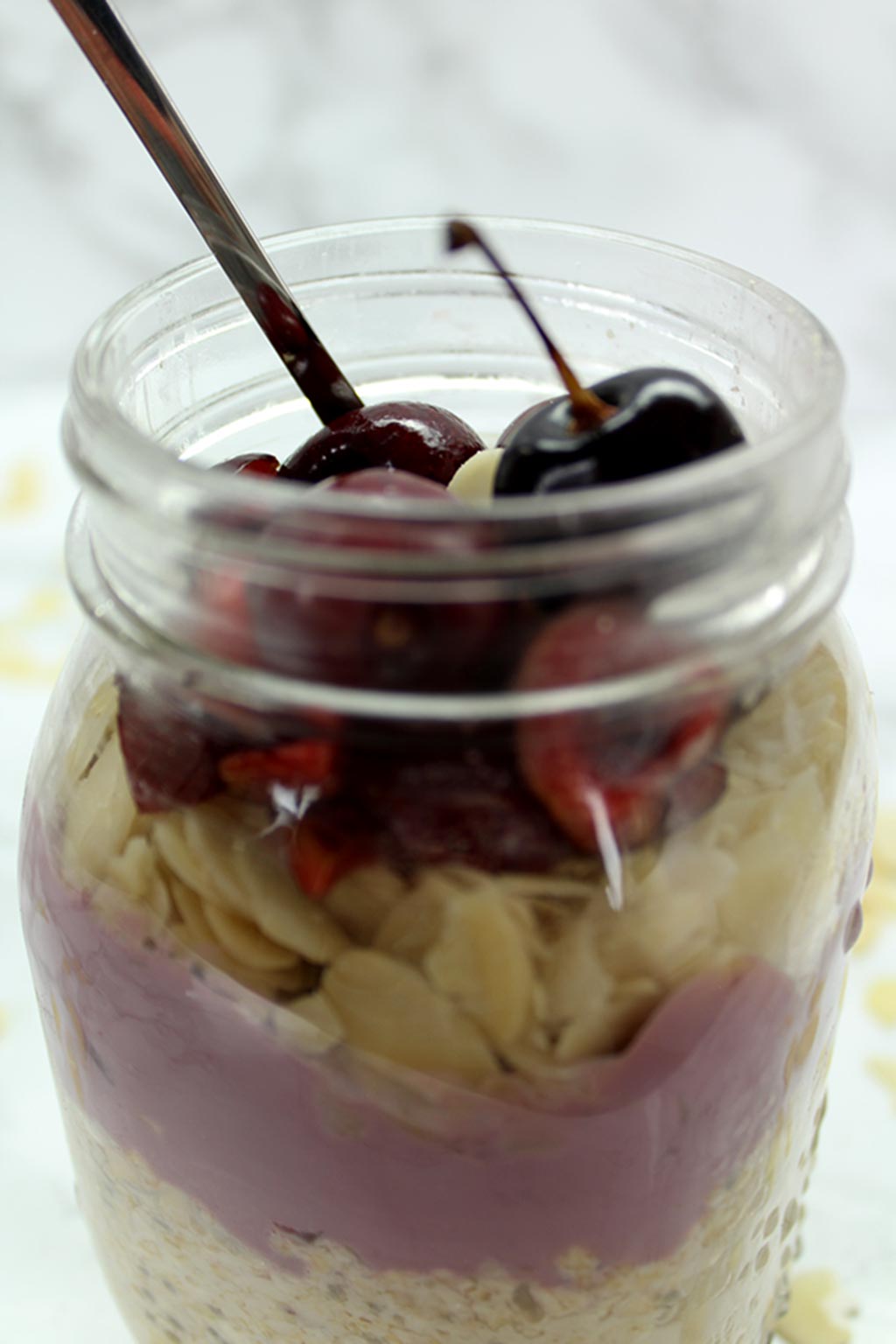 To make these delicious dessert-inspired oats, my add-ins and toppings were:
Chopped cherries (5 mixed in + 5 on top)
Sliced almonds (1 tbsp mixed in + 1 tbsp on top)
Almond extract (1/2 teaspoon)
I also used this Alpro cherry yogurt in my oats but if you can't find anything like it, it will still taste amazing with plain yogurt!
If you can find it, almond milk yogurt would be amazing with all of these recipes! Coconut yogurt would also be great.
Lemon drizzle overnight oats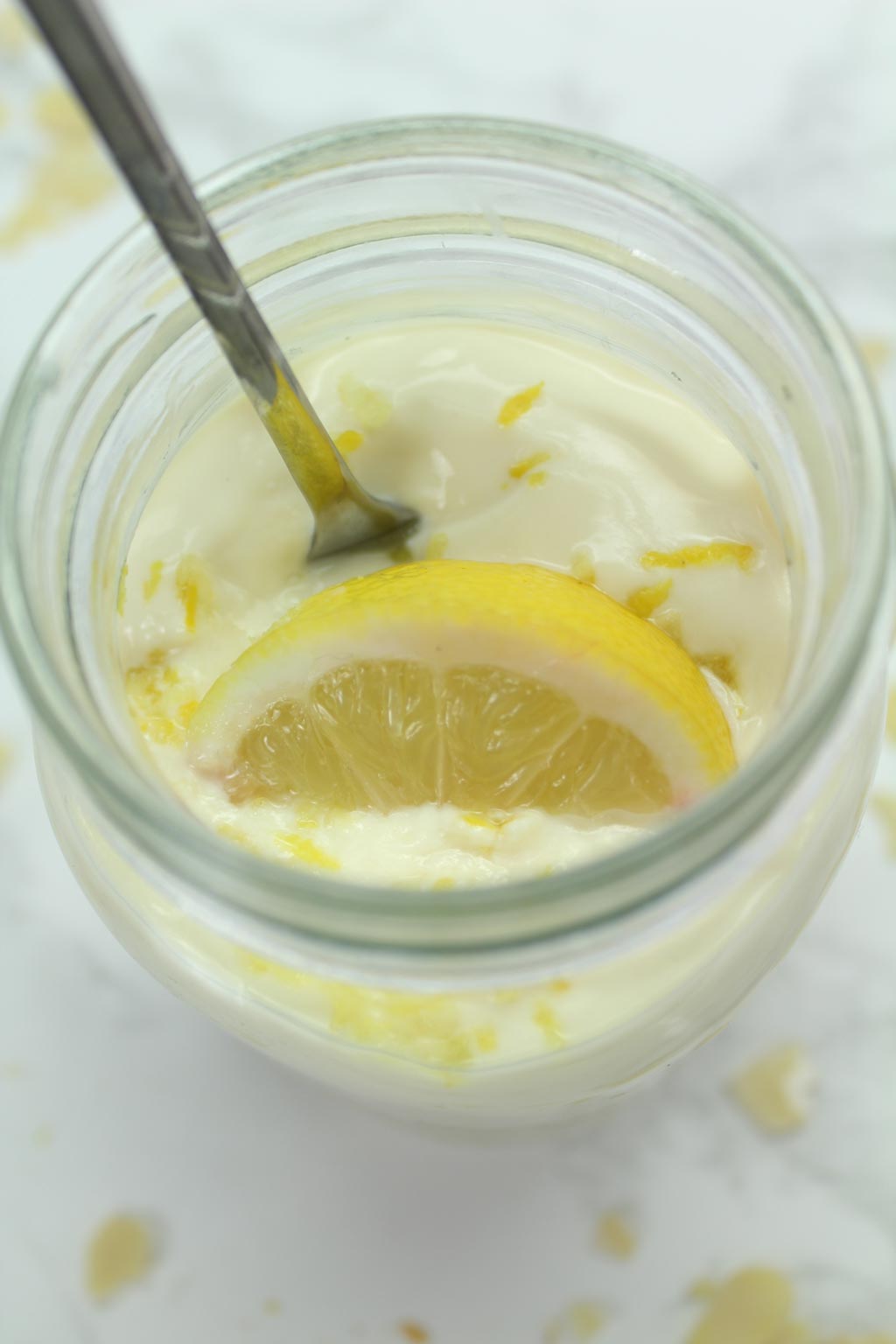 To make lemon drizzle overnight oats, you'll need these add ins:
Lemon zest (1 teaspoon)
Vanilla extract (1 teaspoon)
If you want to get real fancy, you could add some pecans on top too
Cinnamon roll oats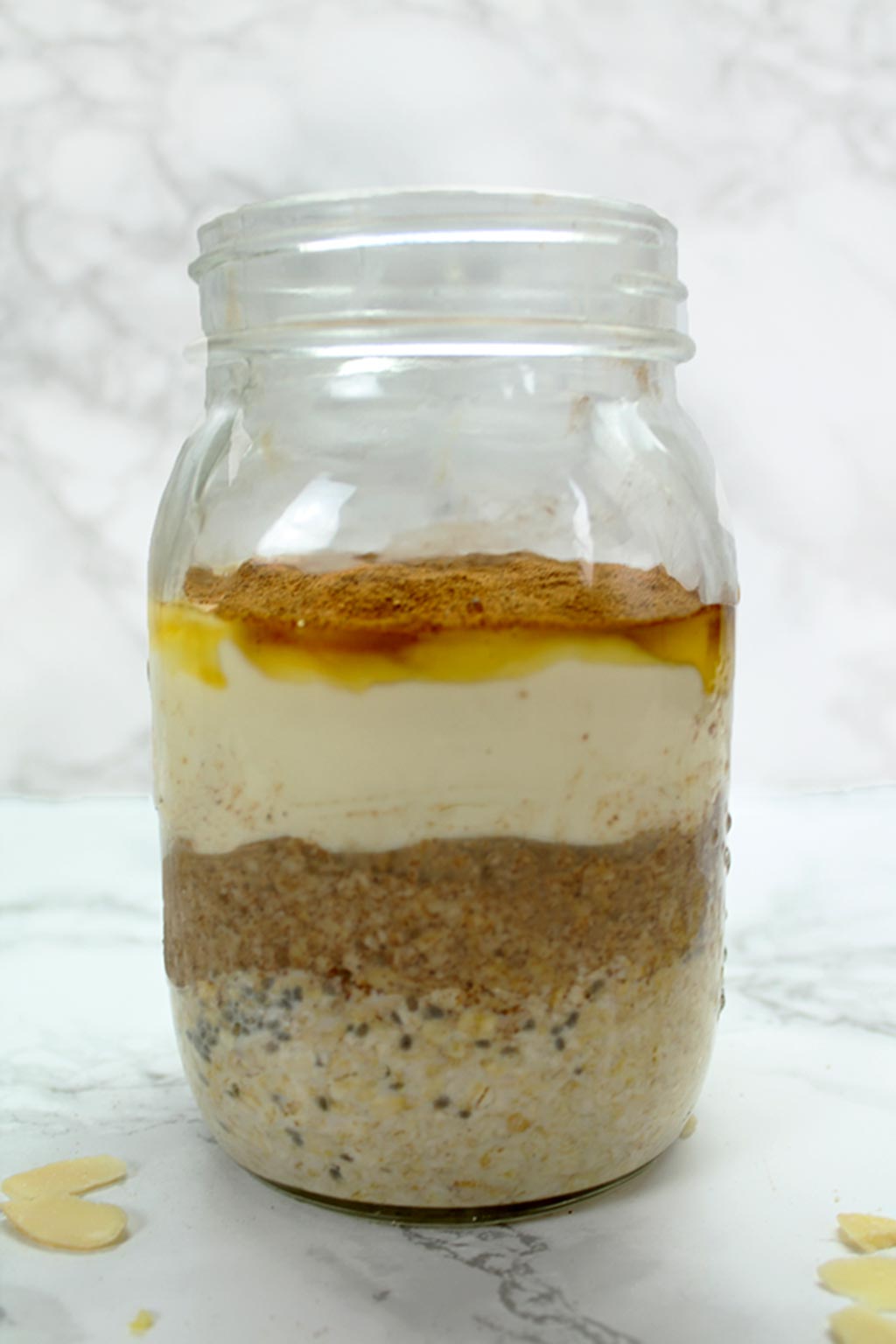 For this delicious cinnamon roll oats recipe, all you'll need to add is:
Cinnamon (1 teaspoon + a dash on top)
Note: Be careful not to overdo it with the cinnamon! It can end up tasting quite bitter unless you use tonnes of sweetener to counteract it.
Like this recipe? Check these out:
Overnight oats without yogurt
If you don't fancy adding yogurt into your overnight oats, you can stick to just having your overnight oats with almond milk!
Simply cut out the yogurt completely or sub it for an additional 60ml or ¼ cup almond milk. Obviously, the less liquid you add, the "thicker" your oats will be.
Other overnight oats ideas
I haven't gotten around to trying all of these flavour combinations yet but here are some ideas for mix-ins that I think would be excellent.
Chocolate peanut butter overnight oats- 1 tbsp cocoa + 1-2 tbsp peanut butter
Tropical overnight oats– chopped mango, desiccated coconut + coconut milk instead of almond milk
Nutella overnight oats– 1 tbsp cocoa + 1-2 tbsp hazelnut butter
Banana bread overnight oats– ½ mashed banana instead of yogurt, 1 tsp cinnamon + 2 tbsp chopped walnuts
Carrot cake overnight oats– ½ grated carrot instead of yogurt, ½ tsp cinnamon, ½ tsp ginger, 1 tbsp raisins
Apple pie overnight oats– 110g or ½ cup apple sauce instead of yogurt + 1 tsp cinnamon (omit or use half of the sweetener for this one)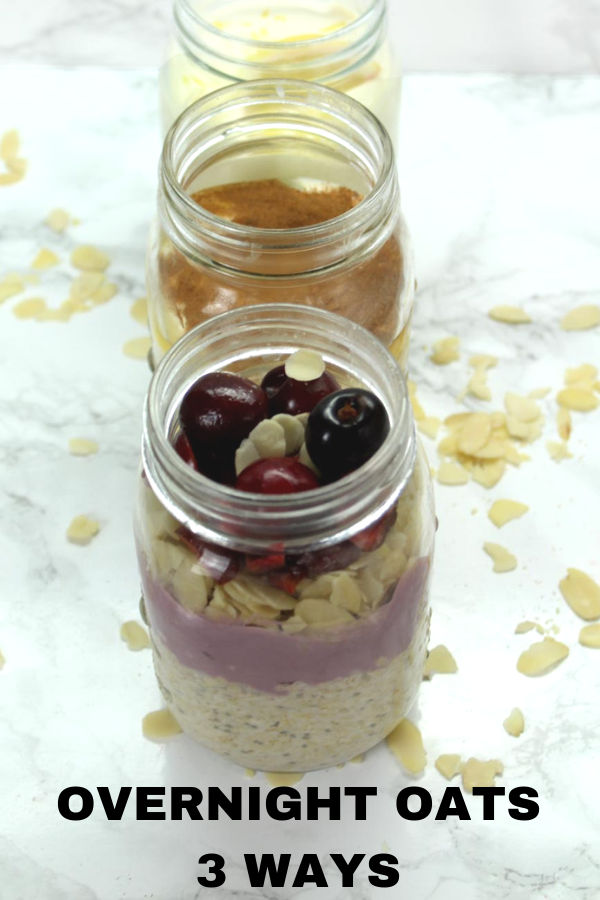 If you give any of these overnight oats with almond milk, please leave a comment below, rate them, or tag your picture #bakedbyclo on Instagram!
Can't wait to see your creations!
xo

Overnight Oats With Almond Milk
3 dessert inspired vegan overnight oats recipe using almond milk.
Keyword:
overnight oats almond milk
Ingredients
40

g

Rolled oats

(1/2 Cup)

125

ml

Unsweetened almond milk

(1/2 Cup)

1

Teaspoon

Chia seeds

(optional)

1-2

Tablespoons

Sweetener of your choice

(I used agave nectar)

110

g

Plant-based yoghurt **

(1/2 Cup)
Any desired mix-ins or toppings (see post above for ideas)
Instructions
Mix the oats, almond milk, chia seeds if using, and sweetener together in a jar or airtight container. You can add in the yoghurt now or wait until just before serving.

Add in any mix-ins or flavourings.

Place the jar in the fridge overnight or for at least one hour.

After chilling, add the yoghurt if you haven't done so already. Add any desired toppings and enjoy!
Recipe Notes
**Sub for an additional 60 ml or 1/4 Cup almond milk if you don't want yoghurt.
Nutrition Facts
Overnight Oats With Almond Milk
Amount Per Serving
Calories 215
Calories from Fat 63
% Daily Value*
Fat 7g11%
Sodium 215mg9%
Carbohydrates 28g9%
Protein 10g20%
* All values are an estimate only and will vary depending on the food brands used.