This vegan chocolate tart recipe has a sticky, chocolately filling and is covered by a buttery, crispy crust. It is the perfect indulgent after-dinner treat.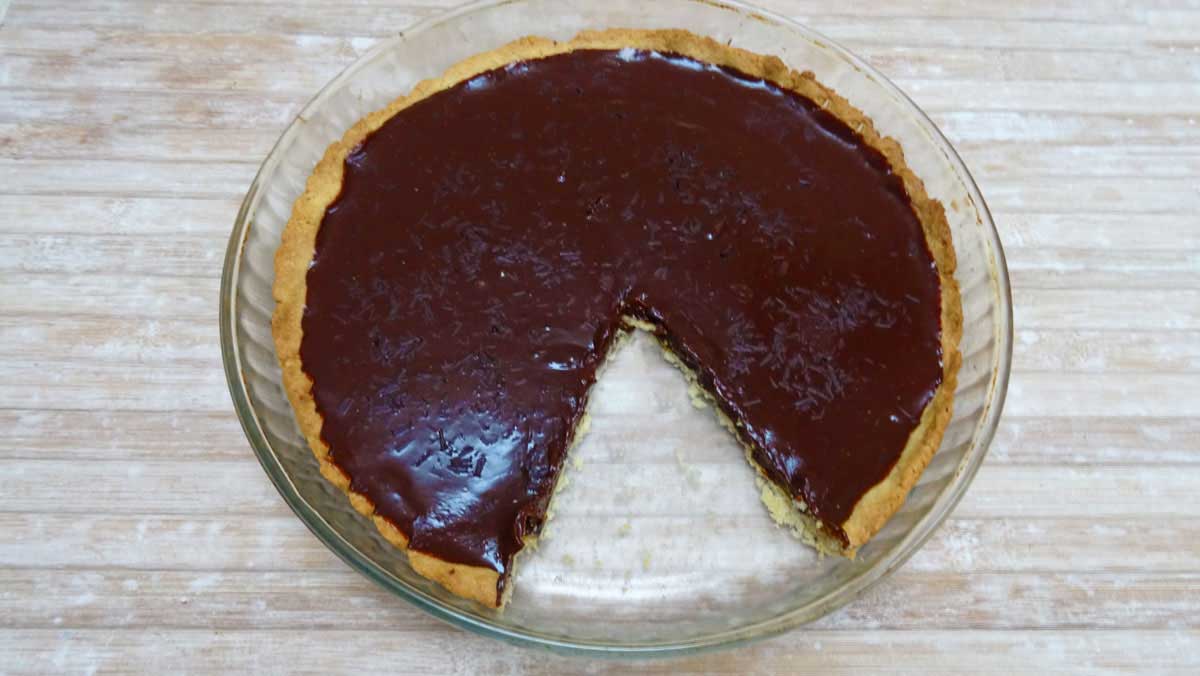 A simple vegan chocolate tart recipe
I recently went to Zizi's and tried out their new vegan menu. The pizza and starters we had were amazing but the dessert was on a whole 'nother level. Chocolate praline torte topped with honeycomb pieces, served with ice cream. It was seriously incredible. It got me thinking about making my own chocolate torte at home. I decided I would try, except I was going to add a pastry crust on the outside. Usually, I like my desserts to have some texture so the addition of a crust made it even better for me.
I have attempted to make a chocolate tart once, way back in the day. I won't lie, it wasn't the best, and it wasn't vegan. If I remember correctly the original recipe included eggs in the chocolate mixture. I tried to recreate and veganize this recipe from the top of my head earlier this week and failed miserably, again. I ended up with a crunchy (solid), uneven pastry that tasted like absolutely nothing. And because I was missing the eggs from the filling, that ended up all watery and didn't set properly. But practice makes perfect am I right?
For my next attempt, which turned out oh-so-perfect, I added some ground almonds to my pastry. This added a sweet element and took away the floury taste the previous pastry had. For the filling, I adjusted the recipe for my white chocolate orange truffles slightly and viola: an amazing vegan chocolate tart recipe. Super simple.
This vegan chocolate tart is:
Sticky
Sweet
Crispy
Indulgent
A crowd-pleaser
I hope you love this recipe and as always, be sure to let me know how you enjoyed it!
xo

VEGAN CHOCOLATE TART RECIPE
A sticky, chocolatey torte surrounded by a buttery, crispy pastry.
Ingredients
For the pastry
75

g

Ground almonds

75

g

Plain flour

50

g

Vegan butter

2

Tablespoons

plant-based milk
For the filling
200

g

Semi-sweet dark chocolate

135

ml

Soy cream or full-fat coconut milk

11 Tablespoons
Instructions
Preheat oven to 180°C/ Gas 4 and grease a 9" tart pan.

Mix together all of the pastry ingredients to form a slightly sticky dough.

Press the dough into the pan to make a tart shell.

Place baking paper over the pastry and add baking beans (or dry rice) on top. This will act as a weight to stop the pastry from rising.

Bake for 10 minutes, remove the baking paper and beans, then bake for 20 more minutes. Leave to cool.

For the filling, gently melt the chocolate over a very low heat.

In a separate pot, gently heat the soy cream or coconut milk. Once it starts to bubble slightly at the edges, pour it over the melted chocolate. Leave to stand for 5 minutes then mix together until smooth.

Spoon the chocolate mixture into the pastry case and refrigerate until firm, around 2 hours.
Nutrition Facts
VEGAN CHOCOLATE TART RECIPE
Amount Per Serving
Calories 270
* All values are an estimate only and will vary depending on the food brands used.