Vegan Brownie Cookies
Posted on - Last updated: This post may contain affiliate links
These vegan brownie cookies are easy to make with just a few simple ingredients. They're nice and fudgy, and super chocolatey. Chewy like a brownie on the inside, and firm on the outside like a cookie!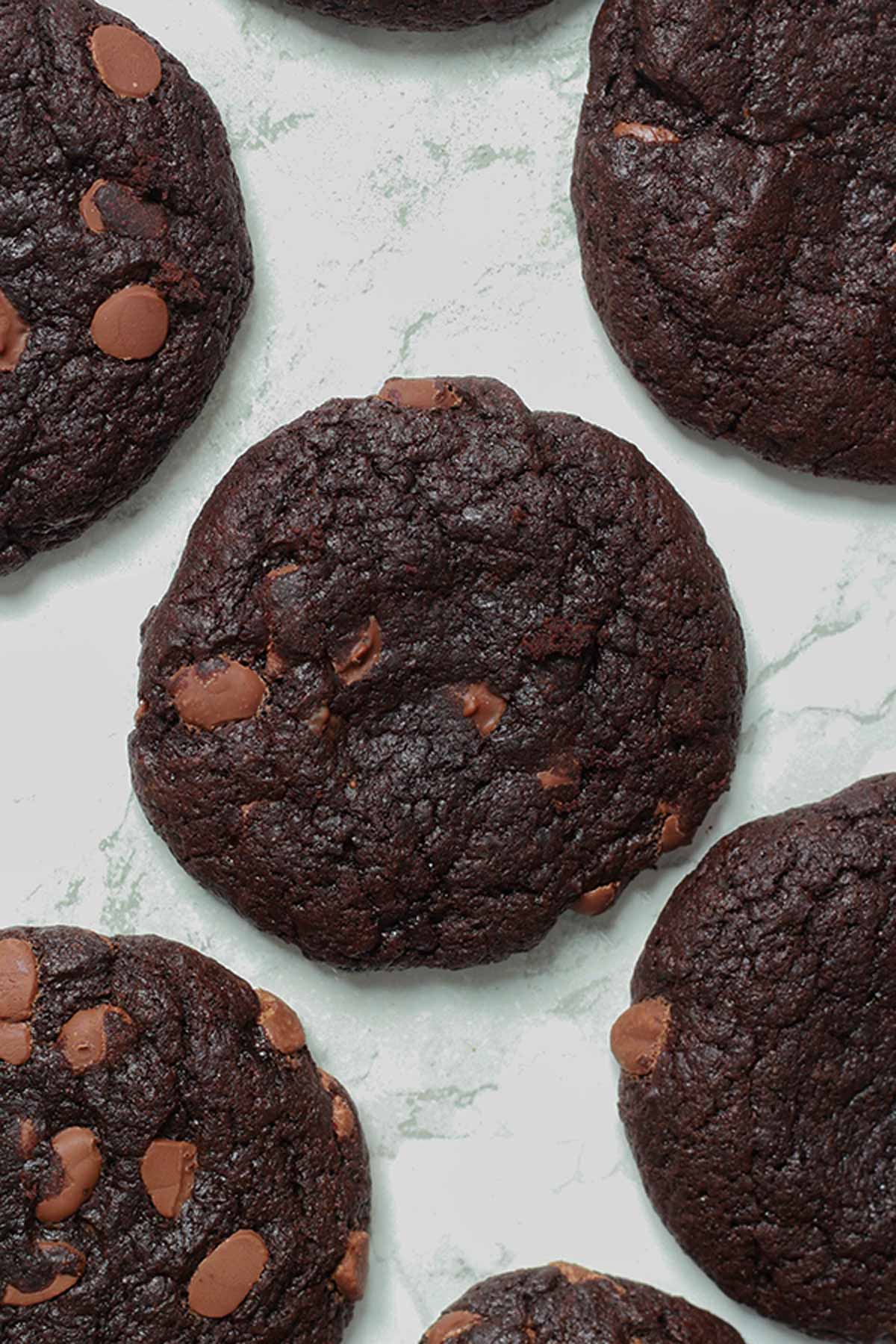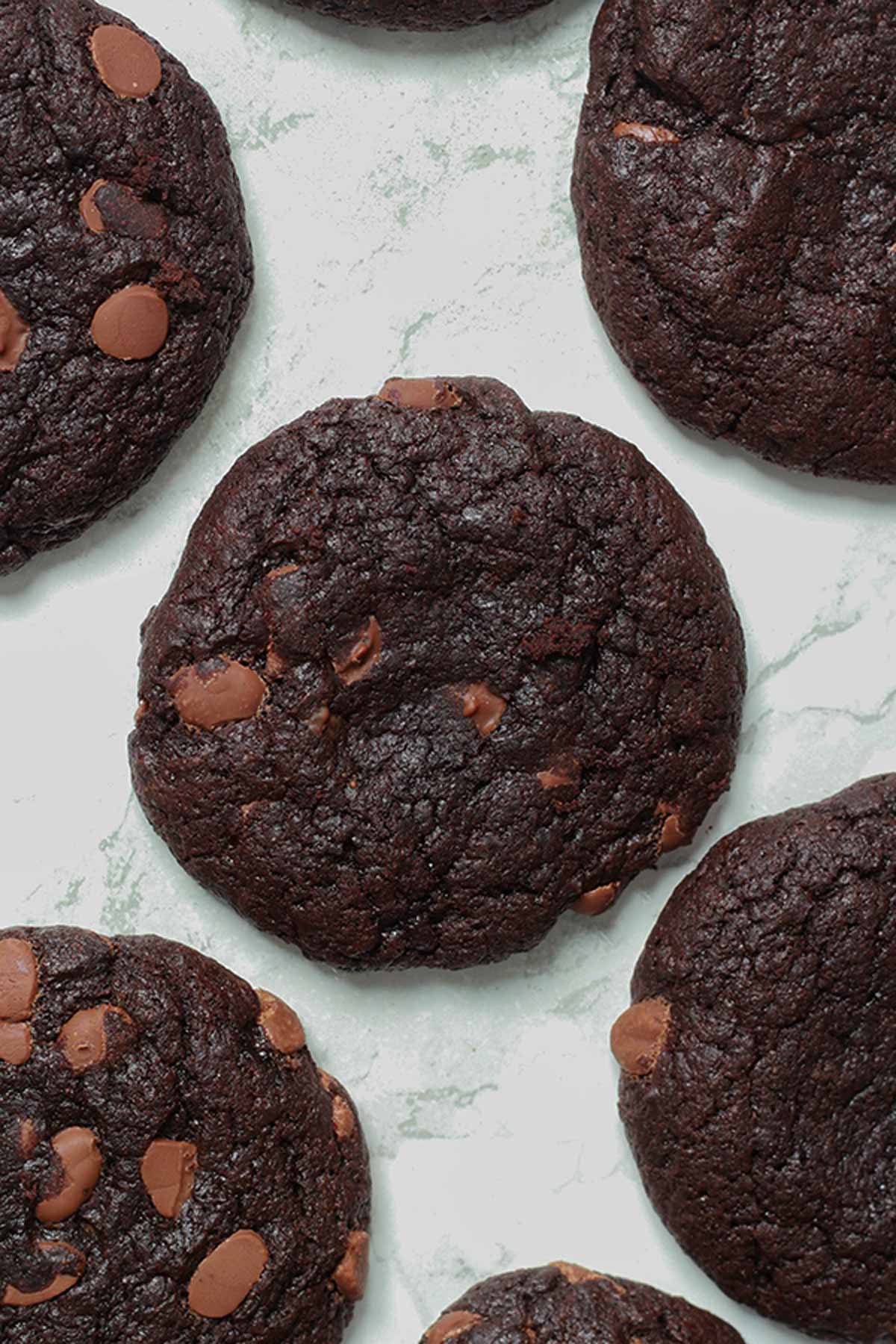 It's day 7 of 12 days of vegan Christmas cookies and today I'm sharing my tasty recipe for dairy-free brownie cookies.
If you've never had a brownie cookie before, you have to try these! They taste just like brownies (obviously) but with that classic firm, slightly crunchy cookie edge. I have been obsessed with these since I first started making them a few weeks ago!
I have a few chocolate cookie recipes on my blog now but they are made with cookie dough, and taste just like you would expect a cookie to taste. But these babies are made with brownie batter, just with a few slight tweaks!
Chewy, fudgy cookies
I recently perfected my cocoa powder brownies (aka, brownies without using actual chocolate) and it got me wondering what else I could do with that same recipe.
I made a few variations of brownies with the same batter, including Biscoff brownies, mint brownies and Oreo brownies. And then the idea of some delicious eggless, dairy-free brownie cookies came to me!
I'd been wanting to create a new chocolate cookie recipe for quite some time and realised at that moment that the brownie batter was the perfect base! I figured that since there was no chocolate in the batter, it would be so easy to just add some extra flour and turn it into a dough. It did take me a good few tries before I got it perfect but I'm so happy with the end result!
The first change I made was that I added some brown sugar alongside the caster sugar. On my first attempt, I used purely caster sugar and the cookies did not spread one bit. They tasted fudgy like a brownie but they were far too chunky and bulky. More like hockey pucks than cookies!
I also reduced the amount of overall sugar. I reduced it by around 50g because they were just far too sickly sweet with the full amount of sugar. You could even taste the grains of sugar in the cookies because there was so much! The cookies are still super sweet but just as much as you'd expect from a typical chocolate cookie!
The next change I made was using less soy milk than I did for the brownies. Obviously, I didn't want my cookie dough to be runny so I reduced the amount of liquid. I tried playing around a little with the milk and the fat but in the end I kept the amount of melted vegan margarine the same. This really helped to keep them nice and fudgy on the inside!
Lastly, I had to increase the flour by around 10g. It wasn't very much, but it turned out to be just the right amount to prevent the cookies from being greasy. Because these cookies are eggless, the fat to flour ratio is very important! Too much fat and you'll get greasy cookies, and too much flour, you'll end up with cakey cookies.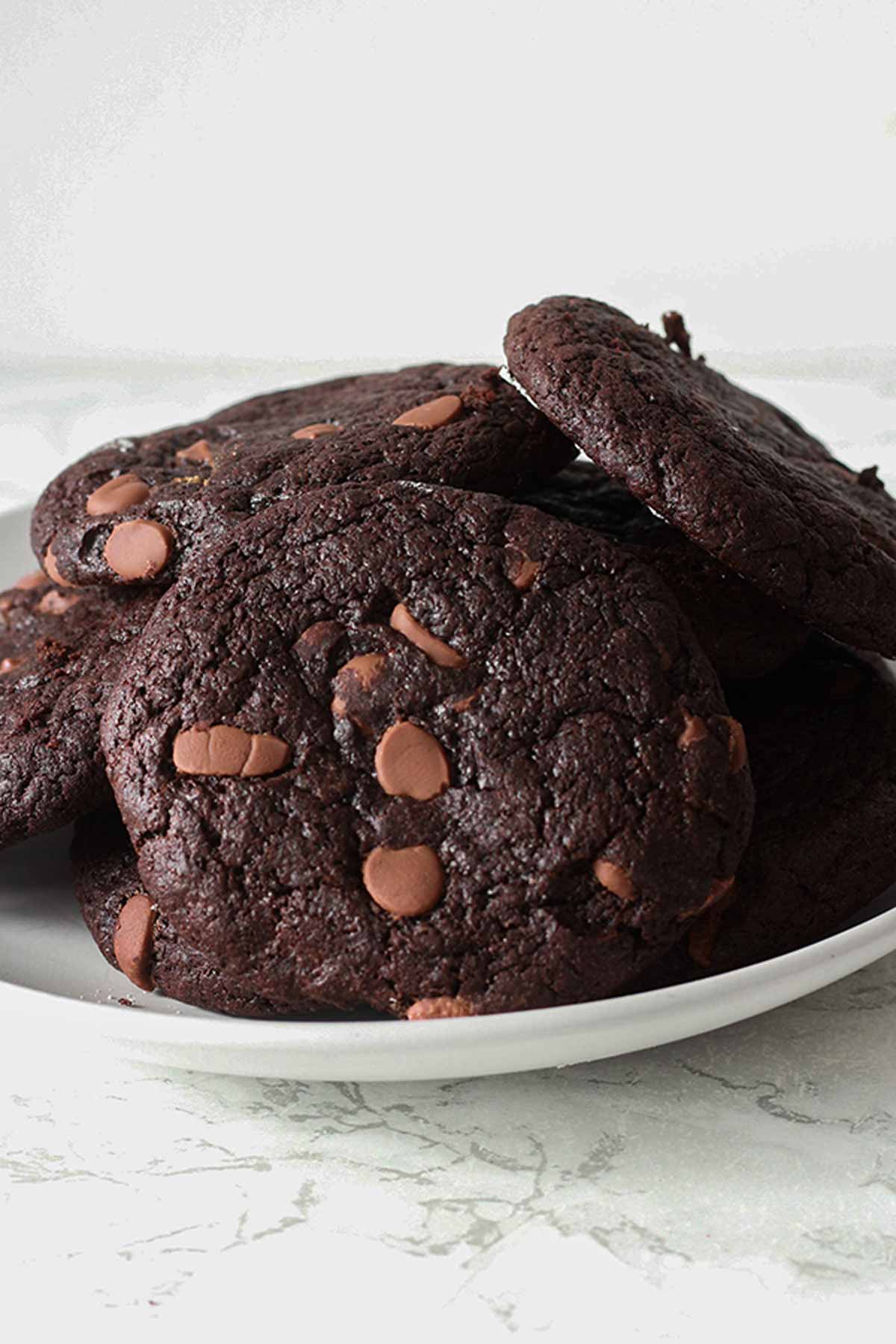 More vegan chocolate cookie recipes:
How to make vegan brownie cookies
Step 1:
Preheat your oven to 180°C/350°F and line a large tray with baking paper. If you have a fan or convection oven, set the heat to 160°C/325°F instead.
Step 2:
In a large bowl, mix together 80g of cocoa powder, 170g of plain/all-purpose flour, 1/2 teaspoon of baking powder, 100g of caster sugar and 100g of soft brown sugar. I recommend sifting the ingredients into the bowl so that there are no small lumps of sugar in there.
Step 3:
Measure out 120g of dairy-free margarine (the soft, spreadable kind), and melt until it becomes a liquid. Let it cool for a few minutes (so it doesn't cook the flour) then add it to the bowl of dry ingredients, along with 80ml of soy milk.
I recommend using unsweetened soy milk if you can as this is what I tested the recipe with. If you don't have soy milk to hand or you have allergies, I think either other dairy-free milks such as almond or oat would work well in its place.
Step 4:
Mix the wet ingredients into the dry until it starts coming together. Then use your hands to press it into a ball of dough.
The dough will be slightly wet/sticky but should come together in a neat ball. You don't want it to be too dry otherwise the cookies will not spread at all.
Step 5:
Measure out 100g of dairy-free chocolate chips and gently knead them into to the dough. I used Moo-Free baking drops but feel free to use whichever ones you like best. If you check out my vegan chocolate guide you'll find a huge list of chocolate bars and chips you can use.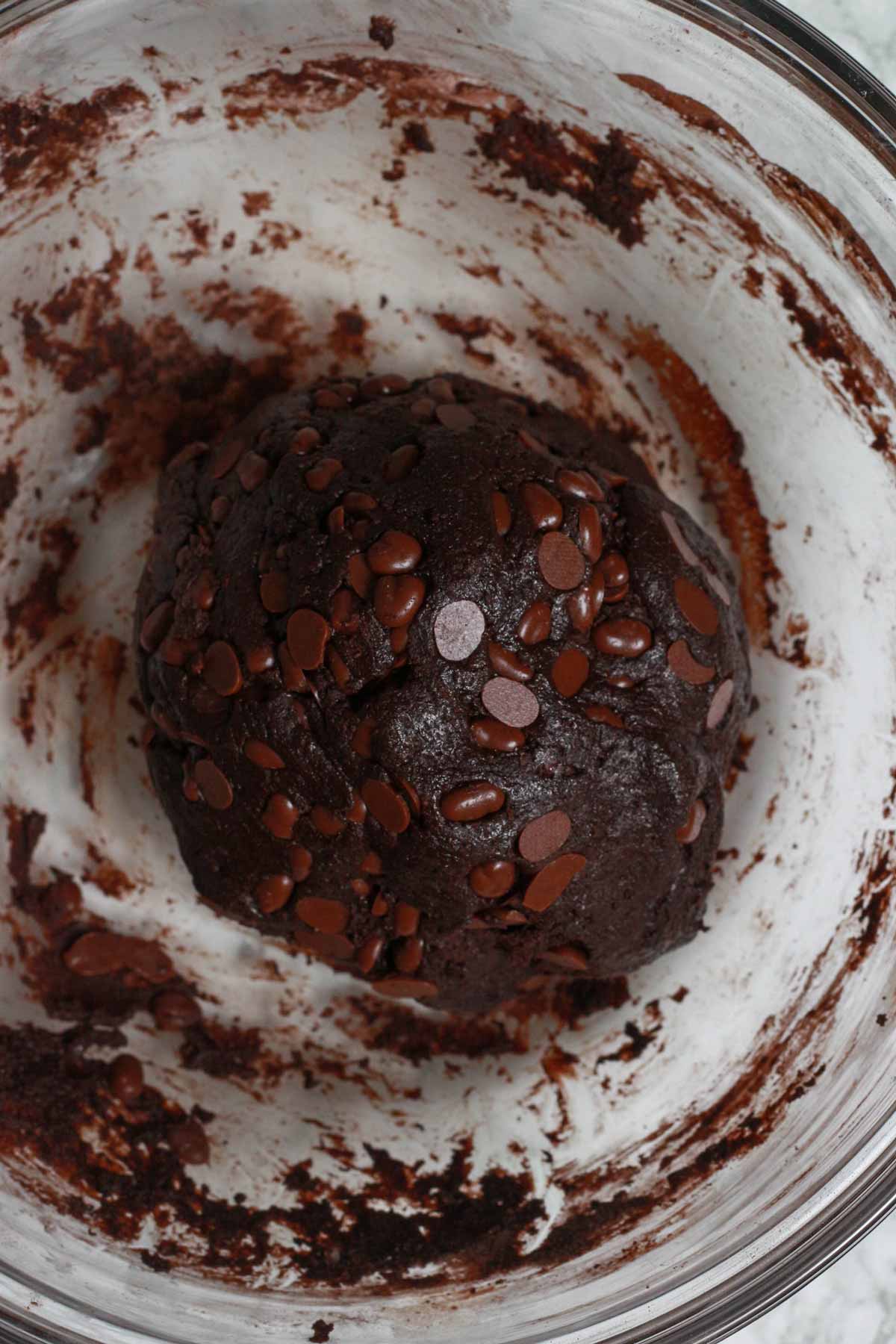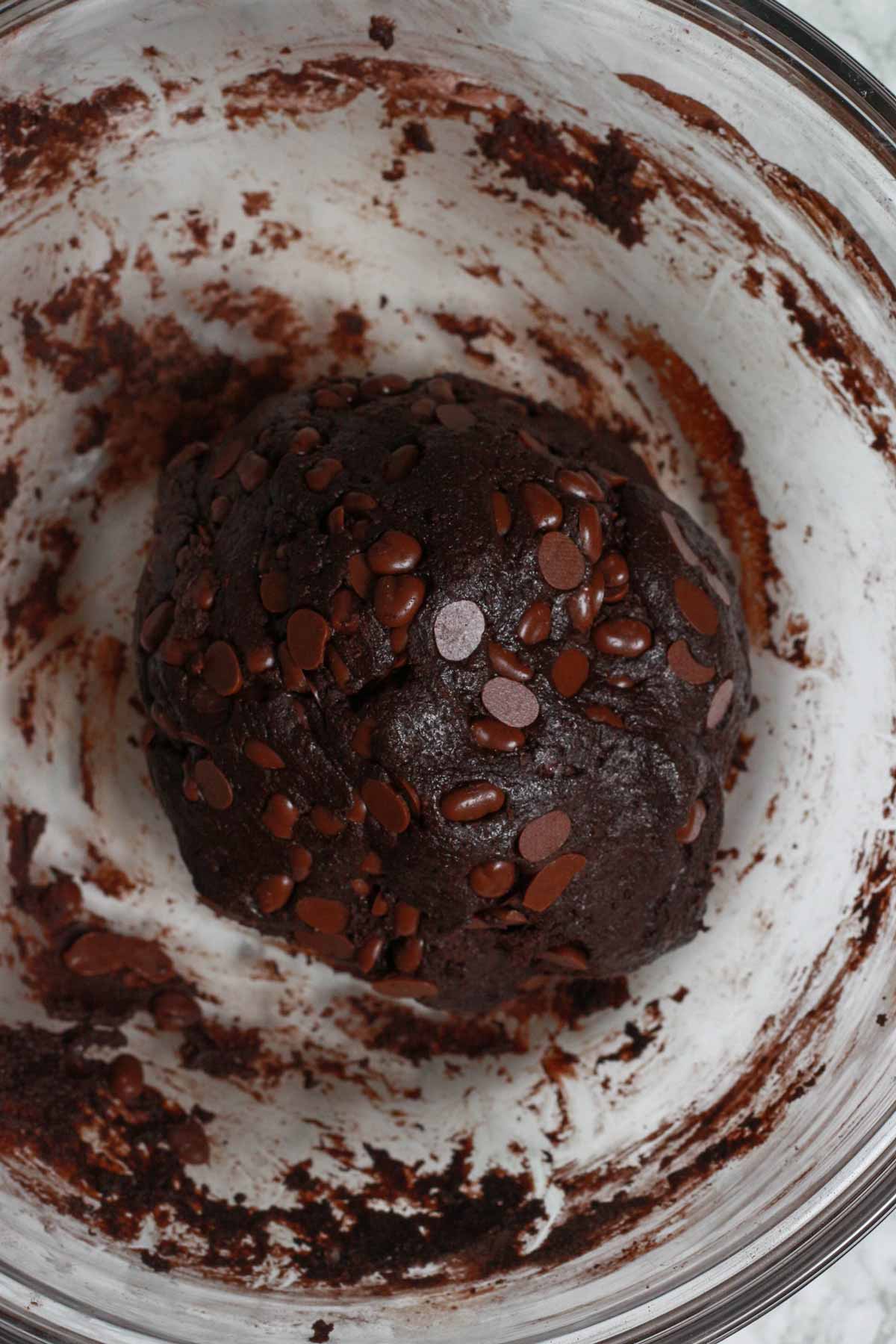 Step 6:
Next, divide the dough into 12 equal pieces. I use a scale to do this so that they're all exactly the same size/weight.
Roll each piece into a ball and transfer them to your baking tray. Gently press on each piece to flatten it into a disc, around 1/2 inch thick.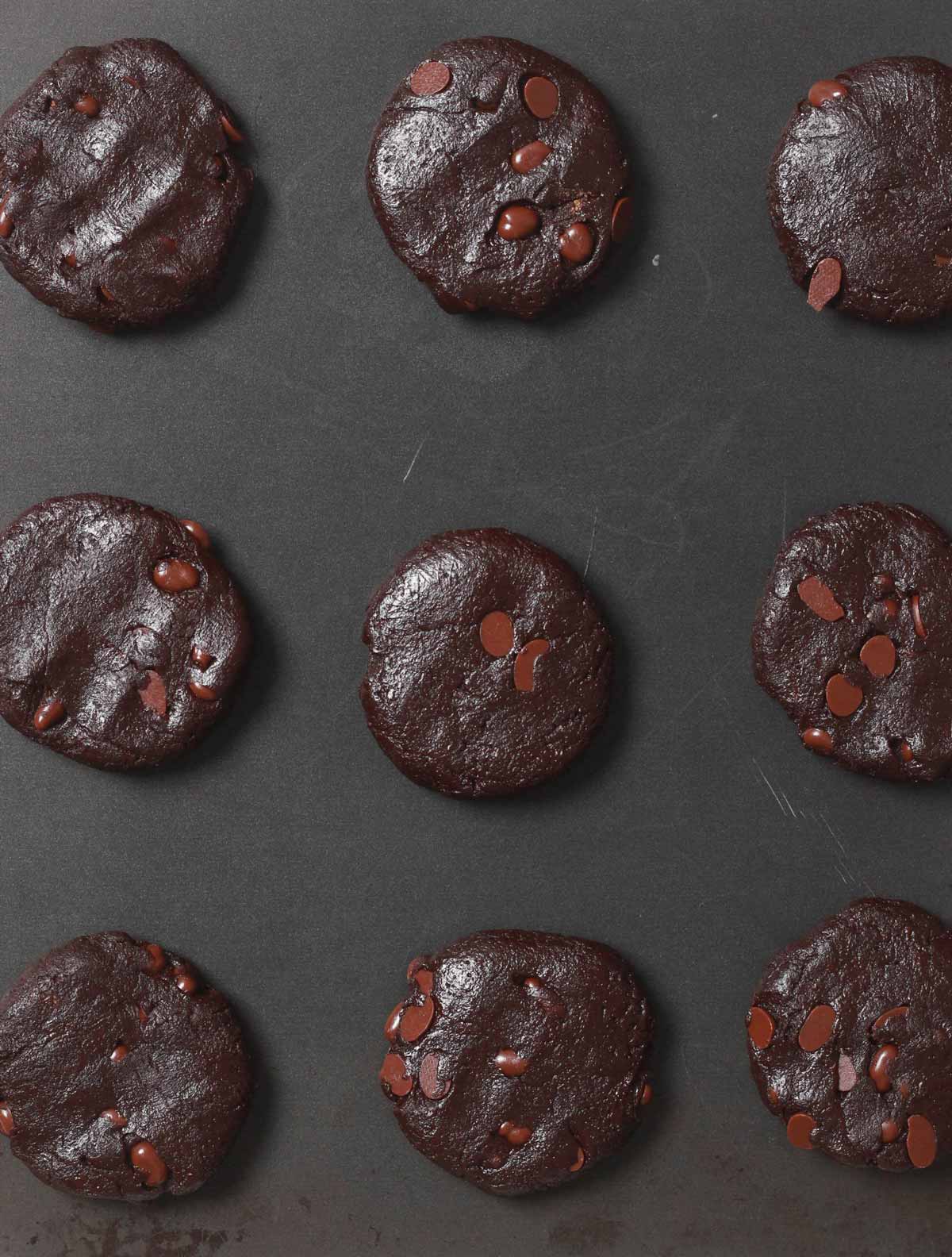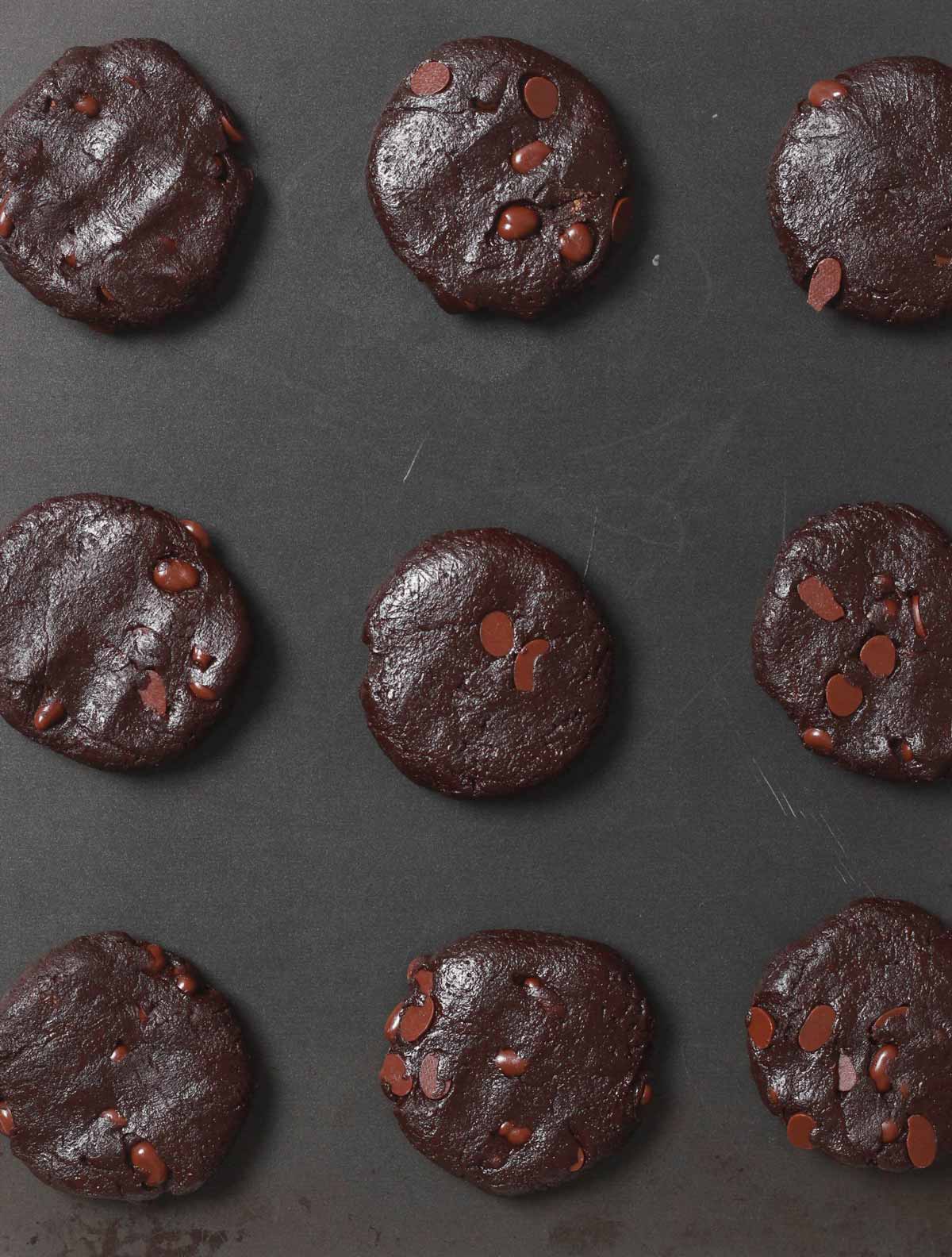 Step 7:
Bake for 10 minutes.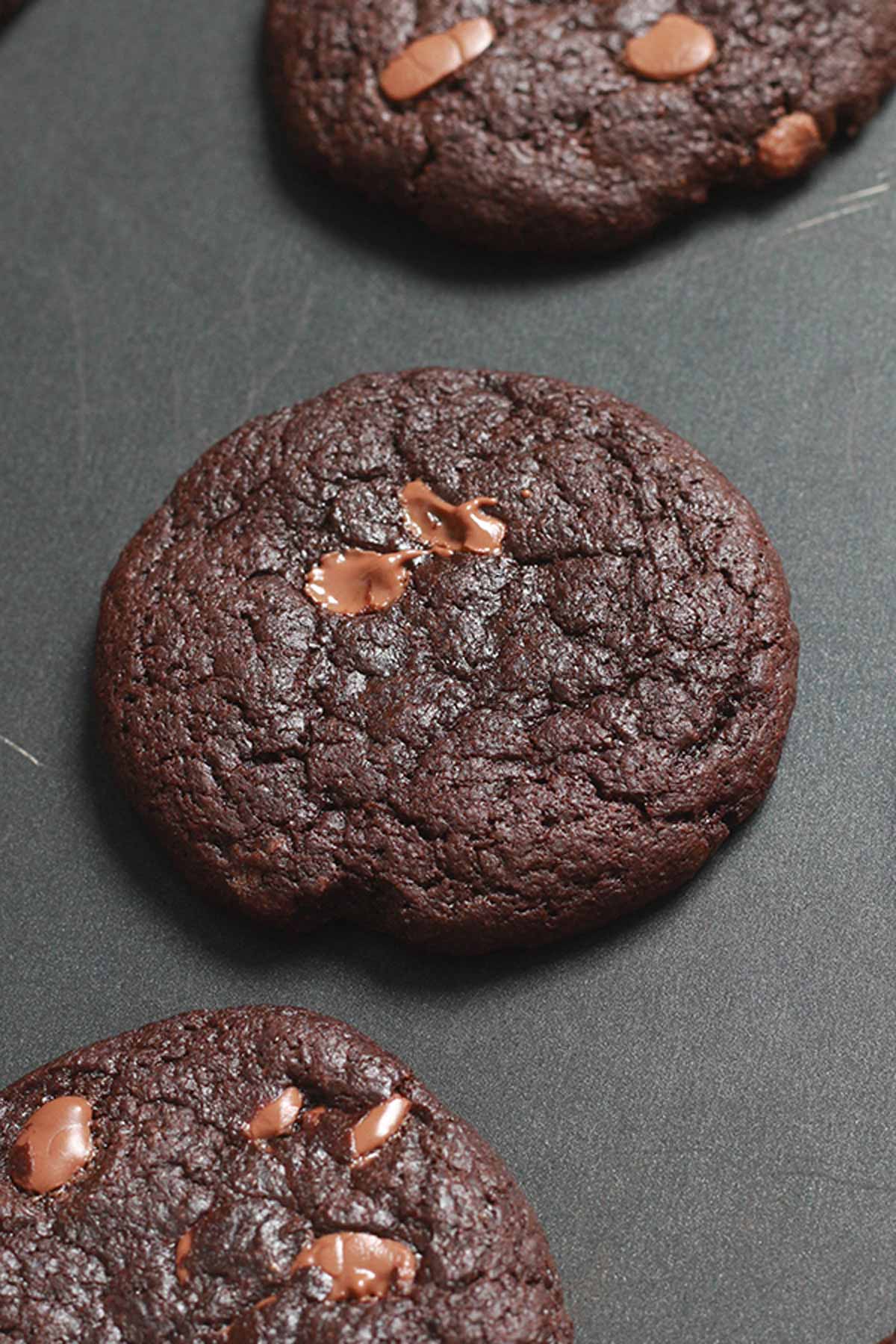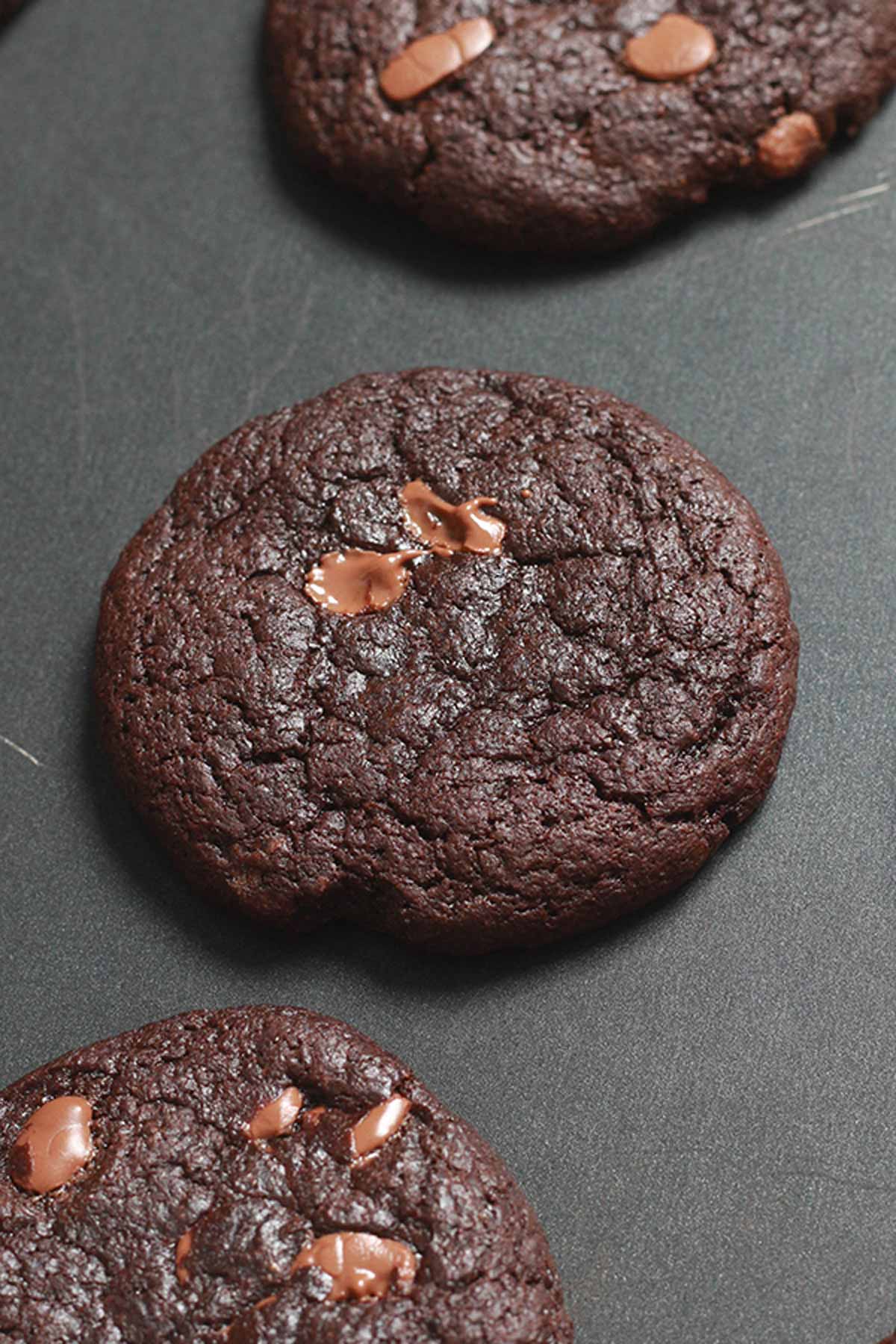 Let the cookies cool on the tray for around 15 minutes then transfer them to the fridge for 1 hour. This will allow them to become firm and fudgy, in the same way as a brownie would.
Once chilled, remove the cookies from the tray and enjoy!
FAQ
How should vegan brownie cookies be stored?
Keep them in an airtight container. You can store them at room temperature if you prefer but I recommend storing them in the fridge so they stay super fudgy and chewy. They will last for around 1 week in the fridge.
Can I freeze them?
I haven't actually tried freezing these cookies yet. But since my brownies freeze well, and these are essentially brownies in cookie form, I think they'd be just fine to freeze. Pop them into an airtight container, with a sheet of baking paper in between layers if you're stacking them, to prevent sticking. When you're ready to eat them, you can transfer them to the fridge and leave them there overnight to defrost. Do not refreeze.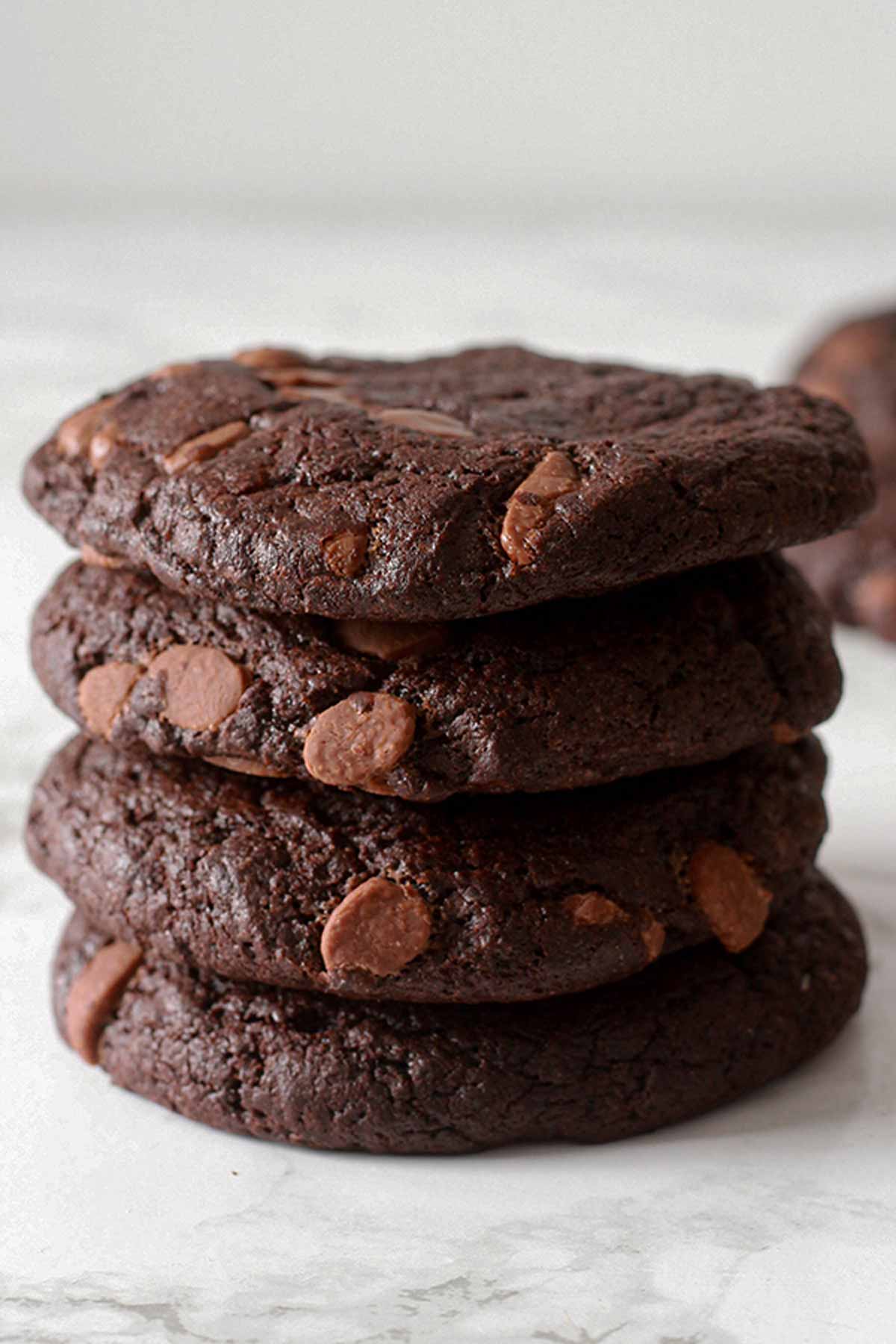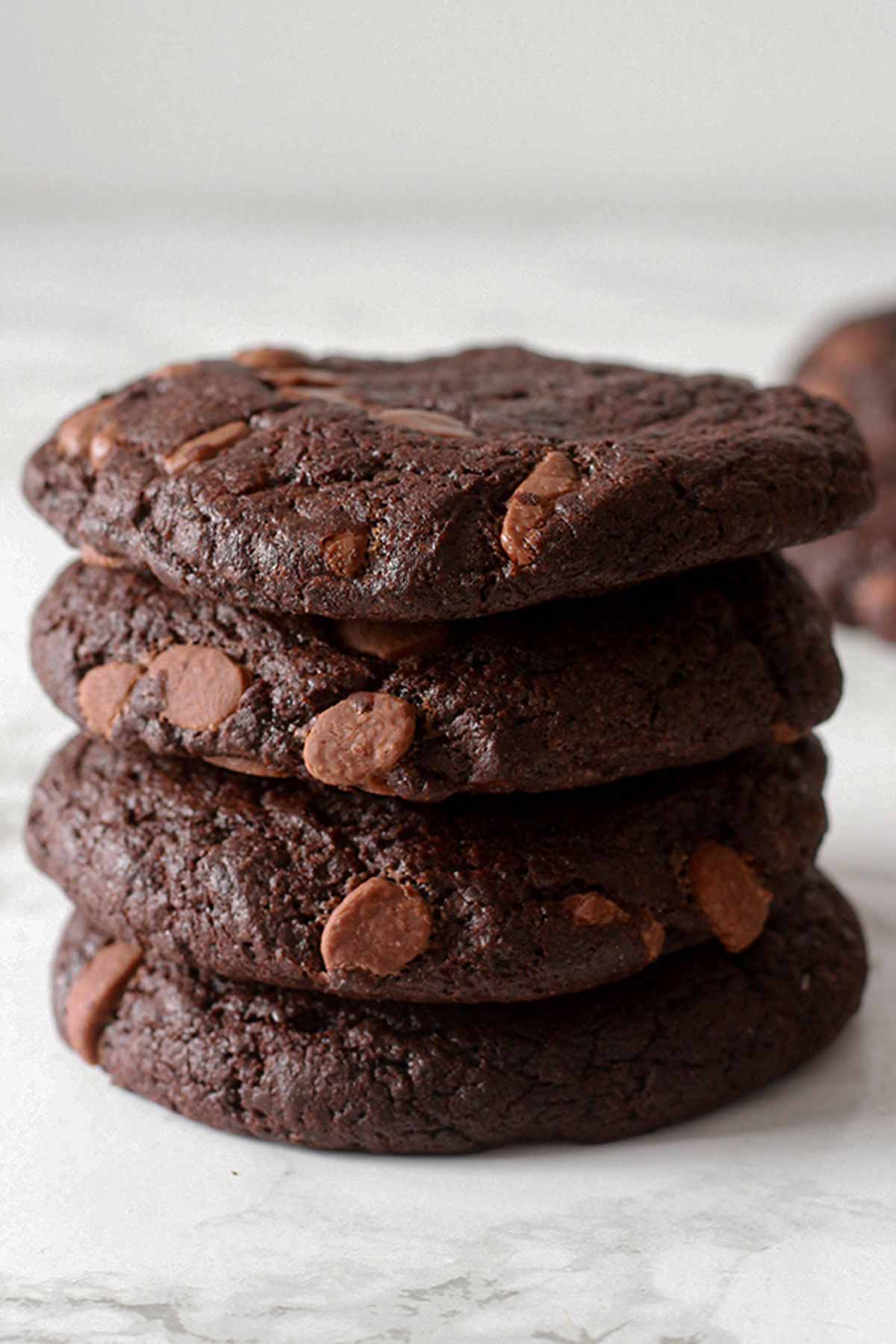 I hope you enjoy the recipe! Let a comment below if you make these cookies at home and leave a rating to let me know what you think. Happy baking! xo

Vegan Brownie Cookies
Fudgy, chewy, eggless and dairy-free brownie cookies.
Keyword
dairy-free brownie cookies
Ingredients
80

g

Cocoa powder

(⅔ cup)

170

g

Plain/all-purpose flour

(~1+⅓ cup)

½

Teaspoon

Baking powder

100

g

Caster sugar

(½ cup)

100

g

Soft brown sugar

(½ cup)

120

g

Vegan margarine, melted

(½ cup)

80

ml

Soy milk

(⅓ cup)

100

g

Dairy-free chocolate chips

(⅔ cup)
Instructions
Preheat your oven to 180°C/350°F (160°C/325°F for fan or convection ovens). Line a large tray with baking paper.

Mix the cocoa powder, flour, baking powder, caster sugar and brown sugar together in a large bowl.

Add the melted margarine and the soy milk. Mix it all together until it starts to stick then use your hands to press it into a ball. The dough will be very slightly wet but should come together in a neat ball.

Gently knead in the chocolate chips.

Divide the dough into 12 equal pieces and roll each one into a ball. Place them onto your baking tray and gently flatten each one into a disc that's around ½-inch thick.

Let the cookies cool on the tray for around 15 minutes then transfer them to the fridge for 1 hour. This will make them firm and fudgy!

Once chilled, remove the cookies from the tray and enjoy.
Recipe Notes
Store in an airtight container in the fridge for up to 1 week.
Nutrition Facts
Vegan Brownie Cookies
Amount Per Serving (1 brownie cookie)
Calories 243
Calories from Fat 99
% Daily Value*
Fat 11g17%
Sodium 91mg4%
Carbohydrates 32g11%
Protein 3g6%
* All values are an estimate only and will vary depending on the food brands used.
BakedByClo is a participant in the Amazon Services LLC Associates Program, an affiliate advertising program designed to provide a means for sites to earn advertising fees by advertising and linking to Amazon.com. This site may contain some of these links to Amazon.com & other affiliate programs. If you make a purchase through one of those links, BakedByClo will receive a small commission from the purchase at no additional cost to you.