Vegan Cocoa Powder Brownies
These vegan cocoa powder brownies are fudgy inside with a slightly crispy top. They can be made easily with just a handful of basic ingredients, without the need for chocolate. They're great for a mid-morning snack or evening dessert and they taste delicious warmed up with ice cream!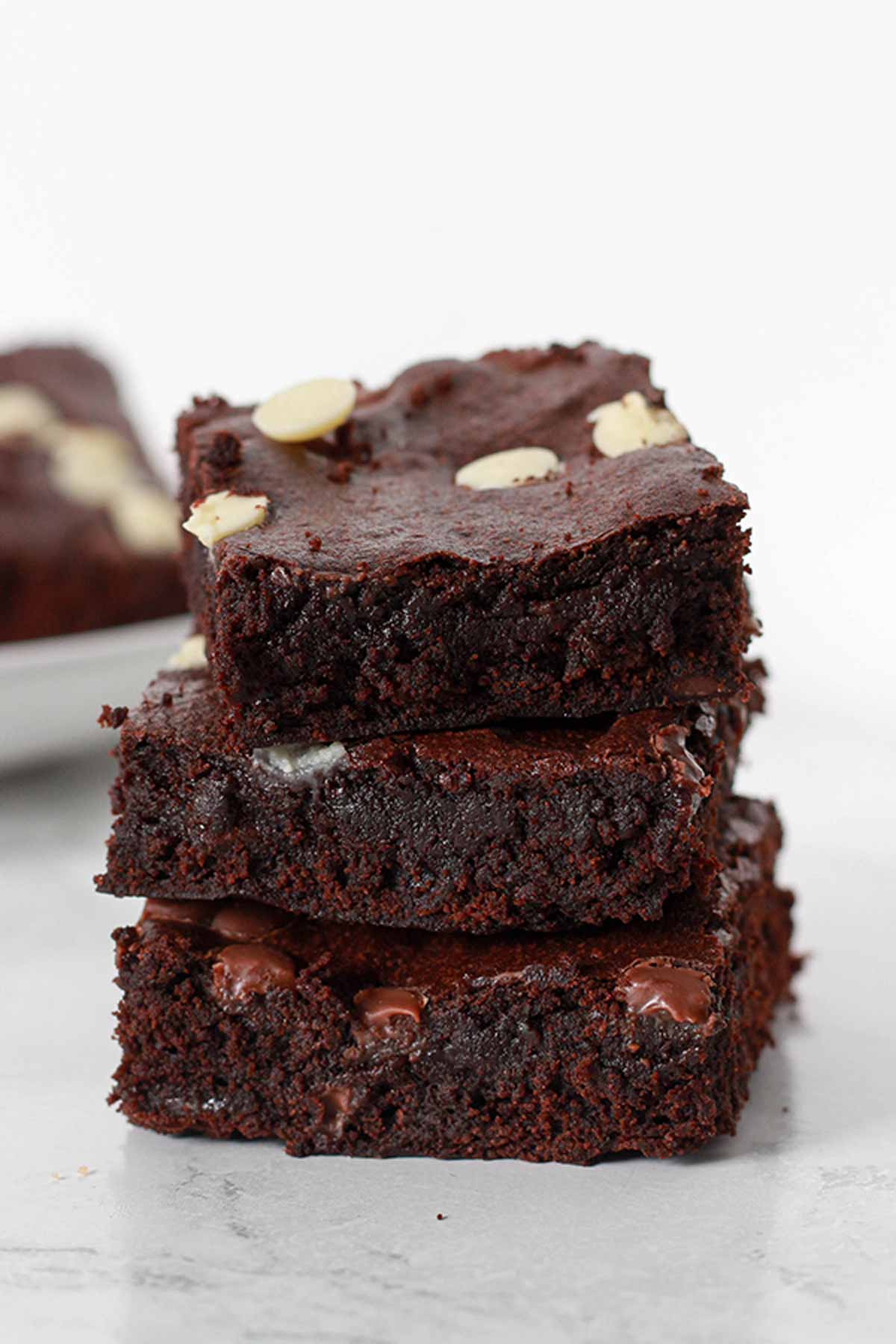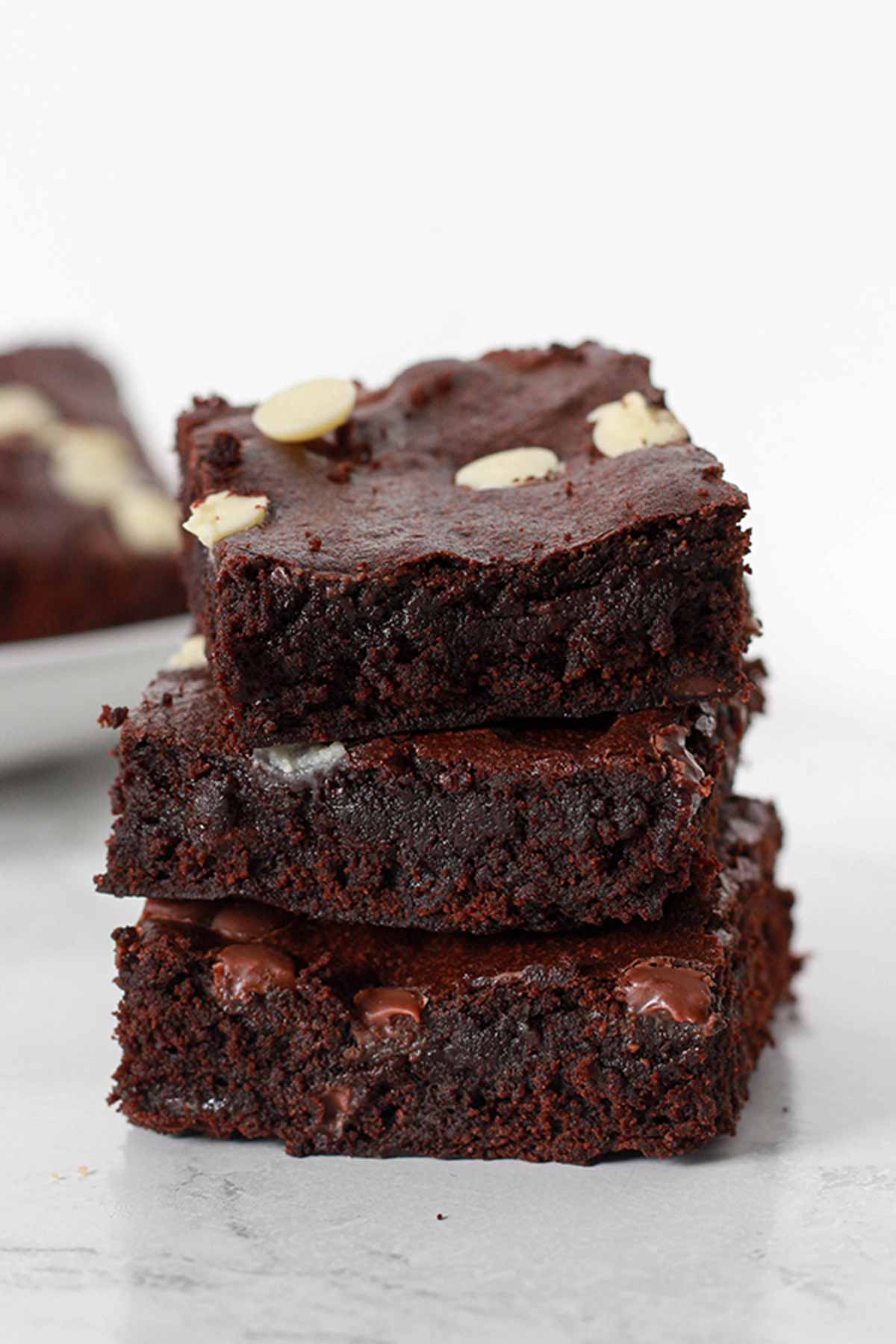 Brownies… do you like them cakey or fudgy?
I'm definitely in the fudgy camp. I do love a good cakey brownie too but in my opinion, the chewy, gooey fudgy texture is what makes a brownie a brownie and not a cake. I do plan to create a cakey brownie in the future for those of you who prefer them but for now, it's fudgy brownie time!
A while ago, I shared my best ever vegan brownies recipe which is one of my favourites. But I soon found out that the results of those can differ depending on the type of chocolate that's used.
Some people who tried the recipe had issues with it, and I realised this was because the recipe only works with chocolate that has a high enough cocoa percentage. It's not always easy to source the exact same ingredients if you're elsewhere in the UK or even in the world, so I decided I'd make a second recipe.
More vegan brownie recipes:
You can make these brownies without chocolate- all you'll need for the flavour is some cocoa powder (plus some chocolate chips if you want an added pop of chocolate).
It took me a few tries to get this recipe exactly how I wanted it. I made them as fudgy as I could but there was a limit to how far I could push the fat to flour ratio without the brownies falling apart. These cocoa powder brownies are soft and fudgy on the inside with a slightly chewy/crispy top. They don't have that classic shiny papery crust that my other brownies do, but they are just as delicious, and a lot easier to make!
Best chocolate chips for brownies
I've use a whole bunch of different chocolate chunks and chips over the years in my dessert recipes but lately I've been sticking to Moo-Free baking drops. I've stocked up for all of my baking over the next few months so you'll probably see them mentioned somewhere in my chocolatey recipe posts for the foreseeable future.
Moo-Free have a "milk" version and a white chocolate version of the baking drops, which can be purchased online or from Tesco stores in the free-from section. I love them because they're so cute and dainty, and you get way more in a pack than you usually would with other chocolate chips.
Dairy-free white chocolate chips seem to be the hardest to come by so if you can't get a hold of them, I recommend just cutting up your favourite vegan white chocolate bar into small pieces instead. Here are some of my favourites:
Sainsbury's (check your local store for their free-from white chocolate bars and white chocolate chips)
For "milk" or dark chocolate chips, there are a few more options which I've listed here below. Alternatively, you can again cut up your favourite chocolate bar and use that in place of chocolate chips. Check out my vegan chocolate guide for more information.
Holland and Barrett chocolate chips
Dr. Oetker (only the jumbo dark chocolate chips are vegan-friendly)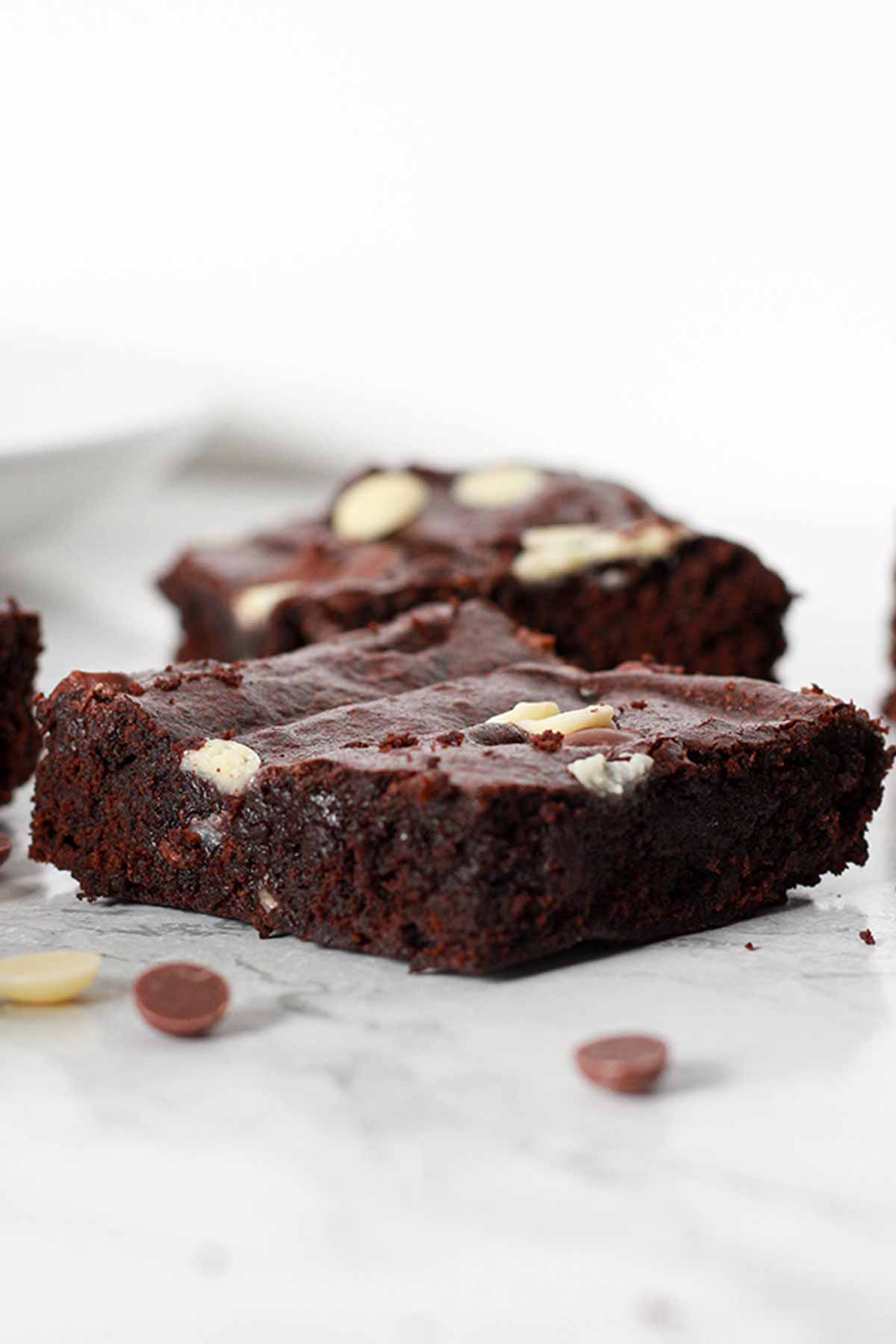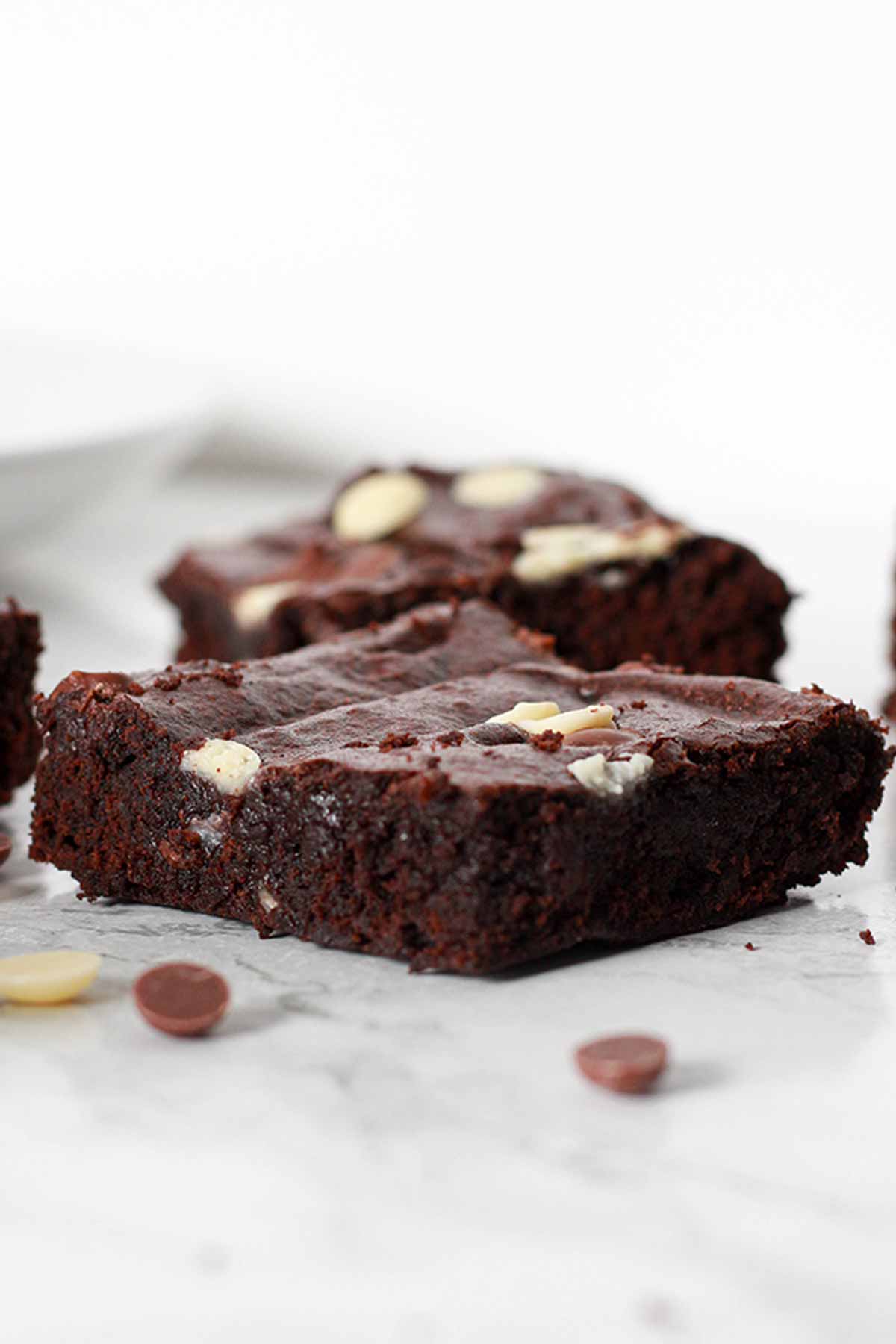 How to make vegan cocoa powder brownies
Step 1:
Preheat your oven to 180°C/350°F (or 160°C/325°F if you're using a fan or convection oven). Line an 8×10-inch tin with baking paper, leaving some hanging over the edges for easy removal later on.
Step 2:
Add 120g of vegan margarine to a small bowl. Pop it in the microwave in 15 second bursts until completely melted. Set it aside for a few minutes to cool down a little.
Step 3:
In a large bowl, mix together 250g of caster sugar, 80g of cocoa powder, 160g of plain/all-purpose flour and 1 teaspoon of baking powder.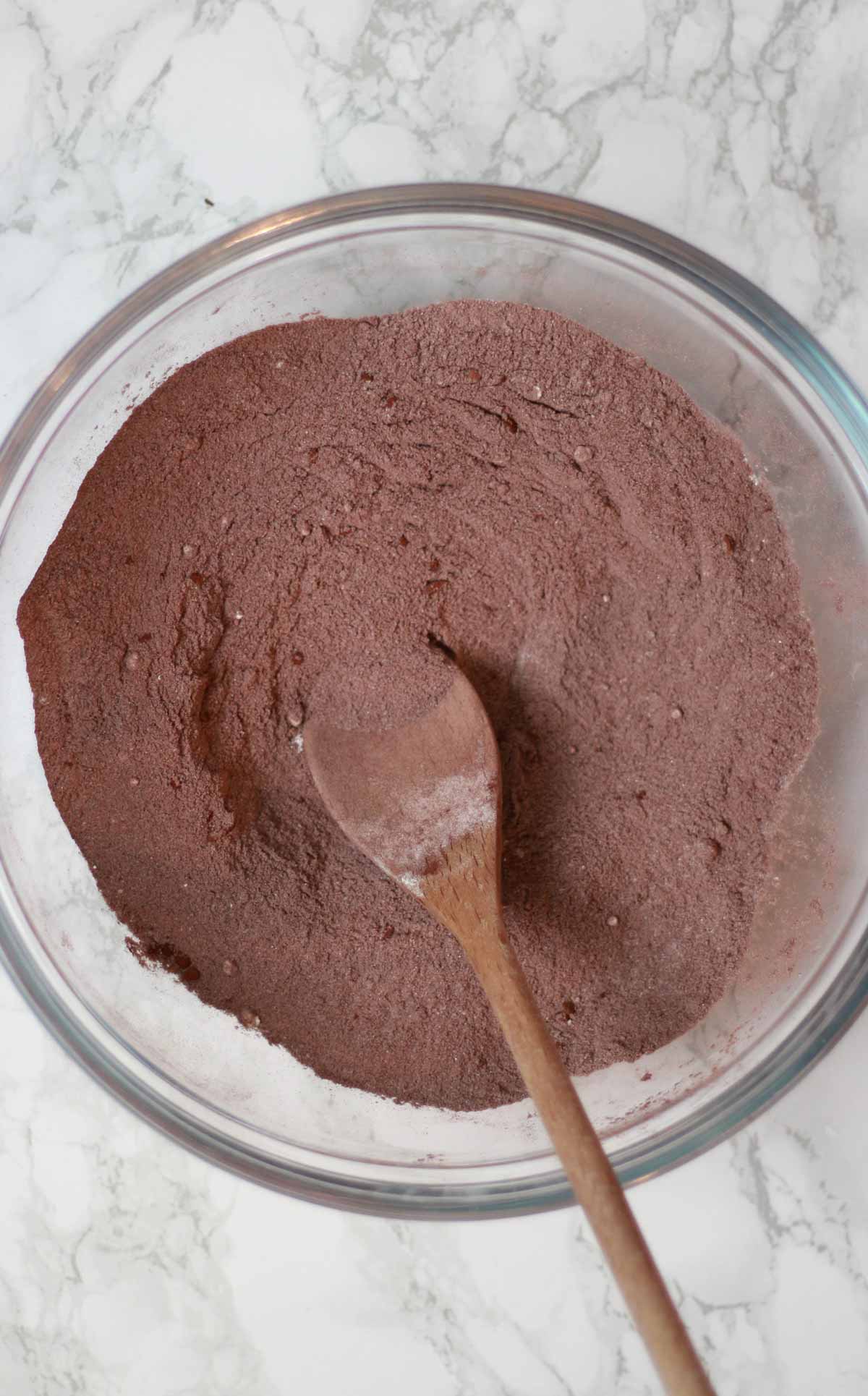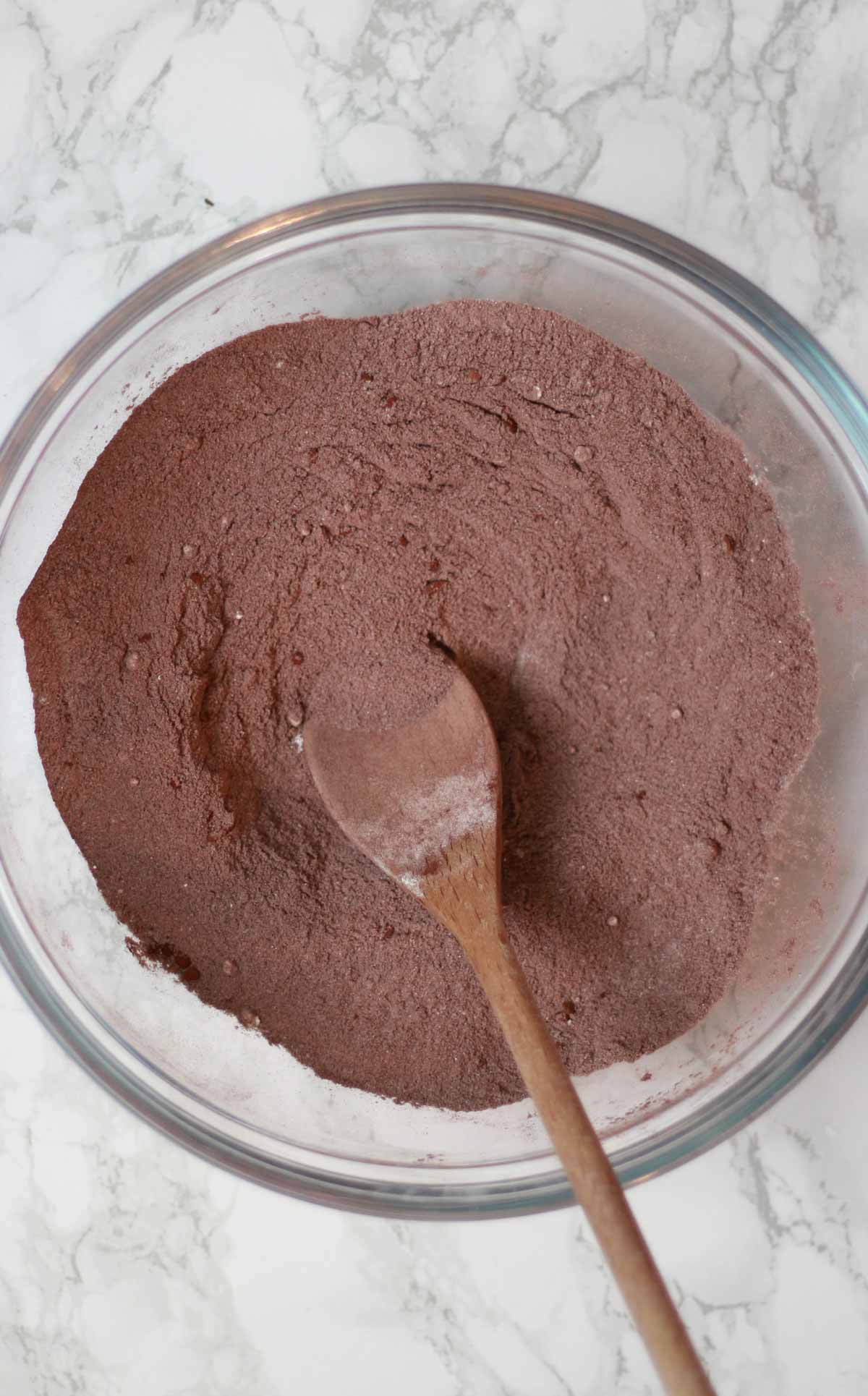 Step 4:
Next, add the melted margarine to the bowl, along with 160ml of soy milk and 1 teaspoon of vanilla extract. Mix everything together really well until smooth. The brownie batter will be very thick.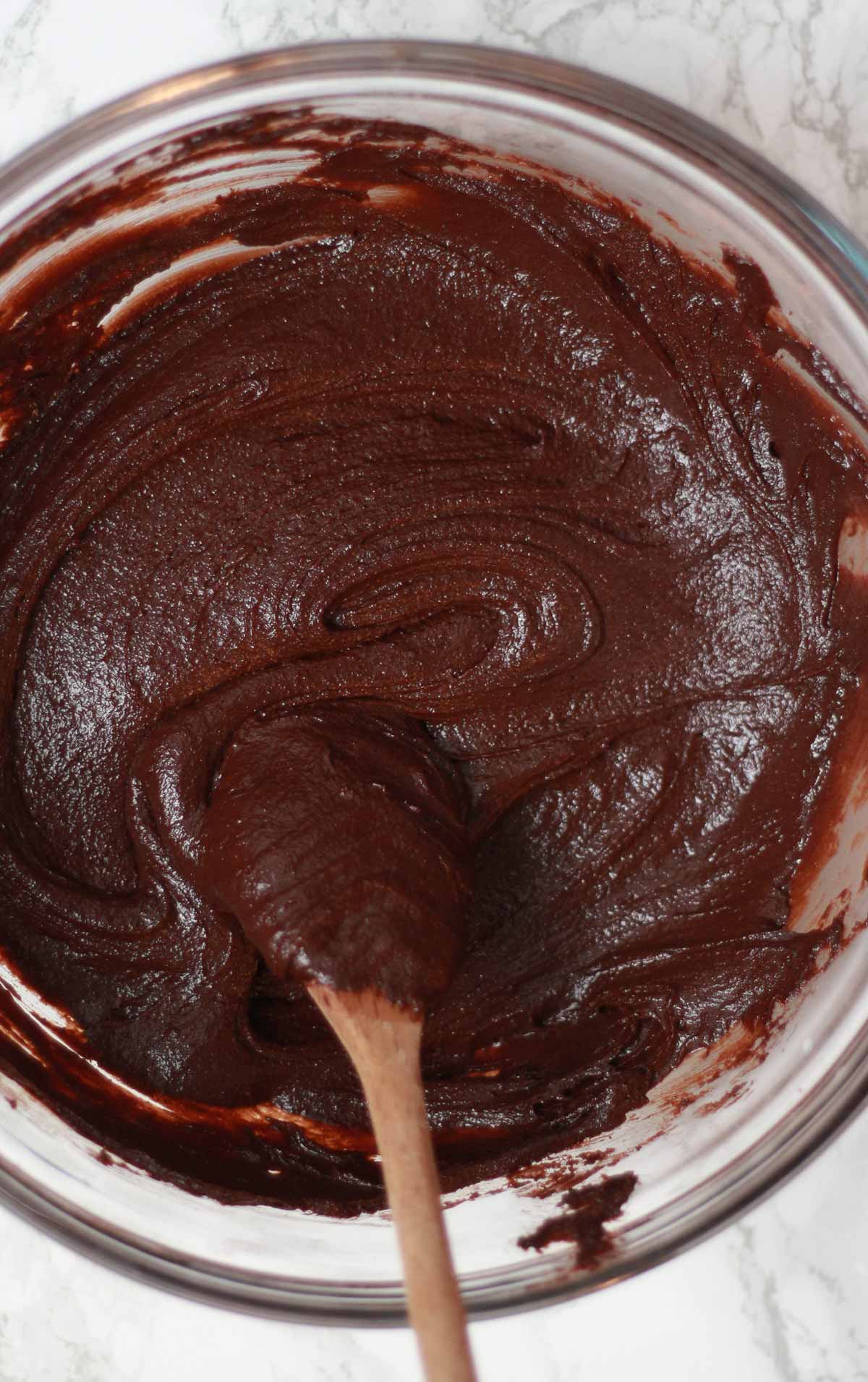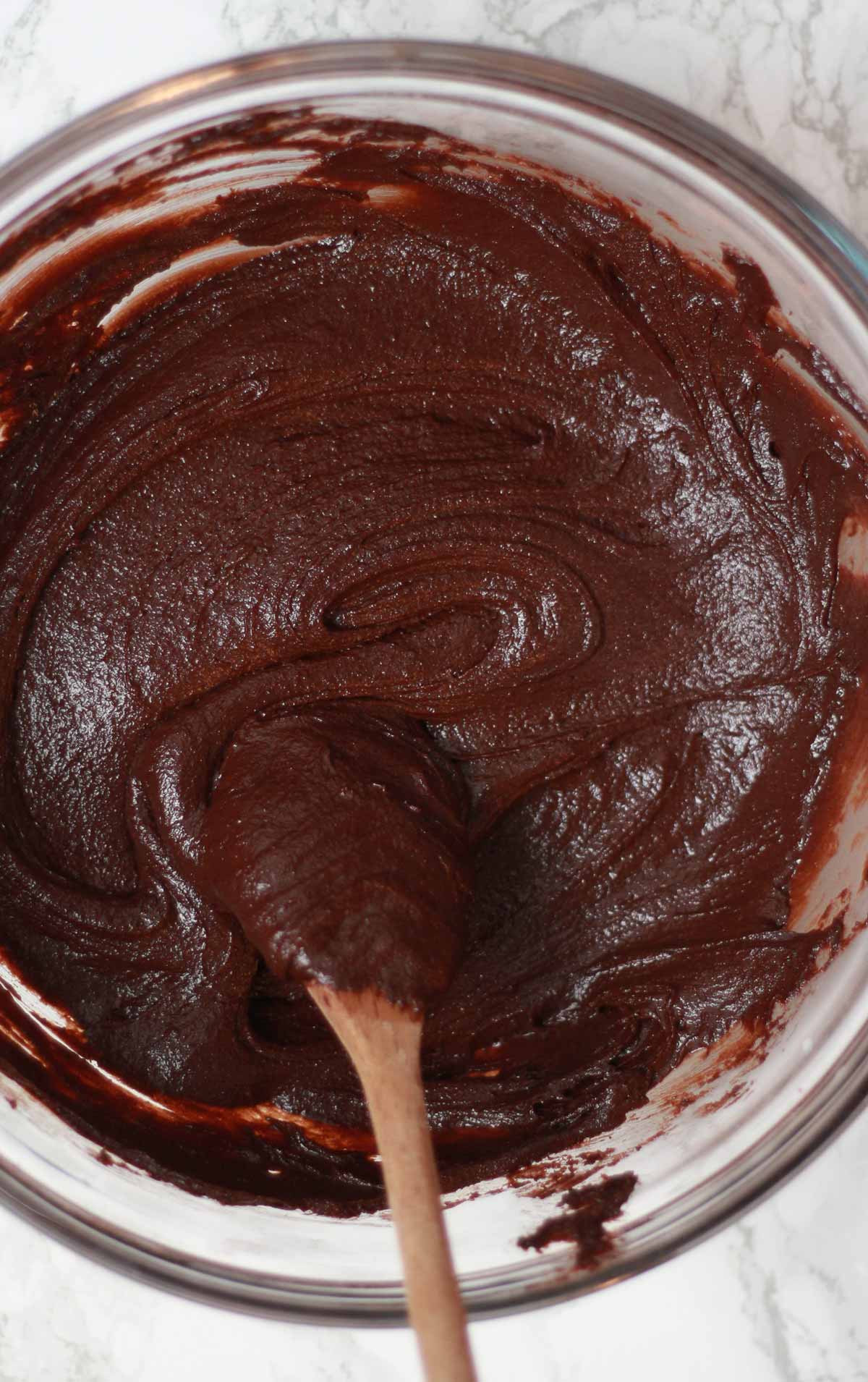 Step 5:
Add 100g of chocolate chips to the batter (or more if you like), saving a few to sprinkle on top. I used a mixture of white and "milk" chocolate chips.
Step 6:
Spoon the batter into your lined baking tin and carefully spread it out to the edges. Like I said, it's thick, so it will be a little hard to spread.
Sprinkle over some extra chocolate chips if desired.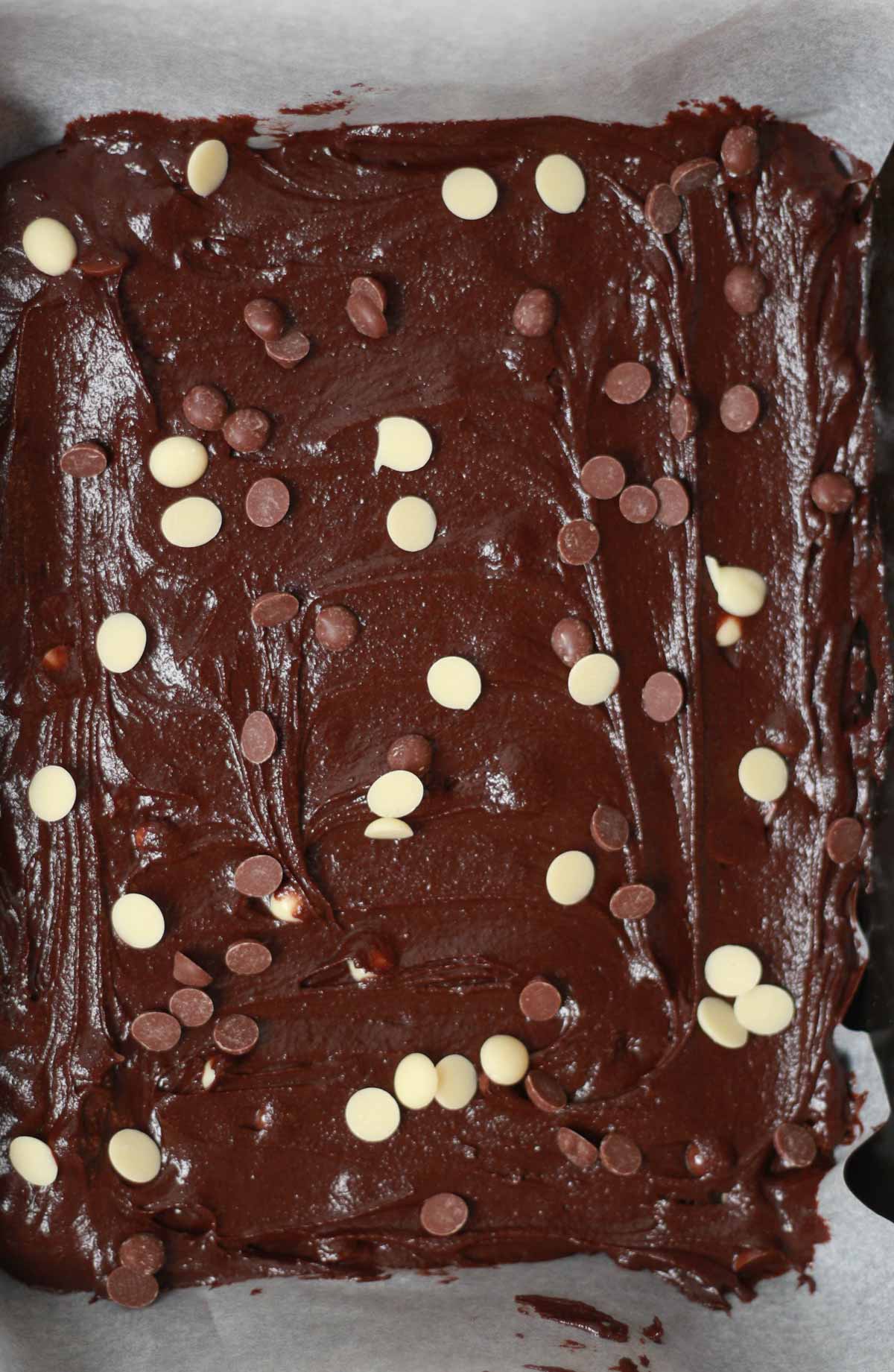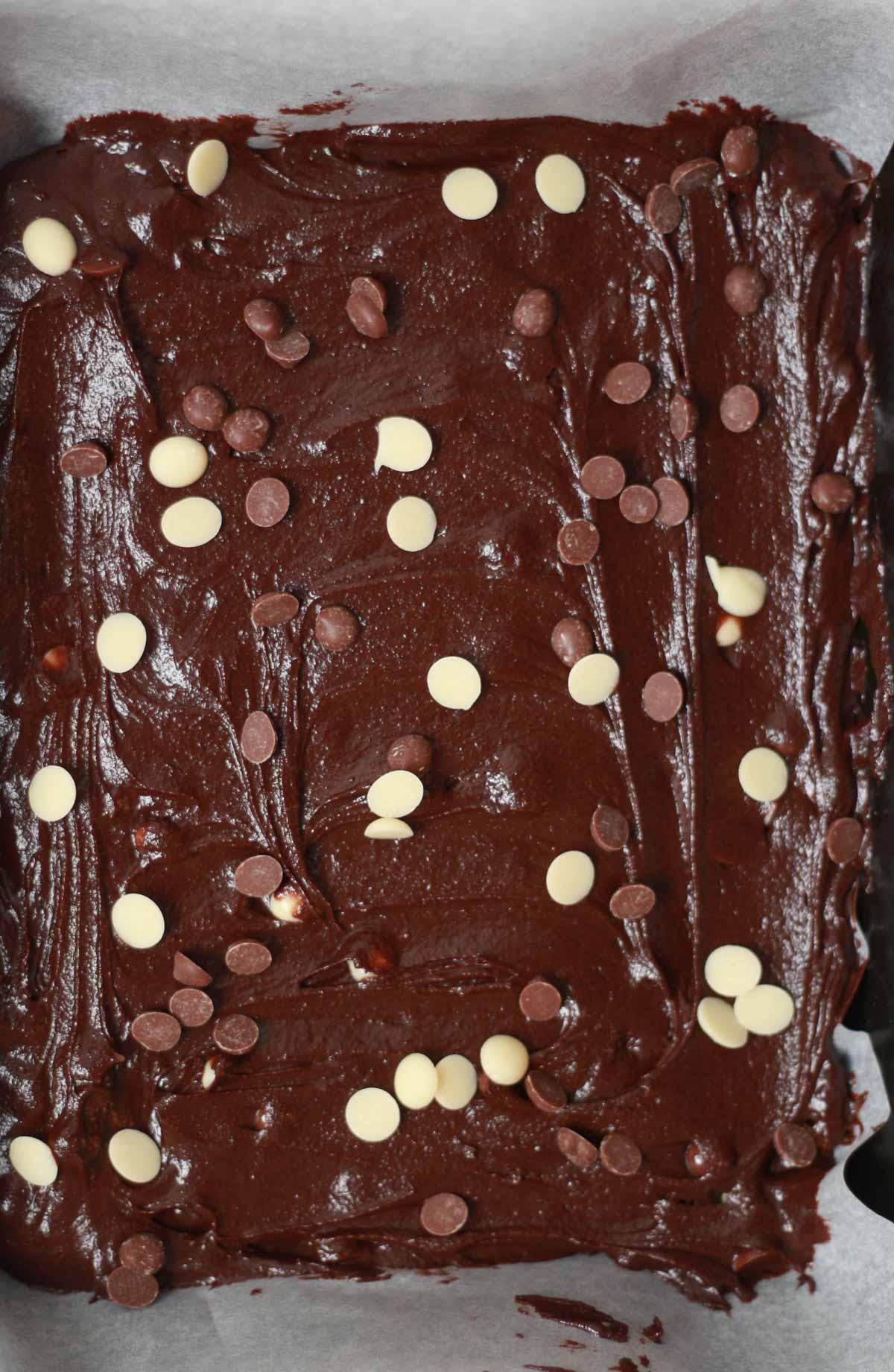 Step 7:
Bake the brownies for 22 minutes. They will be wet in the middle at first if you put a knife through them but they will firm up once they've cooled down.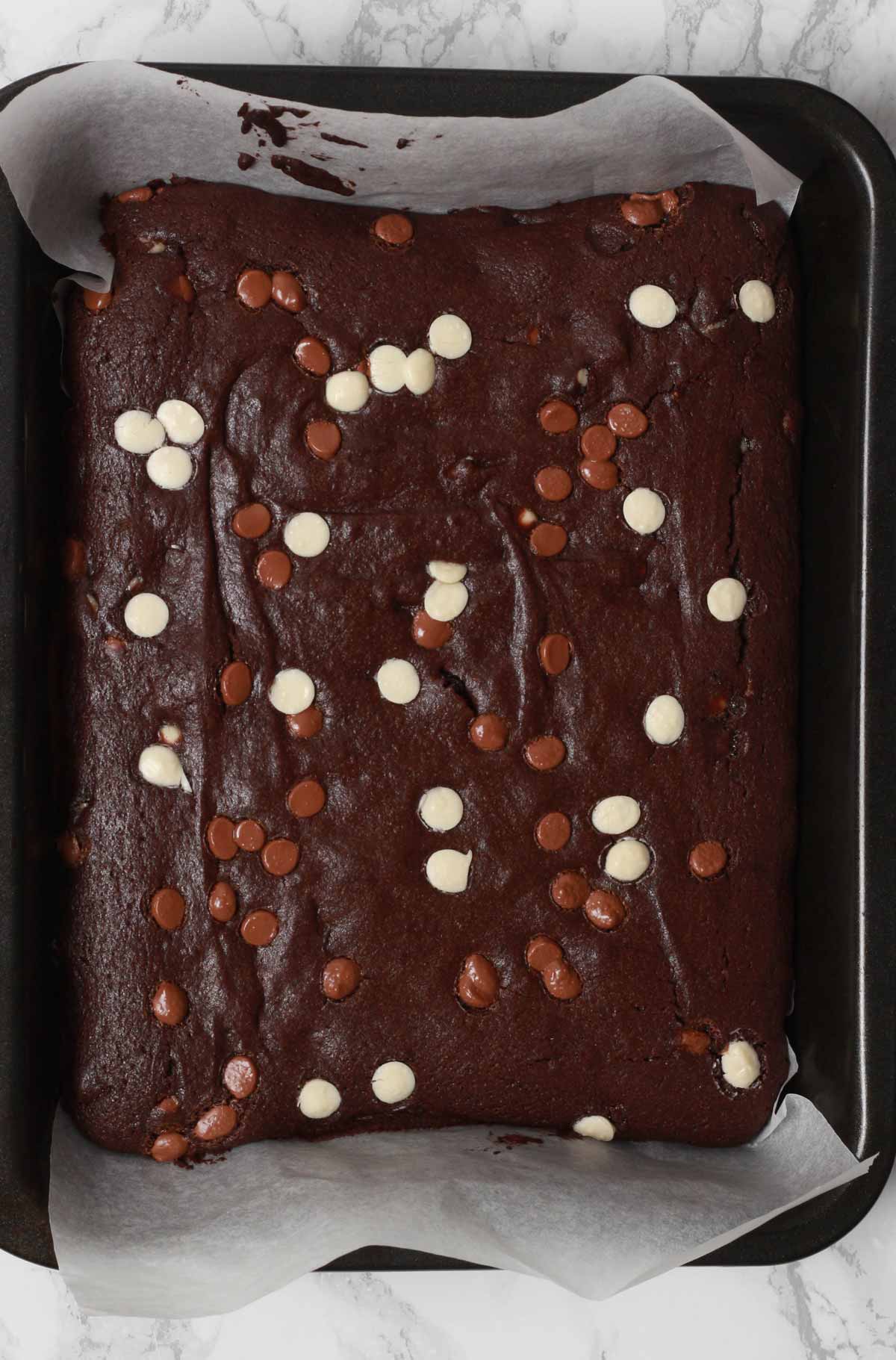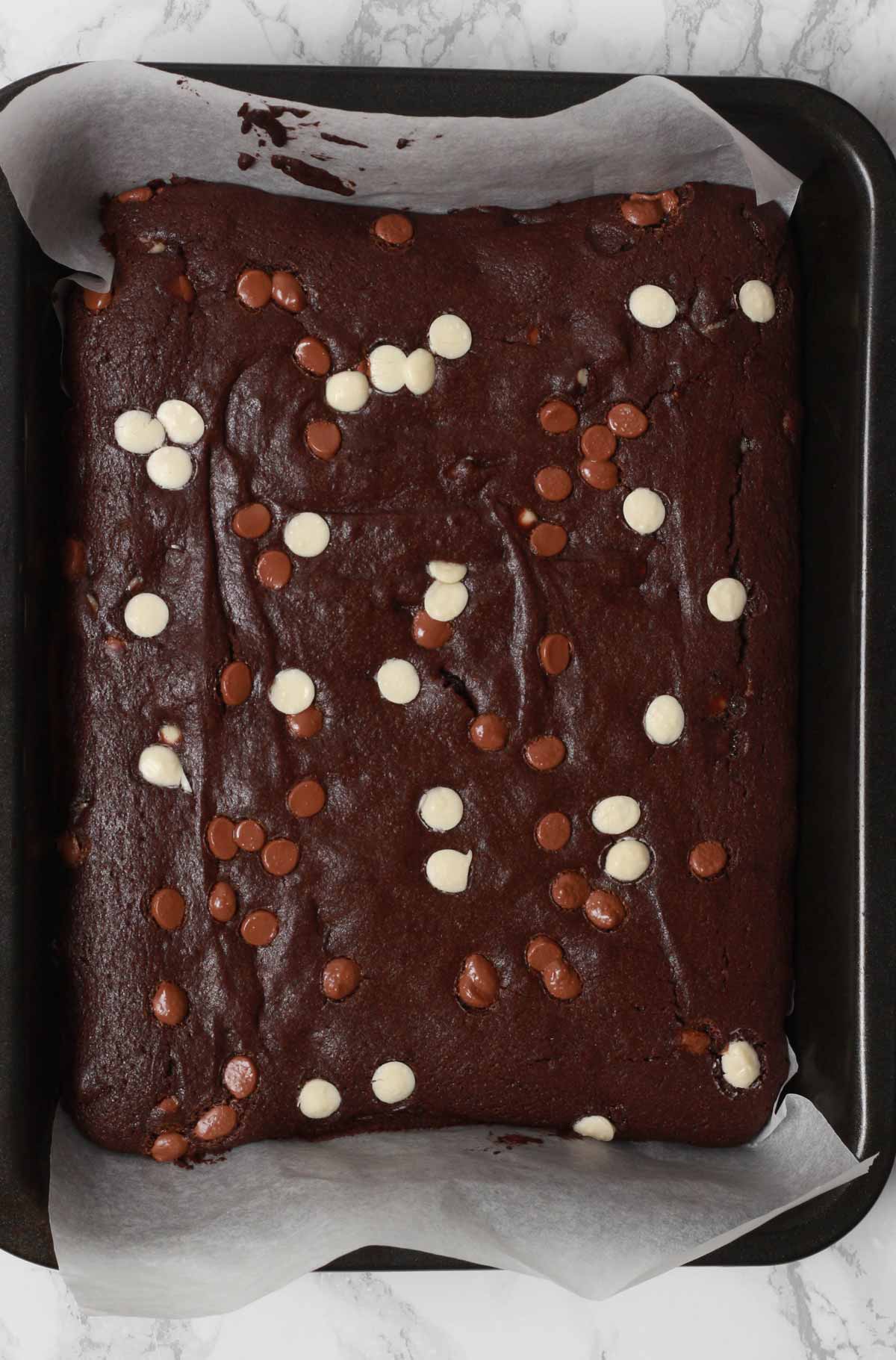 Step 8:
Let the brownies cool in the tin at room temperature for around 30 minutes, then place them in the fridge for 2 hours. This will help the fats to firm up again resulting in fudgier brownies!
Step 9:
After chilling in the fridge, remove the brownies from the tin using the baking paper and cut into squares.
FAQ:
How should cocoa powder brownies be stored?
Keep them in an airtight container in the fridge for up to 1 week. They may last a little longer than this but I'm unsure as they never stick around for long in my house!
Can I freeze them?
Yes. Freeze the brownies in airtight containers, with sheets of baking paper in between if you're stacking them. When you're ready to defrost them, transfer to a wire rack or plate and let them sit at room temperature until fully thawed. Do not refreeze.
What's the best type of cocoa powder to use?
Unsweetened cocoa powder with no added ingredients. Hot chocolate powder is not the same thing and will not work well in this recipe. I have yet to test this recipe with Dutch process cocoa powder so I cannot recommend it. I used Tesco cocoa powder– anything similar to this will work!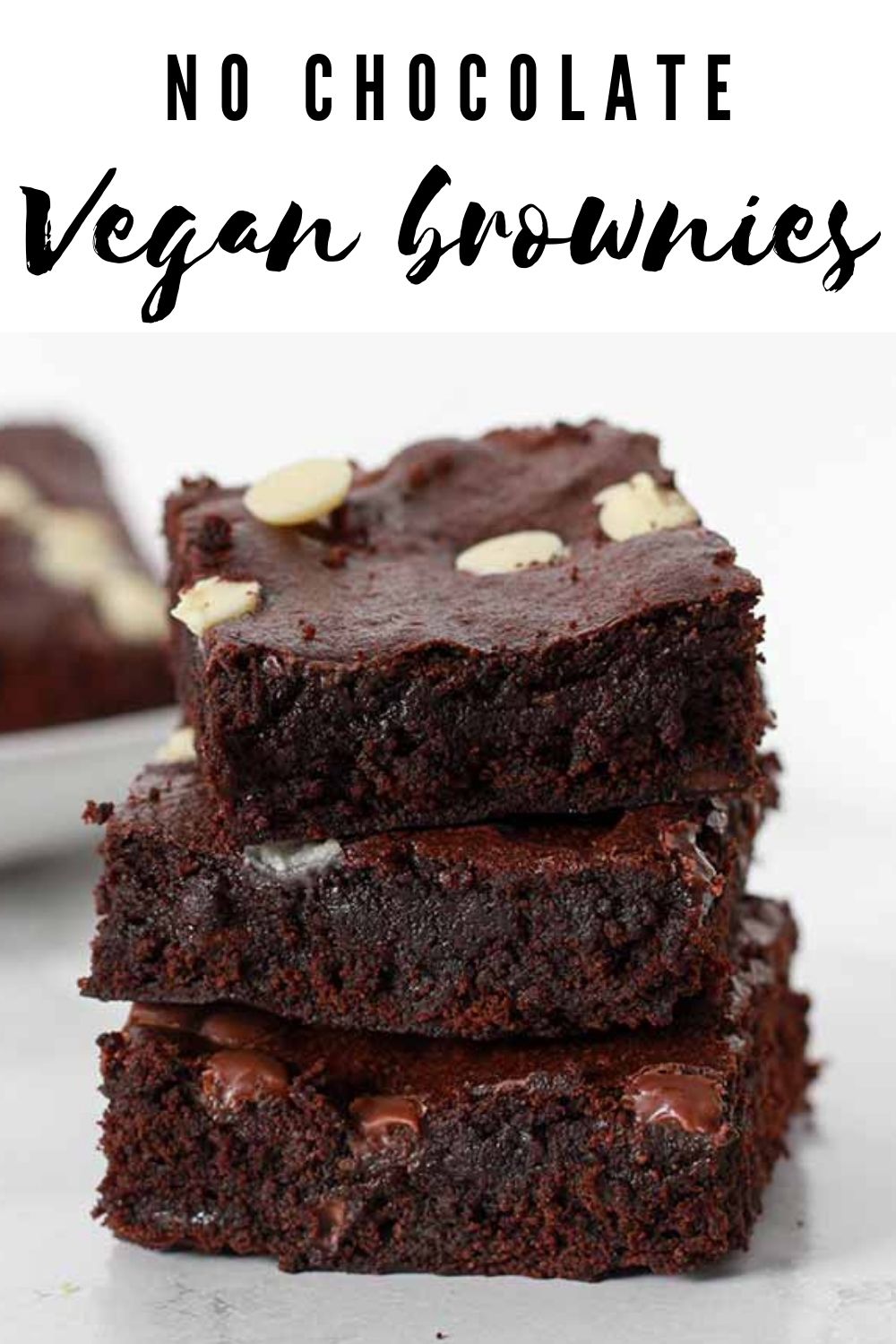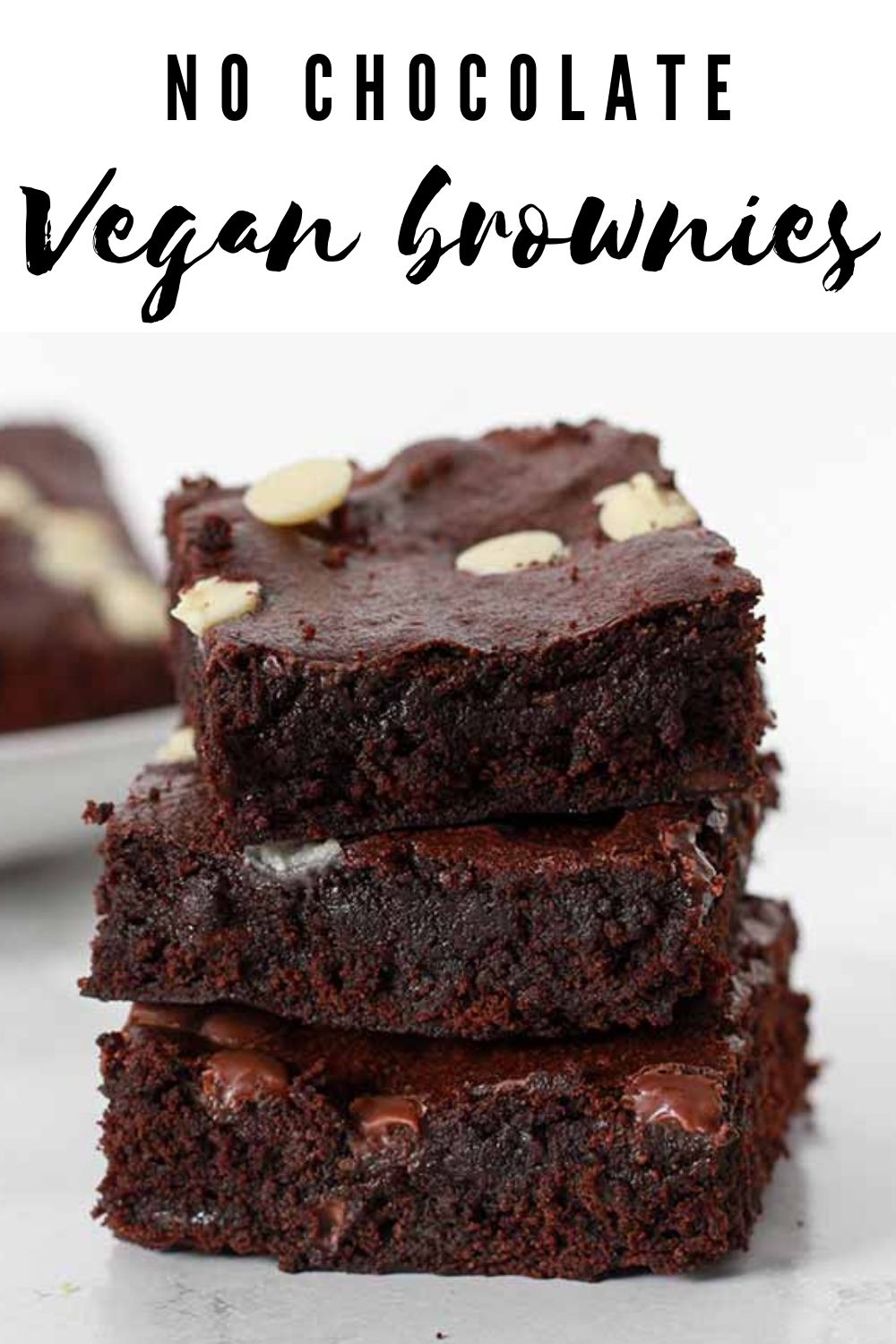 That's all for now. I hope you enjoy the brownies! If you make them at home, please let me know how you get on by leaving a rating and/or comment below. Happy baking! xo

Vegan Cocoa Powder Brownies (No Chocolate)
Fudgy vegan brownies without chocolate, made with just a few simple ingredients.
Ingredients
160

g

Plain/all-purpose flour

(1 cup + 2 tablespoons)

80

g

Unsweetened cocoa powder

(⅔ cup)

250

g

Caster sugar

(1+¼ cups)

1

Teaspoon

Baking powder

120

g

Vegan margarine, melted

(½ cup)

160

ml

Unsweetened soy milk

(½ cup + 2 tablespoons)

1

Teaspoon

Vanilla extract

100

g

Dairy-free chocolate chips

(around ⅔ cup) optional
Instructions
Preheat your oven to 180°C/350°F (or 160°C/325°F if you're using a fan or convection oven). Line an 8×10-inch tin with baking paper.

In a large bowl, mix together the flour, cocoa powder, sugar and baking powder.

Add the melted margarine, the soy milk and the vanilla extract. Mix well until smooth. The batter will be very thick.

Fold in the chocolate chips, saving a few to sprinkle on top.

Transfer the thick batter to your tin and spread it out evenly. Top with the leftover chocolate chips.

Bake for 22 minutes. They will seem under-baked in the middle but they'll firm up once cold.

Let them cool in the tin for around 30 minutes, then put them in the fridge for 2 hours to set firm.

Once chilled, remove them from the tin and cut into squares.
Recipe Notes
Store in an airtight container in the fridge for up to 1 week.
Nutrition Facts
Vegan Cocoa Powder Brownies (No Chocolate)
Amount Per Serving (1 brownie)
Calories 259
Calories from Fat 99
% Daily Value*
Fat 11g17%
Sodium 63mg3%
Carbohydrates 36g12%
Protein 3g6%
* All values are an estimate only and will vary depending on the food brands used.
BakedByClo is a participant in the Amazon Services LLC Associates Program, an affiliate advertising program designed to provide a means for sites to earn advertising fees by advertising and linking to Amazon.com. This site may contain some of these links to Amazon.com & other affiliate programs. If you make a purchase through one of those links, BakedByClo will receive a small commission from the purchase at no additional cost to you.