Vegan Subway Chocolate Cookies
These vegan Subway chocolate cookies are soft, chewy and taste just like the ones you get in store! They're super easy to make, with no complicated ingredients, and are sure to impress your friends and family.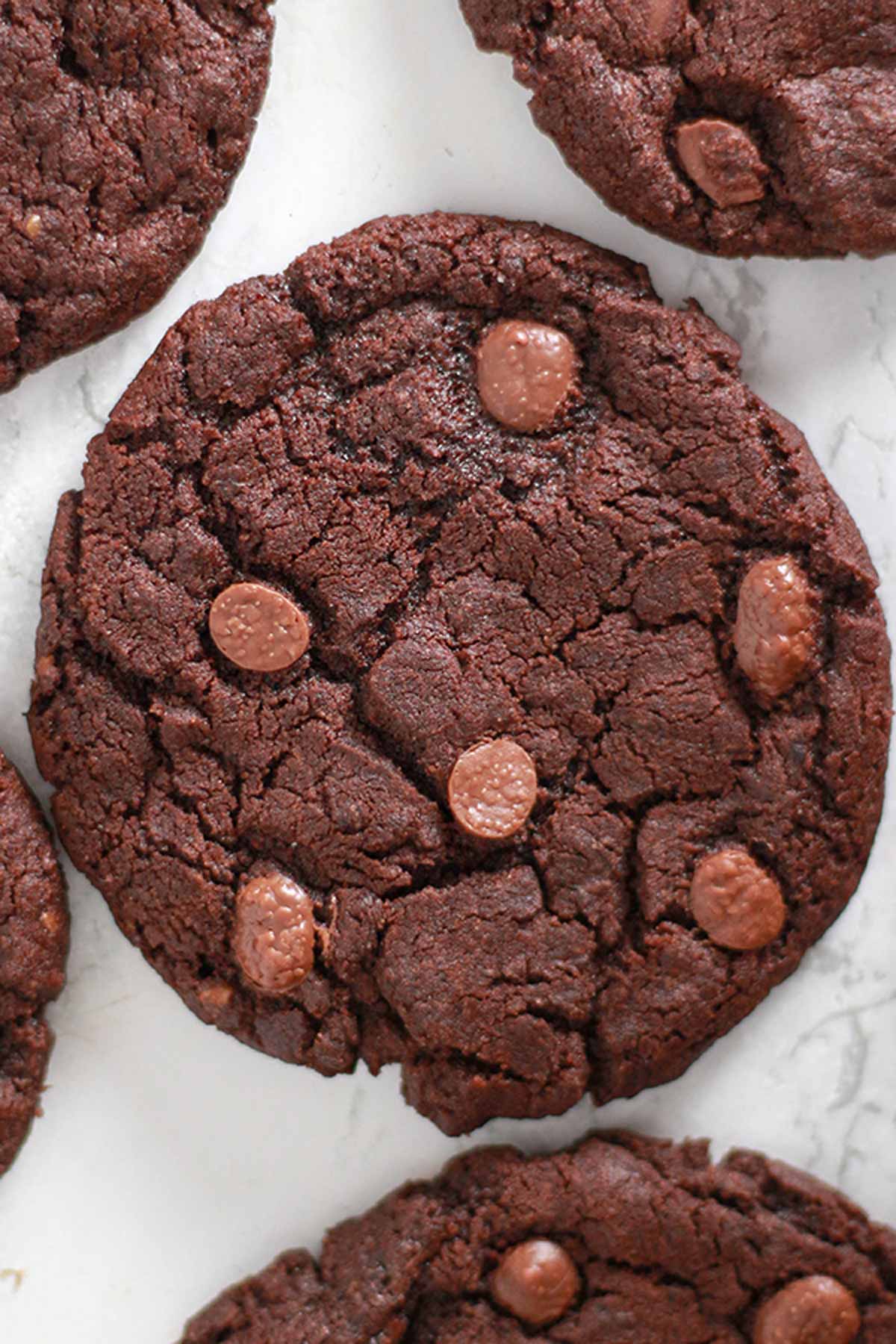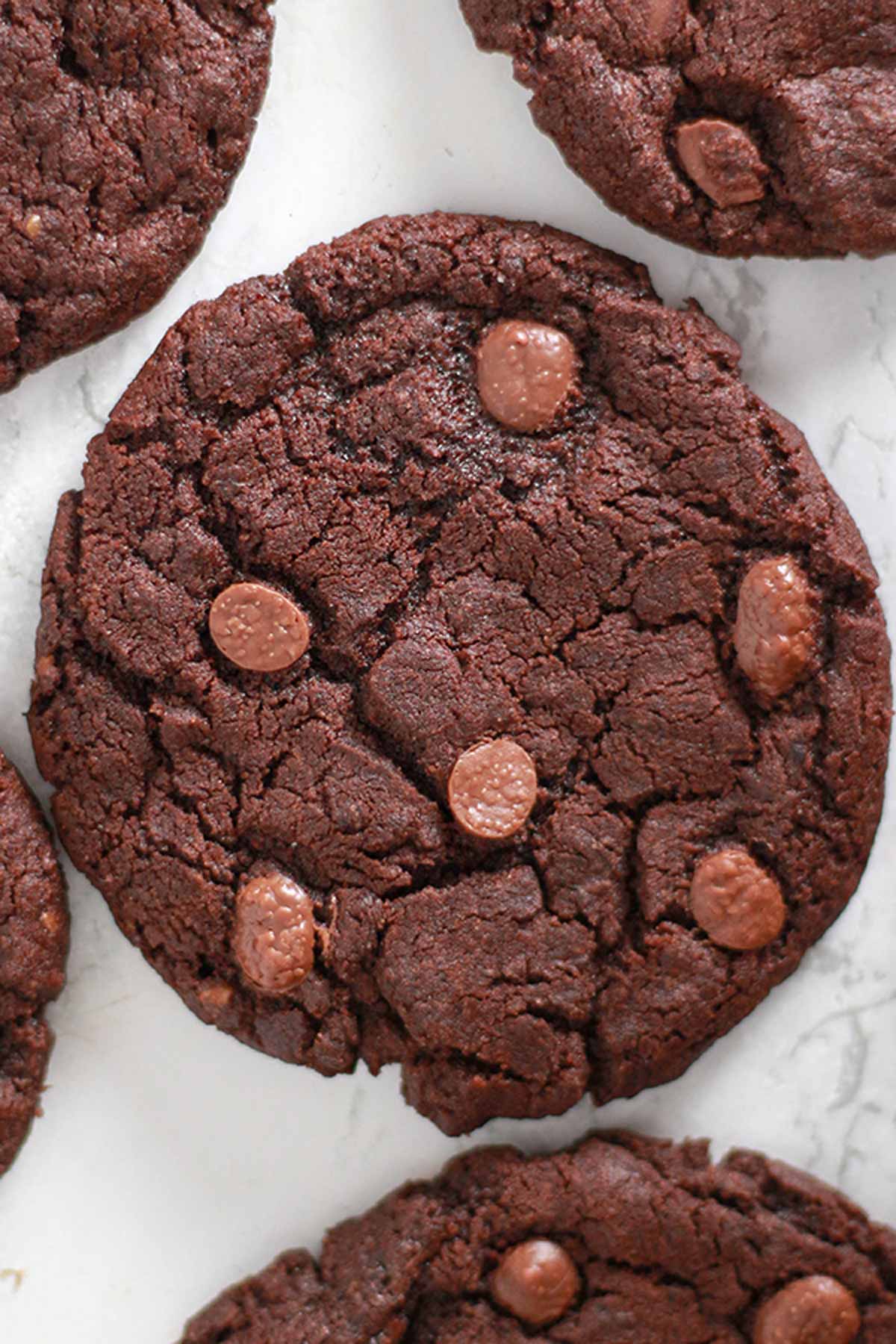 Last April, at the start of the *you know what*, Subway released their chocolate cookie recipe on Facebook and I noted it down straight away. I told myself I'd veganise them for the blog but I never actually got around to it until now!
I can't find their original recipe video to link to anymore, but it was a pretty simple recipe that was very easy to veganise. All I had to do was make a couple of super easy ingredient changes to omit the eggs and dairy.
My vegan version of this recipe is quite similar to my double chocolate cookies but in this recipe, the chocolate flavour is slightly less intense. They're pretty on-par with the actual vegan chocolate cookies Subway sell.
Subway use a mix of brown and white sugar in their cookies. The white sugar gives a slightly crispy edge while the brown sugar helps the cookies to spread and makes them soft and chewy on the inside. I used caster sugar and soft light brown sugar when I made them.
No eggs!
Obviously since I was making a vegan version of Subway's cookies, I couldn't use the eggs or butter that the recipe calls for. I simply switched the butter out for vegan margarine and switched the egg for a flax seed egg.
Using the flax egg helps to add just the right amount of binding power to stop the cookies from crumbling after they've baked. And because vegan margarine contains more water than dairy-butter does, it added a good amount of moisture without the need for any extra liquid.
Other egg replacers will not work well in this recipe as they won't provide the same chewy texture. If you absolutely cannot have flax seeds, you could use a chia seed egg instead, which will work similarly.
Alternatively, you can replace the flax egg with a splash of plant-based milk- use just enough to help the dough stick together. If you do this, please note the cookies will be a lot more crumbly and fragile. You will need to let them cool, then chill them in the fridge for around 2 hours before removing them from the tray.
The time in the fridge will allow the fat to get firm again, and it will hold the cookies together. Just be careful not to let them get too warm when storing them!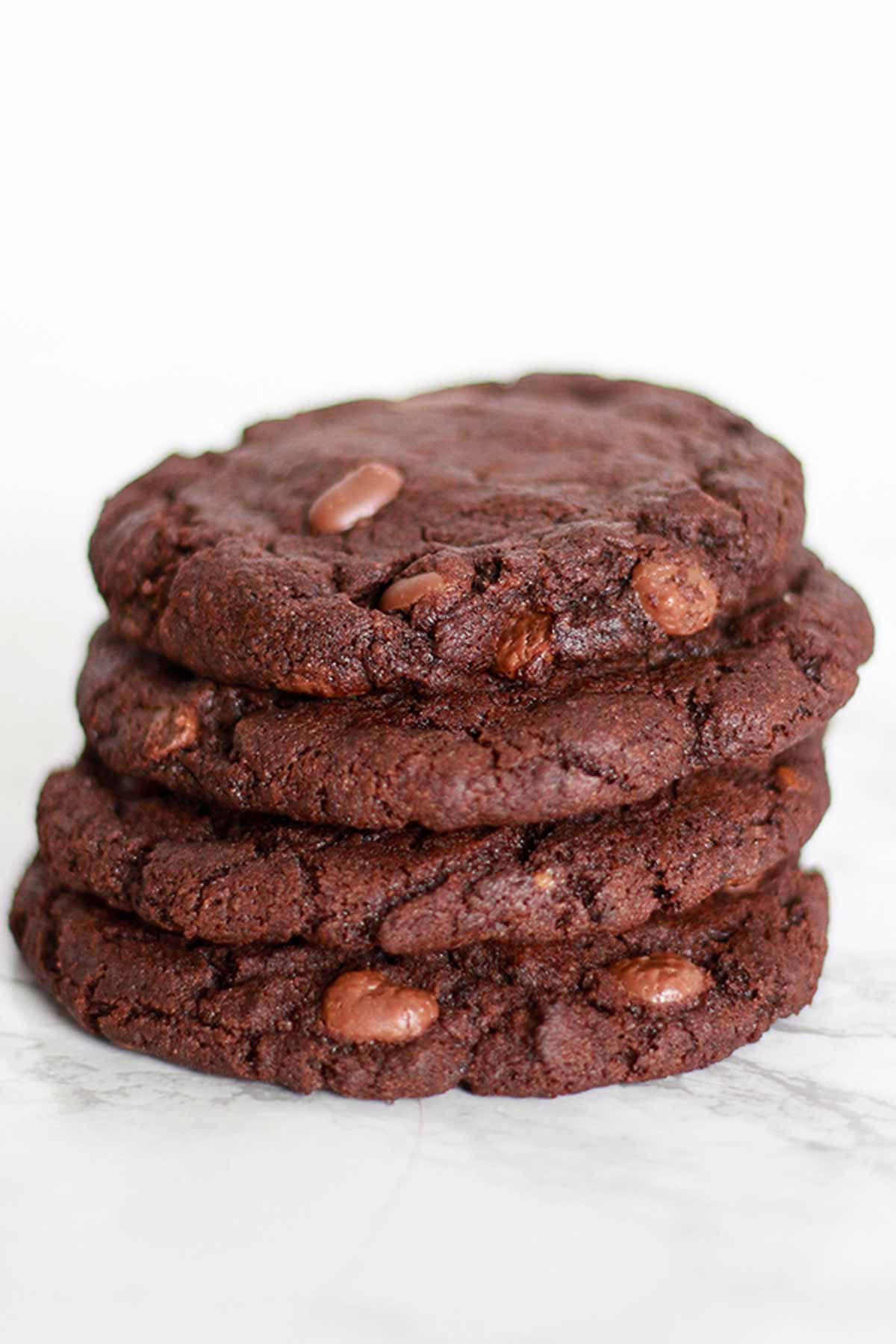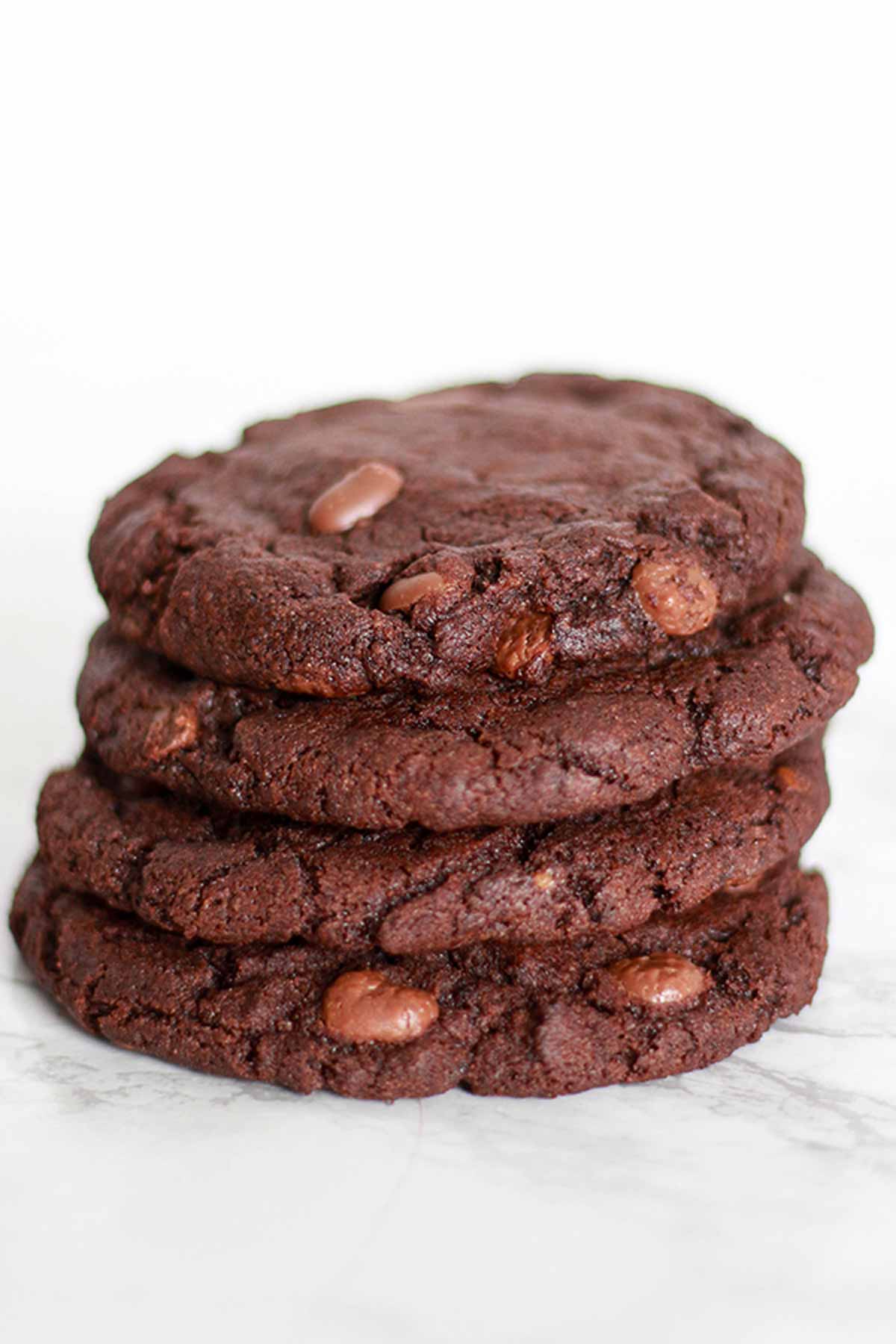 More vegan cookie recipes:
How to make vegan chocolate Subway cookies
Step 1:
Preheat your oven to 180°C/350°F (or 160°C/325°F if you're using a fan or convection oven). Have a non-stick cookie sheet to hand or line a tray with baking paper.
Step 2:
The first step is to prepare your flax seed egg. Do this by mixing 1 tablespoon of ground flax seeds with 1 tablespoon of cold water. Set it aside for a few minutes and it will become thick and look sort of congealed.
Please note that the flax seeds need to be ground in order for this to work. You can buy them pre-ground (or "milled"), or you can buy the whole seeds and grind them up yourself in a high power blender like I do. Store them in an airtight container and they'll be ready to go for any future vegan baking recipes!
A lot of flax egg recipes call for 1 tablespoon of flax seeds to 3 tablespoons of water but for the purpose of this recipe, 1 tablespoon of each works best. This prevents the dough from getting too sticky but still gives good binding power.
Step 3:
Next, mix 125g of vegan margarine with 75g of caster and 100g of soft light brown sugar in a large bowl. Then stir in your flax seed egg, along with 1 teaspoon of vanilla extract.
I recommend using the spreadable kind of vegan margarine for this recipe, not the blocky "butter" type. The two have different fat and water contents and I have not tested this recipe with the buttery style yet.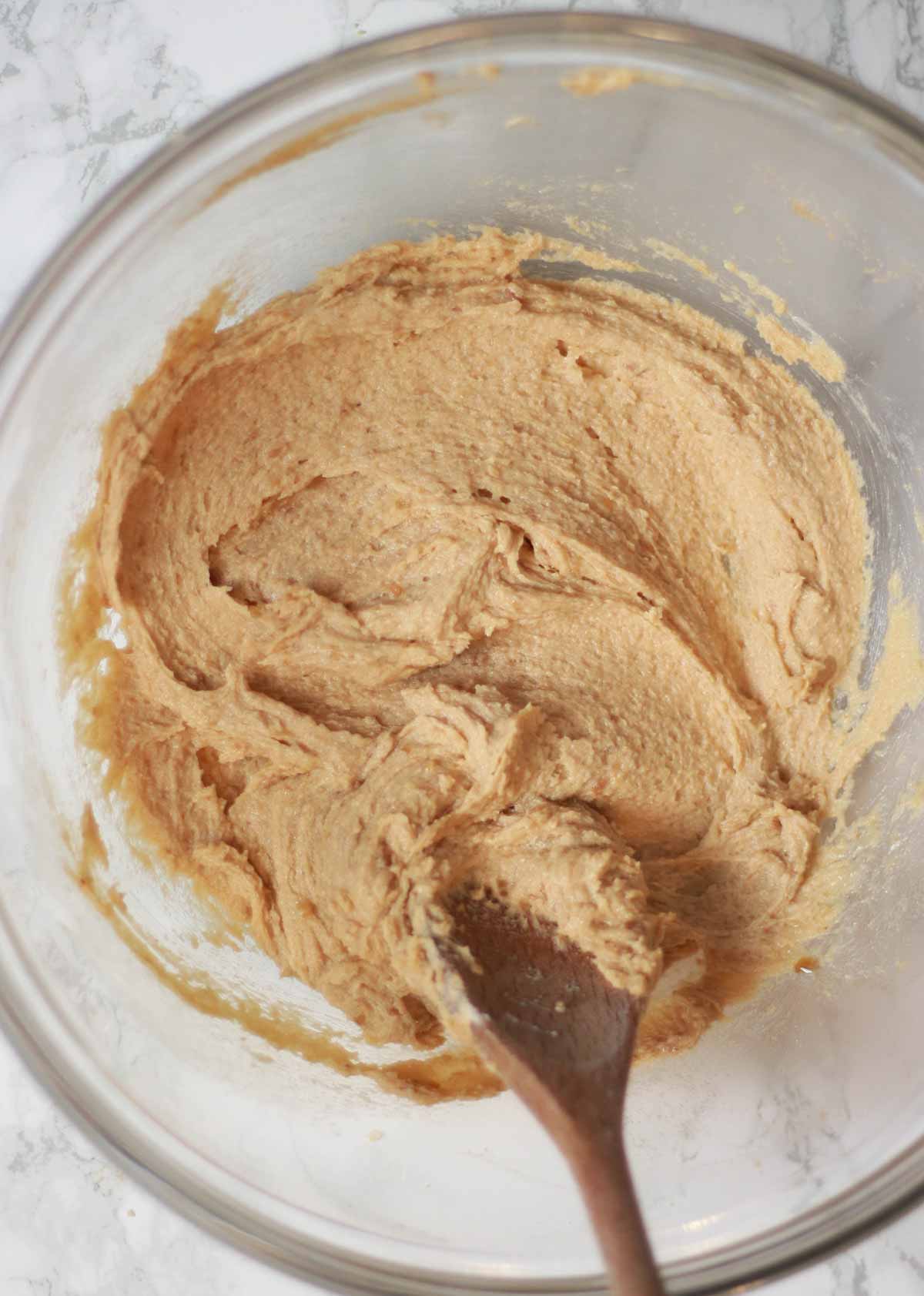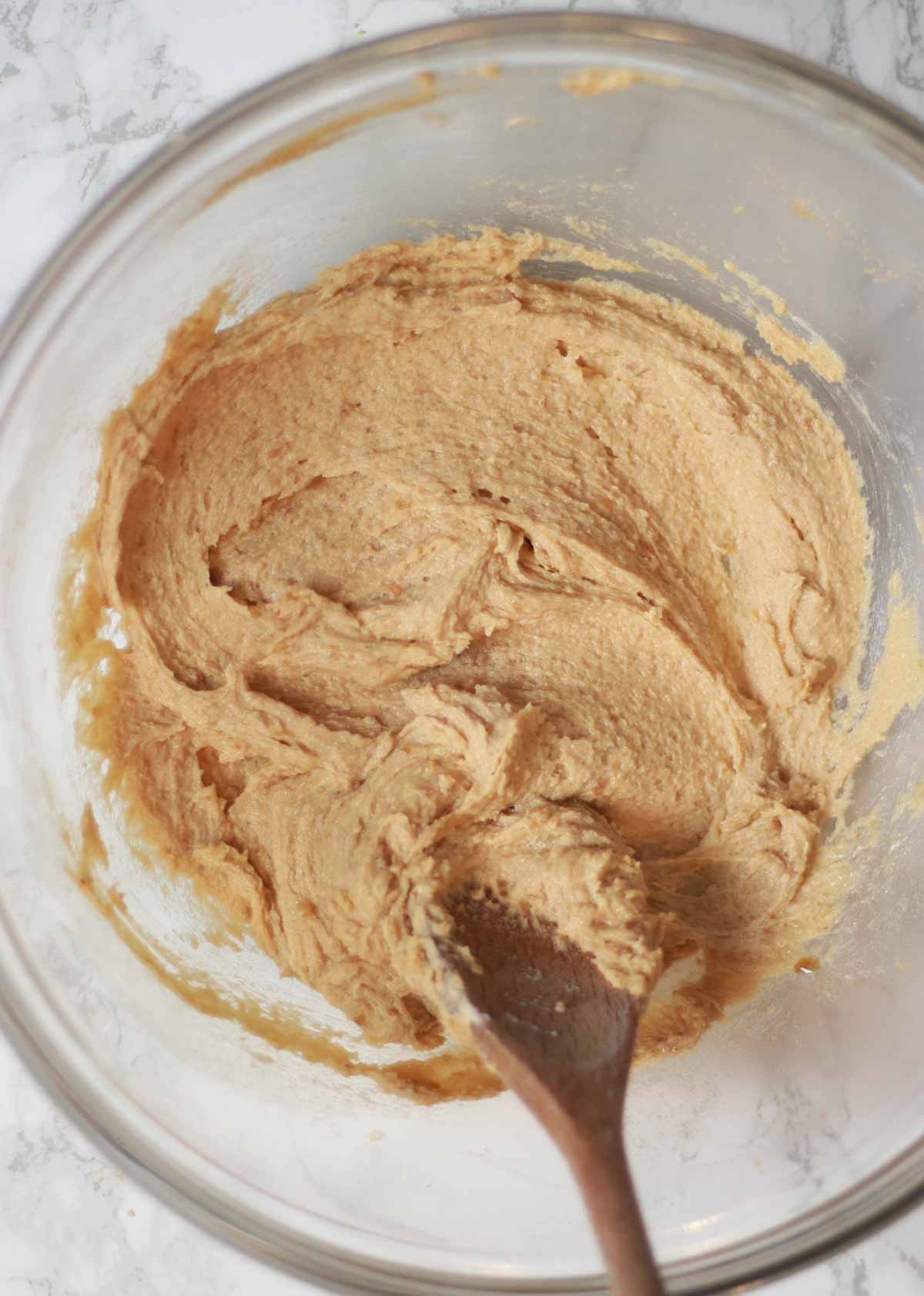 Step 4:
Add in 150g of plain flour, 1/2 teaspoon of baking soda and 40g of cocoa powder. Stir it all in with a spoon until the mixture starts to stick to itself, then use your hands to press it into a ball of dough. If the dough is too wet, you can add a small amount of extra flour and if it's too dry, you can add some extra margarine or a small splash of plant-based milk until it comes together. Please see the image below of the dough on the baking tray for the correct consistency.
Step 5:
Now, add 100g of vegan "milk" chocolate chips to the bowl and gently use your hands to press them into the ball of dough. I used Moo-Free's baking drops (purchased from Tesco).
When I first made this recipe, I used white and milk chocolate chips. I bit into one and thought that they tasted a little bit different to what I remember, only to realise this is because Subway's chocolate vegan cookies don't have any white chocolate chips in them. When I retested them with only the milk chocolate chips, they tasted pretty much exactly how Subway's do!
Step 6:
Divide the cookie dough into 8 equal pieces and roll each piece into a ball. I recommend using a scale to do this so that the cookies are all of a similar size.
Place the balls of dough onto your baking tray and use your fingers to press them down into discs that are around 1/2 an inch thick. Make sure to leave a little space between each cookie as they will spread slightly while baking. Around 2-inches between each one should be fine.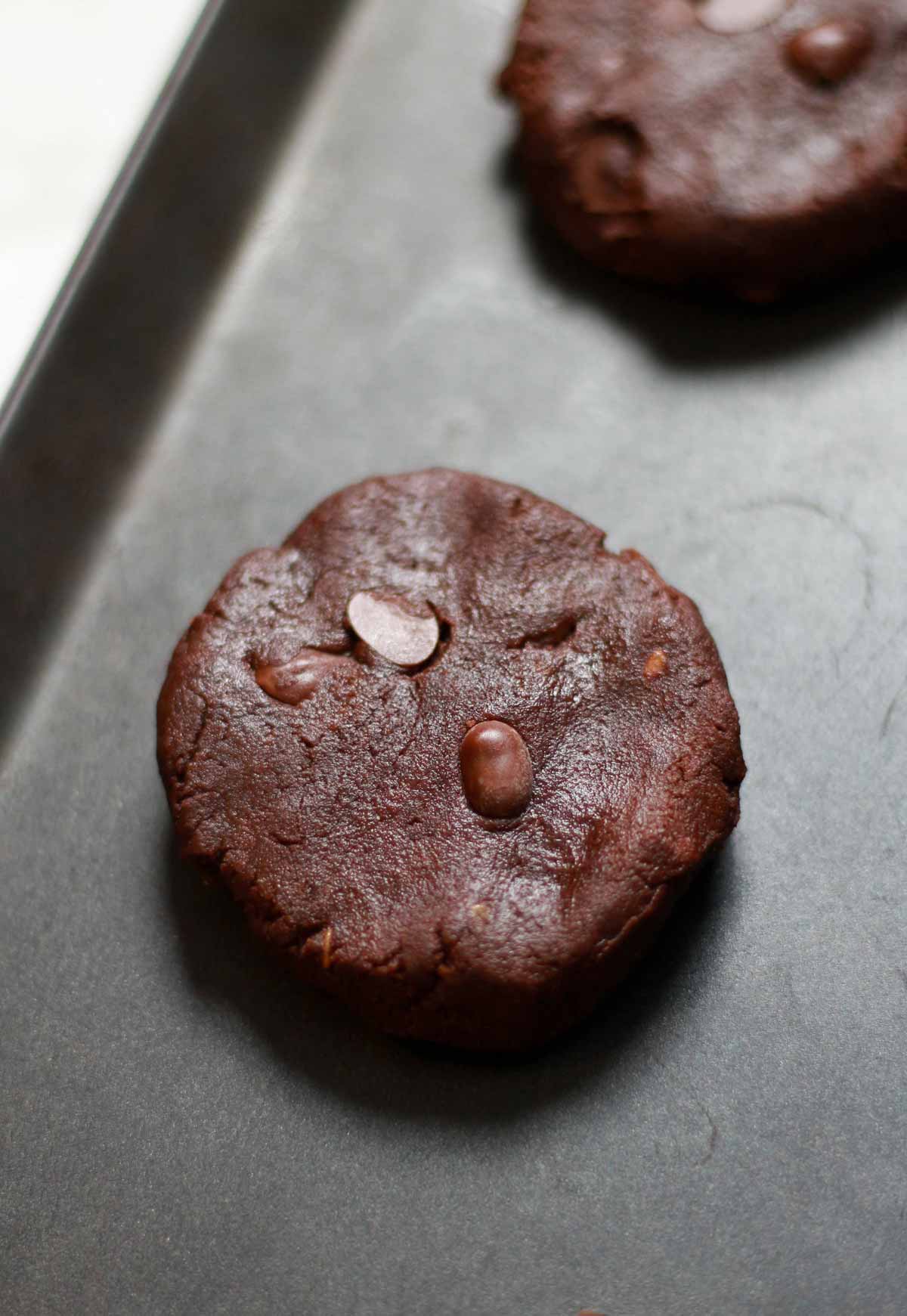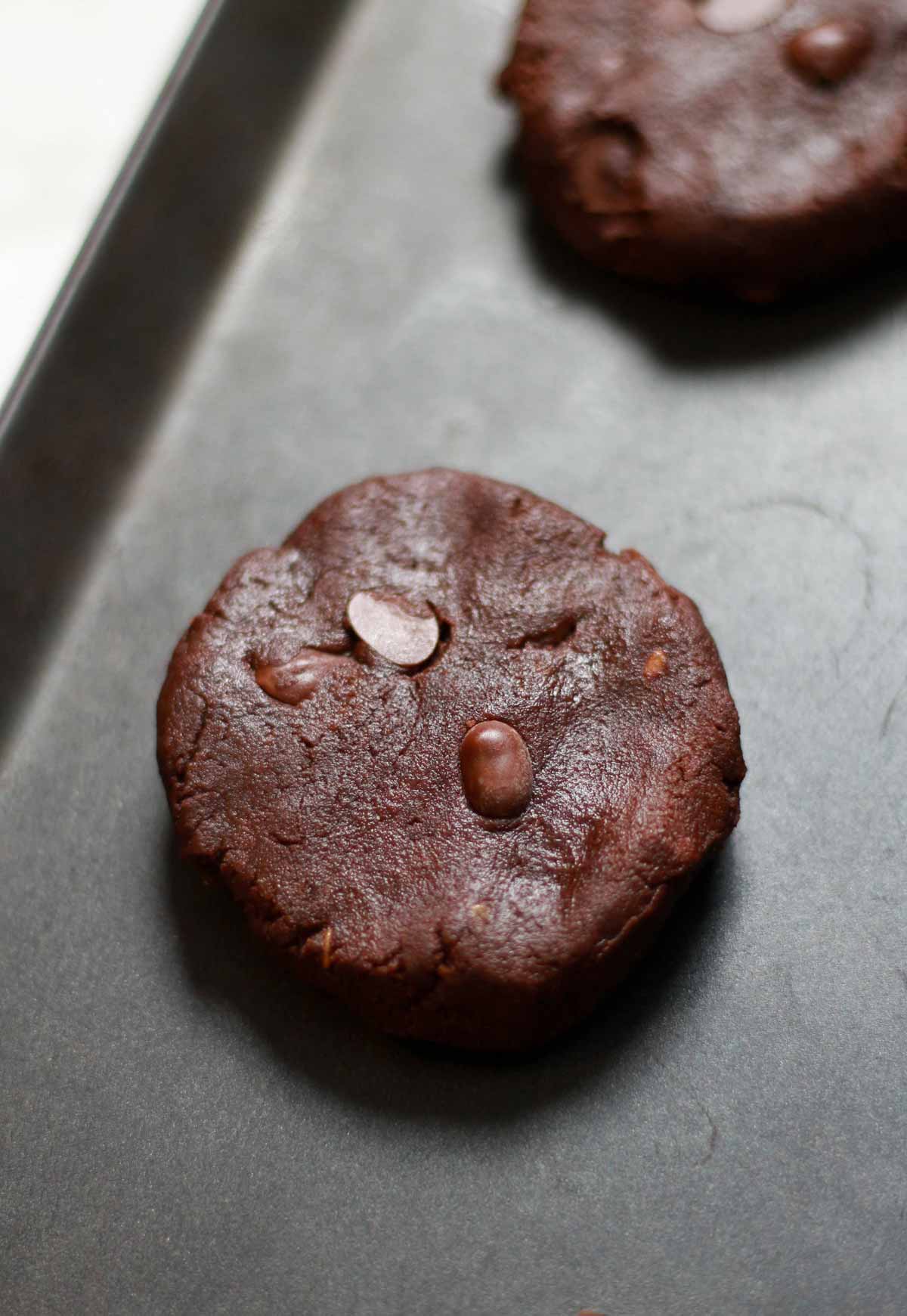 Step 7:
Bake the cookies for 15 minutes and leave them to cool completely before you try to remove them from the tray.
FAQ:
How should the cookies be stored?
Store them in an airtight container at room temperature. They'll last for up to 4 days but will taste best if eaten within the first 48 hours.
Can I freeze them?
Yes. Just pop them into airtight containers and freeze for up to 3 months. Alternatively, freeze them on a lined baking tray for 2 hours, then transfer them to a ziplock bag for freezing. When you're ready to eat them, transfer them to a plate or wire rack and leave them at room temperature until completely thawed. Do not refreeze.
What other Subway cookie flavours can I try?
You could use this recipe to make regular chocolate chunk cookies by switching the cocoa powder for an equal amount of plain flour. And if you substitute the chocolate chips for vegan white chocolate chips and add some macadamia nuts, you could make your own version of Subway's white chocolate and macadamia cookies! I'm also working on a raisin oatmeal cookie that is quite similar to Subway and I'll share the link for them soon.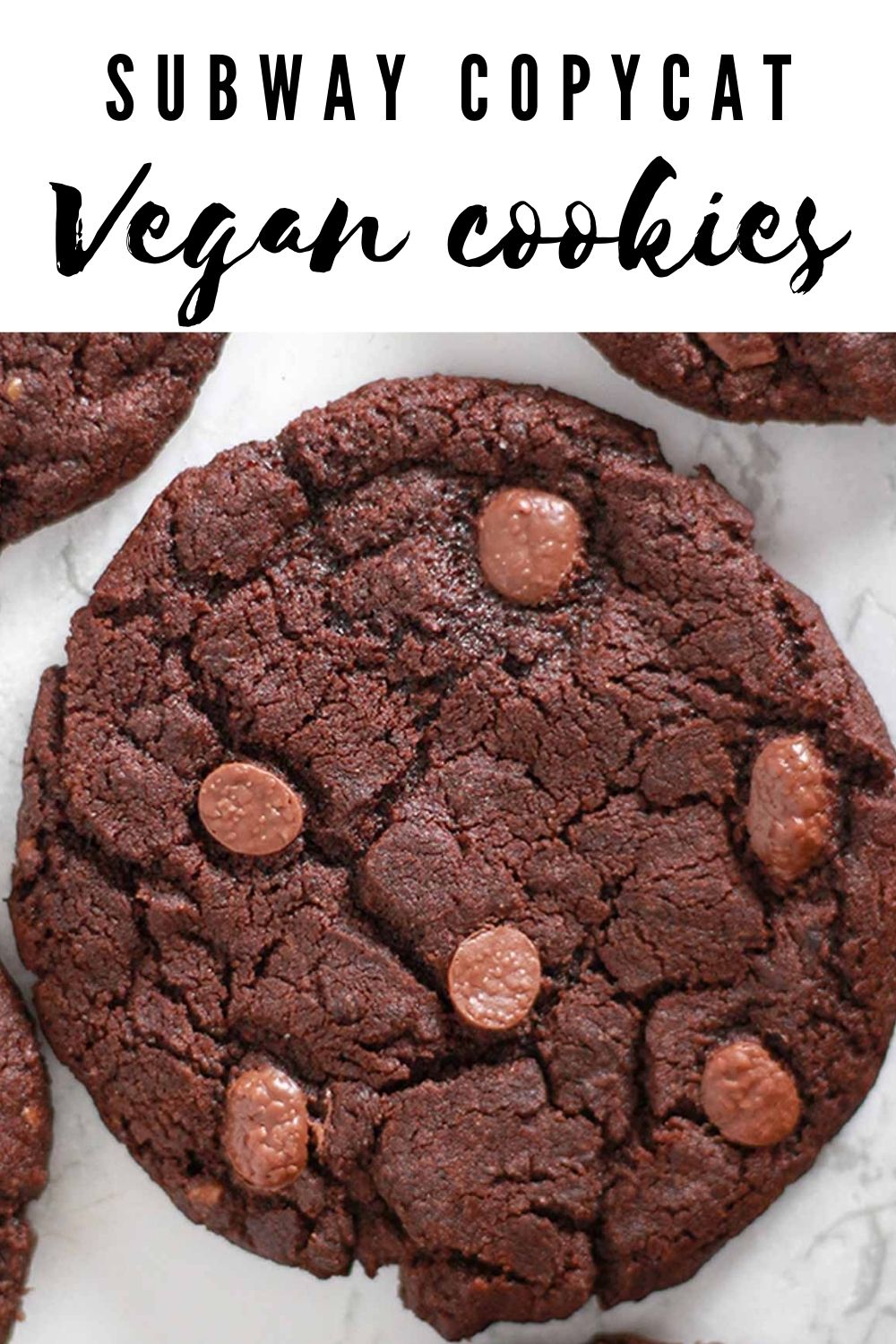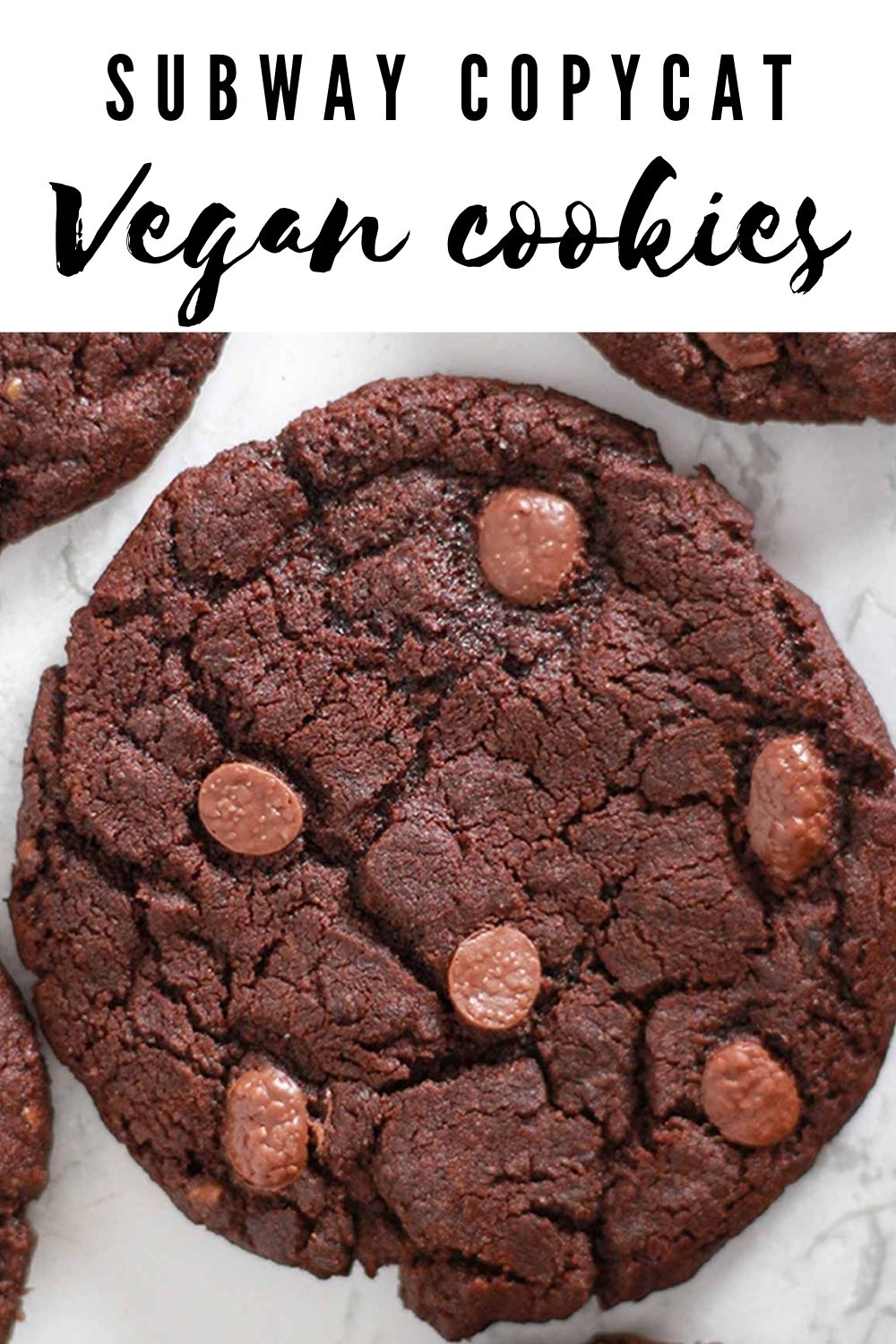 I hope you enjoy this recipe! Please let me know if you make the cookies yourself at home, and let me know what you think by leaving a rating and/or comment below. Happy baking! xo

Subway Vegan Chocolate Cookies
Subway's chocolate cookie recipe without the eggs or dairy.
Ingredients
1

Tablespoon

Ground flax seeds

125

g

Vegan margarine

(½ cup) please use the soft spreadable kind, not the blocky kind

100

g

Soft light brown sugar

(½ cup)

75

g

Caster sugar

(⅜ cups)

1

Teaspoon

Vanilla extract

150

g

Plain/all-purpose flour

(~1 cup + 2 tablespoons)

40

g

Cocoa powder

½

Teaspoon

Baking soda

(bicarbonate of soda)

100

g

Vegan dark or "milk" chocolate chips

(⅔ cup)
Instructions
Preheat your oven to 180°C/350°F (or 160°C/325°F if you're using a fan or convection oven). Have a non-stick cookie sheet to hand or line a tray with baking paper.

Mix the ground flax seeds with 1 tablespoon of cold water and set aside to thicken. This will act as your egg replacement.

In a large bowl, mix together the margarine, brown sugar and caster sugar until smooth.

Mix in the flax seed mixture and the vanilla extract.

Add the flour, cocoa powder and baking soda. Mix it all in with a spoon until the mixture starts to stick to itself. Then use your hands to press it into a ball of dough. Press the chocolate chips into the dough.

Divide the dough up into 8 equal-sized pieces and roll each piece into a ball. Place them onto your tray and use your fingers to flatten them to around ½ an inch thick. They will spread out slightly while baking so make sure to leave an inch or two of space between each one.

Bake for 15 minutes and leave them on the tray until completely cool before enjoying.
Recipe Notes
Store in an airtight container at room temperature for up to 4 days.
Nutrition Facts
Subway Vegan Chocolate Cookies
Amount Per Serving (1 cookie)
Calories 325
Calories from Fat 126
% Daily Value*
Fat 14g22%
Sodium 98mg4%
Carbohydrates 44g15%
Protein 4g8%
* All values are an estimate only and will vary depending on the food brands used.
BakedByClo is a participant in the Amazon Services LLC Associates Program, an affiliate advertising program designed to provide a means for sites to earn advertising fees by advertising and linking to Amazon.com. This site may contain some of these links to Amazon.com & other affiliate programs. If you make a purchase through one of those links, BakedByClo will receive a small commission from the purchase at no additional cost to you.