Vegan Mincemeat
This vegan mincemeat can be used to make homemade mince pies without suet or any other animal products! It's a rich, slightly boozy mixture made up of spices, nuts and dried fruits. It lasts for a long time and is perfect to give as a festive edible gift!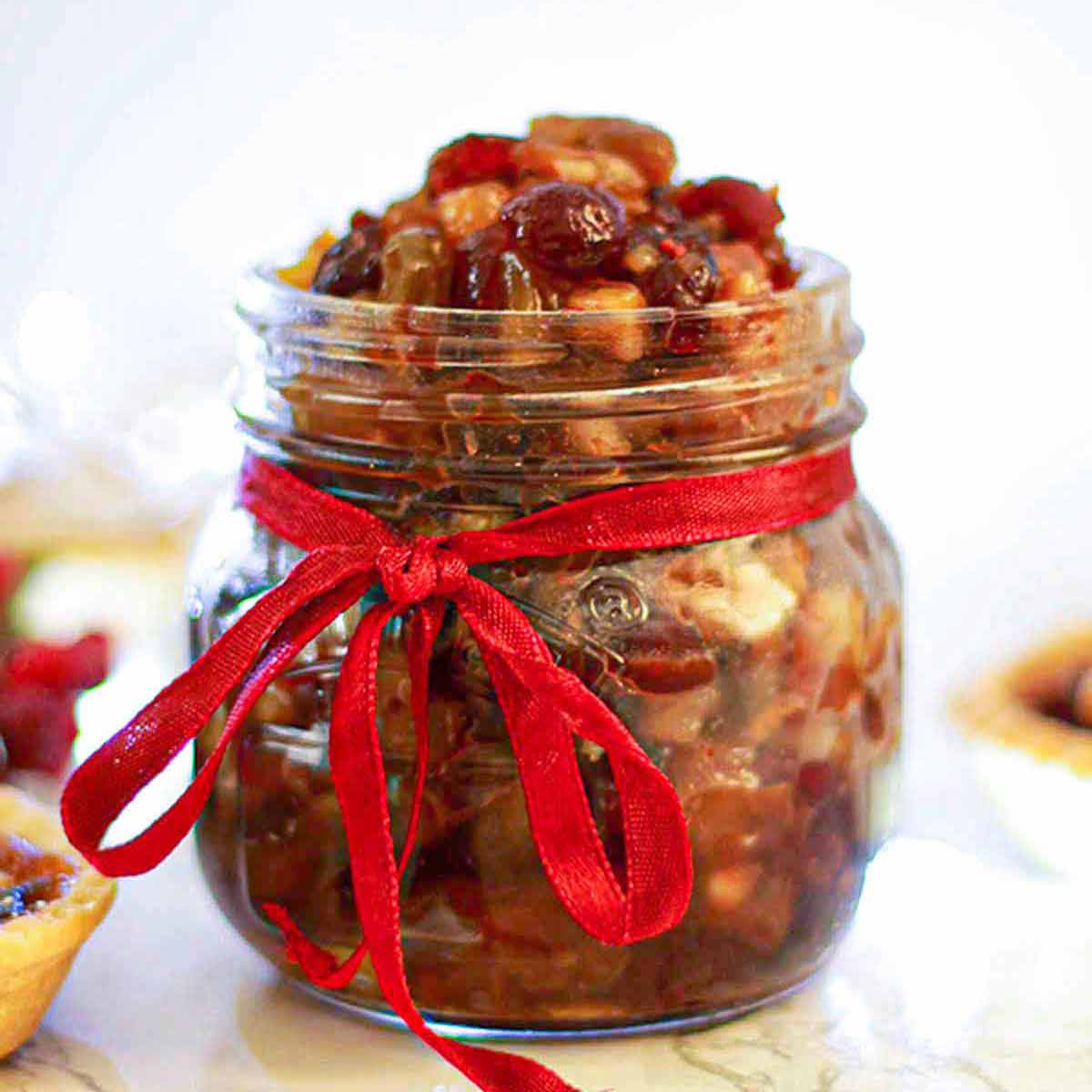 I know what you're thinking… I'm a little early…
Winter is my absolute favourite time of year to bake so I'm getting started early with my Christmas baking. First on my list of things to make this festive season was some delicious mincemeat without suet.
Contrary to popular belief, mincemeat is not actually made of meat. It's actually very easy to veganise and you'll find that most shop-bought versions are now suitable for vegans already. But nothing beats the homemade version!
I used Tesco vegetarian mincemeat from a jar last year to make my mince pie pinwheels which was great. And Robertson's mincemeat is vegan friendly too. But I thought it'd be fun to make it myself.
I had never tried to make mince pies or mince pie filling from scratch before so I decided I was going to learn how to do it this year. My gran has been asking me for ages!
It looks like a lot of ingredients but it is actually such an easy recipe and takes little to no effort to make.
I do have quite a bit of mincemeat leftover so I'd like to do some more baking with it before Christmas comes. I'm thinking brownies or cake, but I'm open to suggestions. If you have any other ideas, please let me know in the comments!
Why is it called mincemeat?
There was a time in history when mincemeat was made with actual animal meat along with the fruits and spices, hence the name. Even though it's not made with meat nowadays, it's not always suitable for a vegan or even vegetarian diet. This is usually because it contains lamb or beef suet (fat), not meat. But not to worry, this recipe is for mincemeat without suet!
I can't tell you how many funny looks I've had when I tell people outside of the UK about Christmas mince pies! I even got a little bit of abuse from people (from the USA) on Facebook last year after posting a picture of homemade mince pie pinwheels, and many people asked me, "is mincemeat vegan?".
Most people think it's minced up beef in a pie, which is fair enough considering we do also have pies with minced beef as the filling, aka minced meat pies.
So to save confusion, just remember that Christmas mincemeat is the fruity kind! It's made with spices, dried fruits, nuts and a little bit of alcohol, but you can make it without alcohol if you prefer.
This mincemeat then gets baked inside of shortcrust pastry (which is also pretty easy to veganise!) and the pies are mostly served in the Winter months. They're super popular at Christmas markets and go perfectly with a glass of hot mulled wine!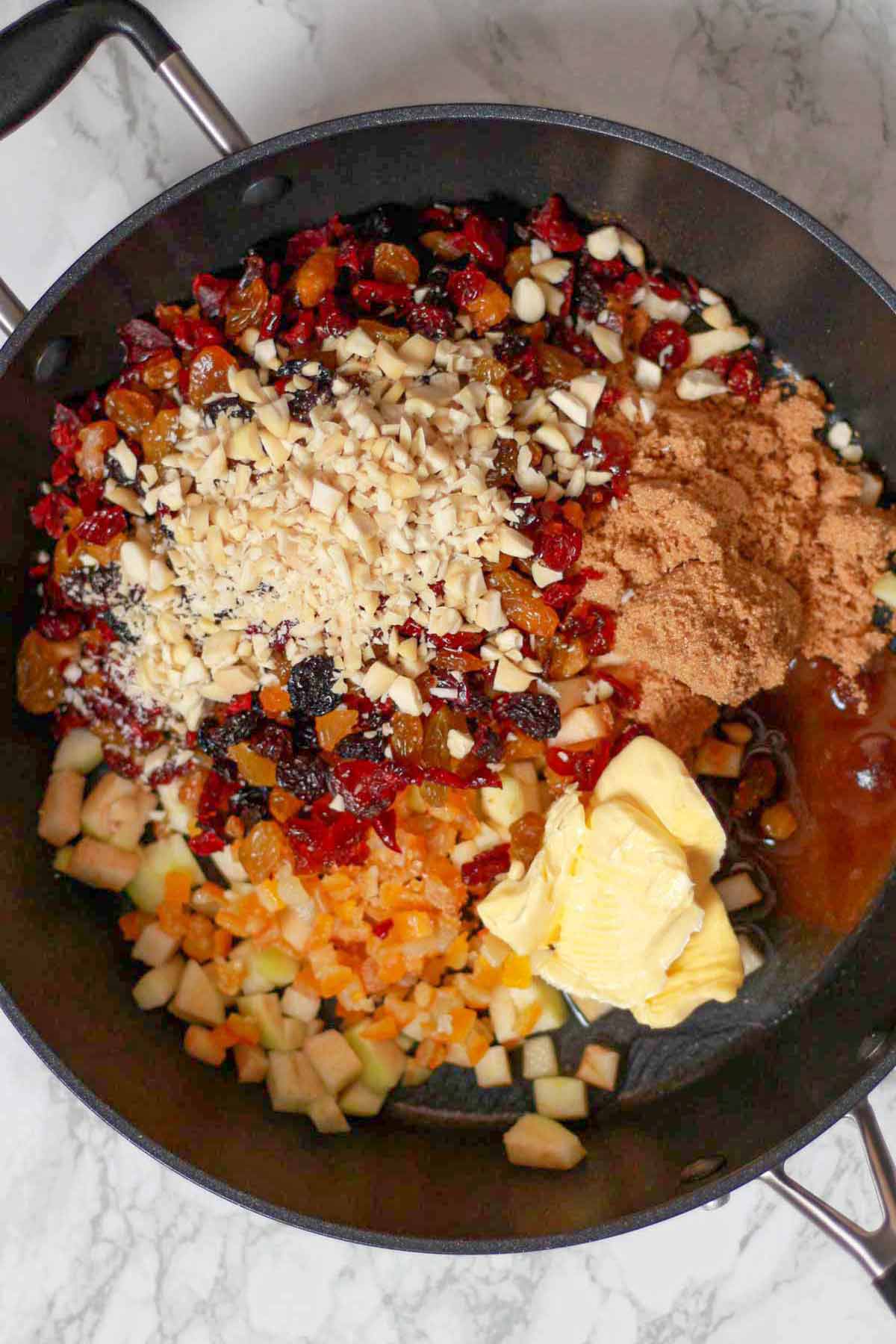 Ingredients you'll need:
Dried fruit. The staple of Christmas vegan mincemeat! You can use any type of dried fruit you like but I would recommend at least using some raisins or currants for a traditional flavour. I used a mix of dried cranberries, raisins and sultanas. You can use any amount of each fruit as long as you keep the total dried fruit weight the same.
Mixed peel. This is essentially candied orange and lemon peel. You can make your own from scratch if you like but I used Tesco mixed peel. If you can't find this ingredient where you live, you can substitute it for 2 tablespoons of lemon and/or orange zest instead. It won't have the exact same flavour but it's a decent replacement if you're in a pinch.
Apple. Chopped, cored and finely chopped. Green apples or cooking apples are best!
Nuts. Again, you can use any type or any mix of nuts that you like but make sure the overall quantity remains the same. I used chopped up blanched almonds. If you want nut-free mincemeat, simply omit them from the recipe.
Brown sugar. To add the extra sweetness. I like using soft light brown sugar.
Vegan margarine. You can buy vegetarian suet such as Atora but I prefer melting the vegetable fat (margarine) in the mixture. If you want to use the suet, just follow the recipe as instructed then stir in the suet at the end.
Spices. I used cinnamon and all spice.
Alcohol. The reason that mincemeat keeps for so long is because the alcohol helps to preserve it. I used dark rum in my recipe but you can use sherry or brandy instead. Just be sure to check whichever brand you're using is vegan-friendly.
How to make vegan mincemeat for mince pies
This fruit mincemeat can be used for any type of dessert you wish but it's most commonly used in mince pies. Here's how to make it.
Step 1:
Measure out 330g total of a mixture of raisins, sultanas, dried cranberries and glace cherries. Roughly chop them then place them into a large pan.
Peel and core 1 small cooking (Bramley) apple. Chop it up finely then place it into the pan with the dried fruit.
Step 2:
Place the rest of the ingredients into the pan: 50g vegan margarine, 50g of mixed peel, 50g of chopped almonds, 100g soft brown sugar, 1/2 teaspoon of cinnamon, 1/2 teaspoon of all spice, the juice and zest of 1/2 a lemon, 150ml of dark rum. You can substitute the rum with fruit juice if you're making alcohol-free mincemeat.
I recommend using a spreadable type of margarine for best results. This acts as an alternative to vegetarian suet for this recipe.
Note: If you plan to store the mincemeat for an extended period of time, leave the rum out until the very end once the mixture has cooled.
Step 3:
Put the pan over low heat and allow the margarine to melt. Once the margarine has melted, cover the pan with a lid and very gently simmer for around 10 minutes, stirring every so often.
Remove the pan from the heat and leave it to cool completely.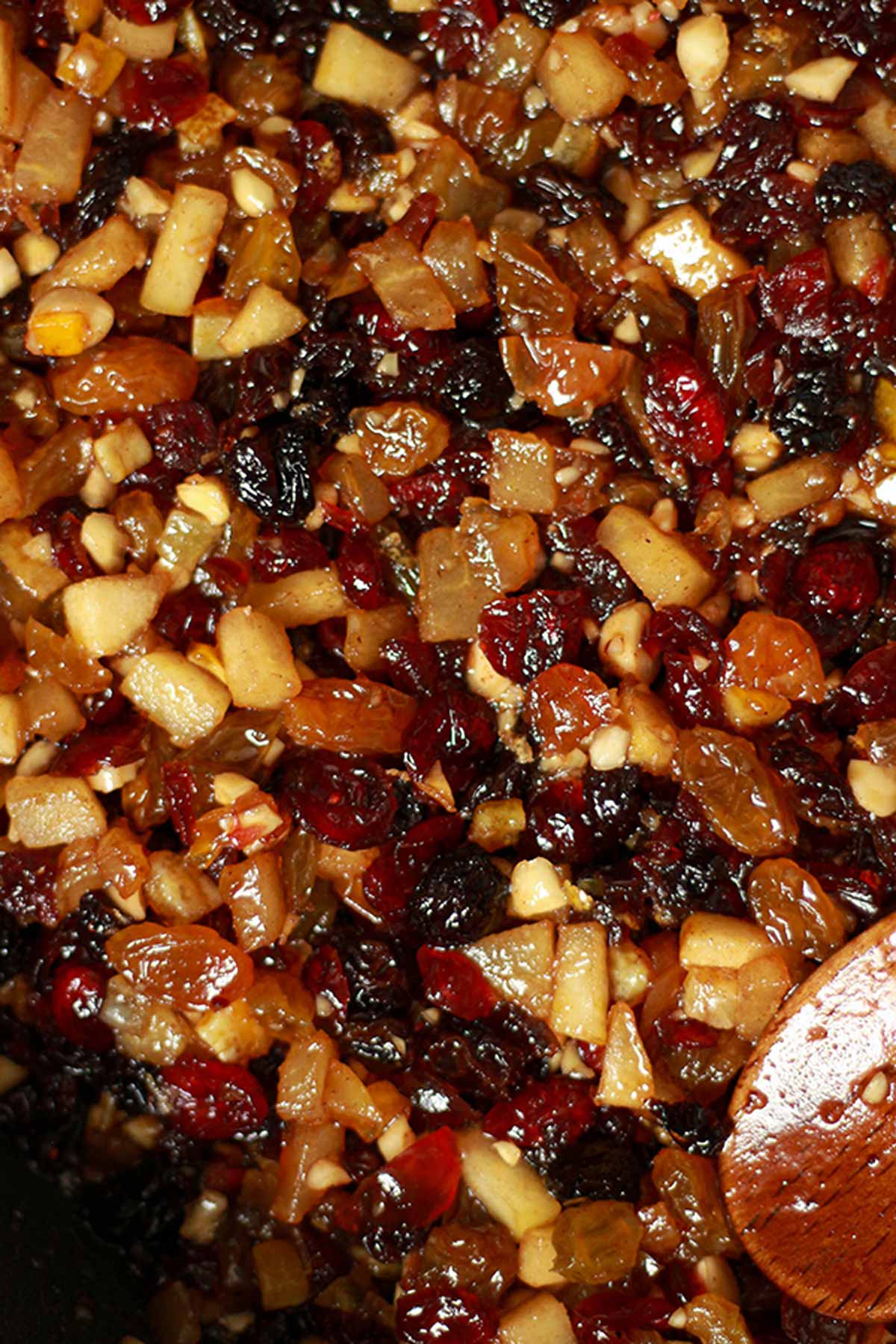 Step 4:
When the mixture has cooled, stir in the alcohol if you haven't done so already. (see note in step 2)
If you're using this as a mince pie filling, let it rest in the fridge for 24 hours first. This will give the liquid time to get sticky and syrupy.
Storing
Store your vegetarian mincemeat in jars or airtight containers in the fridge for up to 1 month.
If you stir in the alcohol at the end, the mincemeat can be stored for 2-3 years in sterilised jars, but you'll probably end up eating it much sooner because it's so delicious! Store in a cool, dry place such as a kitchen cupboard. Once you've opened it, store it in the fridge as above for up to 1 month.
Sterilising your jars helps to keep out any bacteria that may cause the mincemeat to go bad. To do this, wash empty jam jars with hot soapy water and rinse thoroughly. Dry with a clean cloth, put them on a baking tray then place them in the oven for 5 minutes at 180°C/350°F. Fill the jars with your homemade mincemeat while the jars are still warm.
FAQ
What can I use instead of rum?
Use equal amounts of vegan brandy or sherry. Barnivore is useful if you want to check if a particular brand is vegan-friendly. If you want to make mincemeat without alcohol, you can use equal amounts of alcohol-free cider, apple juice, pineapple juice or orange juice. It obviously won't have that classic boozy flavour but those are some good alternatives if you don't like alcohol. Just make sure that whatever you use is suitable for vegans!
Can vegan mincemeat be frozen?
Yes. Once cooled, this can be frozen in jars or airtight containers for up to 6 months. When you're ready to use it, let it sit at room temperature for a few hours until completely thawed. Then store any leftovers covered in the fridge for up to 1 month. Do not refreeze.
How can I use it?
The most obvious thing would be using your mincemeat as a mince pie filling, but you can use it to add a festive twist to any other sweet food that you like. You can use it as a porridge topping, in brownies and cookies, in sponge puddings or in puff pastry pinwheels. Let me know if you have any other ideas!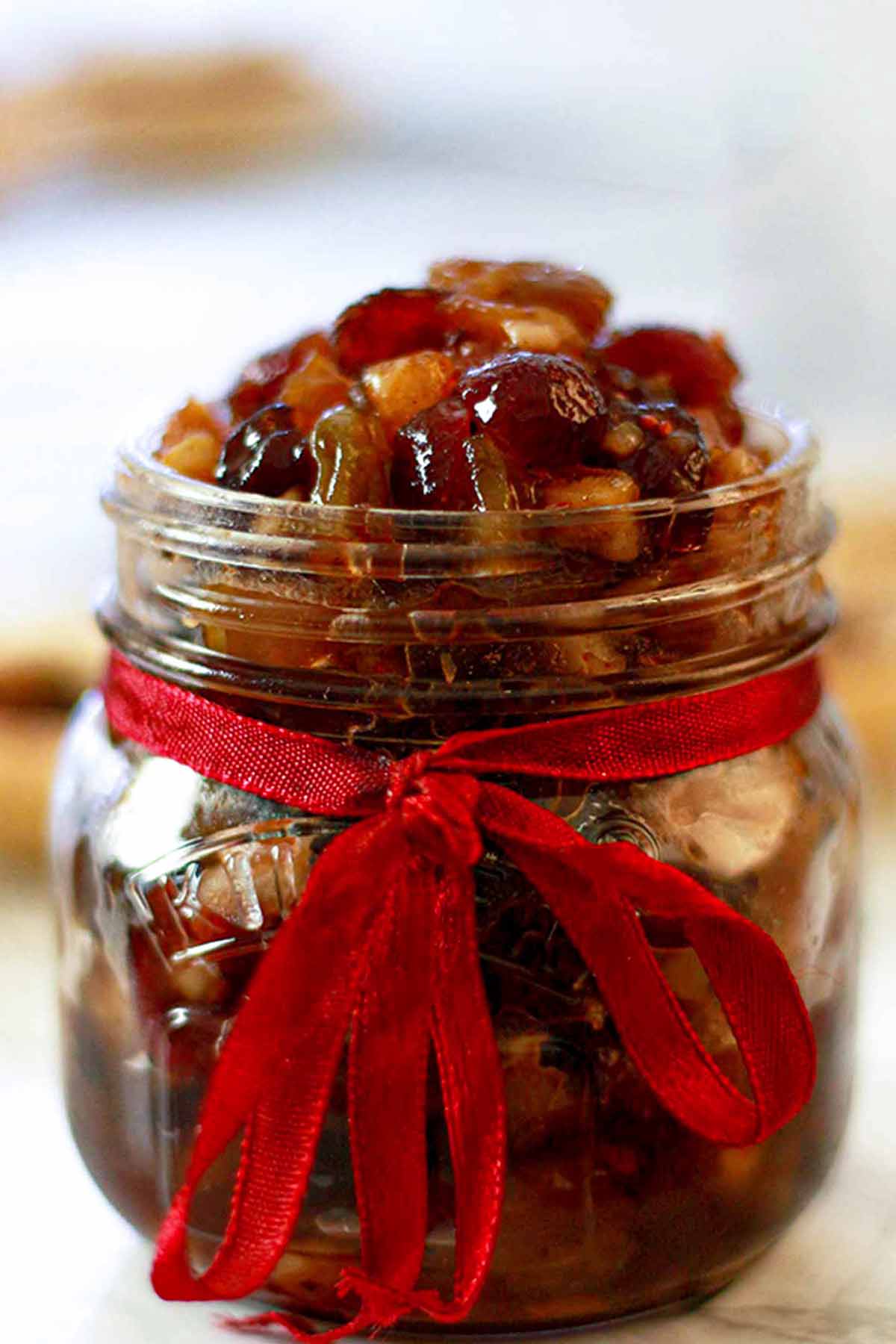 More vegan Christmas desserts:
I hope you enjoy this suet-free mincemeat recipe! Please let me know if you make it at home by leaving a rating and/or comment below- I love to hear from you! xo

Vegan Mincemeat (Made Without Suet)
Fruity mincemeat for mince pies, made with a vegetarian alternative to suet!
Ingredients
50

g

Vegan margarine

(3 tablespoons)

330

g

Dried fruit, roughly chopped

(2+⅓ cups) I used a mixture of raisins, dried cranberries, sultanas and glace cherries

50

g

Mixed peel

(3 tablespoons)

1

Small

Bramley apple, peeled, cored and finely chopped

sub for any other green apple

50

g

Finely chopped blanched almonds

(⅓ cup)

100

g

Light brown sugar

(½ cup)

½

Teaspoon

Cinnamon

½

Teaspoon

All spice

I used this one

Zest and juice

½

Lemon

150

ml

Dark rum, sherry or brandy

(½ cup + 2 tablespoons) sub for fruit juice for mincemeat without alcohol
Instructions
Add all of the ingredients to a large pan.

Place the pan over low heat and stir occasionally until the margarine has melted.

Cover the pan with a lid and very gently simmer for around 10 minutes, stirring every so often.

Remove from the heat and allow it to cool before storing. If using for mince pies, it's best if stored in the fridge 24-48 hours before using.
Recipe Notes
Store in airtight containers, zip lock bags or jars in the fridge for up to 1 month.
If you stir in the alcohol at the end, once the mixture has cooled, you can store mincemeat in sterilised jars for up to 2 years in a cool, dry place.
This recipe makes around 750g of vegan mincemeat or 3 packed cups. It's enough to fill 12-24 mince pies, depending on how deep the pies are. Multiply or divide the recipe as needed.
The liquid part of the mixture will seem quite runny at first but will become thicker and stickier after 24 hours in the fridge.
Recipe is adapted from Mary Berry's special mincemeat.
Nutrition Facts
Vegan Mincemeat (Made Without Suet)
Amount Per Serving (32 g)
Calories 99
Calories from Fat 18
% Daily Value*
Fat 2g3%
Sodium 17mg1%
Carbohydrates 17g6%
Protein 1g2%
* All values are an estimate only and will vary depending on the food brands used.
BakedByClo is a participant in the Amazon Services LLC Associates Program, an affiliate advertising program designed to provide a means for sites to earn advertising fees by advertising and linking to Amazon.com. This site may contain some of these links to Amazon.com & other affiliate programs. If you make a purchase through one of those links, BakedByClo will receive a small commission from the purchase at no additional cost to you.