Vegan Christmas Rocky Road
This vegan Christmas rocky road is filled with festive treats such as marshmallows, honeycomb pieces, pretzels and candy canes! It's the perfect no-bake treat to make with children, and it's great for handing out to your loved ones as an edible gift.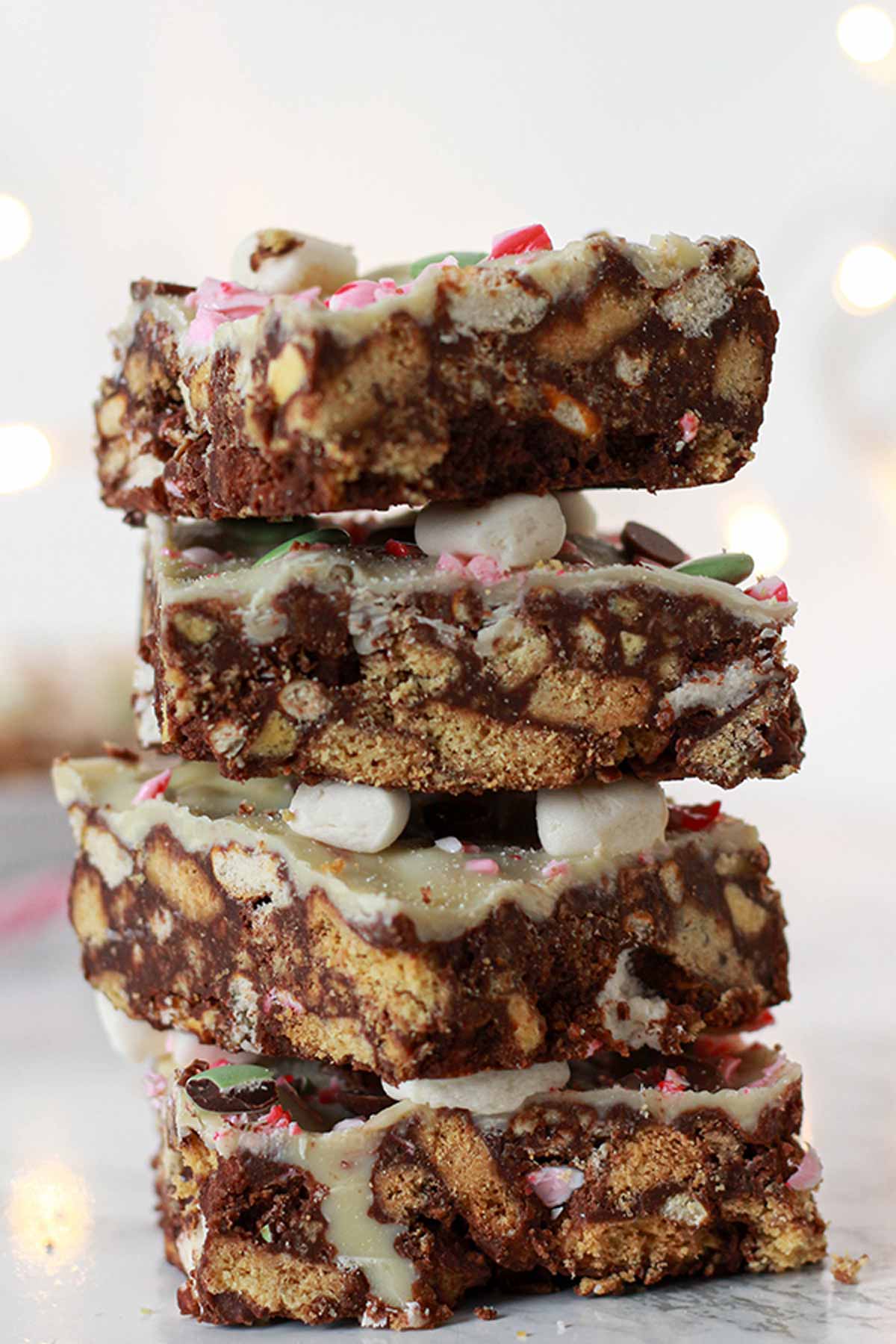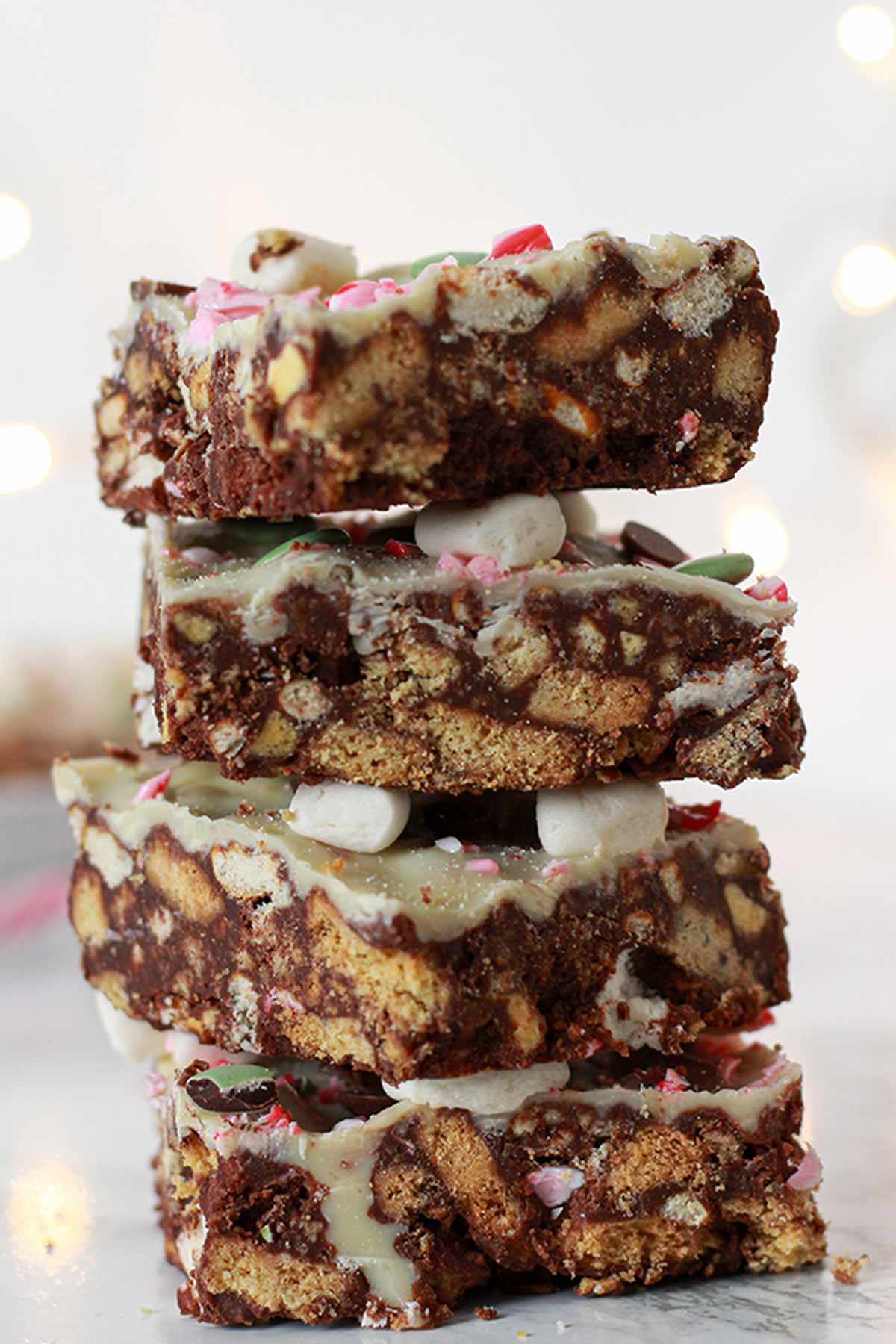 If there's one thing I love, it's no-bake desserts.
There are sooo many things that can go wrong in baking, especially when I'm trying to test a new recipe for the blog! But with no-bake treats, they usually turn out perfectly every time. There really isn't much scope for error.
Dandies very kindly sent me some of their marshmallows to bake with recently, and I knew immediately I was making rocky road with them! Since it's the festive season, I thought I'd make a Christmas rocky road.
If you don't know what rocky road is, it's essentially a variation of chocolate fridge cake but with marshmallows. It's easy to customise because the mix-in options are endless!
I've made a few different types of fridge cakes before and I've listed them below for you to have a look at. The dairy-free rocky road I made last year has been a hit so far, so I made just a few tweaks to that recipe to create this Christmas version.
More no-bake vegan desserts:
The first change I made to my original recipe was adding a layer of dairy-free white chocolate on top of the whole thing. I think it gives a good snowy effect!
I also added honeycomb pieces, some crushed up peppermint candy cane pieces and some green vegan chocolate drops. I'm really happy with how it turned out and think it looks so cute and festive!
Mix-in ideas
Mix-in options to turn a plain old rocky road into a fancy Christmas rocky road. Almost all of the mix-ins listed in the recipe card are optional and can be replaced with any mix-in listed below, another of your choice, or omitted completely. The only things that aren't optional are the marshmallows and the Digestive biscuits!
Best chocolate to use
Any type of semi-sweet chocolate should work for this recipe. I recommend using a semi-sweet one because you don't want to the finished product to taste like bitter dark chocolate (unless that's your thing). Plus, the large fat content in high cocoa chocolate may cause the mixture to split. I used Cadbury's Bournville but here are some others:
For the topping, I used The Free From Kitchen Co. white chocolate. I buy this one a lot for baking because it comes in larger bars which is handy for me. Some other white chocolates you can use are: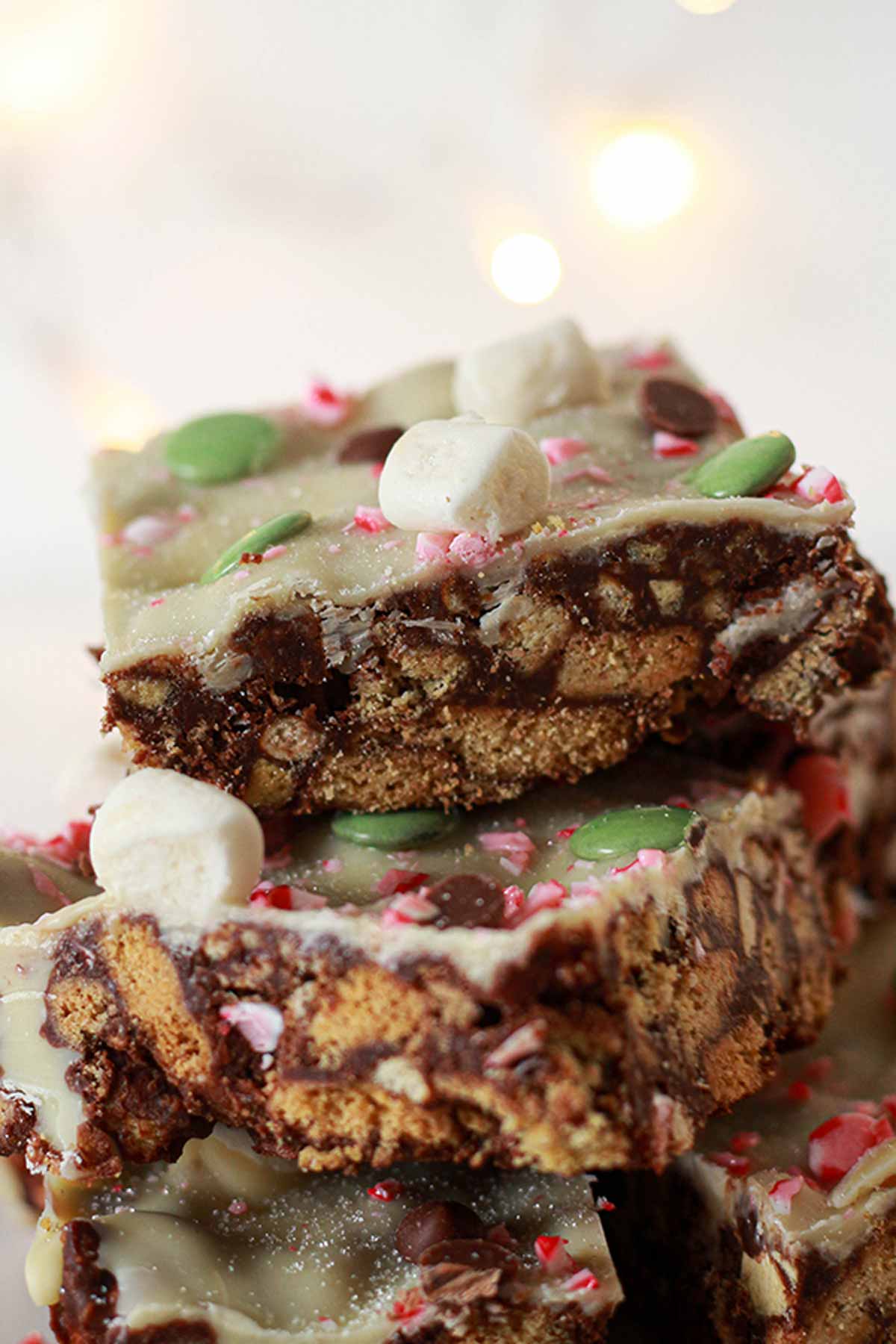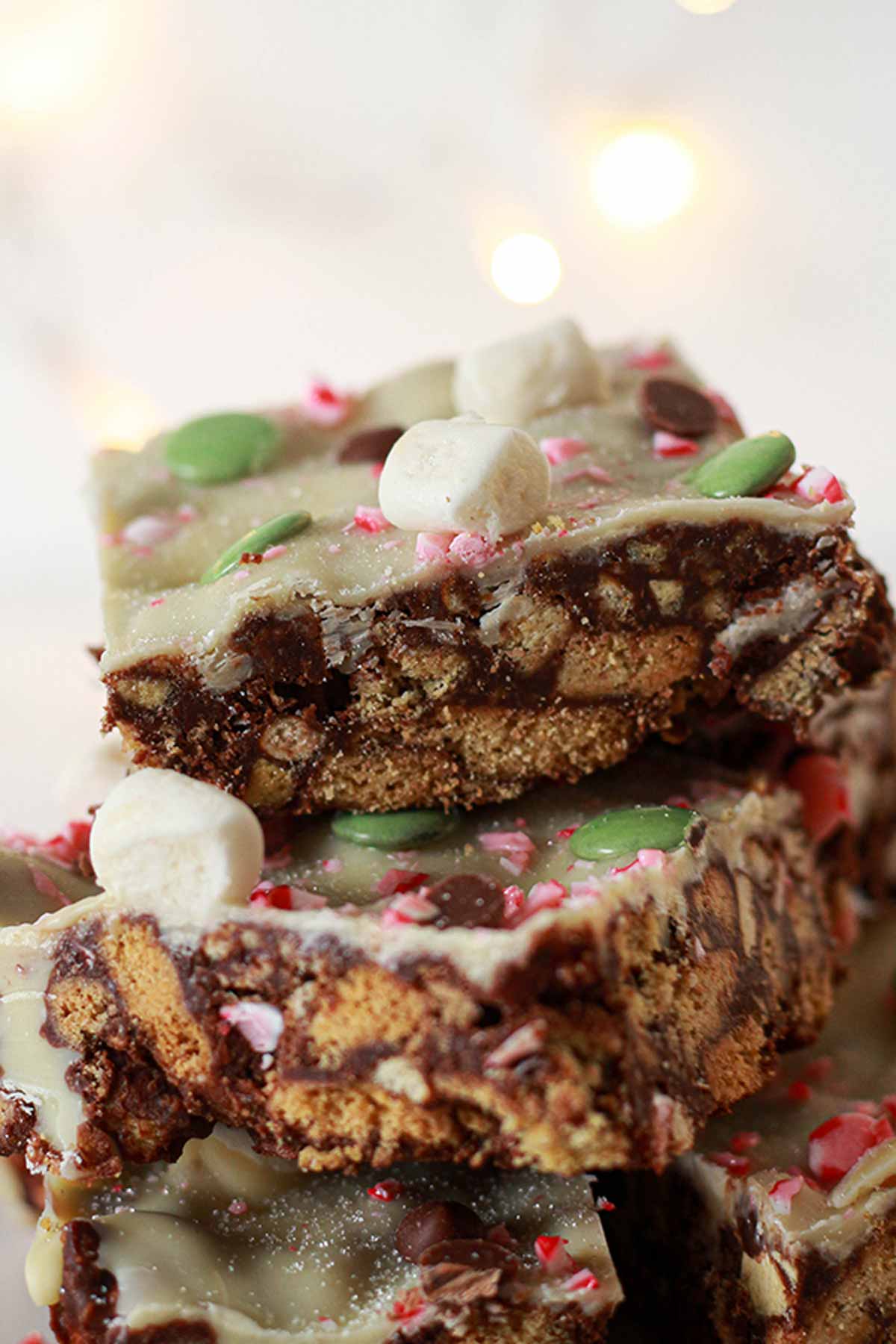 How to make vegan Christmas rocky road
Step 1:
Line an 8×10-inch tin with baking paper, leaving some hanging over the edge to make it easier to remove later on. It's important that your tin is at least 3-inches deep, so that it can fit all of the rocky road!
Step 2:
Place 250g Digestive biscuits into a large bowl then break them up into chunks using your hands. The chunks should be around an inch in size- not too small and not too large.
Next, add the rest of your mix-ins to the bowl. I used 60g of Dandies mini vanilla marshmallows, 40g of roughly chopped salted pretzels, a handful of green Doisy and Dam chocolate drops, 2 crushed red and white candy canes, a small handful of Moo-Free baking drops and 40g of honeycomb pieces.
Mix everything together. Take a small handful of your mix-ins out of the bowl and them aside to save for topping.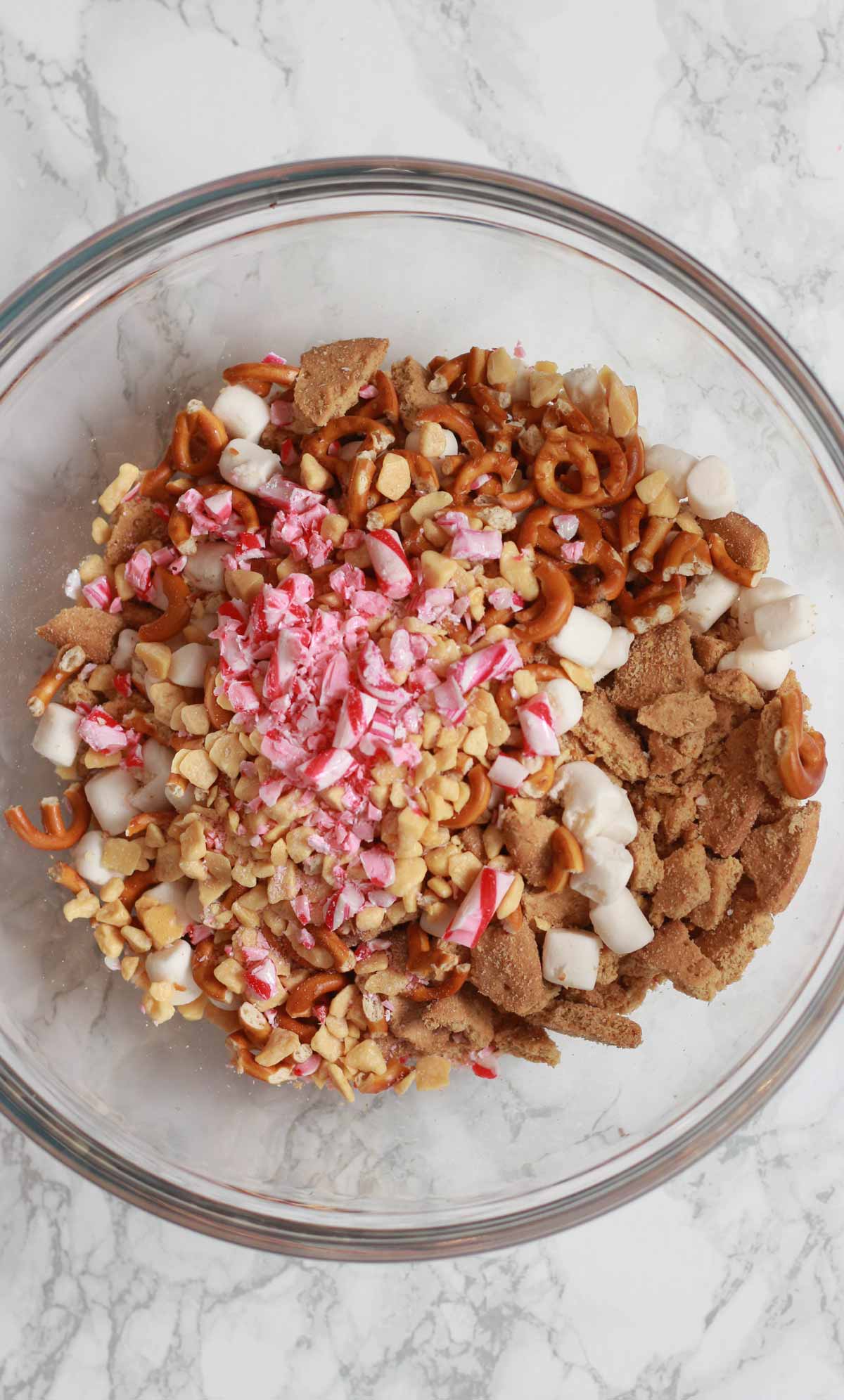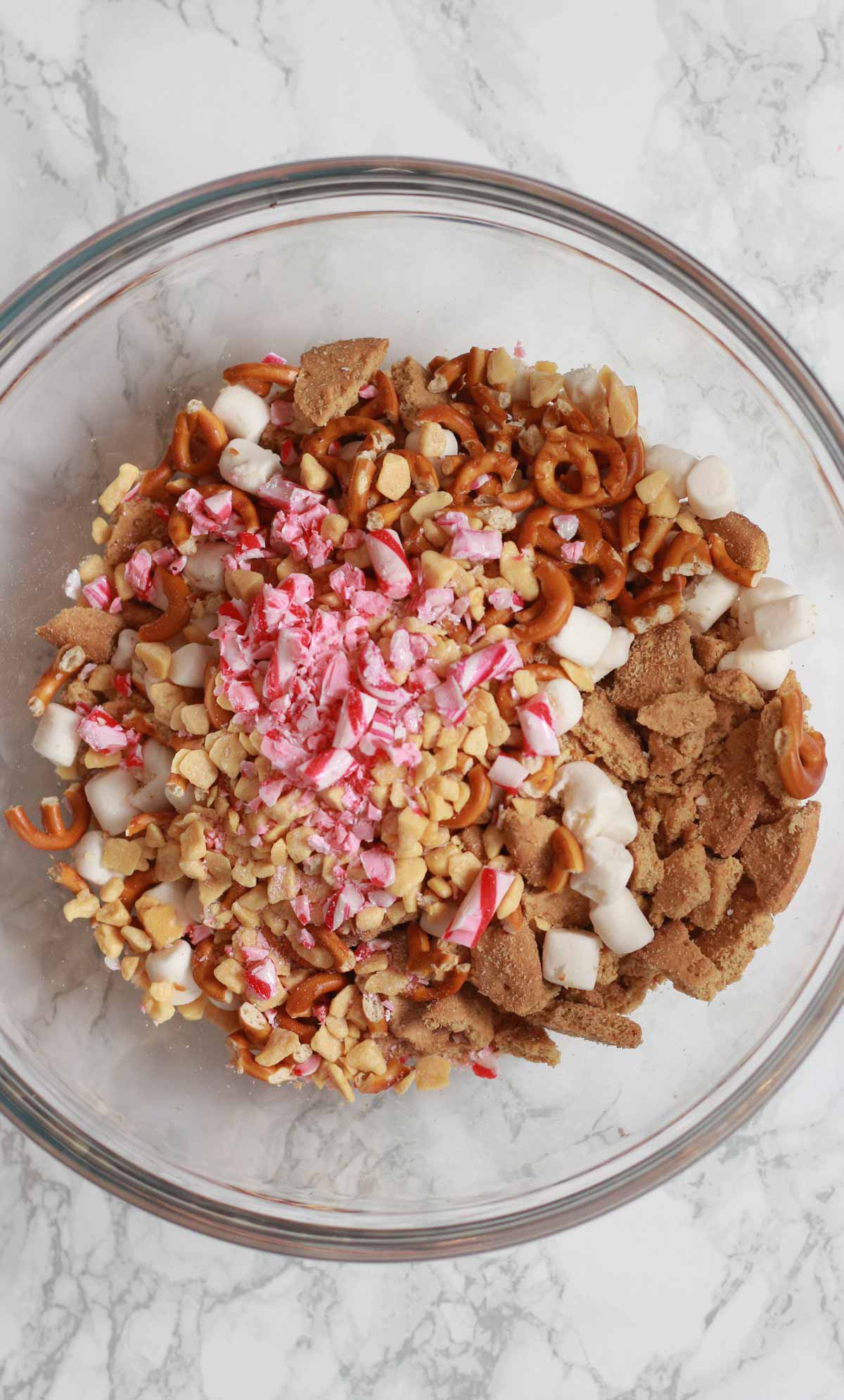 Step 3:
Chop or break 250g of semi-sweet vegan chocolate into small pieces. Place it into a heat proof bowl, along with 120g of vegan margarine and 2 tablespoons of golden syrup.
Step 4:
Place the bowl on top of a pot with a small amount of hot water in it, so that the bowl sits nicely in the rim without touching the water.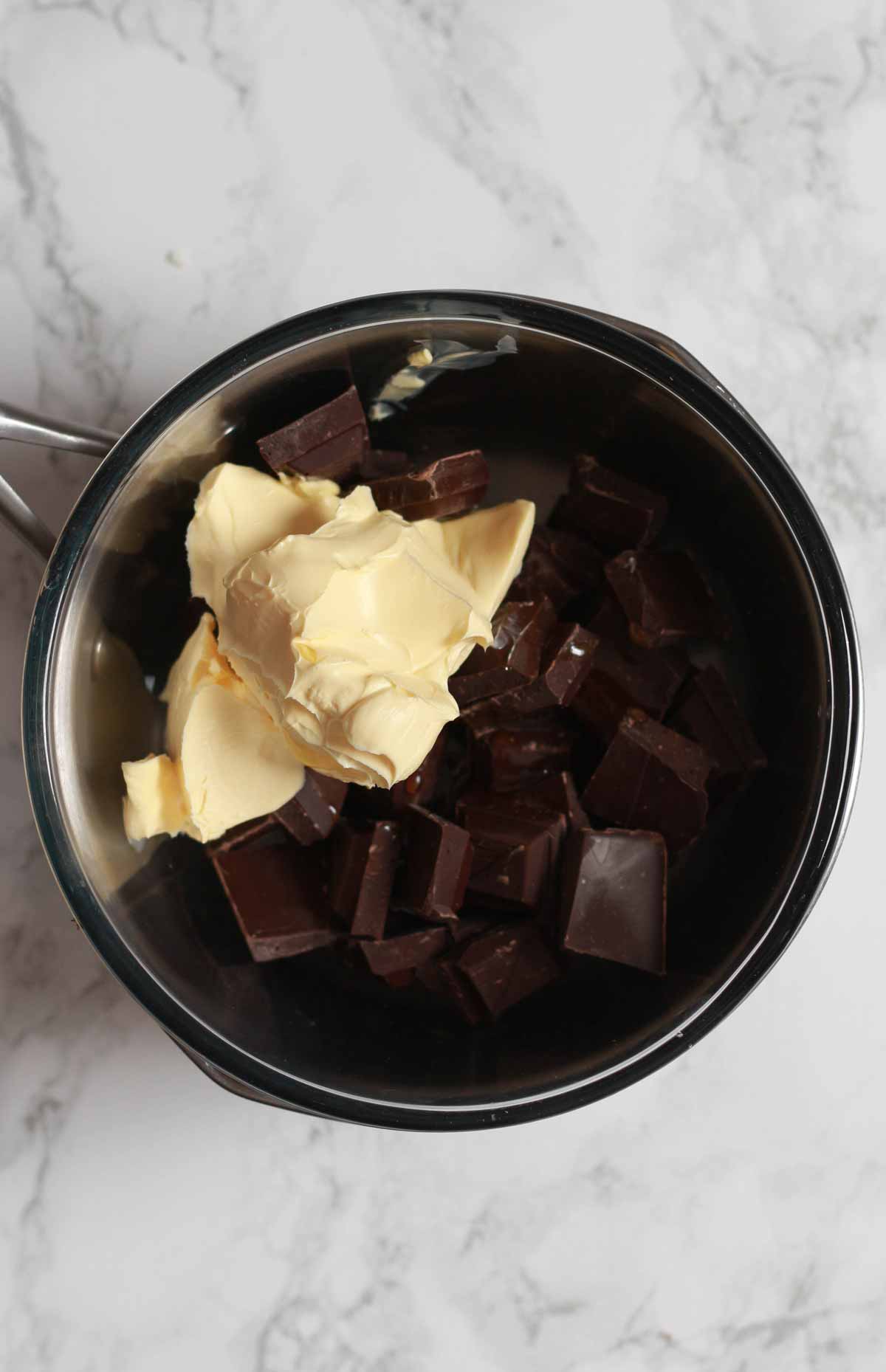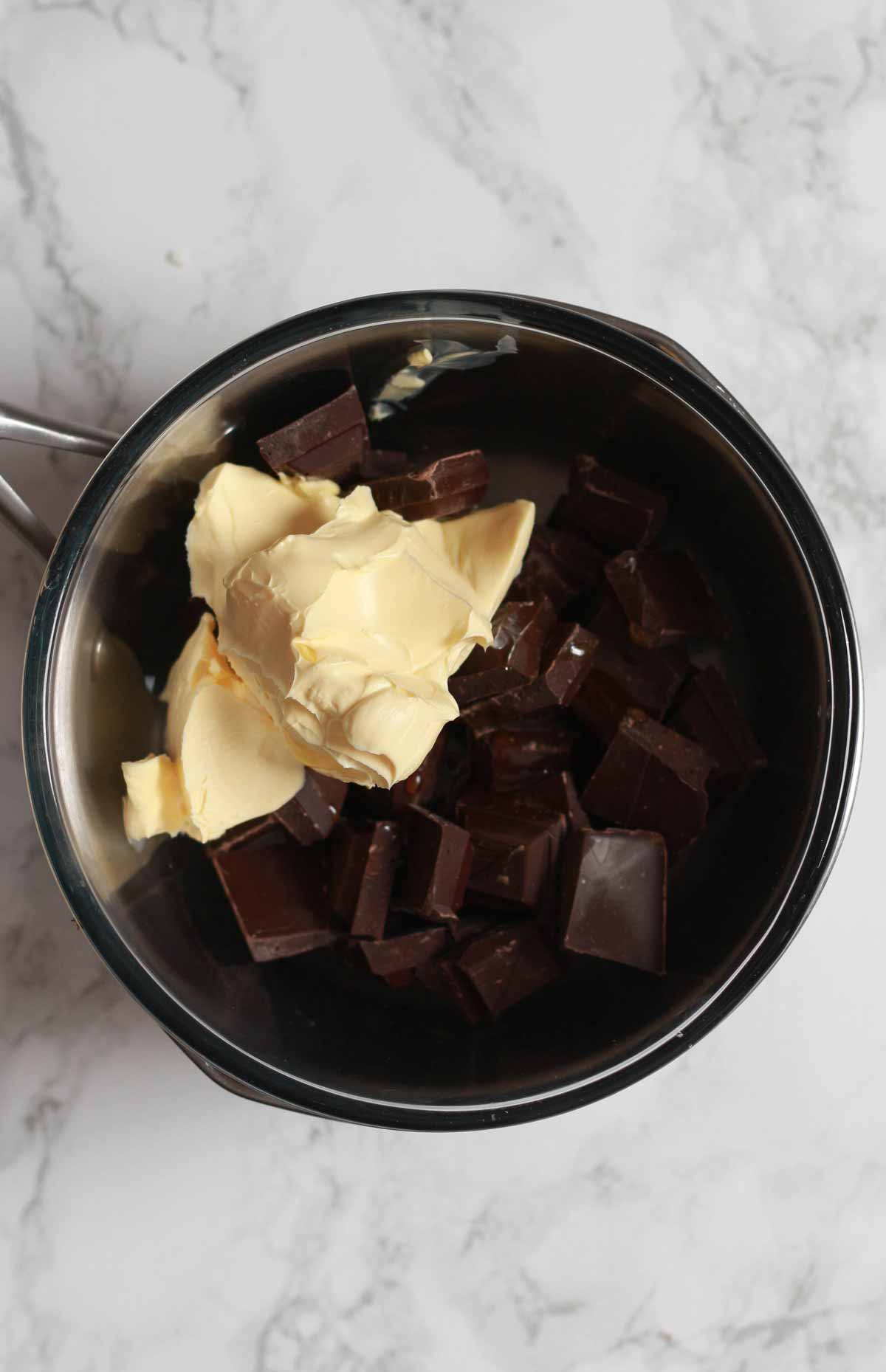 Turn the heat on low and slowly melt it all together, stirring often.
Once it's melted and there are no lumps of chocolate left, take the pot off of the heat. Carefully remove the bowl from the pot, using oven gloves or a dishcloth to avoid burning yourself.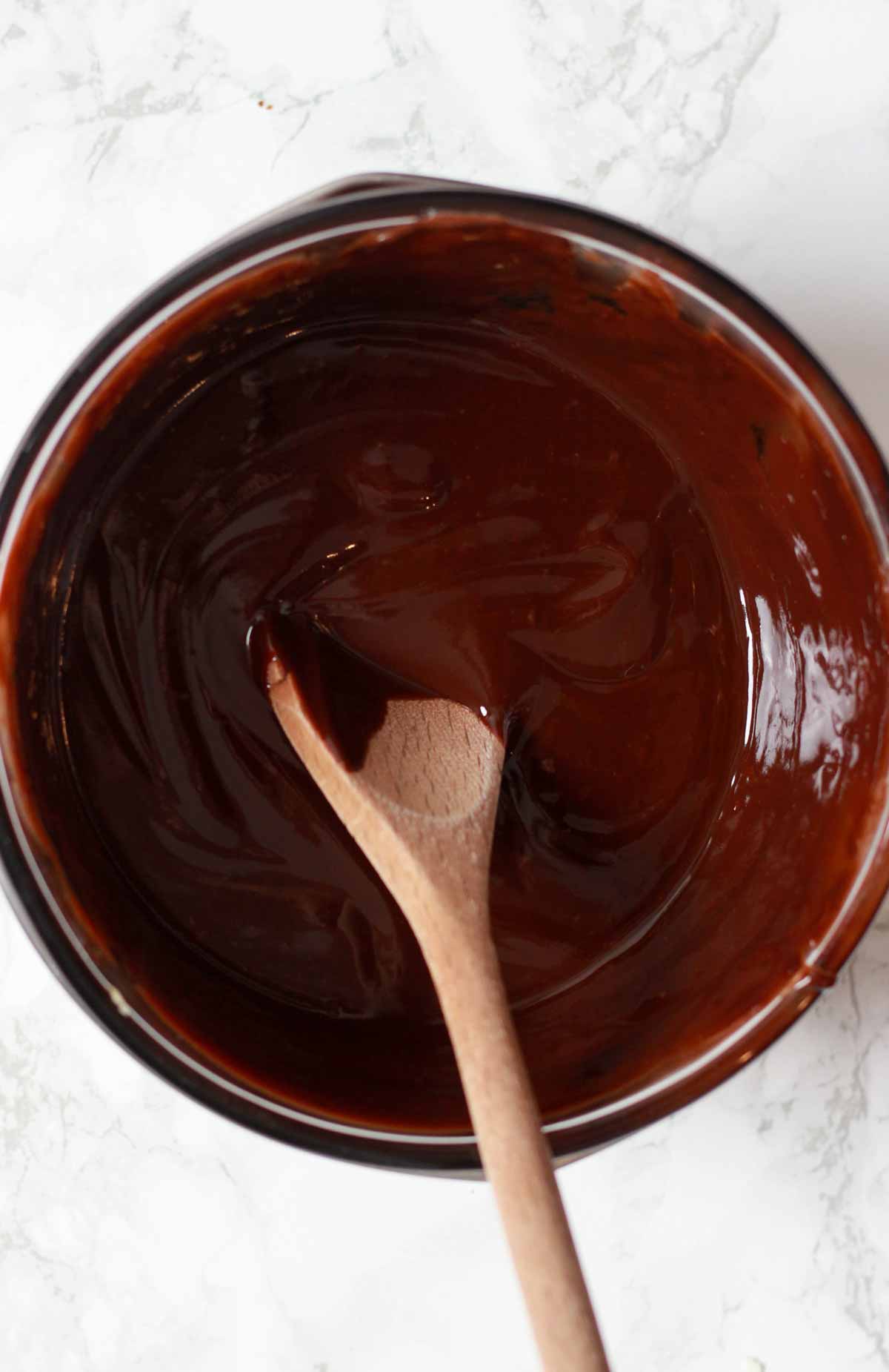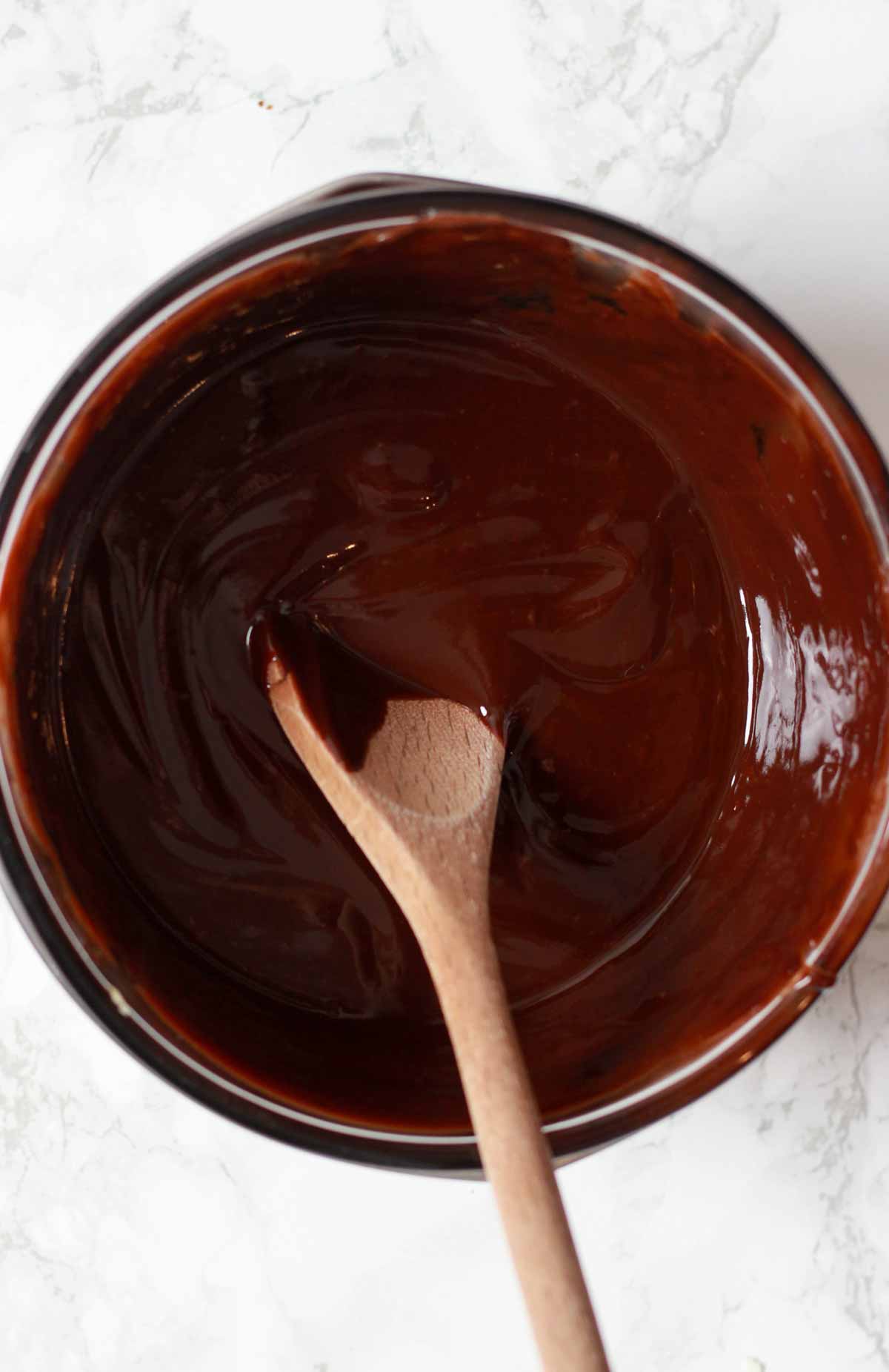 Step 5:
Pour the chocolate mixture into the bowl with your mix-ins and stir thoroughly until everything is well coated.
Transfer it into your lined tin and spread it out evenly. Use clean fingers or the bottom of a cup to press it firmly into place. This will prevent it from crumbling once it's set.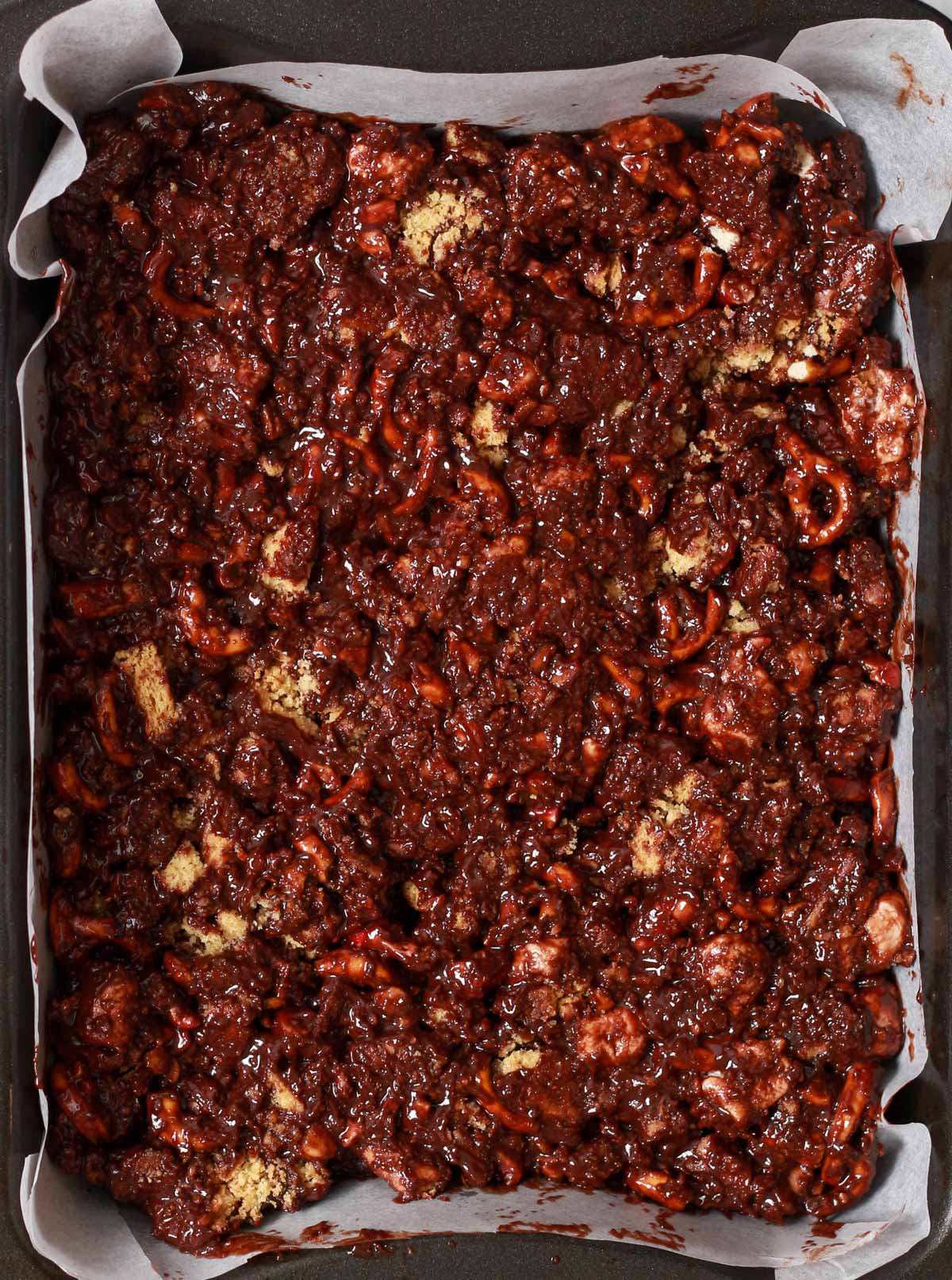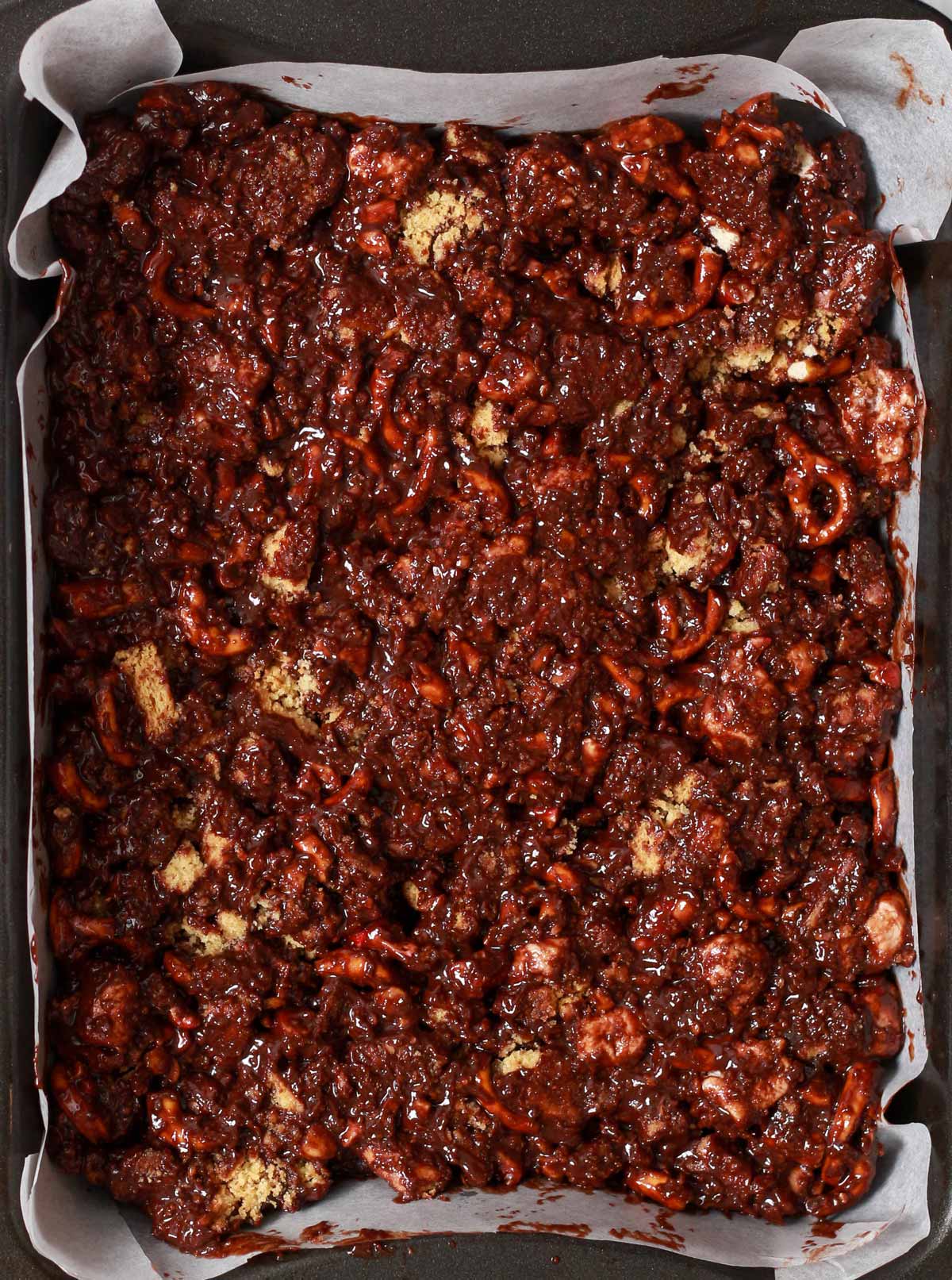 Step 6:
Place it in the freezer for 15 minutes. This will help it to set enough to add the white chocolate topping.
Step 7:
Melt 200g of vegan white chocolate in a heat-proof bowl using the same bowl over pot method as before. Dairy-free white chocolate is quite temperamental so it's important not to heat it too fast, otherwise it may seize.
Step 8:
Pour the melted white chocolate on top of the rocky road in the tin. Tilt the tin side to side until it's equally covered in white chocolate. Do not spread it over or it'll start to melt what's underneath.
Step 9:
Sprinkle the mix-ins you kept aside earlier all over the top.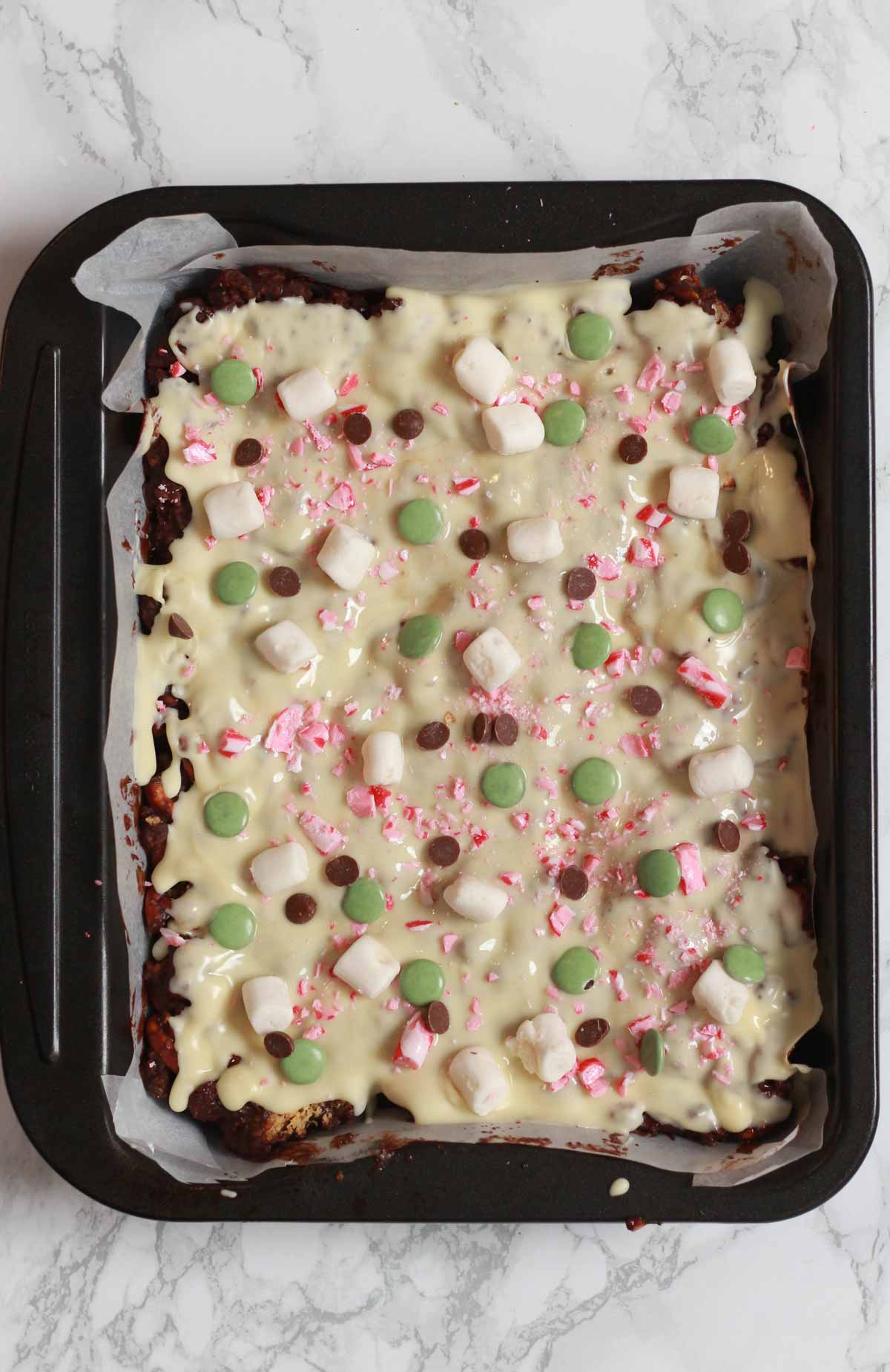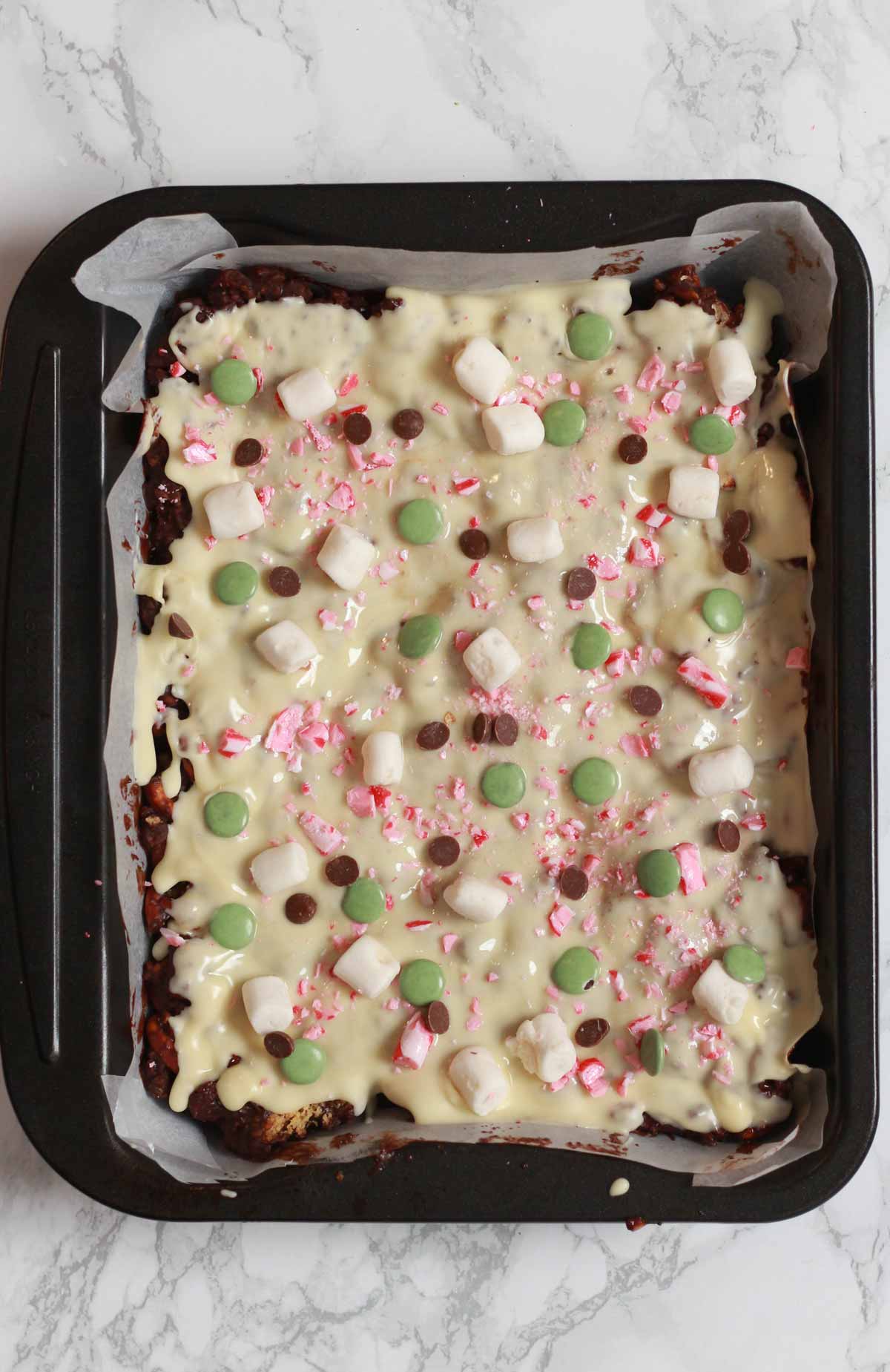 Place the whole thing in the fridge for 3 hours to allow it to set fully.
Step 10:
Once the rocky road has set, run a sharp knife under hot water before cutting it into 12 squares. Warming the knife first will prevent the chocolate from cracking.
FAQ:
How should I store it?
Store this in an airtight container in the fridge. It'll last around 1 week if stored this way.
Can it be frozen?
Yes! Just freeze it in an airtight container or wrap it tightly in plastic wrap. Freeze for up to 3 months. When you're ready to eat it, transfer it to a wire rack or plate and let it sit at room temperature for an hour or 2 until completely thawed. Once defrosted, store it in the fridge as instructed above. Do not refreeze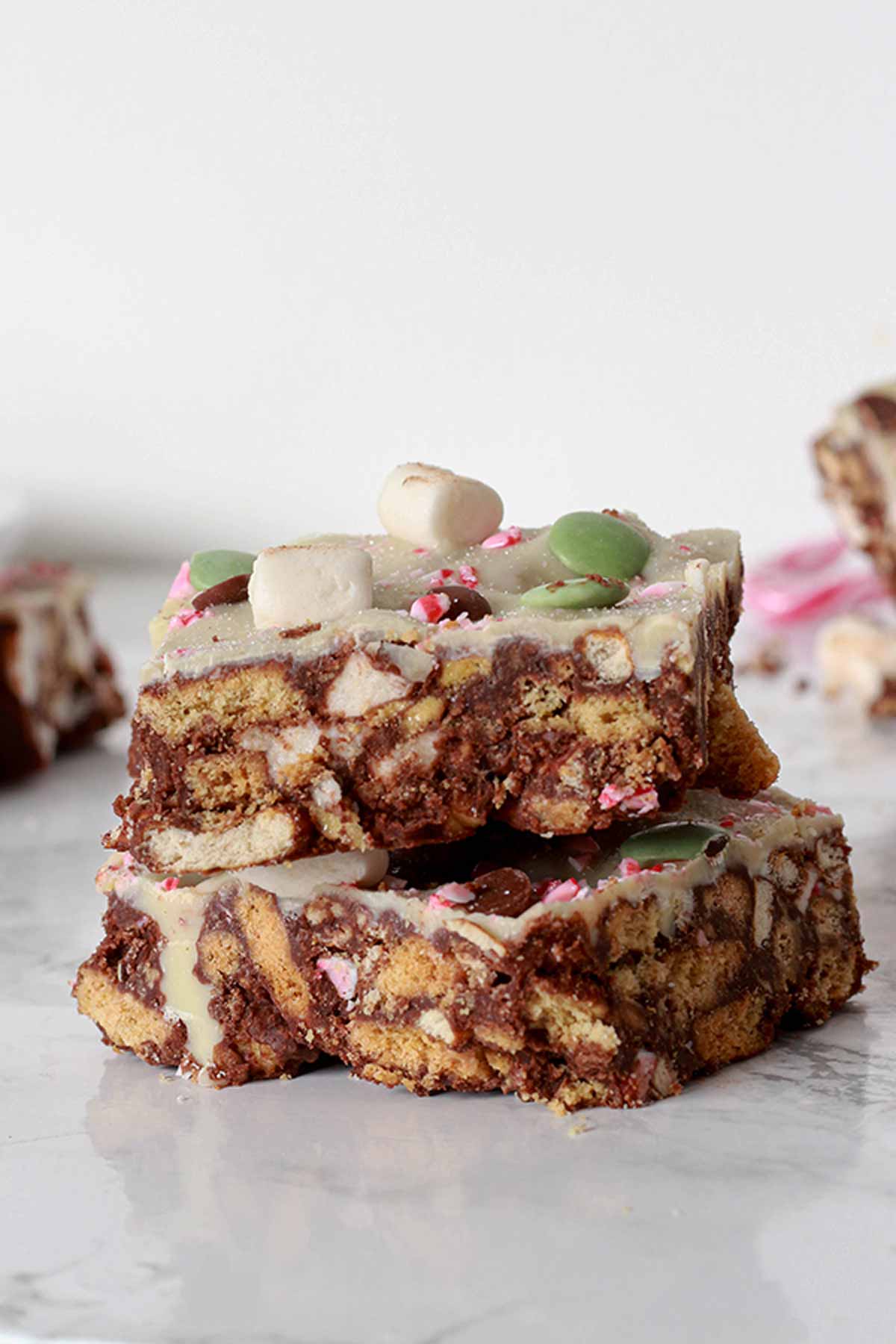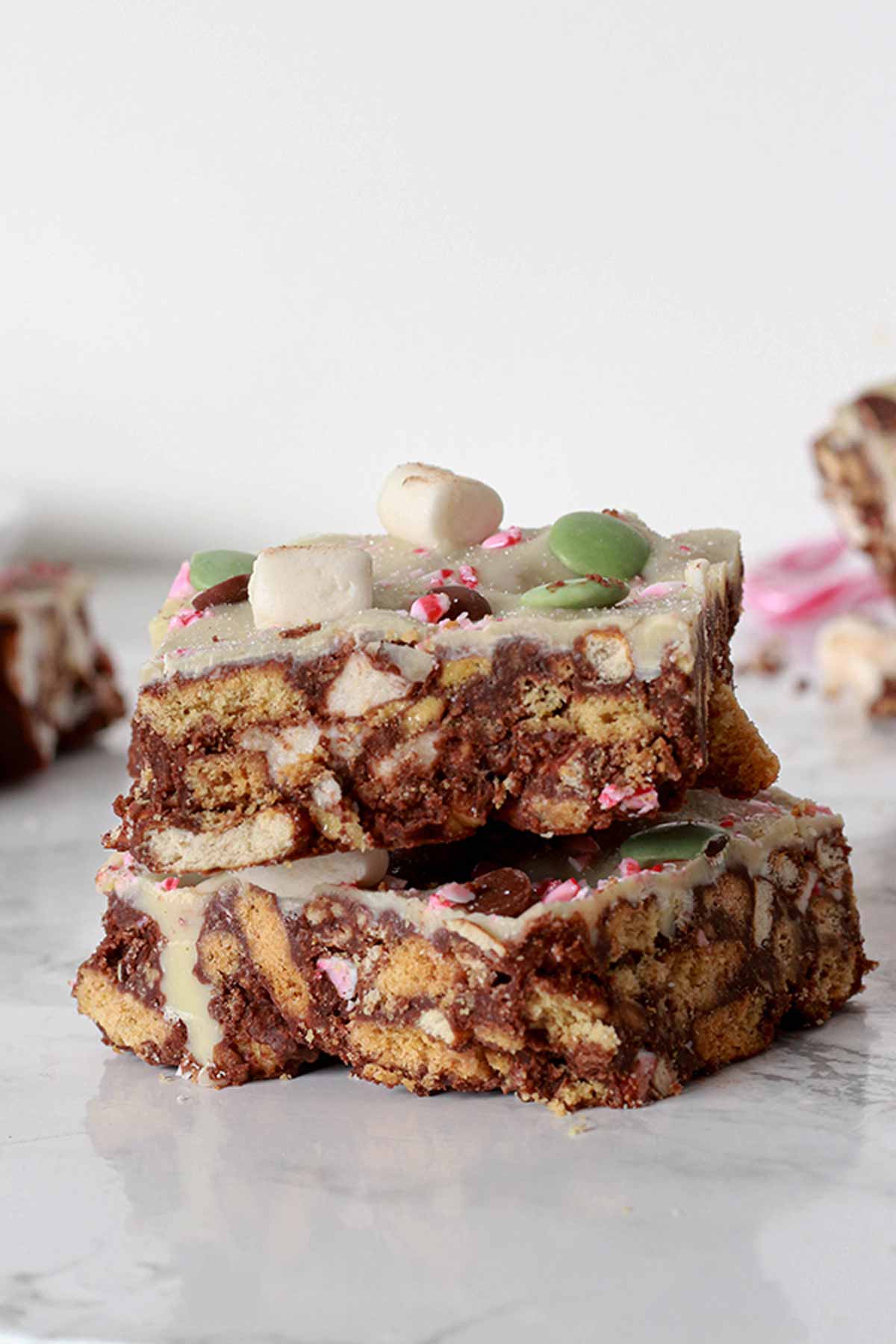 I hope you enjoy this recipe! If you make it at home, please let me know how you get on by leaving a rating and/or comment below! xo

Vegan Christmas rocky road
Festive rocky road made with dairy-free chocolate and candy cane pieces.
Chilling time
3
hours
15
minutes
Ingredients
250

g

Digestive biscuits

60

g

Mini vegan marshmallows

40

g

Salted pretzels, roughly chopped

2-3

Red and white candy canes, crushed

(use a food processor or the end of a heavy rolling pin to crush them)

Handful

Green dark chocolate drops

(you can substitute these for crushed green and white candy canes)

Handful

Dairy-free chocolate chips

40

g

Honeycomb pieces

(optional)

250

g

Semi-sweet vegan dark chocolate

120

g

Vegan margarine

2

Tablespoons

Golden syrup

(can be subbed for agave nectar)

200

g

Dairy-free white chocolate
Instructions
Line an 8×10-inch tin with baking paper.

Add the Digestive biscuits to large bowl and break them up with your hands so the pieces are around an inch in size.

Add the marshmallows, pretzels, crushed candy canes, chocolate drops, chocolate chips and honeycomb pieces to the same bowl and mix well.

Keep a small handful of the mix-ins aside for topping.

Melt the semi-sweet chocolate, margarine and golden syrup together over a double boiler. Pour the mixture into the bowl with your mix-ins and stir well until everything is evenly coated.

Transfer the mixture to your lined tin and press it very firmly into place. I used the bottom of a cup to do this.

Freeze the rocky road for 15 minutes to help the chocolate harden.

Melt the white chocolate over a double boiler and pour it over the top of the rocky road mixture. Tilt the tin from side-to-side to move the white chocolate around until the top is covered. Don't try to spread it or the mixture underneath will melt again.

Sprinkle over the toppings you kept aside from earlier then place the whole thing in the fridge for 3 hours to set.

Cut into 12 square slices and enjoy! Using a warm knife to cut will help to prevent the top from cracking.
Recipe Notes
Store in an airtight container in the fridge for up to 1 week.
Nutrition Facts
Vegan Christmas rocky road
Amount Per Serving (1 slice)
Calories 410
Calories from Fat 198
% Daily Value*
Fat 22g34%
Sodium 78mg3%
Carbohydrates 47g16%
Protein 3g6%
* All values are an estimate only and will vary depending on the food brands used.
BakedByClo is a participant in the Amazon Services LLC Associates Program, an affiliate advertising program designed to provide a means for sites to earn advertising fees by advertising and linking to Amazon.com. This site may contain some of these links to Amazon.com & other affiliate programs. If you make a purchase through one of those links, BakedByClo will receive a small commission from the purchase at no additional cost to you.