125 Vegan Christmas Supermarket Desserts 2023
Wondering what the UK supermarkets have for dessert this Christmas? Look no further! Here you'll find the best vegan Christmas desserts to buy from Tesco, Asda, Sainsbury's, Morrison's and more! The list contains show-stopping desserts, sweet snacks and accidentally vegan festive treats. There is something for everyone, including cheesecakes, cakes, Yule log, pies, puddings and truffles. I hope you enjoy!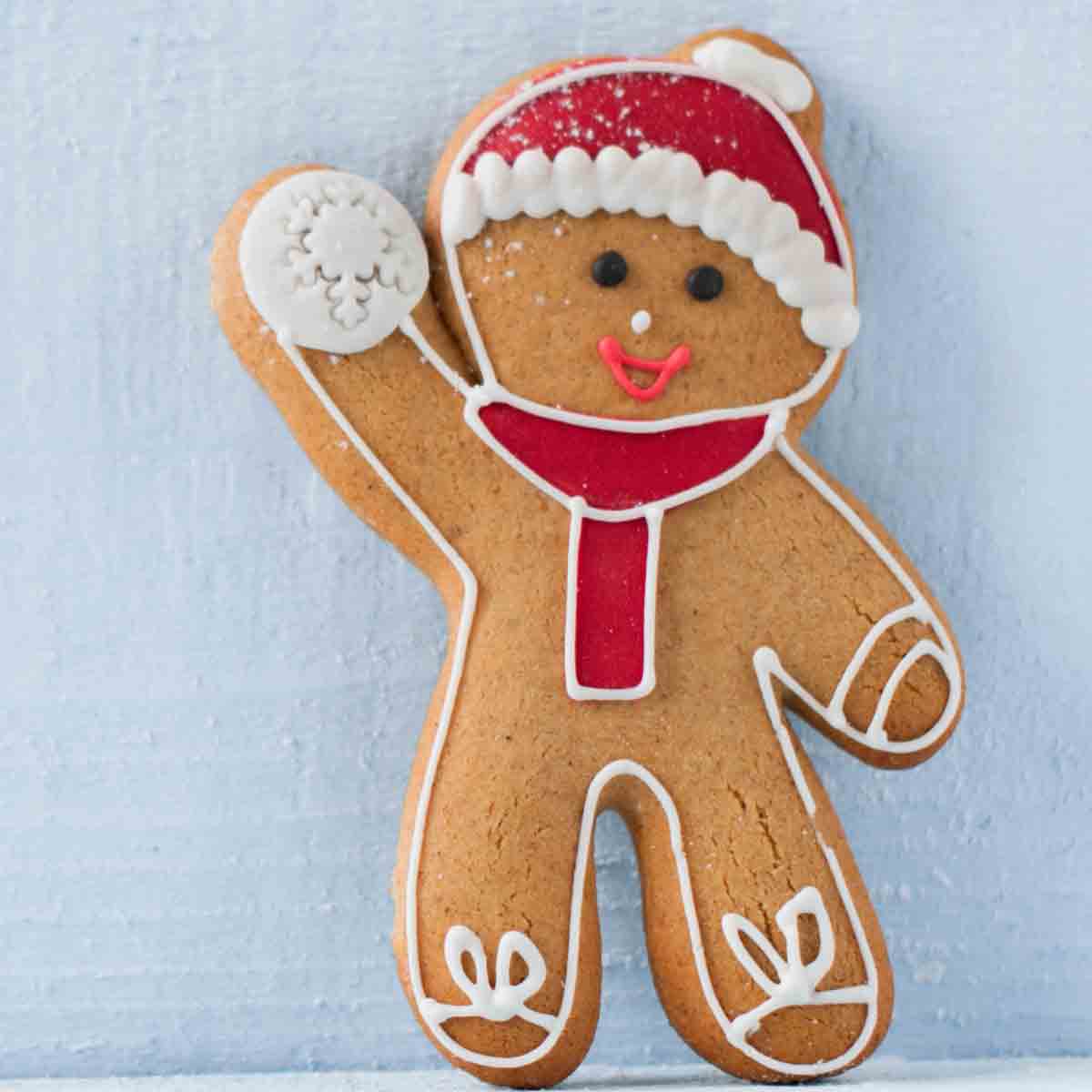 Vegan Christmas desserts to buy from UK supermarkets
It's almost Christmas and I'm sure lots of you will be planning your festive menus for the big day! In my opinion, the most important thing about Christmas dinner is the dessert!
I have been in charge of making the family dessert for the last few years but this year, with some of my favourite recipes being my Yule log, pavlova and sticky toffee pudding. This year though, I thought I'd have a little look to see what the UK supermarket Christmas desserts sections were like and I was pleasantly surprised. There is way more selection than there was a few years ago when I first went vegan, so I wanted to make a list to help any new vegans out too!
Some of the desserts I've listed are sold all year round but would be good for Christmas dessert. Others are sold only at Christmas time, with festive flavours and/or decor. I've included all of the supermarket snacky desserts that I could find too, because I know there will be plenty of Christmas buffets coming up! For more ideas, check out my accidentally vegan sweets post too.
If you'd like a baking challenge and fancy making something from scratch, make sure to check out my vegan Christmas dessert recipes post for over 35 impressive free-from recipes! Otherwise, keep reading to find out the best Christmas supermarket desserts!
I have divided the list up, listing as many festive treats as I could find from each supermarket. You can use the table of contents below to skip to your preferred supermarket if you like.
Tesco
I may be biased because I do most of my shopping there, but I think Tesco (and Asda) have the best vegan Christmas desserts to buy in 2023. There's a huge range of small festive snacks and a good selection of sharing desserts too.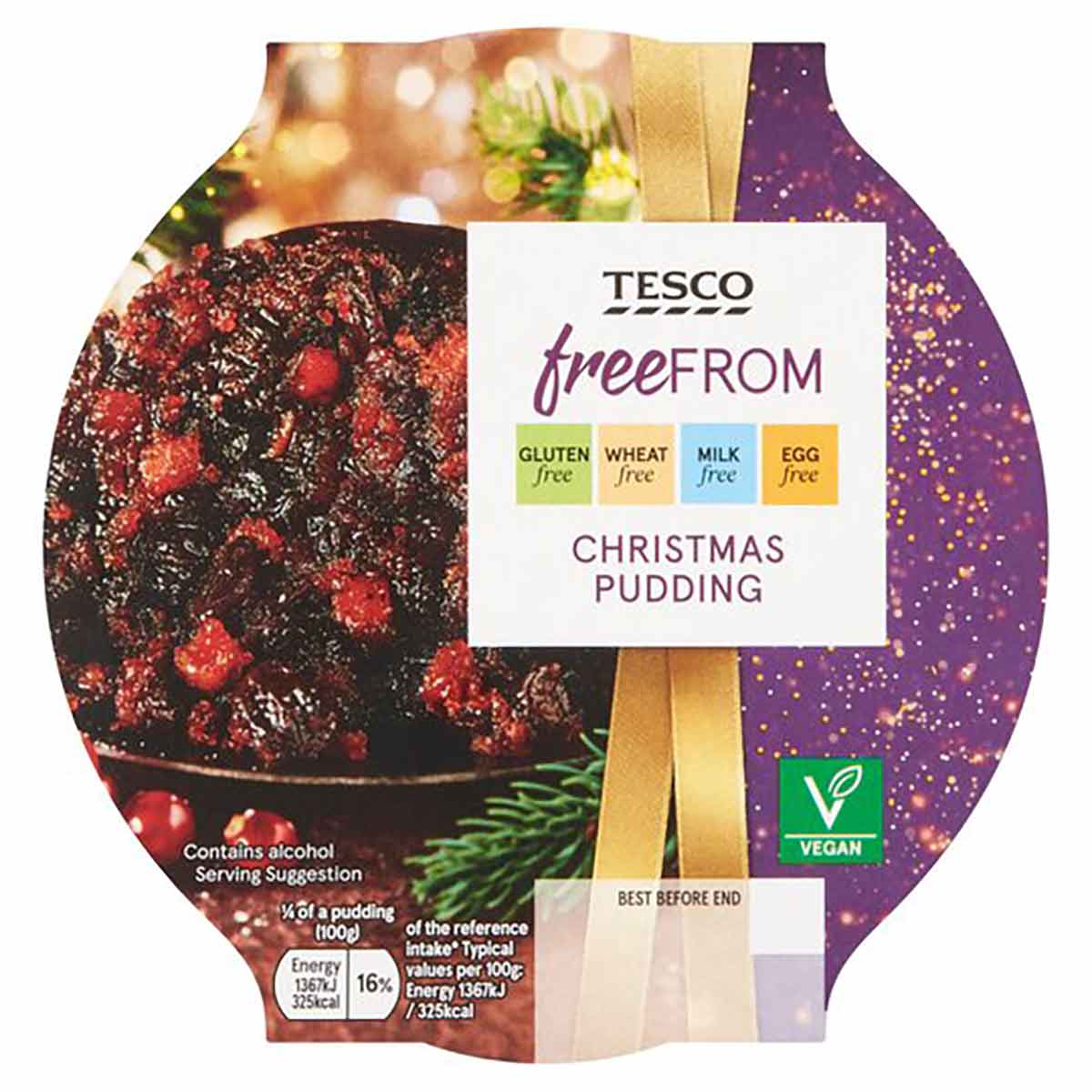 Large/sharing desserts
Smaller desserts and sweet snacks
Asda
I love the Asda website because they are typically very good at marking which of their items are vegan. This includes some of Asda's accidentally vegan Christmas desserts! Take a look and see what they've got for 2023.
Large sharing desserts
Extra Special Vegan Chocolate Bauble
OMV! Strawberry trifle
Smaller/snacking treats
OMV! Crumble topped vegan mince pies
OMV! Double choc & honeycomb cake pop bites
Ocado
Ocado has an amazing selection of Christmas desserts to buy because it stocks so many different brands! It's the best place to buy M&S vegan desserts online and they have an interesting selection of sweet snacks too.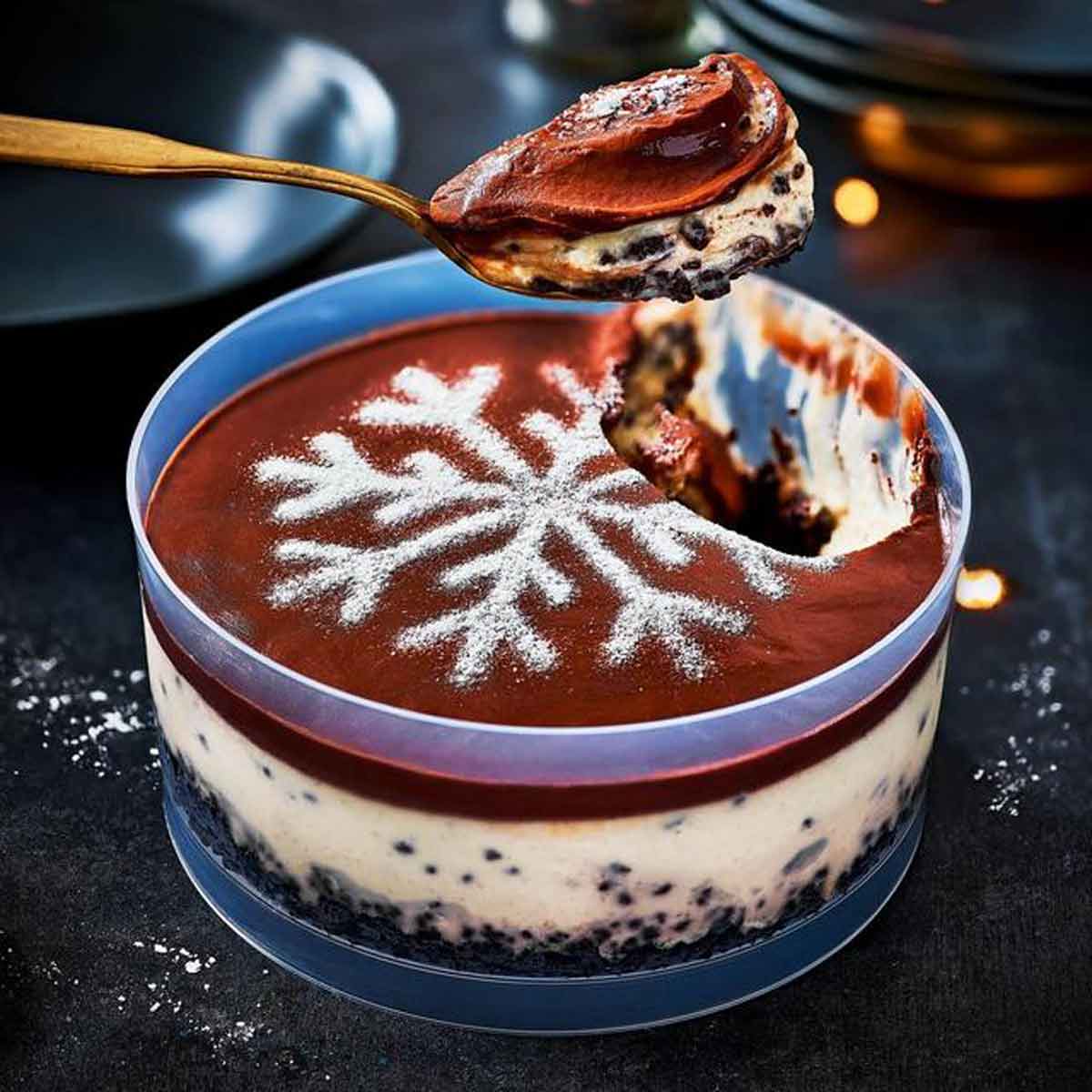 Large sharing vegan Christmas desserts
Snacks and small vegan Christmas sweets
Sainsbury's
Sainsbury's vegan Christmas desserts include a few sharing options and a lot of smaller treats. They do have a lot of vegan-friendly cheesecakes too, including their 2023 chocolate cookie cheesecake which you can order online.
Large sharing desserts
Smaller desserts and Christmas snacks
Morrison's
I didn't find very many vegan Christmas dessert options to buy from Morrison's but feel free to leave a comment if you know of something that I've missed out! I am looking forward to trying their chocolate salted caramel cheesecake!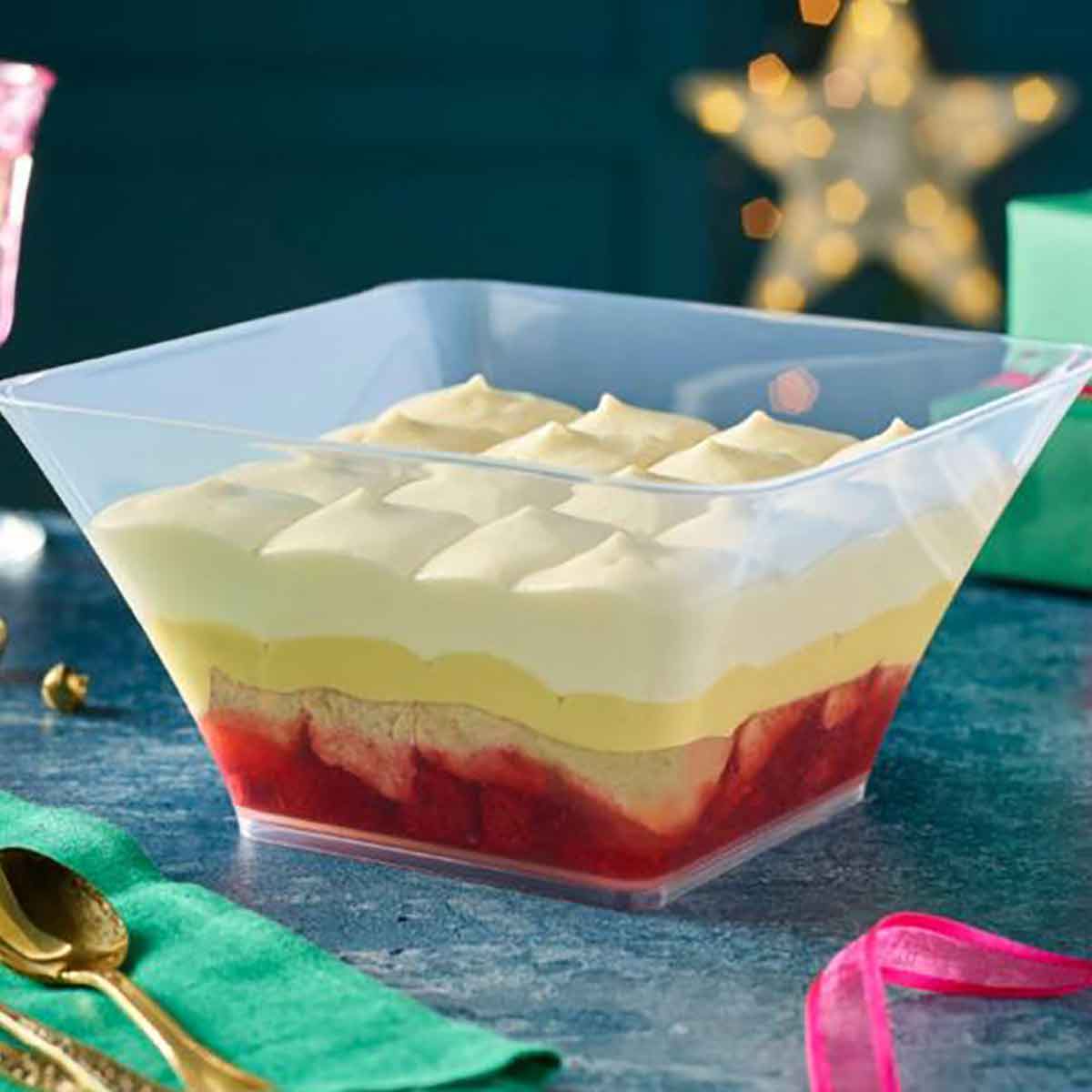 Sharing desserts
Smaller and snacking desserts
Waitrose
I have to admit that I don't shop in here often because there isn't one in my city, but I LOVE the look of all of the Waitrose Christmas desserts this year. The Just Love Food chocolate Yule log was the only Christmas sharing dessert I could find but it looks to die for!
Aldi
Aldi's vegan Christmas desserts selection wasn't huge but they do have some good options. They didn't have many large desserts to buy that I could see but they do have a selection of snacky desserts that I didn't see in any of the other supermarkets. Check them out!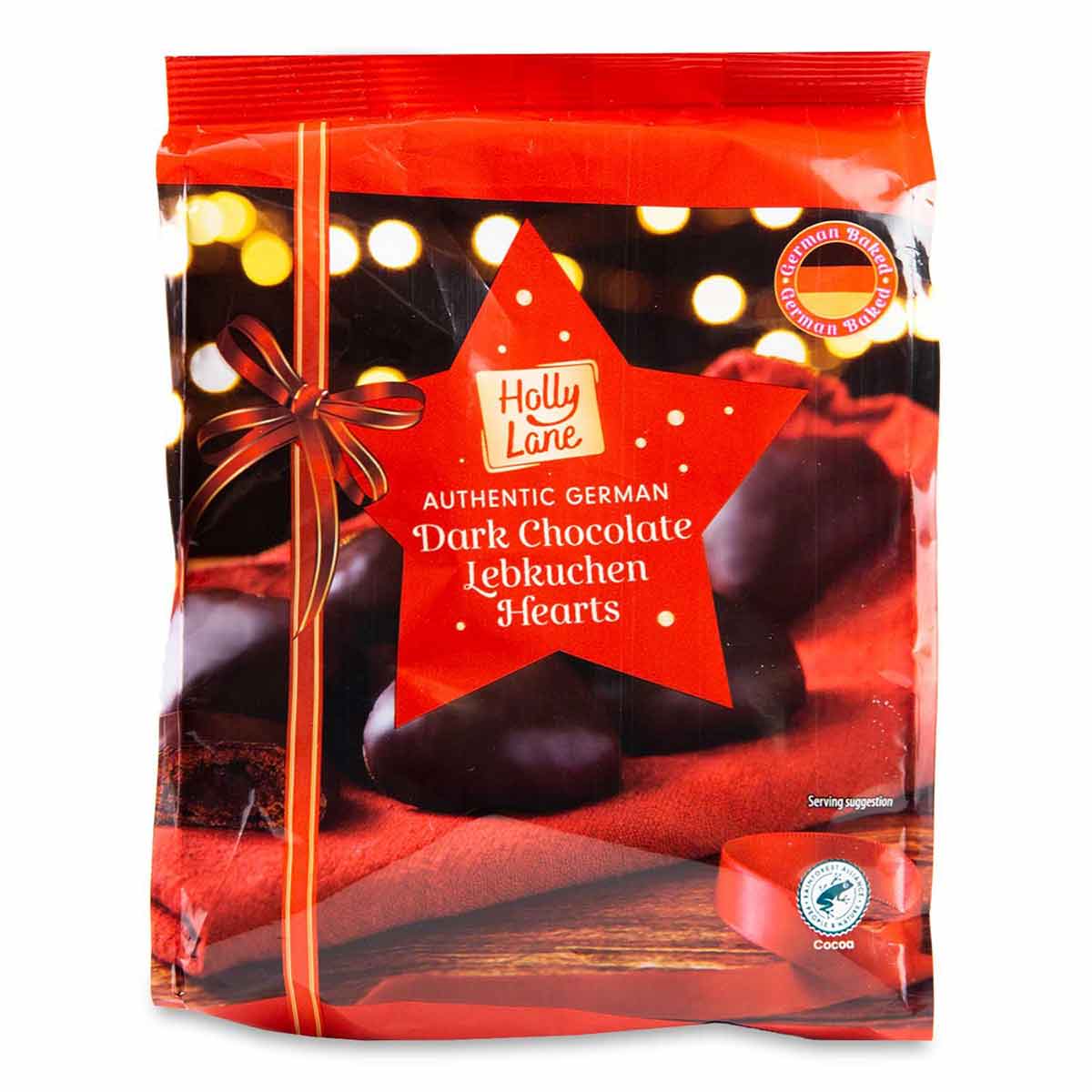 Lidl
Lidl don't provide a list of their ingredients online so it was hard to include them in this list! If you want to check out Lidl's Christmas desserts to buy, I would recommend checking your local store. Non-vegan ingredients to watch out for would be milk and milk powder, egg and egg powder, gelatine, shellac, carmine, and certain e-numbers.
Iceland
When it comes to vegan Christmas desserts, Iceland had totally slipped my mind but they actually impressed me! The selection I could find was quite small but considering they're known for frozen food, I think they're doing pretty well!
---
I hope this list helps you out with the best supermarket Christmas desserts to buy for 2023! If I've missed anything out, do let me know in the comments and I'll add it as soon as I can.
Merry Christmas! xo
BakedByClo is a participant in the Amazon Services LLC Associates Program, an affiliate advertising program designed to provide a means for sites to earn advertising fees by advertising and linking to Amazon.com. This site may contain some of these links to Amazon.com & other affiliate programs. If you make a purchase through one of those links, BakedByClo will receive a small commission from the purchase at no additional cost to you.