Vegan Sticky Toffee Pudding
This vegan sticky toffee pudding recipe is one of my favourite recipes EVER! It's a dark, decadent and rich sponge cake topped with a thick, sticky toffee sauce. It's great to warm you up on a cold night!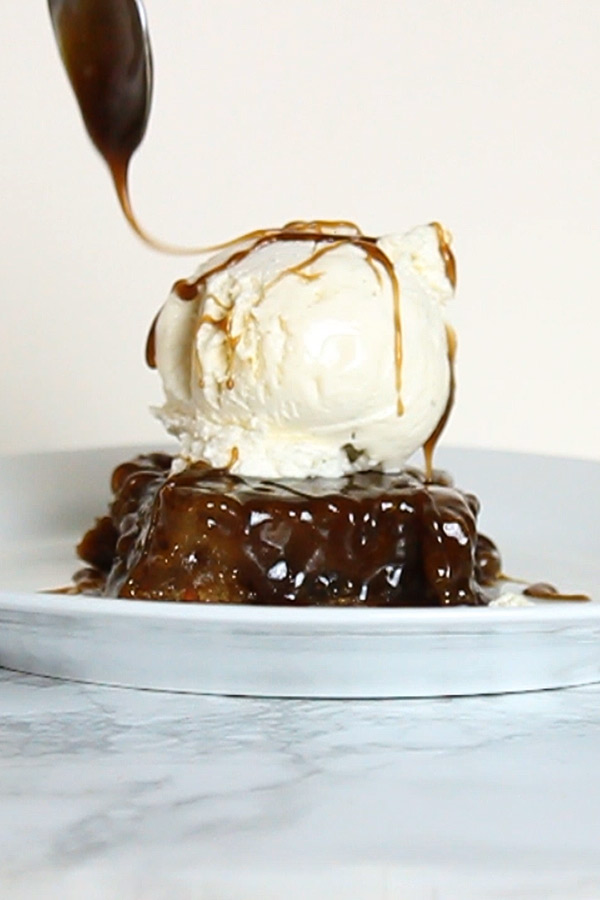 Sticky toffee pudding was the first thing I ever successfully veganized in my life. Up until then, I had tried, and failed (miserably), to veganize many desserts.
But this one was the beautiful exception.
The recipe started out as an adapted version of an old cookbook recipe. It was pretty good to start with, but I've since altered it multiple times to make it even better!
What is sticky toffee pudding?
This pudding is a traditional British dessert that is typically made with dates. It also contains lots of brown sugar to make a super-rich dessert.
But my favourite part about the pudding has always been the sauce. I would literally eat it straight from the dish with a spoon when I was growing up. (I may or may not still do that.)
The sauce is traditionally made with sugar, butter, and double cream. But if you just switch the butter for vegan butter and the double cream for coconut cream, you've got yourself an easy vegan toffee sauce!
Don't worry about the sauce tasting like coconut either. I am NOT a fan of non-coconutty desserts tasting like coconut. I promise you won't be to taste it at all! The flavours from the brown sugar and butter are strong enough to overpower it.
You get all of the creaminess AND all of the toffee flavour!
Served warmed up with vanilla ice cream, this pudding is my, and many of my family members', favourite dessert for the colder months. (My apple pie comes a close second!)
Want more cosy vegan desserts? Try these:
How to make vegan sticky toffee pudding
Step 1:
First off, you'll need to preheat your oven to 180°C / 350°F and line a 9-inch rectangular baking tin with baking paper. (Make sure the tin is at least a few inches deep so the cake doesn't spill over the edges as it bakes).
Step 2:
First, measure out 200g of pitted dates (1 + 1/8 cup) and chop them up roughly. I used Deglet Noor dates but you can use any kind for this recipe.
Place the chopped dates into a small bowl and pour over 240ml of boiling hot black tea (1 cup). Leave the dates to soak for 5 minutes. It's important that the water is boiling otherwise the dates won't soften.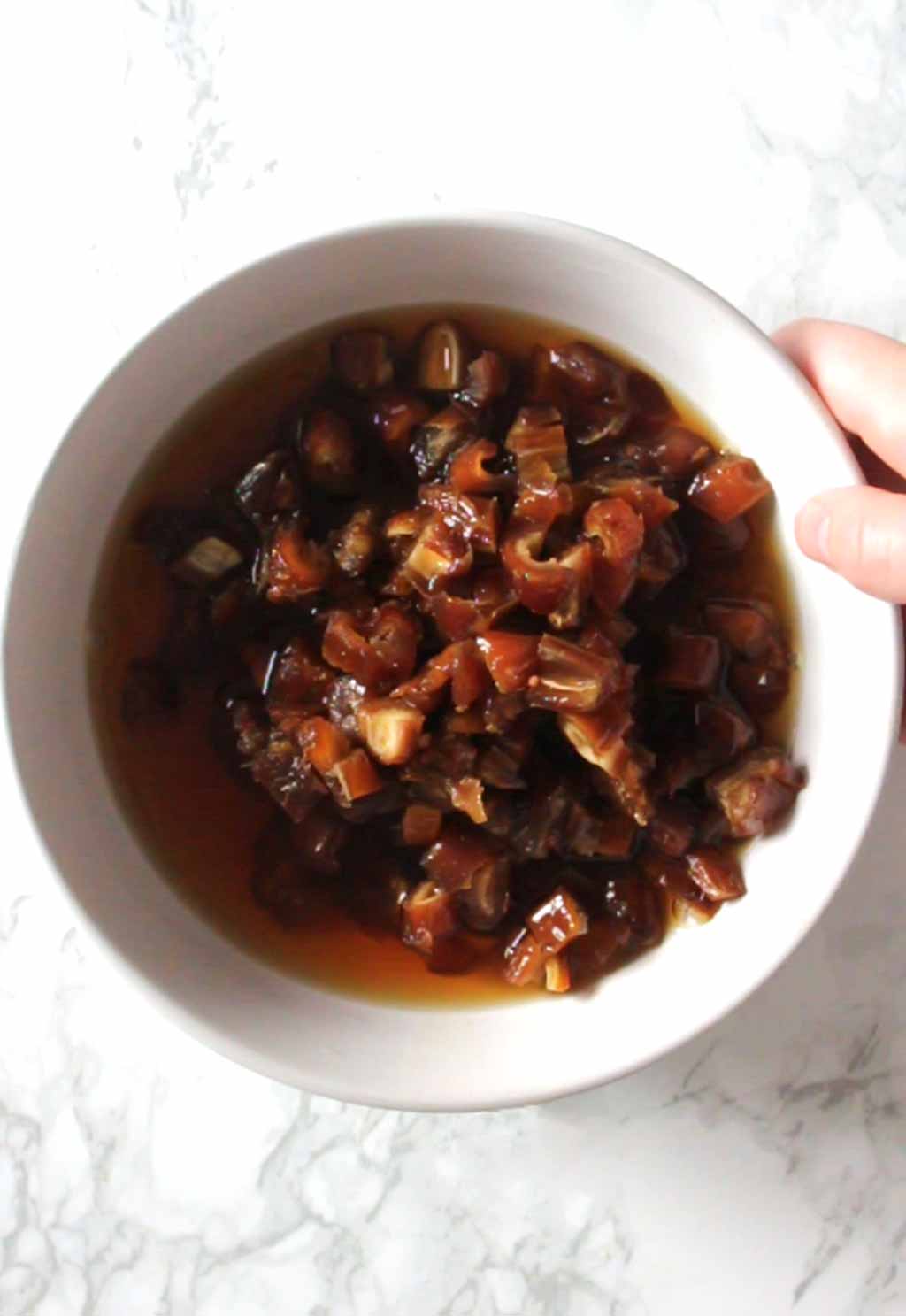 After the dates have soaked for 5 minutes or so, mash them up using a fork to make a sticky, clumpy mixture. It's OK to have lumps in there as long as they are soft and not solid.
Step 3:
Next, in a separate bowl, cream 80g of vegan butter (~5 tablespoons) with 150g of soft brown sugar (3/4 cup).
To the same bowl, add 1 teaspoon of vanilla extract and mix.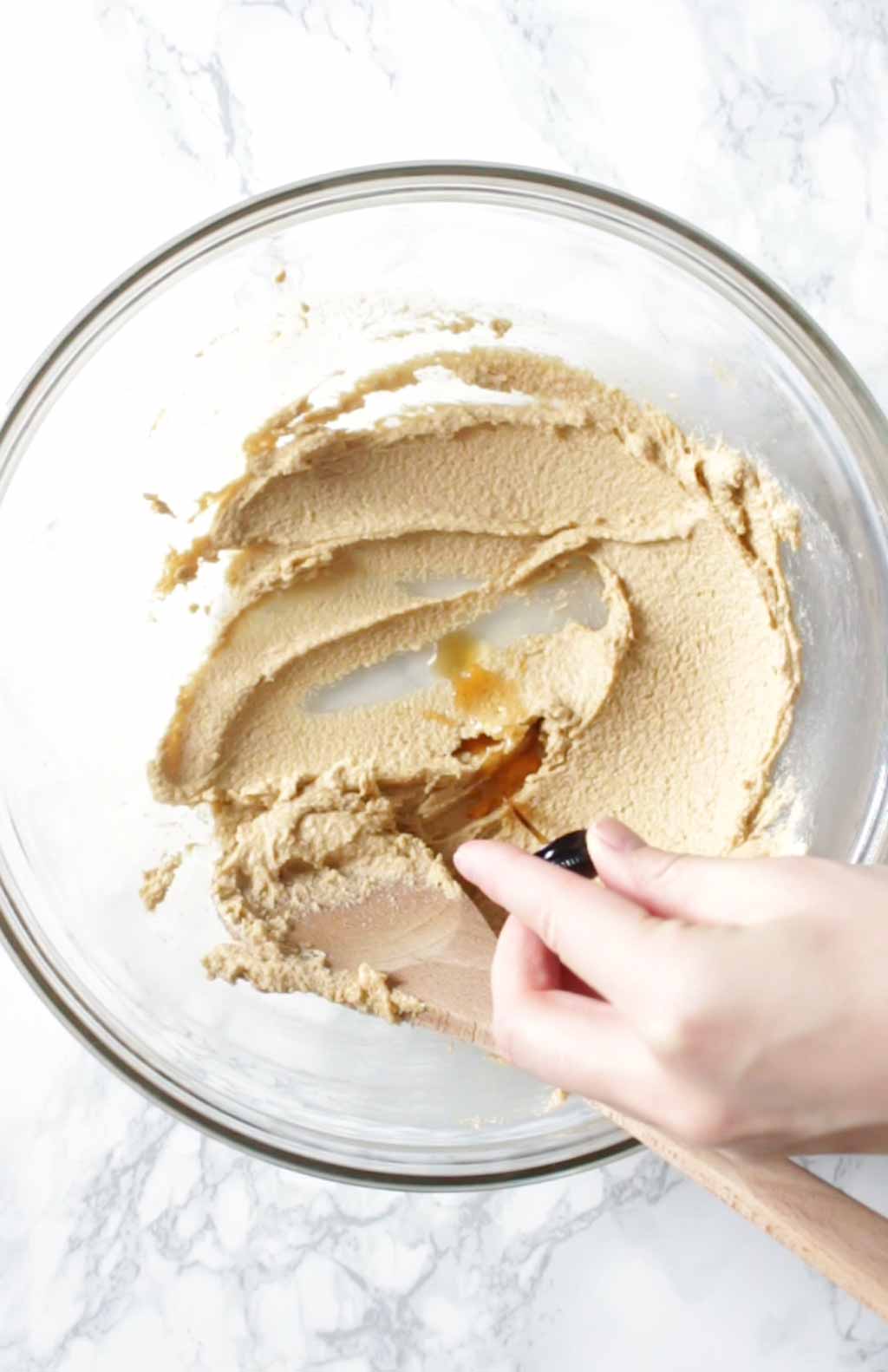 Add in the date mixture and stir it in well. The mix will look a bit odd right now, sort of curdled. But don't worry- it will become lovely and smooth after the next step.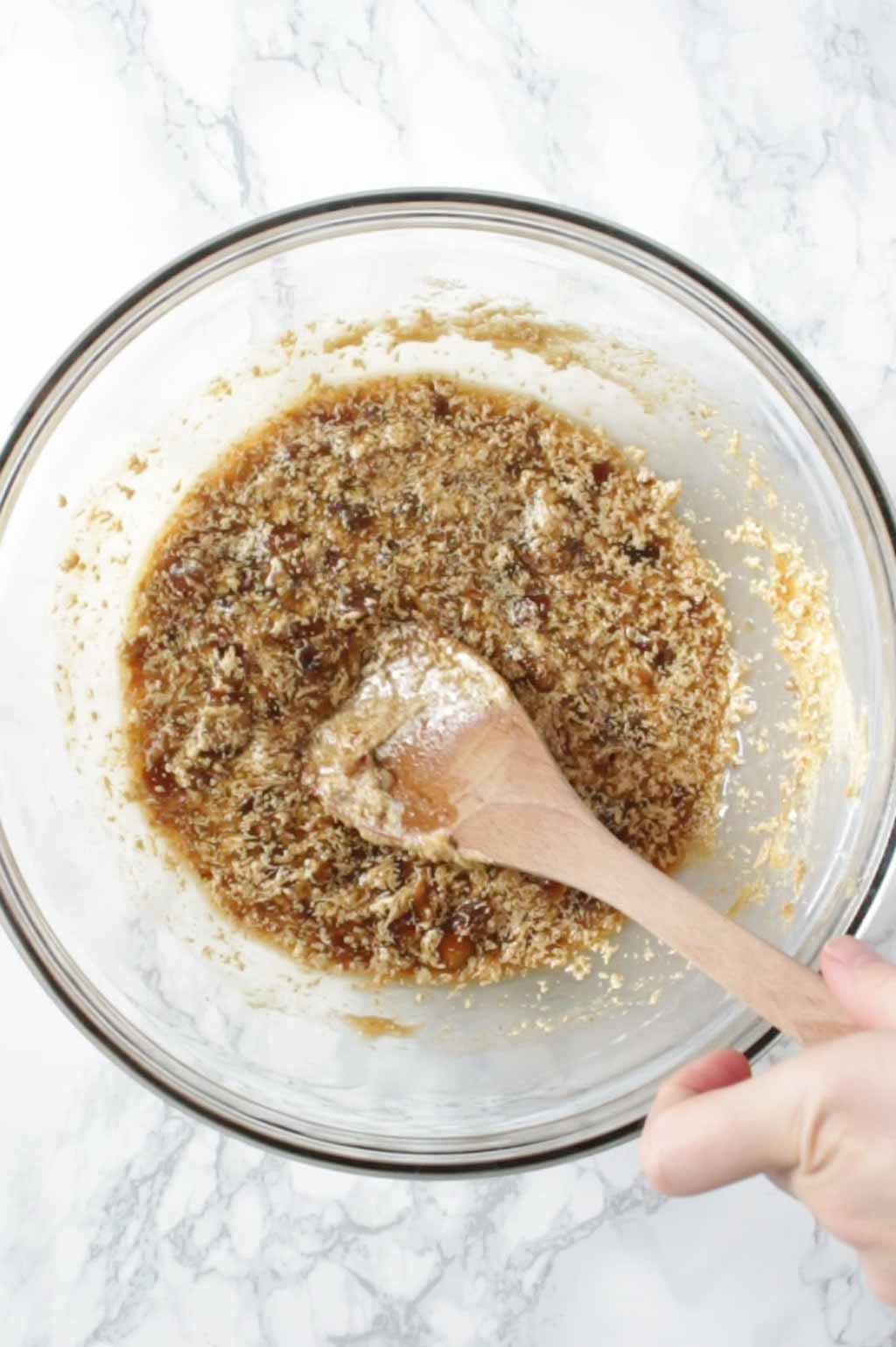 Step 4:
Add 190g of self-raising flour (1+1/2 cups) to the bowl along with 1/2 teaspoon of baking soda. Fold it into the wet mixture until you have a smooth, creamy pudding batter.
Step 5:
Spoon the batter into your lined tin and bake for 20 minutes. Prepare the sauce while the cake is baking, as you'll need it as soon as the cake comes out of the oven.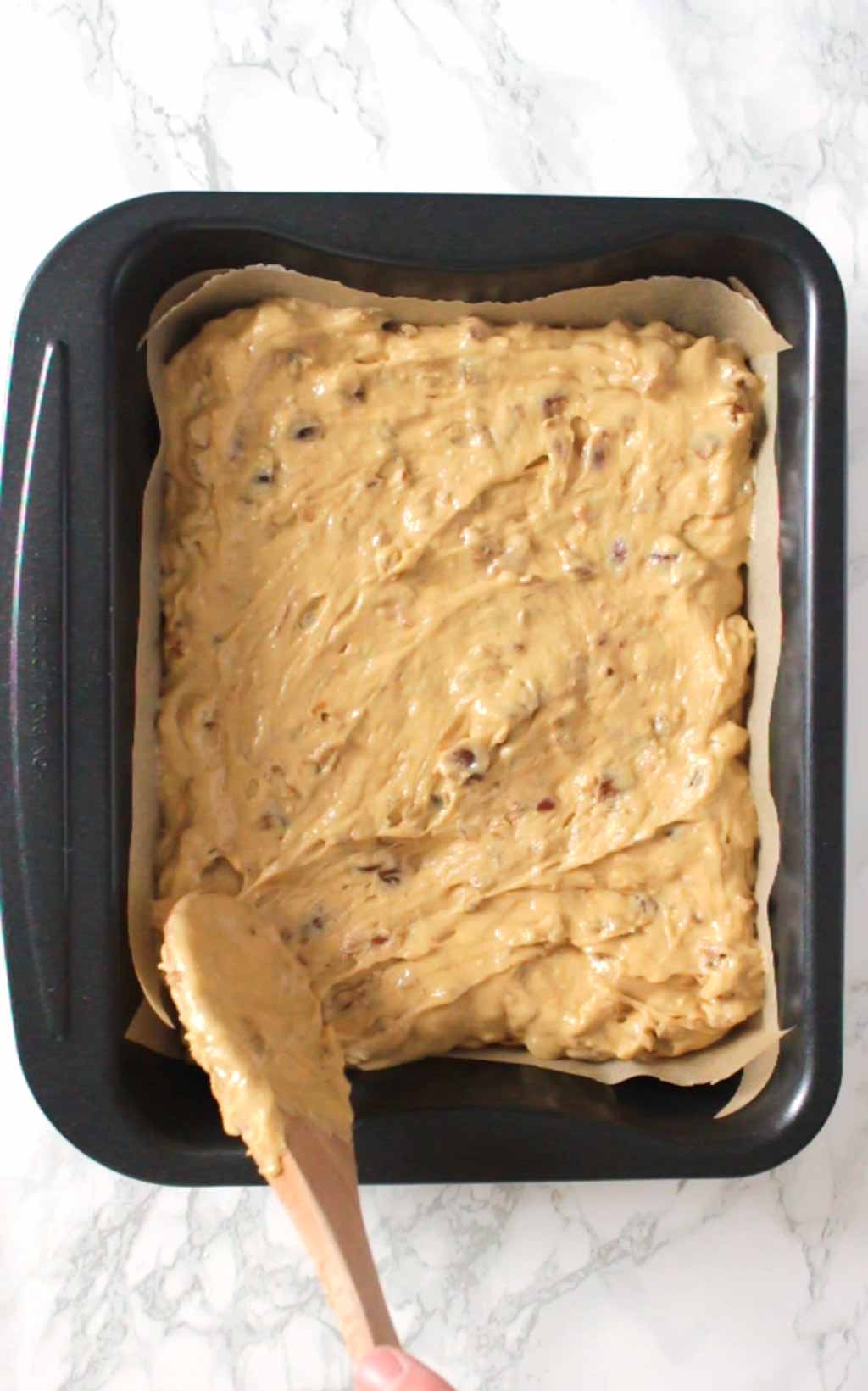 Onto the sauce
Step 1:
Add 150g of soft brown sugar (3/4 cup) and 120g of vegan butter (1/2 cup) to a small non-stick saucepan over medium heat.
Stir every so often until the butter melts and the sugar dissolves. It should look dark brown and runny at this point.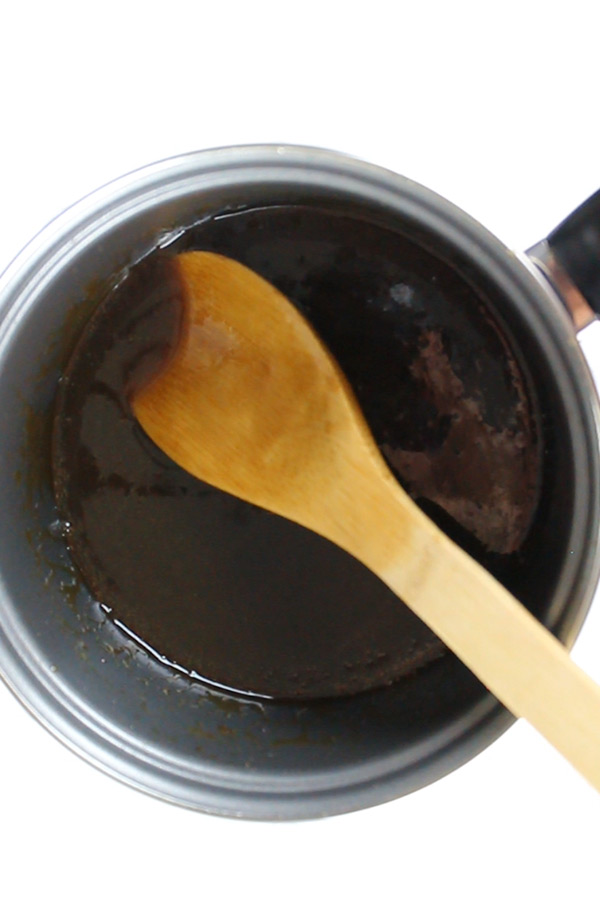 Step 2:
Add 60ml (1/4 cup) of full-fat coconut milk to the pot, stir it in gently then leave the sauce to simmer for a minute or two until it starts to bubble. Do not stir it while it's simmering as this will cause the sugar to crystallize.
Don't worry if the sauce is a little runny at this point as it will thicken up when it cools down a bit.
Step 3:
When the sponge comes out of the oven, poke small holes all over it using a knife. This will allow the sauce to get right inside. Pour the sticky toffee sauce over the pudding immediately after doing this and spread it out with the back of a spoon.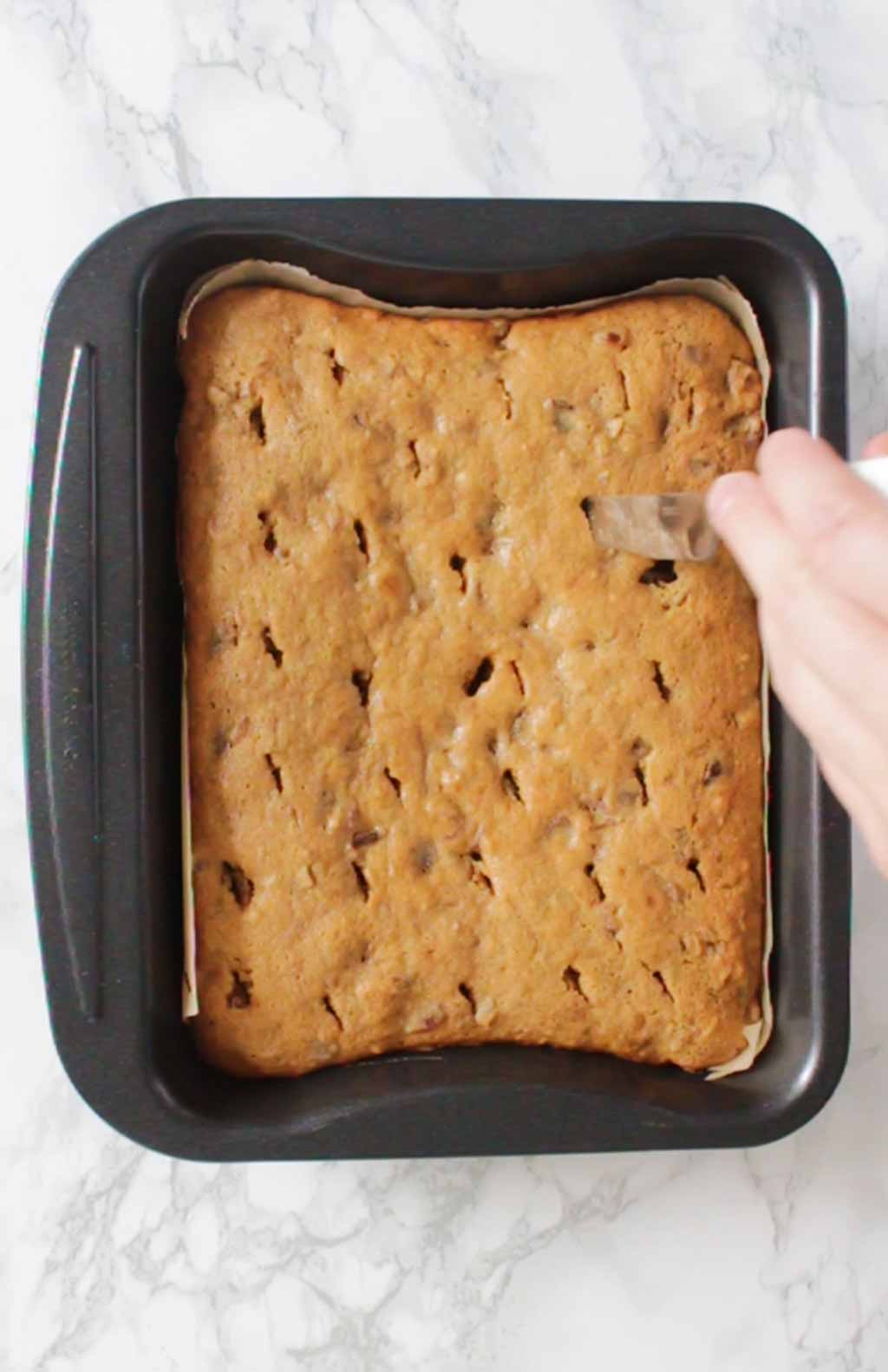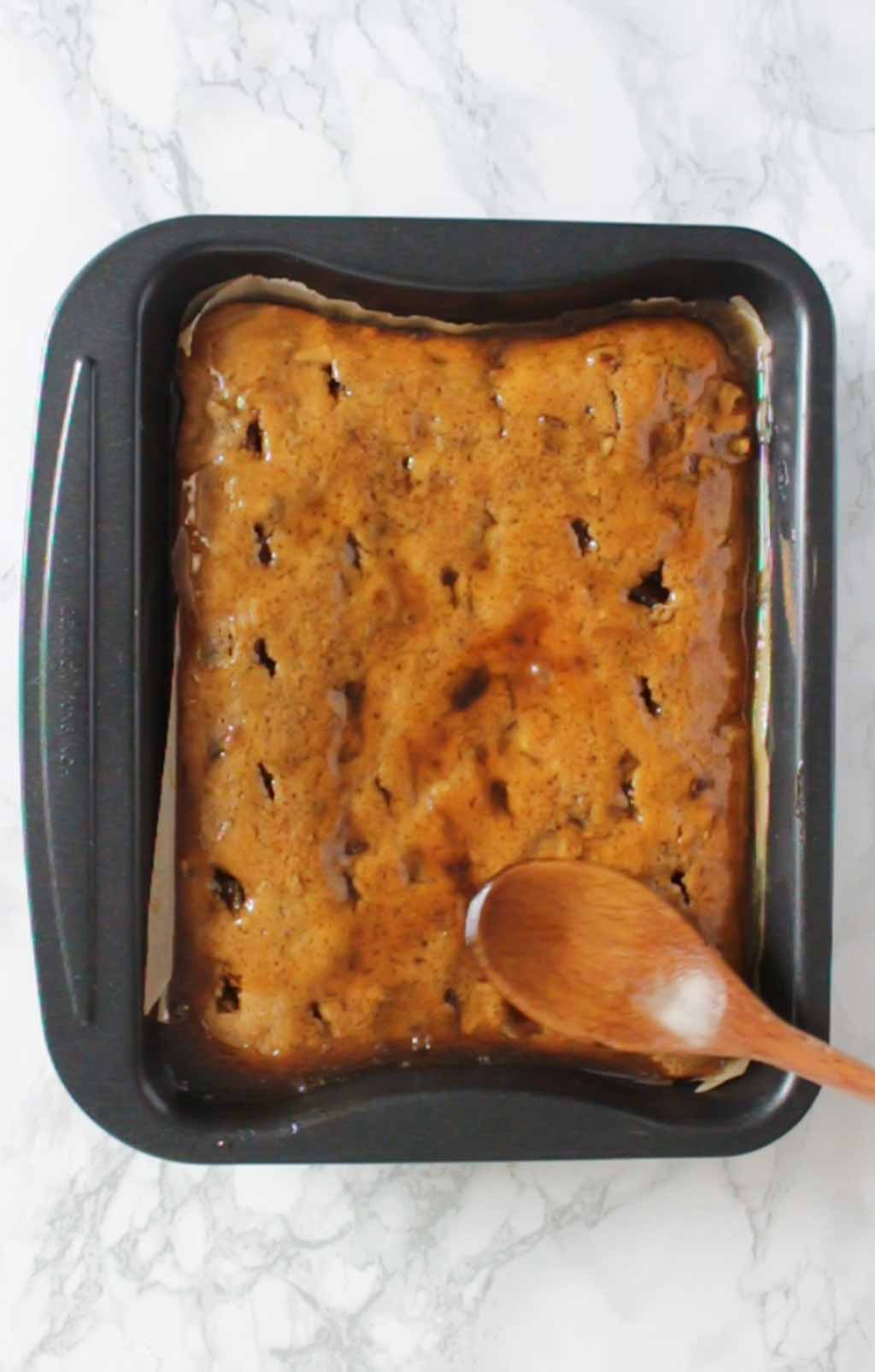 I recommend leaving about ¼ of the sauce to pour over each slice just before serving.
If you plan on eating the pudding straight away, allow it to cool for 5-10 minutes first. I personally like to let it cool completely in the dish to really let the sponge soak up the sauce. Then I just warm it up with a little leftover sauce when I'm ready to eat it.
FAQ
How should this pudding be stored?
In the fridge is best! In an airtight container. It will taste its best for around 4 days.
Can you freeze this recipe?
You absolutely can! Once you've made the pudding and poured the sauce over, leave it to cool completely and wrap the whole dish in clingfilm before freezing.

To defrost, remove the clingfilm and leave at room temperature until completely thawed.

Reheat (if desired) with leftover toffee sauce, in the oven at 180°C / 350°C for 20 minutes until warm.
Do I have to use dates?
Dates are what makes this pudding sticky so I definitely wouldn't recommend leaving them out!

You could use prunes in place of the dates but this may change the flavour slightly.
Can I make this recipe gluten-free?
I haven't tested this particular recipe with gluten-free flour yet. If you'd like to try it though, I would recommend using a gluten-free flour blend that contains xanthan gum for best results, such as Dove's Farm. Please let me know how it goes if you try it!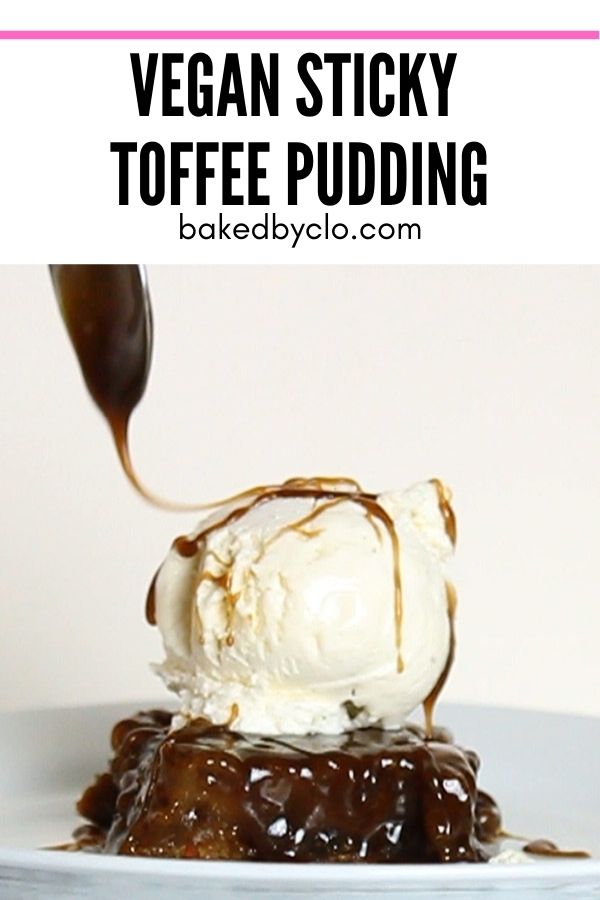 I hope you get the chance to try this recipe for yourself. If you do, please leave a review or a comment to let me know how you like it!
Happy baking! xo

Vegan Sticky Toffee Pudding
A rich, dark pudding recipe made with dates and brown sugar for extra indulgence!
Ingredients
200

g

Pitted and chopped dates

(1+⅛ cup)

240

ml

Boiling hot black tea

(1 cup)

80

g

Vegan butter

(~5 tablespoons)

150

g

Soft brown sugar

(¾ cup, packed)

1

Teaspoon

Vanilla extract

190

g

Self-raising flour

(1+½ cups)

½

Teaspoon

Baking soda

(bicarbonate of soda)
For the sticky toffee sauce:
120

g

Vegan butter

(½ cup)

150

g

Soft brown sugar

(¾ cup, packed)

60

ml

Full-fat coconut milk

(¼ cup)
Instructions
Preheat oven to 180°C/ 350°F (160°C / 325°F if you're using a fan or convection oven) and line a 9×12" rectangular tin with baking paper.

In a small bowl, pour the hot tea over the chopped dates. Leave to soak for 5 minutes, then mash it with a fork to make a lumpy, sticky mixture.

In a separate bowl, cream the butter and brown sugar together. Add the vanilla and the date mixture and mix well.

Next, add half of the flour and fold it in gently. Then add the rest of the flour and the baking soda, and fold again to make a smooth, slightly thick batter.

Pour the batter into your lined tin and bake for 20 minutes. Prepare the sauce in the meantime.
For the sticky toffee sauce:
Add the butter and sugar to a pan over on medium heat. Stir every so often until the sugar has dissolved and the butter has melted.

Add the coconut milk and stir it in gently. Leave it to simmer for a minute or two until it starts to bubble then remove from the heat.* Don't stir it while it's simmering or the sugar will crystallize.
Assembly:
As soon as the pudding comes out of the oven, poke small holes all over it using a knife.

Pour the sauce over the pudding while it's still hot, leaving around ¼ of it aside for serving. Use the back of a spoon to spread it out evenly over the pudding.

Leave to cool for at least 5 minutes before serving with vanilla ice-cream or vegan custard and the leftover sticky toffee sauce.
Recipe Notes
*The sauce might be a bit runny at this point but it will thicken slightly as it cools.
Store in the fridge in an airtight container for up to 4 days. Reheat before serving if desired.
If your serving sauce becomes too thick when cool, add a splash of boiling water to make it runny again. If it's too runny, put it back on the heat for another minute or two.

Leftovers can be reheated in the microwave, or in the oven for 20 minutes at 180°C/350°F.
Nutrition Facts
Vegan Sticky Toffee Pudding
Amount Per Serving (1 slice)
Calories 305
Calories from Fat 99
% Daily Value*
Fat 11g17%
Sodium 121mg5%
Carbohydrates 49g16%
Protein 2g4%
* All values are an estimate only and will vary depending on the food brands used.
BakedByClo is a participant in the Amazon Services LLC Associates Program, an affiliate advertising program designed to provide a means for sites to earn advertising fees by advertising and linking to Amazon.com. This site may contain some of these links to Amazon.com & other affiliate programs. If you make a purchase through one of those links, BakedByClo will receive a small commission from the purchase at no additional cost to you.