Originally posted: 25th September 2018. Last updated: 27th September 2019.
This vegan apple crumble recipe is sweet, cinnamon-y, soft and crumbly. Served with vegan whipped cream or ice cream, it's the perfect comfort food for those chilly autumnal nights.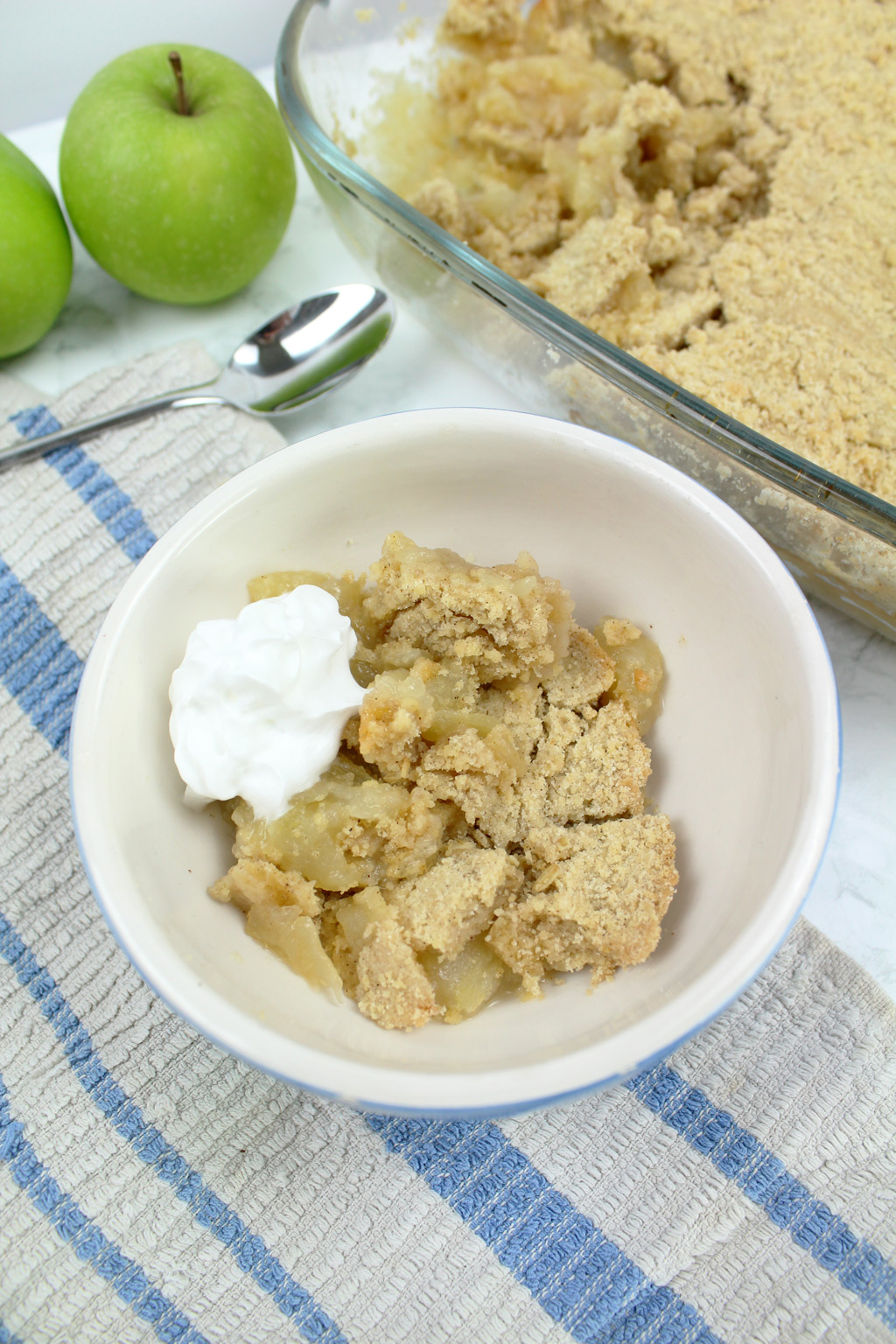 It feels like just a few weeks ago that I was baking summer-themed desserts, sipping on iced teas and complaining that it was too hot.
Then suddenly, it's almost October…
I can't deny that I am a huge fan of Autumn. There's something so lovely about being cosied up inside, candles lit, and being permanently glued to a mug of hot tea.
I hate the dark, dull days of Winter with a passion but this time of year is just so perfectly in-between. It's not too hot, not too chilly, and the leaves are always a pretty sight.
And of course, there's the food. Cinnamon flavoured everything, sticky toffee puddings and my all-time favourite: vegan apple crumble.
In my opinion, apple crumble is the ultimate Autumnal dessert. It's so simple but so delicious. Anything with hot fruit and ice cream will always be a winner in my book.
I was first inspired to make this vegan apple last year after my partner and I went apple picking last year. And after a year of practicing my photography, I thought I'd make it again and make it look a little more visually appealing this time.
Want more autumn-friendly vegan desserts? Try these: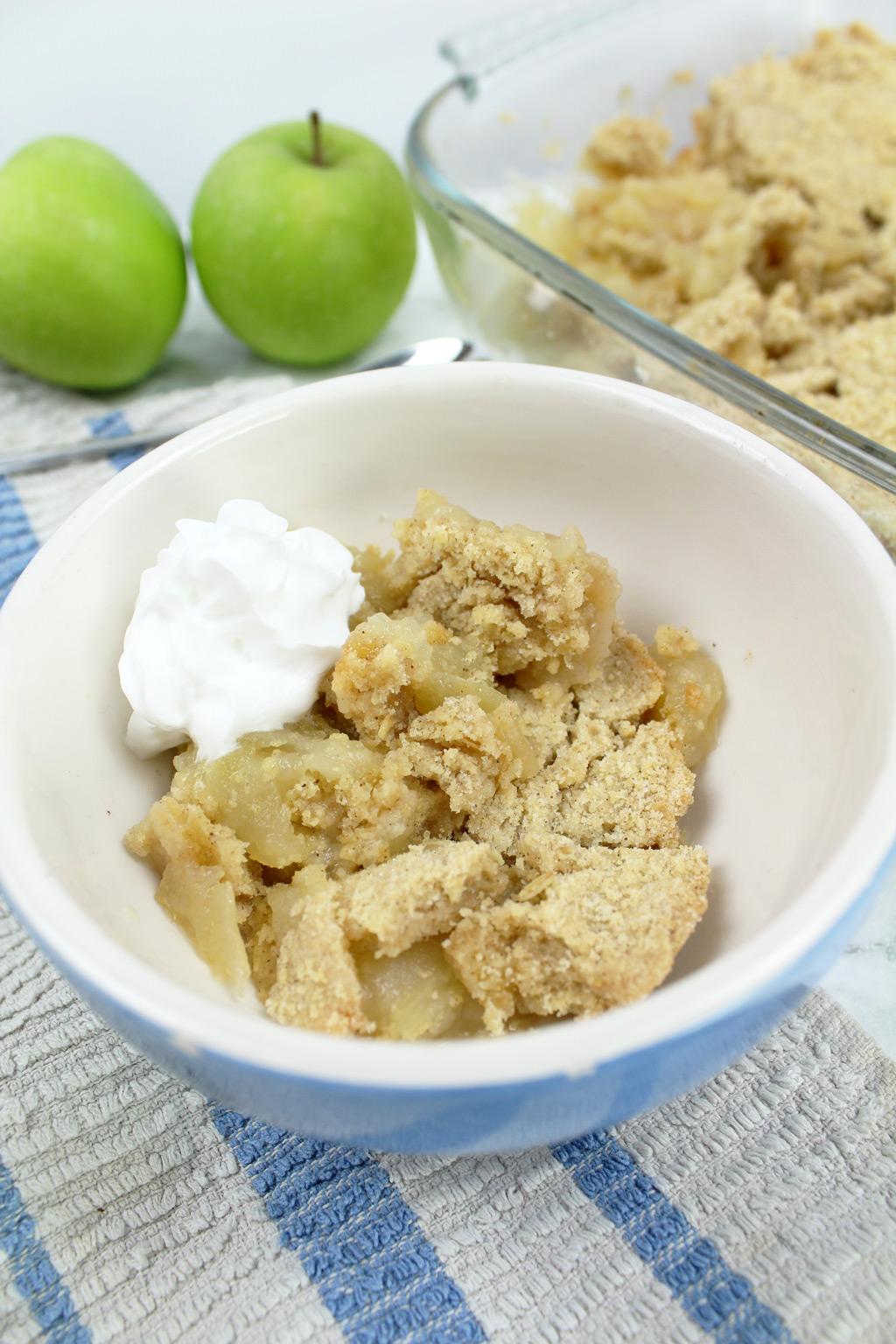 How To Make Vegan Apple Crumble
The first thing to note for the perfect vegan apple crumble is that the type of apples you use matters!
I've experimented with lots of different kinds of apples of the years but I've found that Bramley apples cook the best, and the sourness matches perfectly with the sweet cinnamon flavours.
If you can't get your hands on Bramley apples where you're from, you can also use green Granny Smith apples. They'll give the same effect and taste equally as good!
Step 1:
Preheat your oven to 180C / 350F (160C fan/ Gas mark 4).
For this recipe, I'd recommend using a 9 inch rectangular or round baking dish or pan that's at least 2-3 inches deep. I personally used a glass casserole dish which worked perfectly.
Step 2:
I like to make my crumble topping first to prevent the apples from going brown after they're chopped.
To do this, add 150g (1 heaped cup) of plain flour into a large bowl. Then add 90g (1/3 cup) of caster sugar, 1 tablespoon of soft brown sugar, 1 teaspoon of cinnamon and 1 tablespoon of rolled oats.
Mix everything together until well combined.
Step 3:
Add 90g (3/8 cup) of vegan butter into the bowl, then use your hands to rub it into the flour/sugar mix. Keep doing this until you have a mixture that resembles breadcrumbs.
Set the crumble mix to one side for now while you prepare the filling.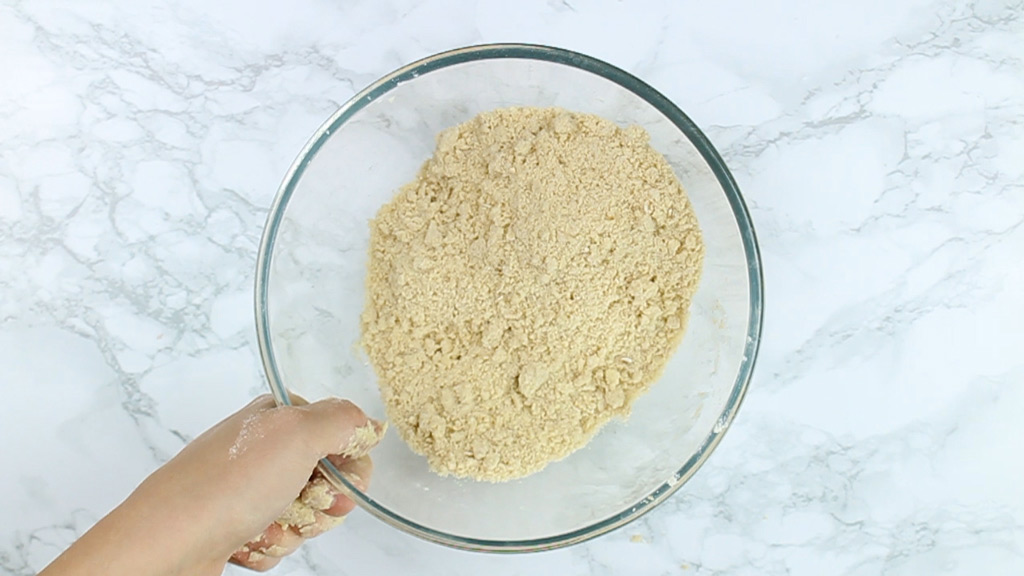 Step 4:
For your vegan apple crumble filling, peel and slice 2 very large cooking apples. I had around 600 grams worth of apples after I'd peeled, cored and chopped them.
If you can't get a hold of cooking apples, you can use 4 regular sized green apples instead.
Make sure to slice the apples to around half an inch thick, which will help them to become soft and juicy as they bake.
Step 5:
Place your apple slices into a large bowl. Add in 2 tablespoons of caster sugar and 1 teaspoon of lemon juice, then give it a quick mix to make sure everything is well combined.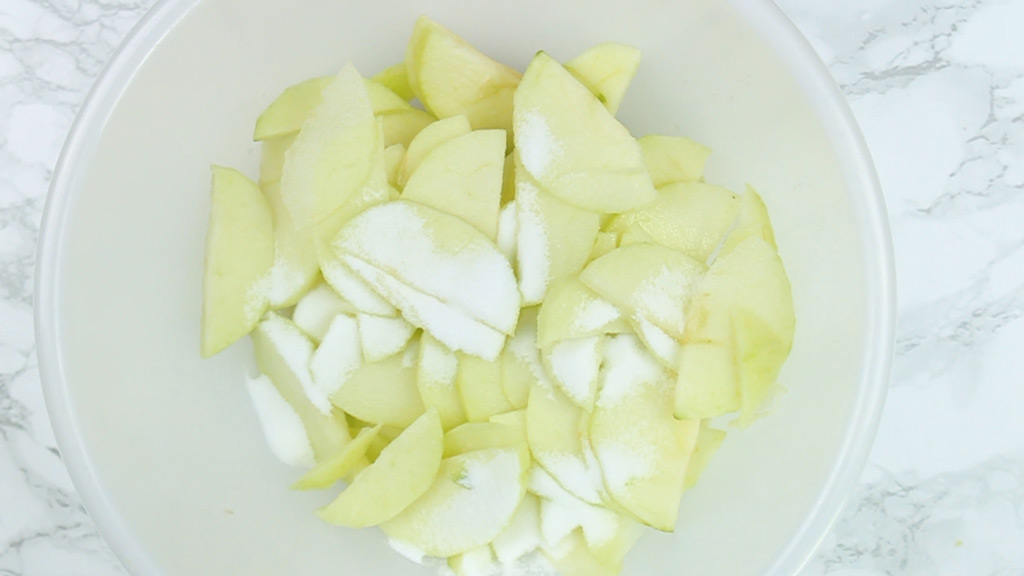 Step 6:
Transfer the apple slices into your baking dish and use the back of a spoon to gently spread them out.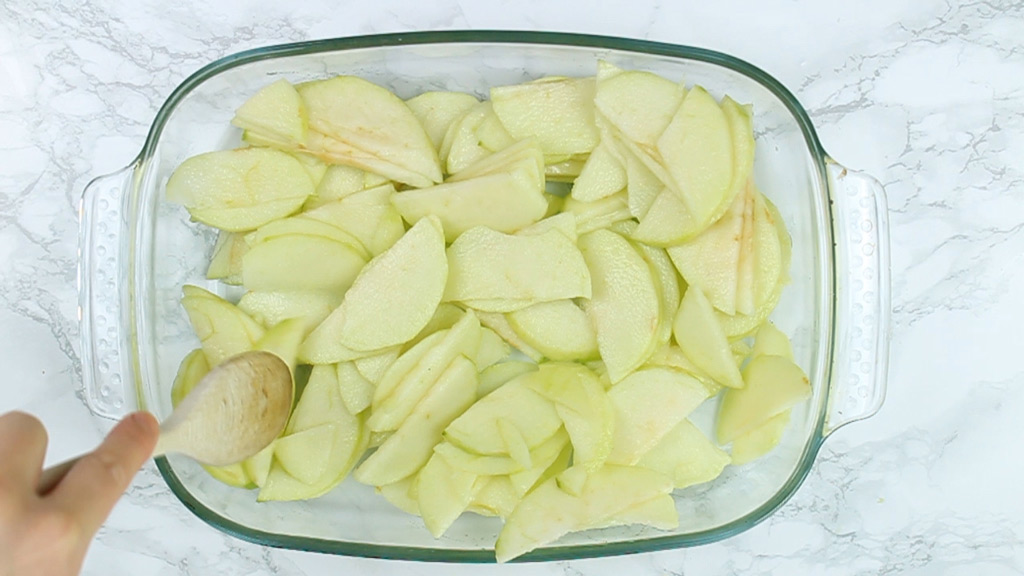 Step 7:
Pour the crumble mixture that you made earlier over the apple slices and gently press it down using a fork so that it forms a slightly firm topping.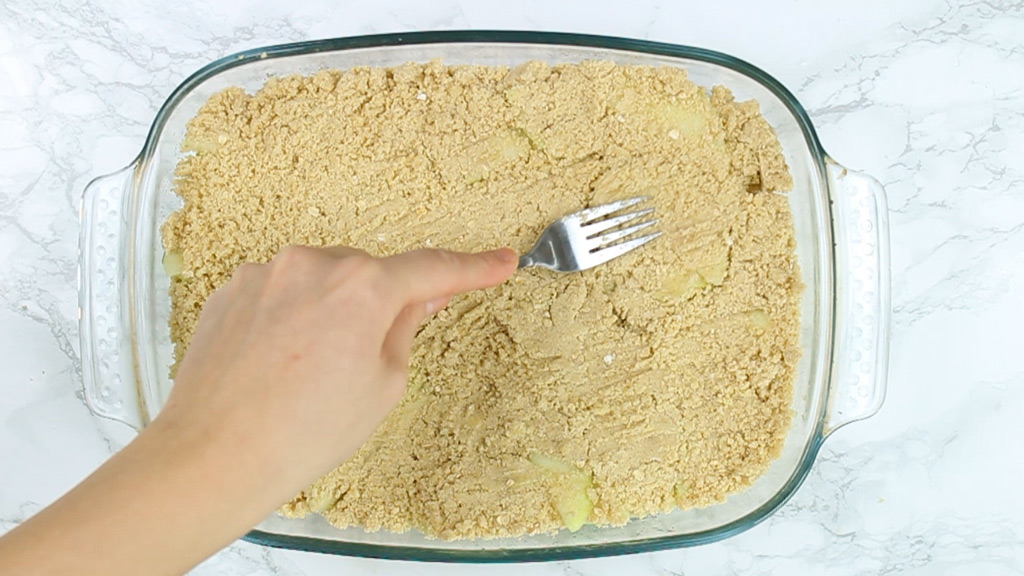 Step 8:
Pop it in the oven to bake for around 60 minutes. When it's done, the apple slices should be soft and releasing some of their juices.
Cut it into slices and enjoy!
What Is The Best Thing To Serve Vegan Apple Crumble With?
This apple crumble is delicious on it's own but I love pairing it with some of these goodies:
Like I said- hot fruit paired with ice cream is one of my favourite things. Some vegan-friendly ice-cream brands that I like are Swedish Glace and Sainsbury's Free From.
Coconut cream, squirty cream or single pouring cream- I love them all! My favourite squirty cream is by Food Heaven and my favourite pouring cream is from Alpro.
If you're interested in using coconut cream, you can use the whipped cream recipe that I used as part of my mini strawberry tarts.
Another classic! Does anyone else remember apple crumble and hot custard from their school meals? It was by far one of my fave desserts as a child!
Sadly, traditional custard usually has eggs and/or dairy in it. But I have a recipe for homemade vegan custard that takes just 5 minutes to make!
If you don't want to make your own, did you know that Bird's custard powder is vegan-friendly if you make it with plant-based milk instead of cow's milk? Alpro also have a dairy and egg free custard that you can buy ready-made and it's delicious!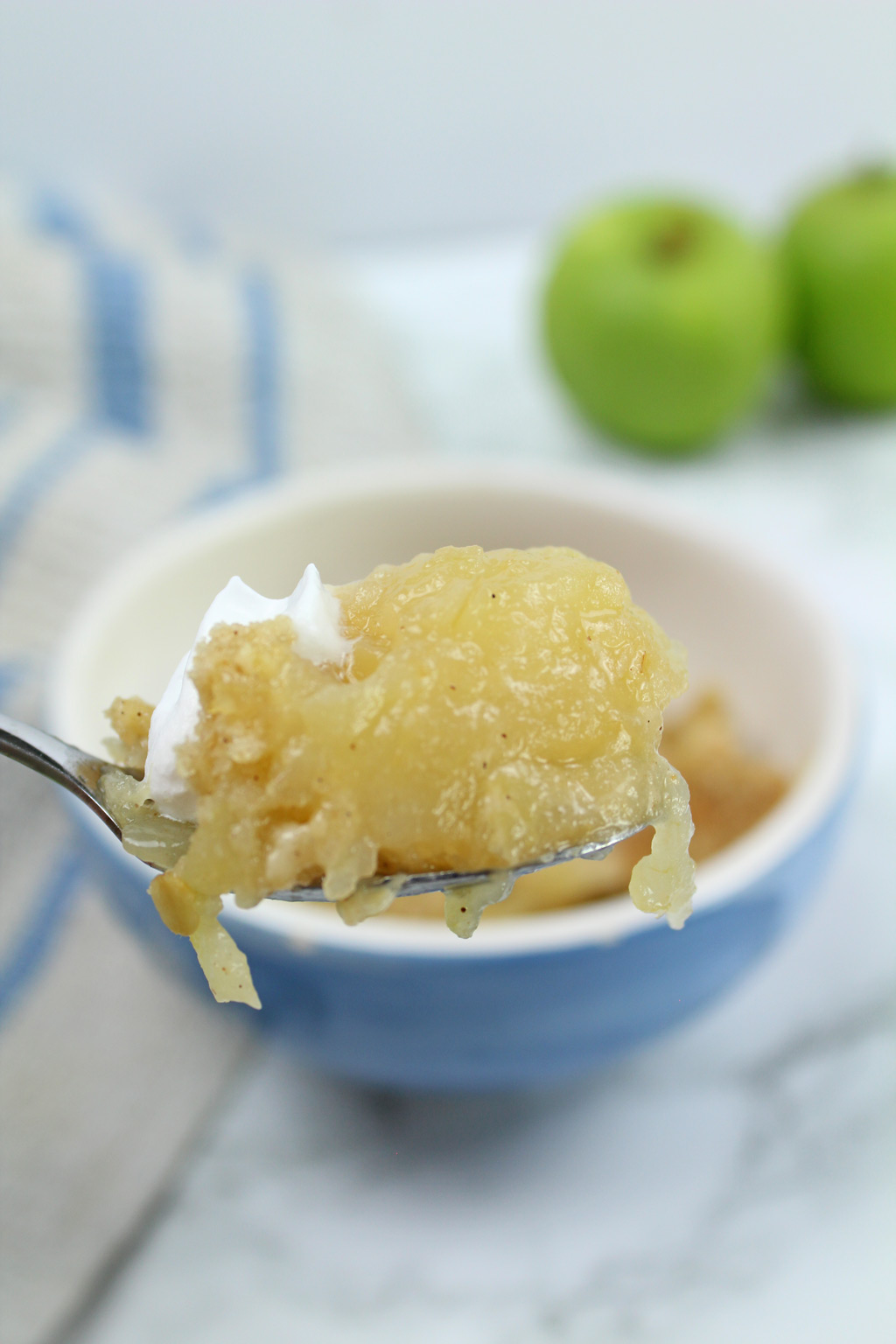 Can Vegan Apple Crumble Be Frozen?
Absolutely! I love to bake a large batch of this and keep in the freezer for the super chilly nights when my soul needs it the most.
If you want to freeze it before baking, follow the recipe instructions up until the baking point, then tightly wrap the whole thing in the dish and freeze for up to 2 weeks.
To freeze after baking, allow it to cool completely and either wrap the whole thing in the dish or transfer it to an airtight container. Freeze for up to two weeks.
To defrost vegan apple crumble, unwrap the dish (or transfer it from the airtight container onto a plate) and place it in the fridge for around 6 hours until it's fully thawed.
Once thawed, you can follow the rest of the recipe instructions to bake if you haven't already done so. If you have already baked it, you can pop it in the oven at 180C/ 350F for around 30 minutes to heat it back up again.
–
I hope you'll love this recipe as much as I do. If you make it yourself, please leave a rating or comment below to let me know how it went.
Happy baking! xo

Vegan Apple Crumble Recipe
A sweet, soft and crumbly apple dessert that's perfect for Autumn. Made without eggs or dairy!
Keyword:
vegan apple crumble
Ingredients
For the crumble mixture:
150

g

All purpose flour

(1 heaped cup)

90

g

Caster sugar

(⅓ cup)

1

Tablespoon

Soft brown sugar

1

Teaspoon

Ground cinnamon

1

Tablespoon

Rolled oats

(optional)

90

g

Vegan butter

(3/8 cup)
For the filling:
2

Very large

Bramley apples*

(around 600g after they've been peeled and cored)

2

Tablespoons

Caster sugar

1

Teaspoon

Lemon juice
Instructions
For the crumble mixture:
Preheat oven to 180°C / 350°F / 160°C fan / Gas mark 4. Have a 9-inch baking dish or pan ready that's at least 2-3 inches deep.

In a large bowl, mix together the flour, sugars, cinnamon and oats if using.

Add the butter and rub it in with your fingers until the mixture resembles breadcrumbs. Set the bowl aside while you prepare the apple crumble filling.
For the filling:
Peel and core the apples, then chop them into slices that are around half an inch thick.

Place the apple slices in a large bowl, add in the caster sugar and lemon juice and mix well to combine.

Transfer the apple slices to your baking dish and use the back of a spoon to gently spread them out.

Pour over your crumble mixture and use a fork to spread it evenly, then press it into place so it becomes slightly firm.

Bake for around 60 minutes until the apples are soft and producing juices.

Serve warm with vegan cream, ice cream or custard!
Recipe Notes
*You can sub Bramley apples for 4 regular sized Granny Smith green apples.
*Store covered in the fridge for up to 5 days.
Nutrition Facts
Vegan Apple Crumble Recipe
Amount Per Serving
Calories 150
Calories from Fat 36
% Daily Value*
Fat 4g6%
Sodium 5mg0%
Carbohydrates 25g8%
Protein 2g4%
* All values are an estimate only and will vary depending on the food brands used.