Last updated: 4th March 2019
This vegan sticky toffee pudding recipe is one of my favourite recipes EVER! It's a dark, decadent and rich sponge cake topped with a thick, sticky toffee sauce. It's great to warm you up on a cold night!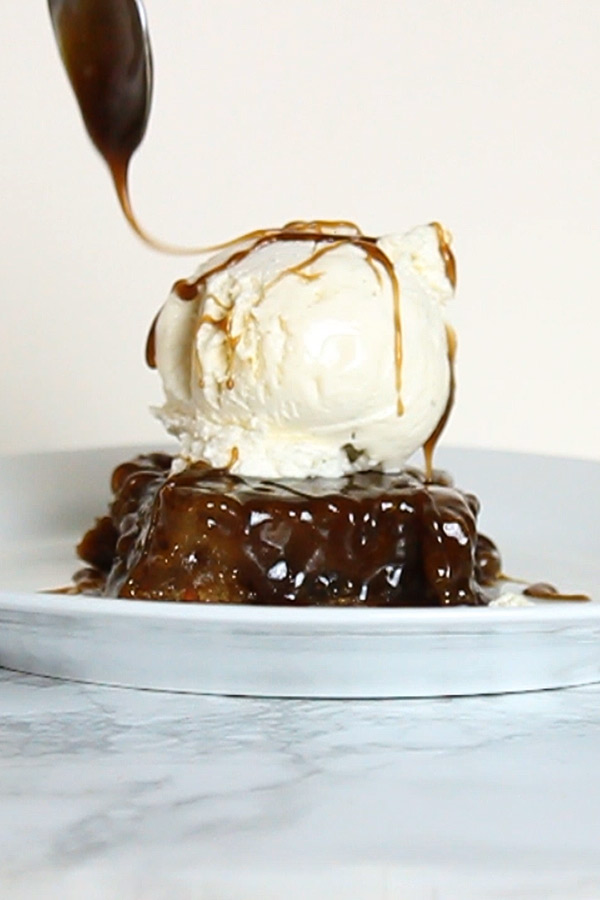 Sticky toffee pudding was the first thing I ever successfully veganised in my life. Up until then, I had tried, and failed (miserably), to veganise many desserts.
But this vegan sticky toffee pudding was the beautiful exception.
The recipe started out as a veganised version of an old cookbook recipe. It was pretty good to start with, but I've since altered it multiple times to make it even better!
The best vegan sticky toffee pudding recipe ever
Sticky toffee pudding is a traditional British dessert that is typically made with dates. It also contains lots of brown sugar to make a super-rich dessert.
But my favourite part about the pudding has always been the sauce. I would literally eat it straight from the dish with a spoon when I was growing up.
The sauce is traditionally made with sugar, butter, and double cream. But just switch the butter for vegan butter and the double cream for coconut cream, and you've got yourself a vegan toffee sauce!
Don't worry about the sauce tasting like coconut either. You can't taste it at all! The strong flavours from the brown sugar and butter overpower it.
You get all of the creaminess AND all of the toffee flavour!
Served warmed up with vanilla ice cream, vegan sticky toffee pudding is my, and many of my family members' favourite dessert ever! (My apple crumble pie comes a close second!)
How to make vegan sticky toffee pudding with dates
As I mentioned, dates are one of the key components to a traditional sticky toffee pudding. After preparing some flax "eggs", begin to pit and chop your dates.
Soak the chopped dates in some black tea. This helps to bring out the dark, rich flavours. Add your vanilla at this point too.
After the dates have soaked for 5 minutes or so, mash them up to make a sticky, clumpy mixture. This will be the base of your pudding!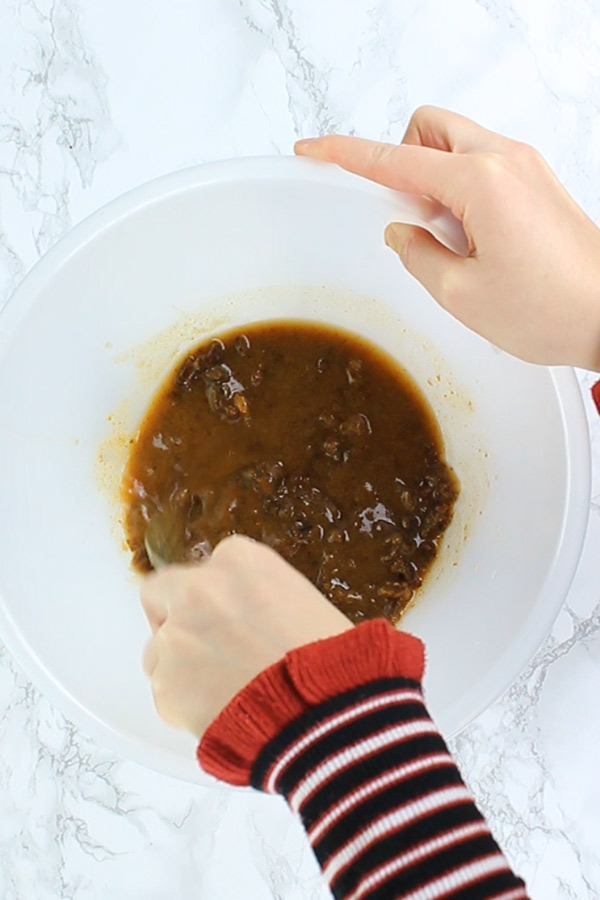 Next, in a separate bowl, "cream" the butter with the sugar. To cream basically means to just mix it very well, so that it becomes light and smooth.
This technique helps to add some air into the sponge cake. Because although it's a rich and moist dessert, you don't want the sponge itself to be too heavy.
Creaming the butter and sugar first also makes it easier to mix the rest of the ingredients together.
Once you've creamed the butter and sugar, add in your date mixture as well as the flax "eggs" from earlier and some agave syrup. Mix well.
Pour half of the flour into your mix and fold in gently. I like to do this by making a figure of 8 with my spoon or spatula.
Add the rest of the flour along with some baking soda and fold again.
Lastly, add some plant-based milk to make a silky-smooth sponge mix. Pour into a lined 23cm baking dish and bake at 180°C/ 350°F for 30 minutes.
Making sticky toffee pudding sauce
While the sponge is baking, prepare your toffee sauce by adding brown sugar and vegan butter to a pot over medium-high heat.
Stir until the butter melts and the sugar dissolves. It should look dark brown and runny at this point.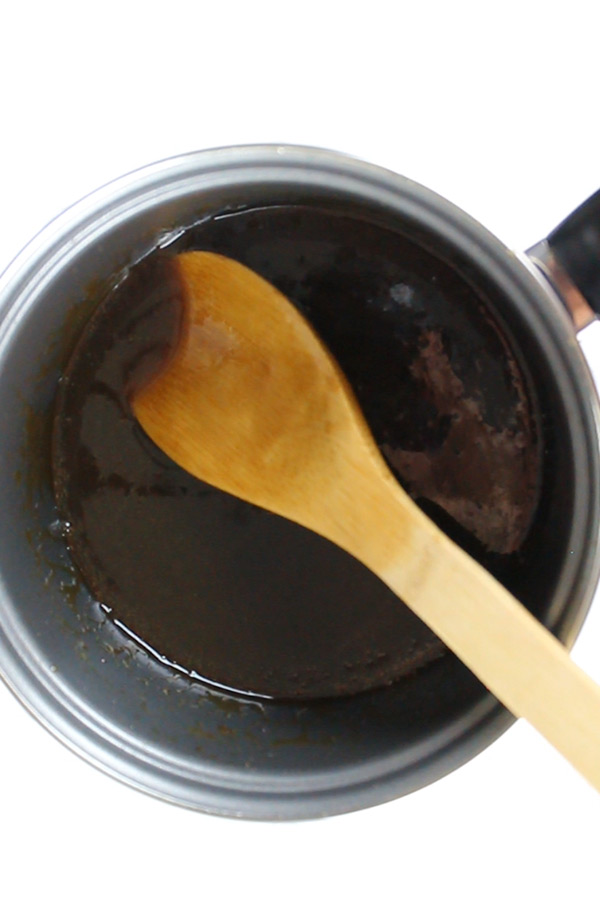 Next, add the coconut milk. You'll need to use full-fat canned milk for this and you want to make sure you only use the thick part from the top of the can. The watery part can be saved for another recipe.
Allow the coconut milk to melt into the sauce and turn the heat up high. Stir continuously until the sauce becomes slightly thick.
PLEASE resist the temptation to taste test the sauce at this point because you will end up with a burnt tongue.
Pour the sauce over the sponge immediately after it comes out of the oven. I recommend leaving about ¼ of the sauce to pour over just before serving.
If you plan on eating the pudding straight away, allow it to cool for 10-15 minutes first.
I personally like to let it cool completely in the dish to really let the toffee sauce penetrate the sponge. Then I just warm it up with a little leftover sauce when I'm ready to eat it.
ALSO- serving it with vanilla ice cream is highly recommended! My favourite vegan ice cream is Swedish Glace.
Can you freeze vegan sticky toffee pudding?
You absolutely can! Once you've made the pudding and poured the sauce over, leave it to cool completely and wrap the whole dish in clingfilm before freezing.
To defrost, remove the clingfilm and leave at room temperature until completely thawed.
Reheat (if desired) in the oven at 170°C / 340°C for 20 minutes or so, until warm.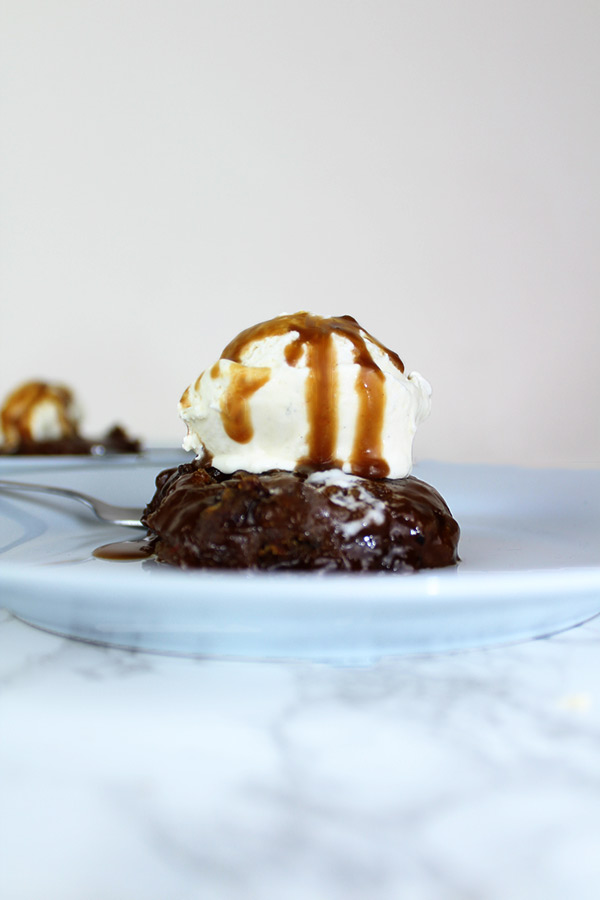 I hope you get the chance to try this vegan sticky toffee pudding recipe for yourself. If you do, please leave a review or a comment to let me know how you like it!
Happy baking!
xo

Vegan Sticky Toffee Pudding Recipe
A rich, dark sticky toffee pudding recipe made with dates and brown sugar for extra indulgence!
Ingredients
2

Tablespoons

Ground flaxseeds

6

Tablespoons

Water

230

g

Chopped pitted dates

(1+⅓ cups)

180

ml

Black tea

(¾ cup)

1

Teaspoon

Vanilla essence

85

g

Vegan butter

(¼ cup + 1 tablespoon)

150

g

Soft brown sugar

(¾ cup, packed)

2

Tablespoons

Agave, maple or date syrup

180

g

Self-raising flour

(1+½ cups)

1

Teaspoon

Baking soda

4

Tablespoons

Almond milk

(or other plant-based milk)
For the sticky toffee sauce:
85

g

Vegan butter

(¼ cup + 1 tablespoon)

150

g

Soft brown sugar

(¾ cup, packed)

1

can

Full-fat coconut milk

(the thick, solid part only)
To top (optional)
2

Tablespoons

Chopped dates
Instructions
Preheat oven to 180°C/ 350°F and line a 9" rectangular baking dish.

Mix the flaxseeds with the water and set aside.

In a bowl, pour the tea over the chopped dates and add the vanilla. Leave to soak for 5 minutes then mash with a fork to make a lumpy, sticky mixture.

In a separate bowl, cream the butter and sugar. Add the date mixture and flax mixture from earlier, and the syrup. Mix well.

Add half of the flour and fold in gently.

Add the other half of the flour plus the baking soda and fold in again.

Add your milk of choice and fold in to make a smooth batter. Pour into your lined tin and bake for 30 minutes. Prepare the sauce in the meantime.
For the sticky toffee sauce
Add the butter and sugar to a pan over on medium-high heat. Stir often until the sugar has completely dissolved into the butter.

Add the coconut cream and stir continuously until the sauce becomes slightly thick. Pour the sauce over the sponge as soon as it comes out of the oven, leaving a little aside for serving.

Allow to cool for at least 10 minutes. Serve with vanilla ice-cream and chopped dates if desired.
Recipe Notes
*If your serving sauce becomes a little thick when cool, add a splash of boiling water to make it runny again.