30 BEST Vegan & Gluten-Free Christmas Cookies
If you're looking for some new vegan & gluten-free Christmas cookies to try this year, you've come to the right place! This post contains 30 festive recipes that are suitable for the whole family.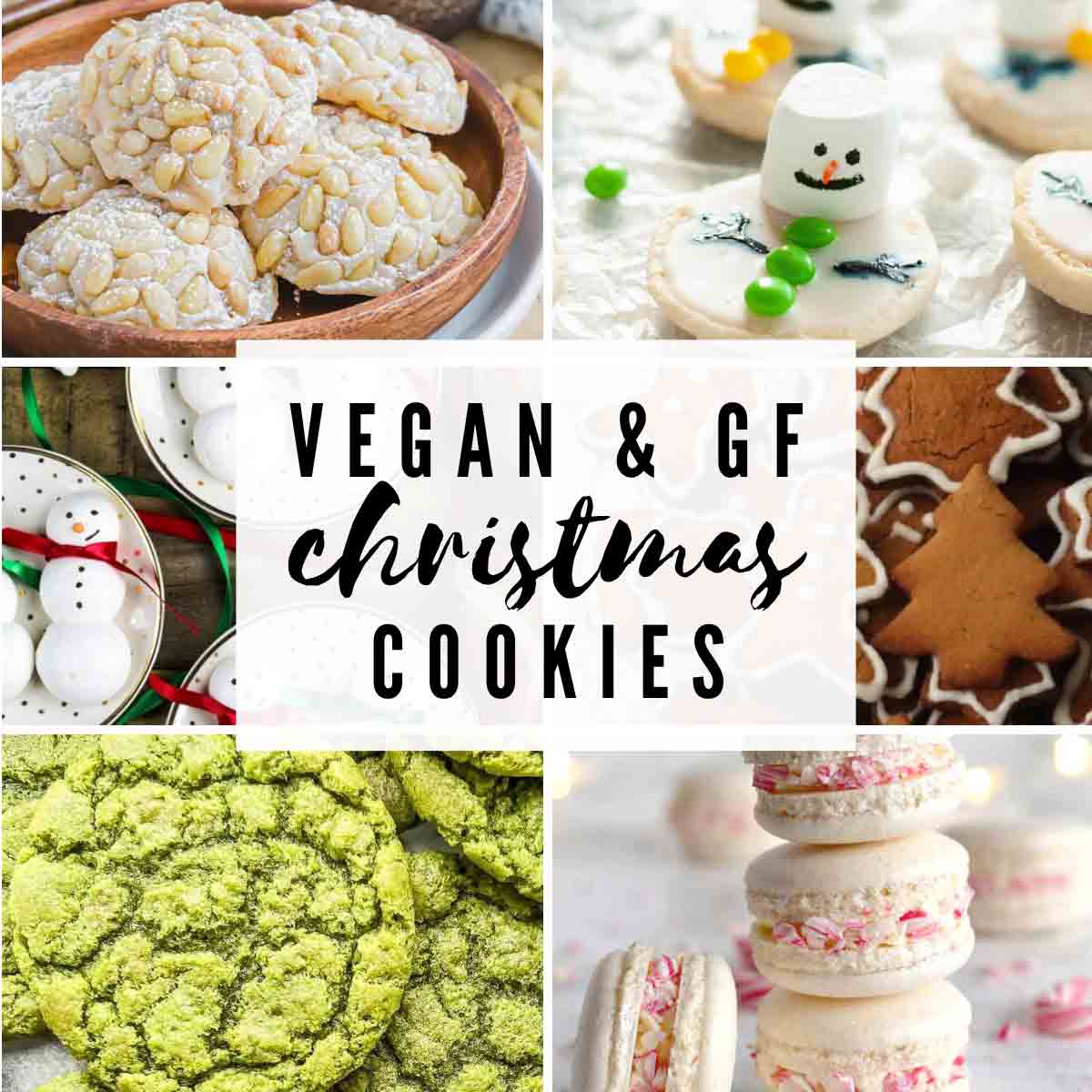 The festive season is all about spreading joy, and what better way to do that than by sharing some homemade cookies? But if you or your loved ones have dietary restrictions, the quest for the perfect Christmas cookie recipe can be daunting.
Last year, I got asked by quite a few of my readers if I had any vegan and gluten-free Christmas cookies. And while I do have a couple of gluten-free recipes that turned out nice, baking with gluten-free flour is definitely not a strong point of mine.
So to save any kitchen failures this Christmas, I teamed up with some other food bloggers to share only the BEST vegan and gluten-free Christmas cookie recipes. Baking without eggs, dairy or wheat may seem like a tricky task but these recipes prove that it's entirely possible.
The best vegan & gluten-free Christmas cookies
There's a variety of different cookie flavours in this recipe round-up so there should be something to suit everyone's tastebuds- everything from simple gingerbread cookies to Italian pignoli cookies. I hope you enjoy!
Crunchy Christmas biscuits made with warming spices and brown sugar. Cut them out into any shape you like then use icing to decorate and add a little extra sweetness.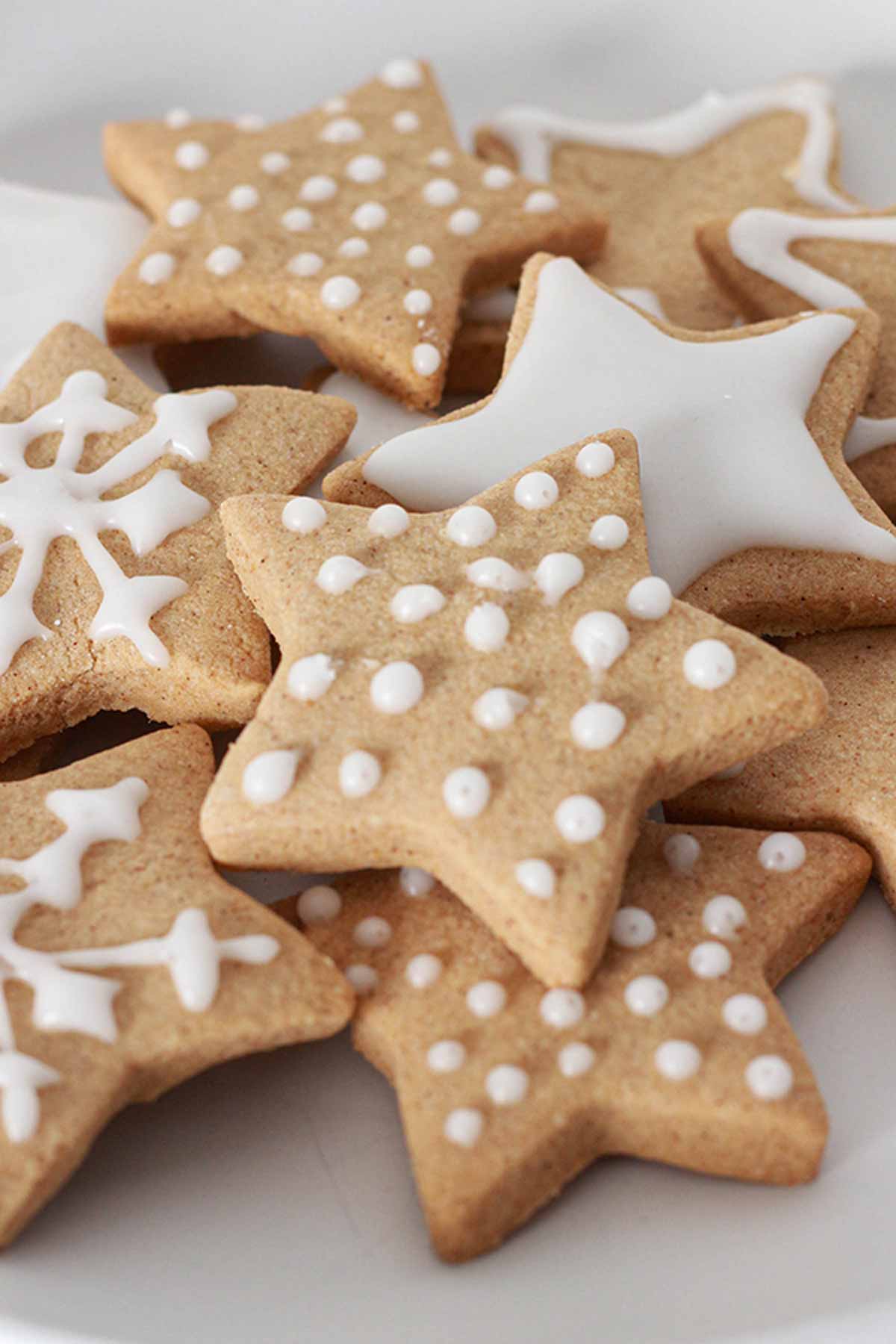 Soft, chewy cookies with crispy edges, packed full of macadamia nuts and dairy-free white chocolate chips. An easy, beginner-friendly recipe that produces perfect cookies every time.
These peppermint macarons are made with aquafaba instead of egg whites but you'll never be able to tell the difference! Roll them in some crushed candy cane pieces for a festive look and flavour.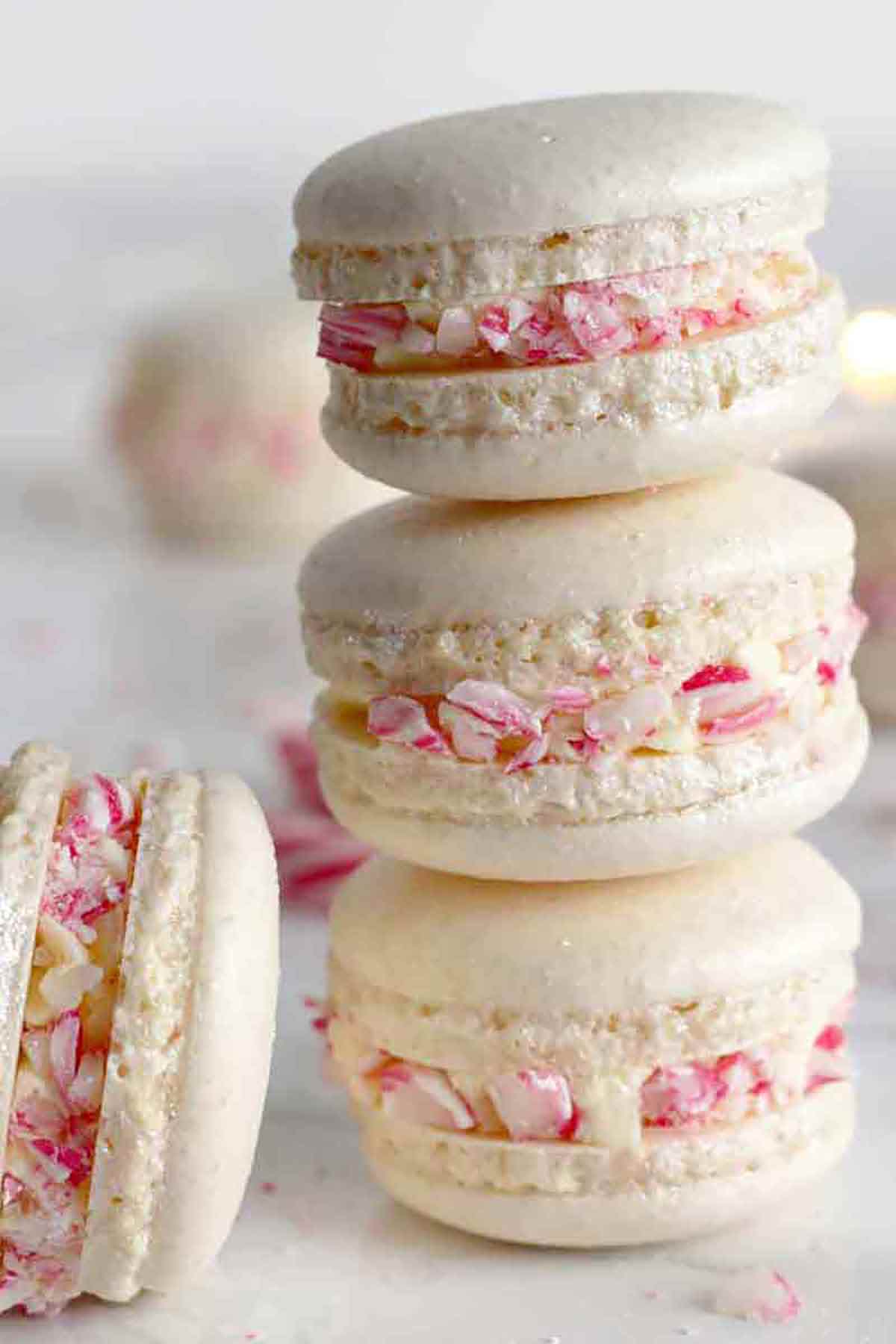 A classic Christmas cookie made vegan and gluten-free! Soft, buttery shortbread cookies filled with jam and topped with icing sugar.
Crispy meringue cookies decorated to look like snowmen! These vegan and gluten-free Christmas cookies would make an adorable addition to your next Christmas cookie exchange.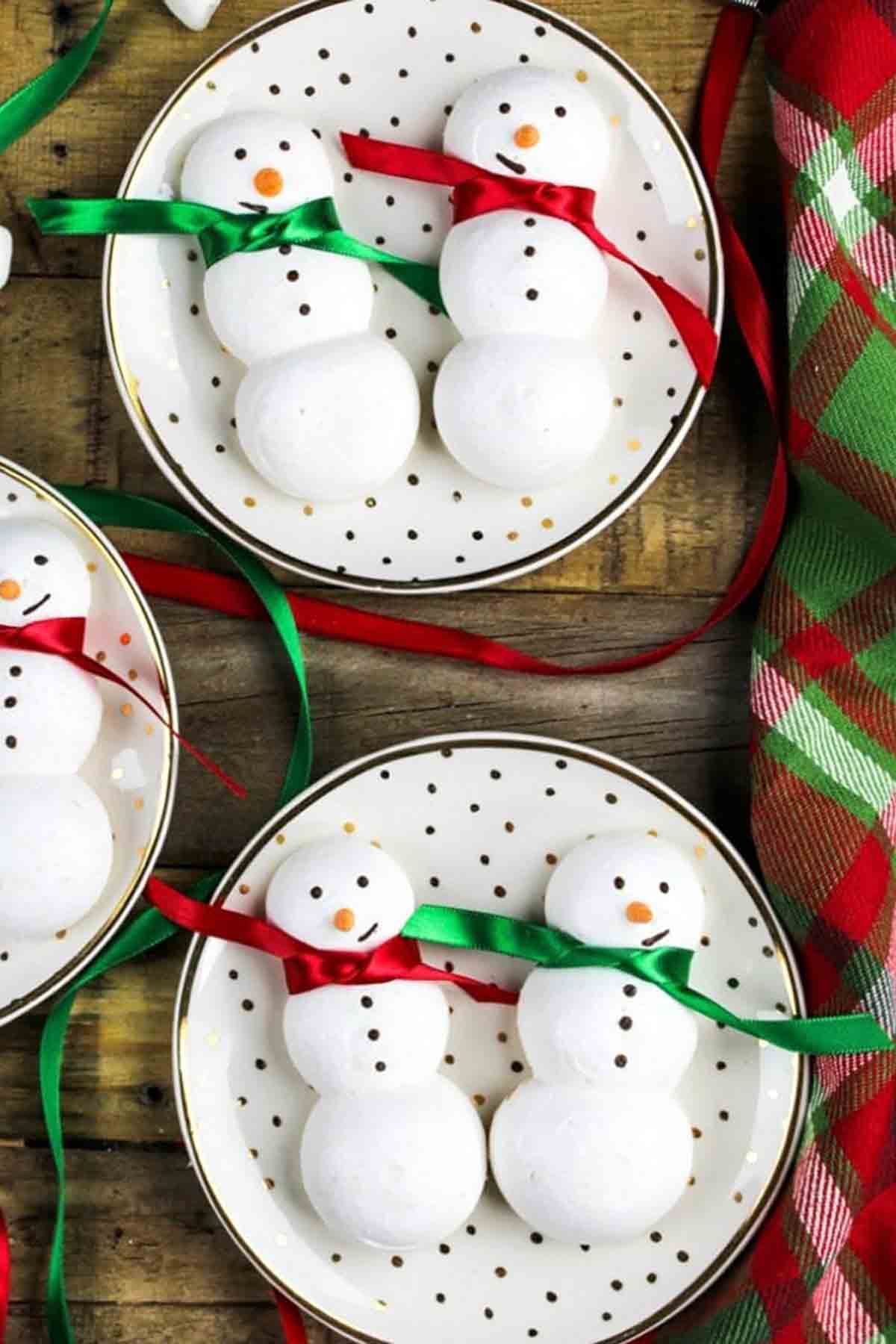 These snickerdoodles are soft and chewy with a tender, buttery bite. You only need 8 simple ingredients and 10 minutes to make them!
The vibrant green matcha cookies are perfect for all the Grinch lovers out there! They're chewy, sweet, and rich, with that classic earthy match flavour.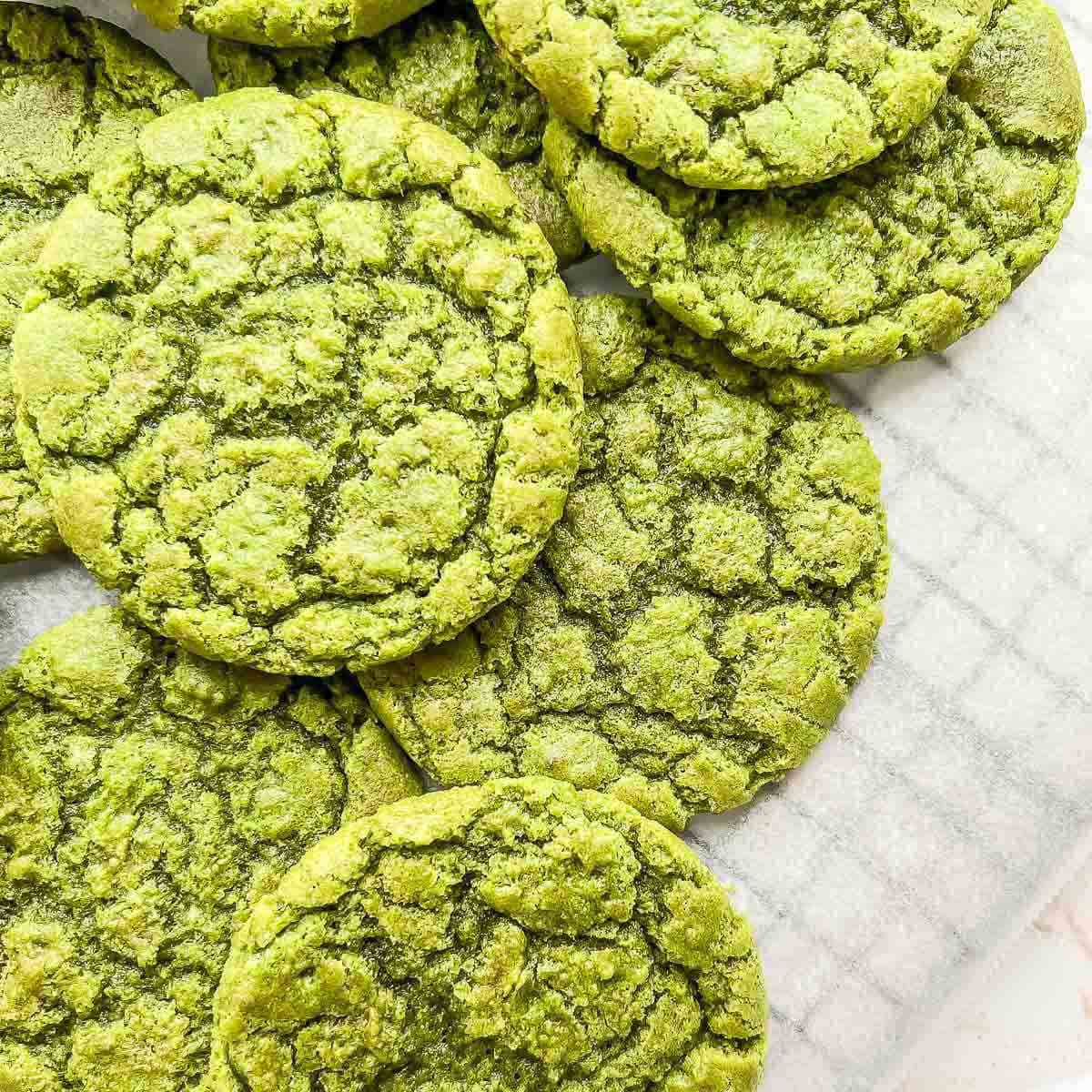 These gingersnap cookies are crispy on the inside with a tender, chewy centre. A comforting dessert filled with warming spices.
How cute are these melted snowman cookies? The recipe is made up of basic sugar cookies, vegan royal icing, veggie marshmallows, and a few extra decorations.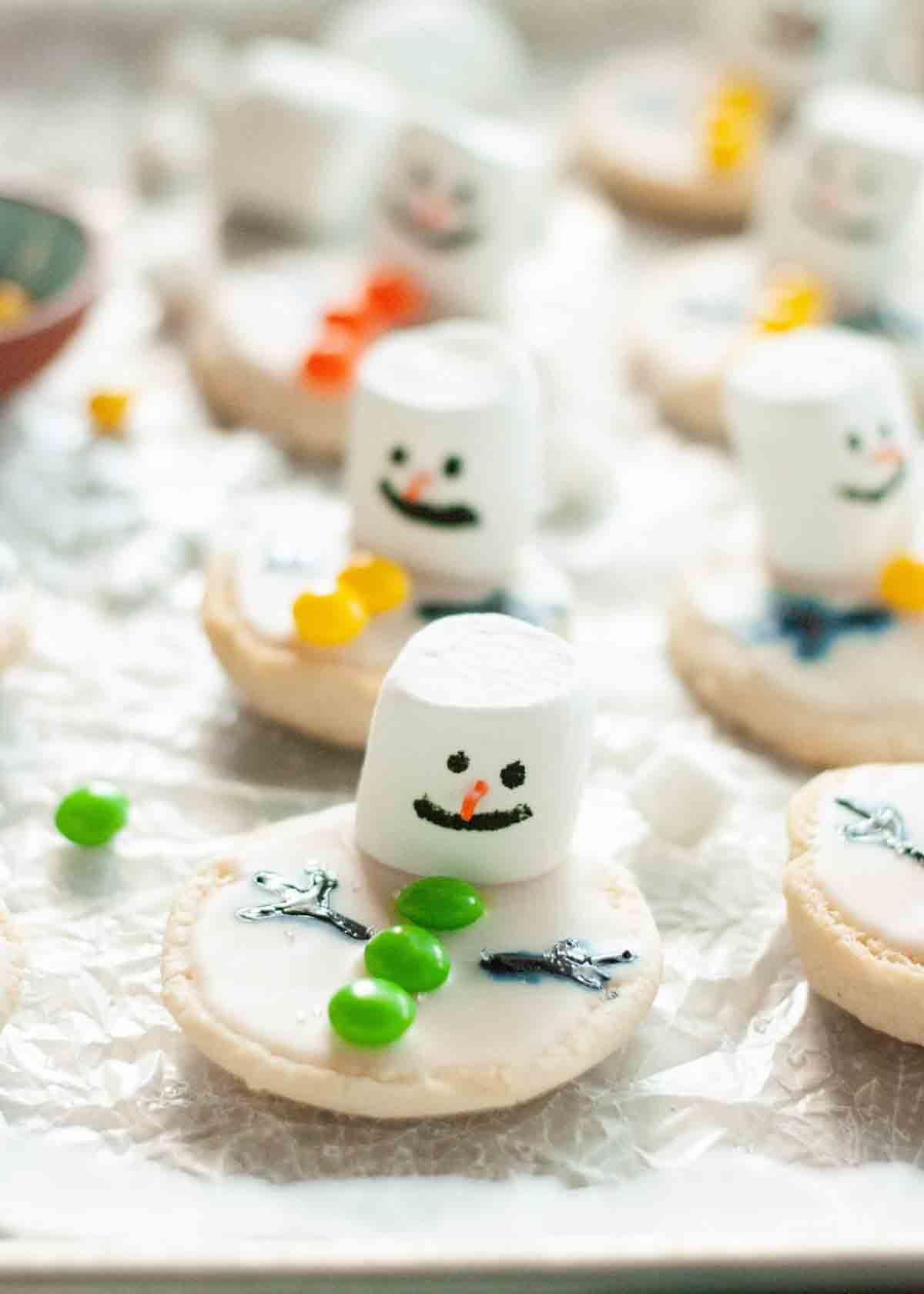 Light and fluffy cookies with a cinnamon filling and a drizzle of vanilla icing. These are grain-free, paleo and refined sugar-free as well as vegan and gluten-free!
These cookies are free from the top 8 allergens but you'd never be able to guess! Chocolate peppermint cookies are dipped in dairy-free white chocolate and finished with a sprinkling of crushed candy canes.
If Indian masala chai and oatmeal cookies had a baby, you'd get these chewy chai-spiced cookies. They make a great healthy treat that's sure to be popular with friends and family.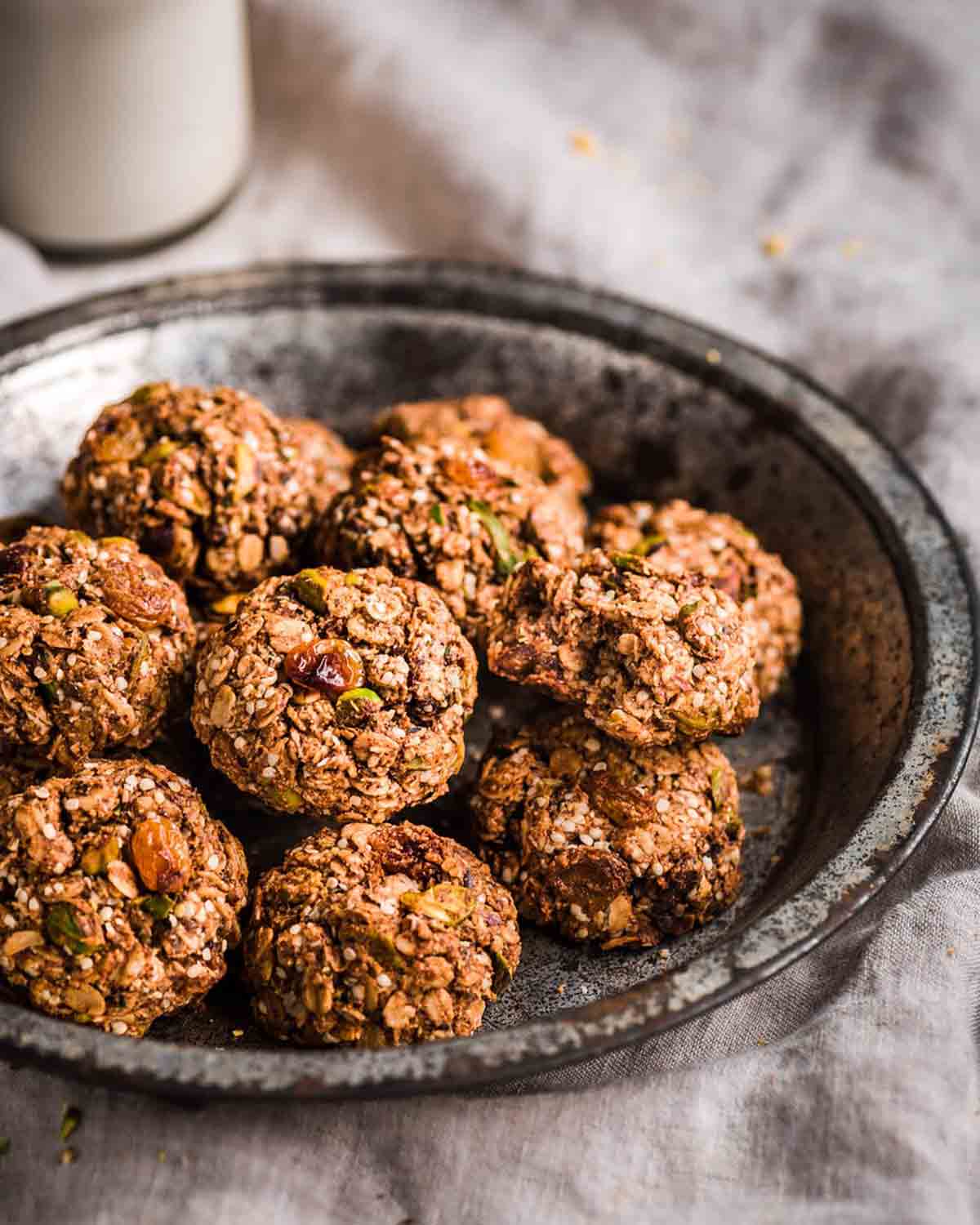 Related posts:
Like this post? Check out these:
You can make these vegan almond cookies with just 5 ingredients. They look and taste just like traditional almond cookies but there are no egg whites needed.
A gluten-free, vegan spin on a traditional Christmas cookie. They're so easy to make and incredibly soft and chewy.
Blackstrap molasses and winter spices give these cookies their iconic gingerbread flavour. They're delicious and nutritious, meaning you can enjoy a sweet treat and nourish your body at the same time.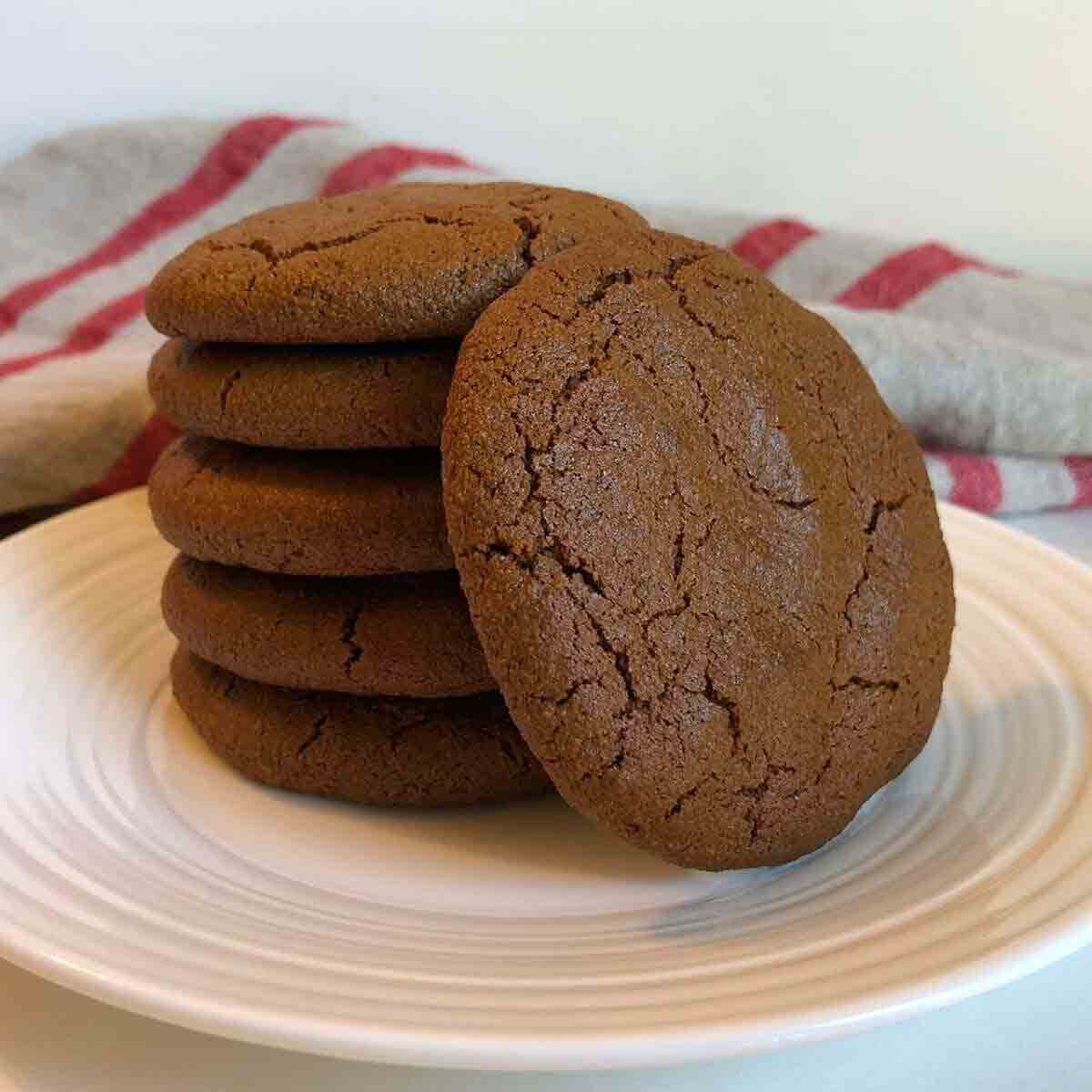 Crisp, crumbly cookies made with walnuts, cinnamon and maple sugar. Ready to eat from scratch in just 1 hour.
These candy cane chocolate chip cookies are sure to be a hit this Christmas. Thick, bakery-style cookies with a soft and chewy centre.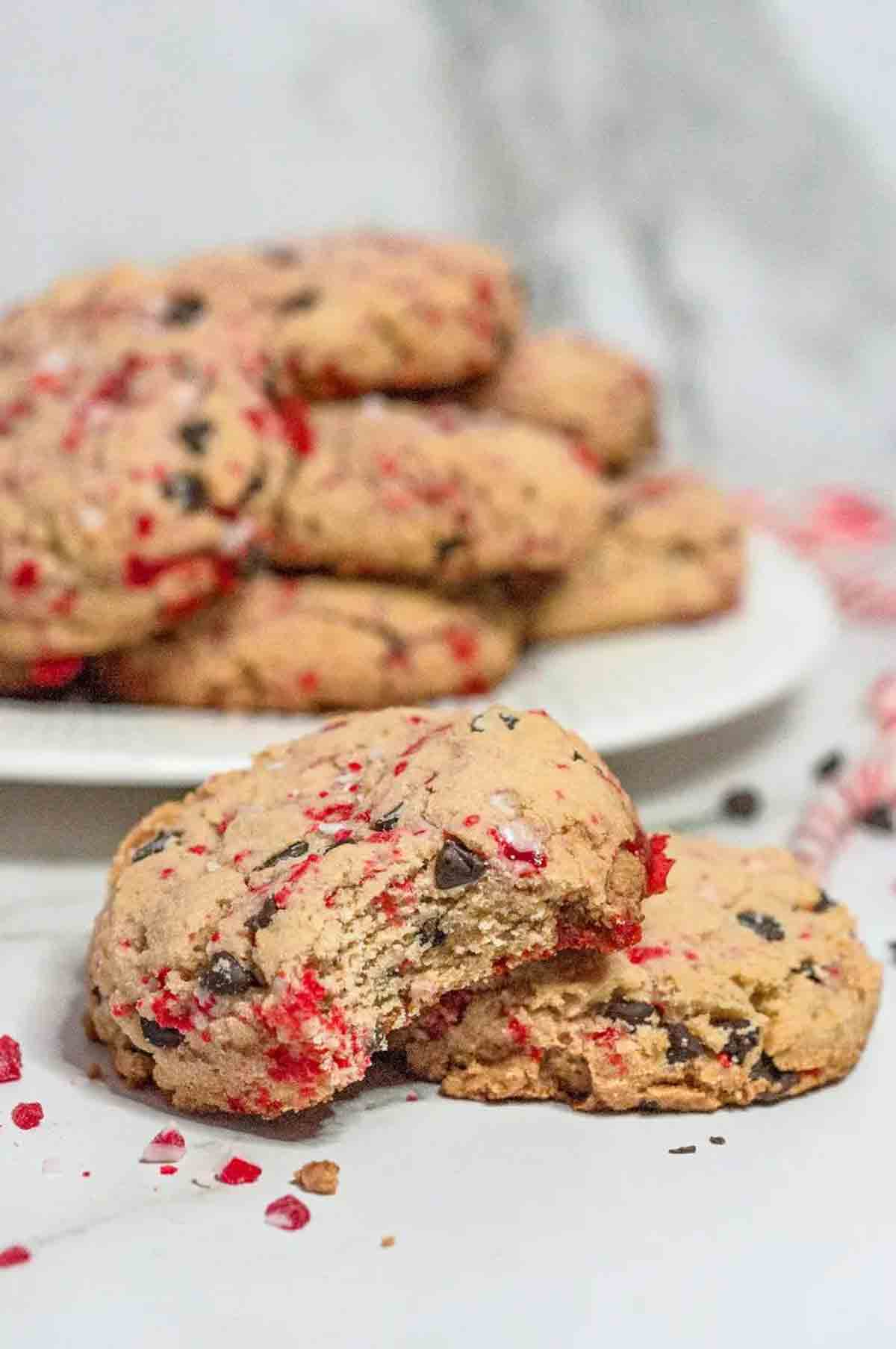 Another shortbread recipe but this time, flavoured with ginger! These are great enjoyed as is or you can dip them in some vegan chocolate for extra deliciousness.
Crispy gingerbread cookies that you can roll out and cut into any shape you like. Great for Christmas baking with kids!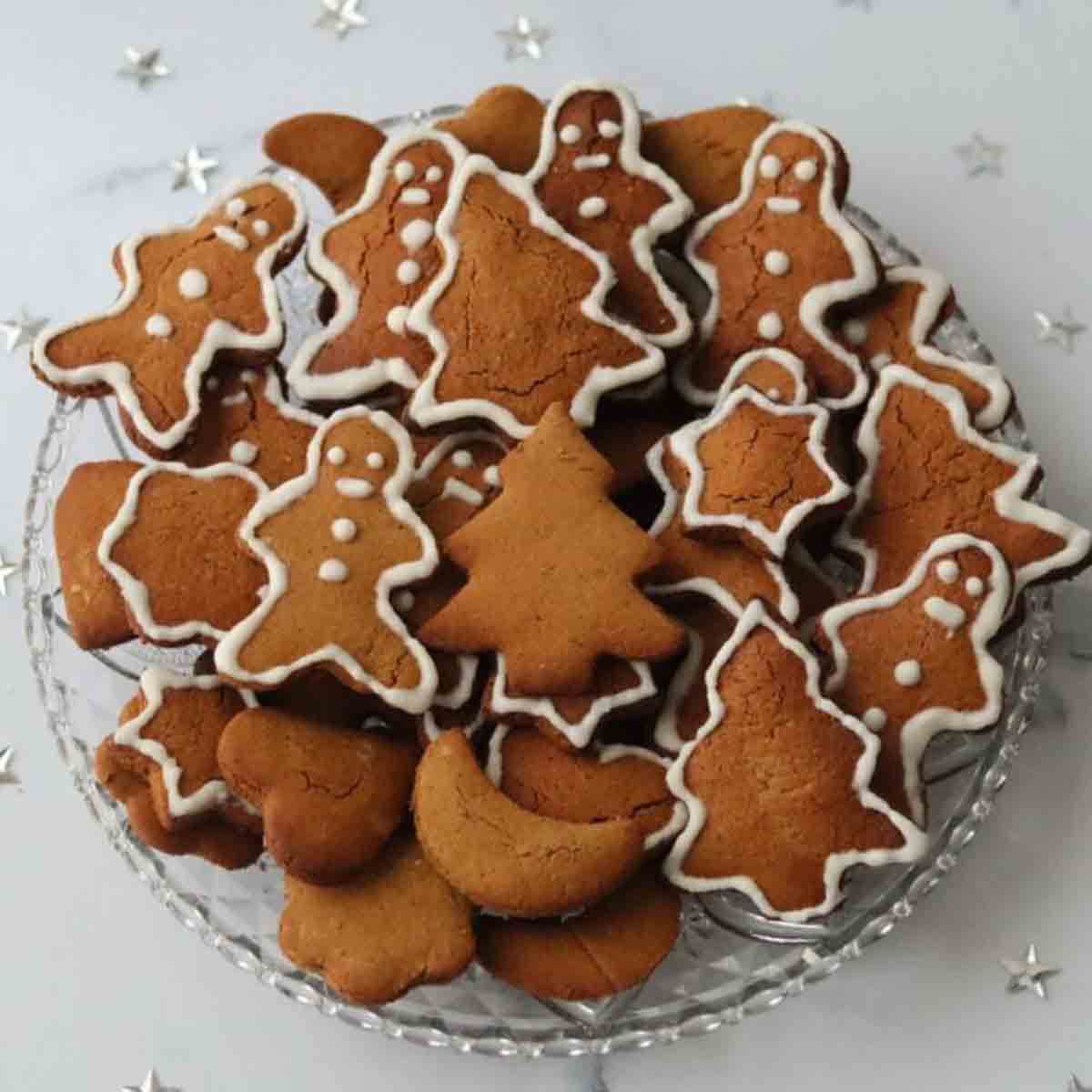 Light and buttery shortbread cookies packed with cranberries and pistachios. Made with just 6 basic ingredients and they're grain-free!
These cookies are a unique alternative to boring old shortbread! Matcha tea-infused buttery shortbread cookies dipped in salted dark chocolate. Yum!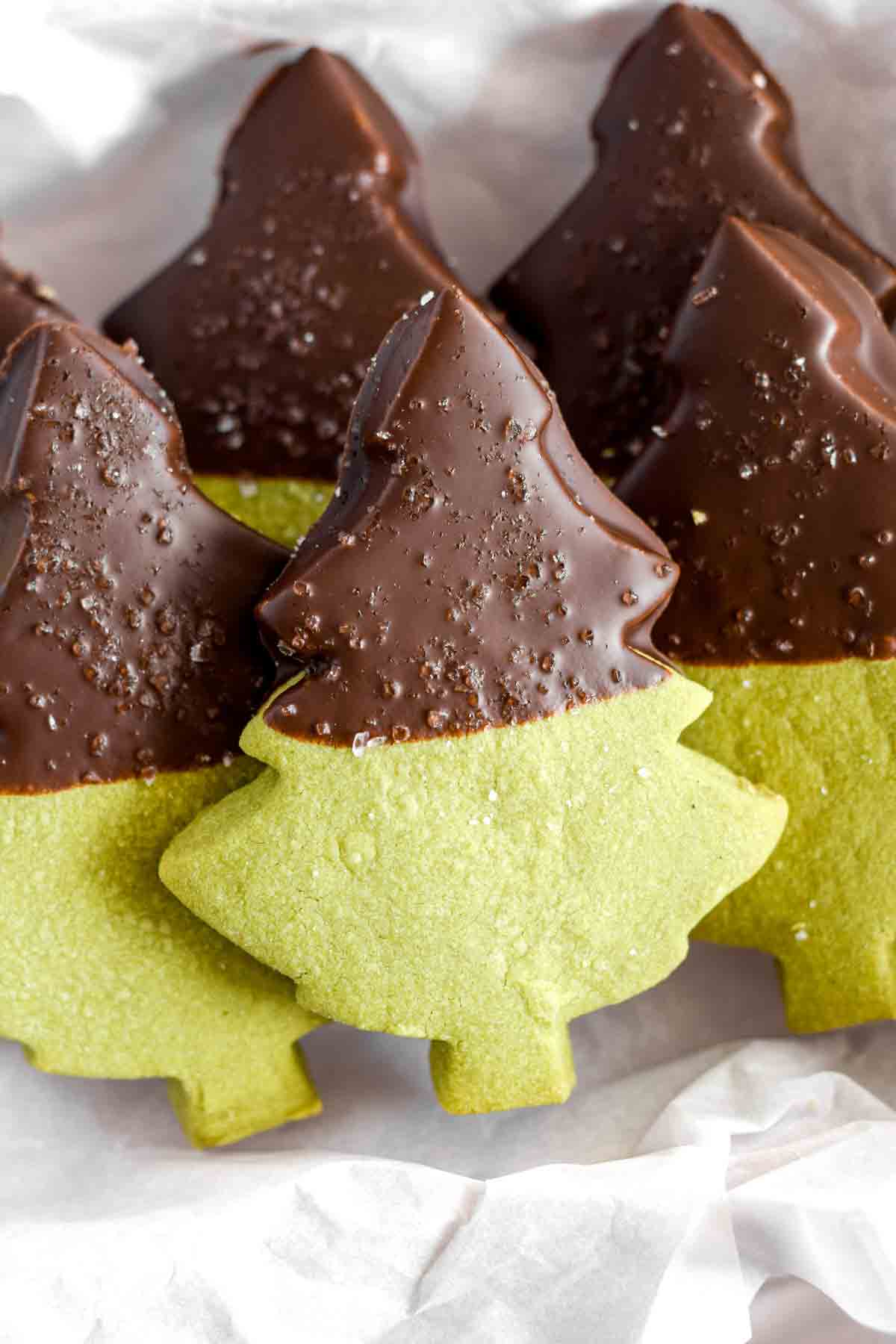 These soft, chewy cut-out cookies are great for Christmas and they're super easy to make. The recipe uses natural sweeteners such as coconut sugar, applesauce, and maple syrup,
Just like the classic soft sugar cookies you might remember but gluten-free and totally vegan. Top them with icing and sprinkles for a treat that both adults and kids will love.
Perfectly soft cookies with zesty orange icing. These are great for gift-giving and even better for a Christmas cookie exchange!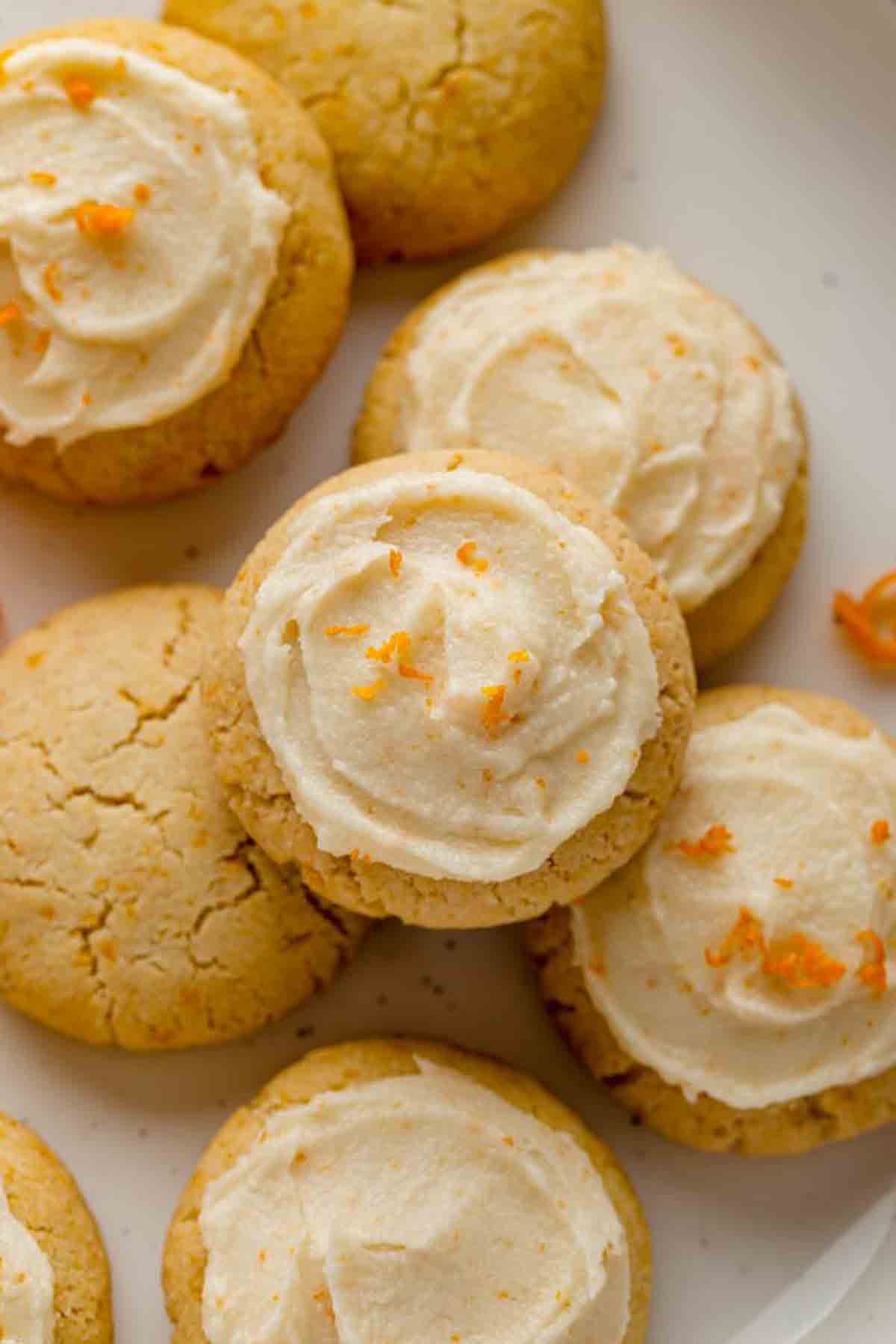 These are just like traditional almond crescent cookies but they're grain-free and sugar-free. They melt in your mouth and are full of buttery, nutty flavour.
Green tea flavoured cookies paired with creamy dairy-free white chocolate chips. They're made with wholesome ingredients and are ready to eat in only 20 minutes.
Can't eat peanut butter cookies? Try these tasty coconut almond butter cookies instead. Delicious served with a glass or almond milk or a hot cup of tea.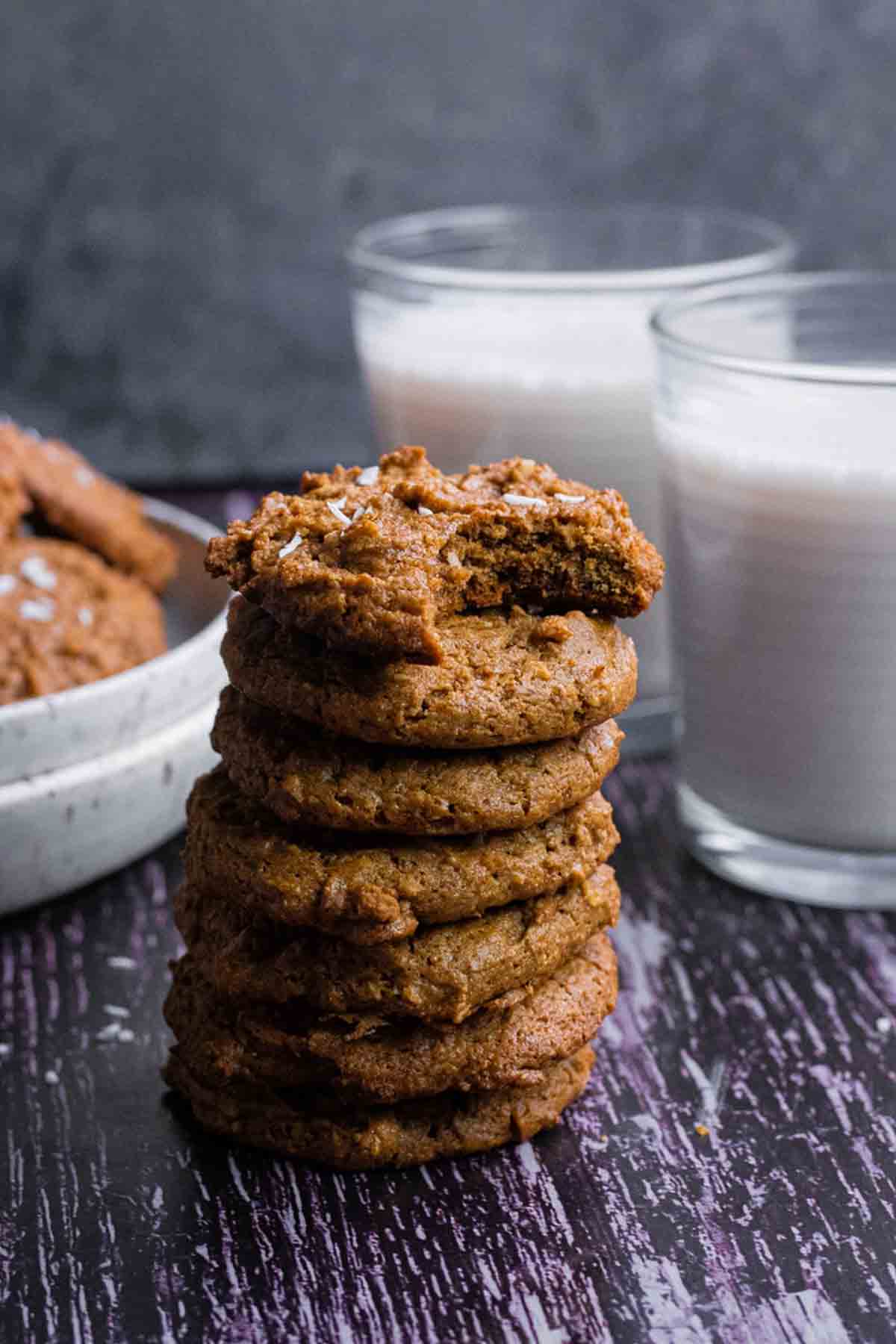 Just like the classic pecan pie but in cookie form! Bursting with nutty flavour, these are unique cookies that you'll want to make again and again.
I couldn't make a vegan and gluten-free Christmas cookies post without an oatmeal cookie recipe! With hints of cinnamon and vanilla and a chocolatey punch, these cookies are the perfect way to satisfy your sweet tooth.
An Italian classic made vegan with the help of aquafaba! Deliciously chewy almond-flavoured cookies with pine nuts on top.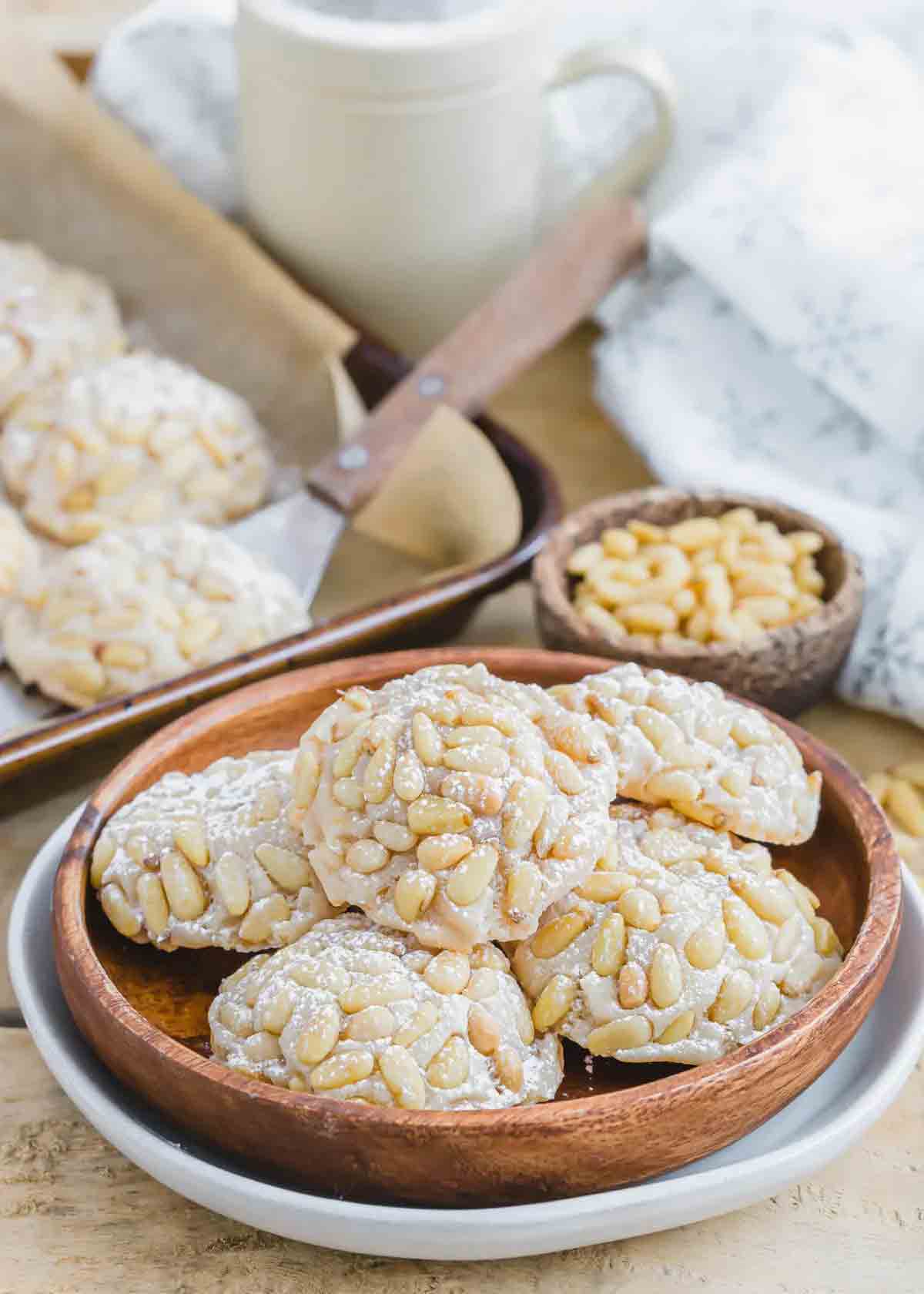 That's all for now! I hope you have fun baking these vegan & gluten-free Christmas cookies! If you find this post useful, please give it a share using the share buttons on this page. Enjoy! xo

30 Festive Vegan & Gluten-Free Christmas Cookies
The best Christmas cookies without gluten, eggs or dairy.
BakedByClo is a participant in the Amazon Services LLC Associates Program, an affiliate advertising program designed to provide a means for sites to earn advertising fees by advertising and linking to Amazon.com. This site may contain some of these links to Amazon.com & other affiliate programs. If you make a purchase through one of those links, BakedByClo will receive a small commission from the purchase at no additional cost to you.