Vegan Dutch Apple Pie
First published: February 12th 2019 – Last updated: 11th February 2020
You're going to LOVE this vegan Dutch apple pie with crumb topping. It's a sweet, tangy, buttery pie covered in a crunchy, cinnamon flavored streusel top. A classic, warming recipe that will help get you through the rest of winter!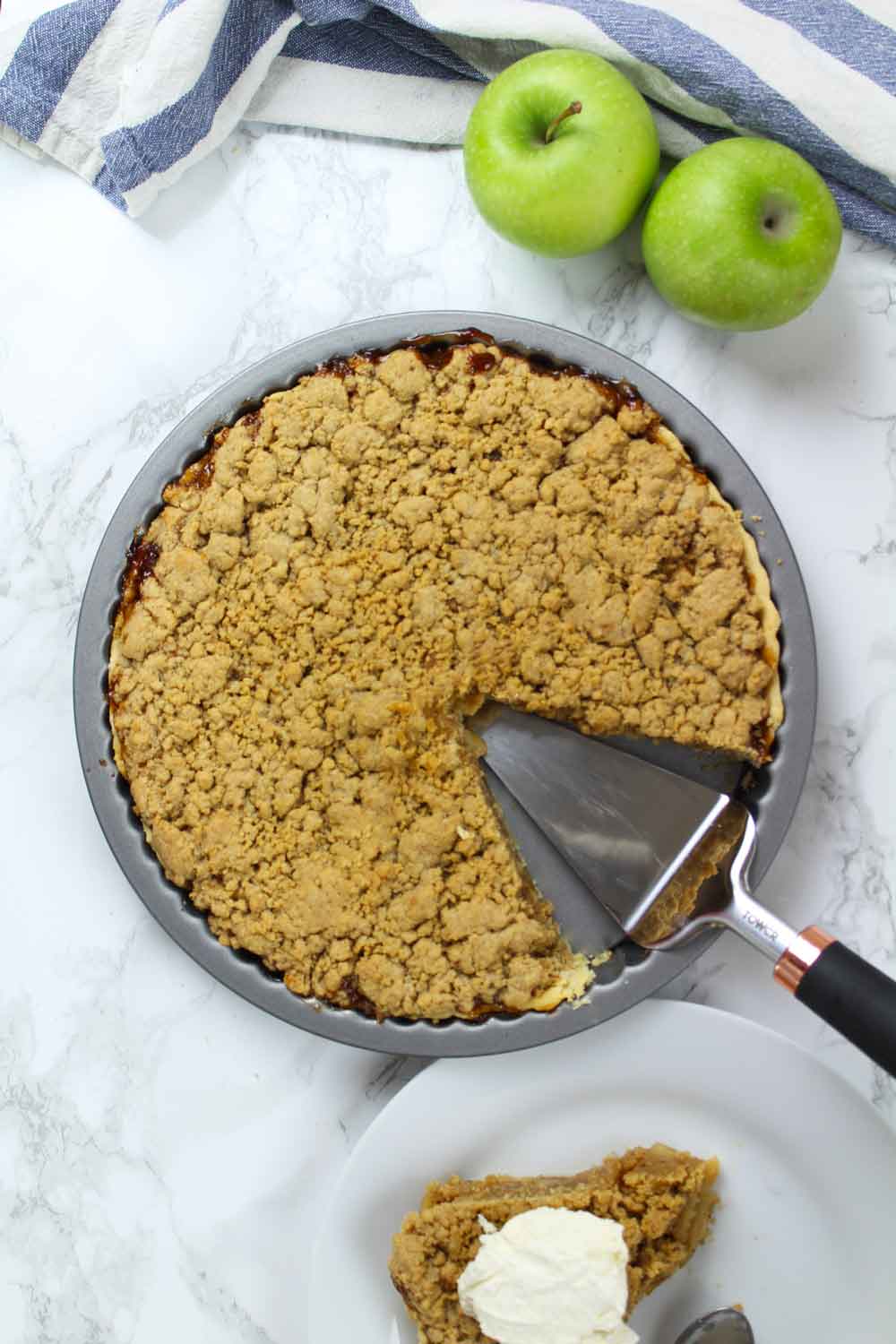 Does anyone else struggle with that awkward period between the beginning of January and the end of March?
The excitement of Christmas and New Year is gone. But the weather outside is still cold and miserable, and there's not much to look forward to except the countdown to Spring.
Do you know what helps me get through it? This vegan apple crumble pie recipe.
It's so sweet and satisfying, and I love the combo of warm fruit and cold ice cream. It's true winter comfort food.
Looking for more vegan dessert recipes?
To be honest, I've never really considered having or making a vegan apple crumble pie. I always thought it had to be one or the other- either apple pie OR apple crumble.
But I can confirm that combining the two results in the best dessert EVER.
You start with a layer of pastry on the bottom, fill it with a sweet apple mix then finish it off with lots of crumbly cinnamon topping.
Now, I'm not (and never have been) Dutch so my recipe might not be 100% the traditional way. But this is my own interpretation, and in my humble opinion, it is fantastic.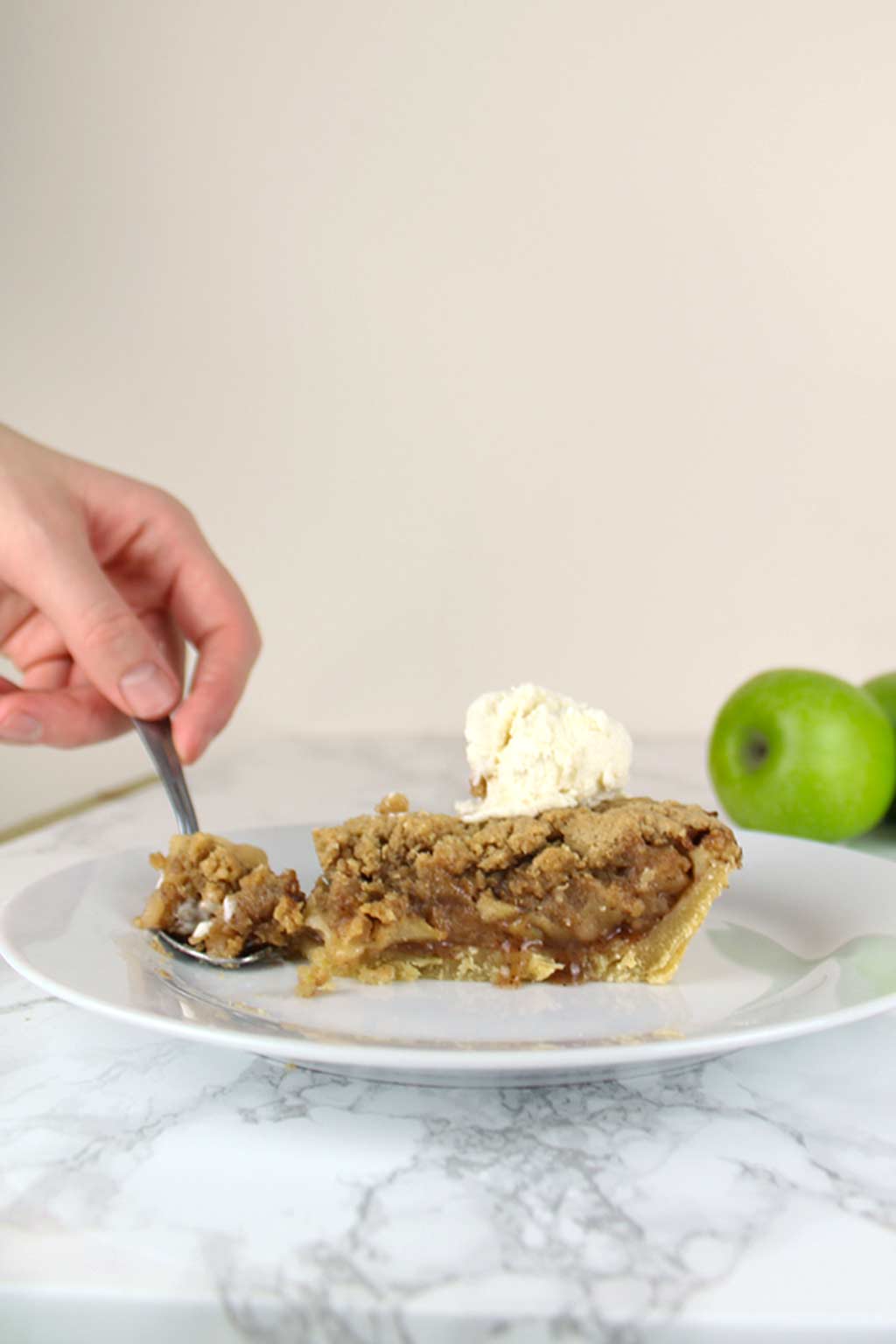 How To Make Vegan Dutch Apple Pie
The first step to make apple crumble pie is preparing the pastry. The following pastry recipe has never failed me but if you'd prefer, you can also use ready-to-roll pastry to save yourself time.
By simply switching dairy butter for vegan butter, this whole recipe becomes vegan-friendly in an instant! Most ready-to-roll pastries are suitable for vegans too- just check the packaging before you purchase.
Step 1: Make (or buy) your pastry
Measure out 200g (1+2/3 cups) of all-purpose flour and place it into a large bowl. Then add 120g (1/2 cup) of COLD vegan butter and rub it into the flour until it resembles breadcrumbs and there are no large lumps left.
It's important that the butter is cold here. Otherwise, it won't rub into the flour and instead will become a sticky mess.
Step 2:
Now add in some cold water- I'd recommend starting with 2 tablespoons and adding an extra 1 tablespoon if you need it.
Mix the water into the flour mixture using a spoon until it starts to stick together. Then use clean hands to push it together into a firm dough.
When your pastry dough is done, you'll need to put it in the fridge to chill for around 30 minutes. This will make it more "sturdy" and easier to roll.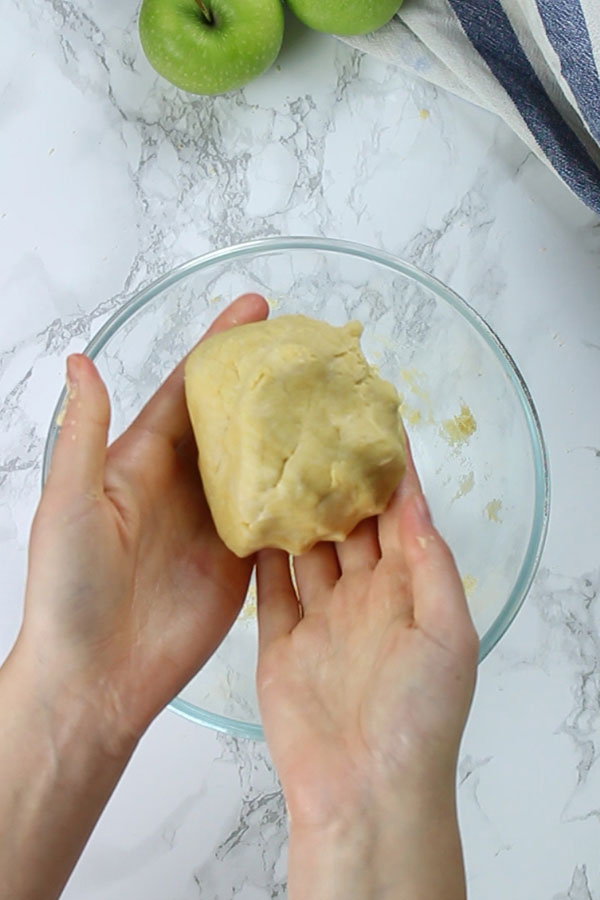 Step 3:
Once the dough has chilled for 30 minutes, remove it from the fridge and knead it lightly. This will help bring it back to room temperature and prevent cracks from forming when you roll it.
Be careful not to overdo the kneading, otherwise the pastry will end up being really tough and chewy when it's cooked.
Step 4:
Roll the dough out to fit an 9-inch pie dish, then flute the edges using your fingers. I used a tart/flan tin to make this part easier.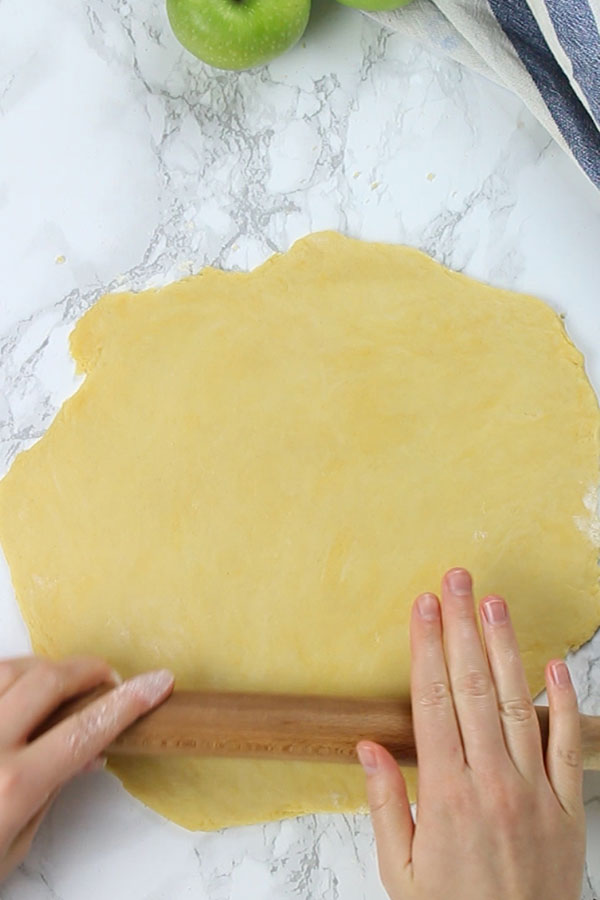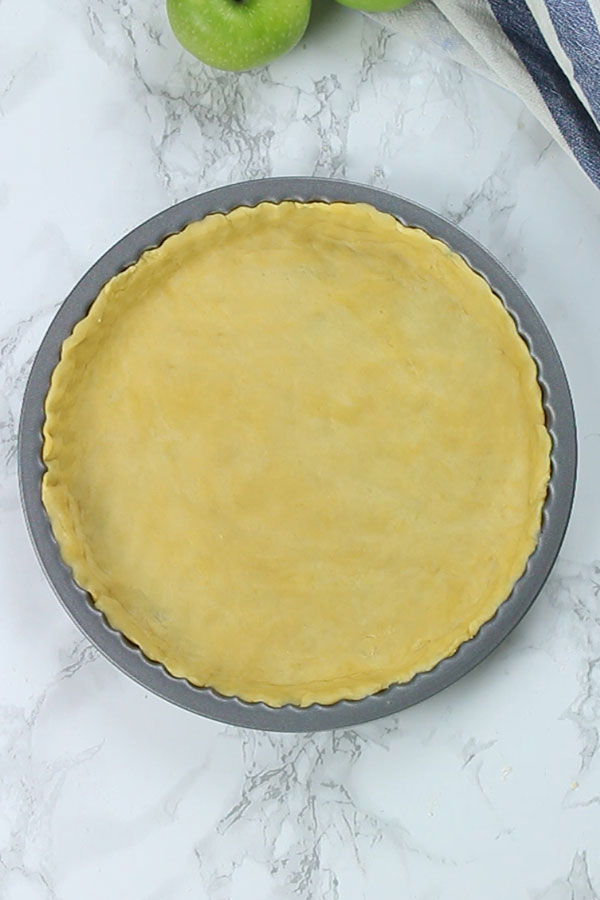 Step 5:
Place a sheet of parchment paper over the dough in the tin then pour over some baking beans, which will weigh the pastry down and prevent it from puffing up as it bakes.
If you don't have any baking beans, you can use uncooked rice like I did.
Step 6:
Bake the pastry at 200C/ 400F for 15 minutes. After this time, remove the baking beans and parchment paper and return the pastry to the oven for another 15 minutes.
Leave it to cool completely.
Turn down the oven to 180C / 350F for the next step.
Step 7: Prepare the filling
Vegan Dutch apple pie filling consists of a few things… Apples (of course), cold water, cornflour, caster sugar, and lemons.
First, peel, chop and core 4 medium green apples. I like to use Granny Smith ones because they're quite tart and go nicely with the sweetness of the crumble.
Top tip: As you're peeling and chopping the apples, squeeze a little lemon juice over them to prevent them from browning quickly.
Step 8:
Add 330ml (1+1/3 cups) of cold water and 2 tablespoons of cornflour (corn starch) to a pan and mix well. Then turn on the heat to medium-high.
It's important that you mix the corn flour into the water BEFORE turning on the heat, otherwise it will clump together.
Step 9:
Now add 100g (1/2 cup) caster sugar, 1 teaspoon of lemon zest and 1 teaspoon of cinnamon into the pan. Mix well then add the apples.
Stir often until the mixture thickens and the apples soften slightly. This should take around 5-10 minutes.
Cooking the apples in the mixture before baking results in a perfectly sticky filling once baked!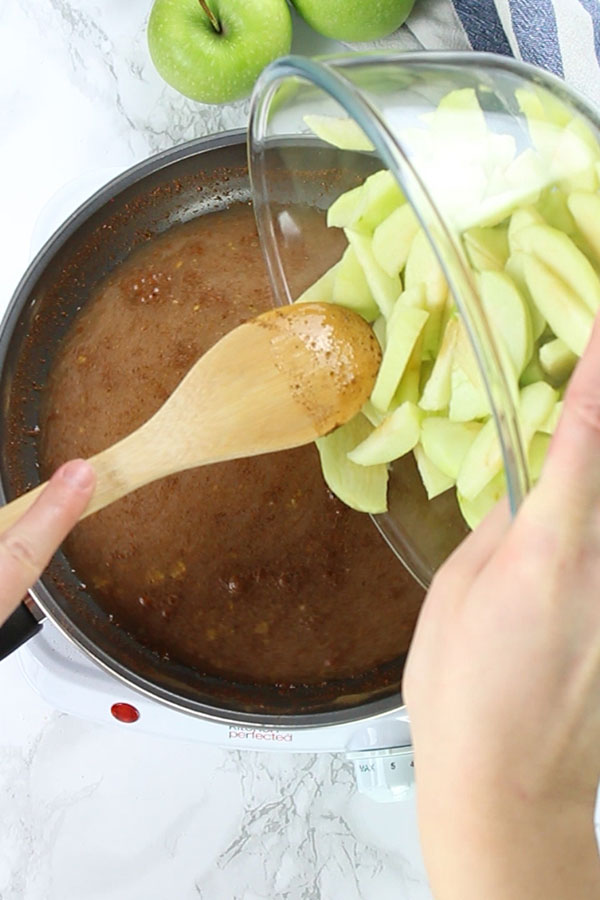 Pour the filling into the pre-baked pastry. Now we're ready for the topping!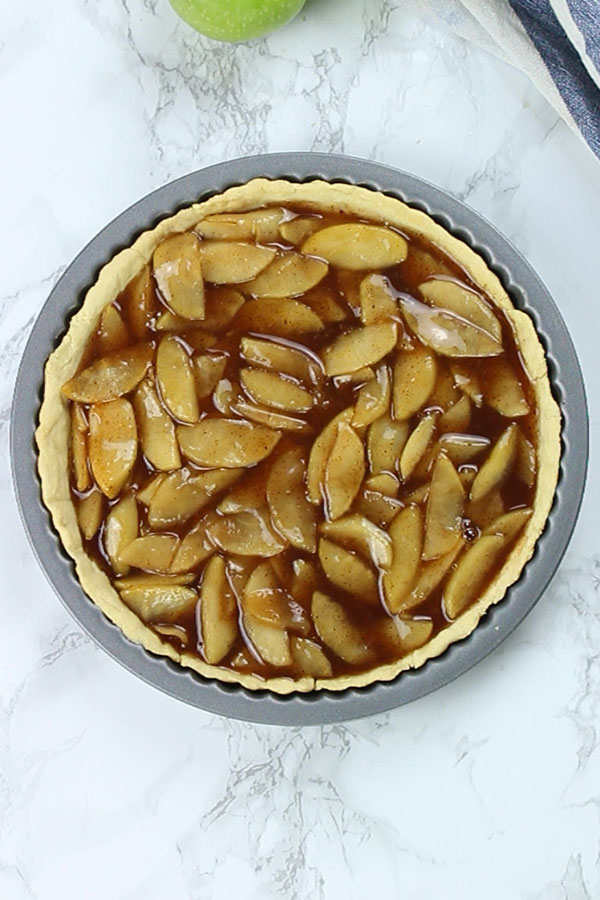 Step 10: The crumble topping!
The crumble is my favorite part of this recipe! I just adore the cinnamon flavor.
First, mix 300g all-purpose flour (2+1/4 cups), 1 teaspoon of cinnamon, and 175g (7/8 cup, packed) sugar together in a large bowl.
Then add 200g (3/4 cup + 1 tablespoon) of vegan butter. Rub it into the flour mixture, just as you did with the pastry, until it resembles breadcrumbs. This time, the breadcrumbs will be slightly larger and more stuck together but again, cold butter is key here.
Sprinkle the crumb topping over the filling and cover evenly. Bake for 40-45 more minutes at the same temperature until the crumble becomes slightly firm on top.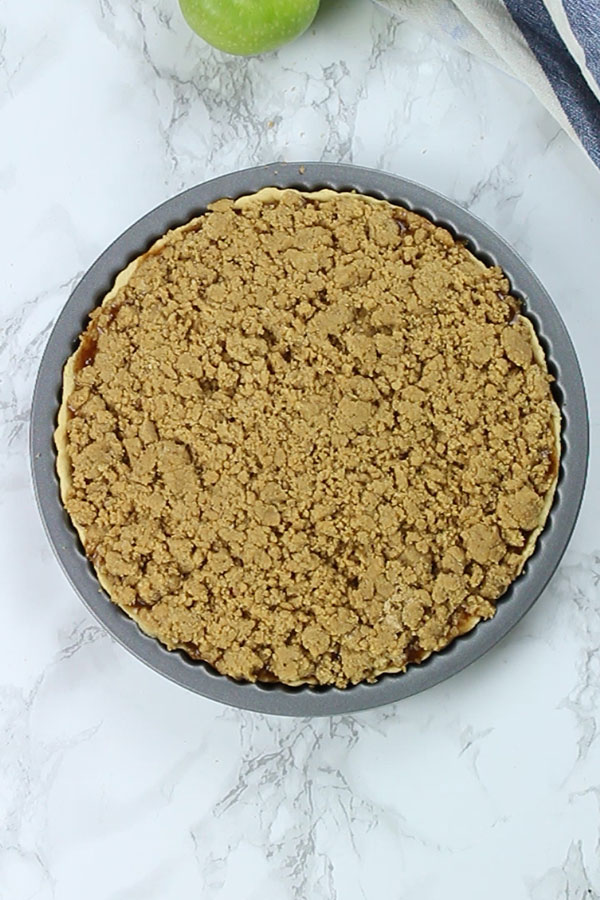 Tips for making the best Vegan Dutch apple pie
Squeeze lemon juice over the apples as you're chopping and peeling them. This will prevent them from going brown.
Precook the filling mixture in the pan before baking. This makes the apples super soft!
Blind bake the pastry first, for around 15 minutes. This will ensure the heavy filling does not cause the pastry to become wet and sticky. Using rice or baking beans to blind bake also prevents the pastry from rising or "puffing up".
Use an aluminium tin for this recipe if possible, rather than ceramic. This will allow the heat to penetrate the dish more evenly and will prevent the bottom of the pastry from going soggy.
This apple crumble pie has quite a crunchy and firm top. Reduce the amount of butter in the crumble part of the recipe for a lighter and "fluffier" topping.
Can I use canned apple pie filling?
I can't promise that using canned apple pie filling will taste quite as good as making your own. But if you're pinched for time, canned apple pie filling will definitely do the trick!
I would recommend at least adding some lemon zest if you're using canned apple pie filling. Although the recipe only calls for a tiny amount, it really helps to bring the flavours together!
Can I freeze this?
Yes! Vegan apple crumble pie is perfect for freezing. I'd recommend baking it first and allowing it to cool completely before freezing. You can wrap the pie tightly with foil or place it in an airtight freezer bag.
Then, when you're ready, just remove it from the freezer and remove the foil or bag.
Put the pie onto a baking tray and bake in a 150°C / 300°F oven for 45-60 minutes. Check the center with a knife every so often, and you'll know it's ready when it's warm all the way through.
What to eat with Vegan Dutch apple pie?
I prefer to eat my vegan apple crumble pie WARM. It's so comforting- especially during the dreary tail end of winter.
Not sure what to put on your apple crumble pie? Some of my favorite things to have with it are:
I hope you enjoy my own take on this delicious recipe. If you make it yourself, please leave a comment or rating below to let me know how it went.
Happy baking!
xo

Vegan Dutch Apple Pie
Vegan apple crumble pie. A sweet, cinnamon flavoured apple pie with crumbly streusel topping!
Cook Time
1
hour
15
minutes
Total Time
2
hours
5
minutes
Ingredients
For the pastry (sub store-bought pastry if desired):
200

g

Plain flour

(1 + ⅔ Cups)

120

g

Vegan butter, cold

(½ Cup)

2-3

Tablespoons

Cold water

(start with 2 tbsp and add the extra 1 if needed)
For the filling:
4

Medium green apples

(I used Granny Smith)

Juice

1/2 a lemon

330

ml

Water

(1 + ⅓ Cups)

2

Tablespoons

Corn flour/starch

100

g

Caster sugar

(½ Cup)

1

Teaspoon

Lemon zest

1

Teaspoon

Cinnamon
For the crumb topping:
300

g

Plain flour

(2 + ¼ Cups)

175

g

Soft brown sugar

(7/8 cups)

1

Teaspoon

Cinnamon

200

g

Vegan butter, cold

(¾ Cup + 1 tablespoon)
Instructions
For the pastry:
Rub the butter into the flour to form breadcrumbs.

Add the water and combine with your hands to make a dough. Wrap the dough and chill it for 30 minutes in the fridge.

Preheat oven to 200°C/ 400°F.

Once removed from the fridge, lightly knead the dough to warm it up and prevent cracks. Be careful not to overdo this or you will end up with tough pastry.

Roll out the dough (on a floured surface) to fit an 9-inch pie dish and flute the edges using your fingers. Alternatively, use a flan or tart tin with fluted edges.

Cover the pastry with parchment paper then add uncooked rice or baking beans on top to blind bake.

Bake for 15 minutes, remove the paper and rice/beans then return to the oven for a further 15 minutes.
For the filling:
Peel, chop and core the apples. Squeeze the lemon juice over them to prevent browning, then place to one side.

Add the water, cornflour, sugar, lemon zest and cinnamon to the pan. Mix well before placing over high heat. (Make sure to add the cornflour while the water is still cold to prevent lumps forming.)

Add the apples. Stir often until the mixture becomes slightly thick and the apples have softened slightly. Remove from the heat and set aside to cool.
For the crumb topping:
Mix together the flour, sugar and cinnamon together in a bowl. Rub in the butter to form large breadcrumbs.
To bake:
Turn the oven down to 180°C/ 350°F.

Pour the filling into the pre-baked pastry case. Pour over the crumble topping to cover the apple mixture and pat down into place using the back of a spoon.

Bake for 40-45 minutes until the crumble topping becomes slightly firm.

Leave to cool completely before attempting to cut into slices. Once sliced, you can warm it back up in the oven or microwave to serve.
Recipe Notes
*Can be stored in the pie dish, covered with foil, in the fridge for up to 5 days.
Nutrition Facts
Vegan Dutch Apple Pie
Amount Per Serving
Calories 390
Calories from Fat 135
% Daily Value*
Fat 15g23%
Sodium 150mg7%
Carbohydrates 55g18%
Protein 4g8%
* All values are an estimate only and will vary depending on the food brands used.
BakedByClo is a participant in the Amazon Services LLC Associates Program, an affiliate advertising program designed to provide a means for sites to earn advertising fees by advertising and linking to Amazon.com. This site may contain some of these links to Amazon.com & other affiliate programs. If you make a purchase through one of those links, BakedByClo will receive a small commission from the purchase at no additional cost to you.