Vegan Tiffin
This vegan chocolate tiffin is super easy to make with just 6 ingredients. It's sweet, crunchy and chocolatey, and there's no baking involved! It's always a crowd-pleaser!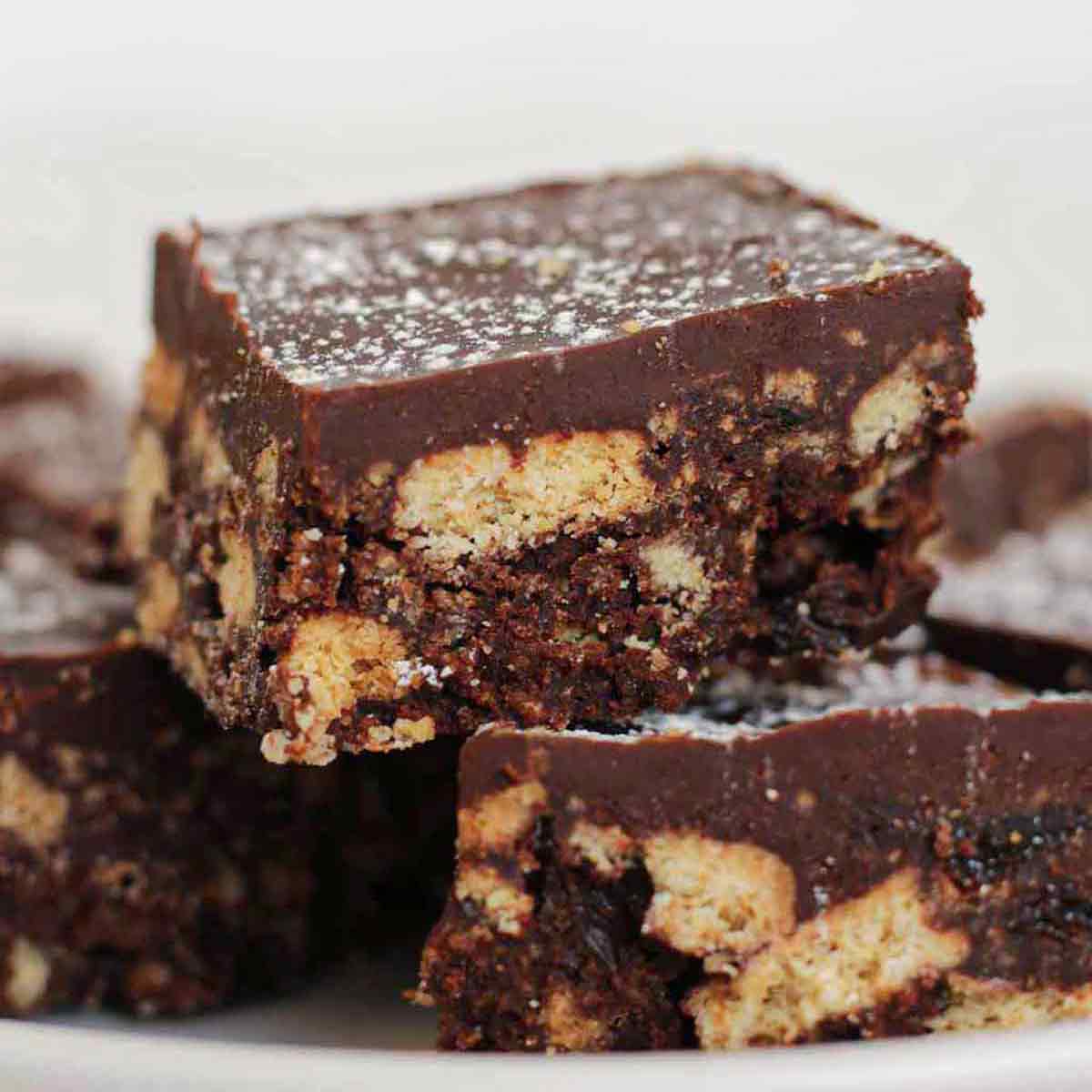 I don't care what anyone says… In my opinion, as soon as Halloween is over, it's time to start getting excited for Christmas!
It's November 1st and I am getting started on the Christmas food. It's only acceptable to eat festive foods for a short period of time. So we may as well make the most of it, amiright?
I have so many exciting dessert ideas for this festive period! I just hope I can find the time to make them all!
First up is this vegan chocolate tiffin (a.k.a. chocolate fridge cake, but dairy-free). While not technically a Christmas dessert, tiffin is something that is really popular in Scotland. Especially in the Winter time, so I thought I'd start with that.
You know, just to gently ease my way in with the festive content…
What is chocolate tiffin?
Tiffin is a Scottish recipe traditionally. It's a chocolate fridge cake style of dessert that requires no baking. Taste-wise, it's sort of halfway between a chocolate brownie and a bar of chocolate. The only difference is that there is some extra crunch from the biscuits added to it.
Tiffin was invented in Scotland in the 1900s and is made up of chocolate with lots of butter, golden syrup, cocoa powder, crushed biscuits and raisins. Dairy-free tiffin is made with vegan chocolate and vegan margarine instead of the usual ingredients. So simple!
I did make an Oreo tiffin earlier this year and just recently made rocky road (which is pretty much just tiffin with marshmallows) and Biscoff tiffin. So you have 4 variations to choose from!
I'm also planning a white chocolate and cranberry version in the near future so keep an eye out for that.
Want more Scottish vegan desserts? Try these:
If you like your desserts quick and easy with minimal ingredients and simple steps, this is the one for you! Make it for your colleagues, as a meal-prep snack or just to have some fun with your children.
And if you enjoy the recipe, make sure to let me know by leaving a comment in the comment section.
Which chocolate should I use?
I love using semi-sweet vegan chocolate such as Lovett's. It's pretty sweet for compared to other dark chocolate I've tried but doesn't contain any dairy! Hurrah!
You can use super high cocoa chocolate if you like it, but I personally share my desserts with a lot of non-vegans and they're not used to the bitterness of most dairy-free chocolate.
I've yet to try these tiffin bars with dairy-free "milk" chocolate but I imagine that would taste delicious too!
Basically, it's all down to what you prefer! Some chocolate will melt better than others but as long as you melt it over a low heat, it'll be fine!
How to make vegan tiffin
Step 1:
First off, line a baking tin or dish with parchment paper. You'll want to leave a bit hanging out of each side so that you can easily pull it out once the chocolate has set.
I used an 8×8-inch Pyrex dish to make this. I would not recommend using a larger-sized tin as the tiffin will be a little on the thinner side if you do.
Step 2:
Place 300g of Digestive biscuits (around 17 biscuits) into a large bowl and use the end of a rolling pin or your hands to crush them.
You could also pulse them in a blender if you prefer.
Make sure to leave some larger chunks in there with a few crumbs- you don't want to turn them into dust!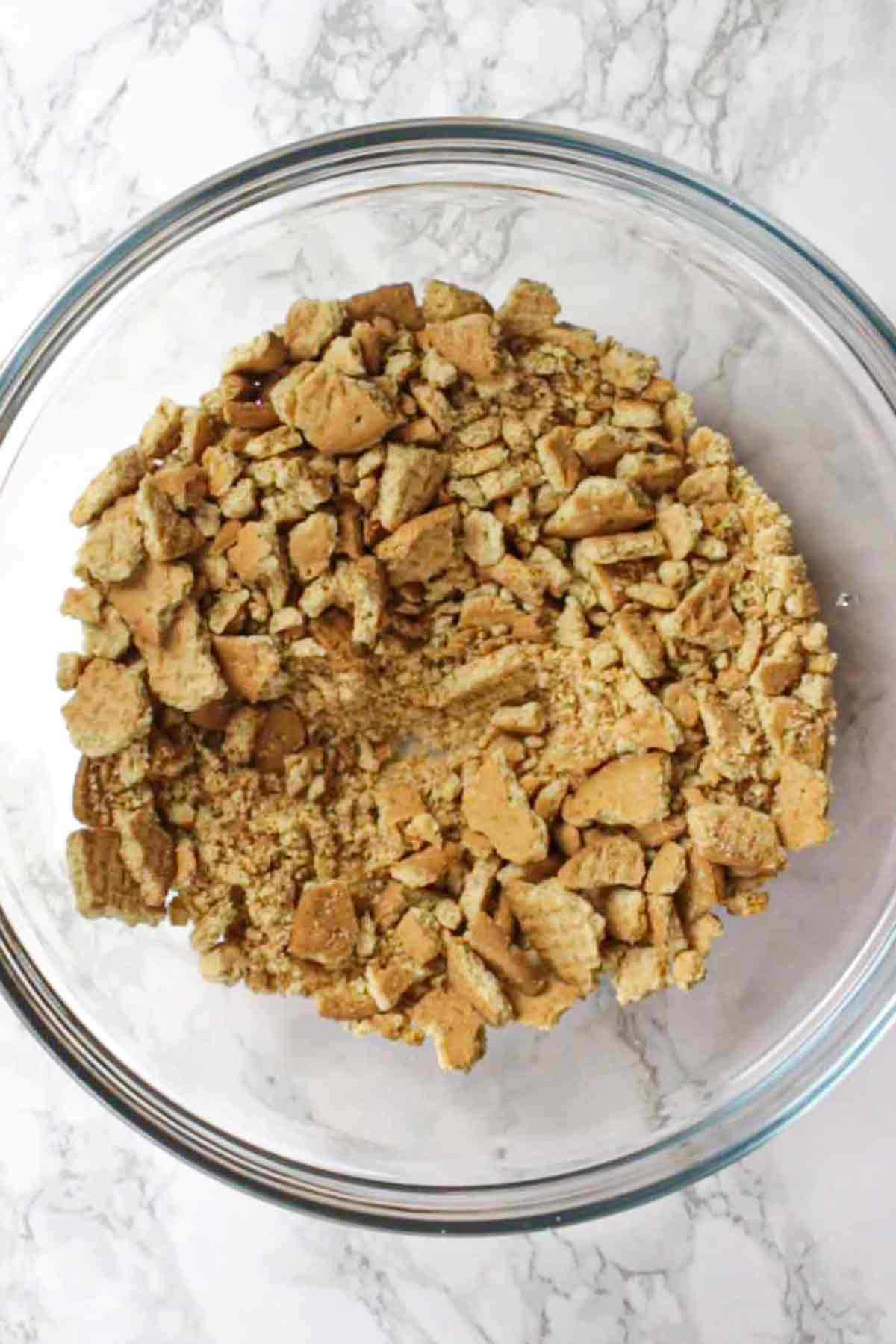 Step 3:
Next, to a small saucepan, add 120g (1/2 cup) of vegan margarine, 3 tablespoons of golden syrup and 2 tablespoons of cocoa powder.
Place the saucepan over a low heat and gently stir until the margarine has fully melted.
I recommend using the spreadable type of vegan margarine, not the blocky style. I like Vitalite.
Step 4:
Add 150g (5.3oz) of vegan chocolate of your choice into the saucepan. Continue stirring until it has melted and the mixture becomes smooth and glossy.
Once it's melted, remove the pan from the heat and allow to cool for a minute or two.
Step 5:
Pour the chocolate mixture into the bowl with your crushed Digestive biscuits.
Step 6:
Add 70g of raisins (around half a cup) to the bowl and stir until well combined and the biscuits are completely coated in chocolate.
If you don't like raisins, you can swap them out for chocolate chips or nuts instead!
Step 7:
Transfer the mixture into your lined baking dish and spread it out evenly. Use the bottom of a cup or clean hands to press it firmly into place.
It's important that you press it in as this will prevent it from falling apart when you take it out of the tin.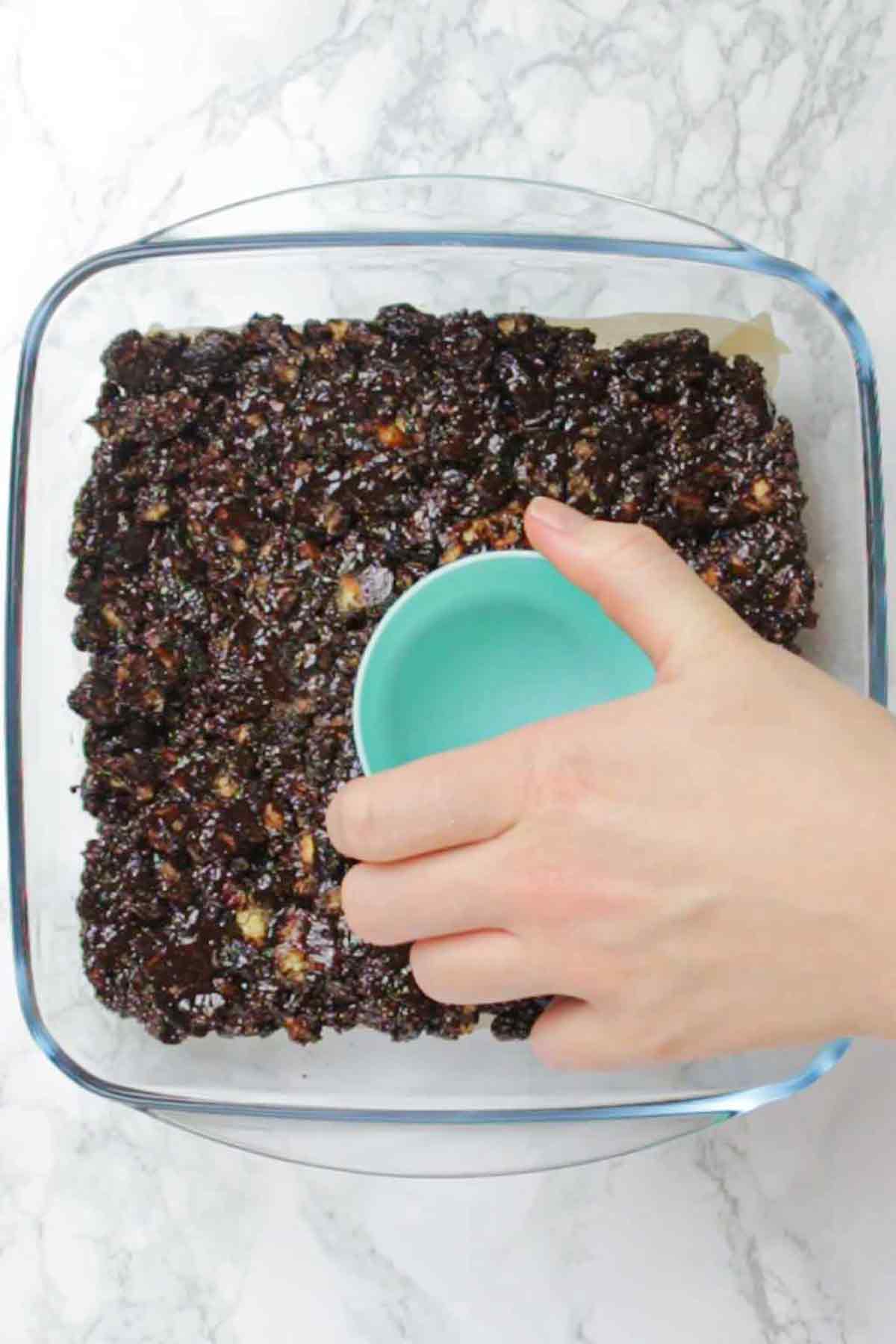 Step 8:
Melt 150g (5.3oz) more vegan chocolate and pour it over your dairy-free tiffin. Spread it out evenly using the back of your spoon.
Step 9:
Place the dairy-free chocolate tiffin in the fridge for 3 hours, or until the top of it has fully set.
Now all that's left to do is cut the tiffin into 16 equal pieces (or less if you like bigger slices!). I'd recommend running your knife under hot water before cutting for a cleaner slice.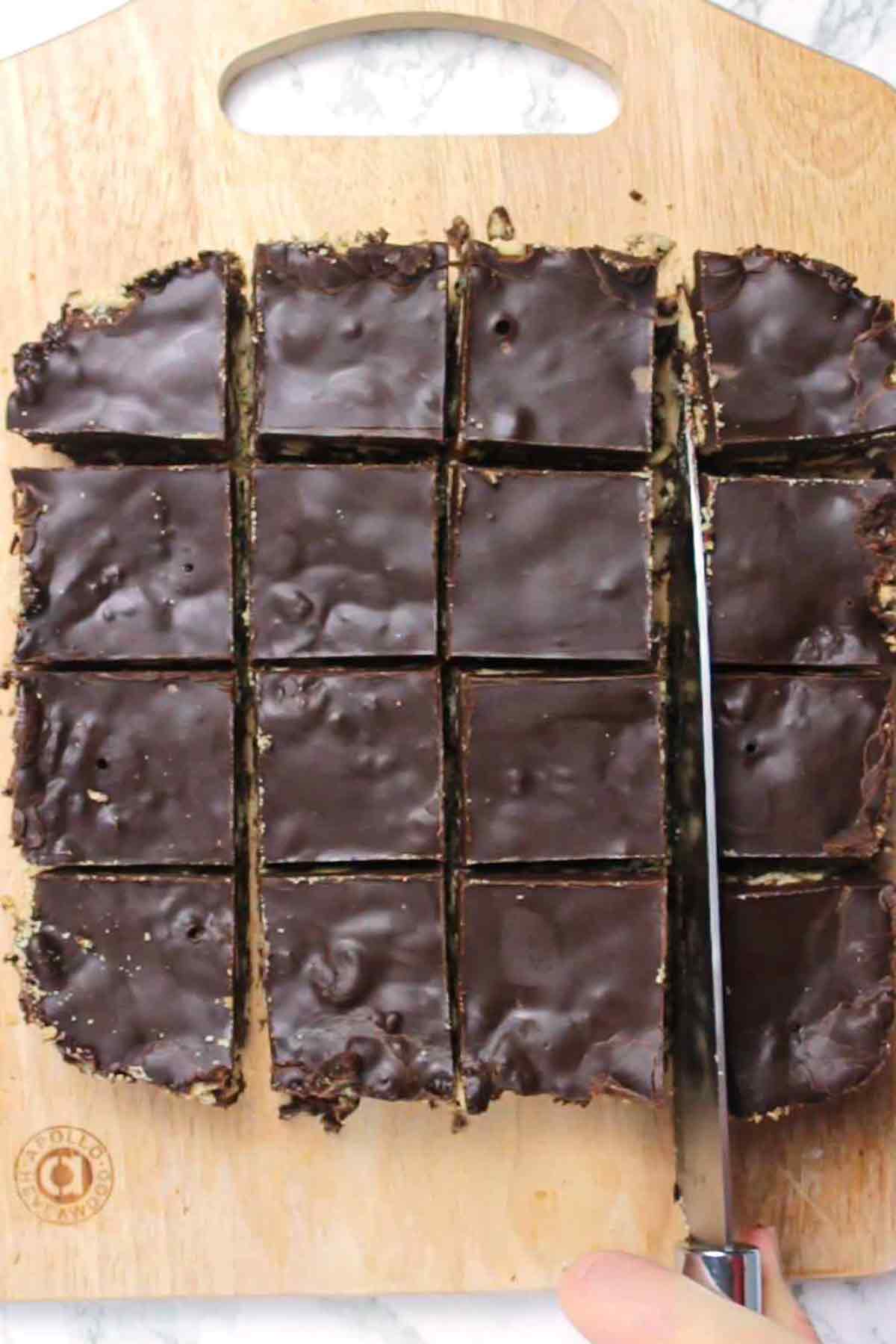 FAQ:
How should I store this recipe?
Dairy-free tiffin bars/slices should be stored in an airtight container in the fridge. They will last around 5-6 days this way!
Can vegan tiffin be frozen?
Yes, this recipe actually freezes really well, which is great if you want to save some for a future event or if you just don't have many people to help you eat it.

To freeze, wrap it tightly in cling film and freeze for up to 2 months. To defrost, transfer it to a plate and let it sit at room temperature for a few hours until thawed. This will take a bit longer if you've frozen the whole thing without cutting it into slices.
I can't buy Digestive biscuits where I live, what can I use instead?
Any kind of crunchy biscuit/cookie will do! I've made my rocky road recipe with homemade shortbread before and it was delicious!

I also know that Graham Crackers are a great substitute for Digestives (although you'll need to make sure the brand you buy are suitable for vegans).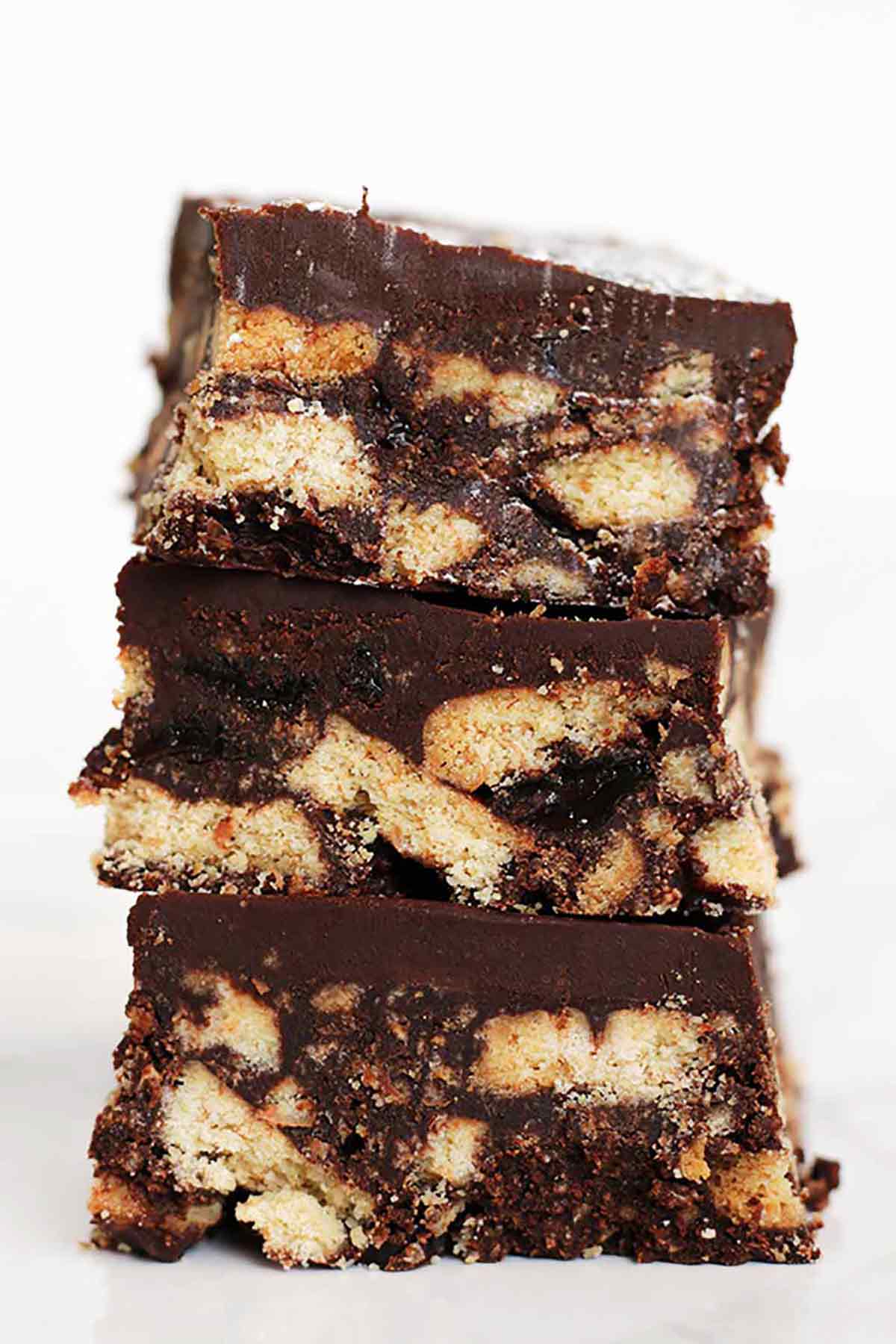 That's all for now, I hope you like this vegan chocolate tiffin recipe! If you make it yourself at home, please let me know what you think. Leave a rating and/or comment below or tag me in your photos on Instagram @bakedbyclo. xo

Vegan Chocolate Tiffin
Dairy-free tiffin bars made with Digestives and raisins.
Ingredients
300

g

Digestive biscuits

(17 Digestives or 10.5oz)

120

g

Vegan margarine

(½ cup)

3

Tablespoons

Golden syrup

(can be subbed for agave nectar)

2

Tablespoons

Cocoa powder

150

g / 5.3oz

Vegan chocolate of choice, chopped into pieces

70

g

Raisins

(around ½ cup)
To top:
150

g / 5.3oz

Vegan chocolate, chopped into pieces
Instructions
Line an 8×8-inch tin with baking paper, leaving a little bit hanging out of each side so that it's easy to pull the tiffin out once set.

In a large bowl, break the Digestive biscuits into chunks using the end of a rolling pin or your hands. Don't crush them completely- it's best to have some larger pieces with a few crumbs for the best texture.

Add the vegan margarine, golden syrup and cocoa powder to a small saucepan. Place it over a low heat and stir occasionally until the margarine has melted.

Add the chocolate to the saucepan and continue to stir over low heat until it has melted. The mixture should be smooth and glossy.

Pour the mixture into the bowl with the Digestive biscuits then add the raisins. Mix well until everything is coated in chocolate.

Transfer the tiffin mix into the lined dish and use the bottom of a cup or clean hands to press it firmly into place.

Melt the chocolate for the topping and pour it into the dish. Use the back of a spoon to spread it evenly over the tiffin.

Refrigerate for 3 hours before cutting into 16 squares. I recommend running the knife under hot water before each slice to prevent the chocolate from cracking.
Recipe Notes
Store covered in the fridge for up to 6 days.
Nutrition Facts
Vegan Chocolate Tiffin
Amount Per Serving (1 slice)
Calories 262
Calories from Fat 126
% Daily Value*
Fat 14g22%
Carbohydrates 36g12%
Protein 3g6%
* All values are an estimate only and will vary depending on the food brands used.
BakedByClo is a participant in the Amazon Services LLC Associates Program, an affiliate advertising program designed to provide a means for sites to earn advertising fees by advertising and linking to Amazon.com. This site may contain some of these links to Amazon.com & other affiliate programs. If you make a purchase through one of those links, BakedByClo will receive a small commission from the purchase at no additional cost to you.