Vegan Chocolate Orange Brownies
These vegan chocolate orange brownies are super fudgy, chewy and have that classic papery top! They're great for sharing with friends and family and nobody will ever know they're vegan!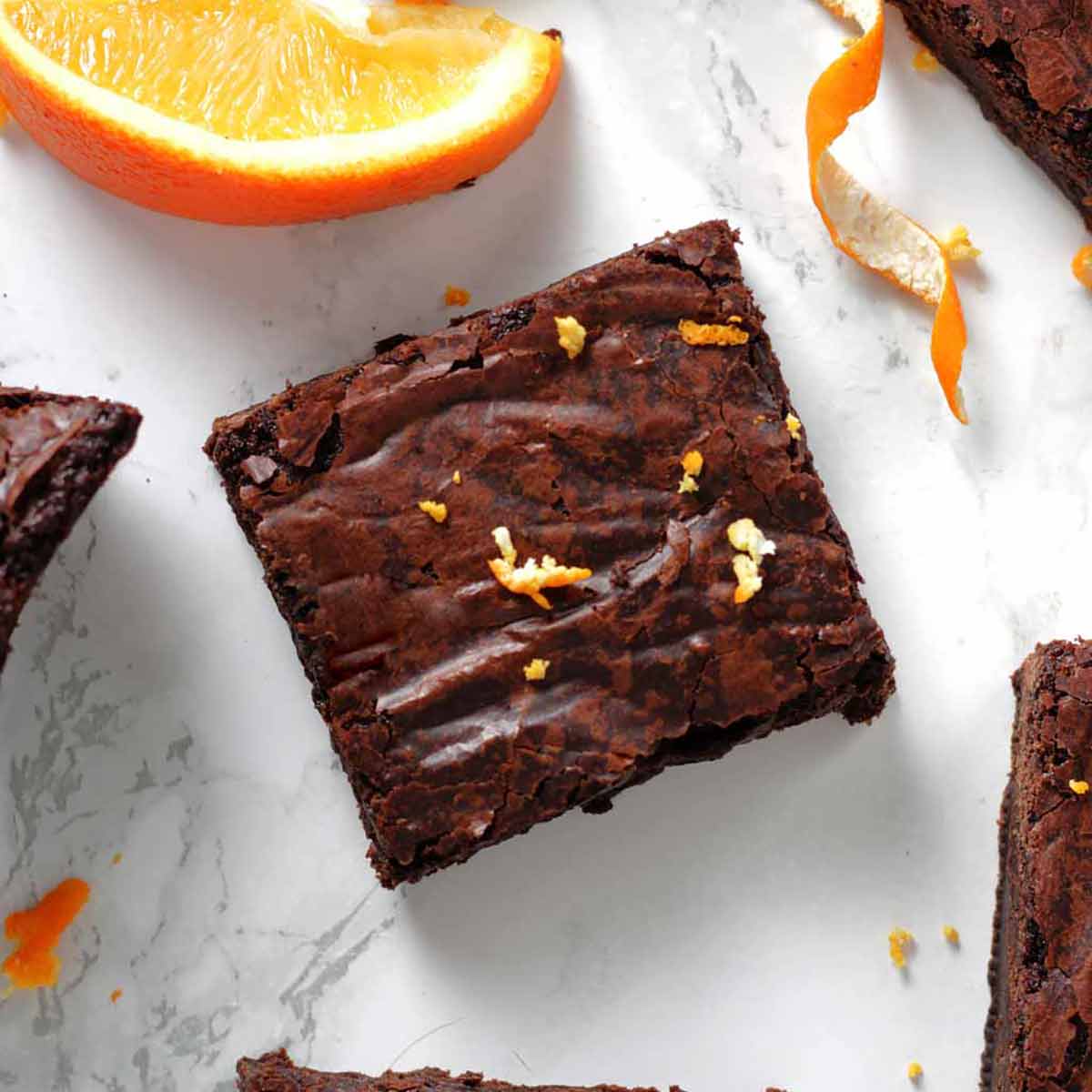 I recently made my mum some of my vegan brownies for her birthday and it reminded me just how DELICIOUS the recipe is!
I wanted to remake another variation of my chewy brownies for the blog and with Christmas coming up, it had to be a festive flavour. And what says Christmas dessert more than chocolate orange?!
I used to bake similar brownies to this recipe using Terry's Chocolate Orange before I was vegan. This one obviously doesn't contain the chocolate segments but it tastes a lot like them!
Which chocolate is best for orange brownies?
I recommend using dark chocolate that has 85% cocoa solids for this recipe. I don't advise using orange flavoured chocolate as it's typically much lower in cocoa solids and will result in greasy brownies. Instead, I use orange zest and/or orange extract for flavour in this recipe.
Here are some chocolate bars I recommend:
Of course, you can use whichever type of chocolate you like. Just make sure it contains the 85% cocoa solids we're after to ensure it works properly.
How to make vegan chocolate orange brownies
Step 1:
Preheat your oven to 180°C/350°F and line an 8×10-inch rectangular tin with baking paper.
Make sure your tin is at least 3-inches deep to allow the brownies to rise without spilling over the edges. I don't recommend using a smaller or larger pan as the brownies will be too thin/thick and baking time will change.
Step 2:
Now it's time to melt the chocolate and the margarine together together.
To a large saucepan, add 200g of vegan 85% dark chocolate (7oz) and 180g of vegan margarine (3/4 cup).
Gently melt it over a low heat, stirring occasionally until everything has completely combined and there are no lumps of chocolate or margarine left.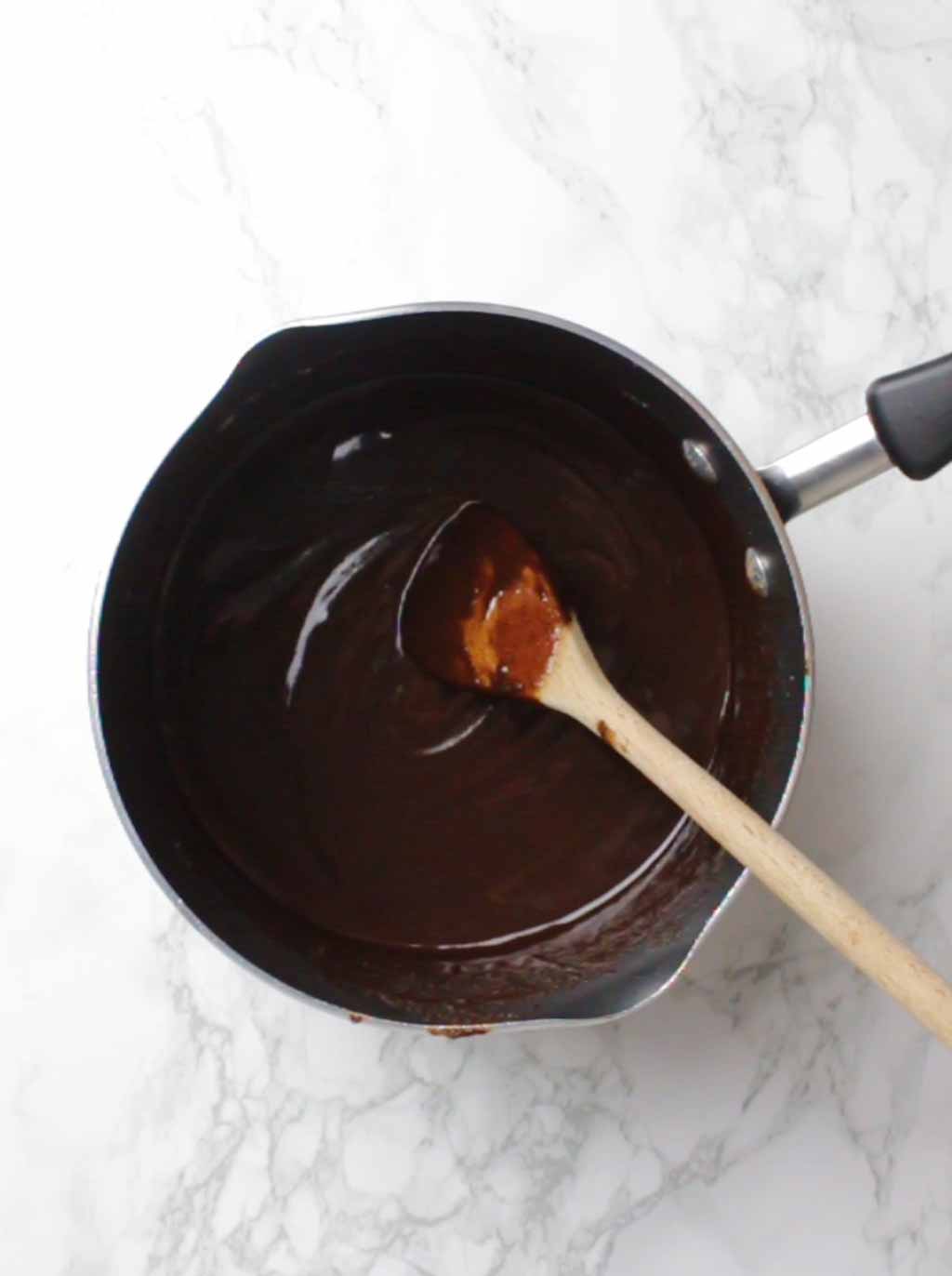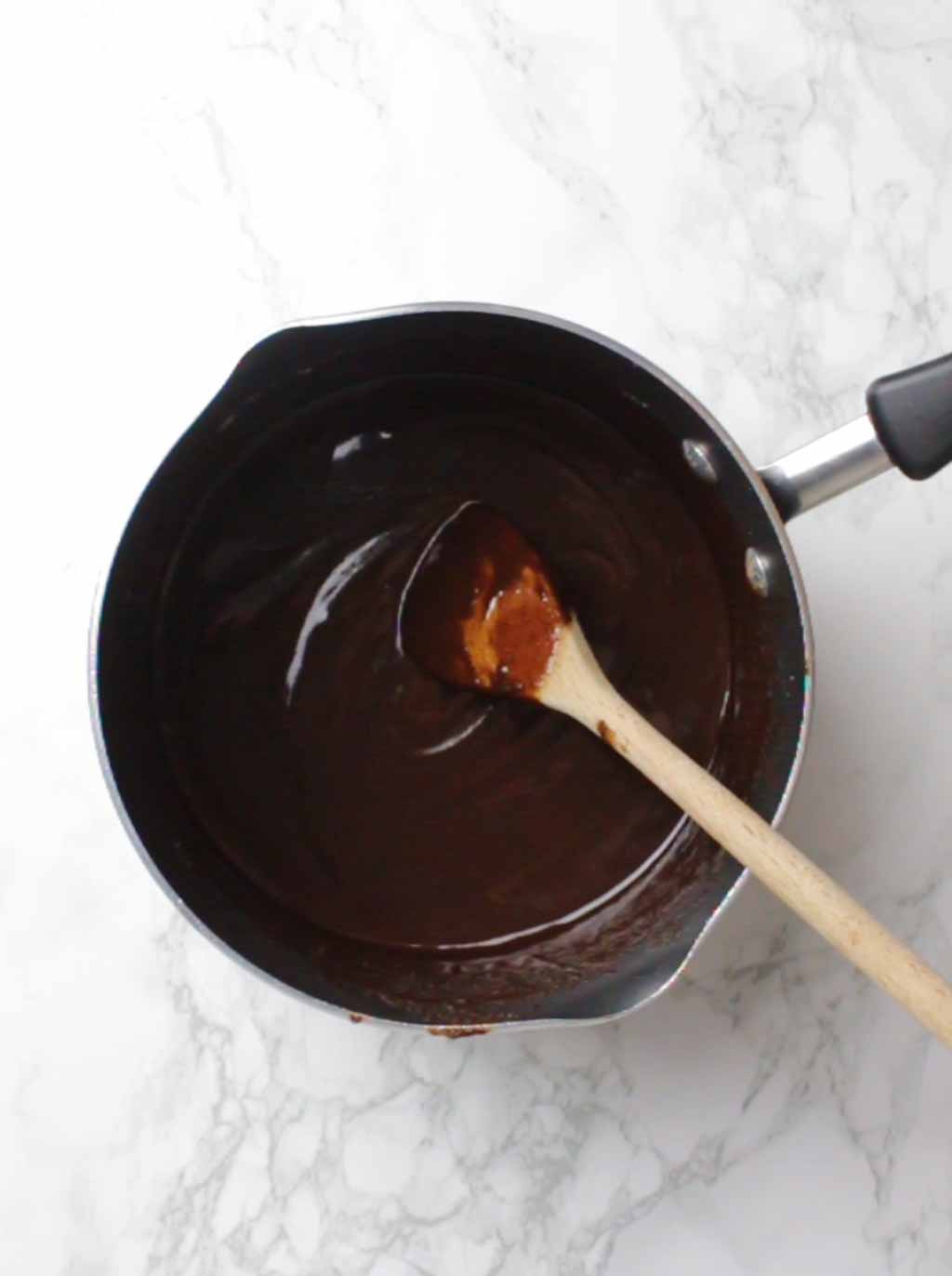 Remove the pan from the heat and let it sit at room temperature to cool.
Step 3:
Now it's time for the 'dry' ingredients. Add 80g of all-purpose flour (2/3 cup), 300g of caster sugar (1+1/2 cups), 60g of unsweetened cocoa powder (2/3 cup) and 1 teaspoon of baking powder to a large bowl. Mix it all together so there are no lumps left.
An easy way to mix them is by putting them all through a sieve first but this isn't essential. A good old wooden spoon will do the job too.
Step 4:
Pour the chocolate mixture from the saucepan into the bowl with the dry ingredients. Add 160ml of unsweetened soy milk (2/3 cup) and mix everything together. If the mixture looks grainy or oily, you can add more soy milk to help it come together. Mix in 1 tablespoon at a time until it becomes smooth.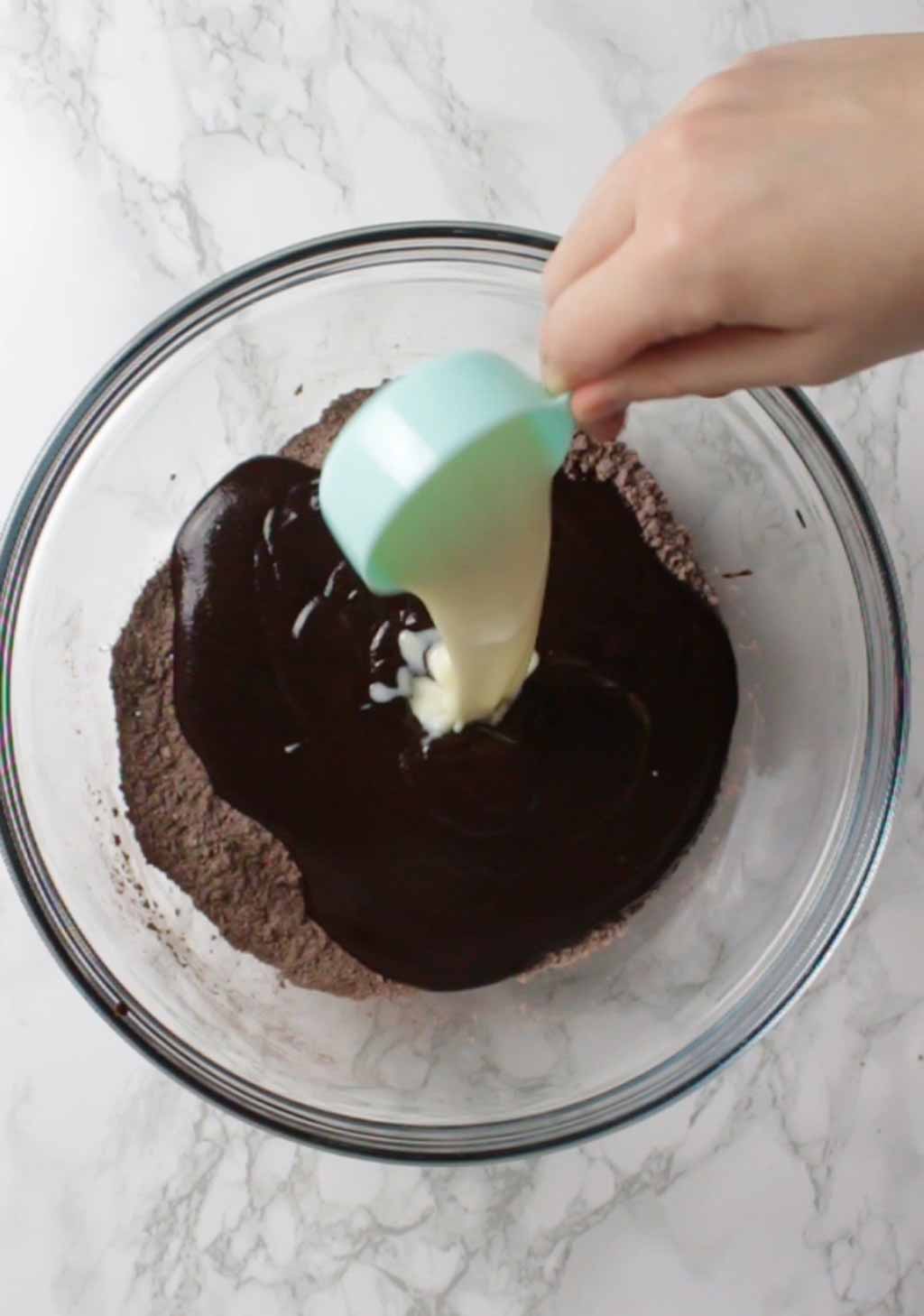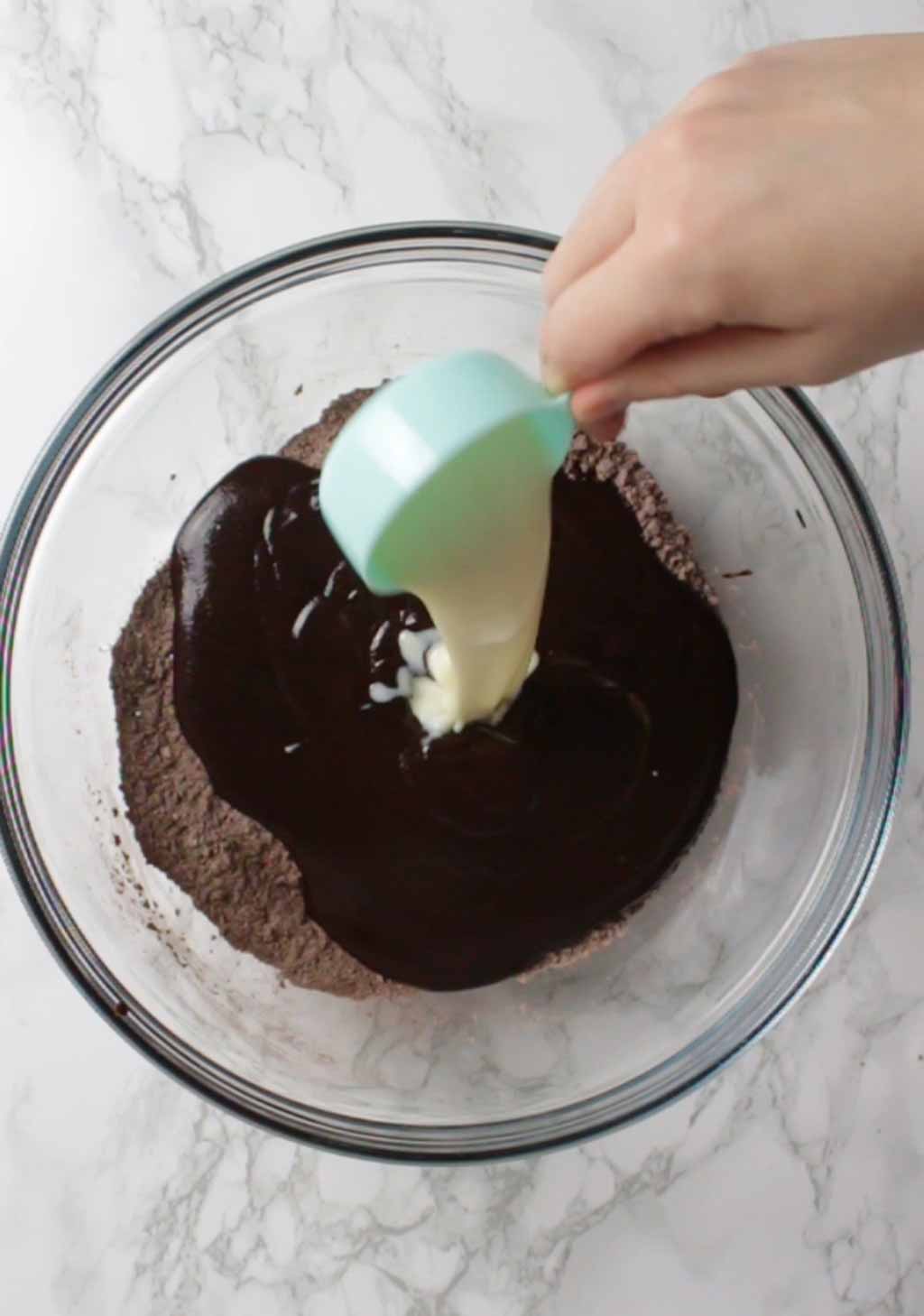 Mix everything together really well, making sure there is no dry mixture stuck to the sides or the bottom of the bowl. The brownie batter should be quite thick but easy to spread around.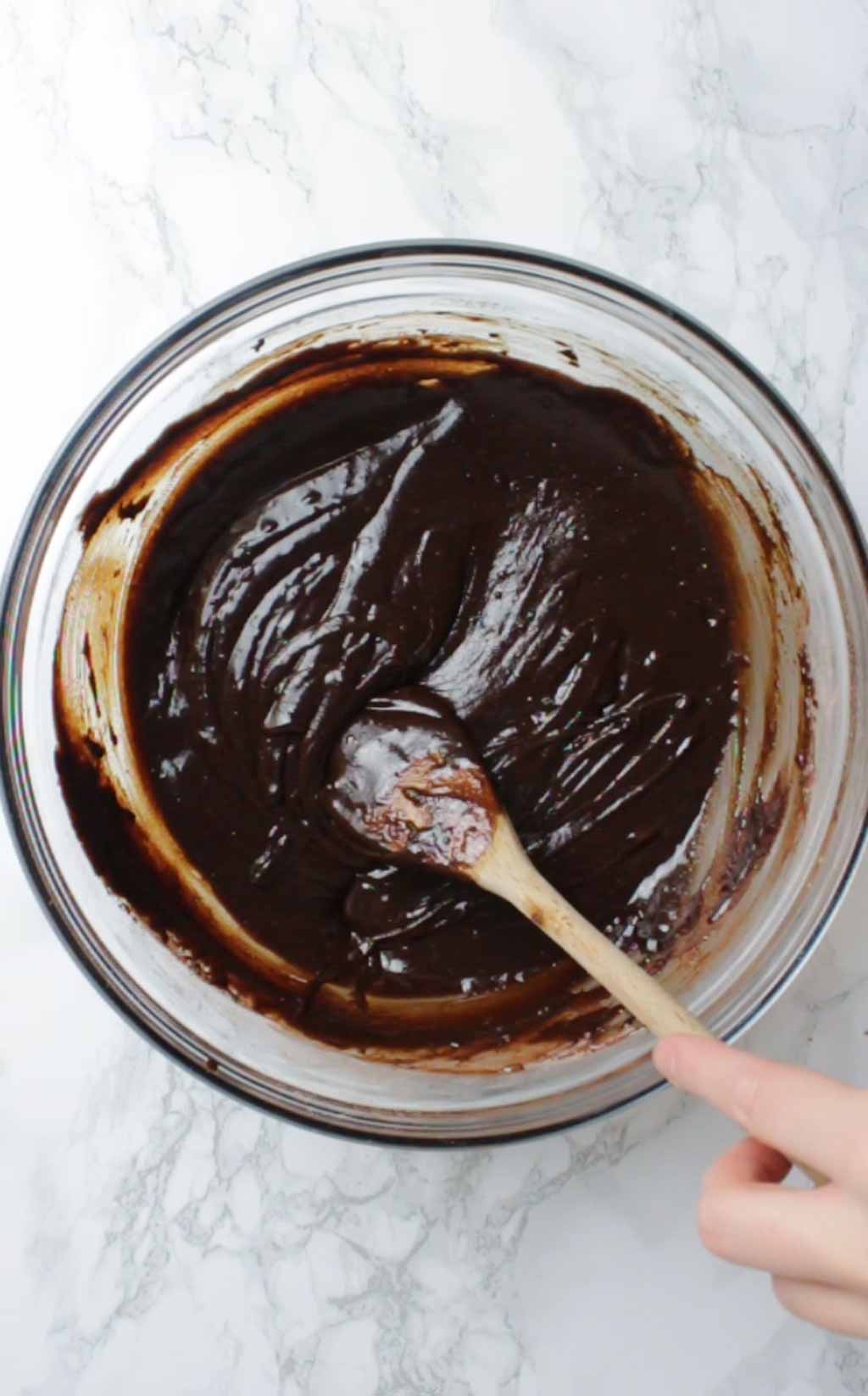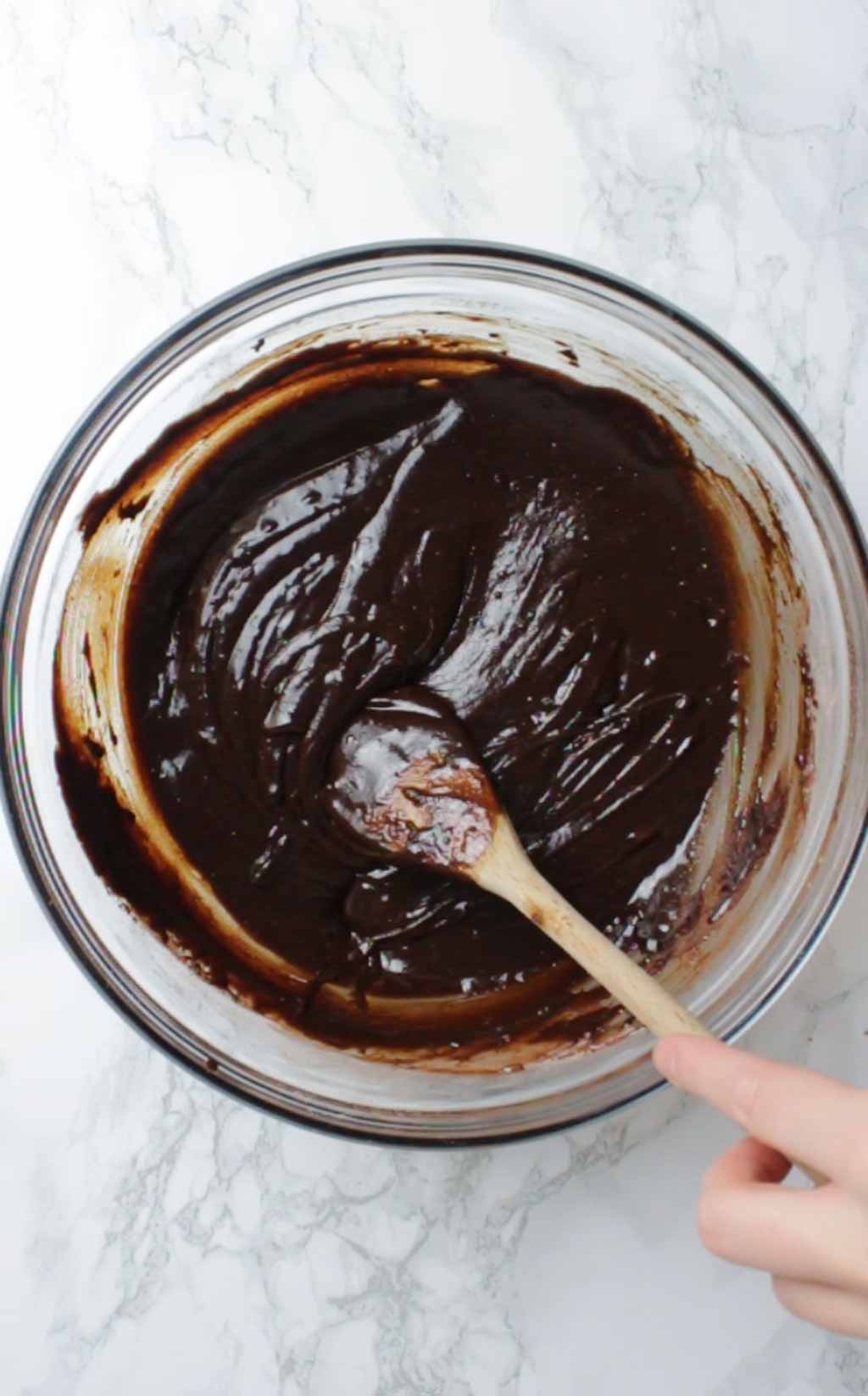 Step 5:
Add 2 tablespoons of orange zest (or more, depending on your desired strength of flavour) to the batter.
You can also add 1-2 teaspoons of orange extract instead of or in addition to the zest for more flavour.
Step 6:
Chop a 100g bar of your favourite vegan chocolate into small chunks and gently mix the chunks into the brownie batter.
Alternatively, you can use a heaped 1/2 cup of vegan chocolate chips.
Step 7:
Transfer the batter to your lined baking tin. Use the back of a spoon or a spatula to spread it out to the edges. Make sure it's spread out properly to allow for even baking.
Step 8:
Bake the brownies for 25 minutes. They will be a bit wobbly in the middle and be slightly pulling away at the edges.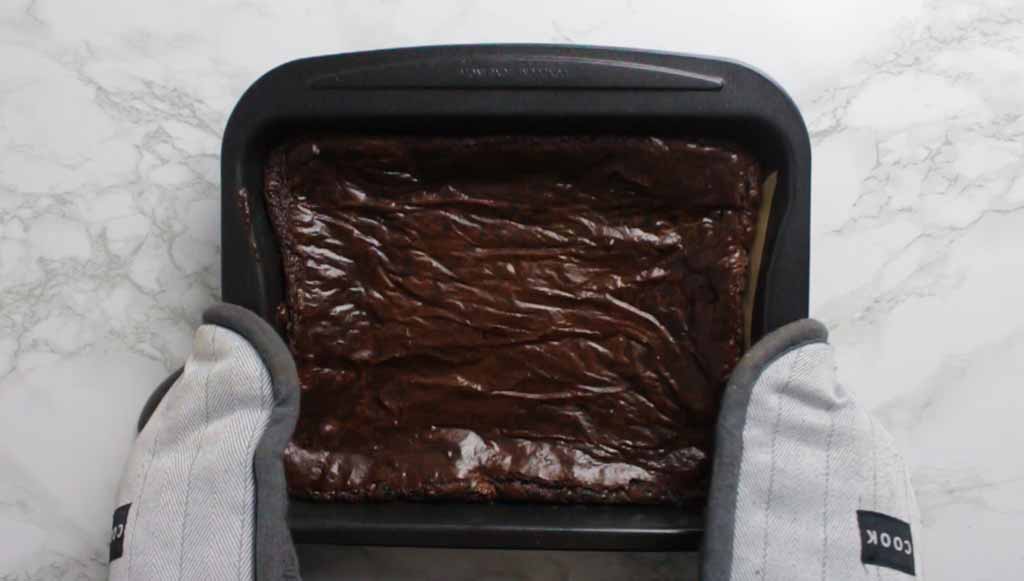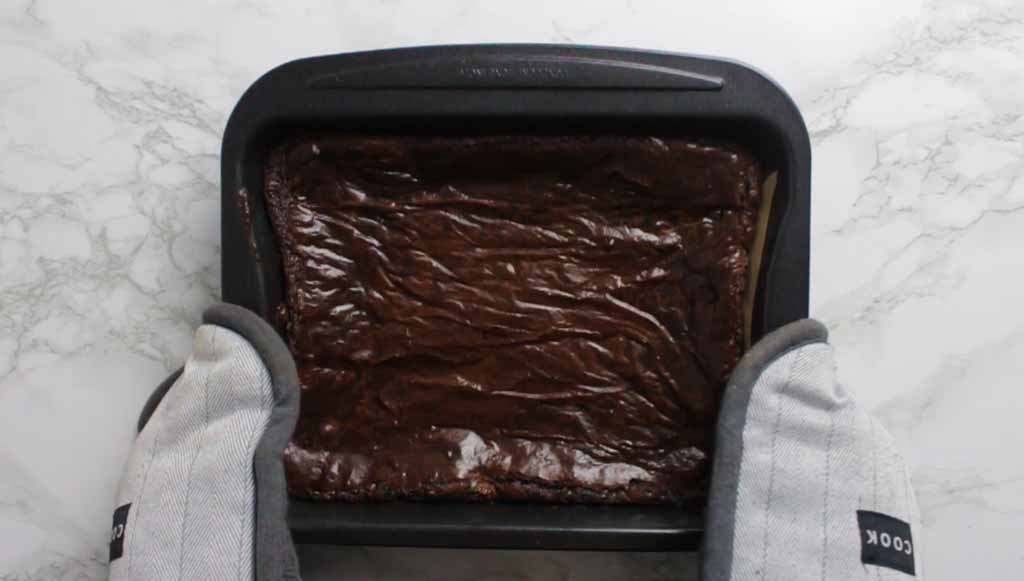 Let them cool completely in the tin then place them in the fridge for 4 hours to set.
Step 9:
Once chilled, remove them from the tin. You may need the help of a knife to do this.
Cut the brownies into 12 equal-sized squares then cut each square in half. This will give you 24 triangle brownies which I find to be the perfect amount as a little goes a long way with this decadent dessert!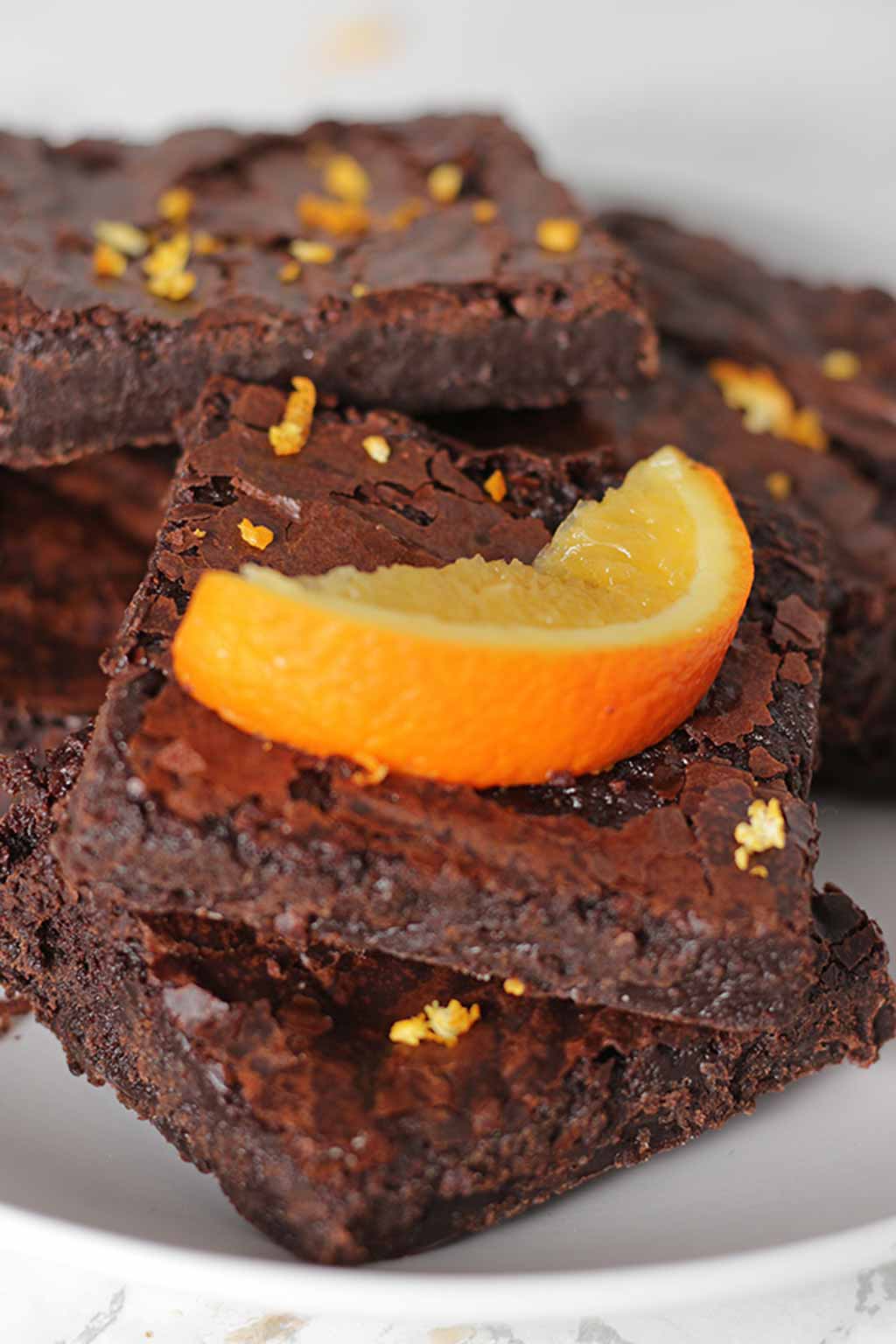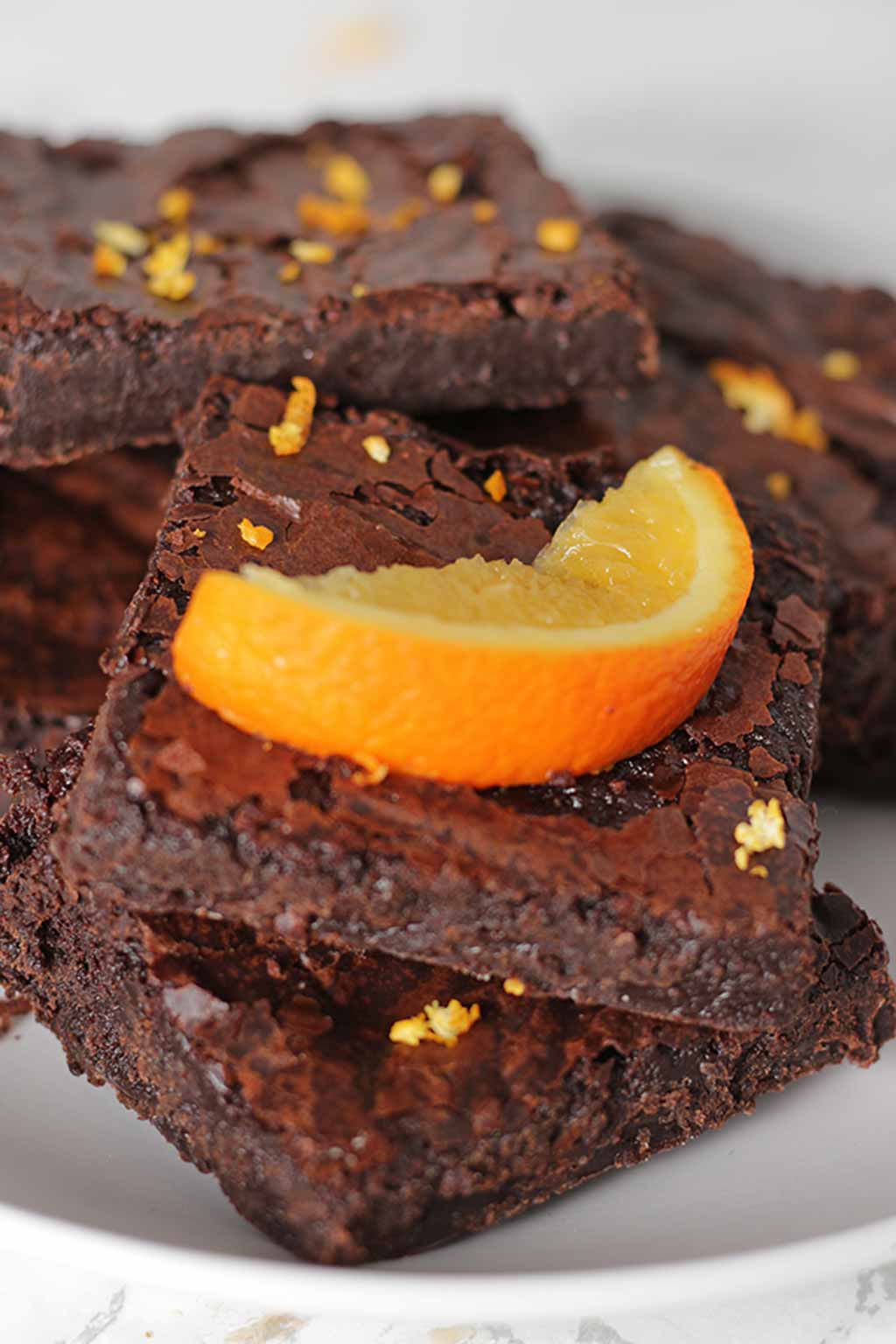 FAQ
How can I fix grainy brownie batter?
The batter may look a little grainy or greasy depending on the particular brand of chocolate you use (the additives will vary). If this happens, simply add 1 tablespoon of soy milk at a time, mixing as you go, until it becomes smooth and glossy.
How should vegan chocolate orange brownies be stored?
These brownies should be stored in an airtight container and are best enjoyed straight from the fridge! Because the fat is what makes them chewy and fudgy, it's important that they are kept cool.

They will still taste delicious if stored at room temperature but won't be quite so chewy.
How long will they last?
The brownies will last at least 7 days in the fridge. I have a feeling they will last much longer than this but I have never been able to keep them for very long. They seriously are that delicious!
Can they be frozen?
Yes! I have frozen these brownies before and the texture is even better once defrosted. That means you can make a huge batch and make them last longer, taking slices out of the freezer as you please.

Freeze them in an airtight container for up to 3 months. When you're ready to eat them, transfer them to the fridge overnight to defrost. Do not refreeze.
I hope you enjoy this recipe! If you make it yourself at home, please let me know how it goes by leaving a comment and/or rating below.
Happy baking! xo

Vegan Chocolate Orange Brownies
Chewy, fudgy orange brownies without eggs or dairy!
Ingredients
200

g

85% Dark chocolate

(7oz)

180

g

Vegan margarine

(¾ cup)

80

g

All-purpose flour

(⅔ cup)

300

g

Caster/superfine sugar

(1+½ cups)

60

g

Unsweetened cocoa powder

(⅔ cup)

1

Teaspoon

Baking powder

160

ml

Unsweetened soy milk

(⅔ cup)

1

Teaspoon

Orange extract

(adjust to taste)

2

Tablespoons

Orange zest

100

g

Vegan chocolate chips or chunks

(heaped ½ cup)
Instructions
Preheat your oven to 180°C/350°F (or 160°C/325°F if you're using a fan or convection oven).

Line an 8×10-inch tin with baking paper. It's good to leave some baking paper hanging over each edge to make it easier to remove them later.

In a large saucepan, melt the chocolate and margarine over a low heat. Stir it occasionally until there are no lumps left. Remove from the heat and leave to cool slightly.

Mix the flour, sugar cocoa powder and baking powder together in a large bowl. Pour in the melted chocolate mixture along with the soy milk and mix well. If the batter looks oily or grainy, add some more soy milk, 1 tablespoon at a time, to help it come together.

Add the orange zest and the orange extract. Then gently fold in the chocolate chips/chunks.

Transfer the batter to your lined baking tin and use a spoon or spatula to spread it out to the edges evenly. Bake for 25 minutes. The brownies will be wobbly in the middle and should be slightly pulling away from the edges of the tin.

Once baked, let the brownies cool in the tin for 30 minutes. Then transfer the tin to the fridge for 4 hours to let them set. This part is really important for the texture!

Once chilled, remove the brownies from the tin and cut into 12 squares. They are quite rich so I recommend cutting each square in half to make 24 triangles.
Recipe Notes
I recommend using Tesco 85% chocolate or Lindt 85% chocolate for best results- these are the brands I tested the recipe with. Chocolate with a lower cocoa percentage will not work well in these brownies, it has to be 85%.
Use the spreadable type of vegan 'butter', not the block. I used Vitalite.
The soy milk must be unsweetened for this recipe. I have not tested with any other plant-based milks so cannot say whether or not they will work.
Do not use a different-sized baking tin as this will affect the baking time and brownie texture.

Store in an airtight container in the fridge for up to 1 week or freeze for up to 3 months.
Nutrition Facts
Vegan Chocolate Orange Brownies
Amount Per Serving (1 brownie)
Calories 182
Calories from Fat 90
% Daily Value*
Fat 10g15%
Sodium 75mg3%
Carbohydrates 21g7%
Protein 2g4%
* All values are an estimate only and will vary depending on the food brands used.
BakedByClo is a participant in the Amazon Services LLC Associates Program, an affiliate advertising program designed to provide a means for sites to earn advertising fees by advertising and linking to Amazon.com. This site may contain some of these links to Amazon.com & other affiliate programs. If you make a purchase through one of those links, BakedByClo will receive a small commission from the purchase at no additional cost to you.