Vegan Coconut Scones
These vegan coconut scones will add an extra special touch to your next afternoon tea. Soft and fluffy, they are sure to be a crowd-pleaser. Serve them with dairy-free whipped cream and strawberry jam for the perfect bite-sized treat.
I'm not going to lie. I couldn't believe my eyes when my dairy-free coconut scones turned out exactly how I'd envisioned… the very first time. No tweaks, no remakes. They were just… perfect. It was love at first sight, and I was shocked.
In fact, I was so shocked at how easy it is to make vegan scones that I wondered why they are so hard to find in cafes.
I love gallivanting to different tea rooms and coffee shops around town with my dear granny. But since I went vegan, we've had to cut back on our afternoon tea trips because barely anywhere offers vegan baked goods in our small city.
The one time I did find a place with vegan options, they served me an "afternoon tea" of a hummus sandwich and some Tesco value dark chocolate. It's funny to look back on but I was disappointed at the time.
With this easy recipe though, there is no excuse! They are just as fluffy, just as soft and just as delicious as traditional scones. And I'm sure my granny will be so pleased to hear this because scones are her all time favourite sweet treat!
Ingredients you'll need
These scones are made with desiccated coconut. This adds a little bit of texture to the dough to give it some oomph. And if you serve the scones with coconut whipped cream, the combo is TO DIE FOR. So good, I promise!
For this recipe, these are the ingredients you'll need:
Self raising flour. It's important that you use self-raising flour, which contains added raising agents. This helps to make light and fluffy scones. If plain flour is all you have, add 2 teaspoons of baking powder to it.
Vegan margarine. I like using margarine over coconut oil for baking because it produces the most reliable results. Make sure to use the soft, spreadable kind and not the block. I like Vitalite.
A pinch of salt. Totally optional but recommended, to enhance the coconut flavour and balance the sweetness.
Desiccated coconut. For the coconut flavour and added texture. I used Crazy Jack desiccated coconut.
Caster sugar. Also known as superfine sugar in other parts of the world.
Desiccated coconut. This can be found in the baking aisle or near the nuts and seeds in most supermarkets.
Soy milk. I recommend using unsweetened soy milk for best results. I have not tested the recipe with any other kind of plant-based milks so I'm not sure how well they will work.
And that's all! These coconut scones have only 6 ingredients! And of course, you can add any fillings you like such as jam, dairy-free whipped coconut cream or vegan butter. The choice is yours.
How to make vegan coconut scones
Step 1:
Preheat your oven to 220°C/430°F (or 200°C/400°F if you're using a fan or convection oven). Line a tray with baking paper.
Step 2:
In a large bowl, mix together 225g of self-raising flour and a pinch of salt.
Step 3:
Rub in 50g of dairy-free margarine until the mixture resembles breadcrumbs. Stir in 50g of caster sugar and 50g of desiccated coconut.
Step 4:
Measure out 120ml of soy milk and add it to the bowl, a little bit at a time. If the dough is too wet, add some more flour. If it's too dry, add more soy milk.
Step 5:
Roll out the dough on a floured surface until it's around 1-inch thick.
Use a 2-inch round cutter to cut out your scones, re-rolling leftover pieces of dough until it's all used up. You should end up with 10-12 mini scones.
Step 6:
Place the scones closely together on the tray and bake for 8-10 minutes until golden brown on top. Transfer to a wire rack and leave to cool completely.
Step 7:
Slice the cooled scones in half and serve with some jam and vegan butter or whipped coconut cream.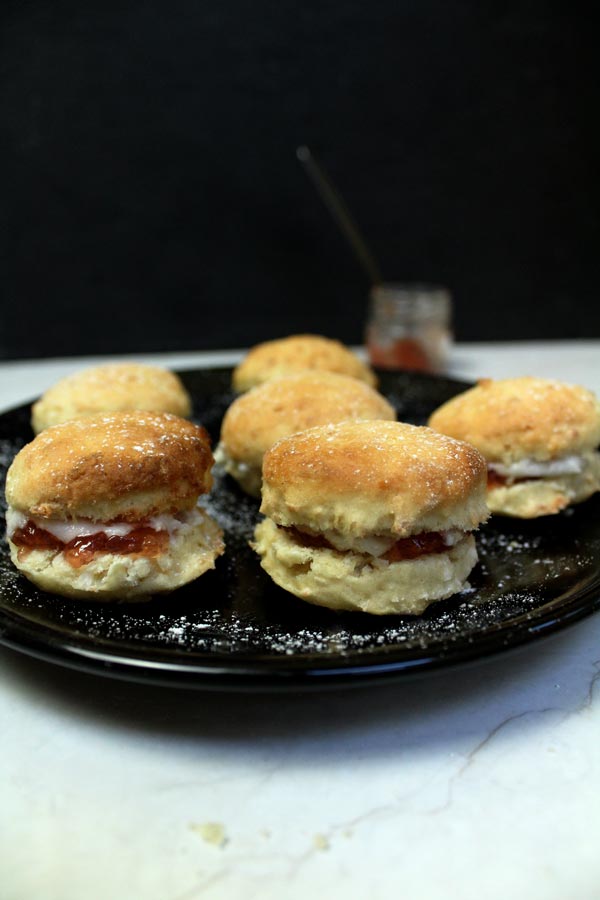 That's all for now! I hope you enjoy these dairy-free coconut scones. Let me know how you get on by leaving a rating and/or comment below. Happy baking! xo
More vegan scone recipes:

Vegan Coconut Scones (Dairy-Free)
Soft and fluffy dairy-free mini scones with desiccated coconut.
Ingredients
225

g

Self-raising flour

Pinch

Salt

50

g

Vegan margarine

50

g

Caster sugar

50

g

Desiccated coconut

(unsweetened)

120

ml

Unsweetened soy milk
Instructions
Preheat your oven to 220°C (200°C for fan ovens). Line a large tray with baking paper.

In a large bowl, mix together the flour and salt. Rub in the vegan margarine to create a mixture that resembles breadcrumbs.

Stir in the sugar and desiccated coconut.

Add in the soy milk, a little at a time, and combine until it forms a dough. If the dough is too wet, add more flour. If it's too dry, add more soy milk.

Roll the dough out on a lightly floured surface until it's around 1-inch thick.

Cut out your scones using a 2-inch round cutter. Re-roll the remaining dough pieces until it is all used up. You should end up with 10-12 mini scones.

Place the scones closely together on the baking tray and bake for 8-10 minutes, until golden brown. Transfer to a wire rack to cool.

Once cooled, serve with coconut whipped cream and jam.
Recipe Notes
Store in an airtight container at room temperature for up to 48 hours. Do not add fillings until you are ready to serve.
Nutrition Facts
Vegan Coconut Scones (Dairy-Free)
Amount Per Serving (1 scone without filling)
Calories 130
Calories from Fat 45
% Daily Value*
Fat 5g8%
Sodium 24mg1%
Carbohydrates 17g6%
Protein 2g4%
* All values are an estimate only and will vary depending on the food brands used.
BakedByClo is a participant in the Amazon Services LLC Associates Program, an affiliate advertising program designed to provide a means for sites to earn advertising fees by advertising and linking to Amazon.com. This site may contain some of these links to Amazon.com & other affiliate programs. If you make a purchase through one of those links, BakedByClo will receive a small commission from the purchase at no additional cost to you.