25 Easy Vegan Camping Recipes
Heading off on a camping trip soon? Make sure to check out these vegan camping recipes! With 25 recipes to choose from, you're sure to find something that the whole family can enjoy.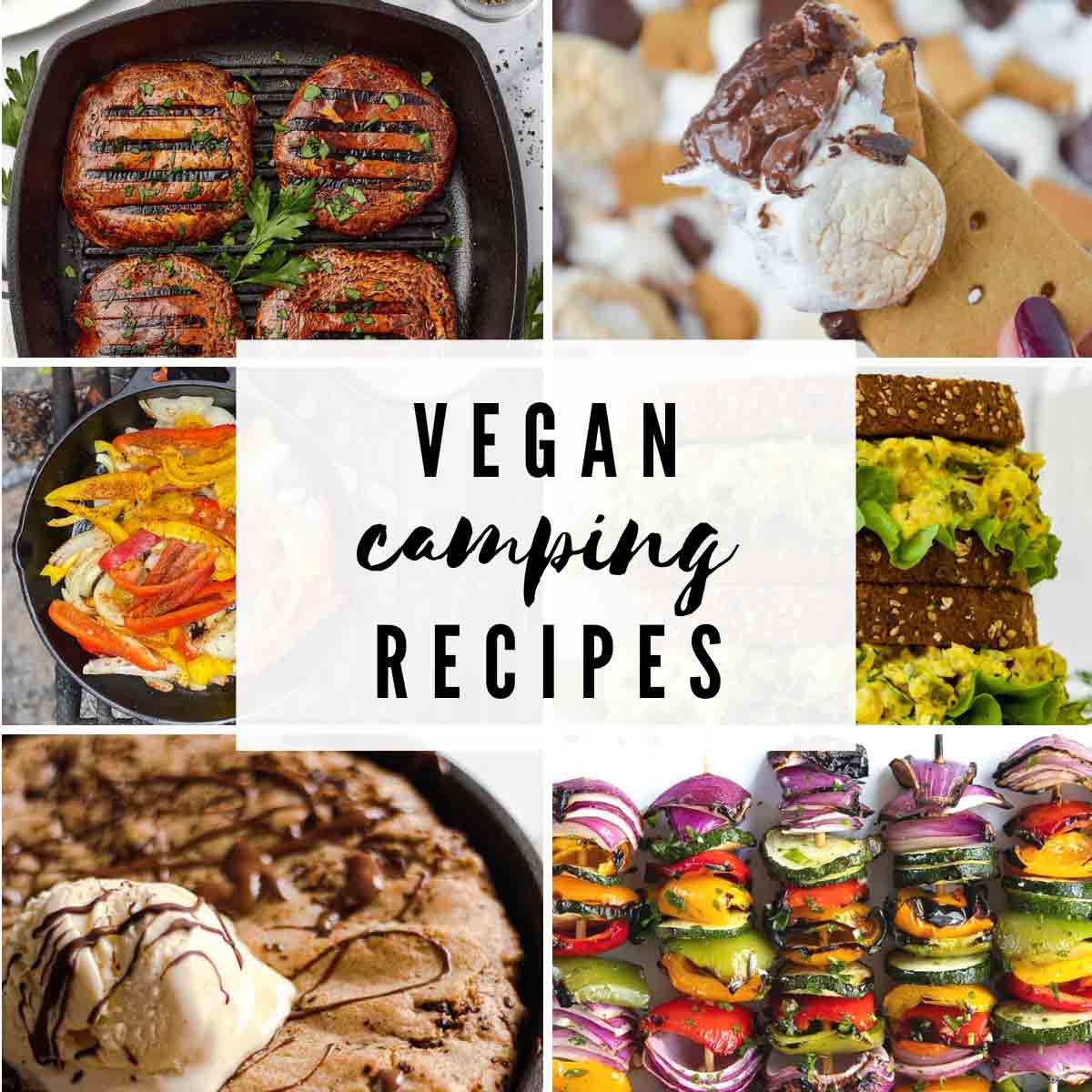 Summer is well and truly here in the UK and that means it's camping season! I'm more of a glamper than a camper myself, but that's only because I'm afraid of insects, lol!
Regardless, the best part about camping, in my opinion, is enjoying food by the campfire. I've teamed up with some other food bloggers to bring you this list of 25 vegan camping recipes to try this summer. Some of them can be made directly over the campfire while others are good for prepping ahead of time.
I hope you like this post. If you try any of the recipes on the page, please do let us know how it goes by leaving a comment. Enjoy! xo
Savoury vegan camping recipes
First, let's start with the savoury recipes. If you prefer the sweet stuff, you can skip to the desserts.
An easy vegan camping recipe, made with seasoned onions and peppers, black beans and tortillas. All you'll need is a saucepan and a cast-iron skillet or campfire Dutch oven.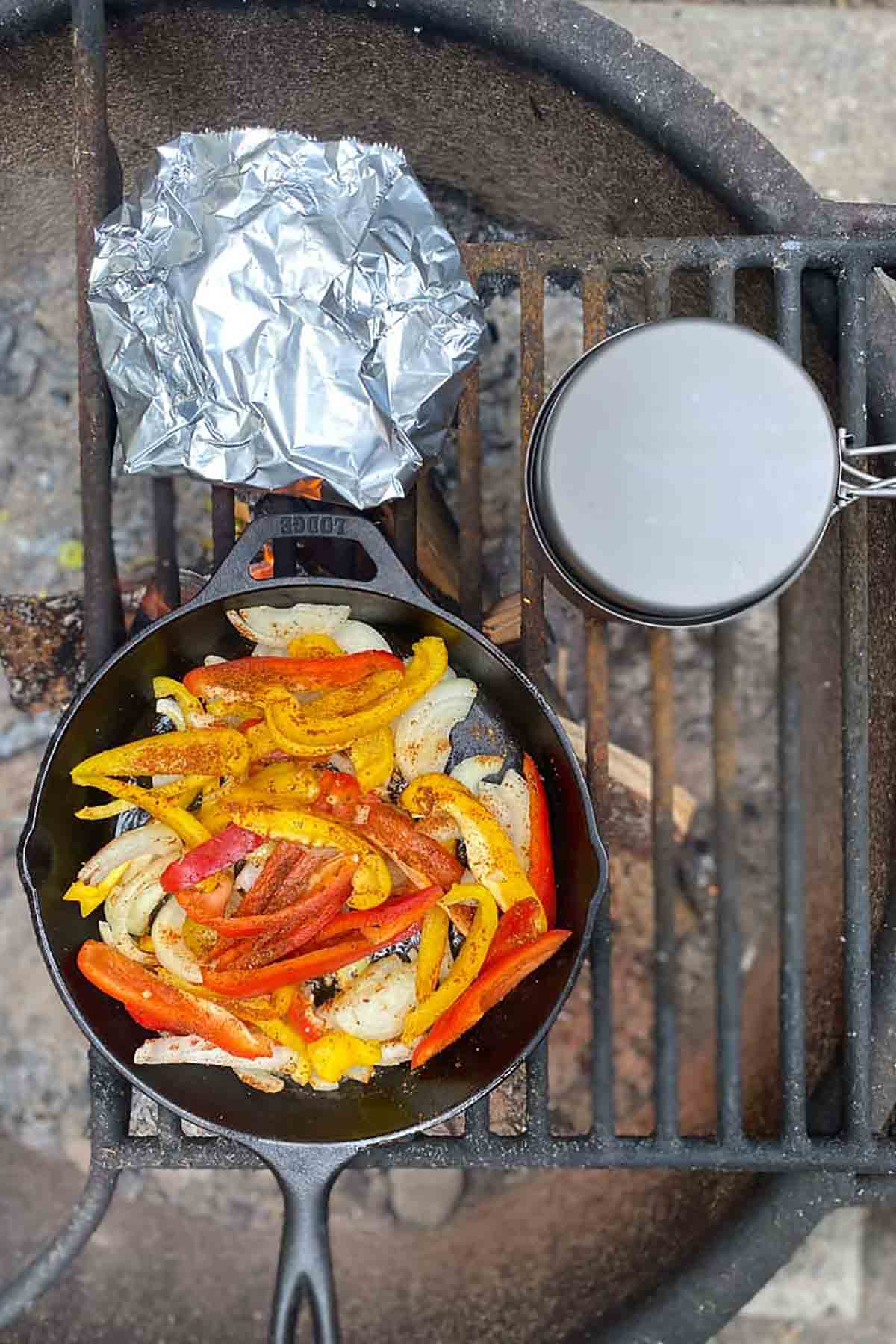 This roasted veggie skillet dish makes a tasty savoury breakfast. Packed with potatoes, peppers and onions, this meal is paleo, gluten-free and top 8 allergy-free, meaning the whole family can enjoy it.
A variety of veggies grilled to perfection, served with tangy balsamic vinegar and a fresh garlic and herb sauce. A classic summer staple that everyone will love.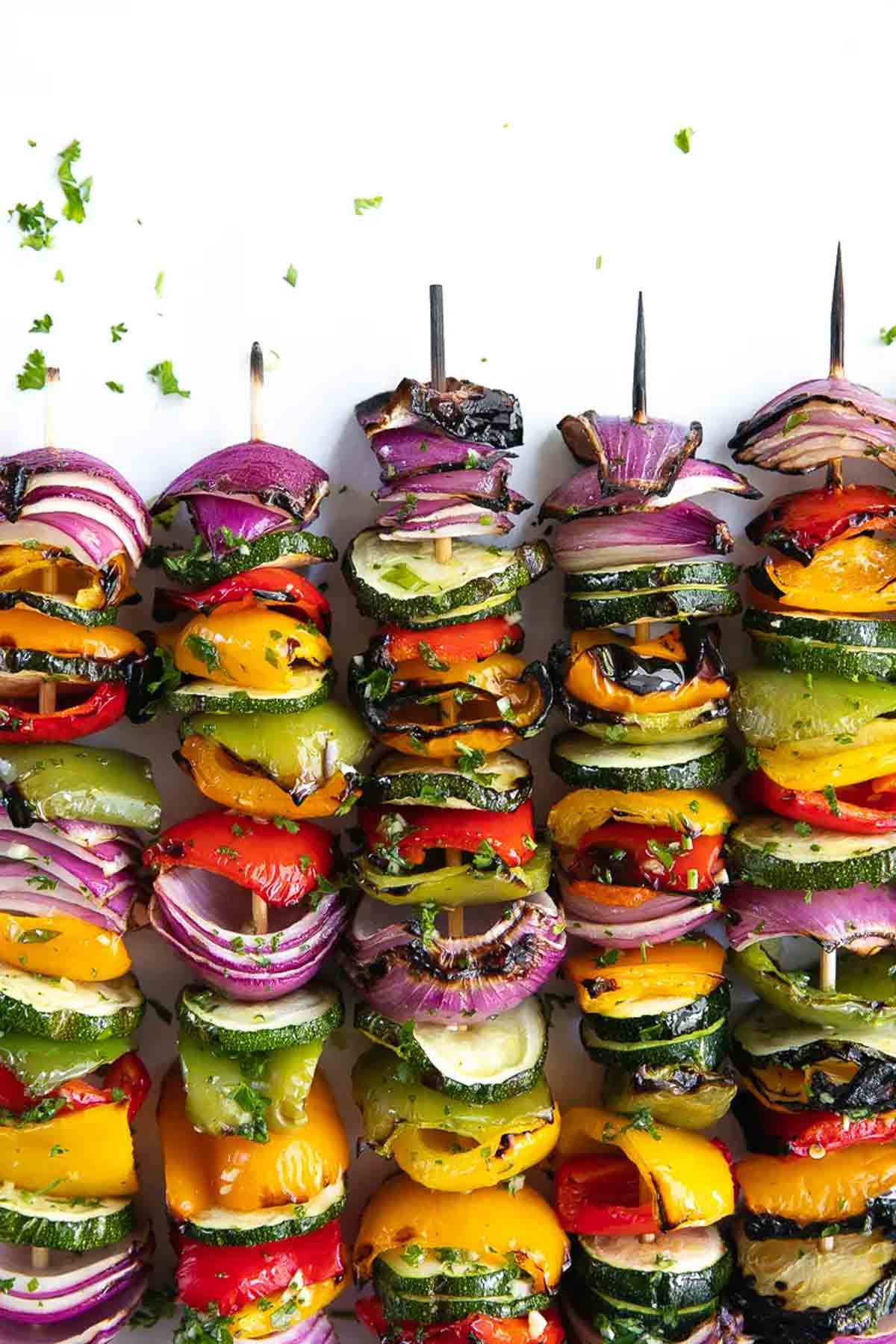 If you're looking for a healthy vegan camping side dish, these cabbage steaks are for you! They're tender on the inside, and golden brown and crispy on the outside.
Grab yourself some foil and potatoes and make some foil packet potatoes the next time you go camping! Serve them with vegan butter and/or vegan pesto for a hearty, comforting snack or side.
These mushroom steaks are super easy to make. You'll only need 7 simple ingredients and 30 minutes to marinate and grill them! This recipe is keto, gluten-free and super nutritious.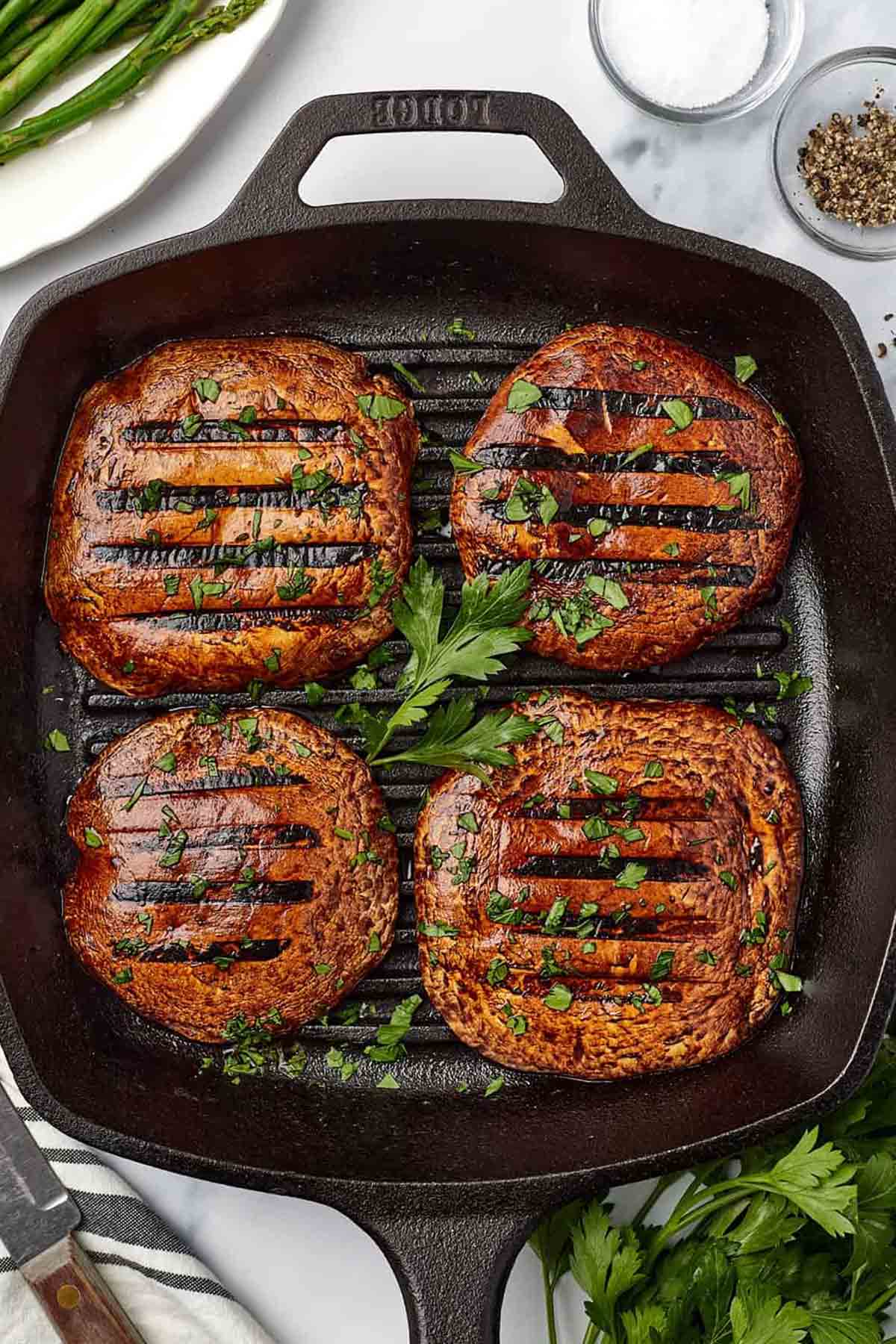 Combine mashed sweet potatoes and black beans with corn, jalapenos and seasonings to make these delicious burgers that even meat eaters will love! Serve on a bun with your favourite sauces and enjoy!
This easy no-egg salad can be served with sandwiches, wraps, tortillas or crackers. It's made with simple ingredients and is ready in just 10 minutes.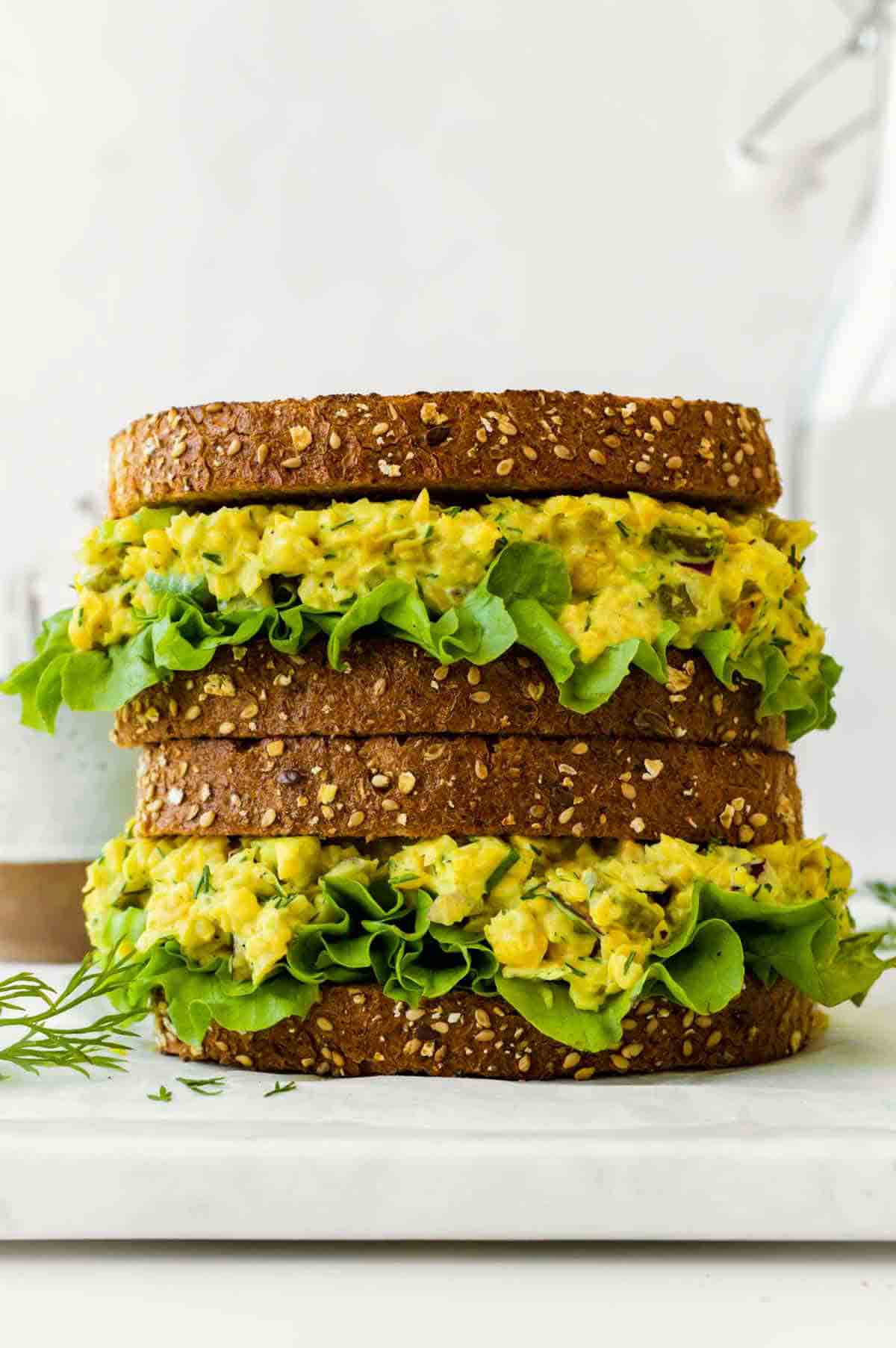 This easy and delicious gluten-free sandwich takes just 15 minutes to make. It's filled with plant-based protein, fibre and bold, tangy flavour. Perfect for a camping lunch, dinner or snack.
This vegan jerky makes a low-fat, flavourful vegan camping recipe. It's cheaper than store-bought jerky and it has a whopping 24g of protein per serving!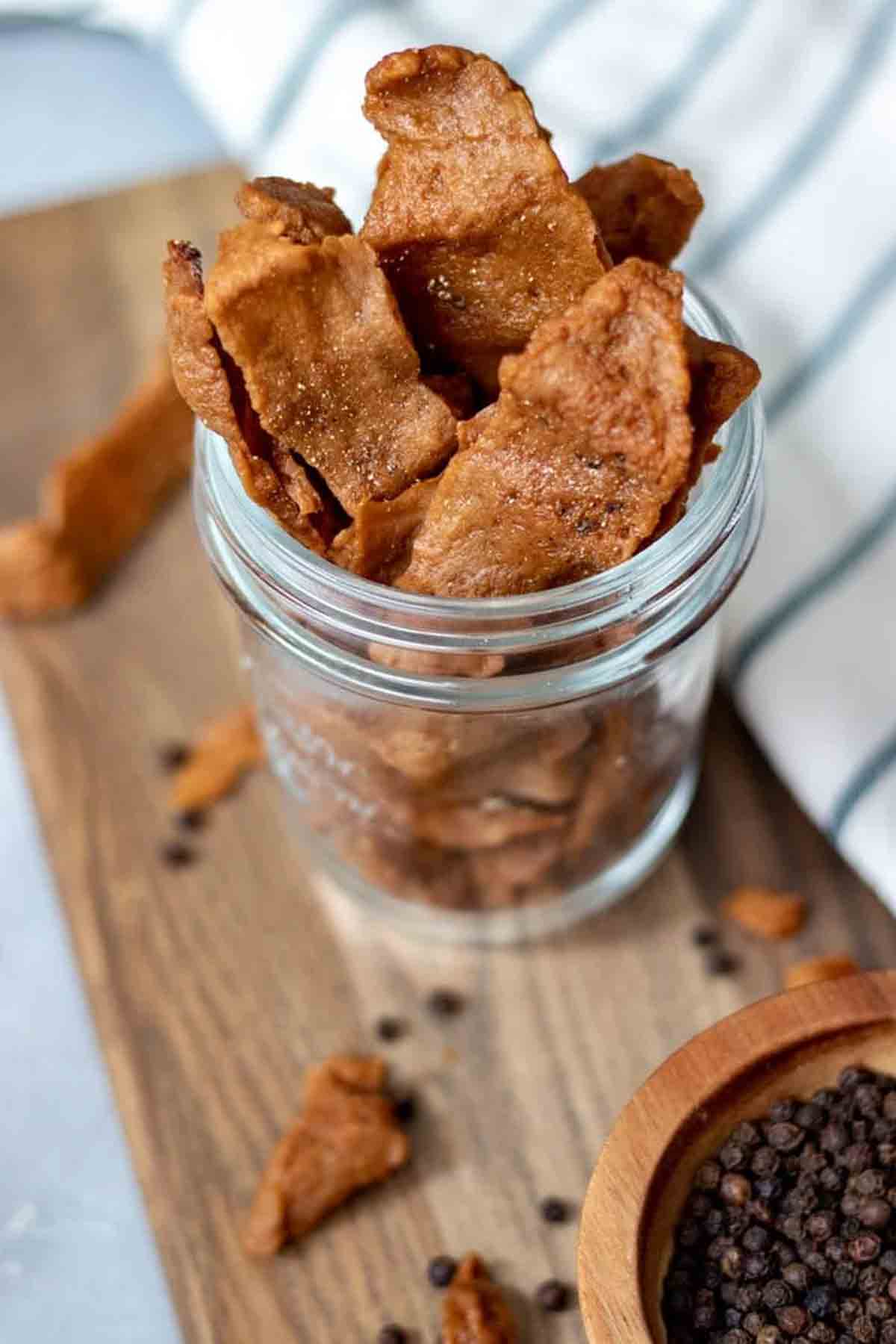 These veggie tortilla roll-ups are quick to prepare and great for kids. They're made without cream cheese and can be customised according to your taste buds!
This 4-ingredient Irish potato bread (or potato cakes) is made with leftover mashed potato, making a gluten-free, allergy-friendly snack or side dish. It can be served hot or cold and with savoury or sweet toppings.
This hearty lentil stew is a twist on Indian dal and it's perfect for camping. It can all be done in a cast iron Dutch oven and it'll serve 4 people!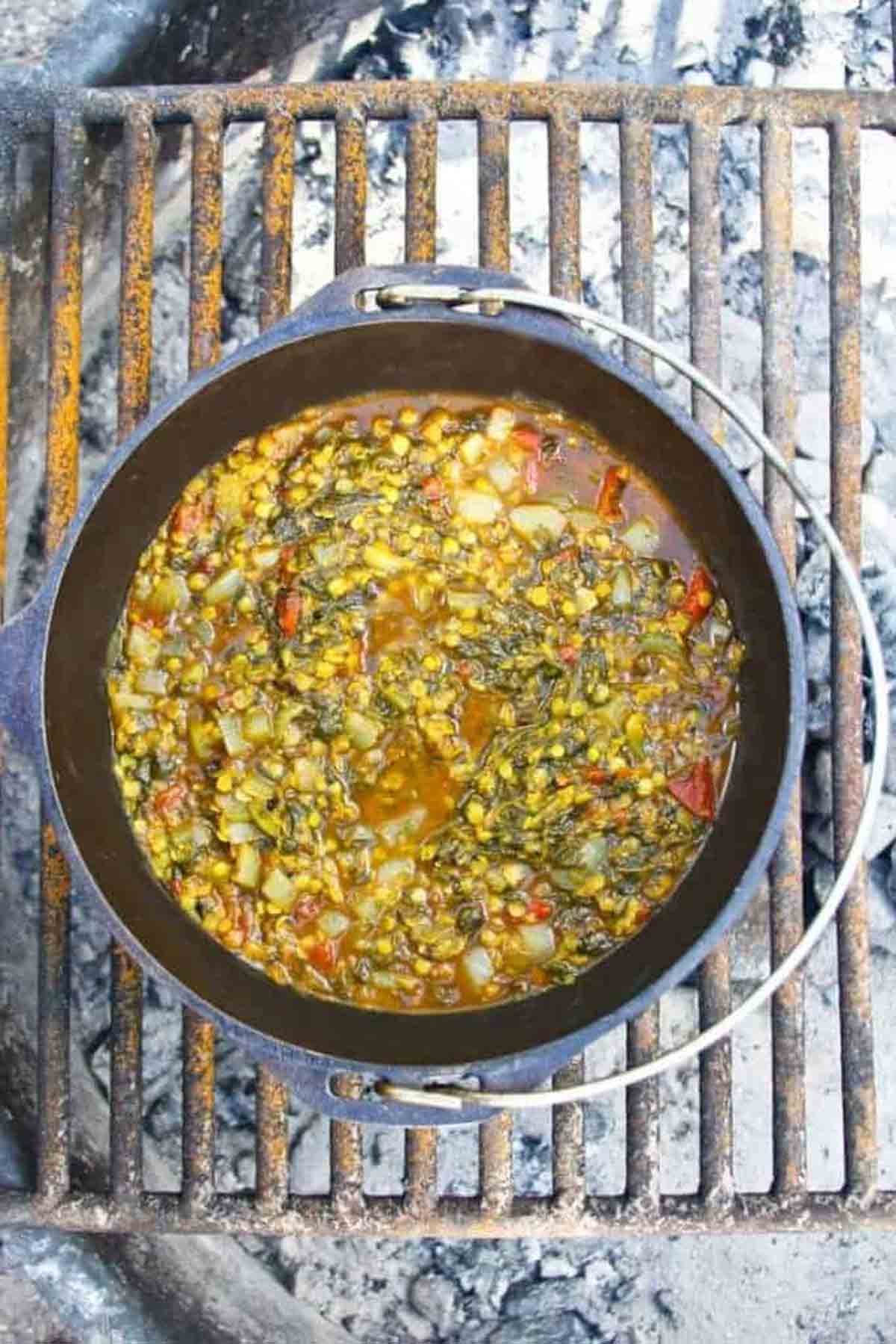 Walking tacos are fun for both children and adults! Spicy, tangy seasoned beans with chips/crisps and your choice of toppings.
Meatless chilli is perfect for warming up over a campfire. It's hearty, filling and full of fibre, and it tastes delicious too!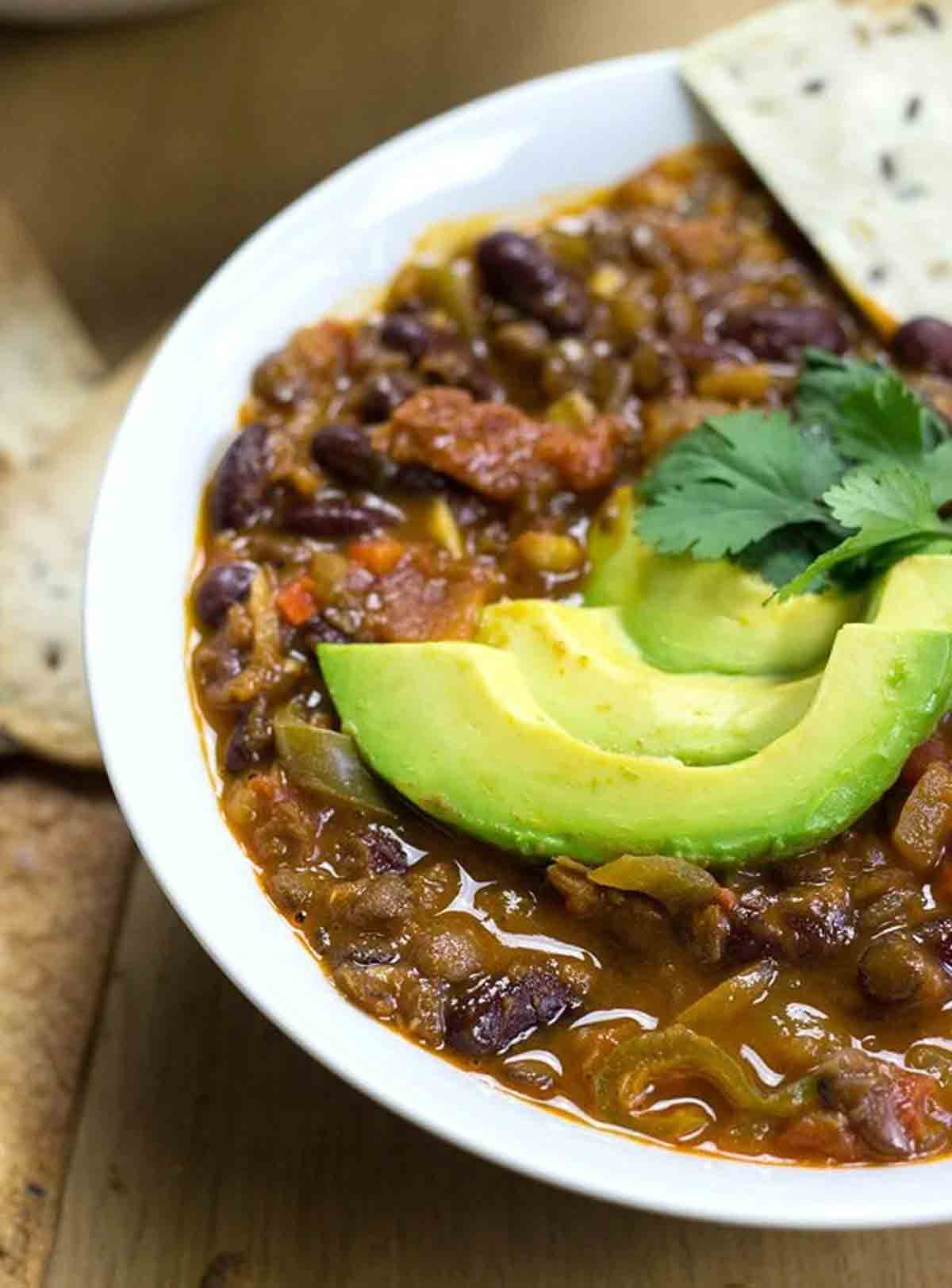 This Hungarian-inspired stew is made with spicy mixed beans and is flavoured with paprika. It's easy to make in less than 30 minutes.
I just love me some soup when camping, don't you?! This lentil soup is healthy, packed with veggies, and made with simple ingredients.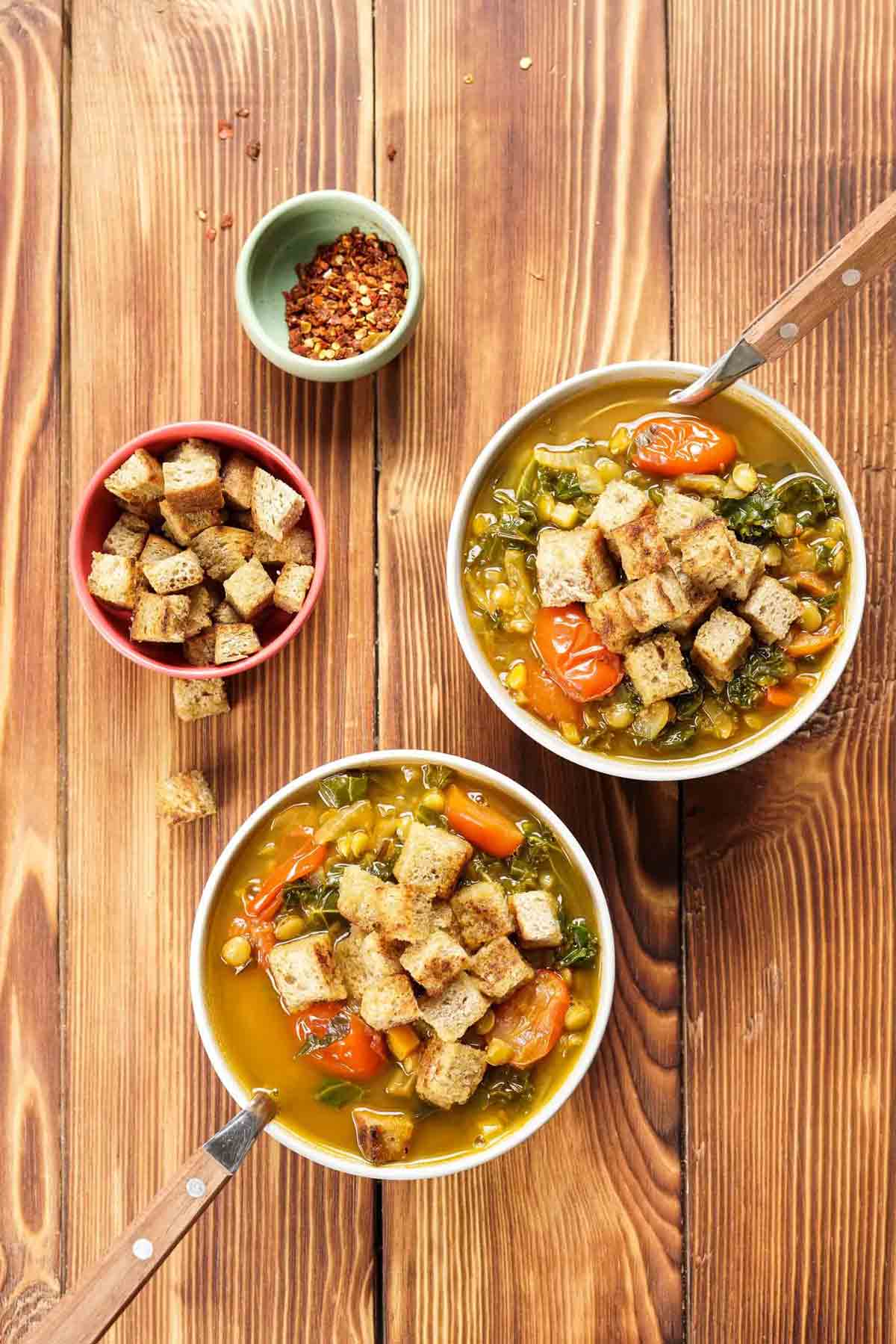 Sweet vegan camping recipes
Now onto the vegan camping desserts and sweet meals! There are 8 scrumptious recipes for you to choose from here.
Pack some overnight oats and enjoy them as a quick and fuss-free vegan camping breakfast. You can add whichever toppings and mix-ins you like.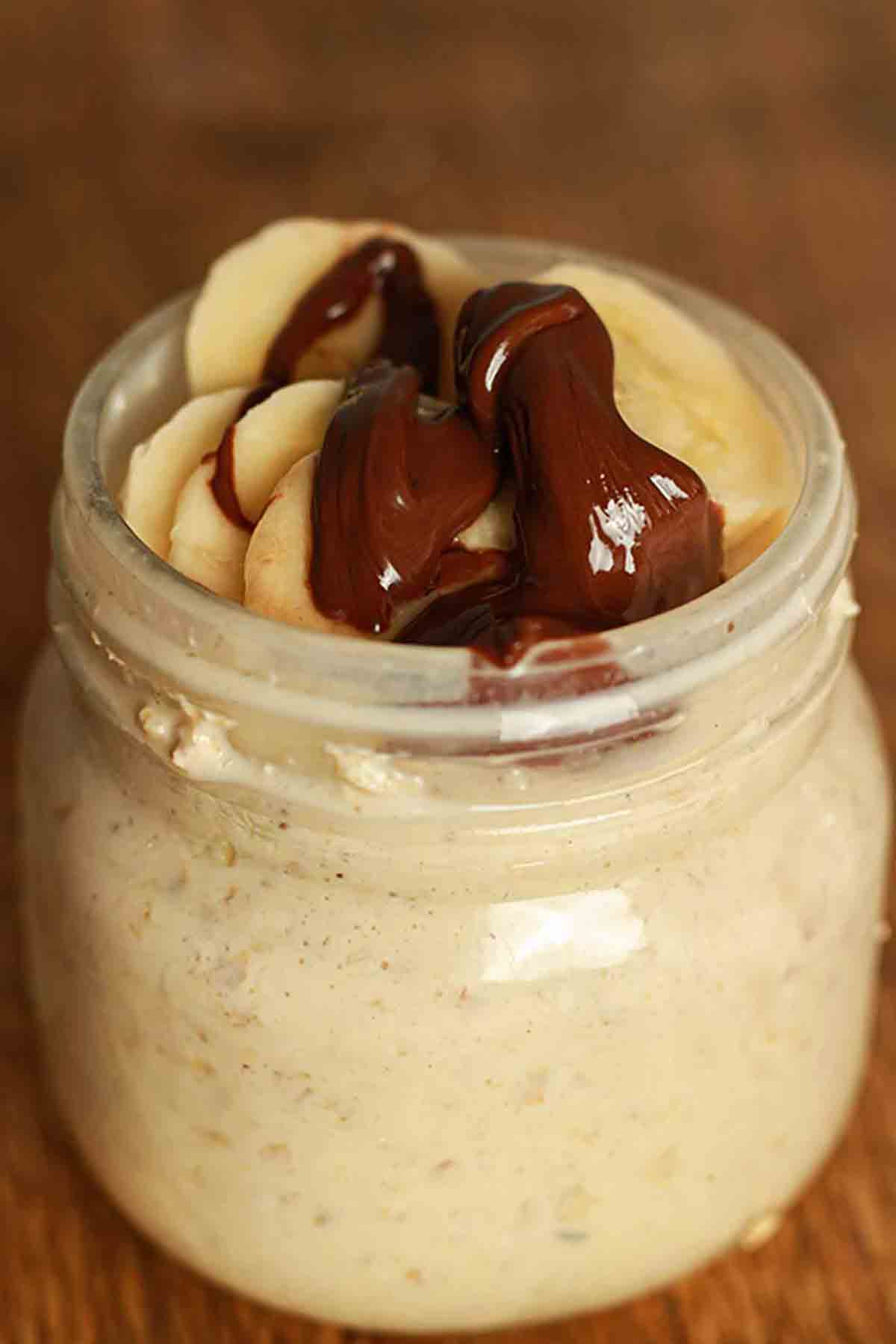 These flapjacks are made with only 4 ingredients and they're really good for travelling with. Wrap them in some tinfoil or pop them into an airtight container and enjoy them for up to 5 days.
Packed with vegan marshmallows, chocolate chips, popcorn, pretzels and biscuit pieces, this rocky road is sure to be a hit with everyone who tries it! It transports well and can last up to 2 weeks if you keep it cool in an airtight container.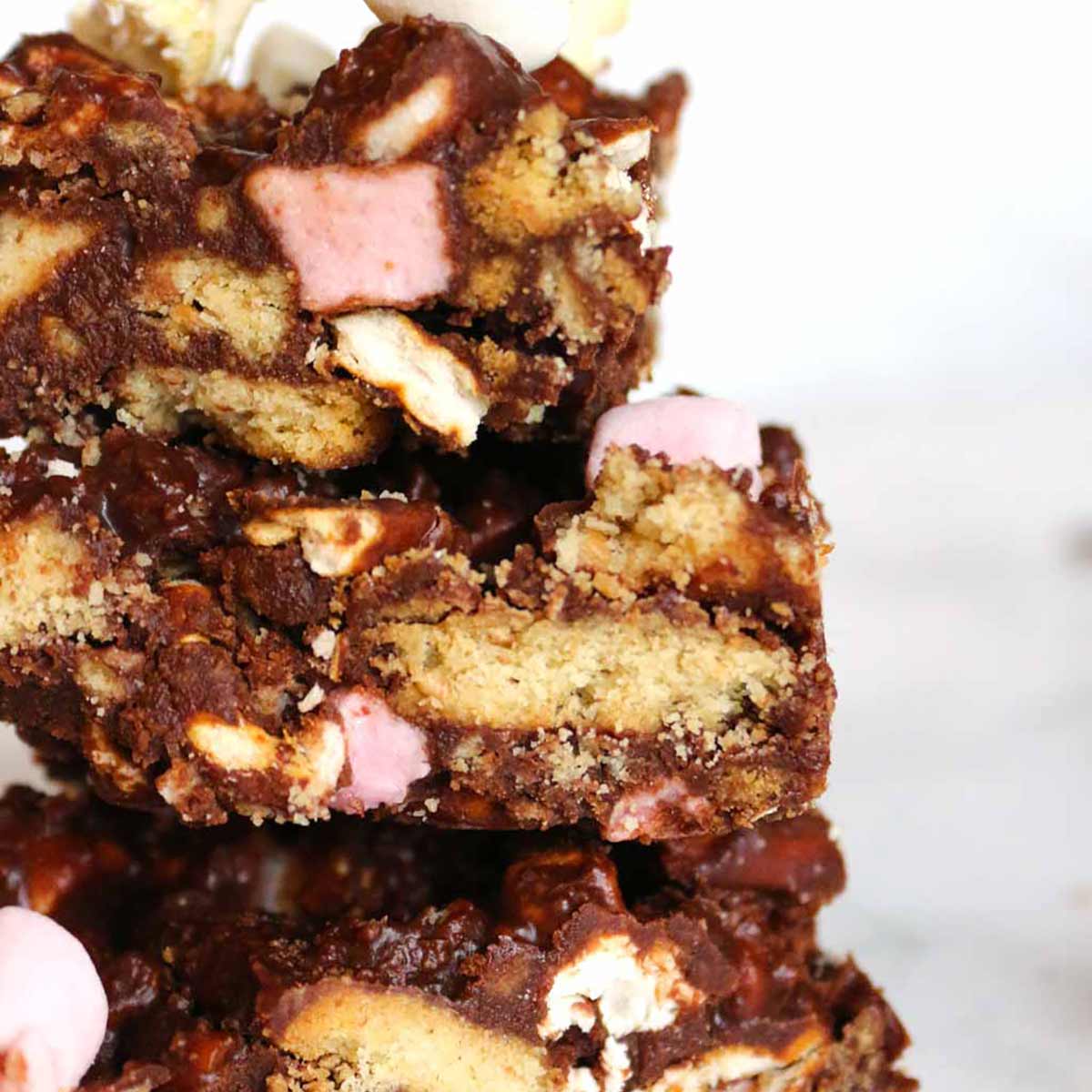 These granola bars are naturally gluten-free and are also free from refined sugar. You don't even need to bake them either- just let the fridge do the work!
How tasty does this vegan s'mores dip look?! It's made with vegan marshmallows, chocolate chips and other tasty mix-ins that make the perfect campfire dessert.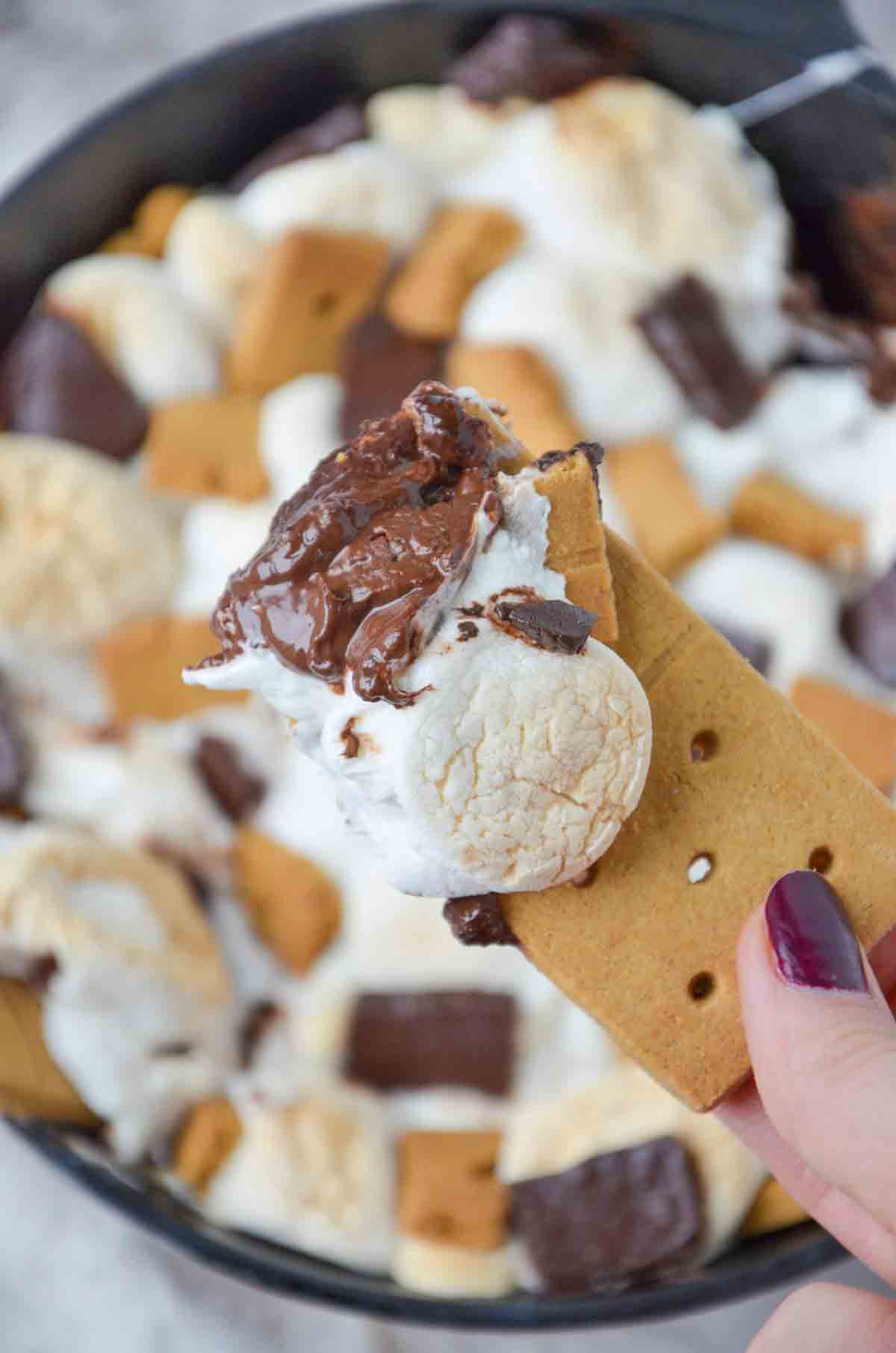 Naturally sweetened and made with only 3 ingredients, these peanut butter oatmeal balls are a breeze to make. A great snack or dessert for your next vegan camping trip!
This chocolate chip cookie dough skillet can be made over the campfire for an ooey, gooey, indulgent dessert. It's soft in the middle and slightly crispy on the outside.
Last but not least are these double chocolate chip cookies. These are great for sharing and are one of my go-to vegan recipes for camping.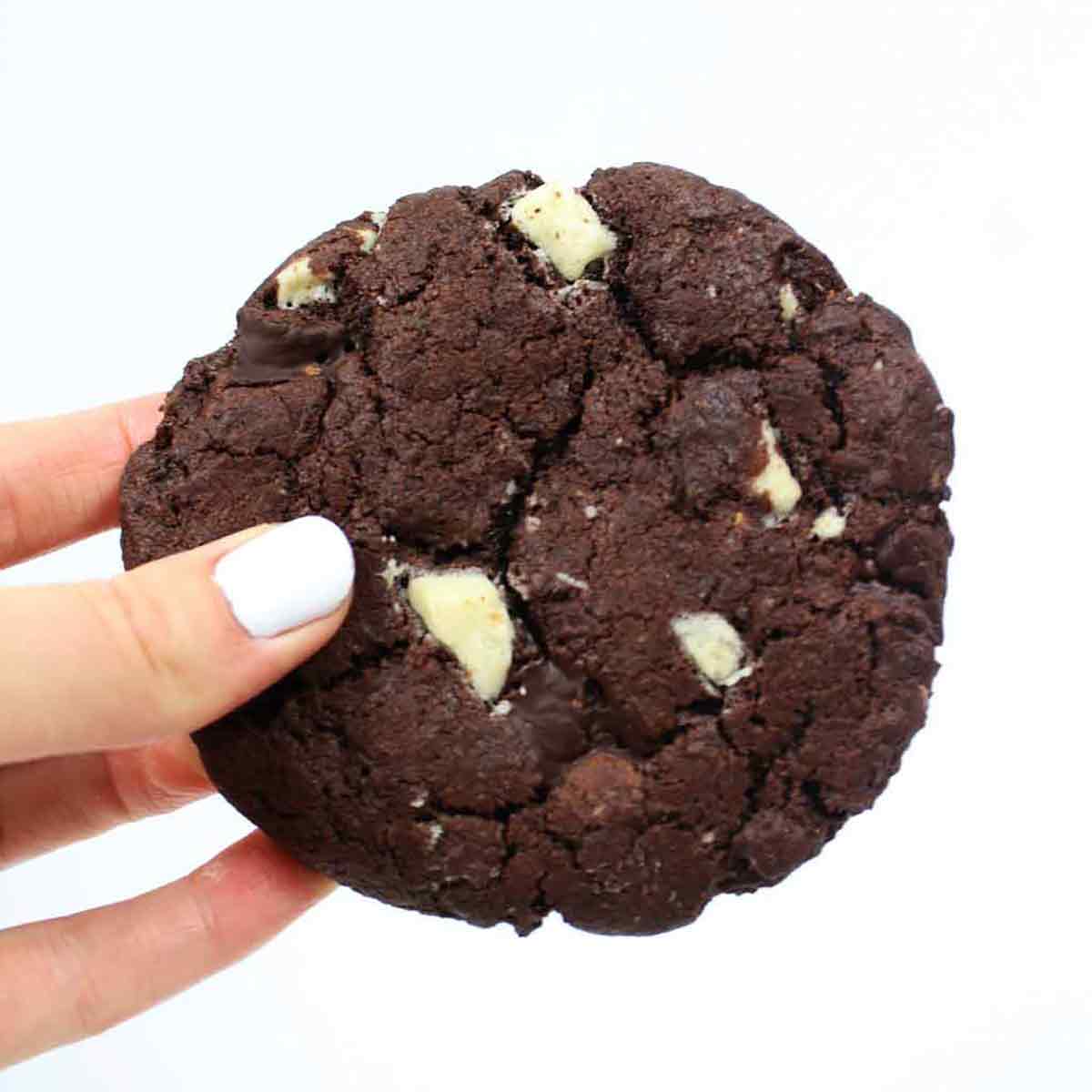 I hope you like these vegan camping recipes. If you find this post useful, please give it a share using the share button on this page. Enjoy! xo

25 BEST Vegan Camping Recipes!
Easy, portable, eggless and dairy-free recipes for camping.
BakedByClo is a participant in the Amazon Services LLC Associates Program, an affiliate advertising program designed to provide a means for sites to earn advertising fees by advertising and linking to Amazon.com. This site may contain some of these links to Amazon.com & other affiliate programs. If you make a purchase through one of those links, BakedByClo will receive a small commission from the purchase at no additional cost to you.