30 Fabulous Vegan Desserts To Impress
If you're looking for some tasty vegan desserts to impress then you've come to the right place! This post contains 30 sweet treats that are sure to WOW your friends and family!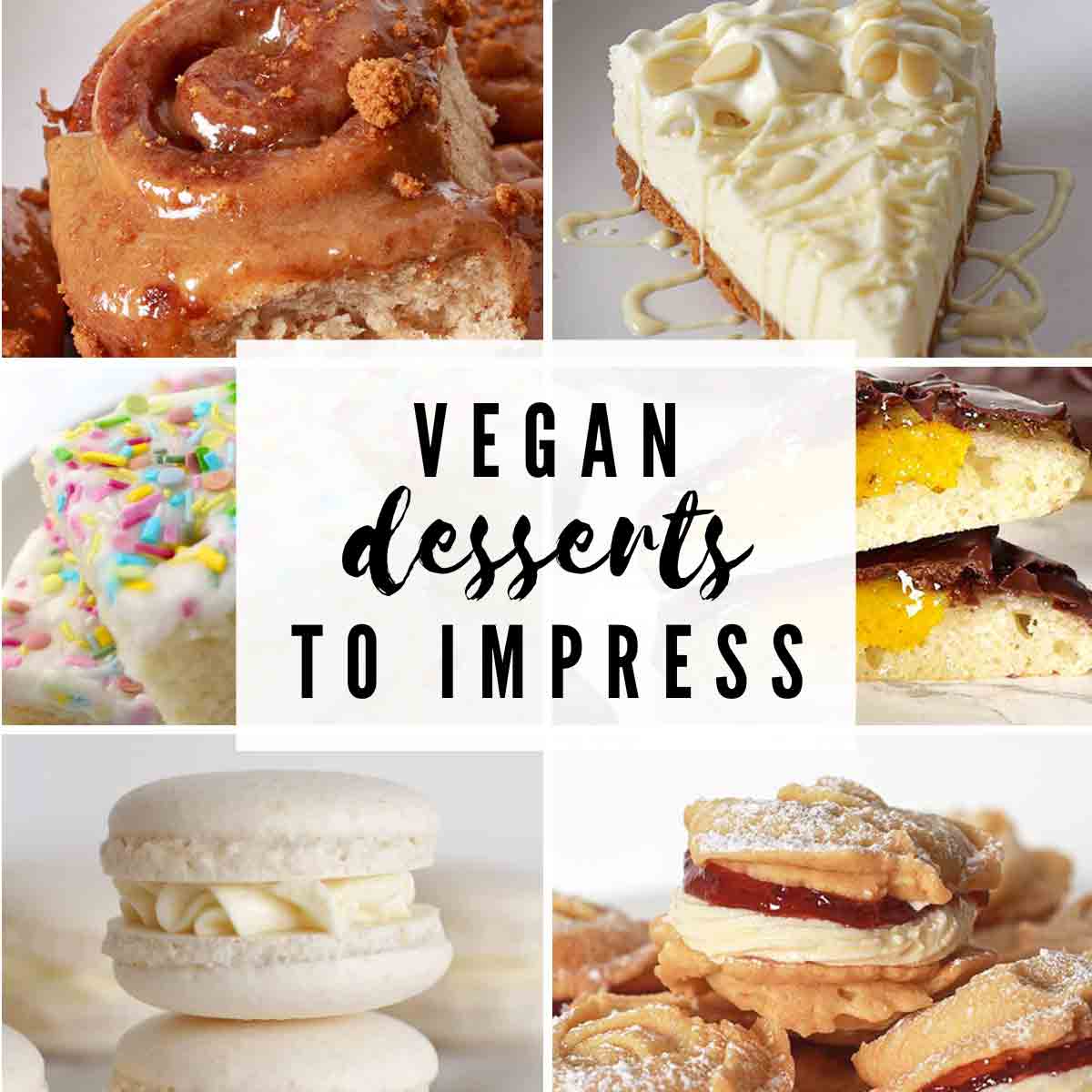 If you've been vegan for any length of time, I'm sure you can understand the disappointment felt when you hear that *sorbet* is the vegan dessert option whenever you're eating outside of your home. Now don't get me wrong, I do love me some sorbet and I don't mean to sound ungrateful, but it's not something I particularly look forward to as an after dinner dessert.
When it comes to dessert, go hard or go home is what I say. Part of the reason I created this blog was to show that you can still make fun, delicious, creative desserts without animal products. And this post is all about making vegan desserts to impress- whether that's to impress yourself, your family or your friends!
The desserts I've included in this post are my most popular, decadent, show-stopping desserts that are sure to wow anyone who tries them. Most are recreations of my old non-vegan favourite treats.
I hope you like the recipes and if you make any of them at home, please leave a comment to let me know how it goes. Enjoy!
Vegan desserts to impress
I've split the 30 recipes up into categories. The categories are: Meringue-based desserts, buns & cakes, biscuits & cookies, cheesecakes, pies & tarts, and brownies & bars. Simply click on the pink 'get the recipe button' to be taken straight to the recipe page.
Meringue-based desserts
First up are the meringue-based vegan desserts. The recipes use aquafaba instead of egg whites to create a similar taste and texture to the traditional versions.
Buns & cakes
Next up are the buns and cakes. These are super fun to make and great if you have a group of people to feed.
Biscuits & Cookies
If you're missing your old favourite biscuits, don't worry, you can make them at home! Try out some of the classic recipes below.
Cheesecakes
If you've been looking for a vegan cheesecake that actually tastes like cheesecake, these recipes will help you out! Here are 3 of my faves.
Pies & Tarts
These recipes are easy to make and taste super indulgent.
Brownies & Bars
Last but not least are the brownies and bars. Here are 4 vegan brownie recipes, plus recipes for apple crumble bars, Rice Krispie treats and peanut butter fudge. Yum!
There we have it, 30 vegan desserts to impress your friends or family with. I hope you like the recipes! If you find this post useful, please give it a share using the share buttons on this page. Happy baking! xo
BakedByClo is a participant in the Amazon Services LLC Associates Program, an affiliate advertising program designed to provide a means for sites to earn advertising fees by advertising and linking to Amazon.com. This site may contain some of these links to Amazon.com & other affiliate programs. If you make a purchase through one of those links, BakedByClo will receive a small commission from the purchase at no additional cost to you.