Vegan Jaffa Cakes (Dairy-Free)
These vegan Jaffa cakes are quick, easy and taste just like the real deal! You'll need just a few simple ingredients to make them and they are great for an on-the-go dairy-free sweet treat.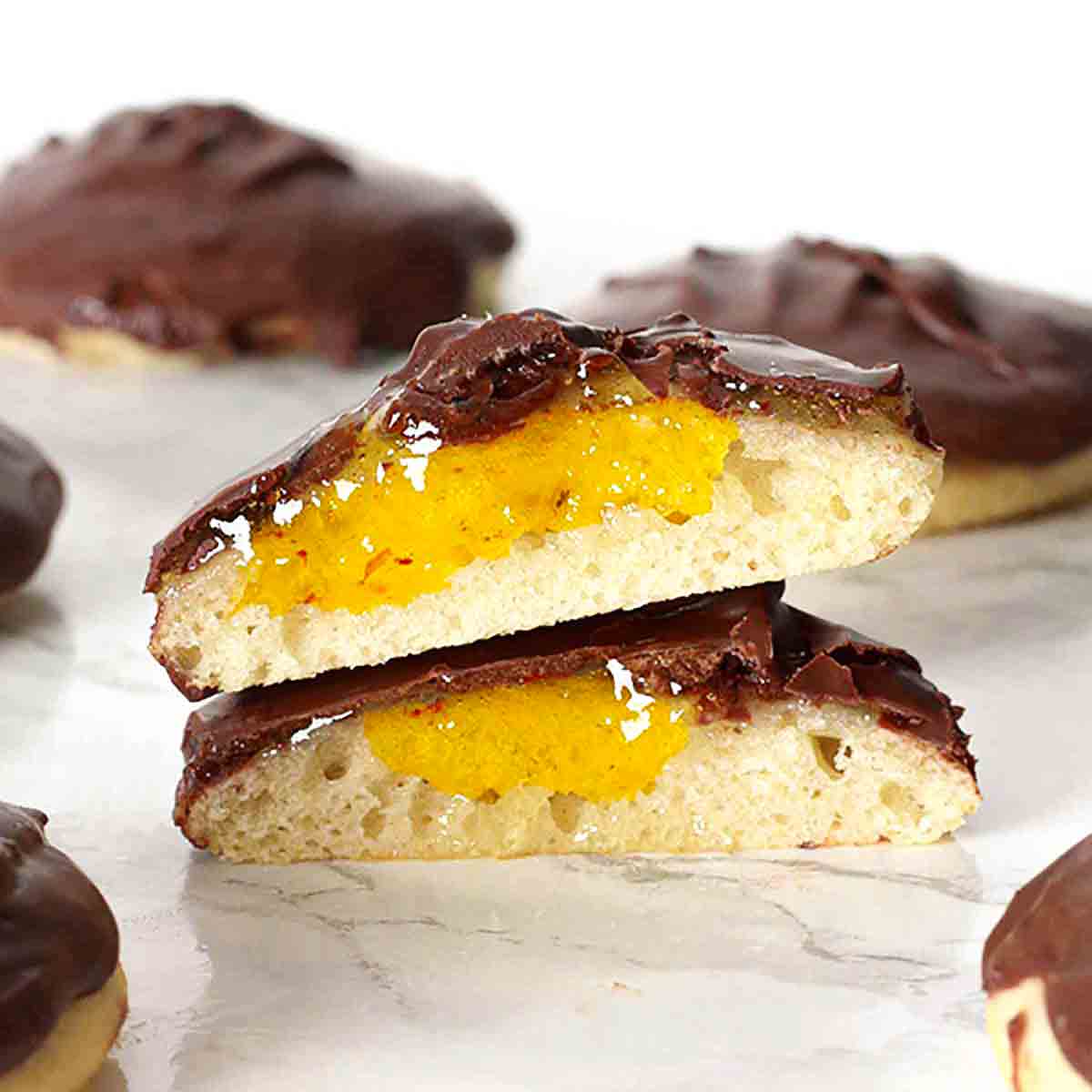 What do you think, are Jaffa Cakes a biscuit or a cake?
I'm going with a cake, since the clue is in the name. They're also a lot softer than a traditional biscuit which is why I've never seen them as biscuits. But because they're always found in the biscuit aisle in supermarkets, the debate rages on!
If you don't know what a Jaffa Cake is, you're probably very confused right now. So let me explain…
Jaffa Cakes are small, round biscuits cakes with an orange filling and dark chocolate on top. They are super popular in the UK, and there has been this ongoing debate for decades as to whether they are biscuits or cakes. As a country, we've never come to a solid conclusion.
Let me know your opinions in the comments!
Are Jaffa Cakes vegan?
Traditionally, Jaffa Cakes are made with milk and eggs so sadly they're not vegan. But when you find out how to make homemade eggless, dairy-free Jaffa Cakes, you'll never go back!
The milk part was pretty easy to resolve because I just used a dark chocolate without dairy in it for the topping. And as for the eggs, I just tweaked my vegan vanilla cupcakes recipe slightly to make the sponge base. The sponge base is light but it's not super soft like a traditional sponge cake. It has that slight denseness that a Jaffa Cake has.
Are Jaffa Cakes vegetarian?
Contrary to popular belief, Jaffa Cakes are suitable for vegetarians because they actually do not contain gelatine. The McVities ones have a jammy, jelly-like centre that is made with fruit pectin.
A lot of non-vegan replica recipes use orange jelly as a replacement for the filling and I guess you could make a vegan version using agar powder if you like. However, I wanted to keep this recipe quick, easy and accessible so when I saw that this Jamie Oliver recipe used marmalade for the filling, I knew I was going to do the same!
You get the same flavour and texture without the fuss of boiling pectin or agar and making a mess. Just pop the marmalade on, cover with chocolate and you're good to go.
Ingredients you'll need:
Like I said, I wanted this to be a super easy recipe so I kept the ingredients to a minimum. You'll only need 7 ingredients for this one!
Self-raising flour. This helps provide structure to the base and helps it to rise as it's baking. It produces a light, airy texture.
Caster sugar. Provides sweetness and adds moisture to the cake base.
Soy milk. Combined with the gluten from the flour, the soy milk acts as a binder for the base in this recipe.
Oil. The fat from the oil is what transforms a simple pancake mixture into a dairy-free Jaffa Cake base. The recipe contains just the right amount of fat to soften the base without taking away from that ever-so-slightly dense element that a Jaffa Cake has.
Marmalade. Any vegan marmalade is fine to use but I recommend using one without the peel in it, also known as "shredless". I used this one from Tesco. The peel tends to be very bitter and probably won't taste that great in this recipe. If you already have marmalade with the peel, you can push it through a sieve to make it smooth.
Dark chocolate. Jaffa Cakes are traditionally made with a dark chocolate topping. You can use dairy-free "milk" chocolate if you prefer but I recommend a semi-sweet dark chocolate for the most authentic taste. Lovett's dark chocolate from Sainsbury's is a great option. You can check out my vegan chocolate guide for more dark chocolate options.
How to make vegan Jaffa Cakes
Step 1:
The first step is to preheat your oven to 180°C/350°F, or 160°C/325°F if you're using a fan or convection oven. Grease a 12-hole cupcake tin with oil or dairy-free margarine.
Step 2:
In a small bowl, mix together 60g of self-raising flour and 30g of caster sugar.
Step 3:
Next, add in 4 tablespoons of soy milk, 1 tablespoon of oil and 1/2 a teaspoon of vanilla extract. Mix everything together until you have a smooth but slightly thick cake batter.
I recommend using organic, unsweetened soy milk as I find it produces the best texture in vegan desserts. If you're allergic to soy or don't like it, you can use oat milk instead.
You can use any type of oil for this recipe but I recommend using something neutral such as sunflower or rapeseed oil. Coconut or olive oil will work but you will be able to taste it in the finished product. Alternatively, you can use 1 tablespoon of melted dairy-free margarine or butter.
Step 4:
Spoon the cake mixture evenly between your 12 cupcake holes. You don't need to use a lot so be careful not to use too much, otherwise you'll run out before you fill them all. Around 1/2 a tablespoon should do, then spread it out evenly until the bottom of the hole is covered.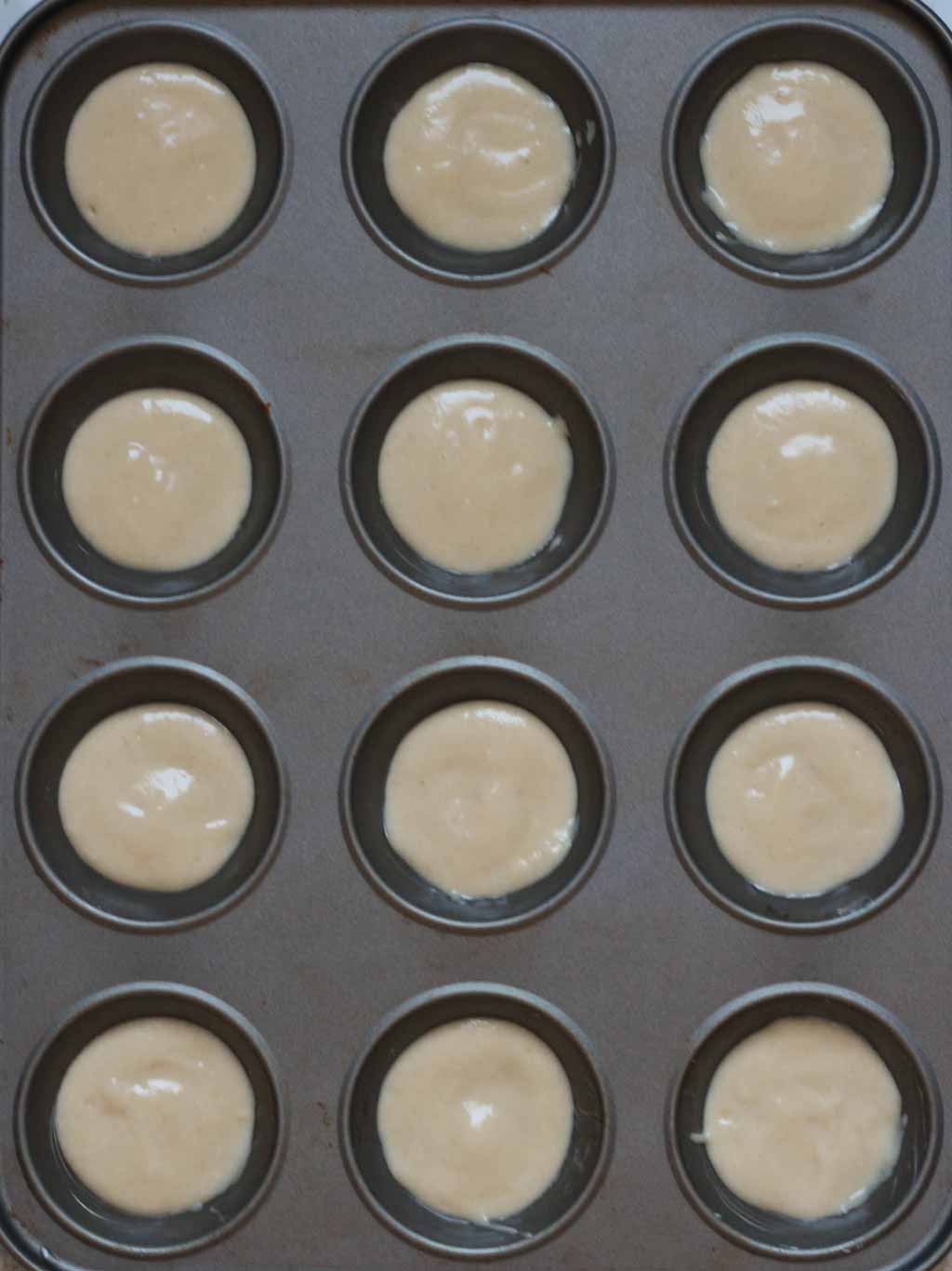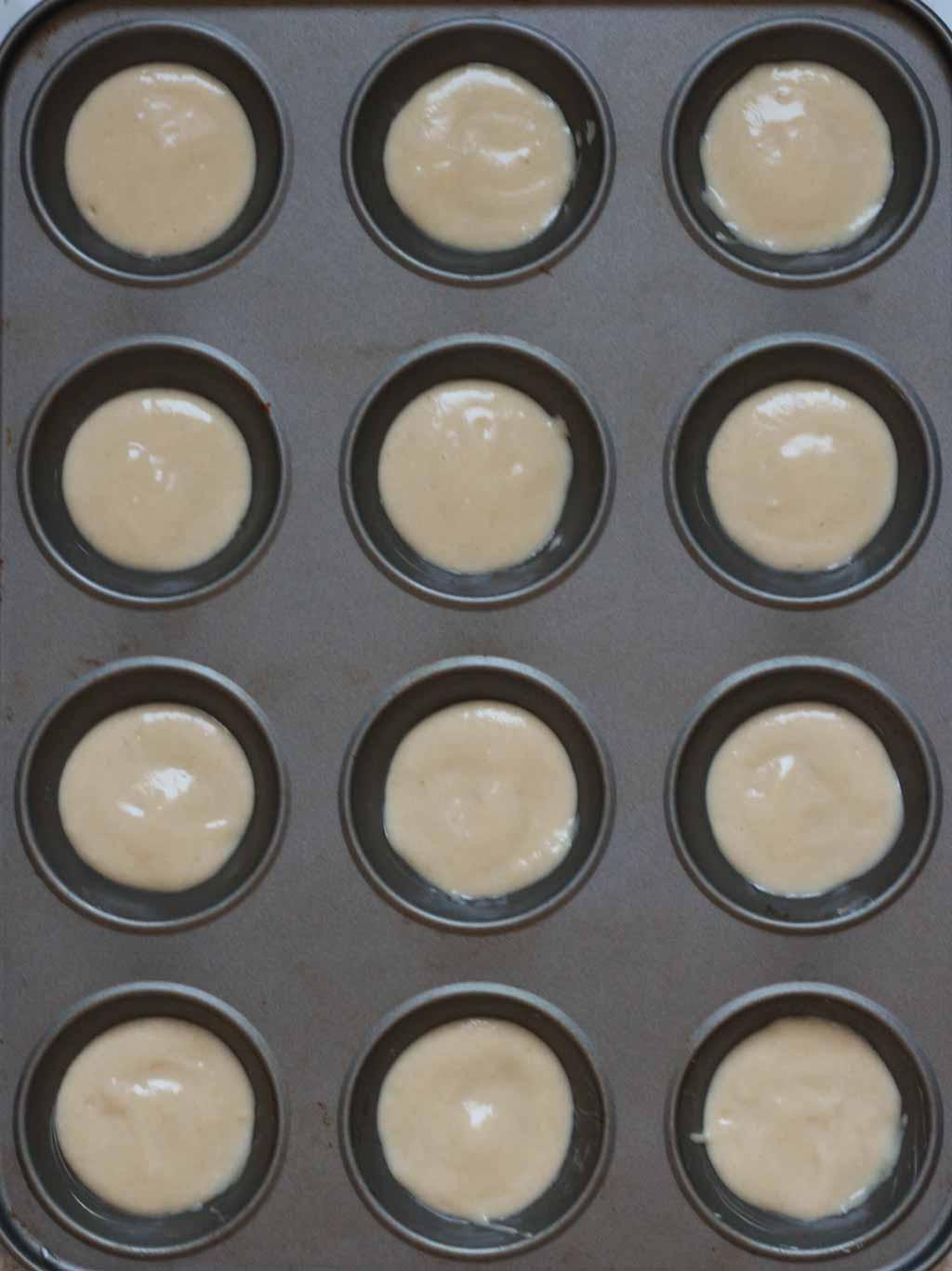 Step 5:
Bake the Jaffa Cake bases in the oven for 10-12 minutes. When they're done, a toothpick through the centre will come out clean and when touched, they will spring back.
Let them cool completely in the cupcake tin. Once cool, use a butter knife to carefully remove them.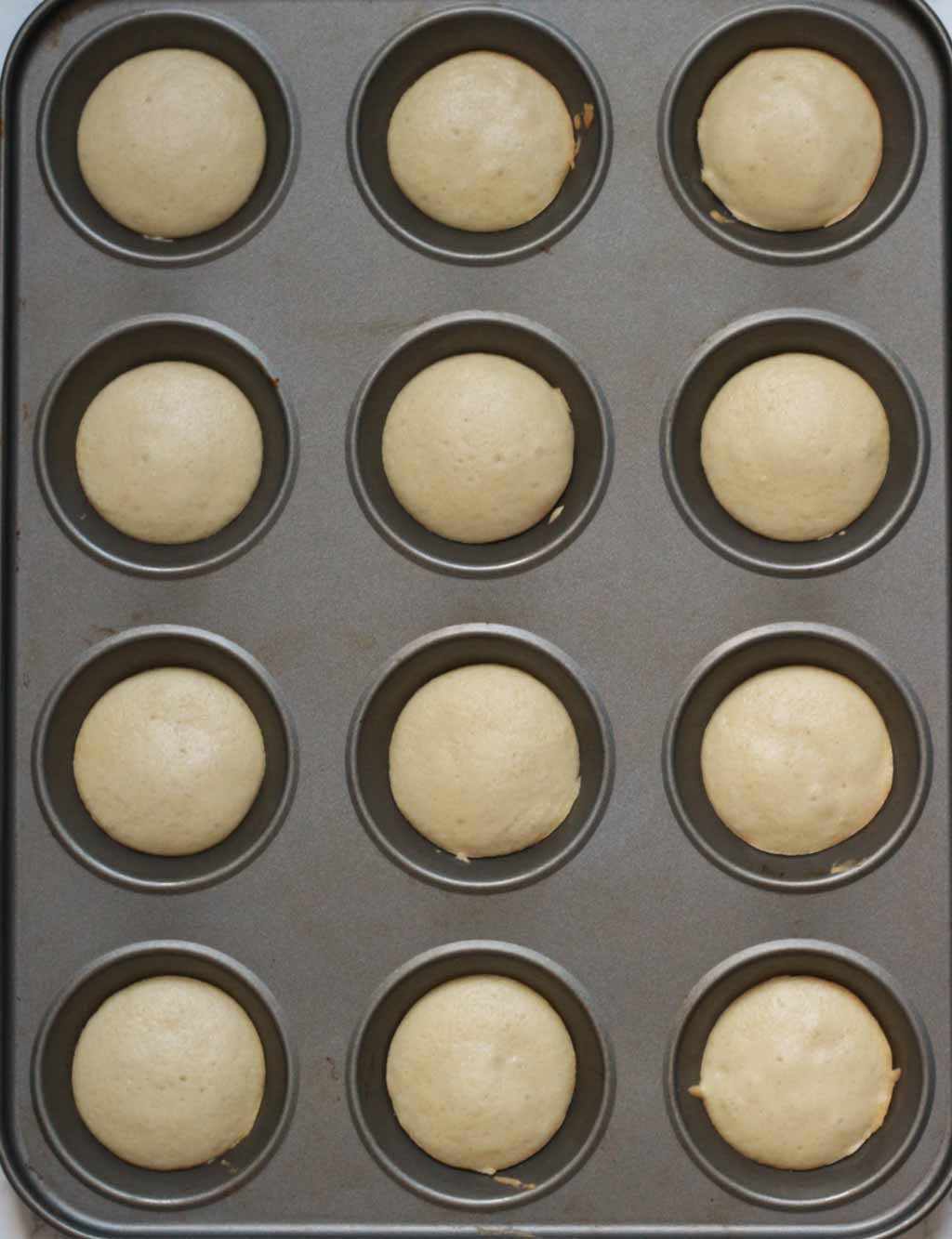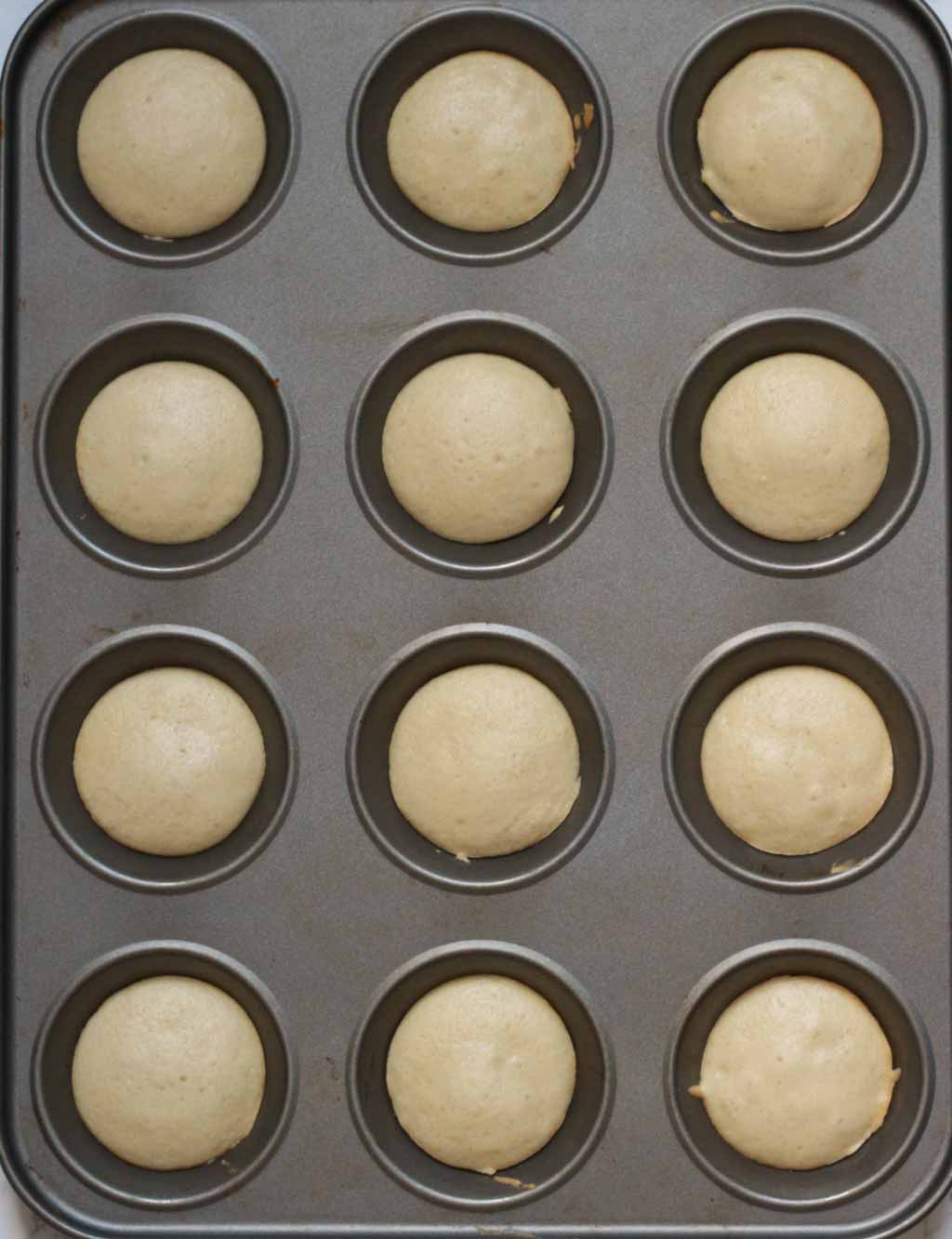 Step 6:
Next, we add the filling! Put 100g of shredless orange marmalade into a bowl and give it a good mix to loosen it up. Use a teaspoon to place a small amount of marmalade onto the centre of each cake base, as pictured below.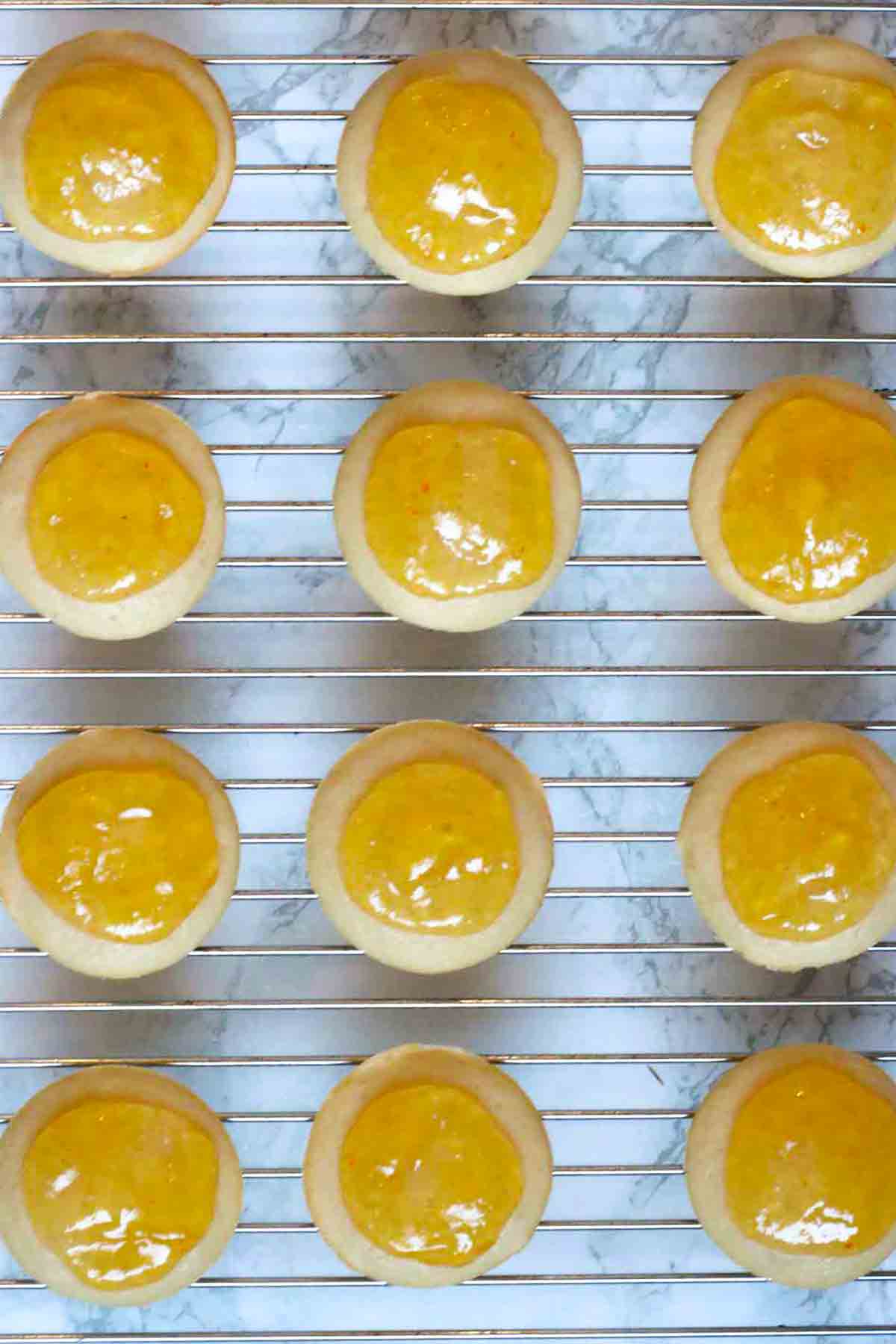 Next, freeze the Jaffa Cakes for 15 minutes. This will prevent the marmalade from moving around when you add the warm melted chocolate on top.
Step 7:
Melt of semi-sweet dairy-free chocolate in a small bowl.
Remove the cakes from the freezer after the 15 minutes and cover each one with some melted chocolate. Be sure to do this carefully so that you don't cover the whole Jaffa Cake in chocolate.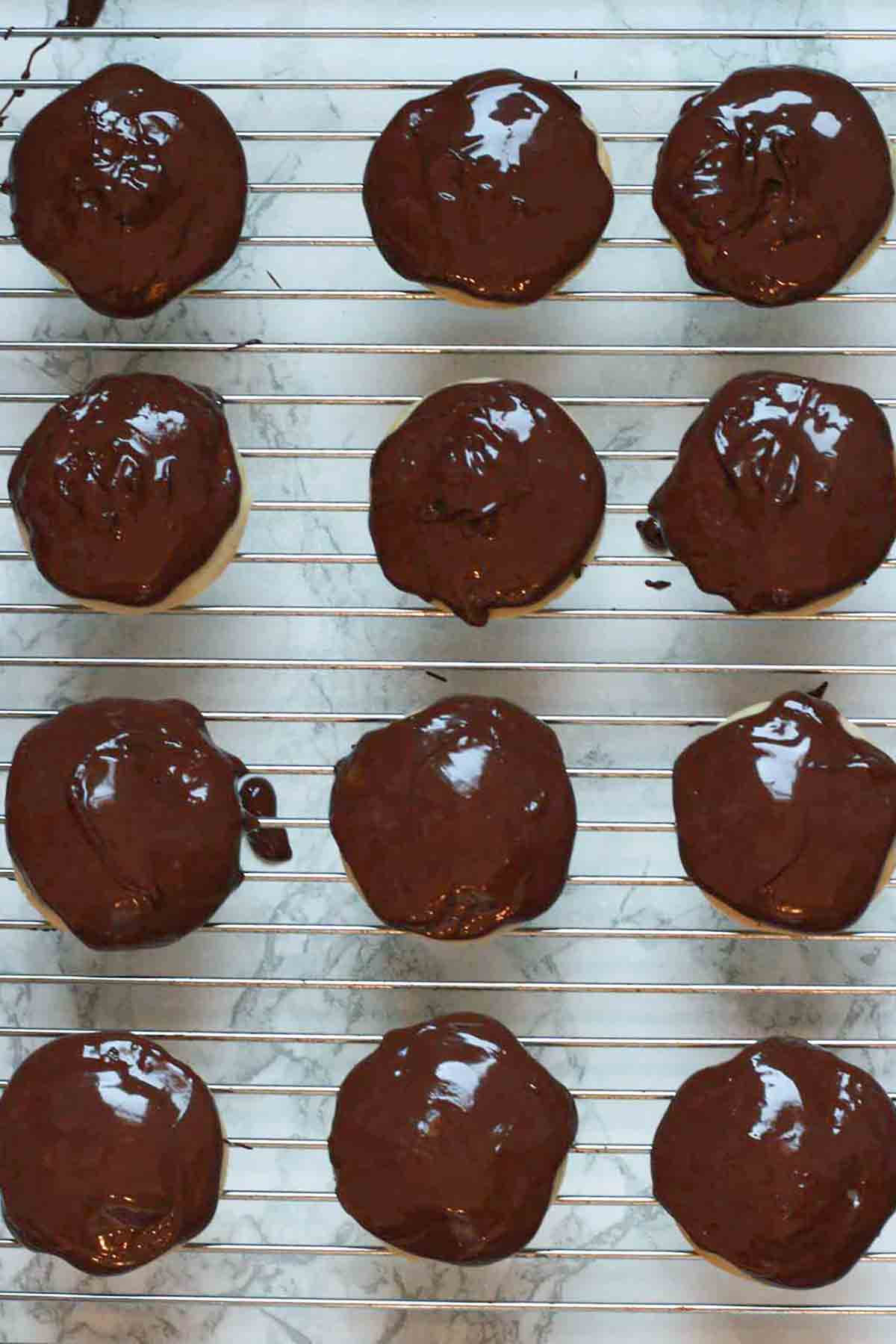 After you've done that, all that's left is to let the chocolate harden and enjoy!
FAQ:
How should dairy-free Jaffa Cakes be stored?
You can keep them in an airtight container at room temperature. It's not necessary to store them in the fridge but you can if you want the chocolate to be crisper.
How long will they last?
If stored in an appropriate container, they will last for up to 3 days.
Can I freeze them?
Yes! Vegan Jaffa Cakes can be frozen in airtight containers, with a sheet of baking paper between layers if you're stacking them. Freeze for up to 2 months.

When you're ready to eat them, transfer them from the container to a wire rack or plate and let them sit at room temperature until fully thawed. Do not refreeze.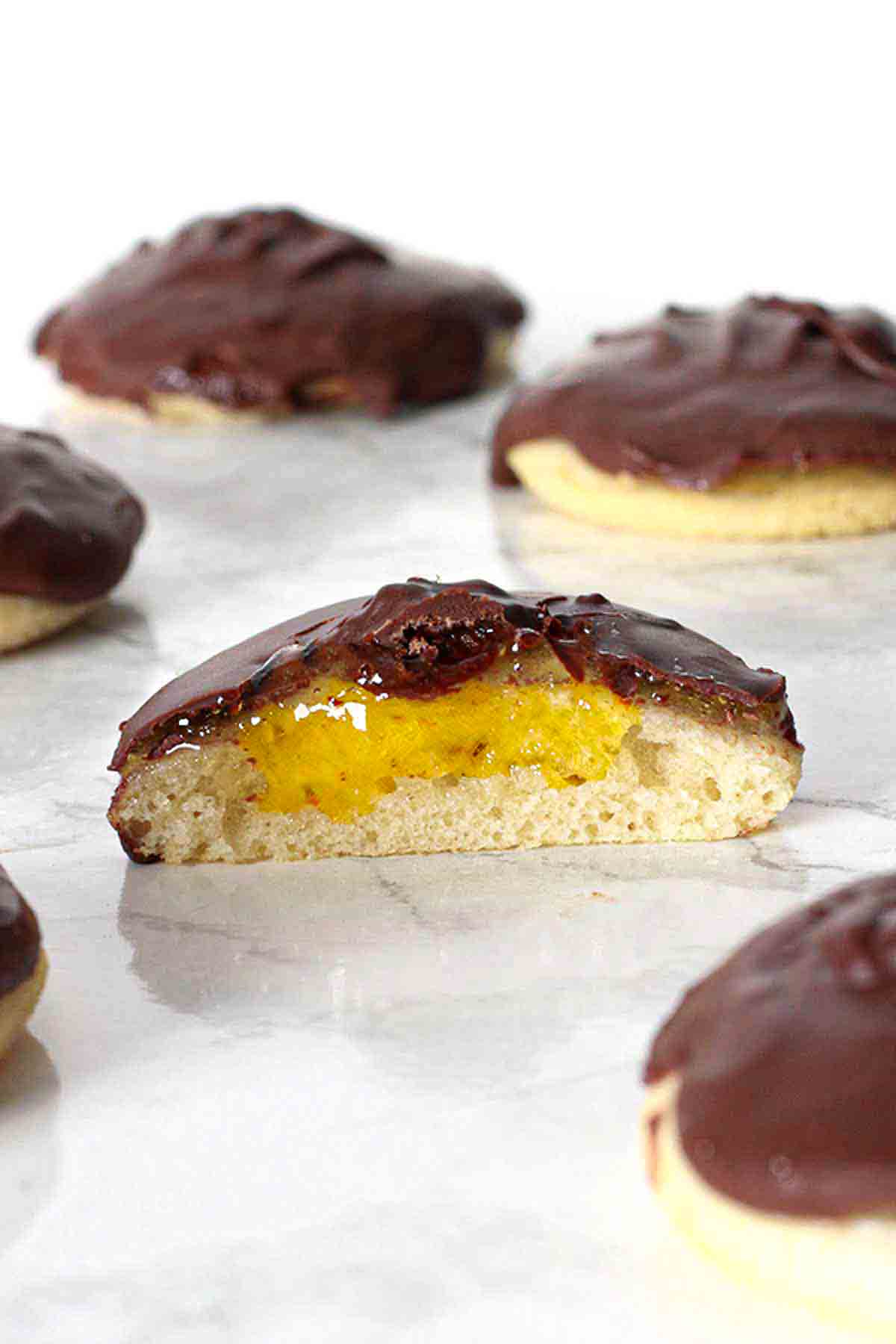 I hope you love these dairy-free Jaffa Cakes! If you make them yourself, please let me know how you get on by leaving a rating or comment below. Happy baking! xo
More vegan chocolate orange desserts:

Vegan Jaffa Cakes
Dairy-free Jaffa Cakes with just 7 ingredients.
Ingredients
60

g

Self-raising flour

(~9 tablespoons)

30

g

Caster sugar

(~2+½ tablespoons)

4

Tablespoons

Unsweetened soy milk

½

Teaspoon

Vanilla extract

1

Tablespoon

Sunflower or rapeseed oil

100

g

Shredless orange marmalade

(5 tablespoons)

150

g

Semi-sweet dairy-free chocolate

(5oz)
Instructions
Preheat your oven to 180°C/350°F (or 160°C/325°F if you're using a fan or convection oven). Grease a 12-hole cupcake tin.

In a small bowl, mix together the flour and sugar. Add the soy milk, vanilla extract and the oil. Mix well until you have a smooth, slightly thick cake batter.

Divide the batter equally between the 12 holes in the cupcake tin. You don't need to use a lot in each one, around ½ a tablespoon should cover the bottom of each hole.

Bake for 10-12 minutes, until a toothpick through the middle comes out clean and they spring back when pressed. Let the cakes cool in the tin completely, then use a butter knife to gently carefully lift them out.

Put the marmalade into a small bowl and mix thoroughly to loosen it. Use a teaspoon to place a small amount of marmalade onto the centre of each Jaffa Cake.

Freeze the Jaffa Cakes for 15 minutes. This will help to prevent the marmalade from moving around or melting into the chocolate topping.

Melt the chocolate and cover the marmalade centre. I recommend using a teaspoon to gently spread the chocolate over the top so that you don't end up covering the entire Jaffa Cake with it.

Pop them in the fridge for an hour or two until the chocolate has completely set, then enjoy!
Recipe Notes
Store in an airtight container at room temperature or in the fridge for up to 3 days.
Nutrition Facts
Vegan Jaffa Cakes
Amount Per Serving (1 Jaffa Cake)
Calories 110
Calories from Fat 36
% Daily Value*
Fat 4g6%
Sodium 0.1mg0%
Carbohydrates 20g7%
Protein 1g2%
* All values are an estimate only and will vary depending on the food brands used.
BakedByClo is a participant in the Amazon Services LLC Associates Program, an affiliate advertising program designed to provide a means for sites to earn advertising fees by advertising and linking to Amazon.com. This site may contain some of these links to Amazon.com & other affiliate programs. If you make a purchase through one of those links, BakedByClo will receive a small commission from the purchase at no additional cost to you.