Vegan Lemon Curd
This vegan lemon curd is great for baking with, as well as spreading on toast, sandwiches, or crumpets! It's super lemon-y with just the right amount of sweetness and citrus flavour.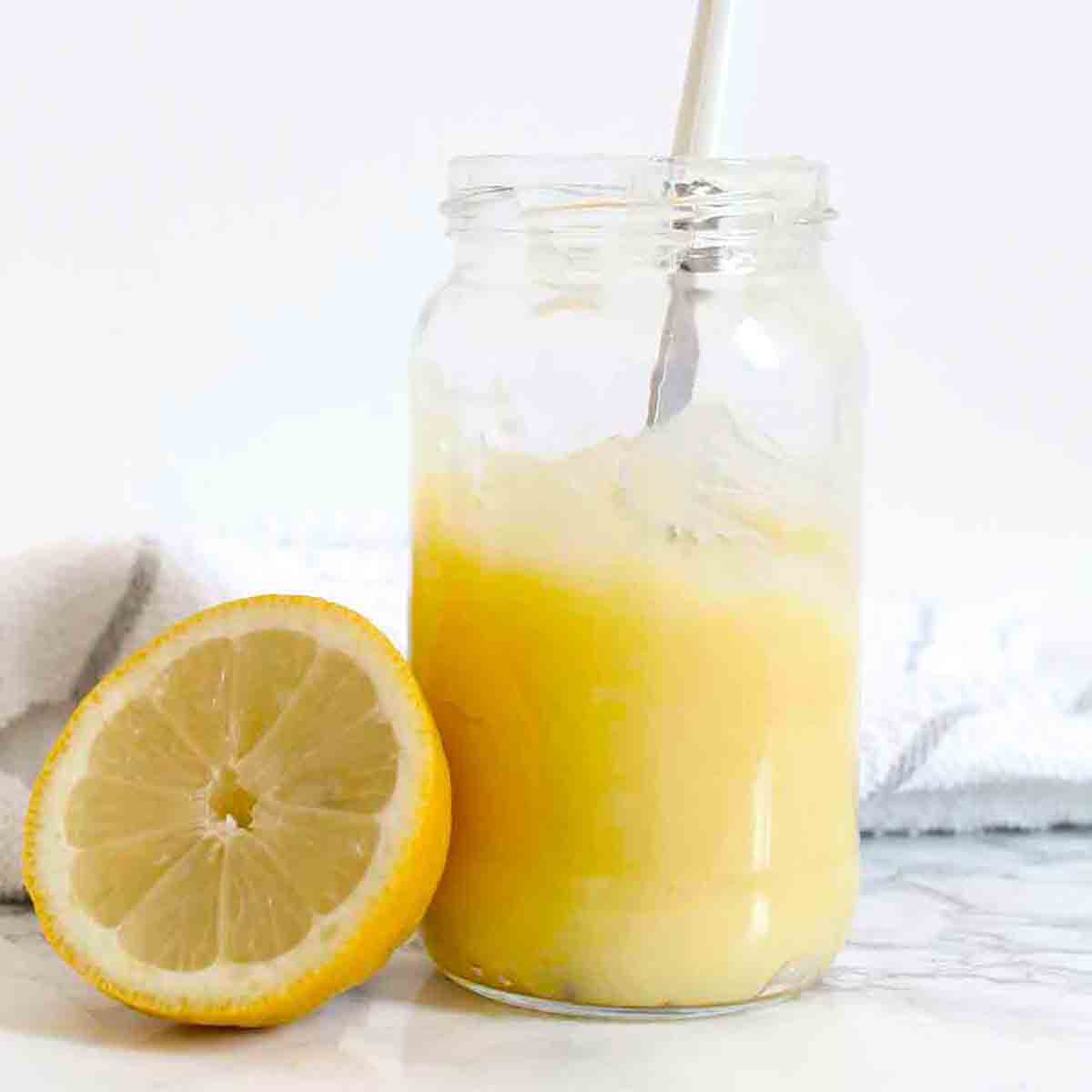 I've been meaning to make vegan lemon curd for this blog for quite some time now! Every time I make pancakes I always wish I had some lemon curd to go with them.
Growing up in the 90s, my great-gran would always make us fluffy pancakes with lemon curd in the afternoons after Sunday school at church. Her baking was absolutely divine and after she died, I would always be reminded of her whenever I ate lemon curd on anything.
Lemon curd without eggs
In case you didn't know, traditional lemon curd contains eggs (and a lot of the time it contains dairy too), meaning it isn't suitable for a vegan diet.
But the good news is that it's incredibly easy to make your own eggless lemon curd! There's no fancy equipment required and no thermometer needed… just a few ingredients and a saucepan.
I gave my gran some to try after making it this week and she told me that it was nicer and more flavourful than the lemon curd she buys from the supermarkets. That is quite the compliment from someone who is a self-proclaimed lemon curd lover!
My gran told me she ate hers spread on top of some Hobnob biscuits which is such a typically British thing to do. It also tastes amazing spread on toast, sandwiches, or as a condiment for vegan afternoon tea.
What I love most about this recipe is that it's perfect for using in lots of baking recipes. You can adjust the thickness according to your preference and use it in tarts, cupcakes, frosting, mousses and more.
Anything with vegan lemon curd added to it is sure to be a hit, especially in the summer months!
Ingredients you'll need for this recipe
You'll only need 7 simple ingredients to make this eggless lemon curd.
Coconut milk
You'll need 330ml (which is around 1+1/3 cups if you're using cups to measure).
I tested this recipe with full-fat coconut milk, soy milk and plain old water, and found I got the best results with coconut milk. It helped add a rich creaminess to the lemon curd without dairy, and the fresh lemon masked the coconut flavour just fine. You can't taste it one bit in this recipe, promise!
The soy milk version worked OK but was not quite as creamy, and the version where I used water just wasn't really that great. The texture was nice but you could taste the cornflour A LOT.
Sugar
100g or 1/2 a cup. I used caster sugar but granulated will work fine too. I'd recommend not using coconut sugar as it will alter the flavour and the colour of the finished curd.
Lemon juice
120ml or 1/2 a cup. It's important to use fresh lemon juice here, not the kind that comes in a bottle. You need fresh lemons in order to get the true citrusy flavour. When measuring my lemon juice for this recipe, 120ml ended up being around 4 lemons worth of juice.
The zest of 1 lemon
Grate the zest off of 1 medium-sized lemon. You can use 2 if you're feeling fancy but I found that using just 1 gives plenty of flavour.
Cornflour
Cornflour is also known as cornstarch. You'll need around 6 tablespoons- I found that this was the perfect amount to make it thick and spreadable. If you want your dairy-free lemon curd to be a bit thinner or runny, you can definitely reduce it back to 4 tablespoons or less.
Dairy-free margarine
2 tablespoons. I tested this recipe both with and without dairy-free margarine and it definitely tasted better with! It adds a bit of creaminess and I love that it adds a subtle yellow colour too.
Yellow food colouring
I tried added a vegan yellow food colouring to my first batch and it ended up looking like radioactive waste. Woops. I also tried adding a pinch of turmeric but the flavour is just so strong to me that I can taste any amount added to my baking recipes, no matter how miniscule. If adding colouring, add just a tiny amount!
Please note that it's not completely necessary to add any food colouring to the recipe. It's purely for visual appeal and doesn't change the flavour. This eggless lemon curd has a very subtle yellow colour anyway so it's totally up to you!
How to make vegan lemon curd
This recipe is incredibly simple and straight forward but for those of you who prefer a more detailed recipe, this is for you! I've written as much relevant information as I can think of below to ensure that you get it right first time.
Step 1:
Measure out all of your ingredients. It's best to have them all there ready to go before turning on the heat. That way you won't need to rush around before it starts to cook.
Step 2:
Place all of your pre-measured ingredients into a pan. I used a small saucepan but I'd imagine any type of pan you have would work fine.
Mix them together before turning on the heat. If the mixture is well combined while it's still cold, it will prevent the cornflour from clumping up.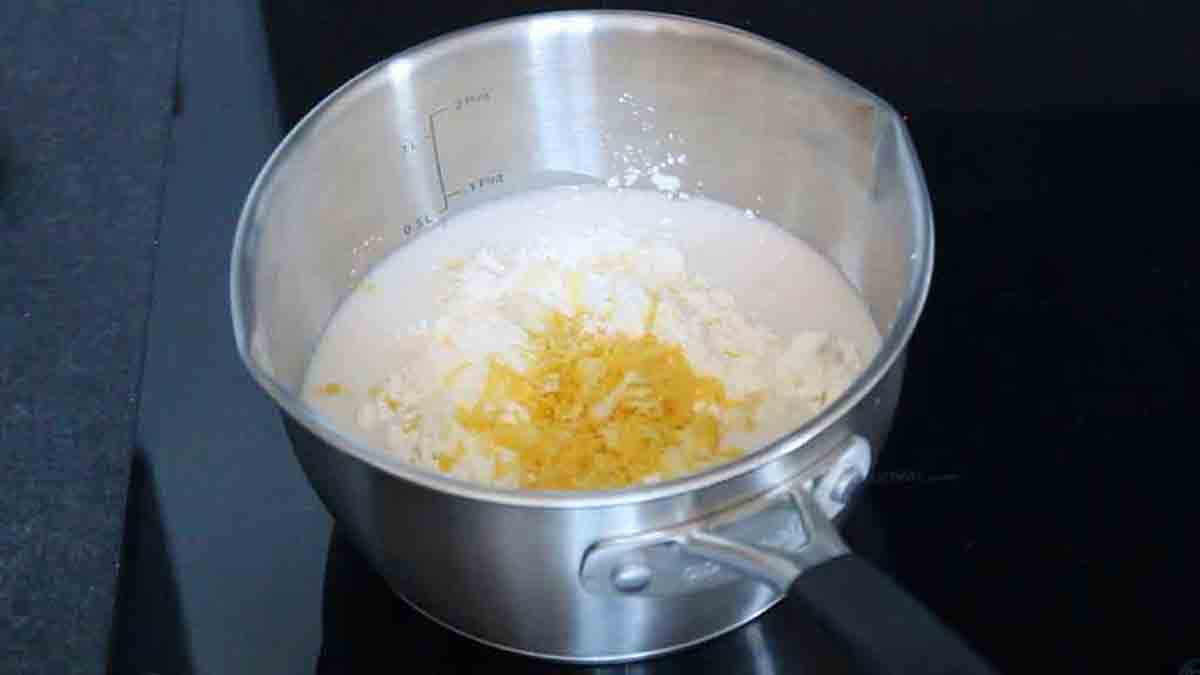 Step 3:
Once the ingredients are somewhat combined, place the pan onto a medium-high heat, stirring continuously to prevent the mixture from burning or sticking to the pan.
As it heats up, it will start to bubble and thicken. This should only take a few minutes. When you think it's thick enough, put a wooden spoon into the mixture. If the lemon curd coats the back of the spoon (rather than sliding right off of it and leaving no trace) then it's ready and you can take it off of the heat.
Step 4:
After a few minutes, once it's slightly cooled, put it through a sieve into a bowl. Use a spoon to help push it through.
This will get rid of any leftover lumps or lemon zest, making your curd super smooth and creamy! Leave your dairy-free lemon curd in the bowl and let it cool completely.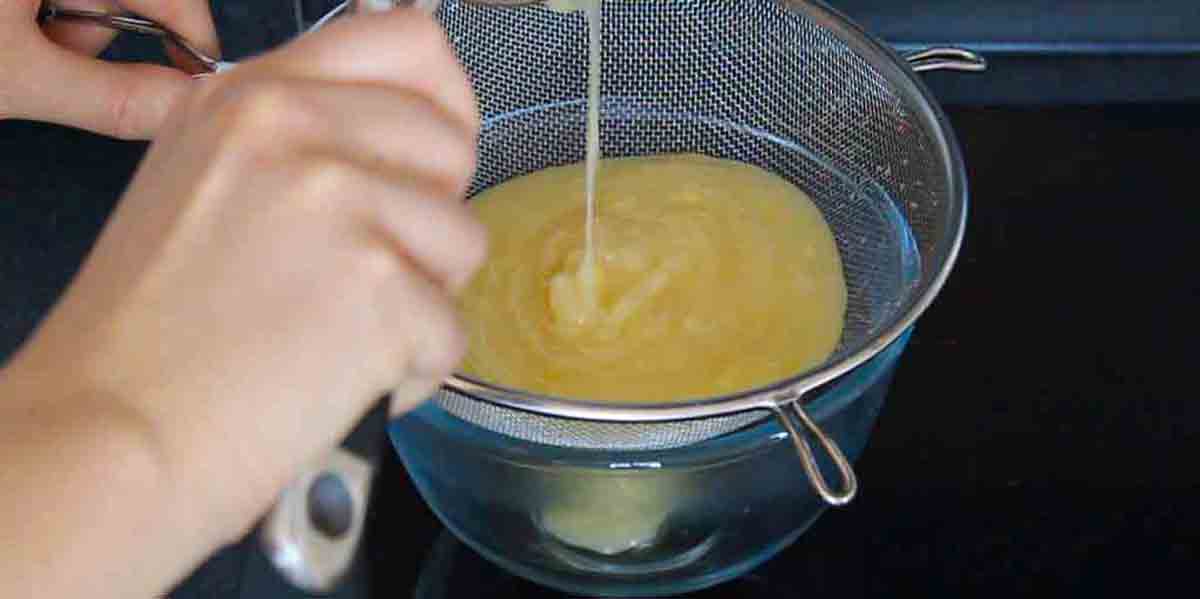 Step 5:
Once the lemon curd has totally cooled, give it a good mix then transfer it into a jar. To maximize the shelf-life, make sure your jar is sterilized before using it. This post on how to sterilize jam jars by Great British Chefs is great if you're unsure how to do it. If you don't have any jars to hand, you can also use a food storage box but it won't last quite as long.
FAQ:
How much does this recipe yield?
This recipe will fill 1/2 – 3/4 of a standard-sized jar. It makes enough for at least 24 tablespoons, and I've found 1 tablespoon to be the perfect amount for a serving size. If you use less cornflour in the recipe, it will be slightly runnier and make a few more servings.
How long does vegan lemon curd last?
It will last at least a week if stored in the fridge. If you've used a sterilized jar to store it in, it will last a lot longer. This recipe is also great for freezing and will last for 6+ months in the freezer.

If you want to freeze your lemon curd, allow it to cool completely first. You can freeze it in the jar (make sure to leave an inch or two of space at the top of the jar), storage box, or even in a zip lock freezer bag. When you're ready to eat it, just transfer it from the freezer to the fridge and let it thaw overnight. It's important that you eat it all after defrosting and don't re-freeze it. I'd recommend freezing it in small portions for this reason.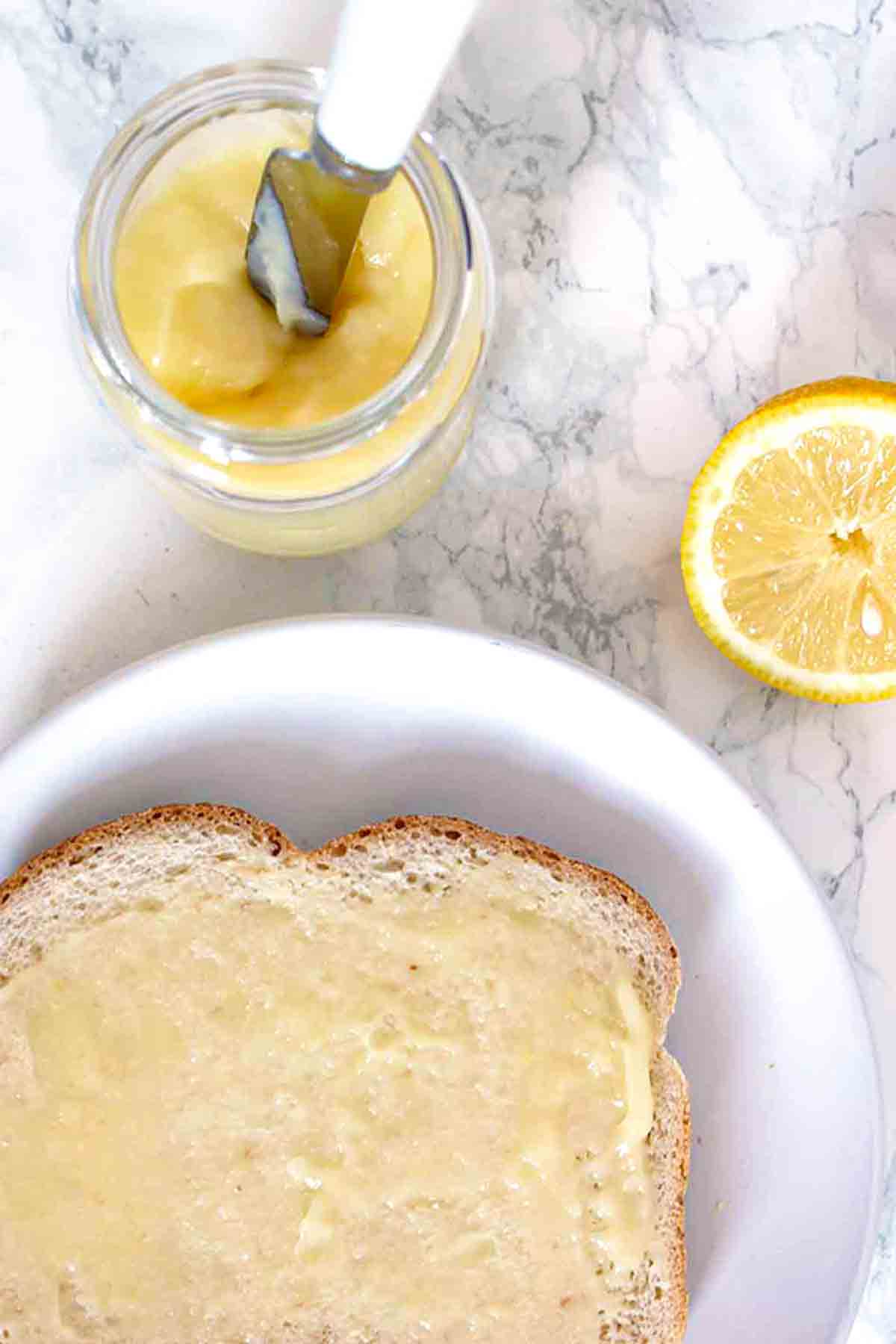 More lemon desserts:
I hope you enjoy this dairy-free lemon curd recipe. If you make it yourself, please let me know how you get on by leaving a comment and rating below! xo

Vegan Lemon Curd
Sweet, spreadable lemon curd without eggs.
Ingredients
330

ml

Full-fat coconut milk

(1 + ⅓ cups) see note 1

100

g

Caster sugar

(½ cup)

120

ml

Fresh lemon juice

(½ cup)

Zest

of

1 Lemon

6

Tablespoons

Cornflour

(cornstarch) see note 2

2

Tablespoons

Dairy-free margarine

Vegan yellow food colouring

(optional)
Instructions
Add all of the ingredients into a saucepan and mix well before turning on the heat.

Turn up the heat to medium-high. Stir continuously until it begins to bubble and thicken. This should only take a minute or two.

When the mixture is thick enough to coat the back of a wooden spoon, remove it from the heat.

If you like smooth lemon curd, strain the mixture into a bowl to get rid of the zest. If you prefer the zest left in, just skip this step.

Leave it to cool completely then transfer into a sterilised jar.
Recipe Notes
Make sure to mix the coconut milk to combine the creamy part and the water before measuring. Light coconut milk will also work.
This vegan lemon curd is thick and spreadable. If you want it to be runnier, use 3-4 tablespoons of cornflour instead of 6.
Store in the fridge for up to 1 week and stir before use.
Nutrition Facts
Vegan Lemon Curd
Amount Per Serving (1 Tablespoon)
Calories 52
Calories from Fat 27
% Daily Value*
Fat 3g5%
Sodium 7mg0%
Carbohydrates 6g2%
* All values are an estimate only and will vary depending on the food brands used.
BakedByClo is a participant in the Amazon Services LLC Associates Program, an affiliate advertising program designed to provide a means for sites to earn advertising fees by advertising and linking to Amazon.com. This site may contain some of these links to Amazon.com & other affiliate programs. If you make a purchase through one of those links, BakedByClo will receive a small commission from the purchase at no additional cost to you.