Vegan Lemon Drizzle Loaf Cake
This vegan lemon drizzle loaf cake is easy, quick and simple. It's super moist, zingy and perfectly sweet, topped with a sugar and lemon drizzle and icing. Great for enjoying in the warmer weather!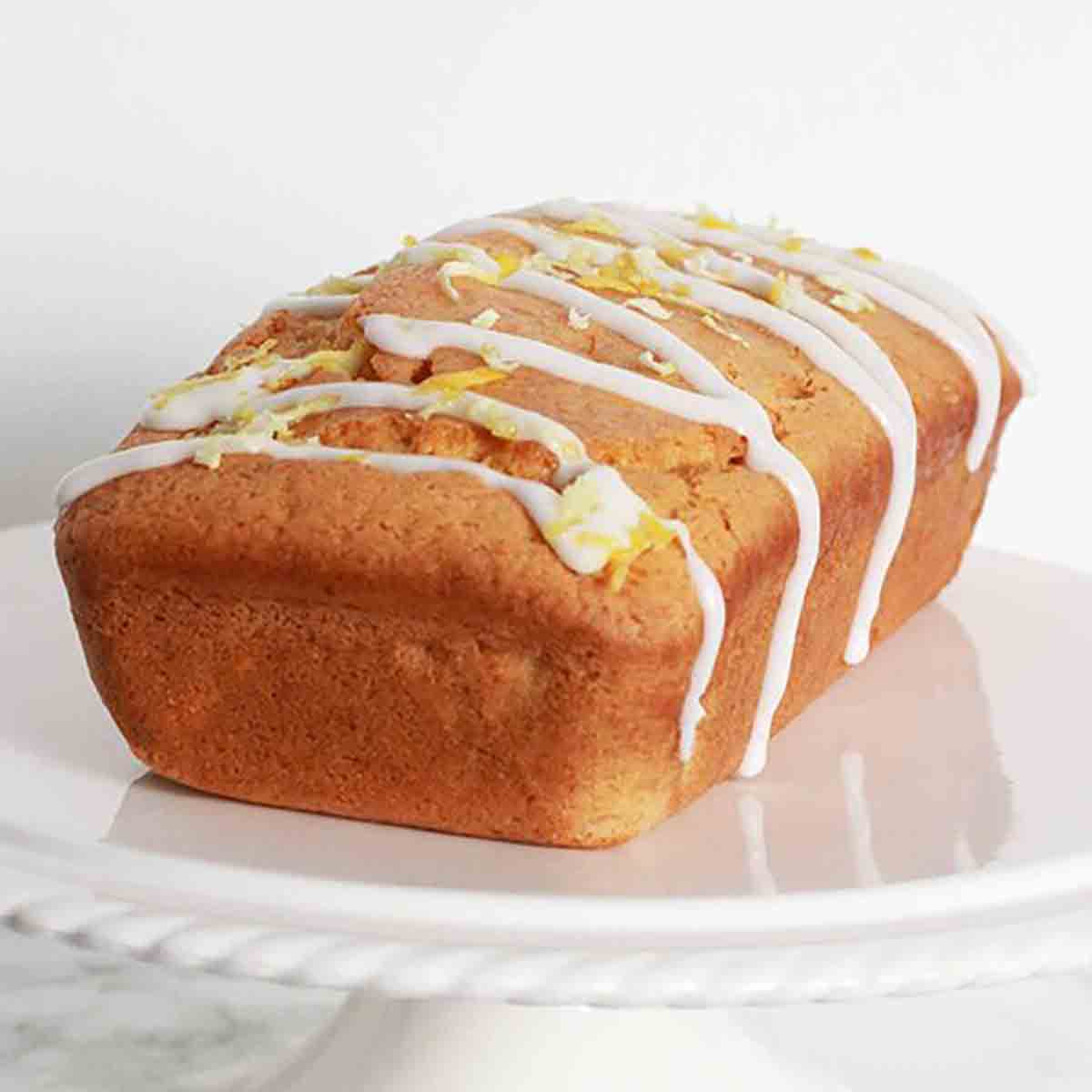 Can you believe it's August? Where has the year gone?
I've spent most of this month dreaming up new, delicious lemon cake ideas and I'm excited to keep expanding on my list! Lemon flavoured desserts feel very summery to me so I felt that it was the perfect time to start creating more of them. Next up in my vegan lemon cake series is this super easy lemon drizzle loaf cake.
Lemon drizzle is one of the most popular cake flavours here in the UK and my lemon drizzle sheet cake is also one of the most popular recipes on my blog! Us Brits sure do love our lemon drizzle cakes!
This particular cake is more like a sweet bread with icing than it is a super decadent cake, which is perfect if you like your desserts a little more on the subtle side. Many people who have tried this told me that they like that it's not "sickly sweet" like a lot of other lemon loaf cakes they've tried.
So if you're into classic, British bakes (without the eggs and dairy, obvs) then this is the recipe for you! All you need is a few basic ingredients, some lemons and a loaf tin. Let me show you how to make it!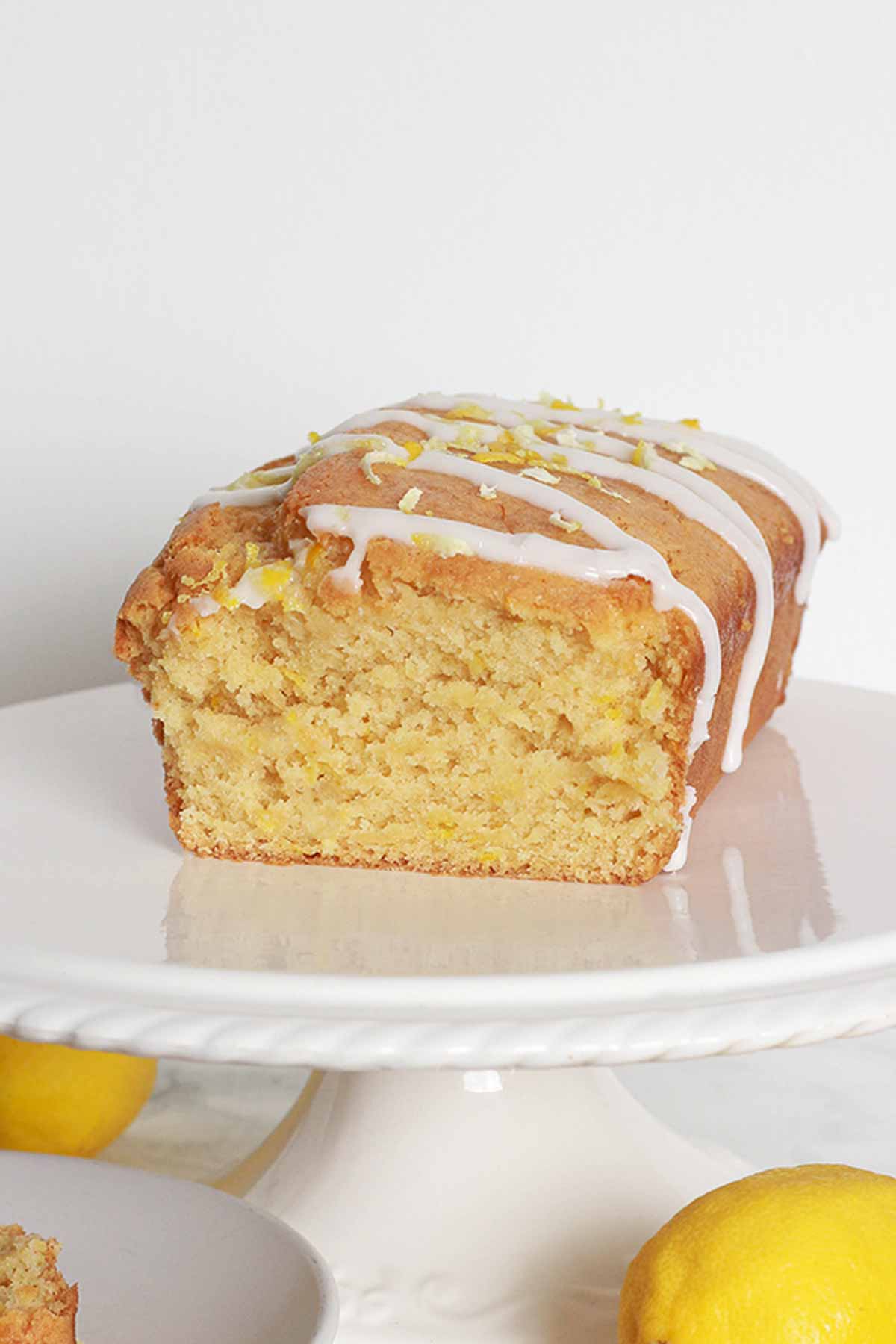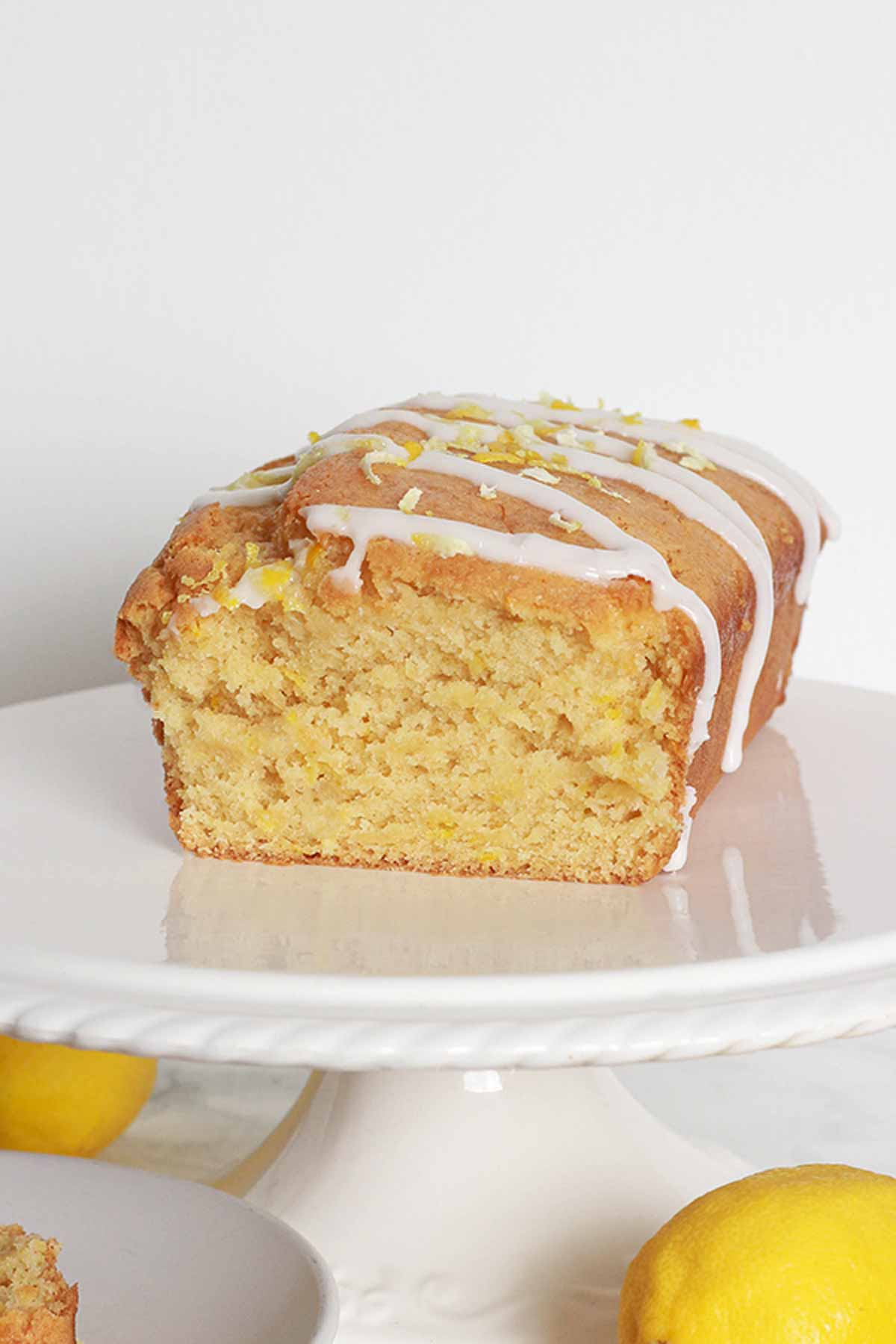 How to make vegan lemon drizzle loaf
Step 1:
Preheat your oven to 180°C/350°F. If you're using a fan or convection oven, set it to 160°C/325°F instead. Grease a 2lb loaf tin and line it with baking paper.
2lb is the standard size of loaf tin that you'll find in most supermarkets (I used this one from Tesco). I recommend using a metal one lined with paper over a silicone one. With silicone ones, I find the cake tends to puff out at the sides a little more and isn't quite as aesthetically pleasing once it's removed from the tin!
Step 2:
In a small mug or bowl, mix together 250ml of unsweetened soy milk and 2 teaspoons of lemon juice. Set aside for now. This will act as your vegan buttermilk and it will help to keep the cake moist.
Step 3:
In a large bowl, mix together 270g of self-raising flour, 1/2 a teaspoon baking soda and 180g of caster sugar.
Step 4:
Gently melt 150g of vegan margarine in the microwave or on the stove. Add the melted butter to the bowl with the dry mixture, along with the vegan buttermilk from earlier. Mix well until smooth.
You can use most types of dairy-free margarine/butter in this cake recipe but I typically use the spreadable style over the block "butters". You can also substitute it for a neutral oil such as rapeseed or sunflower if you wish, but the flavour isn't quite the same.
Step 5:
Next, grate 1 large lemon. Add the lemon zest to the cake batter and gently fold it in.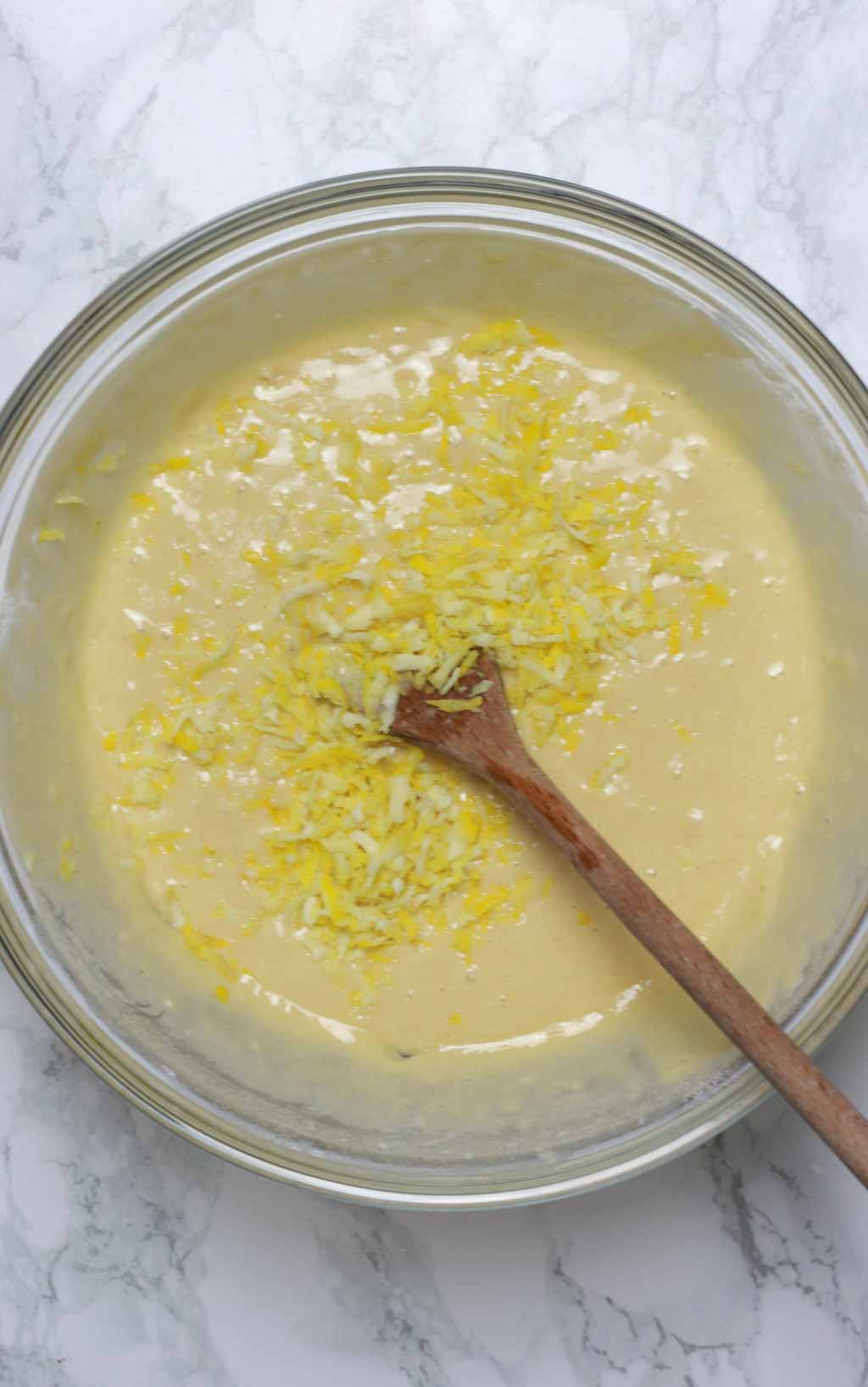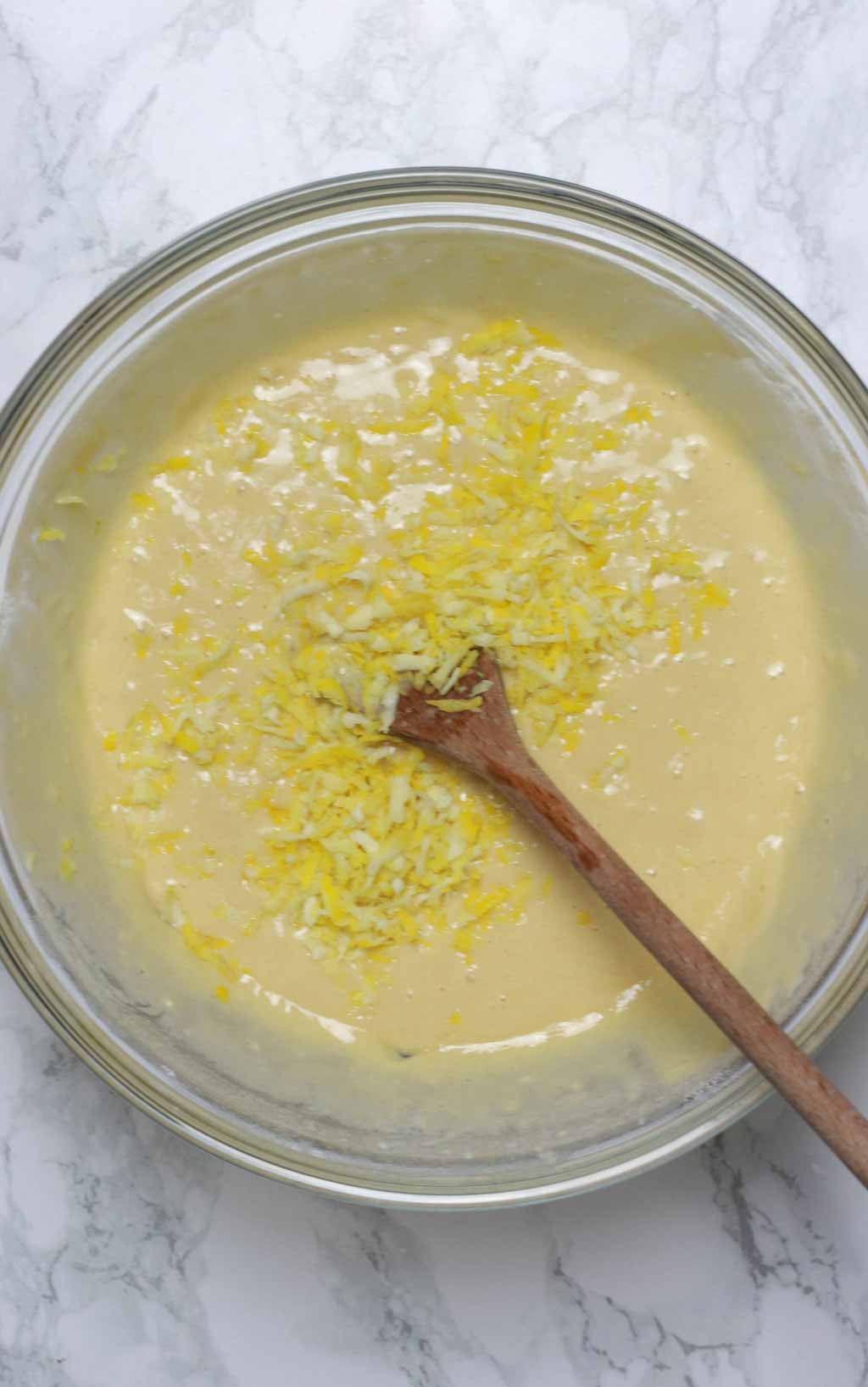 Spoon the batter into the loaf tin and spread it out evenly using the back of your spoon. Bake for 40-45 minutes, or until a toothpick through the centre comes out clean.
Step 6:
While the cake is baking, prepare your lemon sugar drizzle by mixing together 3 tablespoons of fresh lemon juice and 2 tablespoons of caster sugar.
When the cake comes out of the oven, pour this mixture over the top and spread it out evenly.
Leave the cake to cool in the tin for around 20 minutes. Then carefully remove it and let it sit on a wire rack until it's completely cold.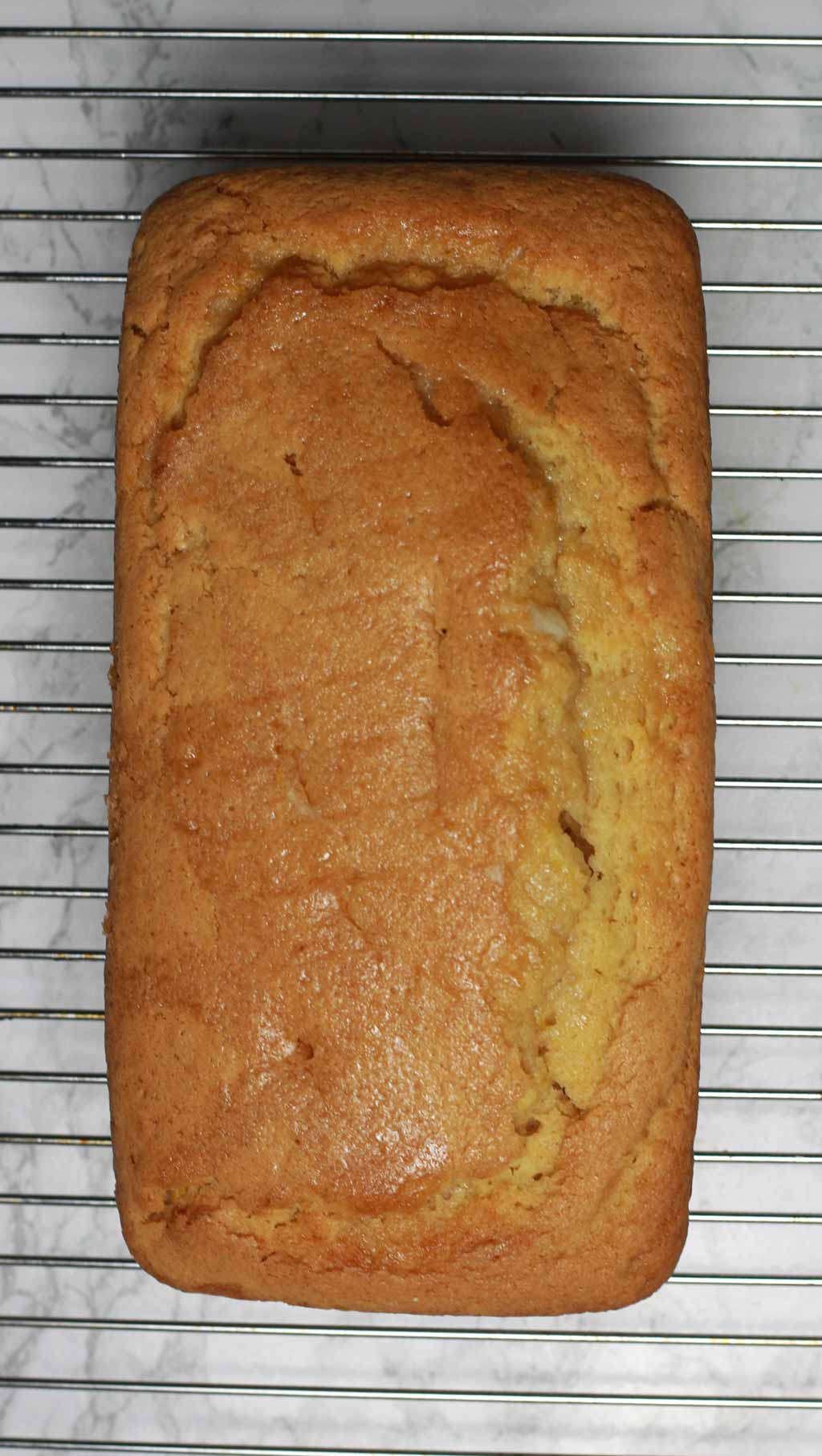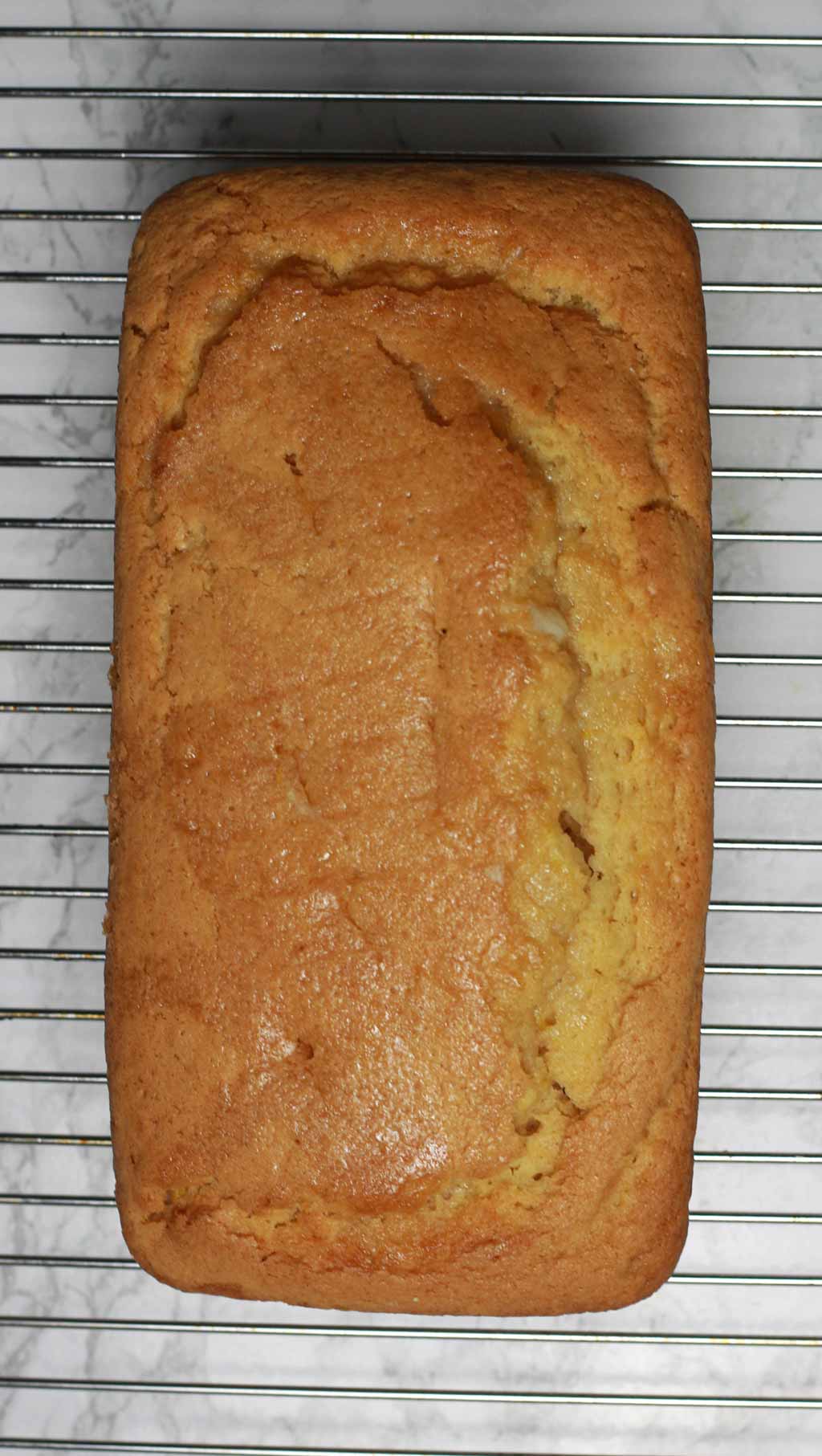 Step 7:
Prepare your icing by mixing 60g of icing sugar and 1 tablespoon of lemon juice together. Use a spoon or piping bag to drizzle it across the top of your loaf cake.
Let it sit at room temperature for around an hour to let the icing harden fully. Then just cut into slices and enjoy!
Top tips
Use fresh lemon juice over bottled lemon juice every time! The fresh juice will give you the best flavour and you need the zest for the cake anyway.
I recommend using a spreadable vegan butter over a block butter as the water content will differ between the two and affect the final texture of the cake. I used Vitalite.
If you don't like using soy milk or are allergic to it, I recommend using oat milk over any other plant-based milk. It is the most similar in texture and gives great results every time.
If you don't have self-raising flour where you live (it's also known as self-rising flour) then you can make your own! Just use an equal amount of all-purpose flour for the recipe, then add 2 teaspoons of baking powder and 1/4 of a teaspoon of baking soda.
Use a metal loaf tin lined with baking paper rather than a silicone one. It will help the loaf to hold its shape much better.
FAQ:
How should I store vegan lemon drizzle loaf?
It's best to keep it in an airtight container in a cool, dry place such as a kitchen cupboard. This will help to prevent it from drying out or becoming too moist/wet.
How long will it last for?
If stored appropriately as above, it will last for up to 4 days.
Can I freeze it?
Yes, this cake freezes very nicely. Just pop the whole thing or individual slices into an airtight container and freeze for up to 2 months. When you're ready to defrost it, transfer it to a wire rack and let it sit at room temperature for a few hours until it's completely thawed all the way through. I do not recommend refreezing.
More Vegan Lemon Desserts:
I hope you like this vegan lemon drizzle loaf! If you make it at home yourself, please let me know how it goes by leaving a rating and/or comment below. Happy baking! xo

Vegan Lemon Drizzle Loaf
Classic lemon drizzle loaf cake made without eggs or dairy.
Total Time
1
hour
5
minutes
Ingredients
250

ml

Soy milk

(1 cup)

2

Teaspoons

Lemon juice

270

g

Self-raising flour

(~2 cups + 1 tablespoon)

½

Teaspoon

Baking soda

180

g

Caster sugar

(¾ cup)

150

g

Vegan margarine

(~½ cup + 2 tablespoons)

Zest

of

1 Lemon
For the lemon and sugar drizzle:
3

Tablespoons

Lemon juice mixed with 2 Tablespoons of caster sugar
For the icing:
60

g

Icing sugar

(½ cup)

1

Tablespoon

Lemon juice
Instructions
Preheat your oven to 180°C (160°C for fan oven). Line a 2lb loaf tin with baking paper.

Mix the soy milk and lemon juice together and set aside. This will act as your vegan buttermilk.

In a large bowl, mix together the flour, baking soda and sugar.

Melt the margarine and add it to the bowl along with the buttermilk. Mix well until you have a smooth batter.

Pour the cake batter into your lined loaf tin and bake for 40-45 minutes, or until a toothpick through the centre comes out clean.

Spread the lemon and sugar drizzle over the cake as soon as it comes out of the oven.

Let the cake cool in the tin for around 20 minutes, then carefully remove it and let it sit on a wire rack until completely cool.

Mix the icing sugar and lemon juice together for the icing and drizzle it over the cake. You can do this with a small piping bag or a teaspoon.

Sprinkle over the extra lemon zest while the icing is still wet.

Let the icing harden on the cake before cutting into slices and enjoying.
Recipe Notes
Store in an airtight container at room temperature for up to 4 days.
Nutrition Facts
Vegan Lemon Drizzle Loaf
Amount Per Serving (1 slice)
Calories 323
Calories from Fat 90
% Daily Value*
Fat 10g15%
Sodium 28mg1%
Carbohydrates 55g18%
Protein 4g8%
* All values are an estimate only and will vary depending on the food brands used.
BakedByClo is a participant in the Amazon Services LLC Associates Program, an affiliate advertising program designed to provide a means for sites to earn advertising fees by advertising and linking to Amazon.com. This site may contain some of these links to Amazon.com & other affiliate programs. If you make a purchase through one of those links, BakedByClo will receive a small commission from the purchase at no additional cost to you.