These vegan lemon cupcakes are the perfect mix of sweet, zingy and fluffy. Topped with lemon buttercream frosting, they're the perfect Spring treat.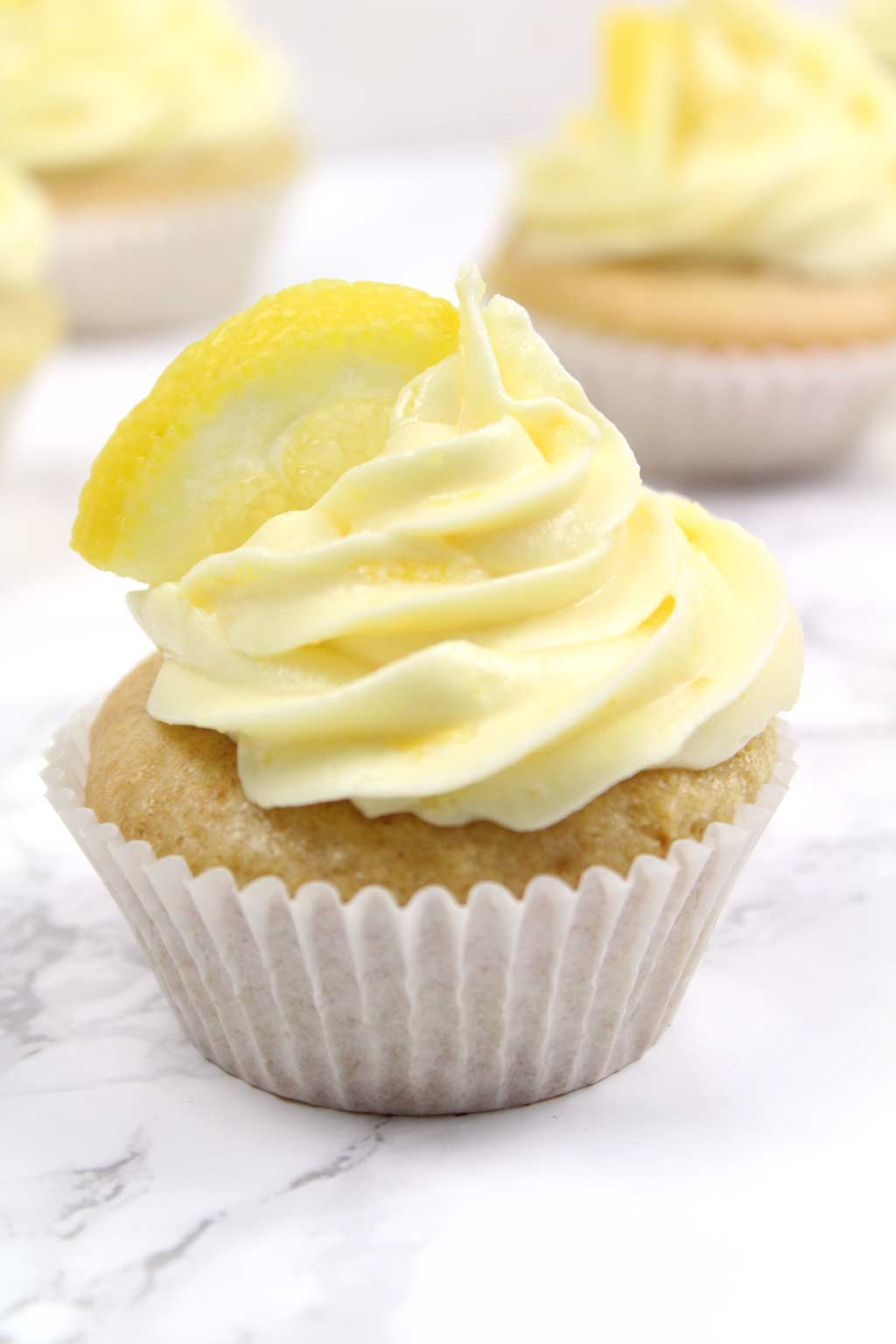 I don't know about you but I feel like Spring is in the air!
I've strangely been seeing sunshine in Scotland, the birds singing outside have been waking me up super early in the mornings, the evenings are getting lighter and everywhere smells like freshly cut grass.
It's one of my favorite times of the whole year!
Since my vegan lemon drizzle cake was (and still is) super popular last Spring, I thought I'd make something else flavored with lemon.
I have a list of probably over 100 vegan dessert recipe ideas that I want to try and am slowly working my way through them.
Want more vegan cake recipes? Try these:
But since it's close to Easter and these vegan lemon cupcakes are sort of an Easter-y (that's a word, right?) dessert, I thought they should take priority for the blog!
These cupcakes taste very similar to the lemon drizzle cake but the recipe is a little bit different.
Instead of spreading a drizzle over the top, I made some lemon buttercream to pipe on instead. And, if I do say so myself, it tasted absolutely DELICIOUS.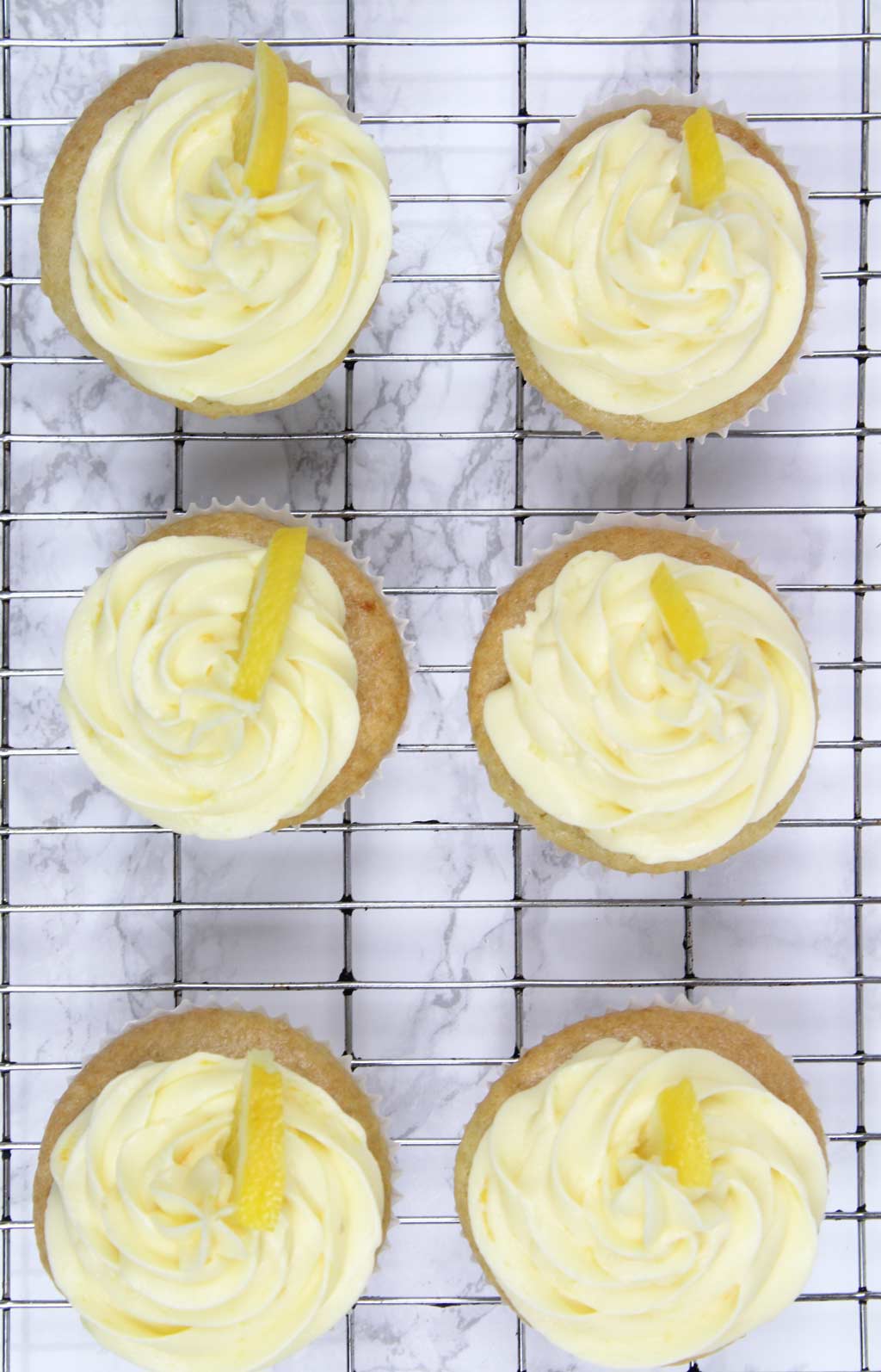 How to make vegan lemon cupcakes
Step 1:
Preheat your oven to 200°C / 400°F and line a 12-hole cupcake tin with cases.
Make sure to reduce the temperature by 20°C or 70°F if you're using a fan oven, to prevent the cupcakes from browning too quickly.
Step 2:
The next step is to make some vegan buttermilk. This will help to bind the cake ingredients together and, coupled with a leavening agent like baking soda, will help to keep it soft and fluffy as it rises.
To make the vegan buttermilk, mix together 150ml of soy milk (1/2 cup + 2 tablespoons) and 2 tablespoons of lemon juice in a small bowl.
Set it aside for 5 minutes or so. It should look a little curdled and become slightly thick.
I recommend using soy milk for best results. Some other types of plant-based milks may not curdle but will still work well in the recipe so don't worry!
Step 3:
Now for the dry ingredients.
In a large bowl, mix together 160g of plain flour (1 + 1/4 cup), 100g of caster sugar (1/2 cup), 1/2 teaspoon of baking soda and 2 teaspoons of baking powder. Make sure there are no lumps left hiding at the bottom.
It's important that you don't get confused with baking soda (also known as bicarbonate of soda) and baking powder. They act differently in the recipe so I'd really recommend using both if you can!
*Also, just a quick note to say that caster sugar is also known as superfine sugar in some other parts of the world. It's half way between granulated white sugar and powdered (confectioners) sugar.
Step 4:
Next, we add the wet ingredients to the dry.
In the same bowl, use your spoon to make a small well in the middle of the dry ingredients. Pour in the vegan buttermilk that you made earlier along with 150ml (1/2 cup + 2 tablespoons) of oil.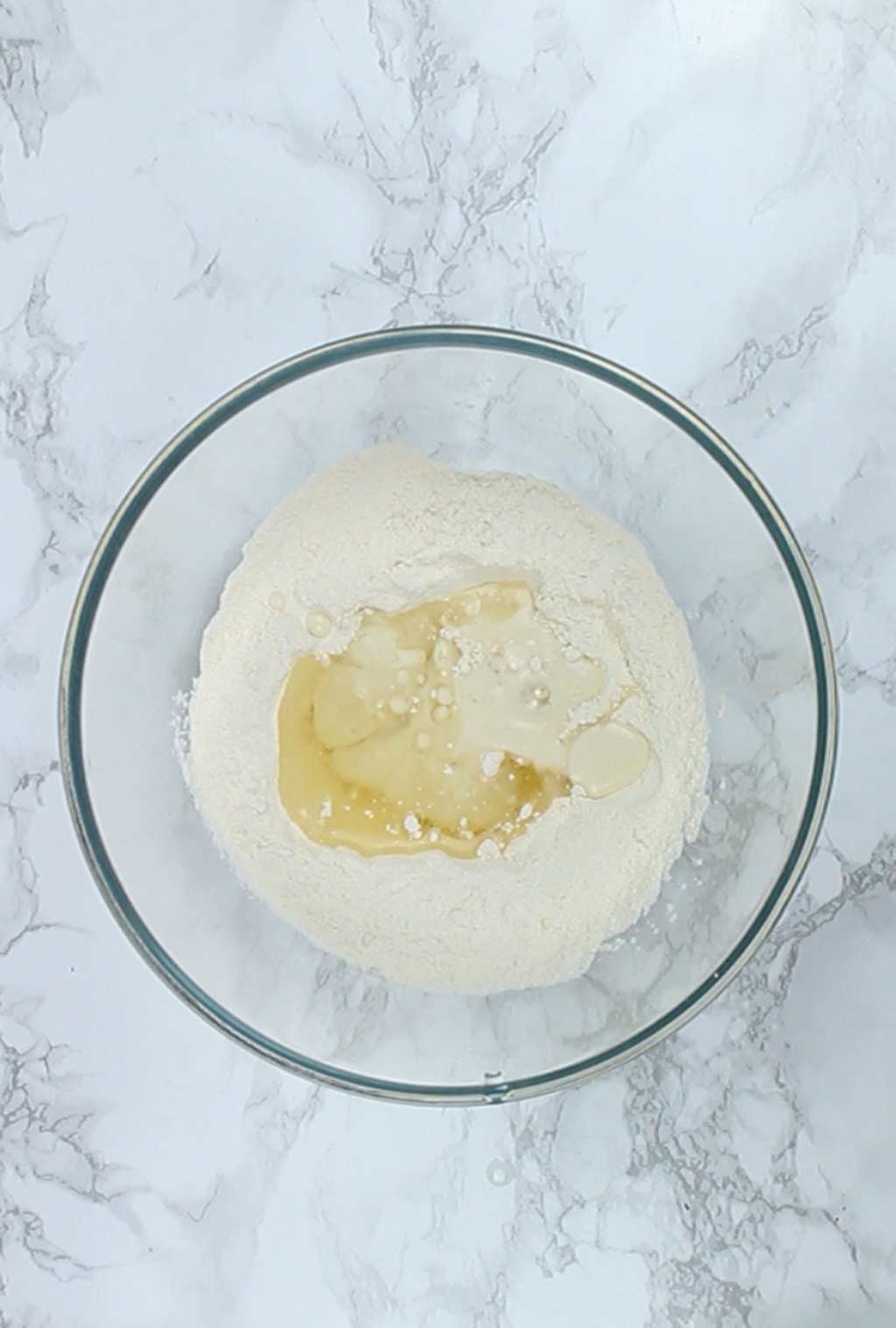 Mix well until you have a smooth, slightly runny cake batter.
You can use any type of liquid oil for this recipe. I used vegetable oil for mine and would recommend using a neutral-flavored oil for best results.
Coconut oil and olive oil would work well too but I find their flavor to be a bit overpowering in most cake recipes.
Step 5:
Next, add in the zest of 1 lemon and stir it into the cake batter until smooth.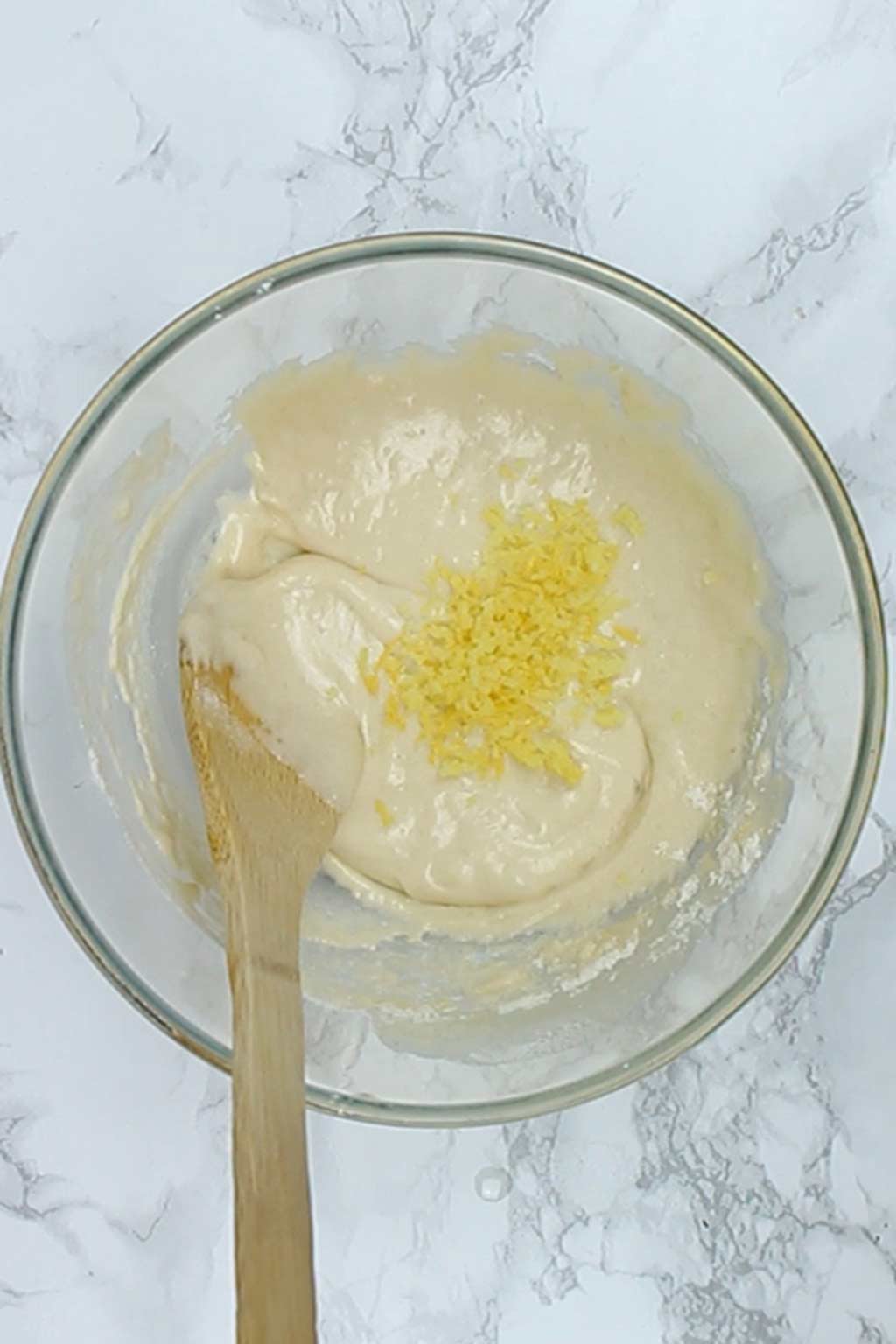 Step 6:
Using some small spoons or an ice cream scoop, divide the lemon cake batter evenly between the 12 cupcake cases.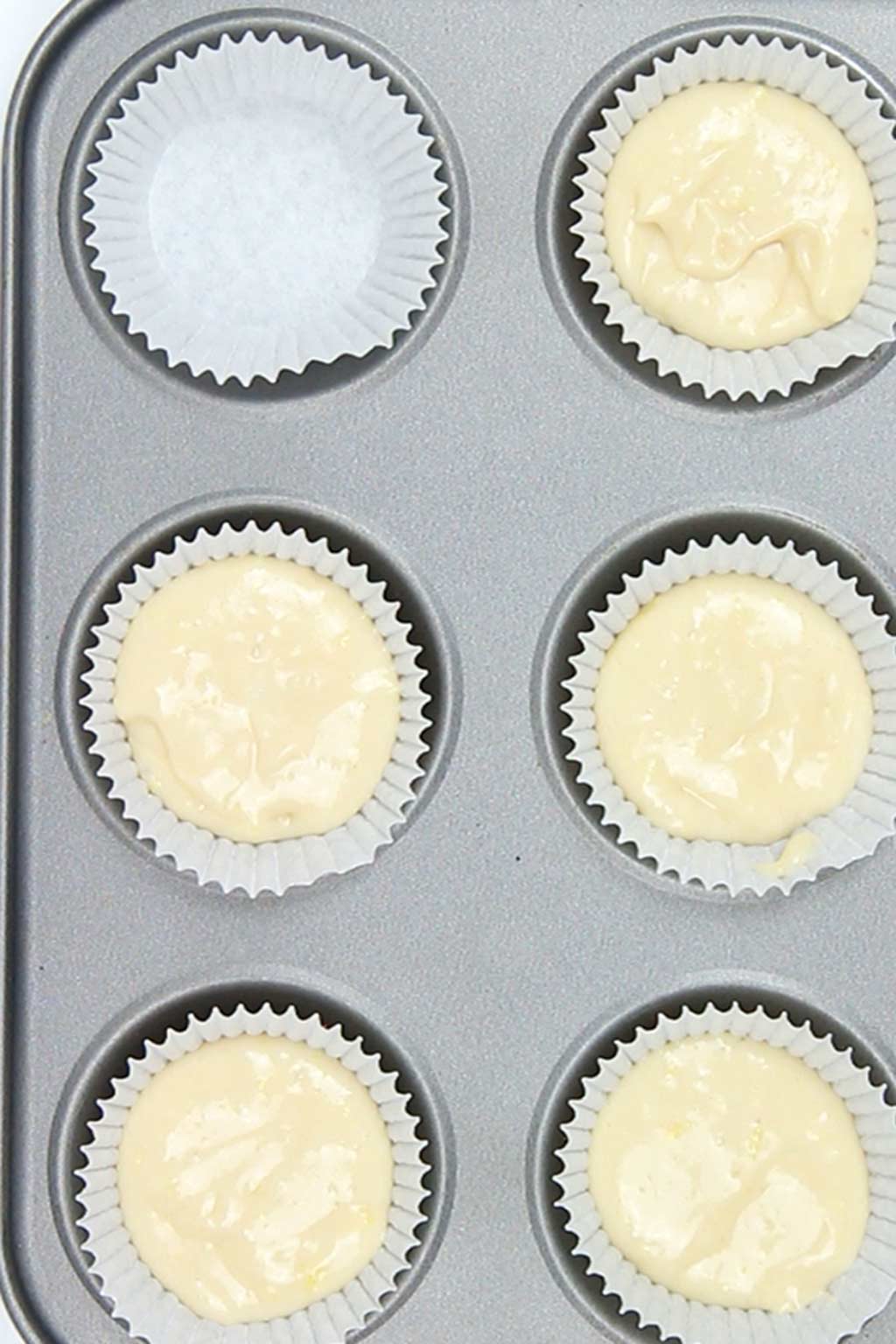 Bake for around 15 minutes.
The cupcakes should be risen and golden brown on top. You'll know they are cooked all the way through if you insert a toothpick through the middle of one and it comes out clean.
Let the cake stand in the tin for around 5 minutes until the tin cools down, then transfer them to a wire rack and allow them to cool completely.
Step 7:
While the cupcakes are cooling, prepare your vegan lemon buttercream by mixing together 160g vegan butter (2/3 cup), 560g powdered/icing sugar (4 + 1/2 cups), 1 tablespoon of lemon zest juice 2-3 tablespoons of lemon zest.
Mix until smooth.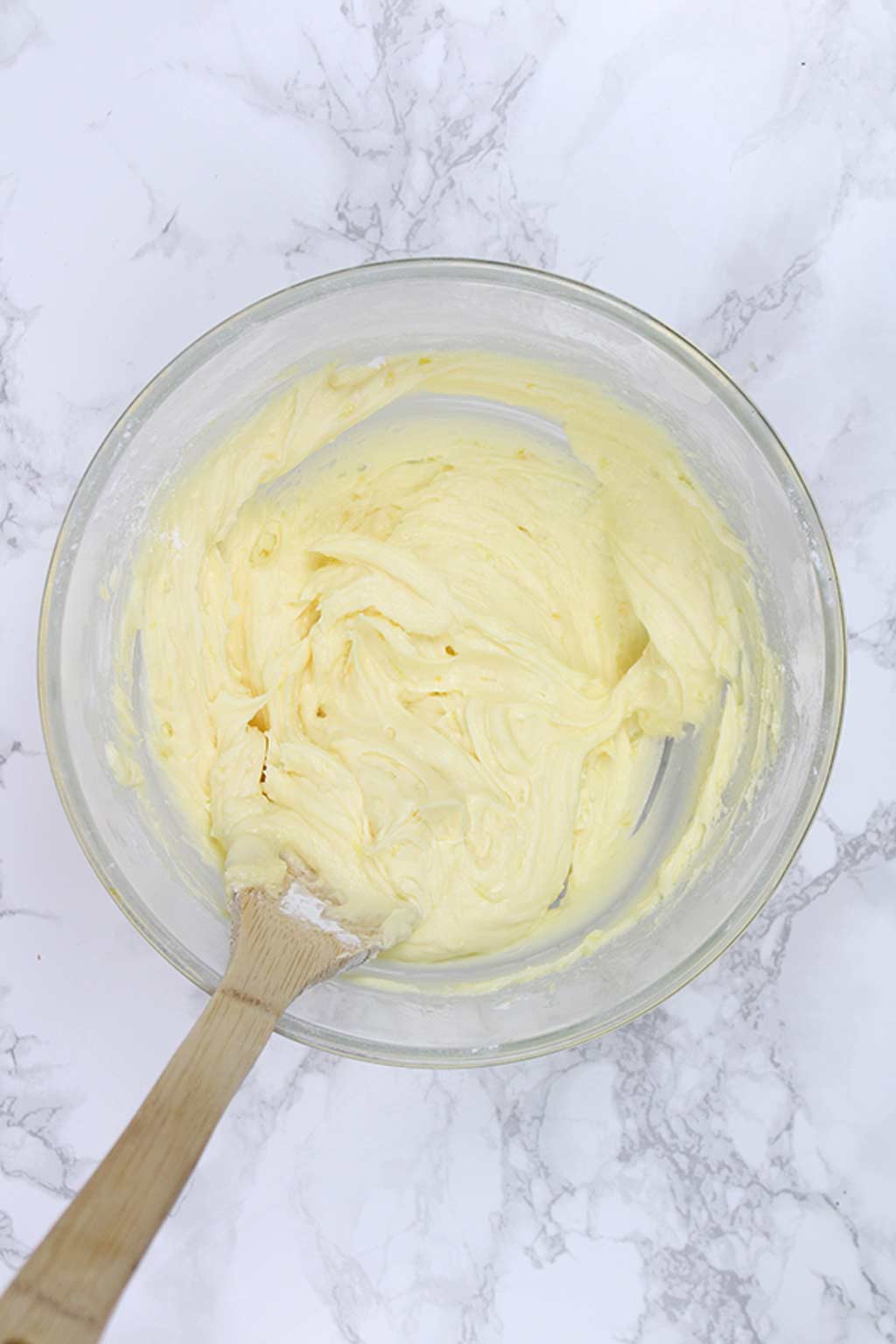 It's best to add just a little bit of icing sugar to the bowl at a time and mix it in properly before adding some more. This will prevent lots of mess and make it easier to get a smooth buttercream.
If the buttercream is too thick for your liking, you can add more lemon juice until you get your desired consistency. If you want it to be thicker, just add a bit more powdered sugar.
Step 8:
Transfer the lemon buttercream into a piping bag. I used a large 1M star nozzle to prevent any lemon zest from getting stuck in the bag.
Pipe the buttercream onto your cooled cupcakes and enjoy!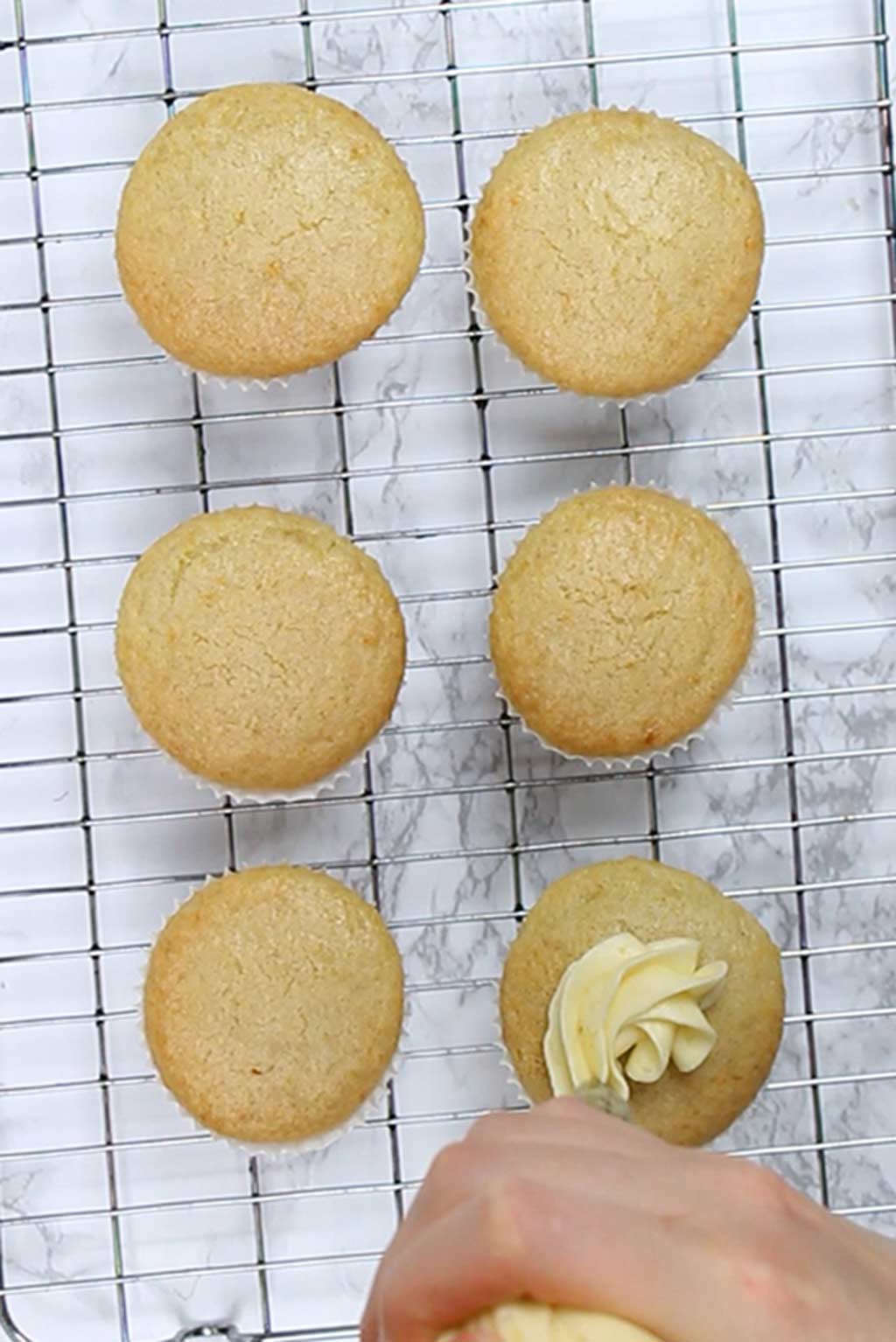 How to Store Vegan Lemon Cupcakes
As with most of my vegan desserts, you can just pop these cupcakes into an airtight container and store them in a cool, dry place such as a kitchen cupboard.
They'll taste best if you eat them within 3 days, but they're so good that they only lasted about 1 hour in my house!
You can also freeze the cupcakes with or without the frosting on, again in an airtight container. To defrost them, just pop them onto a plate and leave them at room temperature for around 2 hours until they're soft again.
Top tips for making this recipe
Use fresh lemon juice for best results (not the bottled stuff). Alternatively, you can use lemon extract for a stronger flavor.
Soy milk works best for this recipe but you can use any type of plant-based milk that you like.
Use a neutral tasting oil such as rapeseed or sunflower rather than the stronger tasting oils like coconut or olive. This will allow the lemon flavor to come through stronger.
After preparing the buttercream, you can adjust the consistency according to your preference. Add more powdered sugar to make it thicker and add more lemon juice (or water) to thin in out.
Use a large piping nozzle to prevent lemon zest getting stuck in there.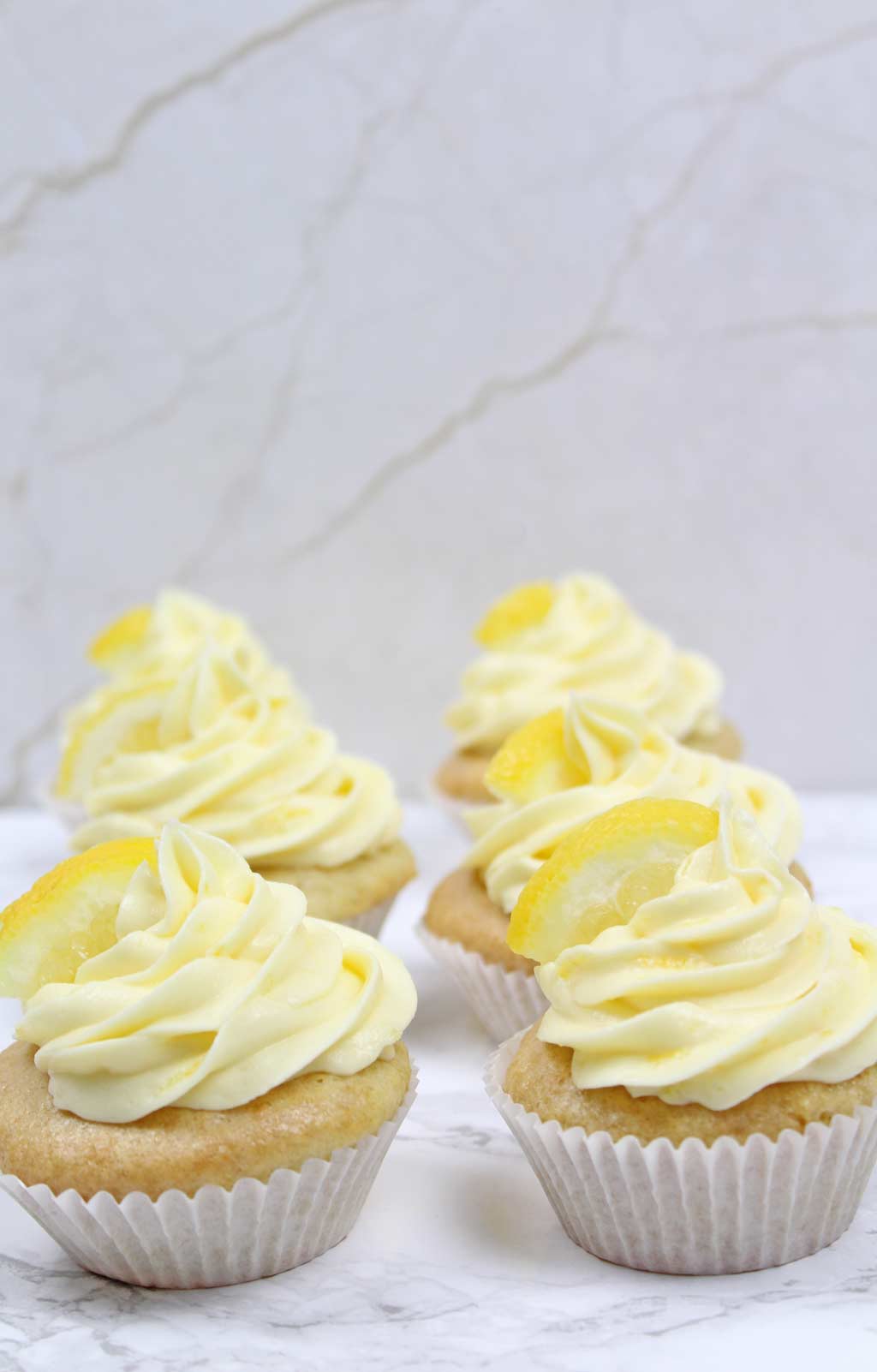 I hope you enjoy this recipe! If you make it yourself, please let me know how it went by leaving a comment below or tagging me on Facebook or Instagram.
Happy baking! xo

Vegan Lemon Cupcakes
Soft and fluffy zingy lemon cupcakes with smooth lemon buttercream on top.
Keyword:
vegan lemon cupcakes
Ingredients
1/2

Cup + 2 tablespoons

Soy milk

(150ml)

2

Tablespoons

Lemon juice

1 + ¼

Cup

All-purpose flour

(160g)

½

Cup

Super fine / caster sugar

(100g)

½

Teaspoon

Baking soda

2

Teaspoons

Baking powder

½

Cup + 2 tablespoons

Neutral tasting oil such as rapeseed

(150ml)

Zest of

1 Lemon
For the lemon buttercream frosting:
⅔

Cup

Vegan butter

(160g)

4 + ½

Cups

Powdered sugar

(560g)

1

Tablespoon

Lemon juice

2-3

Tablespoons

Lemon zest
Instructions
Preheat your oven to 400°F / 200°C (180°C fan oven). Prepare a cupcake tin with 12 cases.

Mix together the soy milk and lemon juice and set it aside to thicken. This will be your vegan buttermilk.

In a large bowl, mix together the flour, sugar, baking soda and baking powder until there are no lumps left.

Use your spoon to make a well in the middle of the dry ingredients and add your buttermilk from earlier along with the oil. Mix well until you have a smooth cake batter.

Add in the lemon zest and mix again.

Divide the cake batter between the 12 cases and bake for 15 minutes. The cupcakes should be golden brown and a toothpick through the center should come out clean.

Let the cakes cool in the tin for 5 minutes then transfer them to a wire rack to cool completely.
For the lemon buttercream frosting:
Mix the vegan butter, powdered sugar and lemon juice together until smooth. It's best to add a little powdered sugar at a time to prevent mess.

Add the lemon zest to your buttercream and mix well. If you'd like your buttercream to be thicker, add more powdered sugar. If you want it thinner, add more lemon juice or water until you reach your desired consistency.

Pipe the frosting onto your cooled cupcakes. I recommend using a large nozzle to prevent lemon zest from getting stuck in the bag.
Recipe Notes
Store in an airtight container in a cool, dry place for up to 3 days.
Nutrition Facts
Vegan Lemon Cupcakes
Amount Per Serving (1 Cupcake without frosting)
Calories 190
Calories from Fat 108
% Daily Value*
Fat 12g18%
Sodium 100mg4%
Carbohydrates 18g6%
Protein 2g4%
* All values are an estimate only and will vary depending on the food brands used.