Are Hobnobs Vegan?
Hobnobs are a type of British biscuit, popular for their rough, crumbly texture. They're somewhat of a cross between a Digestive biscuit and a flapjack, with an oaty, golden syrup flavour and a nice crunch. They're a tasty afternoon treat enjoyed by many across the UK, but are Hobnobs vegan? Keep reading to find out!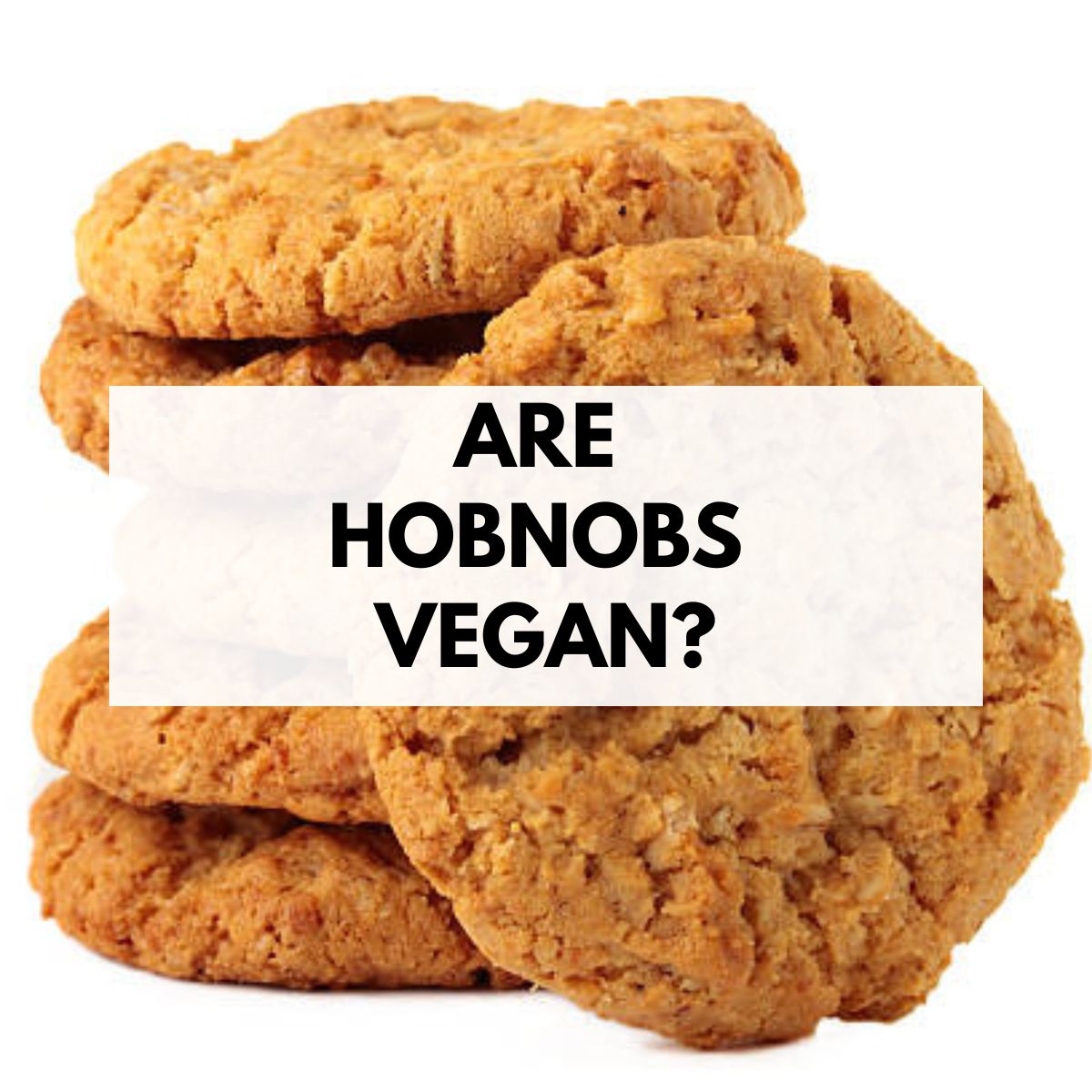 If you're not British, you may be wondering what the heck Hobnobs are! Allow me to explain…Hobnobs are a UK biscuit, first created by McVities in the 1980's. They're made with oats, golden syrup, and a few other ingredients, creating a rough, crumbly, perfectly sweet biscuit.
McVities may have given these biscuits their well-known name, but Hobnob biscuits are just another name for oaty biscuits. They can also be called oaties, oaty rounds, oat crunch biscuits and oat nobblies!
Hobnobs come in five varieties- original, chocolate chip, milk chocolate, dark chocolate and gluten-free. They're probably one of the more popular biscuits here in the UK and you'll find them in almost any shop you go into.
Are Hobnobs vegan?
Original Hobnobs are vegan, yes! The original, gluten-free and chocolate chip varieties are vegan but neither of the chocolate-topped varieties are. The ingredients of the original Hobnobs are:
Rolled Oats, Wholemeal Wheat Flour, Vegetable Oil (Palm), Sugar, Partially Inverted Sugar Syrup, Sodium Bicarbonate, Ammonium Bicarbonate & Salt.
As you can see, there are no animal byproducts in this recipe. The gluten-free version contains almost identical ingredients, except the wholemeal wheat flour is replaced with gluten-free wholegrain oat flour.
The chocolate chip Hobnob ingredients are:
Rolled Oats, Wholemeal Wheat Flour, Sugar, Vegetable Oil (Palm), Plain Chocolate Chips [Sugar, Cocoa Mass, Fat Reduced Cocoa Powder, Cocoa Butter, Soya Lecithin, Natural Flavouring], Partially Inverted Sugar Syrup, Sodium Bicarbonate, Ammonium Bicarbonate & Salt.
Thankfully, the chocolate in the chocolate chips is made with soya instead of dairy, meaning these are accidentally vegan. Yay!
Sadly, both the milk and dark chocolate Hobnobs contain milk so they cannot be enjoyed on a vegan diet. However, you can always pop some melted vegan chocolate on top of a regular one or you can purchase some off-brand chocolate Hobnobs, linked further in this post. If you want to try a special twist on the chocolate and Hobnob combo, try my vegan chocolate cheesecake recipe!
The original, chocolate chip and gluten-free Hobnob biscuits are what you would call 'accidentally vegan'. That means that although they are suitable for vegans, they were not intentionally made to be vegan-friendly.
Are there any vegan chocolate Hobnobs?
Yes! Although they are not the specific McVities *Hobnob* brand, you can find some vegan chocolate-topped oatie biscuits out there.
And if you're looking for other oaty chocolate chip biscuits, try Nairn's choc chip oaties.
It's important to note that although Hobnobs are vegan-friendly, they may not be allergy-friendly due to risk of cross contamination. The gluten-free biscuits obviously are free from gluten, but it's unclear as to whether or not there is a risk of dairy and/or egg cross-contamination. As with everything, it's best to check the labels before purchasing just to be on the safe side.
What other McVities biscuits are vegan?
The question that comes after 'are Hobnobs vegan?' is usually 'are any other McVities biscuits vegan?', and luckily the answer is yes. You can enjoy quite a few of the brands biscuits on a vegan diet. I have a whole post about accidentally vegan biscuits in the UK– have a read if you'd like to find out more about which biscuits are vegan, other than McVities. The following McVities are vegan-friendly:
Digestive biscuits
Rich tea biscuits
Gingernut biscuits
Fruit shortcake biscuits
Summary
So are Hobnobs vegan? Yes! The plain Hobnobs, gluten-free, and chocolate chip Hobnobs are all accidentally vegan. However, the milk chocolate and dark chocolate Hobnobs are not suitable for a vegan diet because they contain milk.
Although Hobnobs are vegan, as are many other McVities biscuits, there may be a risk of cross contamination of potential allergens. Always check the labels if you need to be certain that you won't come into contact with eggs or dairy.
BakedByClo is a participant in the Amazon Services LLC Associates Program, an affiliate advertising program designed to provide a means for sites to earn advertising fees by advertising and linking to Amazon.com. This site may contain some of these links to Amazon.com & other affiliate programs. If you make a purchase through one of those links, BakedByClo will receive a small commission from the purchase at no additional cost to you.