Vegan Protein Balls (No-Bake)
These no-bake Cinnamon Maple Vegan Protein Balls are the perfect healthy snack or post-workout treat! These protein-packed treats are bursting with a sweet and nutty flavour and will satisfy your sweet tooth. With just a few simple ingredients, you can quickly whip up a batch in next to no time.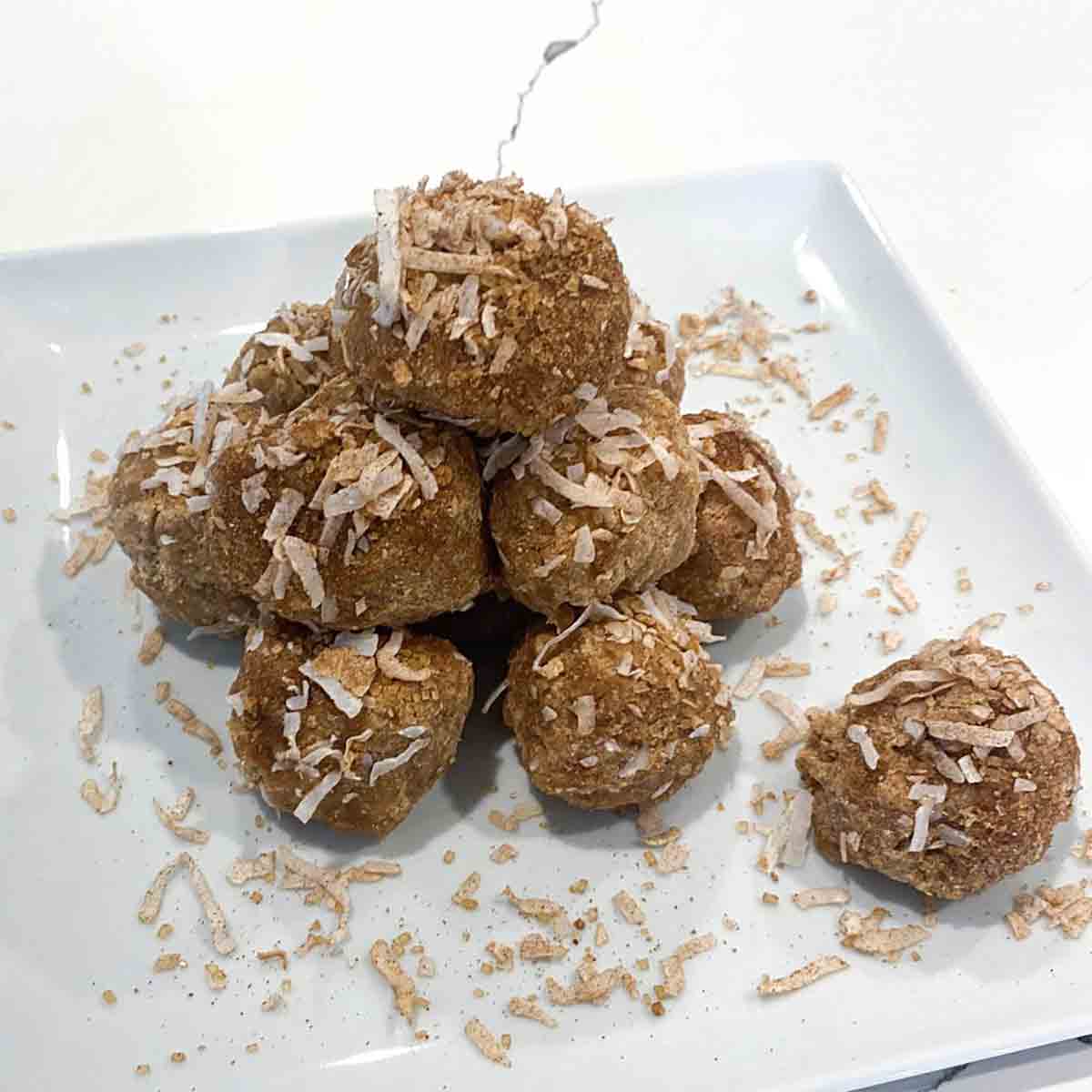 This recipe was created by Avi from Feast Good and he also wrote this post! If you love all things health, including more delicious recipes, make sure to check out his blog and show some love!
Ingredients you'll need:
Cashew Butter
Cashew butter is the base of this recipe, providing a creamy texture alongside the other ingredients. It's rich in monounsaturated fats, vitamins, minerals, and dietary fibre. Almond butter won't change the flavour, but peanut butter will make it sweeter.
Coconut Oil
Coconut oil is an excellent source of healthy fats and helps bind the ingredients together in this recipe. It can also help boost your energy levels and metabolism. You can substitute any neutral-flavoured oil, such as vegetable or sunflower oil.
Maple Syrup
Maple syrup adds a subtle sweetness to the protein balls and offers that classic maple flavour. Look for pure maple syrup rather than the ones with artificial flavours such as pancake syrup. You can also substitute agave nectar for the maple syrup if you'd prefer.
Coconut Flour
Coconut flour is gluten-free and adds a hint of nuttiness to these vegan protein balls while keeping them from being too dense. You can use any type of gluten-free flour as a substitute, such as almond or oat flour.
Vanilla Protein Powder
This is a good source of protein that helps keep you full for a long time. You can use plant-based proteins such as pea or brown rice protein, or a blended vegan protein.
Cinnamon
Cinnamon is a flavourful spice that adds warmth and sweetness to your recipes. It also has antioxidant properties and can help regulate blood sugar levels. You can use any type of cinnamon in this recipe, including ground cinnamon or Ceylon cinnamon sticks.
Coconut Sugar
Coconut sugar is a low-glycemic sweetener made from the sap of coconut palms. It adds sweetness to these no-bake protein balls in a subtle way as it is used more as a topping. It's optional, and you can substitute cane or brown sugar if you prefer.
Coconut Flakes
Coconut flakes are a delicious and crunchy topping for these protein balls. Make sure to use unsweetened coconut flakes so that your protein balls aren't too sweet. You can substitute any chopped nuts or seeds if you'd like.
How To Make Vegan Protein Balls
Step 1:
Begin by adding the cashew butter, coconut oil, and maple syrup to an electric mixer. Beat the ingredients together until a thick paste forms, about 2 minutes. You can also make these by hand but it may take longer and the ingredients may mix less evenly.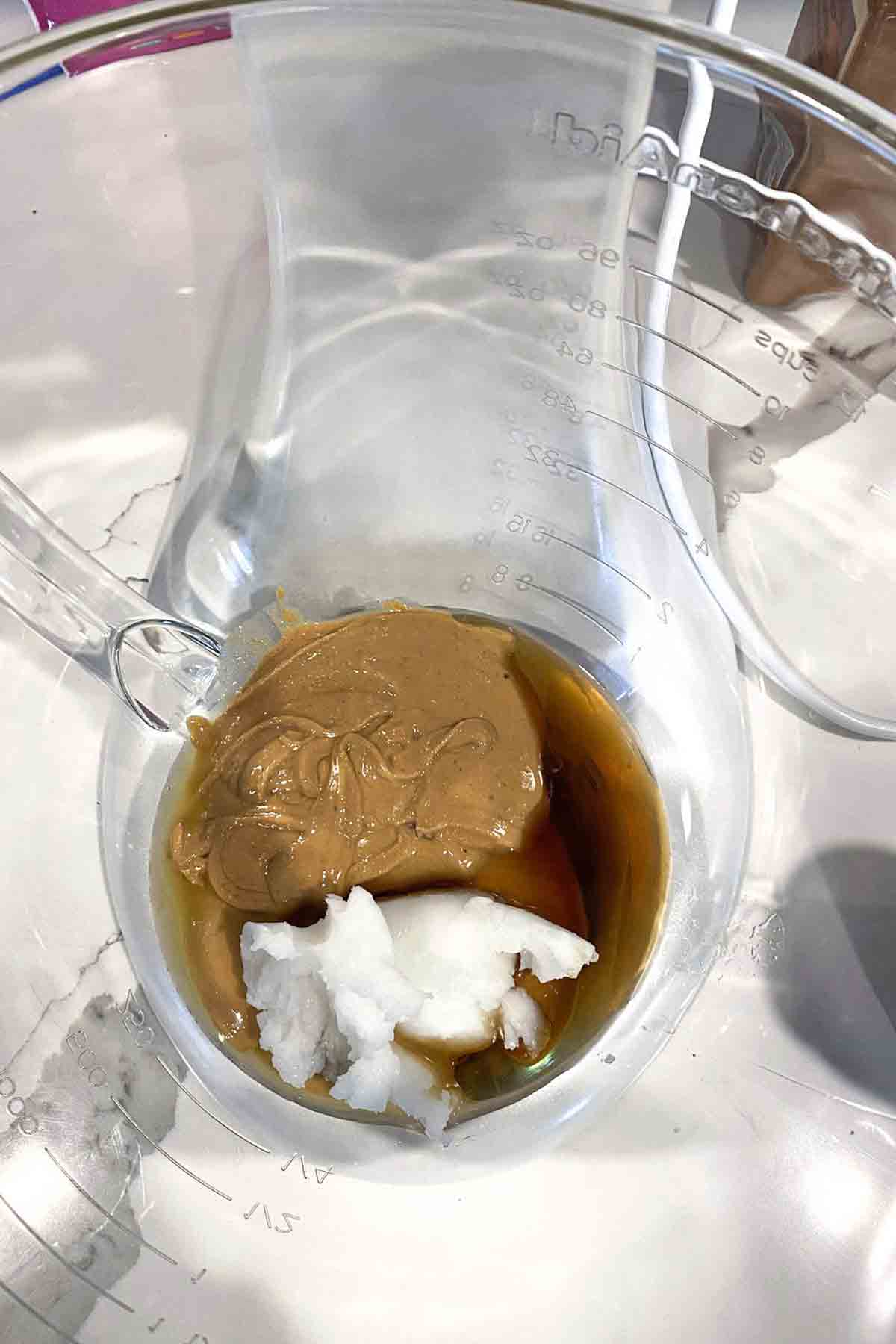 Step 2:
Add the coconut flour, vanilla protein powder and cinnamon to the mixture and beat until everything is combined. The mixture should be crumbly but stick together when pressed between your fingers. If it's too dry, add more coconut oil or a splash of water.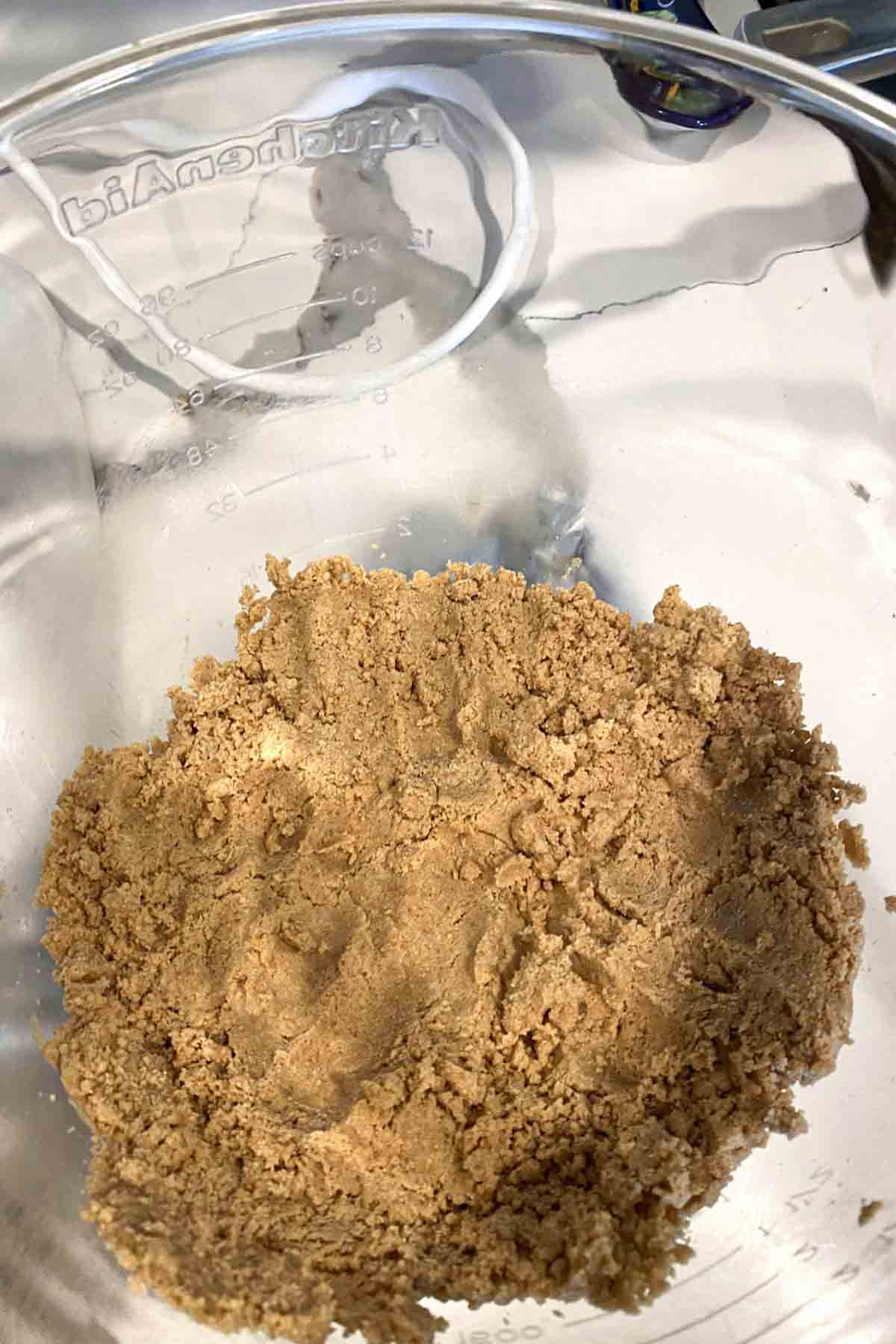 Step 3:
Roll the mixture into small balls about 1-inch in diameter. Set aside the balls on a baking sheet lined with parchment paper. You should end up with about 24 balls.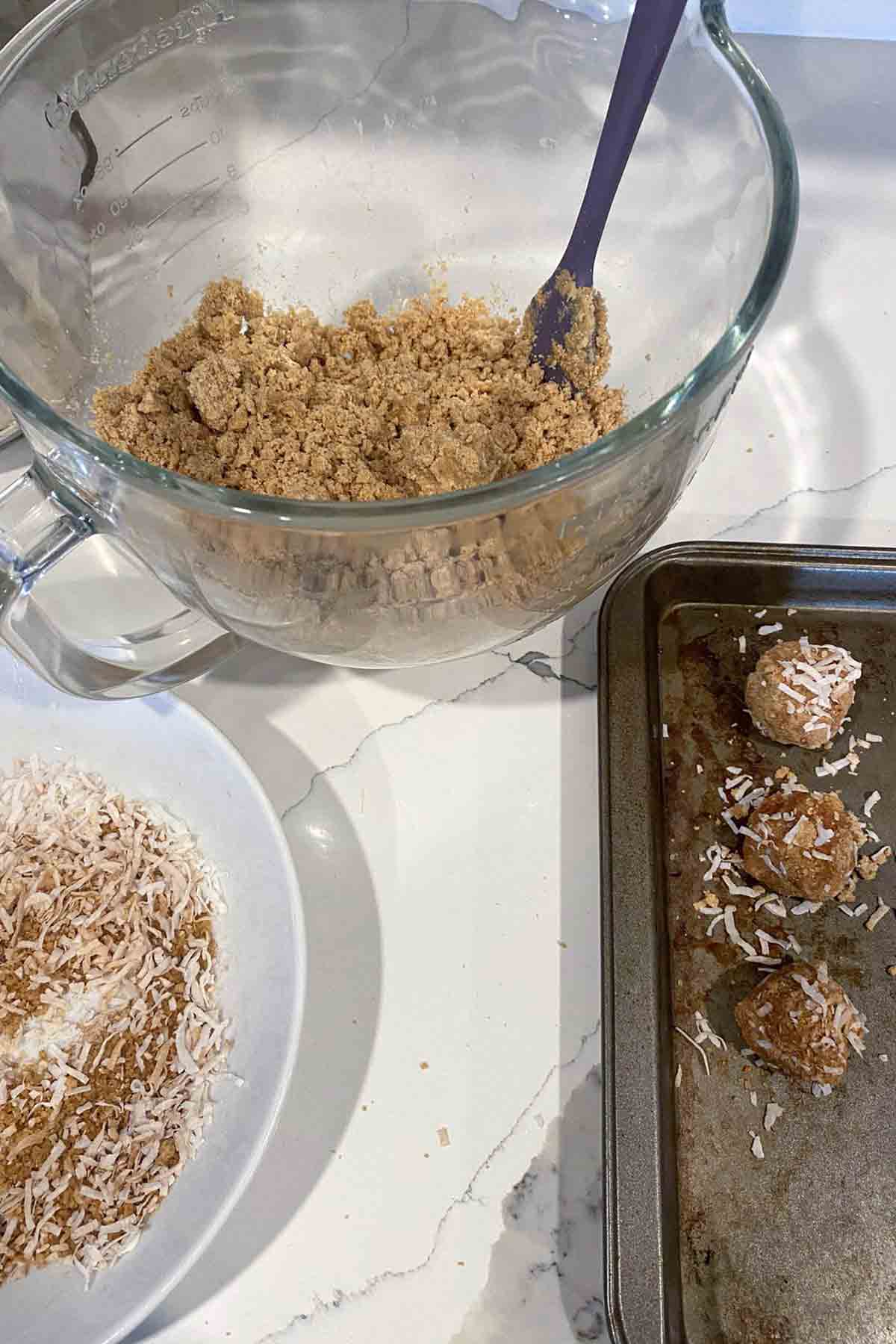 Step 4:
In a shallow bowl, combine the coconut sugar and coconut flakes. Roll each ball in the mixture to cover. And that's it! Because this is a no-bake protein ball recipe, you get to enjoy them straight away!
---
Customisations
There are plenty of ways to customise these cinnamon maple protein balls to your liking. Here are some ideas:
Change The Toppings
Spice It Up
For a bit of heat, try adding some ground cayenne pepper or chilli powder.
For extra flavour, you can add other spices like cardamom, turmeric, or nutmeg.
How To Store & Meal Prep
Store your vegan protein balls in an airtight container in the fridge for up to five days. You can also freeze them for up to three months. These are great to prep ahead of time and enjoy as a quick snack or dessert.
Macro Breakdown & Calories
Calories: 226 kcal
Carbohydrates: 20g
Protein: 10g
Fat: 12g
---
More healthy vegan recipes

Vegan Protein Balls (No-Bake)
Easy, no-bake cinnamon maple vegan protein balls.
Ingredients
¾

Cup

Cashew butter

(190g)

¼

Cup

Coconut oil

(55g)

½

Cup

Maple syrup

(165g)

1

Cup

Coconut flour

(60g)

1

Cup

Vegan vanilla protein powder

(50-60g, depending on which type you use)

1

Tablespoon

Ground cinnamon

¼

Cup

Coconut sugar

(55g)

¼

Cup

Coconut flakes

(25g)
Instructions
In an electric mixer, beat together the cashew butter, coconut oil and maple syrup until a paste forms.

Add coconut flour, protein powder and cinnamon until combined.

Roll the mixture into 1-inch balls and place on a baking sheet lined with parchment paper.

In a shallow bowl, combine the coconut sugar and flakes. Roll each ball in the mixture to cover. Enjoy!
Recipe Notes
Store in an airtight container in the refrigerator for up to 5 days.

Please note that gram measurements are estimates.
Recipe by Avi at Feast Good.
Nutrition Facts
Vegan Protein Balls (No-Bake)
Amount Per Serving (2 balls)
Calories 226
Calories from Fat 108
% Daily Value*
Fat 12g18%
Carbohydrates 20g7%
Protein 10g20%
* All values are an estimate only and will vary depending on the food brands used.
BakedByClo is a participant in the Amazon Services LLC Associates Program, an affiliate advertising program designed to provide a means for sites to earn advertising fees by advertising and linking to Amazon.com. This site may contain some of these links to Amazon.com & other affiliate programs. If you make a purchase through one of those links, BakedByClo will receive a small commission from the purchase at no additional cost to you.