Vegan Almond Flour Muffins
These super moist vegan almond flour muffins with banana are so easy to make and are made with healthier ingredients! They're naturally sweetened, dairy-free, egg-free, gluten-free and oil-free!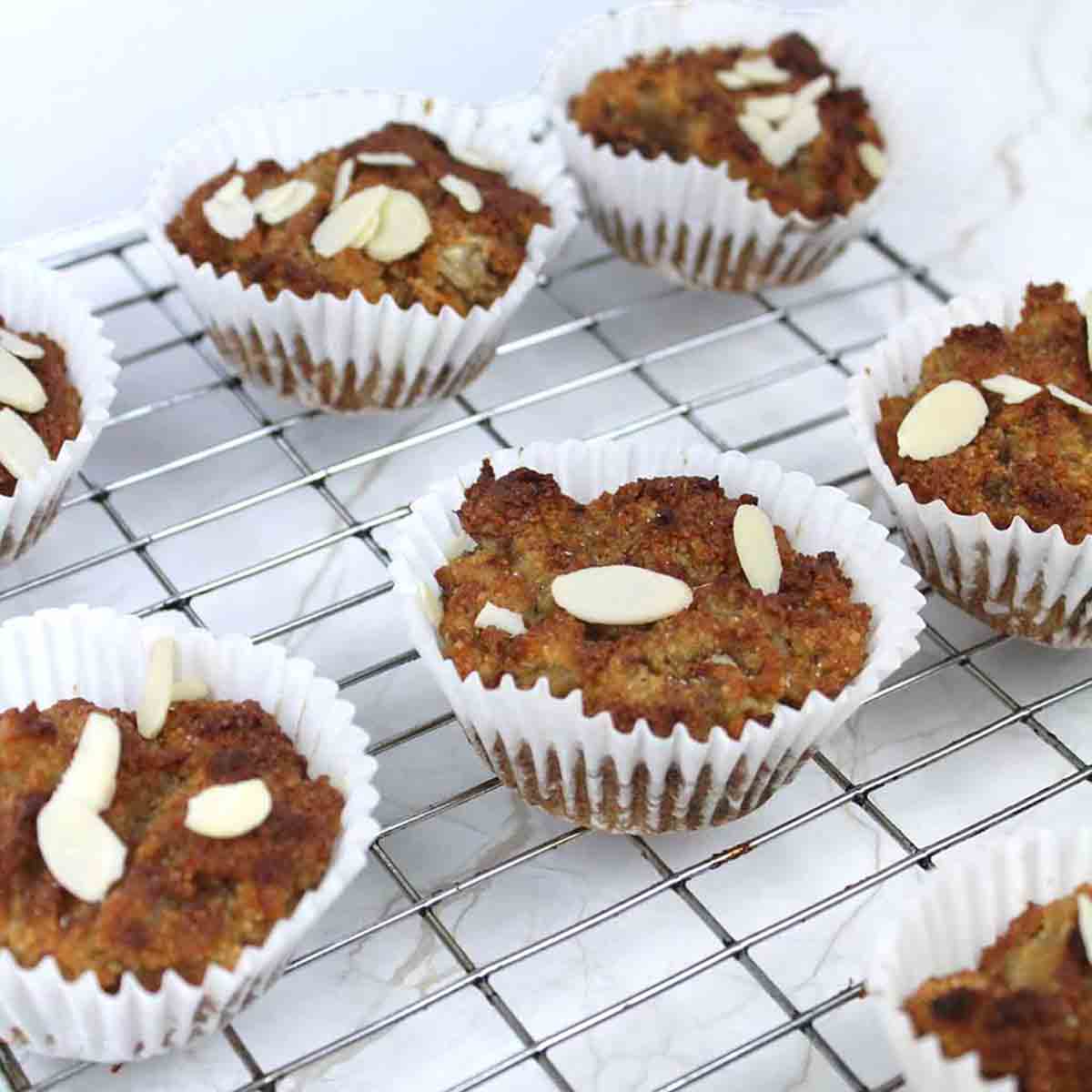 Does anyone else find it extremely difficult to find a good vegan muffin that isn't filled with processed sugar and refined flours? As much as I love baking indulgent desserts, it's nice to make healthy treats once in a while.
I've tried and tested many different variations of healthy muffins in the past but these almond flour banana muffins are by far my favourite! Granted, these might not be the prettiest muffins you'll ever see, but they taste absolutely incredible!
They are suuuuper moist, just like good banana muffins should be. But at the same time, they're airy and cakey, and not too heavy on your tum. On top of all of that, they have no nasty ingredients. No wheat, no processed sugar, no oil, and no animal products!
They area little higher in fat due to the use of almond flour, but each muffin contains just 10g of (healthy) fats which I don't think is too extreme when you compare it to regular muffins.
They are sweetened only with bananas plus some apple sauce and agave nectar, and the almond flour makes them completely gluten-free! And with the exception of a flax egg, there are no other weird baking substitutes required.
How To Make Vegan Almond Flour Muffins
These almond banana muffins are so easy to make- let me show you how!
Step 1: Prepare your flax egg
Mix together 2 tablespoons of ground flax seeds and 6 tablespoons of cold water. Set it aside for 5 minutes or so to thicken.
As I've mentioned in a few of my other posts, flax seeds act as an egg replacer in vegan baking. When mixed with water, they create a gloopy texture that helps the rest of the ingredients bind together when baking. This is also known as a flax egg.
Step 2: Mash your bananas
Mash two medium bananas in a large bowl.
You'll need to use overripe bananas in order to make these muffins. And by overripe, I mean the ones that have brown spots all over them. If your bananas are still not ripe enough by the time you come to bake, don't worry! Let me share this cool trick with you…
Simply pop your bananas into the oven at 180°C/350°F for 5 minutes and they will come out with black skins. Let them cool for a few minutes before peeling and mashing.
They'll be a bit softer than regular overripe bananas but perfectly sweet. I used this trick when I made my eggless banana bread and it turned out great!
Step 3: Add in the rest of the wet ingredients
To the bowl of mashed bananas, add in the flax egg from earlier along with 100g of apple sauce, 4 tablespoons of agave nectar (or maple syrup if you prefer), 1 teaspoon vanilla extract and 1 teaspoon of lemon juice. Mix well until everything is combined.
The great thing about sweetening banana almond flour muffins with apple sauce and agave nectar is that they are much lower on the glycemic index compared to regular muffins.
Step 4: Add your dry ingredients
Next, add 230g of almond flour, 1 teaspoon of baking powder and 1/2 teaspoon of baking soda (bicarbonate of soda).
The almond flour can be quite heavy and dense so we want to lift it as much as possible. This is why we add the baking soda and powder, because they help to create a cakey texture. Just so you know, the batter for these muffins will be very thick and not at all like cake batter.
Step 5: Bake!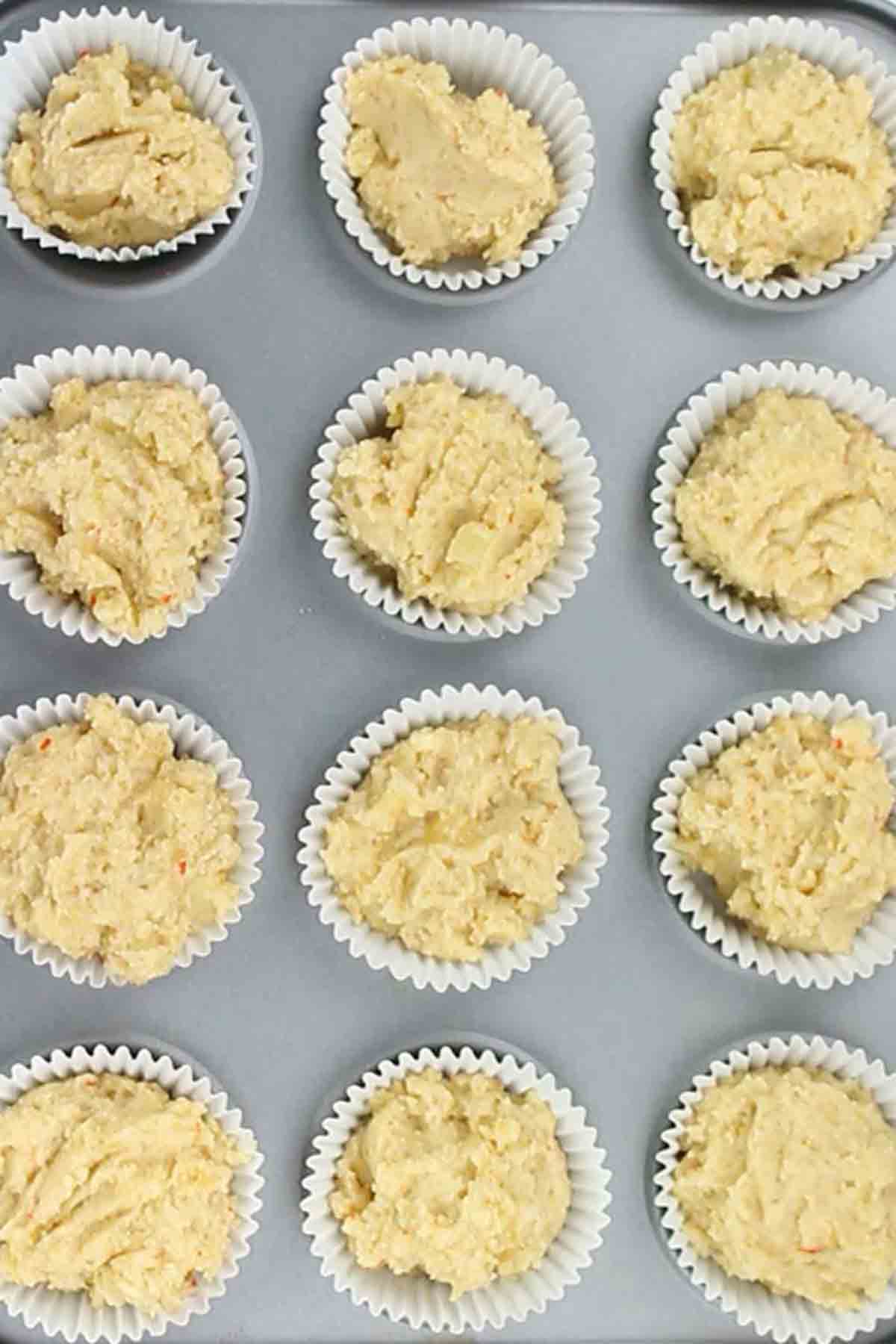 Spoon your mixture into some muffin cases (you should get around 12) and bake for 30 minutes. A toothpick will come out clean once they're ready.
They'll look a bit browner than your average muffin but that's simply because they're made with almond flour. If you want more traditional looking muffins, try my blueberry muffins recipe instead.
Step 6: Decorate
I chose to keep my muffins simple and just topped them with some flaked almonds. You could absolutely leave them as they are or even go a step further and add an icing glaze on top.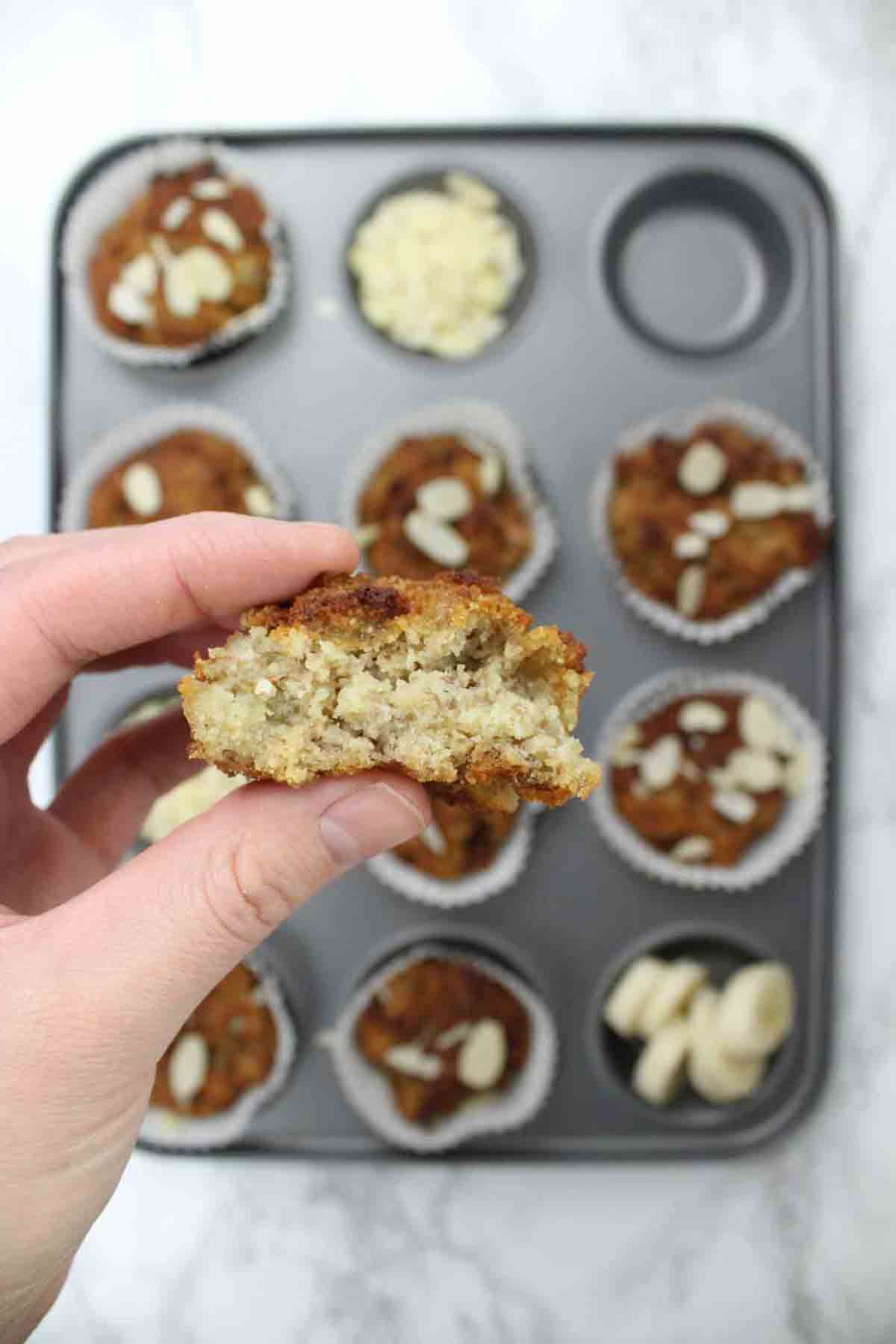 FAQ:
How long will banana almond flour muffins last for?
They'll last for around 4-5 days, providing you store them in an airtight container and in a cool, dry place. The kitchen cupboard is perfect.
Can I freeze them?
You sure can! Just pop them into an airtight container and freeze for up to 2 months. When you're ready to defrost them, transfer them to a plate or wire rack and let them sit at room temperature for an hour or two until fully thawed. Do not refreeze.
More vegan muffin recipes:
I hope you enjoy these banana vegan almond flour muffins! If you make them at home, please let me know what you think by leaving a rating and/or comment below. Happy baking! xo

Vegan Banana Almond Flour Muffins
Almond flour muffins made without eggs or dairy.
Ingredients
2

Tablespoons

Ground flax seeds + 6 tbsp water

3

Medium overripe bananas

100

g

Apple sauce

(1/2 Cup)

4

Tablespoons

Agave nectar

(or maple syrup)

1

Teaspoon

Vanilla

1

Teaspoon

Lemon juice

1

Teaspoon

Baking powder

½

Teaspoon

Baking soda

230

g

Almond flour

(2 + ⅓ Cups)
Instructions
Preheat oven to 200°C/400°F (or 180°C/350°F if using a fan or convection oven). Line a tray with 12 muffin cases.

Mix the flax seeds and water together then set aside to thicken.

Mash the bananas in a bowl using a fork. Add the apple sauce, flax seed mixture, agave nectar, vanilla, and lemon juice. Mix well.

Add the baking powder, baking soda, and almond flour and mix again. The batter should be quite thick and gloopy.

Spoon the mixture into the cases and bake for around 30 minutes. A skewer will come out clean when they are ready.
Recipe Video
Recipe Notes
Muffins can be stored in an airtight container for up to 5 days.
Nutrition Facts
Vegan Banana Almond Flour Muffins
Amount Per Serving (1 muffin)
Calories 180
Calories from Fat 90
% Daily Value*
Fat 10g15%
Sodium 4mg0%
Carbohydrates 14g5%
Protein 6g12%
* All values are an estimate only and will vary depending on the food brands used.
BakedByClo is a participant in the Amazon Services LLC Associates Program, an affiliate advertising program designed to provide a means for sites to earn advertising fees by advertising and linking to Amazon.com. This site may contain some of these links to Amazon.com & other affiliate programs. If you make a purchase through one of those links, BakedByClo will receive a small commission from the purchase at no additional cost to you.