Vegan Carrot Cupcakes
These vegan carrot cupcakes are sweet, fluffy and lightly spiced. They're super easy to make and taste delicious topped with some dairy-free cream cheese frosting.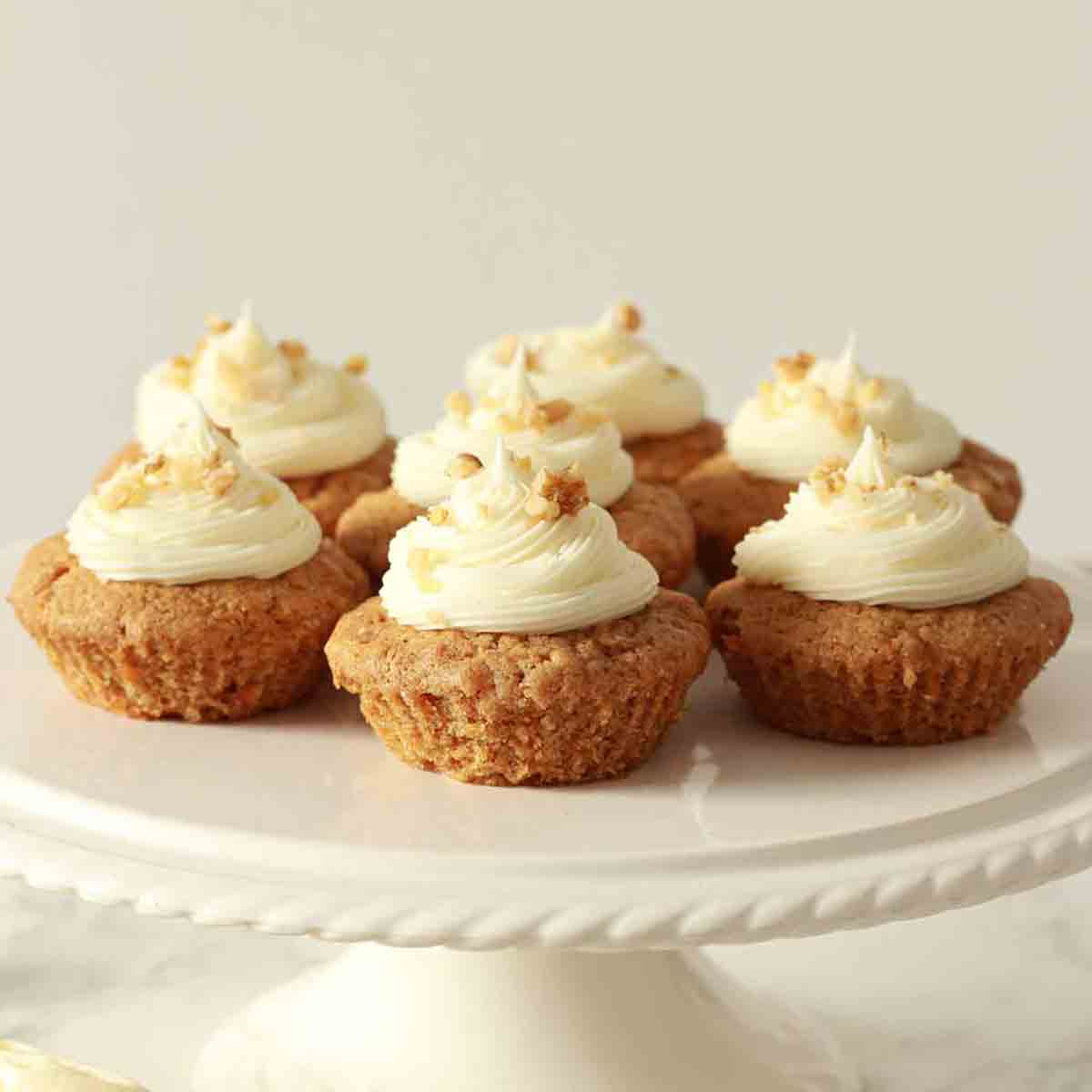 Spring has finally sprung in the UK! At least, it definitely feels less Winter-y, with the longer days and (slightly) warmer weather.
It's Mother's Day at the time of writing this post and Easter is just a few short weeks away, which for me means it's officially the end of Winter. And if you're a fellow Brit, you'll KNOW how long and dull our Winters can get.
So naturally, I've switched into Spring baking mode! And how much more Spring can you get than carrot cakes?
Bite-sized carrot cakes
I created the recipe for these cupcakes using my large carrot cake recipe as a basis and I'm so pleased with how they turned out! I think they look much cuter as smaller cupcakes and they're a bit easier for beginner bakers. And I have sooo many ideas for more carrot cake themed baking, so keep an eye out for those!
Related post: 68 Best Vegan Desserts.
Making these mini carrot cakes was really easy. All of the ingredients can be thrown into one bowl and they take less than 20 minutes minutes to bake.
They rise beautifully and stay soft, light and fluffy inside. I topped them with dairy-free cream cheese icing and some chopped walnuts. You can also add finely chopped walnuts to the batter if you like, but I prefer to just have them on top for decoration.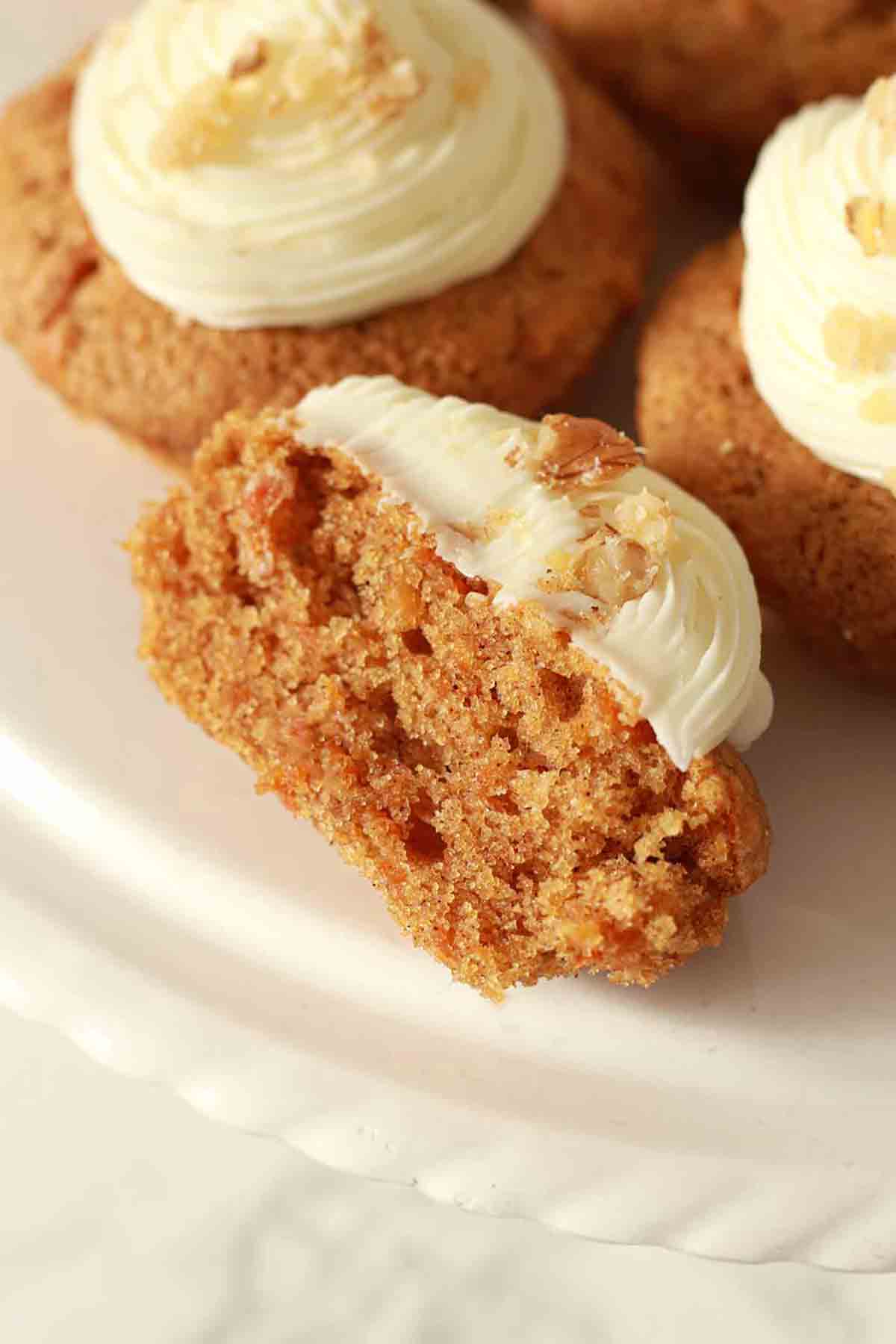 These cupcakes would make a great alternative for a larger birthday or other celebration cake cake. They're also great for popping in the freezer and snacking on throughout the month. This is my favourite way to enjoy baked goods- I enjoy eating somewhat healthy throughout the week then defrosting some sweet treats at the weekend! Whatever you're making them for, I promise you'll enjoy them! Let me show you how it's done…
How to make vegan carrot cupcakes
Step 1:
Preheat your oven to 180°C/350°F. If you're using a fan or convection oven, you'll need to set the heat to 160°C/325°F instead. Prepare a cupcake tin with 9 liners and set it aside for now.
Step 2:
Now it's time to grate your carrots! You'll need 125g of carrots, weighing them after they have been peeled and had the ends chopped off. I used 1 very large carrot to get this amount but you can use 2 smaller ones instead if you prefer.
Step 3:
In a large bowl, mix together 100g of soft brown sugar, 125ml of vegetable oil and 1 teaspoon of vanilla extract.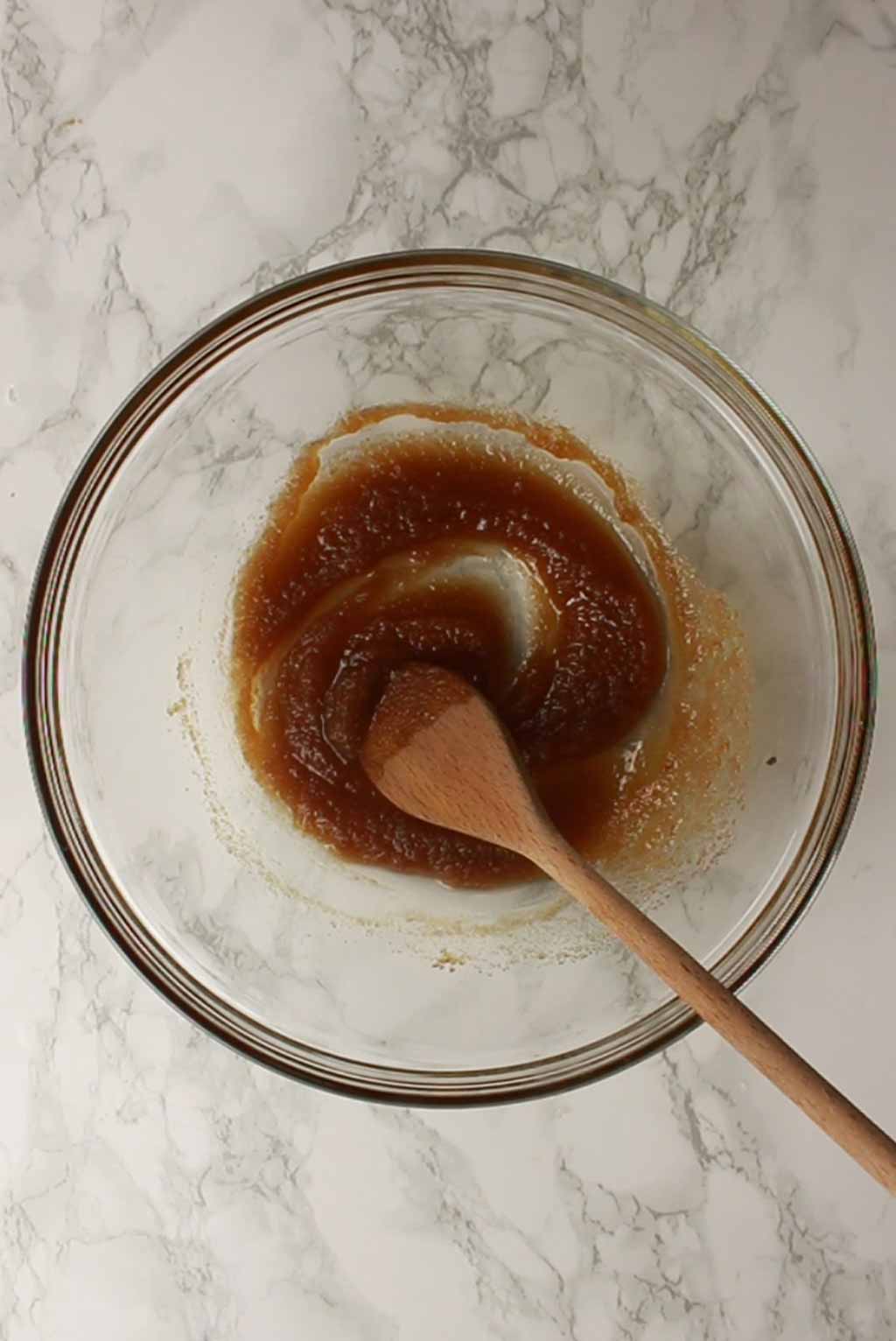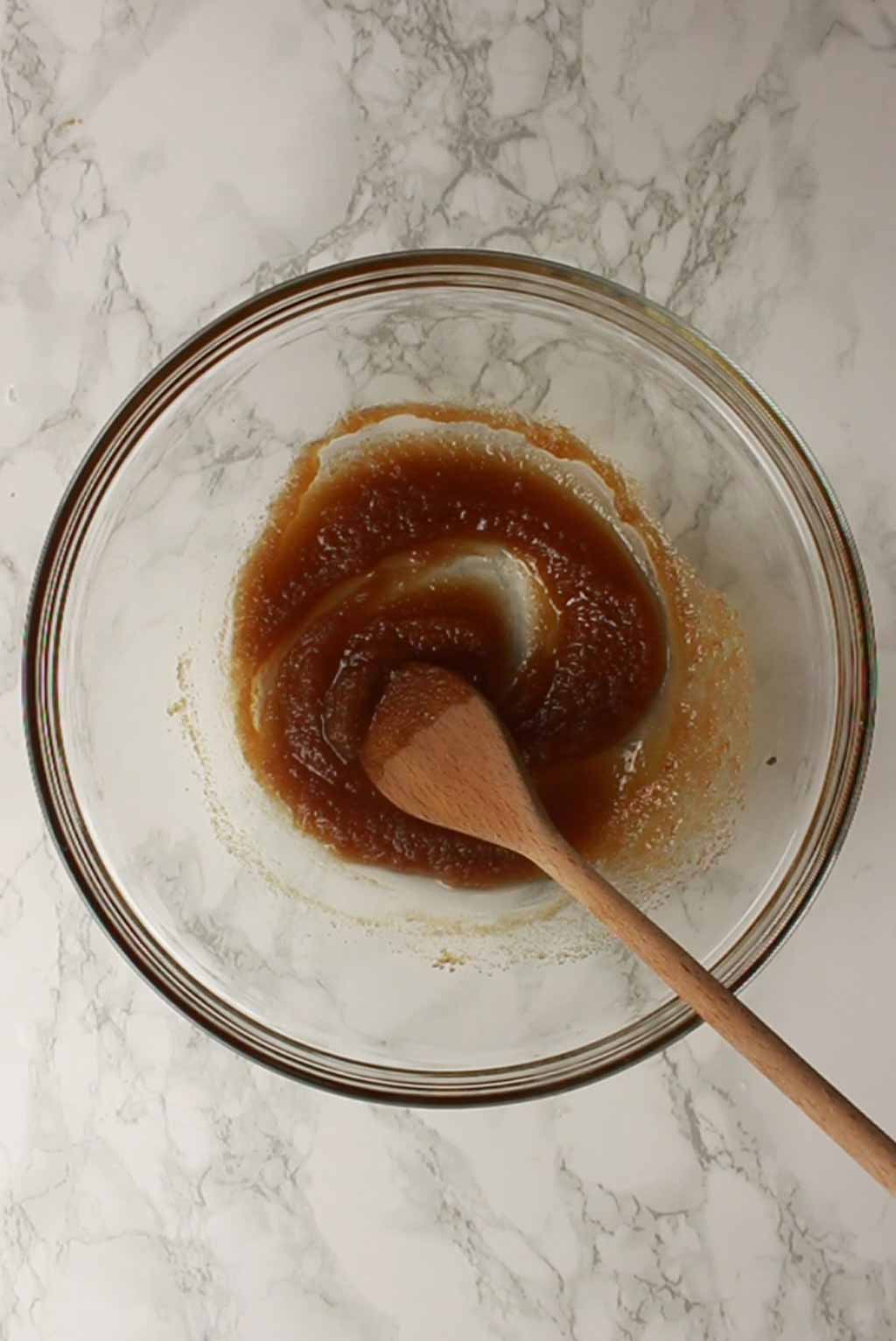 Now add in your grated carrots and give it another mix until it's all well combined.
Step 4:
Next, add in 150g of self-raising flour, along with 1/4 teaspoon of baking soda, 1/2 a teaspoon of cinnamon, 1/4 teaspoon of ginger and 3 tablespoons of soy milk.
It's important to make sure you're using self-raising flour and not plain or all purpose flour as they won't rise properly otherwise.
If you can't find self-raising flour, just use plain flour and add 2 teaspoons of baking powder to the recipe too. So it'd be 150g of plain flour, 2 teaspoons of baking powder and 1/4 teaspoon of baking soda.
Step 5:
Mix everything together thoroughly, making sure you get any dry ingredients that might be stuck to the bottom of the bowl. You will be left with a cake batter that is quite thick- thicker than a typical cake batter.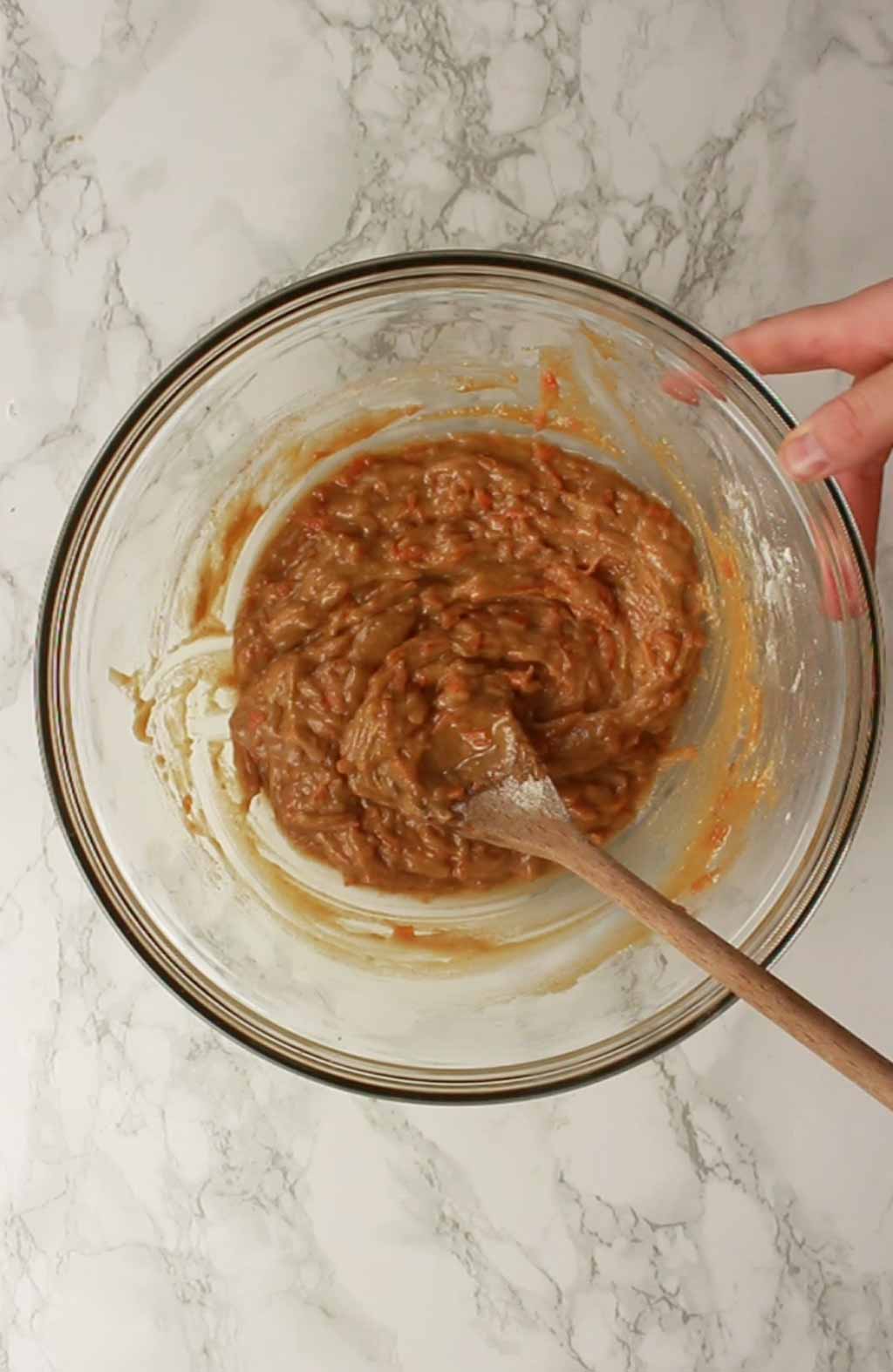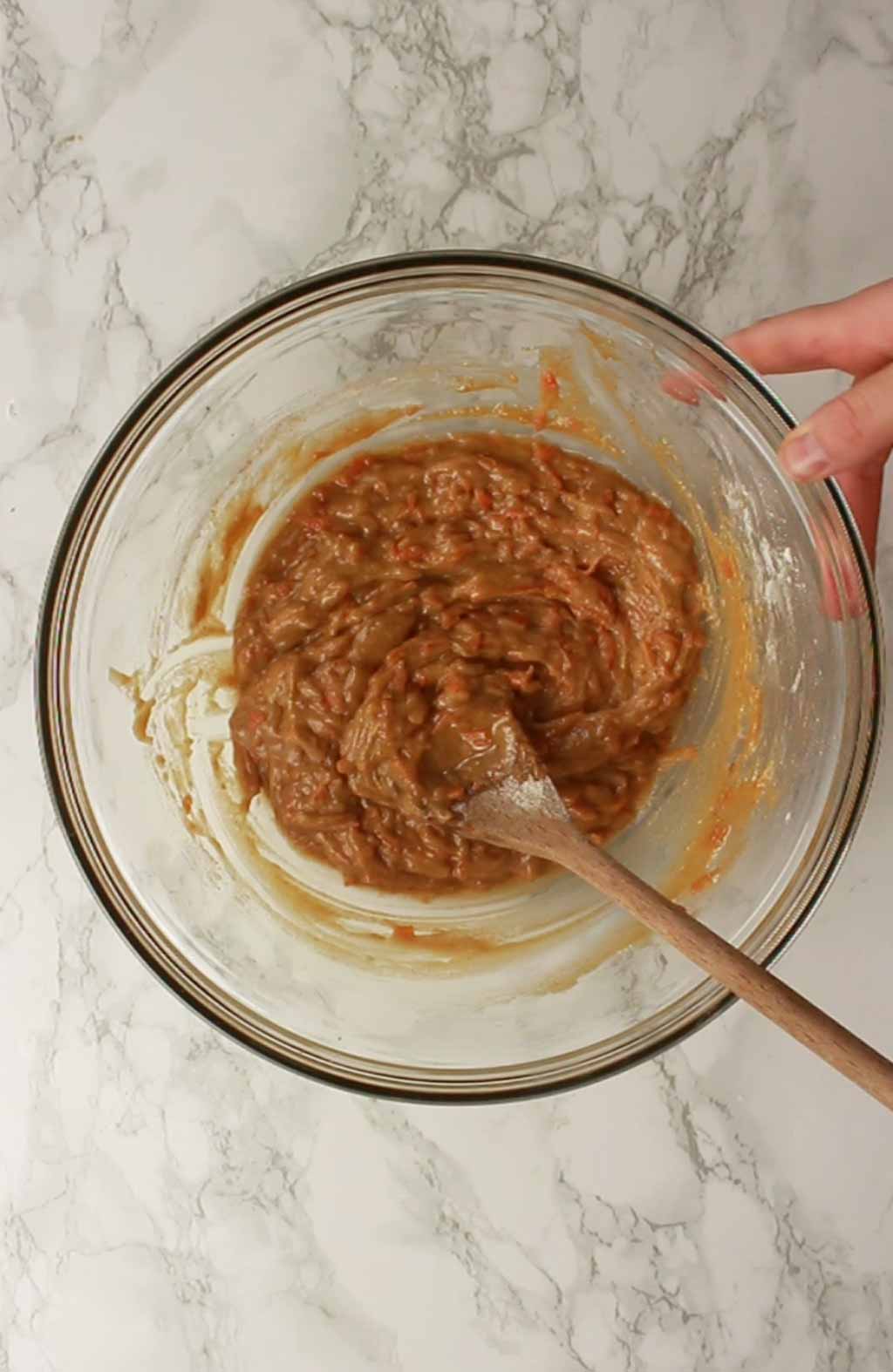 Step 6:
Divide the cake batter evenly between your 9 cupcake cases and bake for 18-20 minutes. You can check that they're done by inserting a toothpick through the centre. If it comes out clean, they're ready.
Transfer them to a wire rack and leave them to cool completely.
Want more vegan cupcake recipes? Check these out:
Making the cream cheese icing
For the icing you can use store-bought or you can make your own.
If you want to use ready-made icing, you can either use Betty Crocker's cream cheese style icing or Dr. Oetker's. If you'd like to make your own, here's how to do it…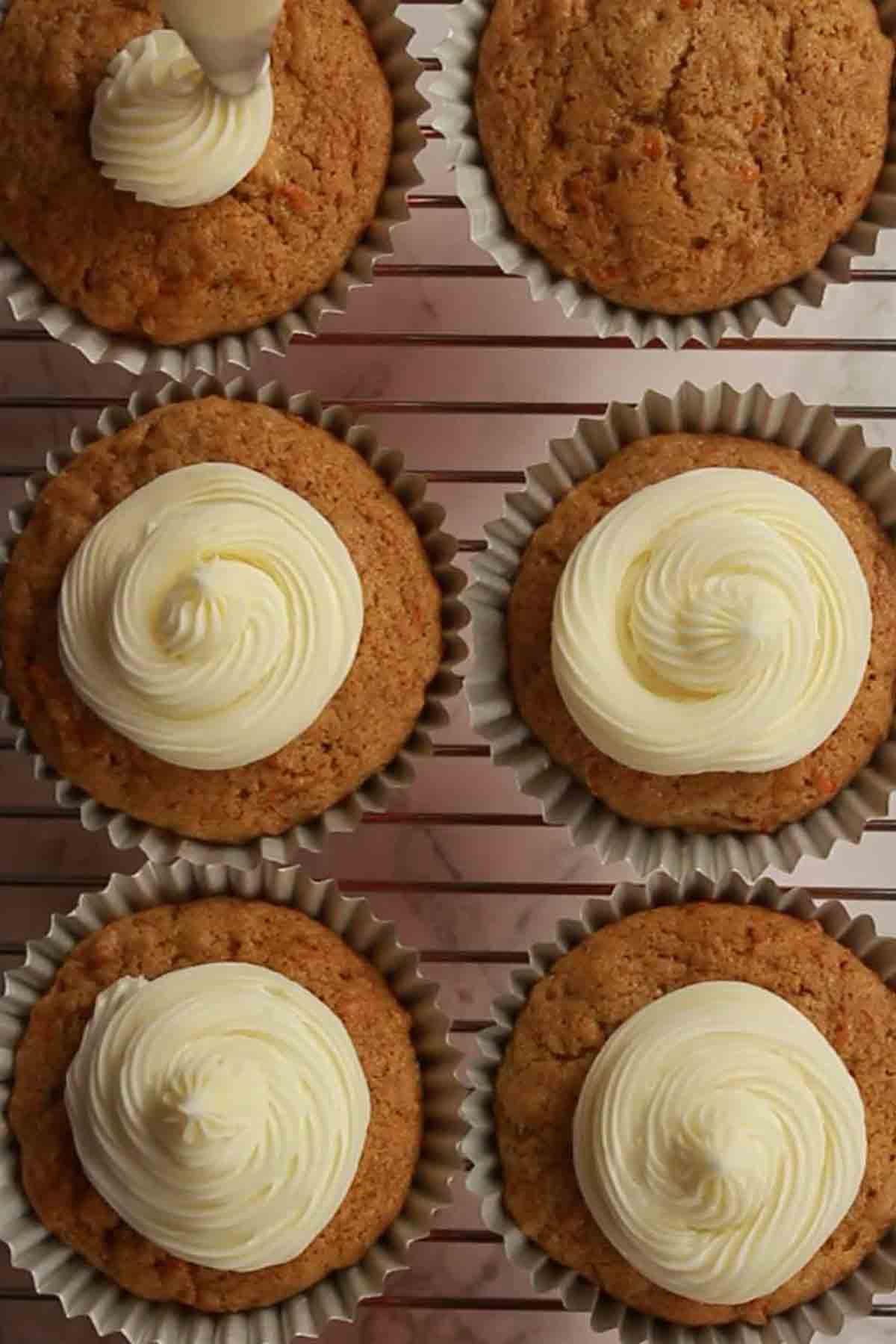 Step 1:
In a large bowl, mix together 120g of vegan cream cheese and 60g of vegan margarine. I find that Violife cream cheese and Vitalite work best for this recipe. I don't recommend using a block vegan butter as it will likely cause your icing to split.
Step 2:
Add 1 teaspoon of vanilla extract and mix it in.
Step 3:
Measure out 450g of icing sugar and slowly add it to the bowl a little bit at a time. Briefly whisk using an electric hand mixer until it's thick and fluffy. Do not mix for too long as it will make your icing runny.
If your icing is too thin, you can add more icing sugar and/or place it in the fridge for an hour to firm up. If it's too thick, add a splash of plant-based milk.
Step 4:
After refrigerating, pipe the icing onto the carrot cupcakes and enjoy!
FAQ
How should I store vegan carrot cupcakes?
Keep these cupcakes in the fridge in an airtight container. They should last up to 5 days if stored this way.
Can they be frozen?
Yes! These cupcakes freeze beautifully. Just pop them into an airtight container and freeze for up to 2 months. They can be frozen with or without the frosting.

To defrost, just transfer them to a plate or wire rack and let them sit at room temperature for a few hours until completely thawed.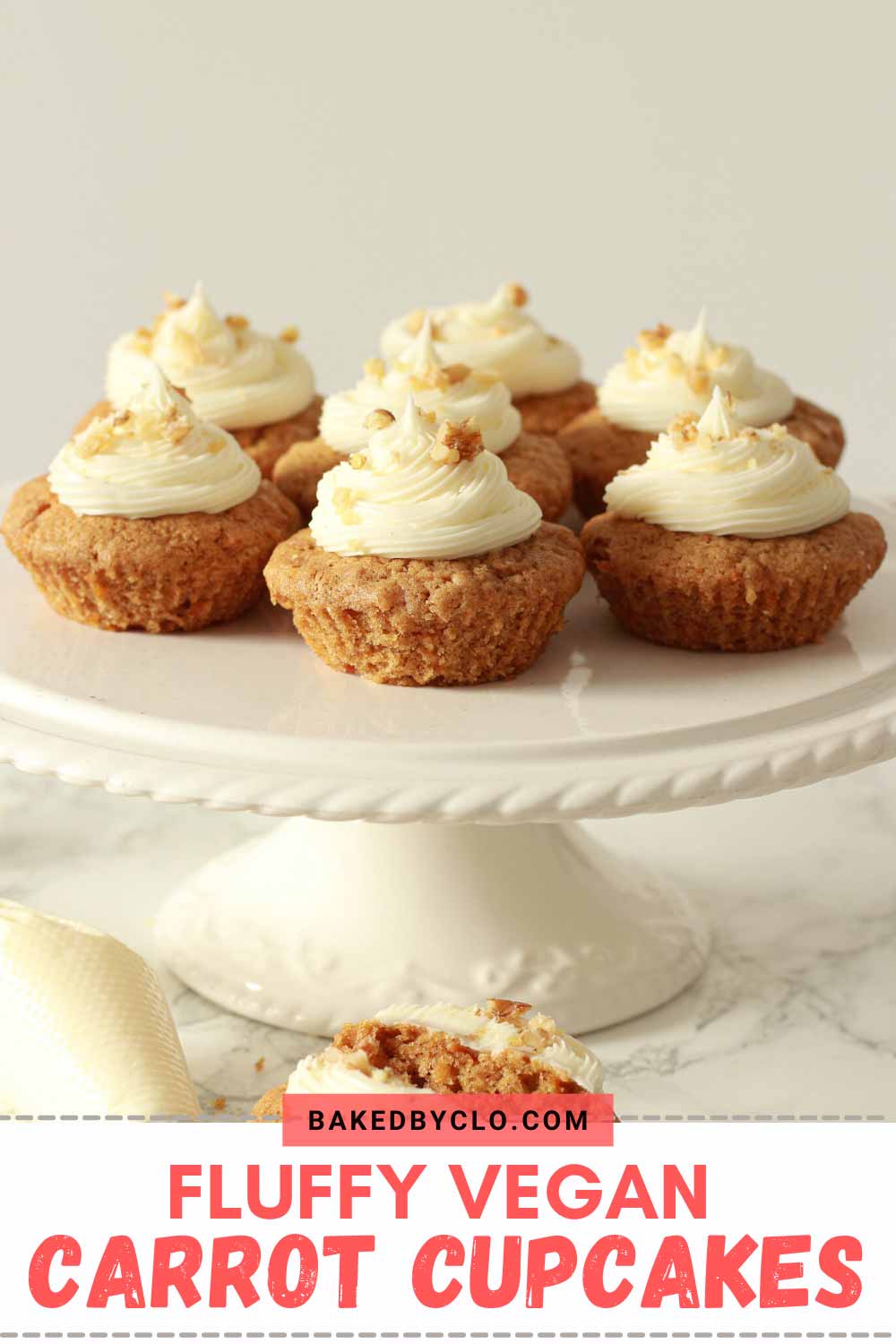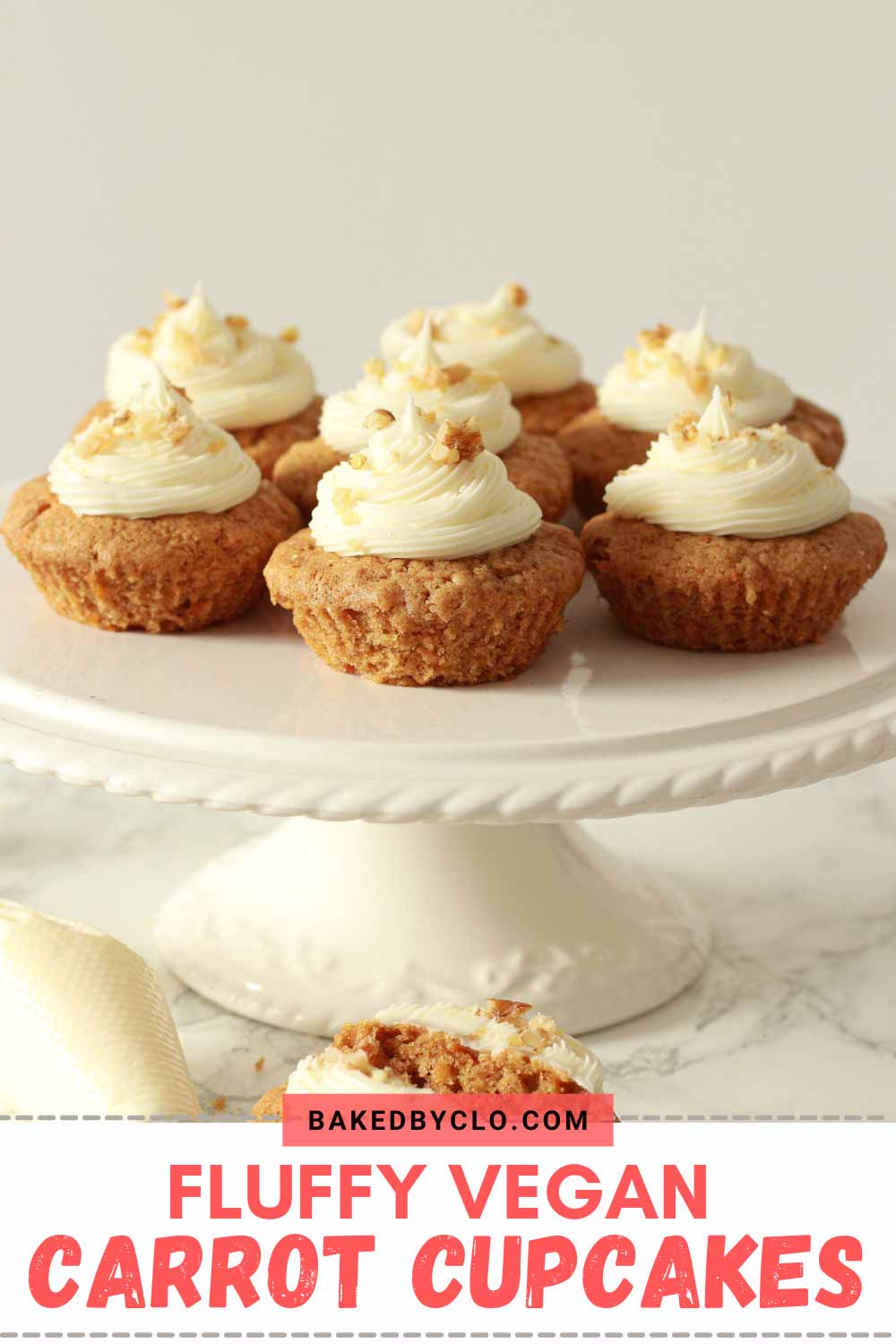 More vegan Easter treats:
I hope you enjoy these vegan carrot cupcakes! Please let me know if you make them yourself by leaving a comment and/or rating below. Happy baking! xo

Vegan Carrot Cupcakes
Lightly spiced carrot cupcakes paired with dairy-free cream cheese icing.
Ingredients
100

g

Soft brown sugar

125

ml

Vegetable oil

1

Teaspoon

Vanilla extract

125

g

Grated carrots

(1 large carrot)

150

g

Self-raising flour

¼

Teaspoon

Baking soda

(bicarbonate of soda)

½

Teaspoon

Cinnamon

¼

Teaspoon

Ginger

3

Tablespoons

Soy milk
Instructions
Preheat your oven to 180°C/350°F (160°C/325°F if you're using a fan or convection oven). Line a cupcake tray with 9 liners.

In a large bowl, mix together the brown sugar, oil and vanilla. Add the grated carrots and mix again.

Now add in the flour, baking soda, cinnamon, ginger and soy milk. Give it a good mix until everything is well combined. The batter will be quite thick.

Divide the batter equally between your 9 cake cases and bake for 18-20 minutes, or until a toothpick through the centre comes out clean.

Transfer the cupcakes to a wire rack and let them cool completely.

Once cooled, top with vegan cream cheese frosting and chopped walnuts, and enjoy!
Recipe Notes
Store in an airtight container for up to 5 days.
Nutrition Facts
Vegan Carrot Cupcakes
Amount Per Serving (1 unfrosted cupcake)
Calories 222
Calories from Fat 117
% Daily Value*
Fat 13g20%
Sodium 10mg0%
Carbohydrates 24g8%
Protein 2g4%
* All values are an estimate only and will vary depending on the food brands used.
BakedByClo is a participant in the Amazon Services LLC Associates Program, an affiliate advertising program designed to provide a means for sites to earn advertising fees by advertising and linking to Amazon.com. This site may contain some of these links to Amazon.com & other affiliate programs. If you make a purchase through one of those links, BakedByClo will receive a small commission from the purchase at no additional cost to you.