25 Vegan Easter Desserts
What better time of year to enjoy some delicious vegan Easter desserts?! Whether you're looking for a quick and easy treat, a no-bake, child-friendly dessert, or something a little more extravagant to impress your guests, this post has it all. With over 30 recipes to choose from, you're sure to find one that you love!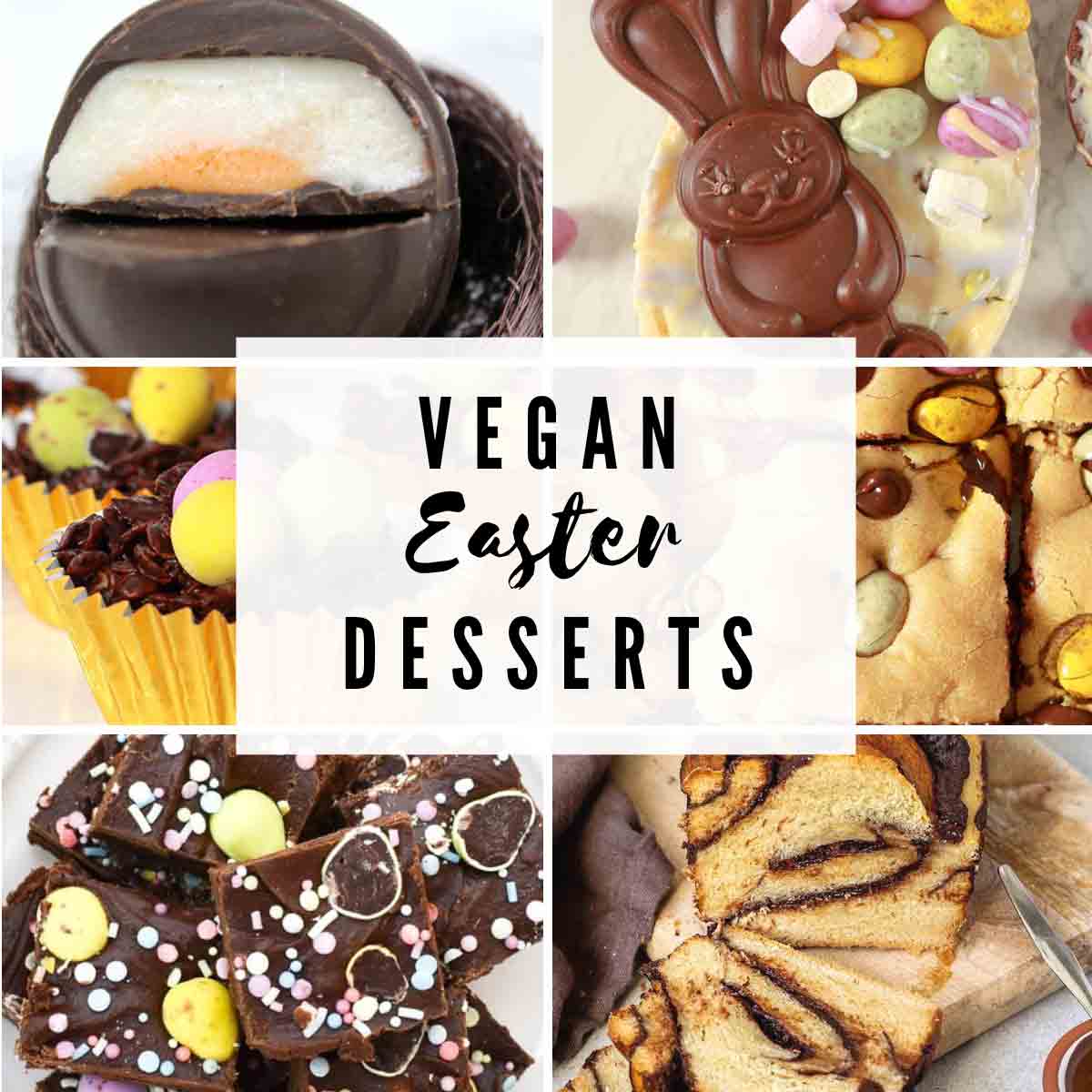 It's been feeling so Spring-like in Scotland recently! It's still absolutely freezing but the sunny days and blue skies have really got me feeling like Spring is on its way. The days are lasting a little longer too which I have been loving.
As Spring is in the air, I've been thinking a lot about Easter. And because my blog is a vegan dessert blog, it made sense to create a post all about vegan Easter desserts.
I've teamed up with some other food bloggers to bring you this post. I've tried to include as much of a variety as possible so that you can get your bake on, no matter your skill level! This post has something for everyone: No bake treats that you can make with children, super on-theme desserts, and treats that require a little more time and effort to make.
I hope you like this post and if you make any of these recipes at home, please do let me know- I would love to hear from you. If you'd like to see some savoury dishes, check out my Easter dinner recipes. Enjoy! xo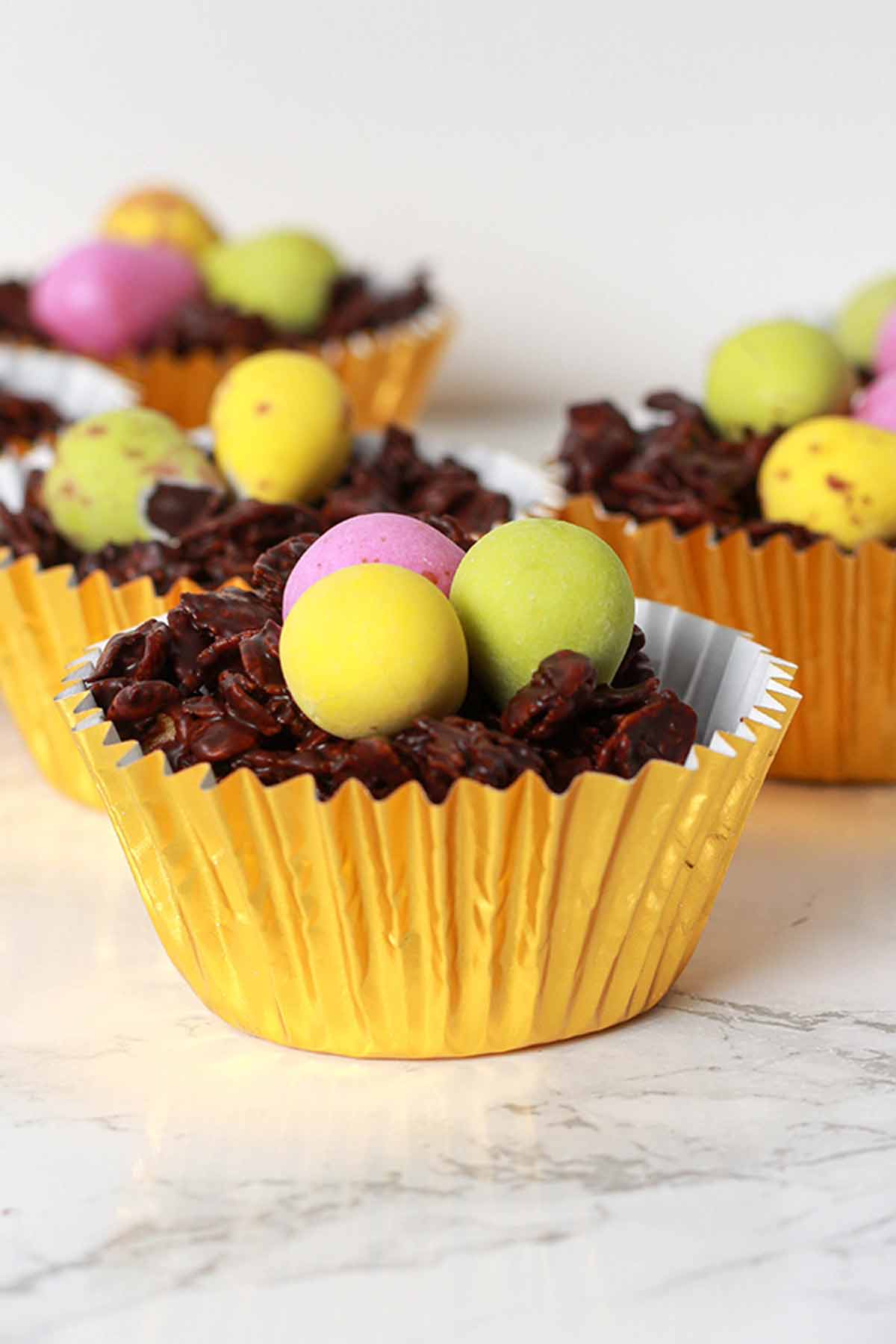 No-bake chocolate 'Cornflake' cakes topped with dairy-free chocolate Mini Eggs. This is a super easy recipe with just 3 ingredients- perfect for children to help out with.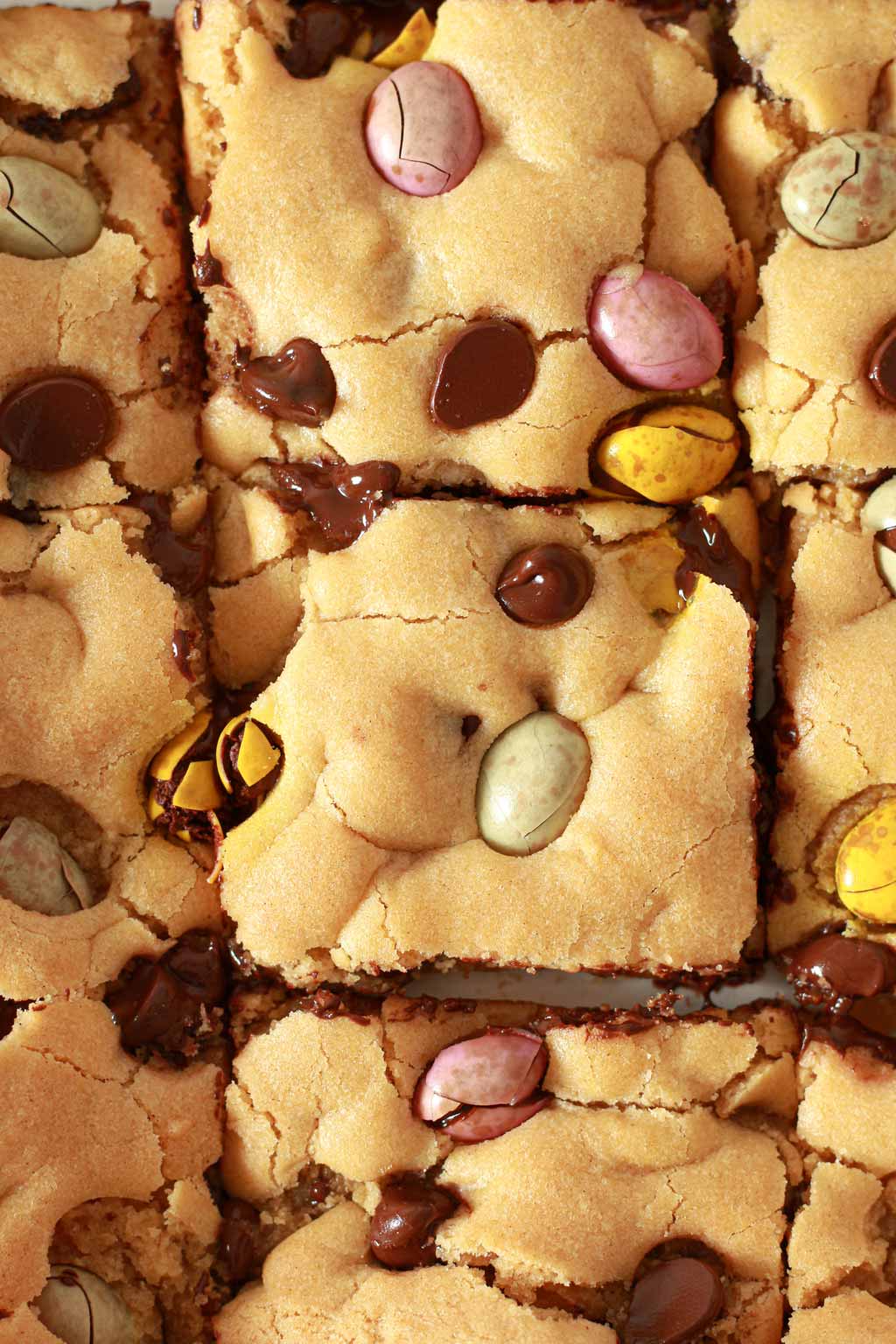 Easter egg cookies baked into handy bars. These are soft and chewy on the inside, packed with dairy-free chocolate and vegan Mini Eggs.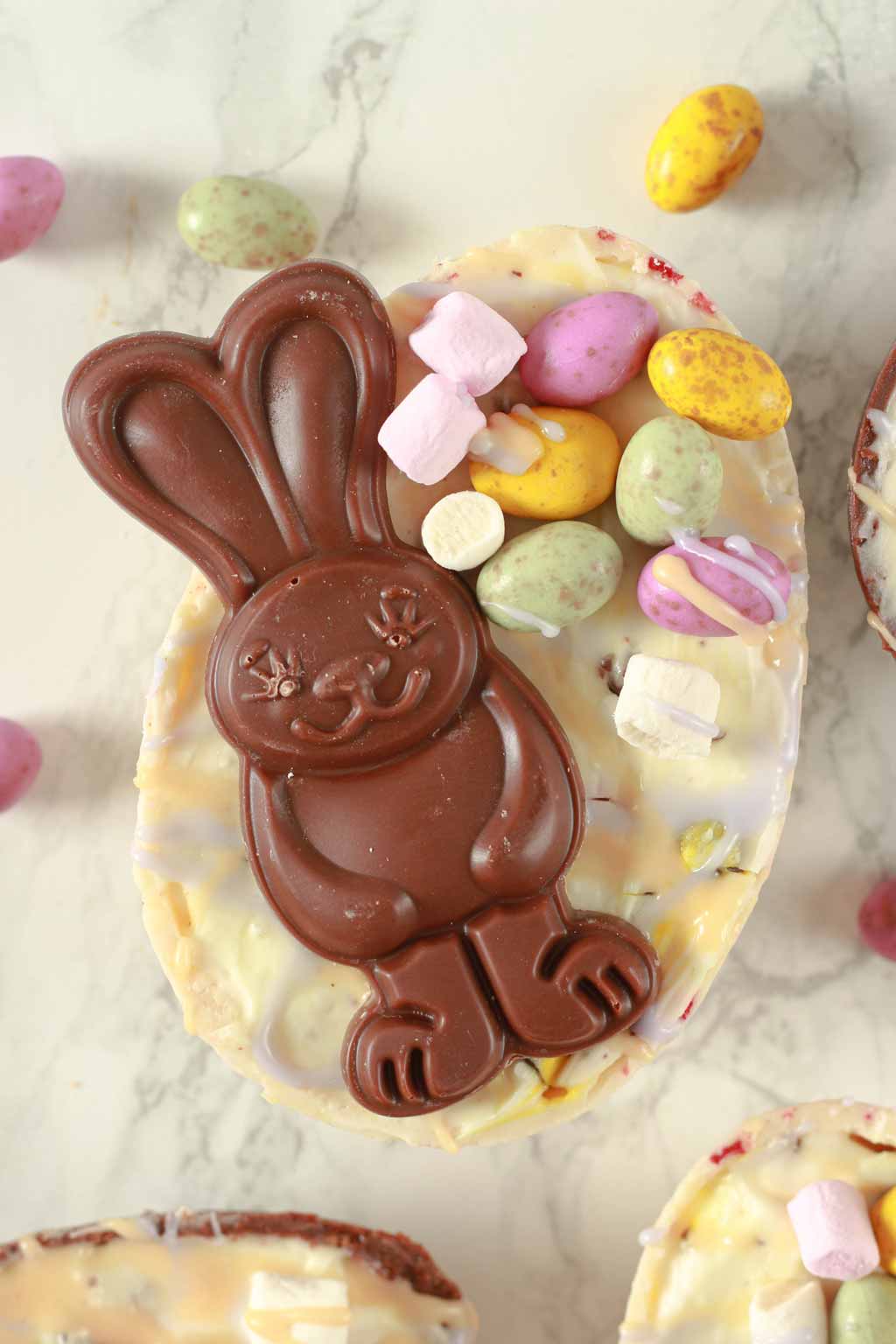 A creamy, dairy-free cheesecake made inside a vegan Easter egg! A no-bake recipe that's great for beginners.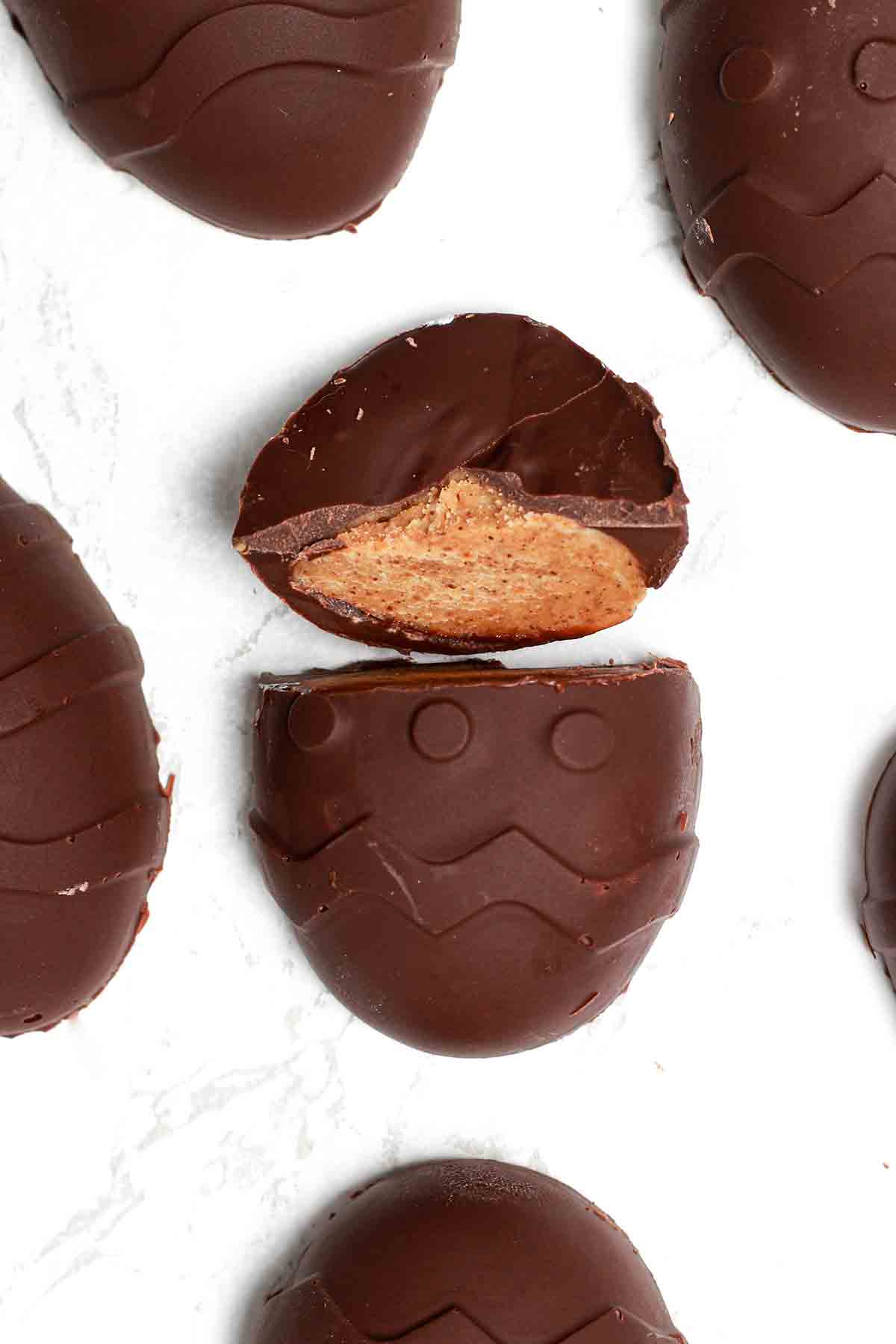 These peanut butter eggs are similar to peanut butter cups but they're just in fun, cute Easter egg shapes. Dairy-free chocolate eggs filled with a soft, melt-in-your-mouth peanut butter filling.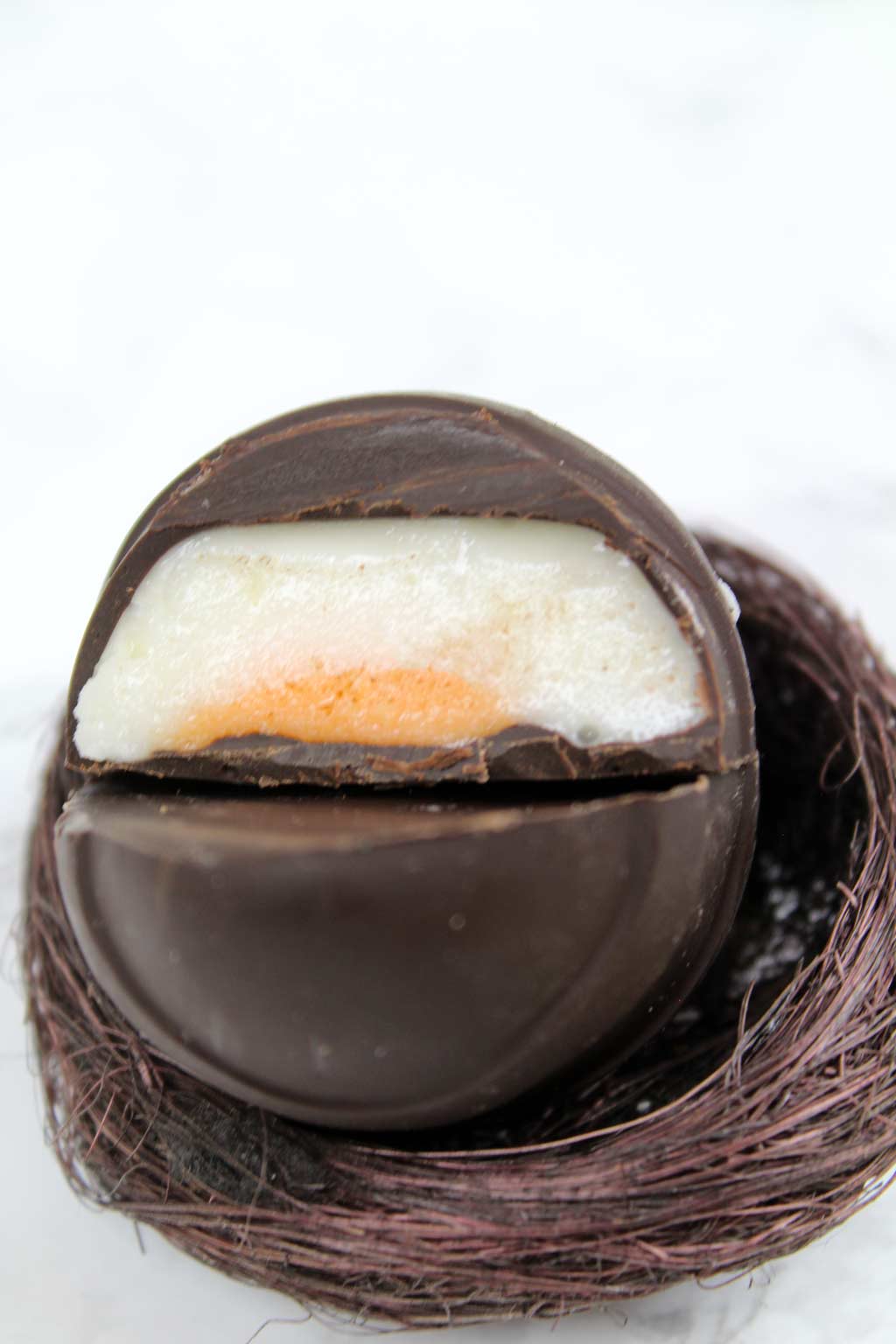 Missing Cadbury's Creme Eggs? You don't have to any longer with this vegan copycat recipe. Chocolate eggs filled with a sweet, gooey fondant centre.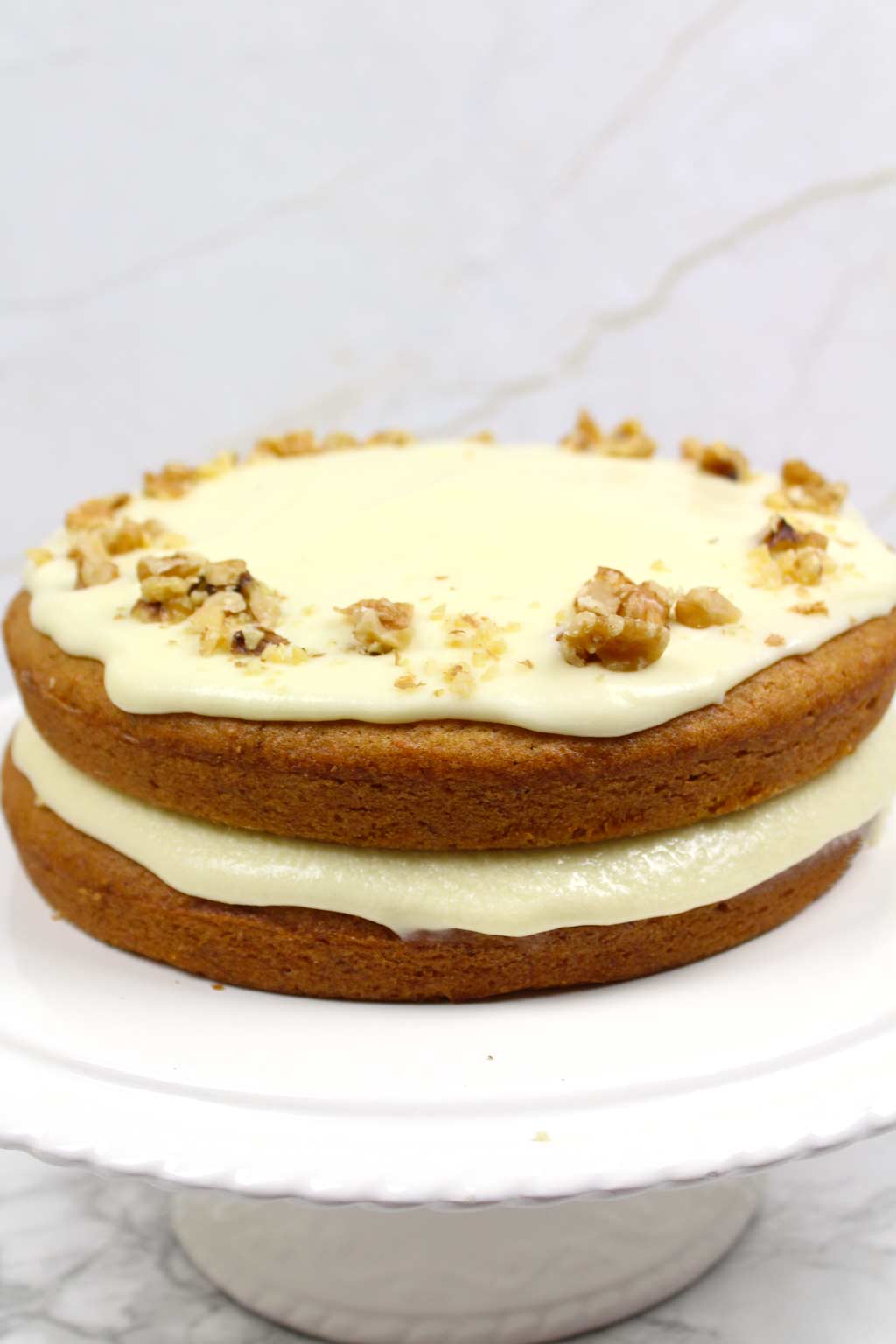 A two-layer carrot cake packed with walnuts and warming spices. Topped and filled with dairy-free cream cheese frosting, this is one of my favourite vegan Easter desserts.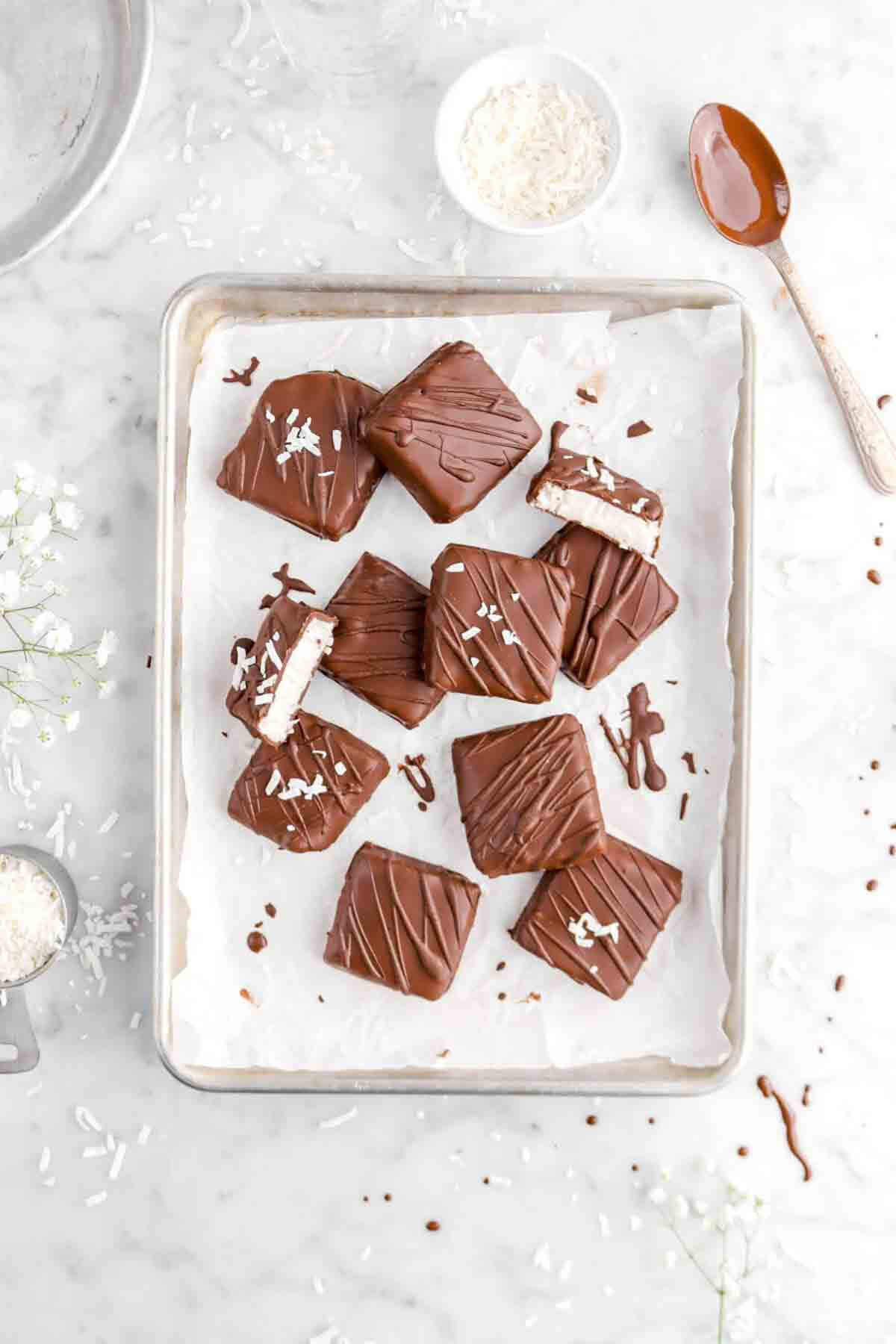 Soft, chewy, coconut cream chocolates. You'll only need 7 simple ingredients to make them and there's no baking required.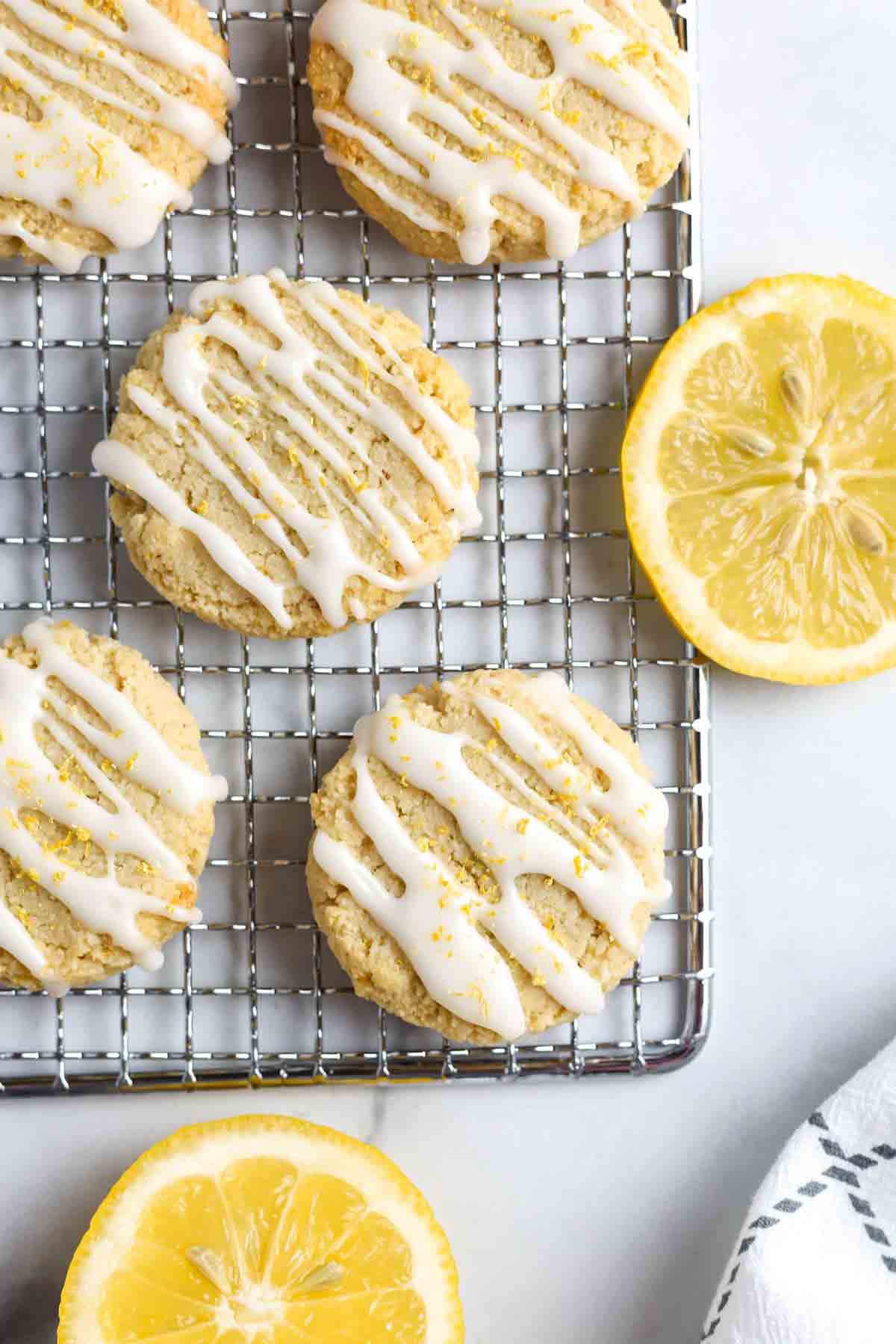 Soft lemon cookies topped with a simple lemon glaze and fresh lemon zest. Made with almond flour, these are suitable for those on a gluten-free diet too.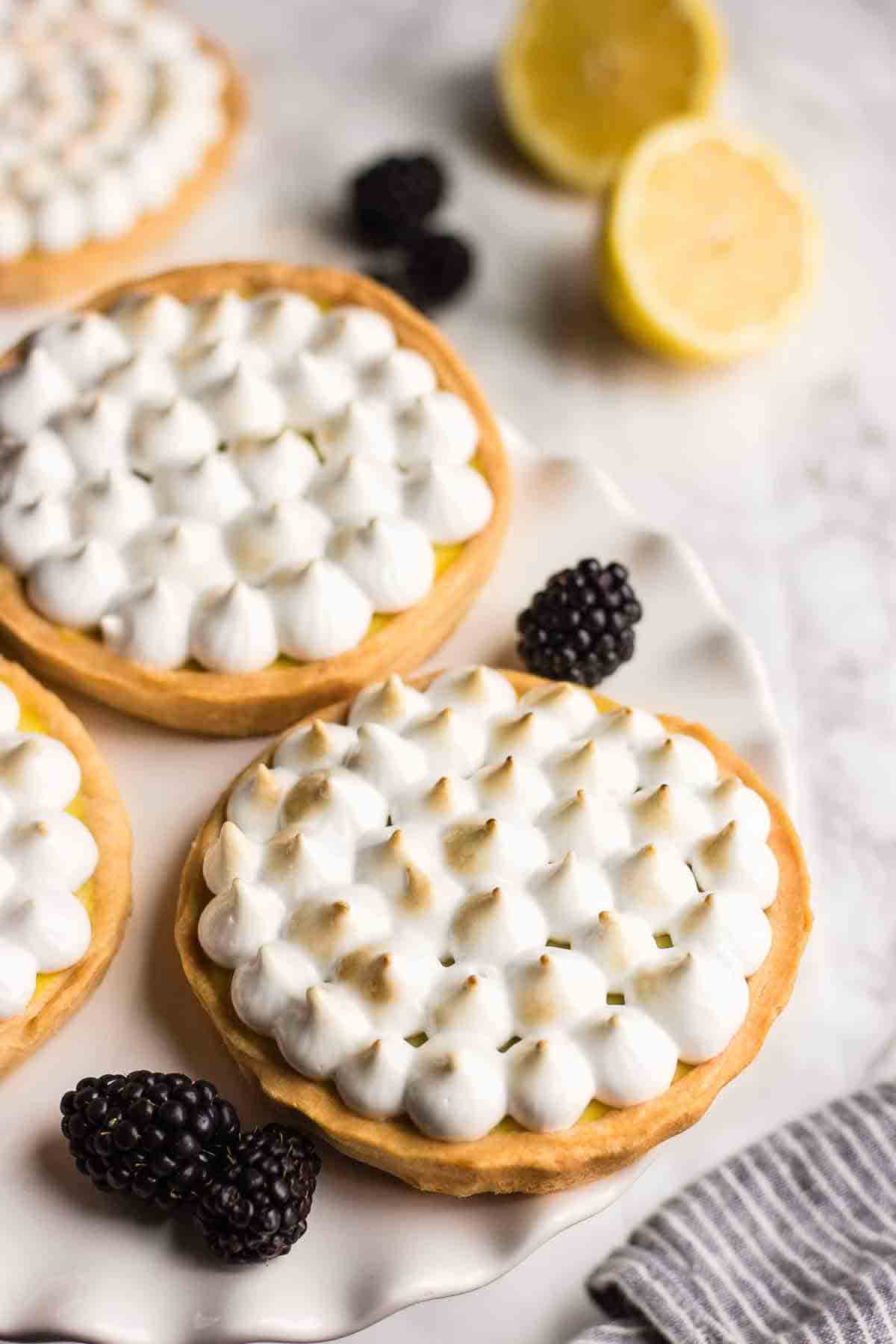 Lemon tartlets filled with lemon curd and egg-free meringue. This delicious vegan Easter dessert is ready to eat in just a couple of hours.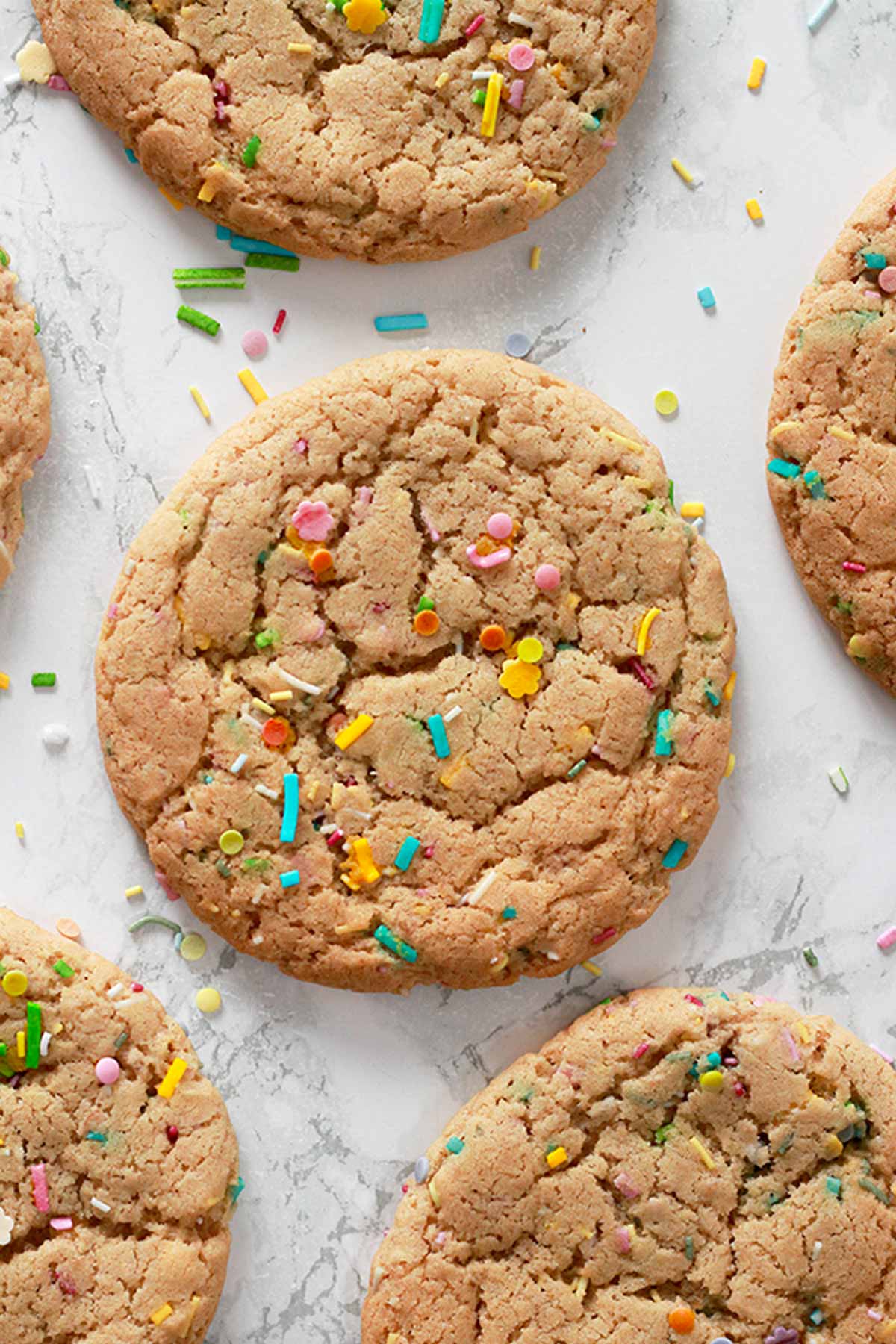 Soft, chewy 'birthday cake' cookies with vegan sprinkles throughout. An easy, fun, colourful treat that everyone will enjoy.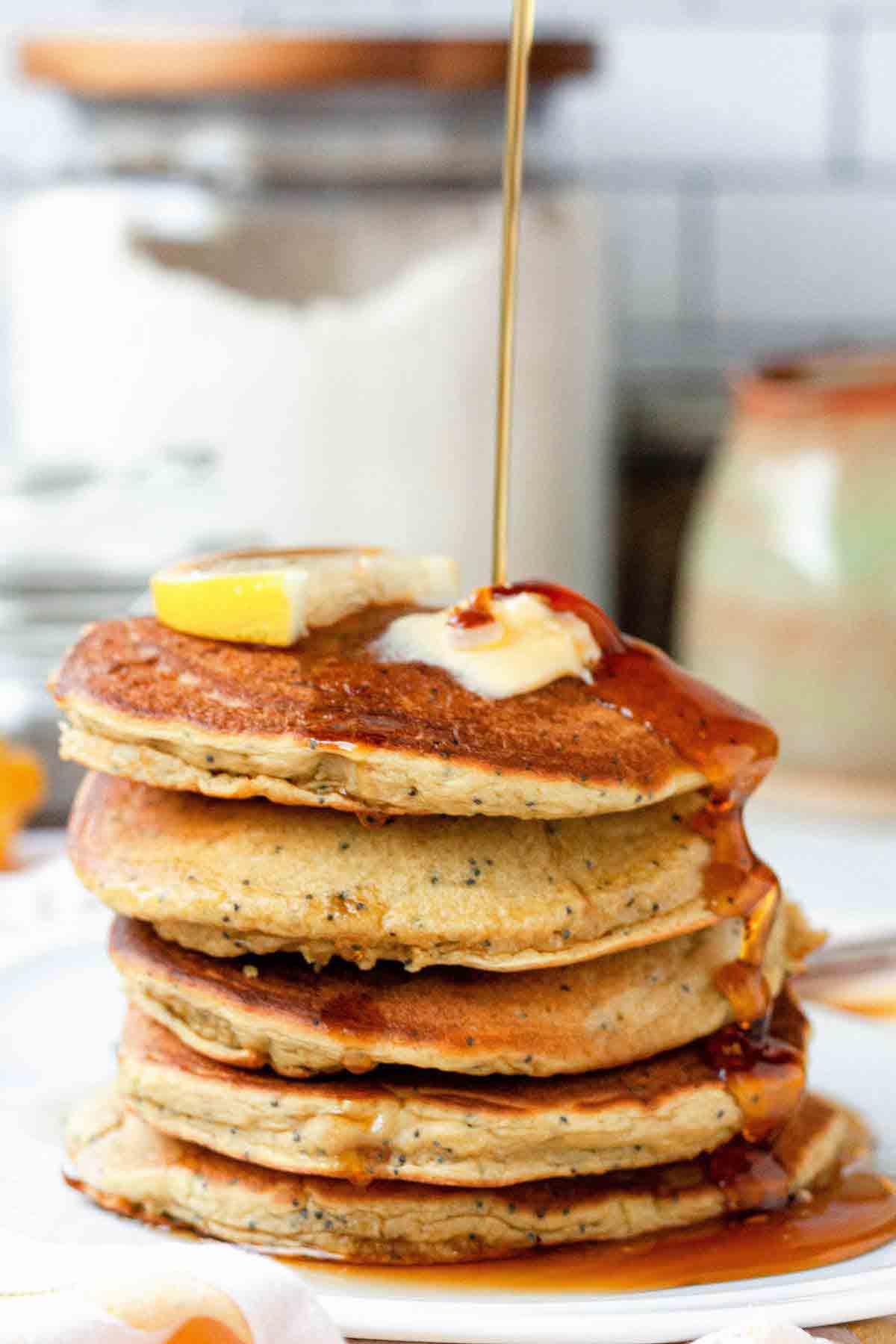 Vegan pancakes with fresh lemon juice, poppy seeds and a hint of tahini. A rich, hearty sweet breakfast or dessert that's perfect for Easter Sunday.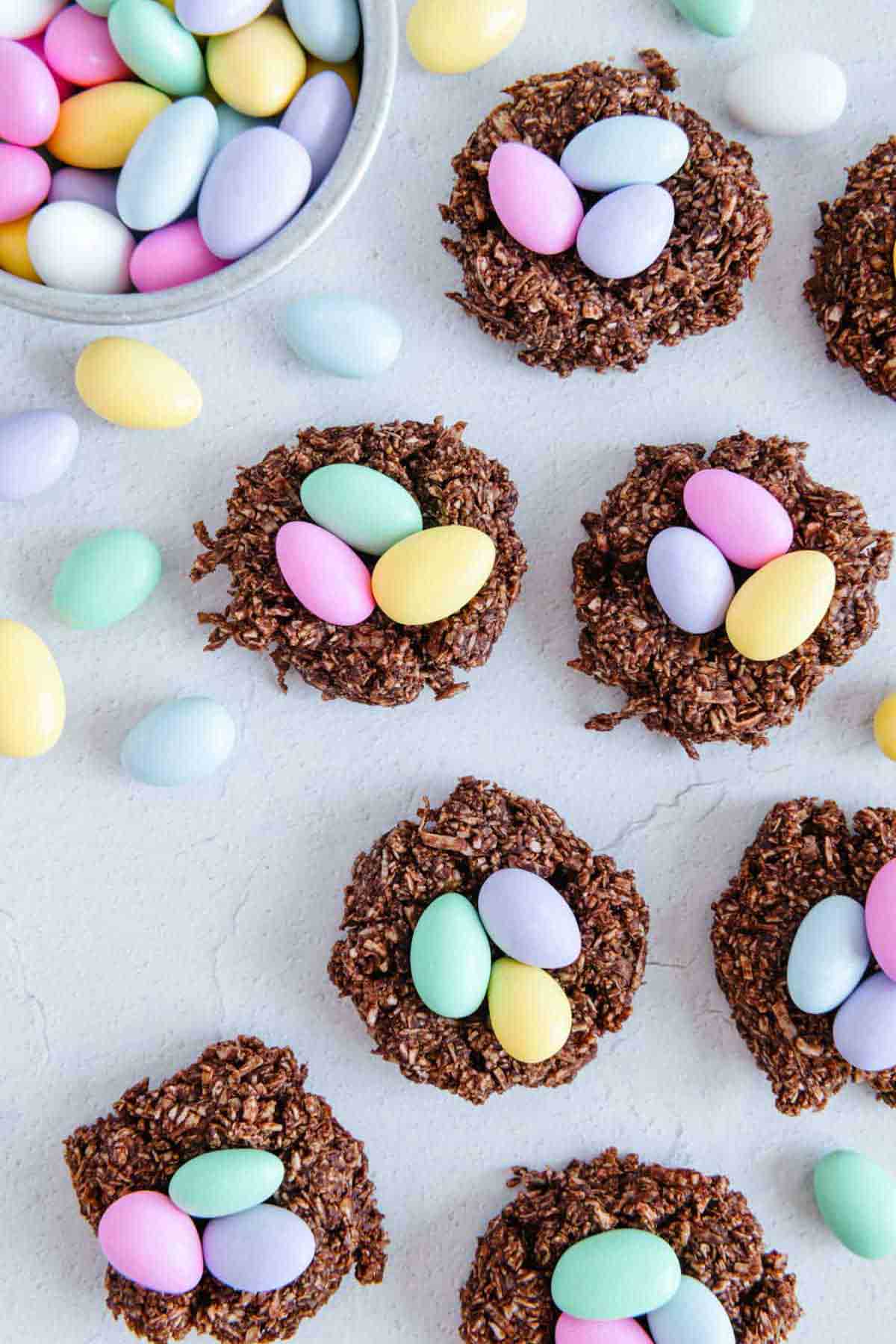 Chocolate, coconut and almond butter come together to make these bird's nest cookies. A cute, on-theme recipe that's super easy to make.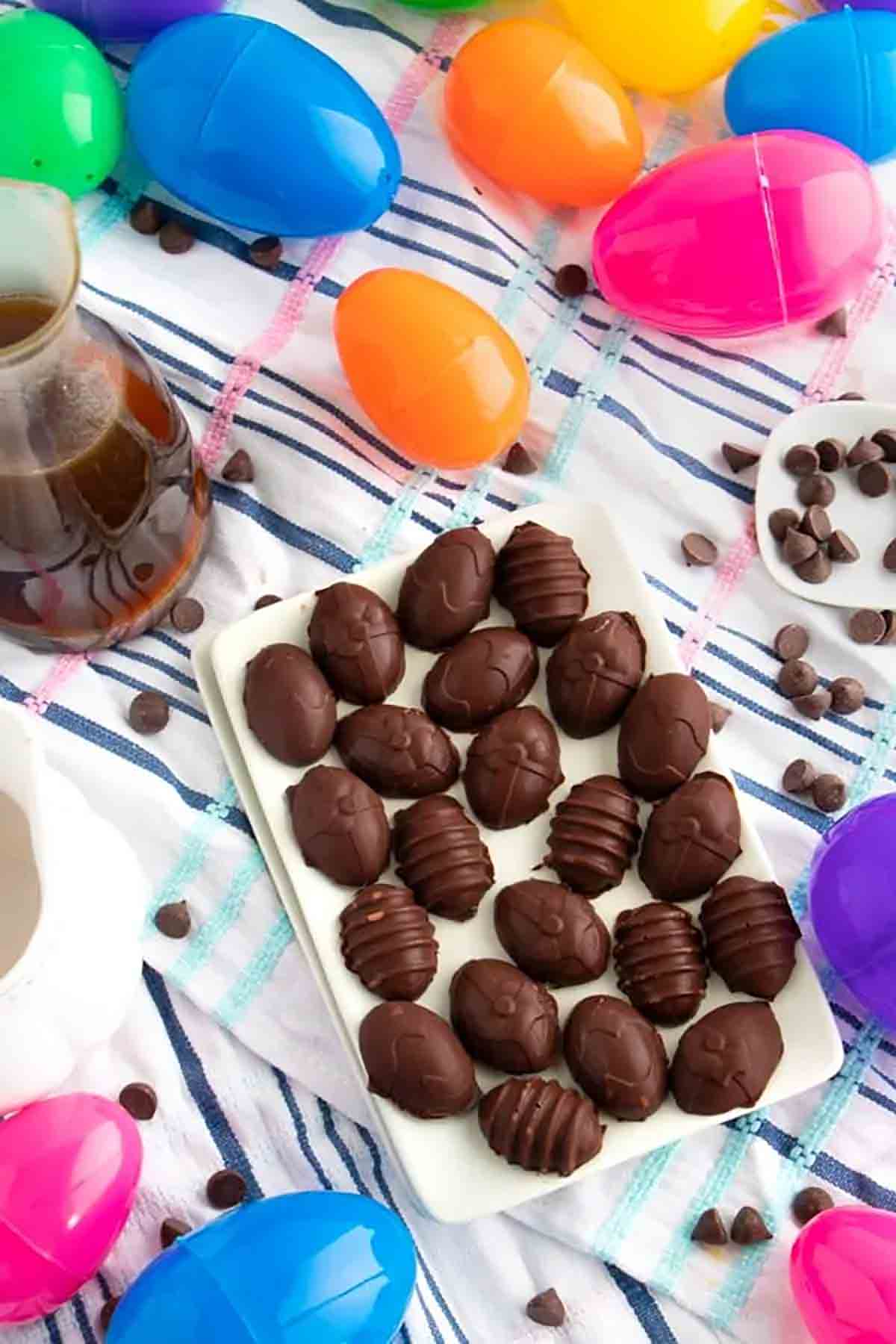 Chocolate eggs filled with gooey, homemade vegan caramel. This is a great vegan Easter dessert that you can enjoy as a sweet snack or give as an edible gift.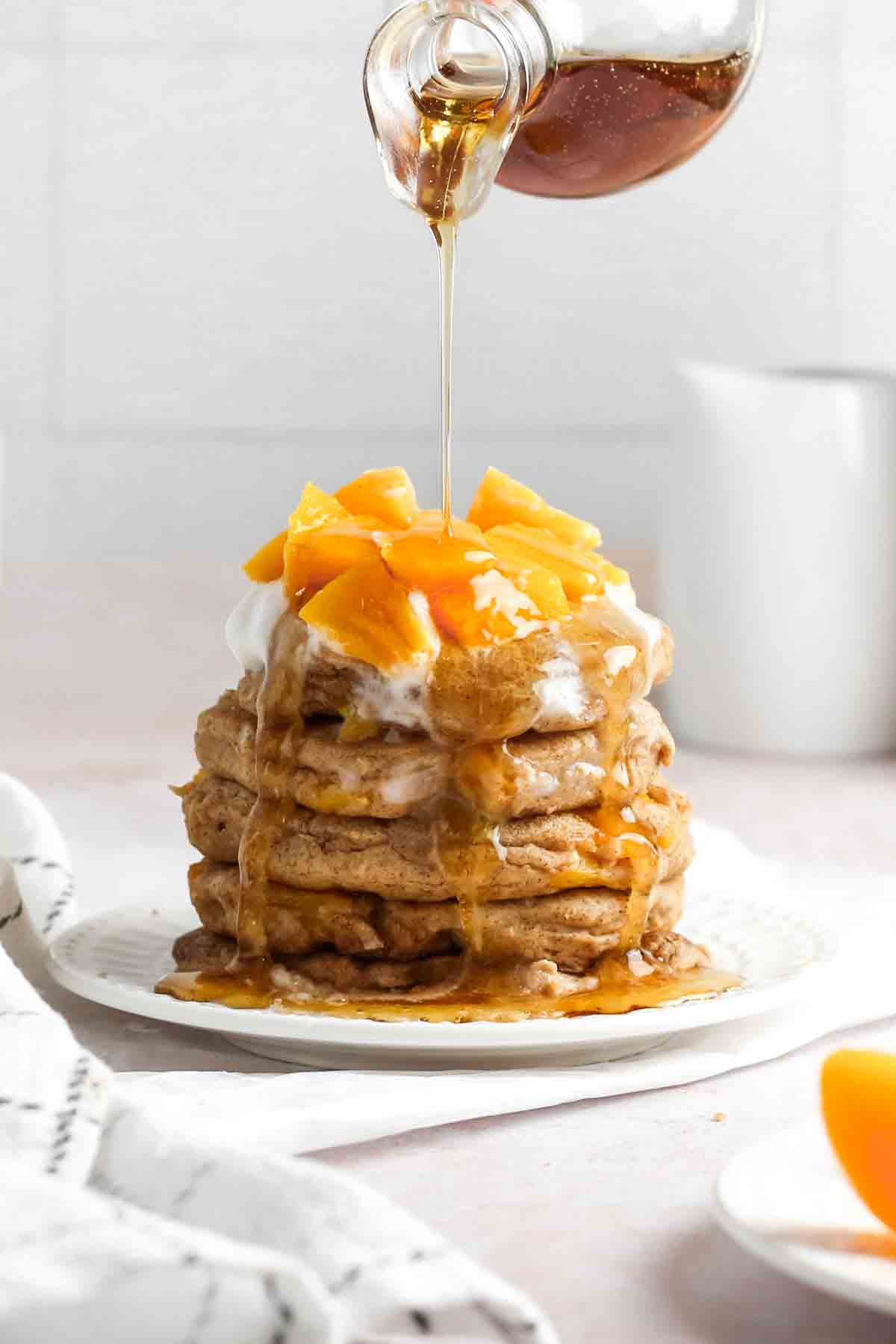 Fluffy pancakes with fresh peaches- perfect served with dairy-free whipped cream and maple syrup. Enjoy these for dessert, breakfast or brunch.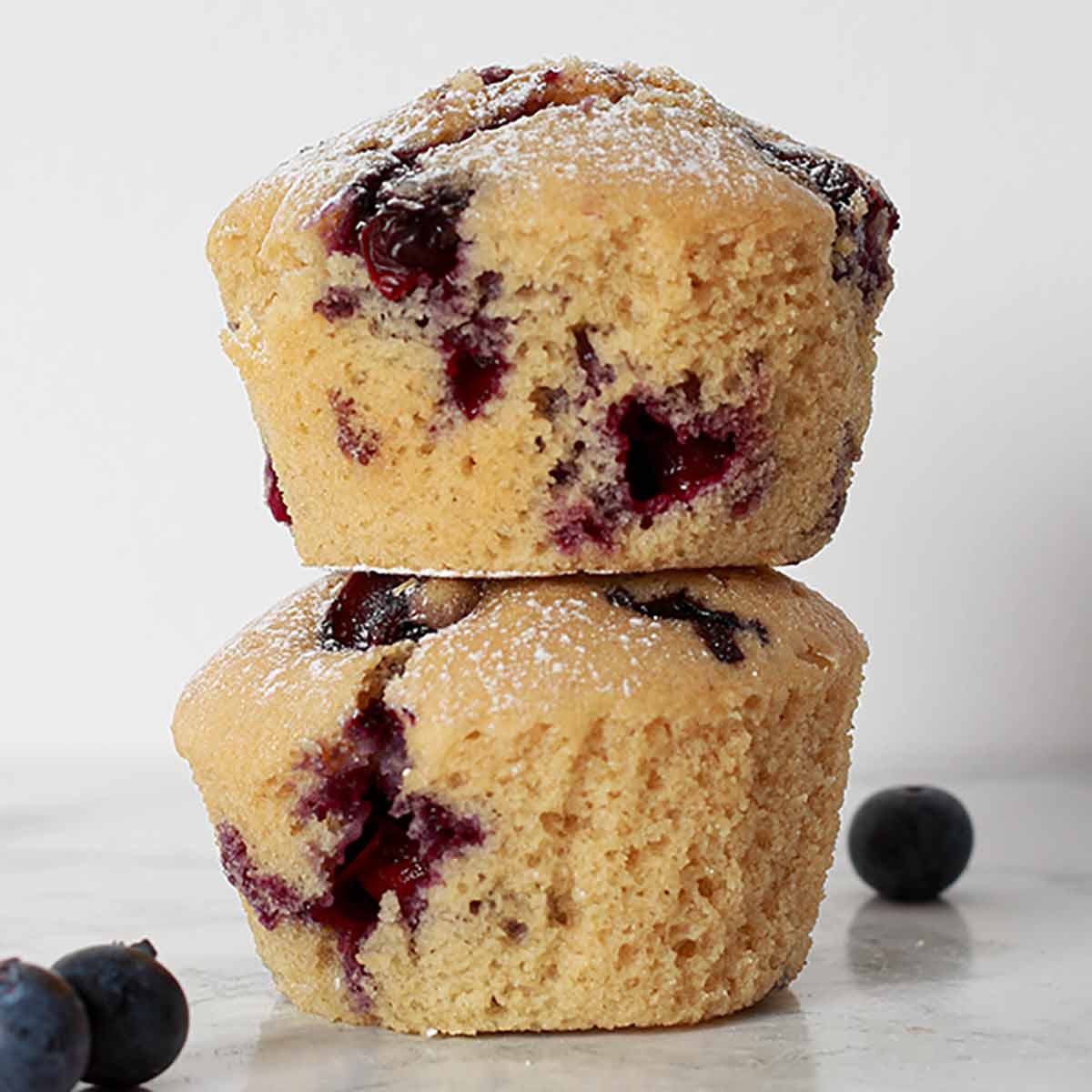 Tall, bakery-style blueberry muffins made with fresh blueberries. Top with a light dusting of icing sugar for an extra touch of sweetness.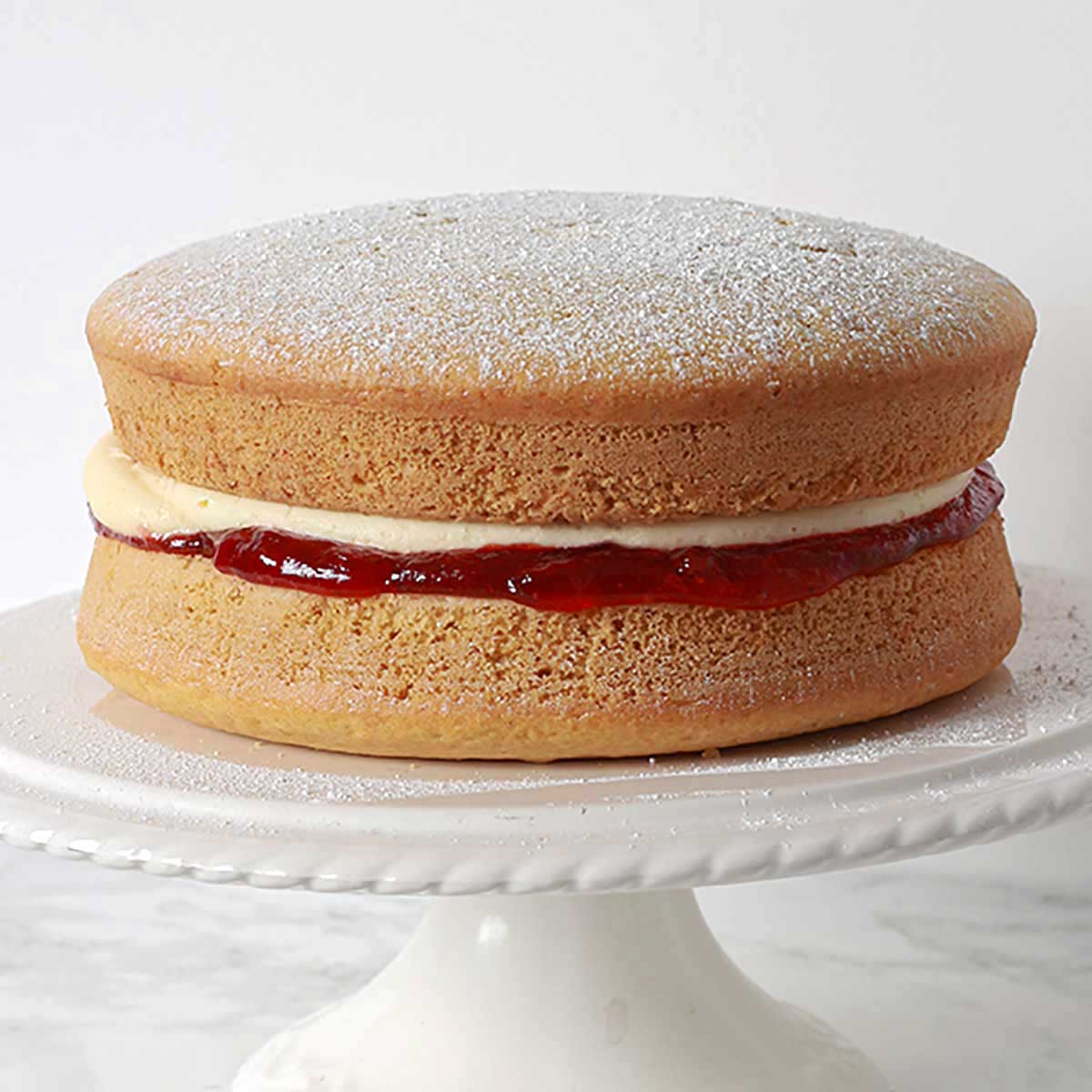 Two layers of vegan vanilla sponge cake filled with dairy-free buttercream and strawberry jam. A British classic that's great for Springtime.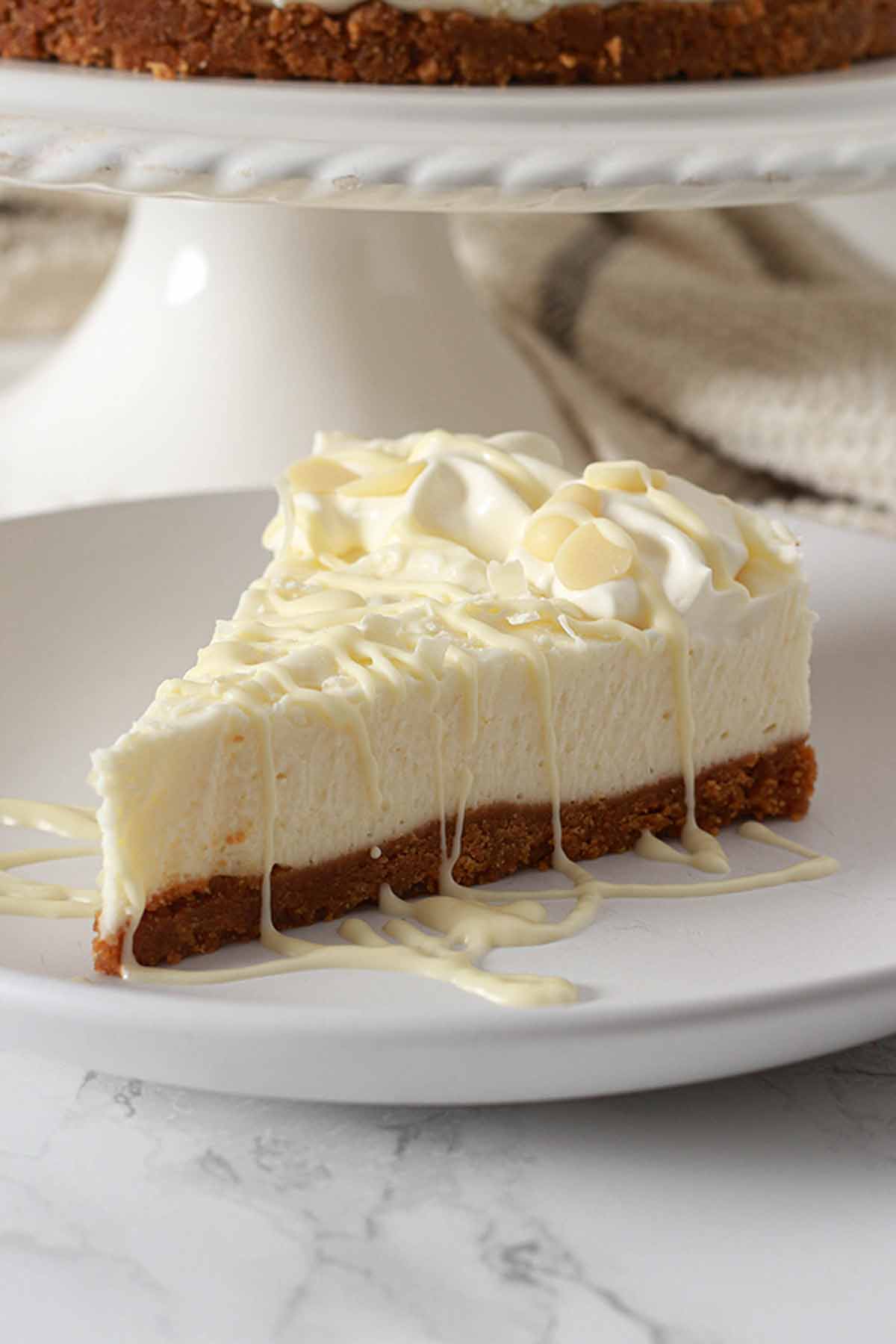 A creamy, dairy-free white chocolate cheesecake with a fiery gingernut biscuit base. This is a no-bake recipe and you can make it easily, without cashews or coconut cream!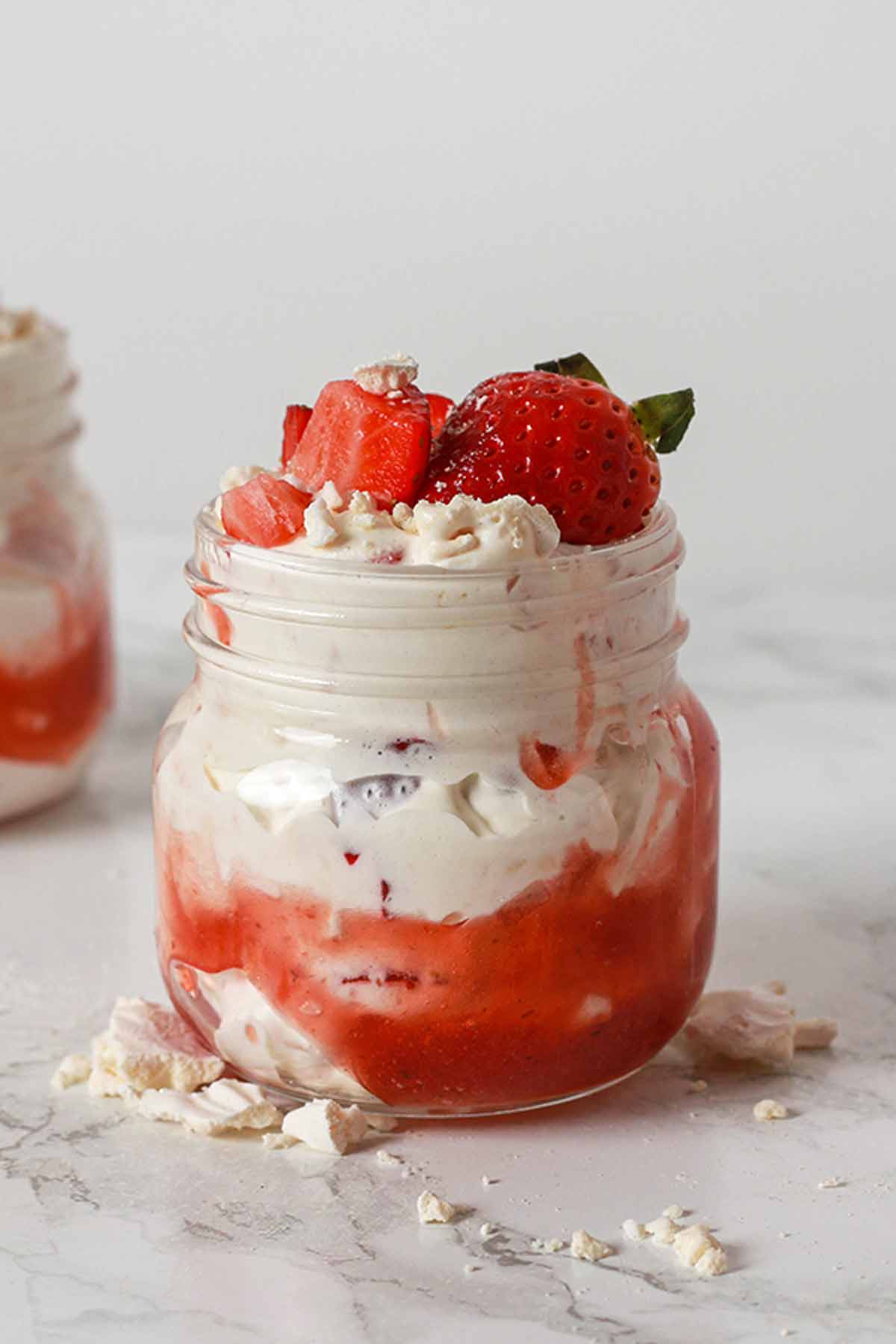 Dairy-free whipped cream swirled with pieces of homemade vegan pavlova, fresh strawberries and strawberry sauce. A refreshing, light dessert that's elegant enough to serve for a family Easter dessert.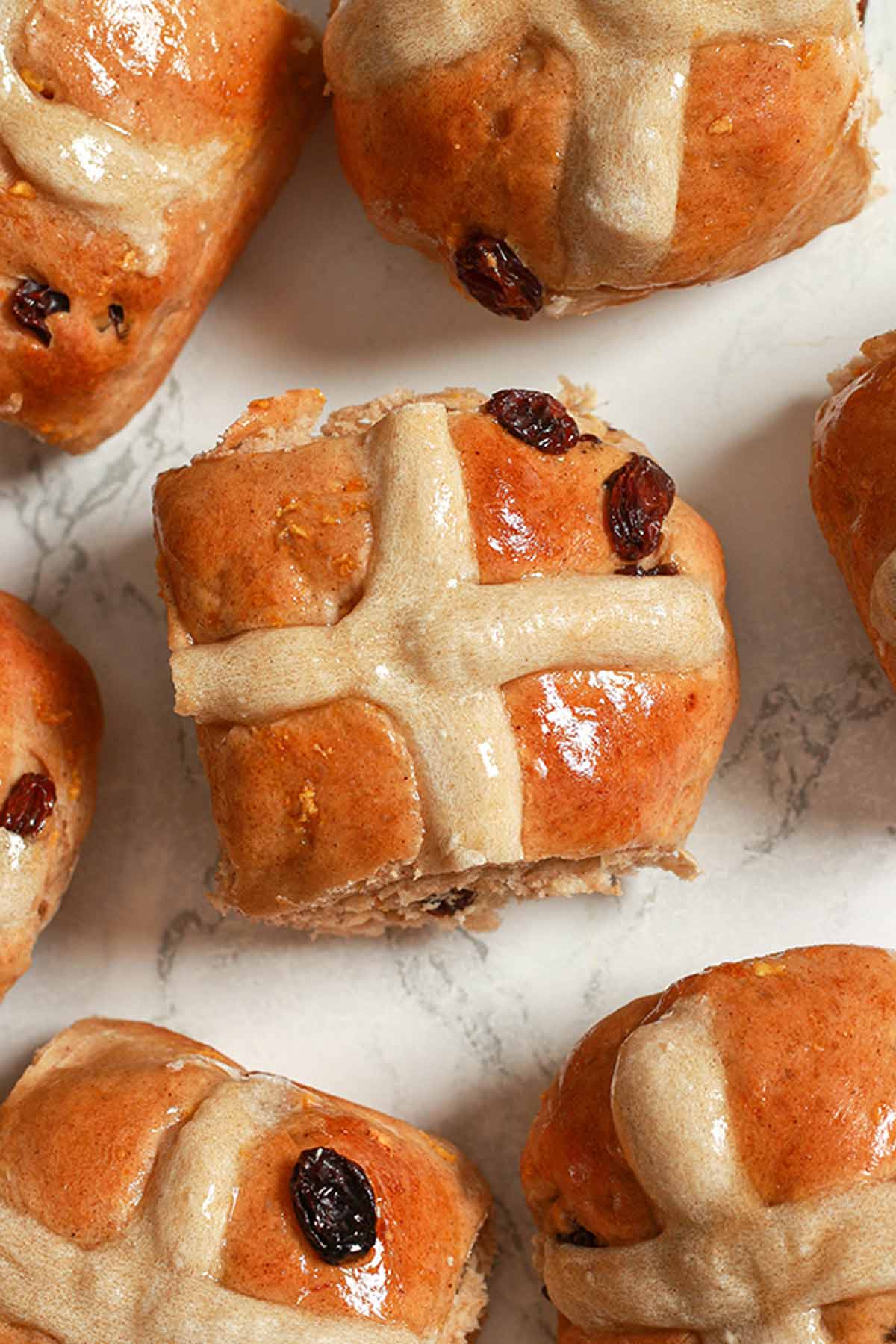 Fluffy, light hot cross buns with juicy raisins and a sticky apricot glaze. These are one of the most traditional Easter desserts made vegan! They can be enjoyed hot or cold with dairy-free butter or jam.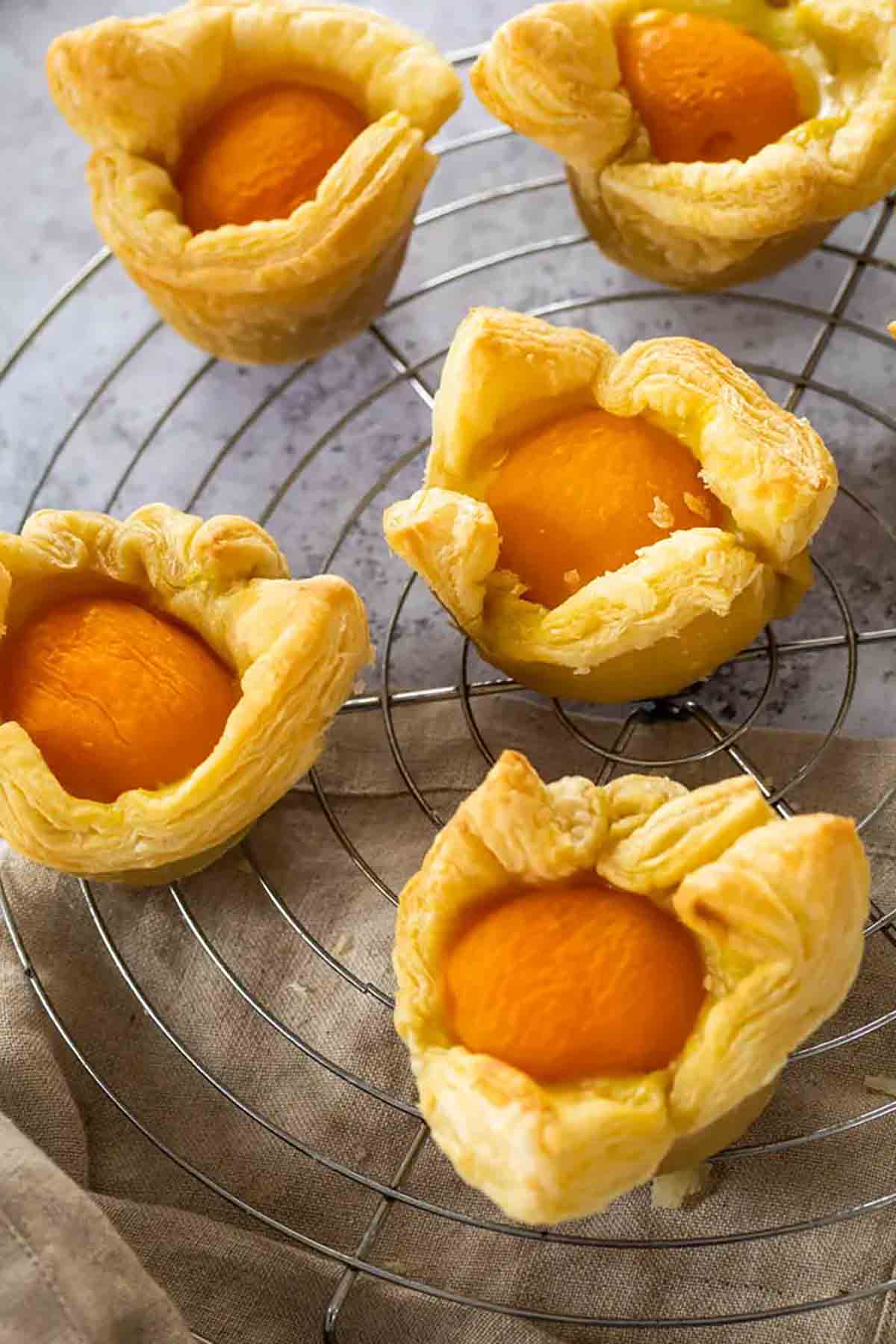 Apricot Easter cups made with puff pastry, vanilla pudding and sweet apricots. This is a cute and fun dessert that's makes a great alternative to the typical, themed Easter desserts.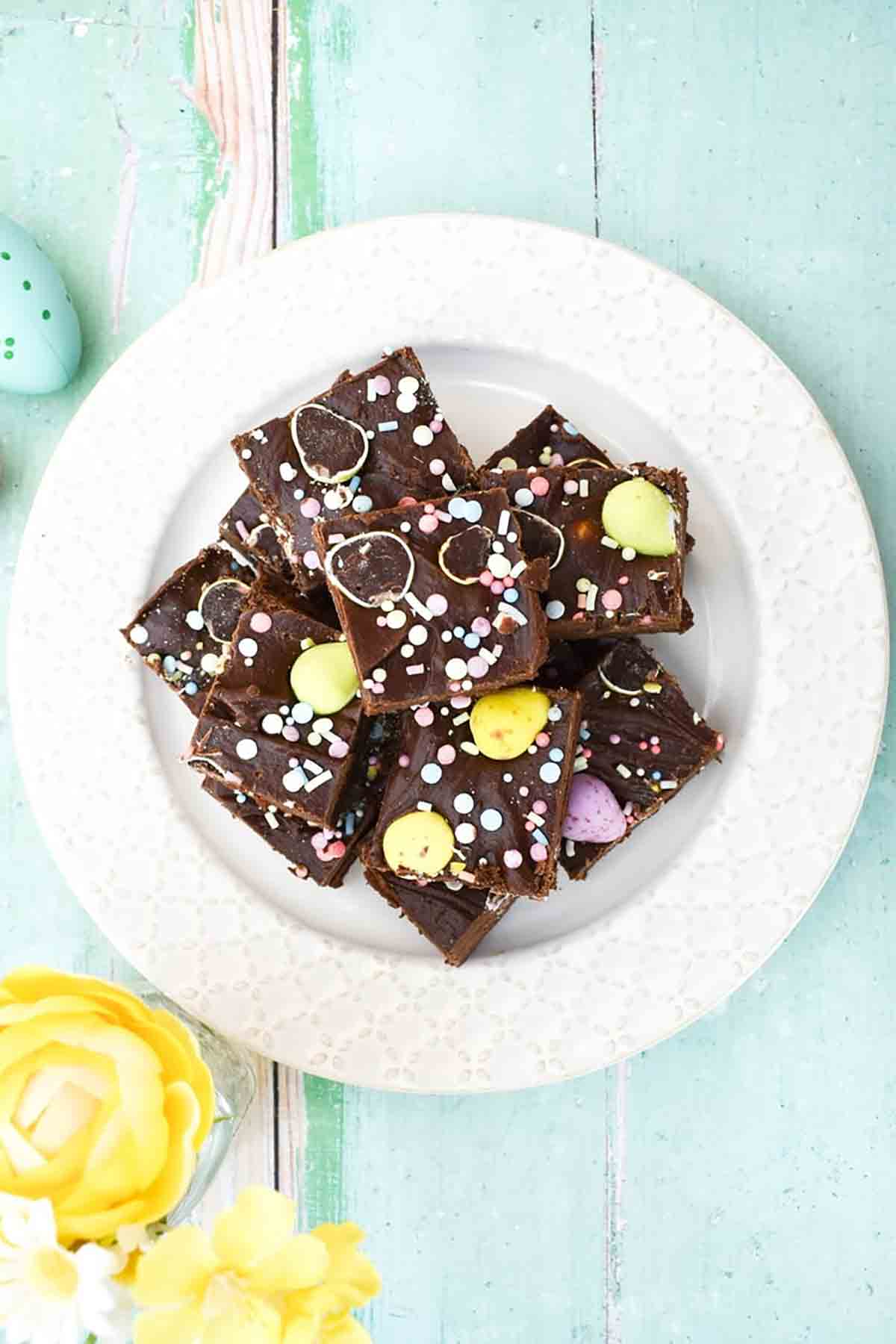 5-Ingredient vegan chocolate fudge packed with dairy-free Mini Eggs. There's no baking required so you can enjoy this tasty dessert without the need for an oven.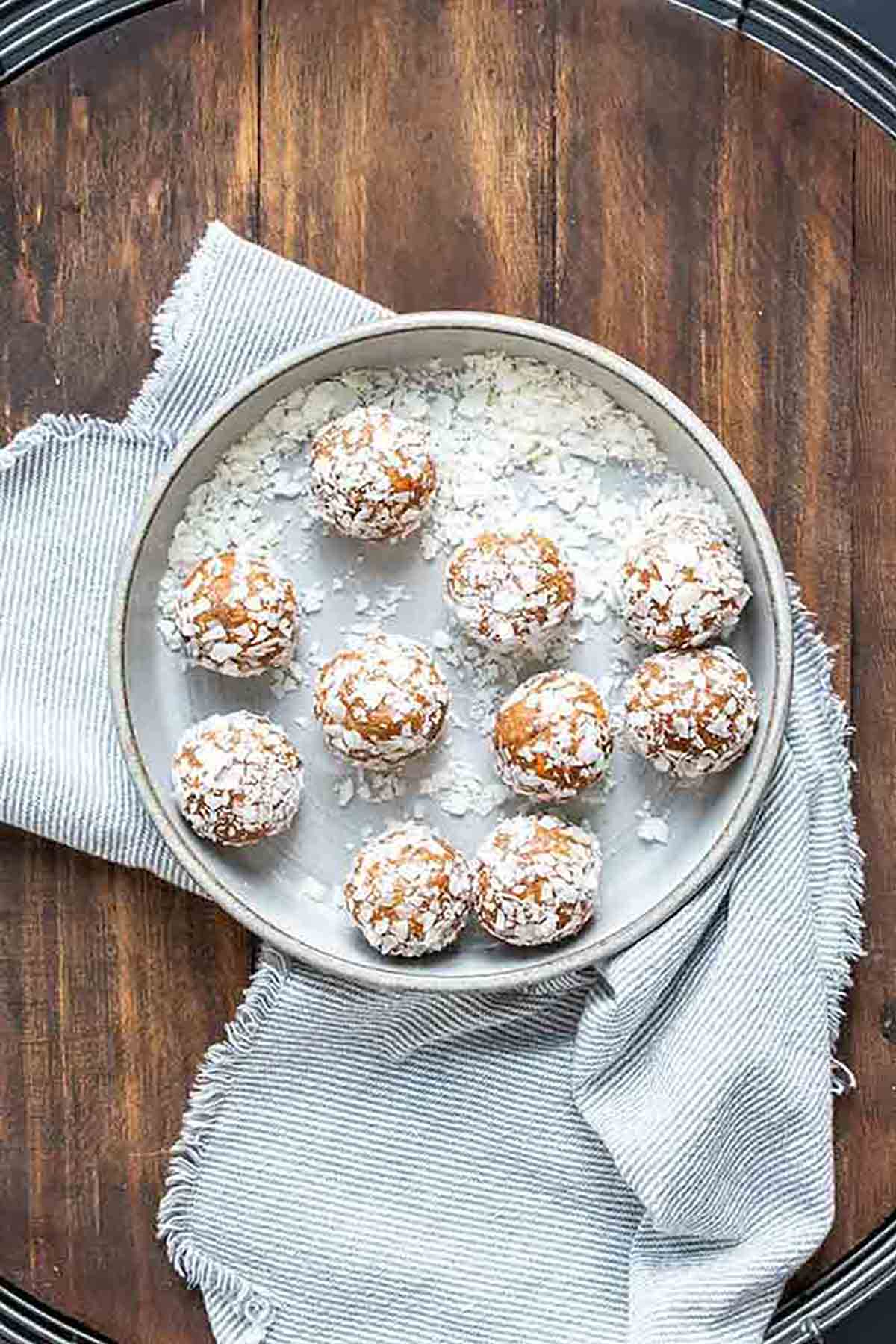 No-bake energy balls flavoured to taste like carrot cake! Filled with wholesome ingredients like almond butter, maple syrup and apple sauce, these make a healthier alternative to chocolate treats.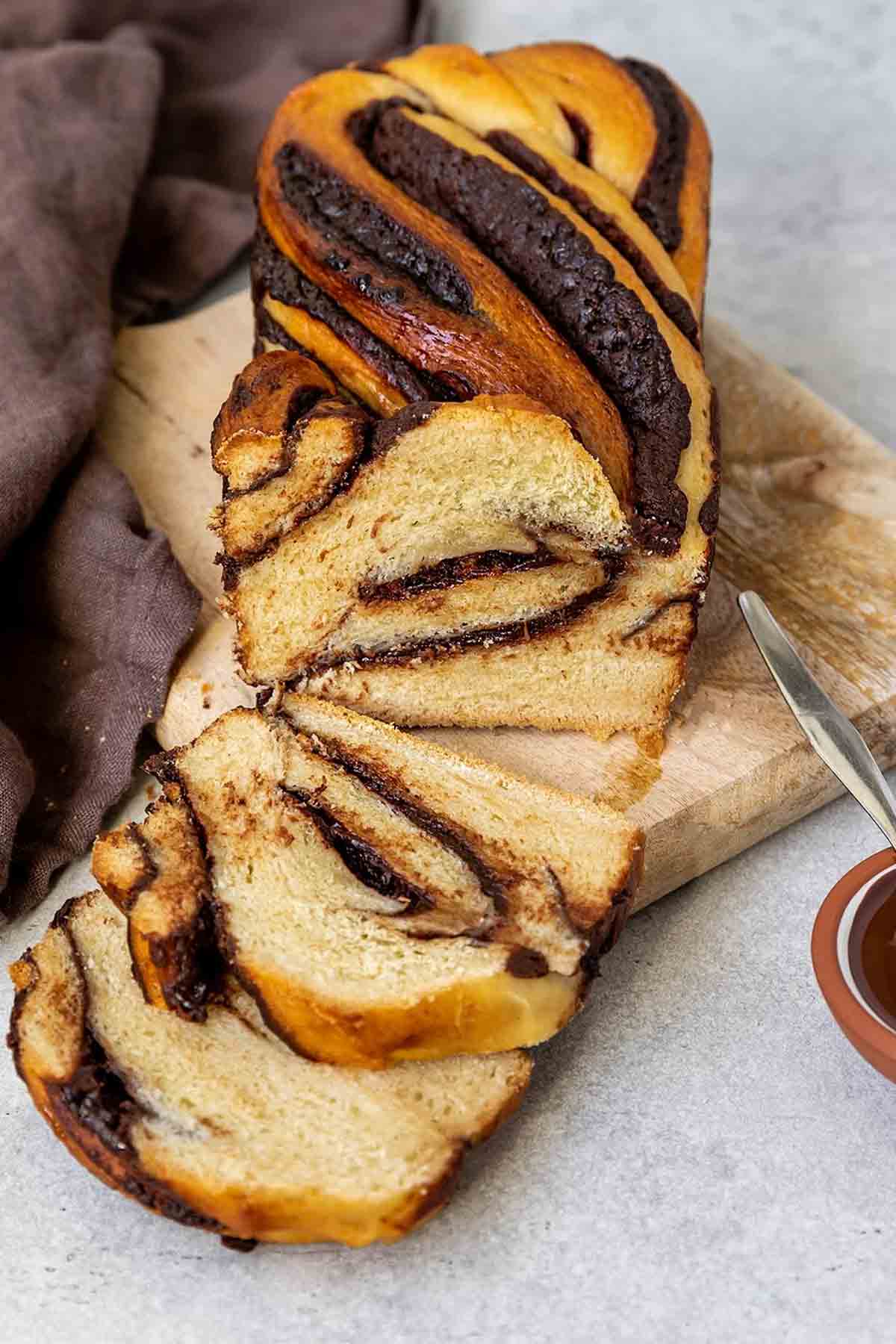 Vegan brioche babka with layers of chocolate sauce. This soft, fluffy bread makes the perfect vegan Easter dessert for sharing!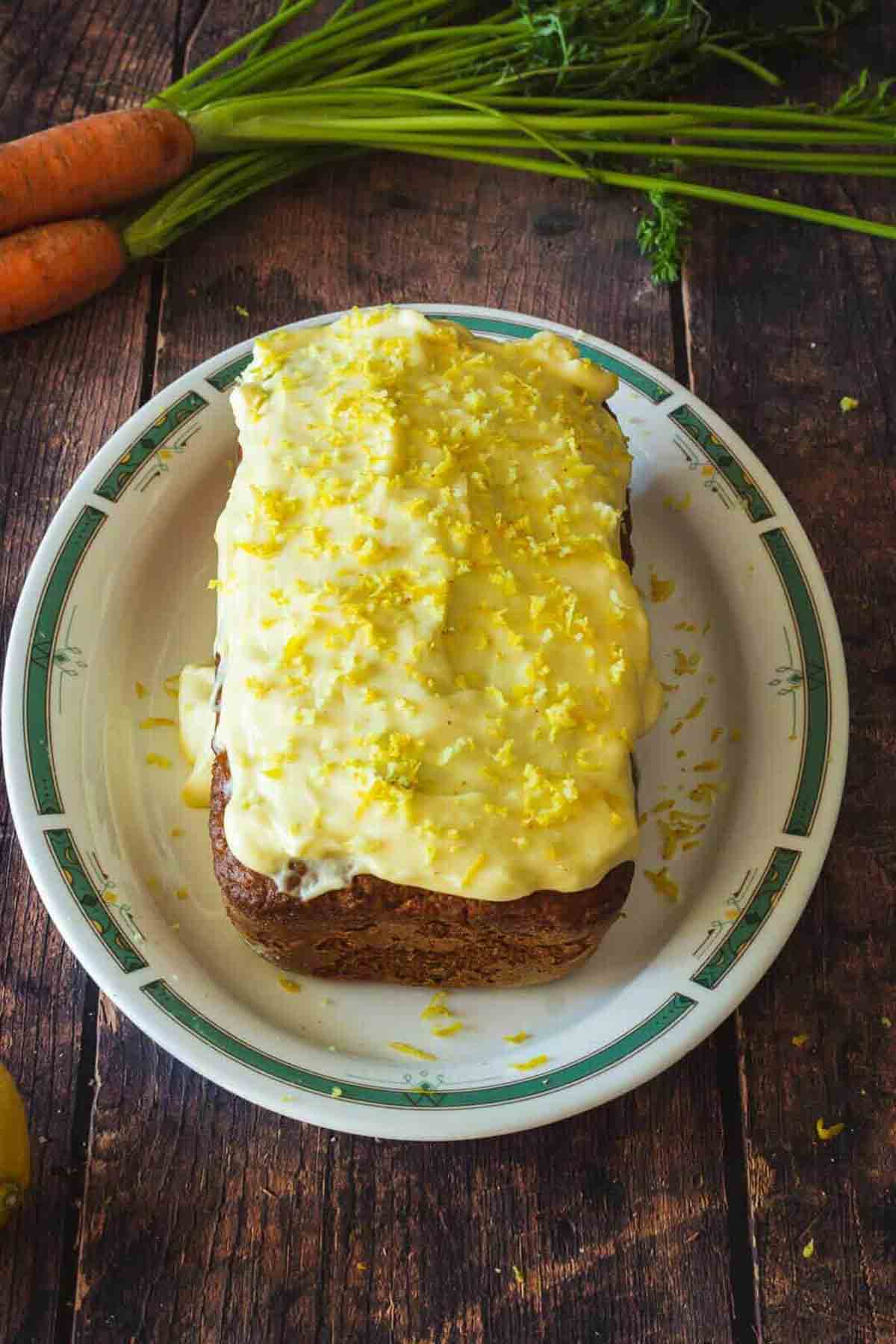 This moist carrot cake loaf can be made in one bowl, meaning minimal clean up! This gluten-free dessert can be enjoyed with or without vegan buttercream frosting.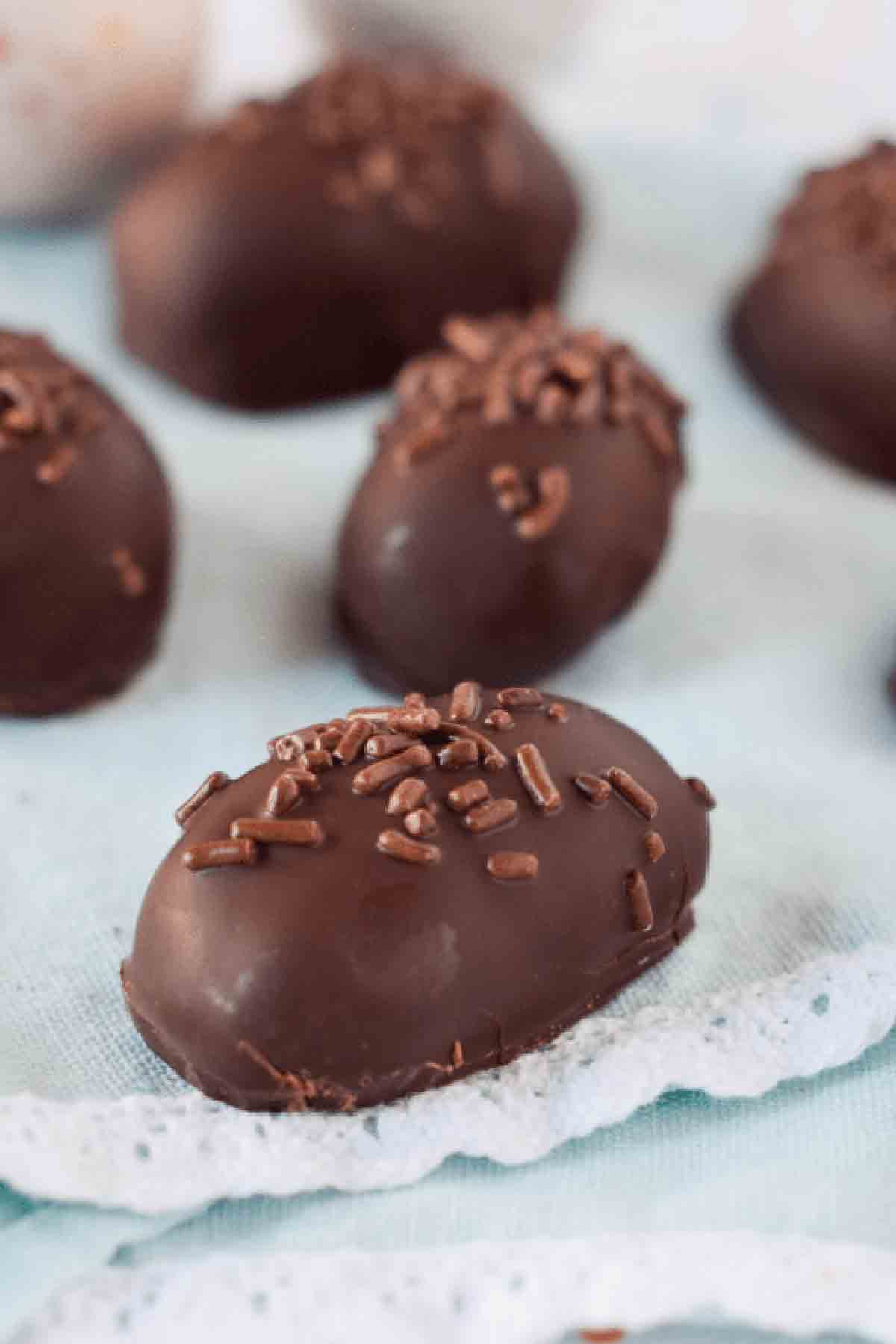 If you like the look of peanut butter eggs but have peanut allergies, try this SunButter version instead. They're naturally gluten-free and soy-free too.

25 Vegan Easter Desserts
The best Easter dessert recipes without eggs or dairy.
I hope you love these vegan Easter desserts. If you make any of the recipes at home, please let me know how you get on by leaving a comment below. Enjoy! xo
BakedByClo is a participant in the Amazon Services LLC Associates Program, an affiliate advertising program designed to provide a means for sites to earn advertising fees by advertising and linking to Amazon.com. This site may contain some of these links to Amazon.com & other affiliate programs. If you make a purchase through one of those links, BakedByClo will receive a small commission from the purchase at no additional cost to you.