Vegan Eton Mess
Vegan Eton mess is a creamy, fruity dessert that's perfect when you're in the mood for something lighter. It's made with dairy-free whipped cream and fresh fruit, with strawberry jam and eggless pavlova pieces swirled throughout.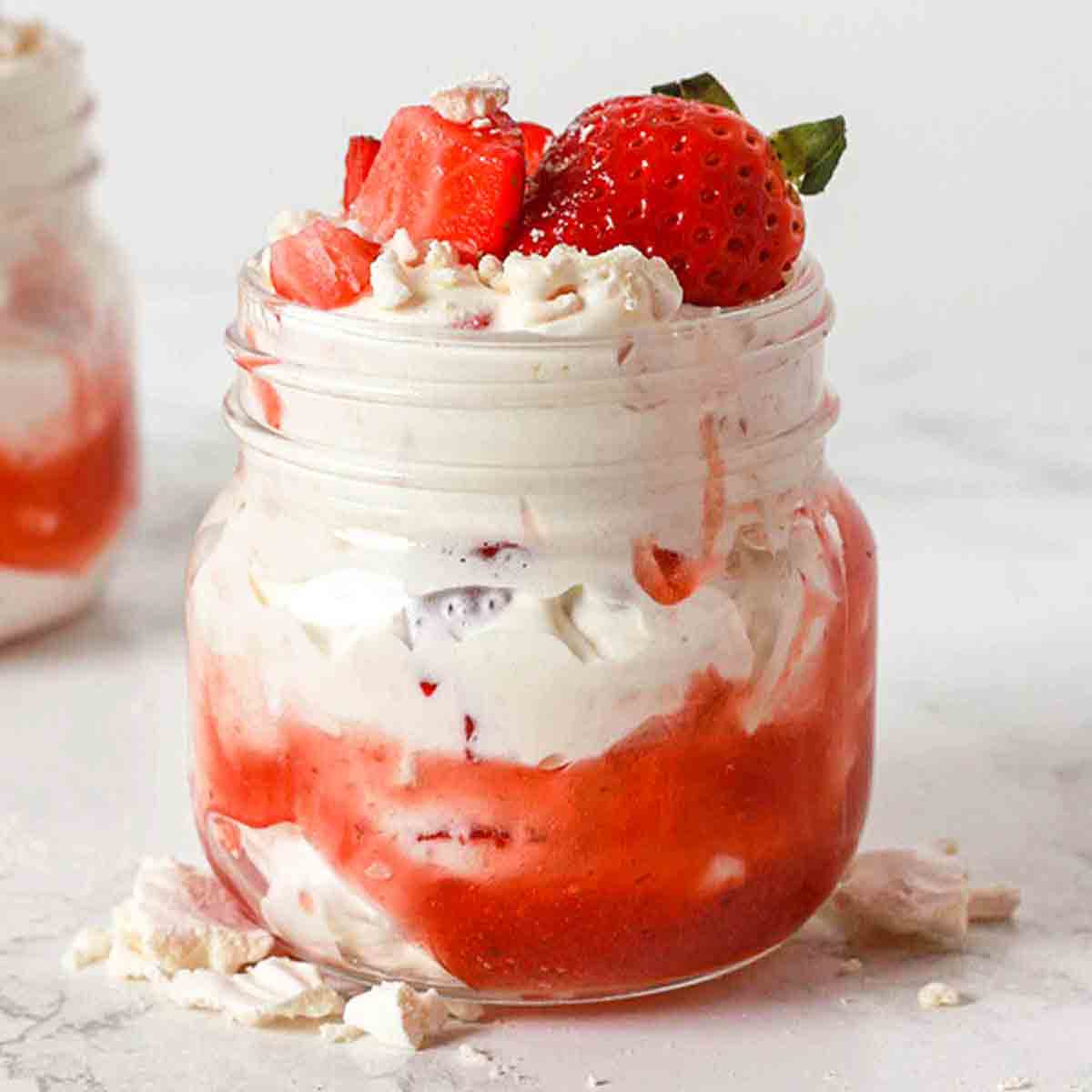 I am so excited to share this vegan Eton mess recipe with you today! It's one I've been meaning to make for quite a while now and I just know you're going to love it!
Eton mess is a traditional English dessert, believed to originate from… wait for it… Eton. I know, I know, shocking… Who'd have thought?!
If you don't know what it is, let me explain! It's a fruity pudding made with whipped cream, strawberries and meringue pieces. It also has a fruit puree swirled throughout. In simple terms, it's pretty much a squashed down version of a fruity pavlova or meringue.
I decided to use pavlova rather than meringue for this recipe because I love the soft chew it has on the inside. If you prefer meringue to pavlova then you can totally make some vegan meringues instead. I don't currently have a recipe for crunchy meringues yet but there are many online if you do a quick Google search.
Eggless pavlova
My pavlova is one of the most popular recipes on my blog so far so I figured making another dessert using it would be well received. It may look complicated but I have some great tips and tricks that will help you get it right on the first try.
All you'll need to make this is aqua faba (the liquid from canned chickpeas), cream of tartar or vinegar, and caster sugar. I also added a little xanthan gum to help the pavlova hold its shape but this isn't essential because we'll be crushing it up anyway.
Reducing your aqua faba before beginning is the most important step! I have heard other bloggers saying they have had success making meringues and pavlovas with aqua faba straight from the can but in my personal experience, it almost always deflates when I do this.
Reducing the aqua faba makes the proteins in the liquid more concentrated, meaning that it more accurately mimics egg whites. This helps to stabilise the pavlova as it bakes, rather than weeping excess water out the bottom.
How to reduce the aqua faba
Use aqua faba from 2 400g tins of chickpeas and weigh it out into a small saucepan. Whatever the weight is, you want to reduce it by half. So if the liquid weighs 200g, you want to reduce it to 100g.
Place the saucepan over a medium-high heat and let it simmer. Weigh it periodically, transferring it between the saucepan and a bowl, until you've successfully reduced it by half.
Remove it from the heat and let it cool for around 30 minutes.
Once it's cooled slightly, place it in an airtight container and chill in the fridge overnight. This will help it to thicken and congeal, similar to egg whites.
How to make the pavlova
Preheat your oven to 130°C (110°C if using a fan oven). Line a tray with baking paper.
Measure out 150g of caster sugar and set it aside.
Place your chilled, reduced aqua faba into a medium-sized bowl with 1/4 teaspoon of cream of tartar. Use an electric whisk to whisk it up until pale and frothy.
Continue whisking and add the sugar in a little at a time. Add around 1 tablespoon and make it's whisked in properly before adding the next.
Once all of the sugar is used up, keep whisking until the meringue mixture becomes thick and glossy and holds stiff peaks. You should be able to tip the bowl upside down without the mixture moving.
Add 1/8 teaspoon of xanthan gum and very briefly whisk it in.
Pipe or spoon your mixture onto the lined baking tray in a circle shape.
Bake for 2 hours. When it's done baking, turn the oven off without opening the door and leave it to cool completely.
Once cool, gently peel the pavlova off of the baking paper.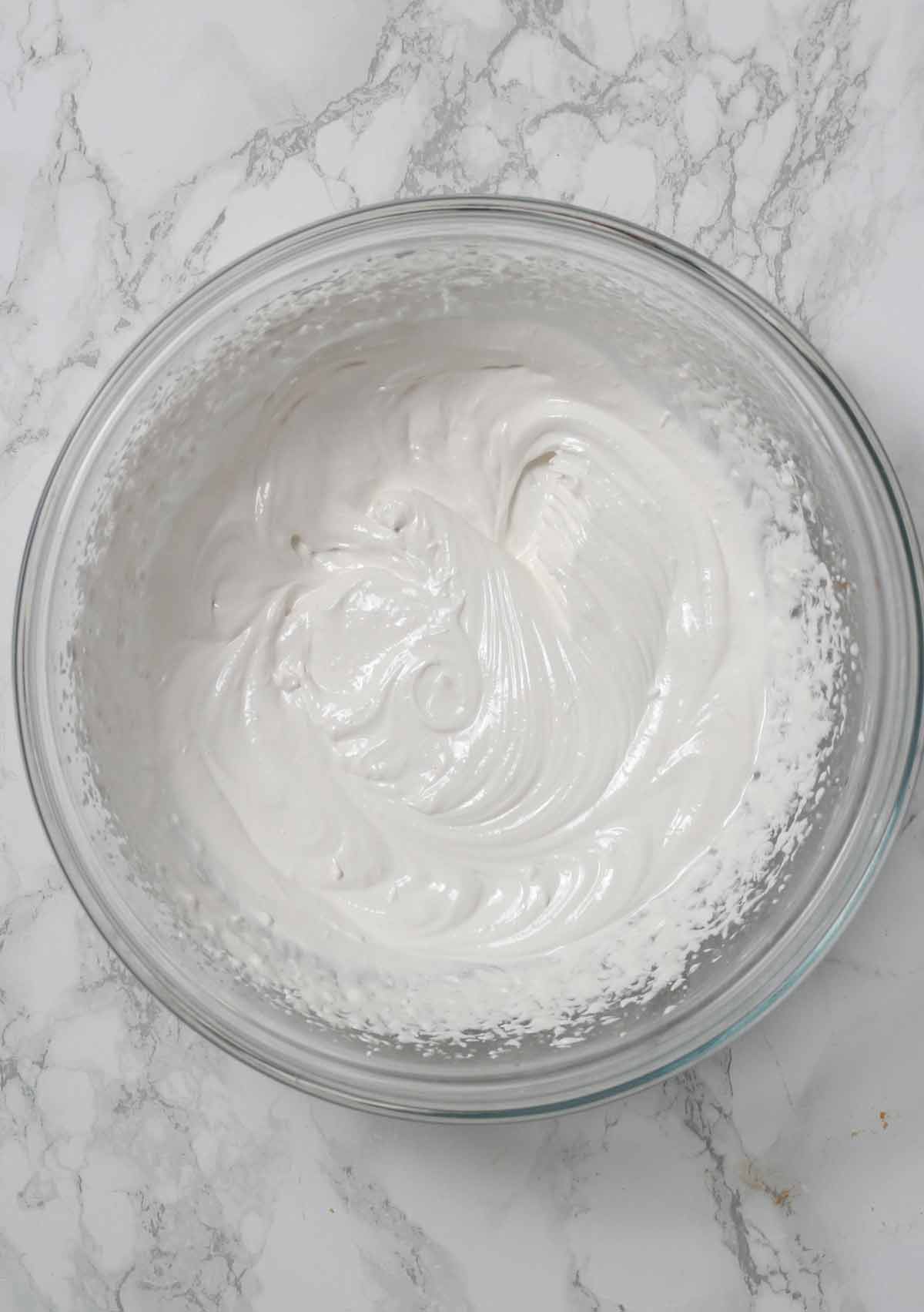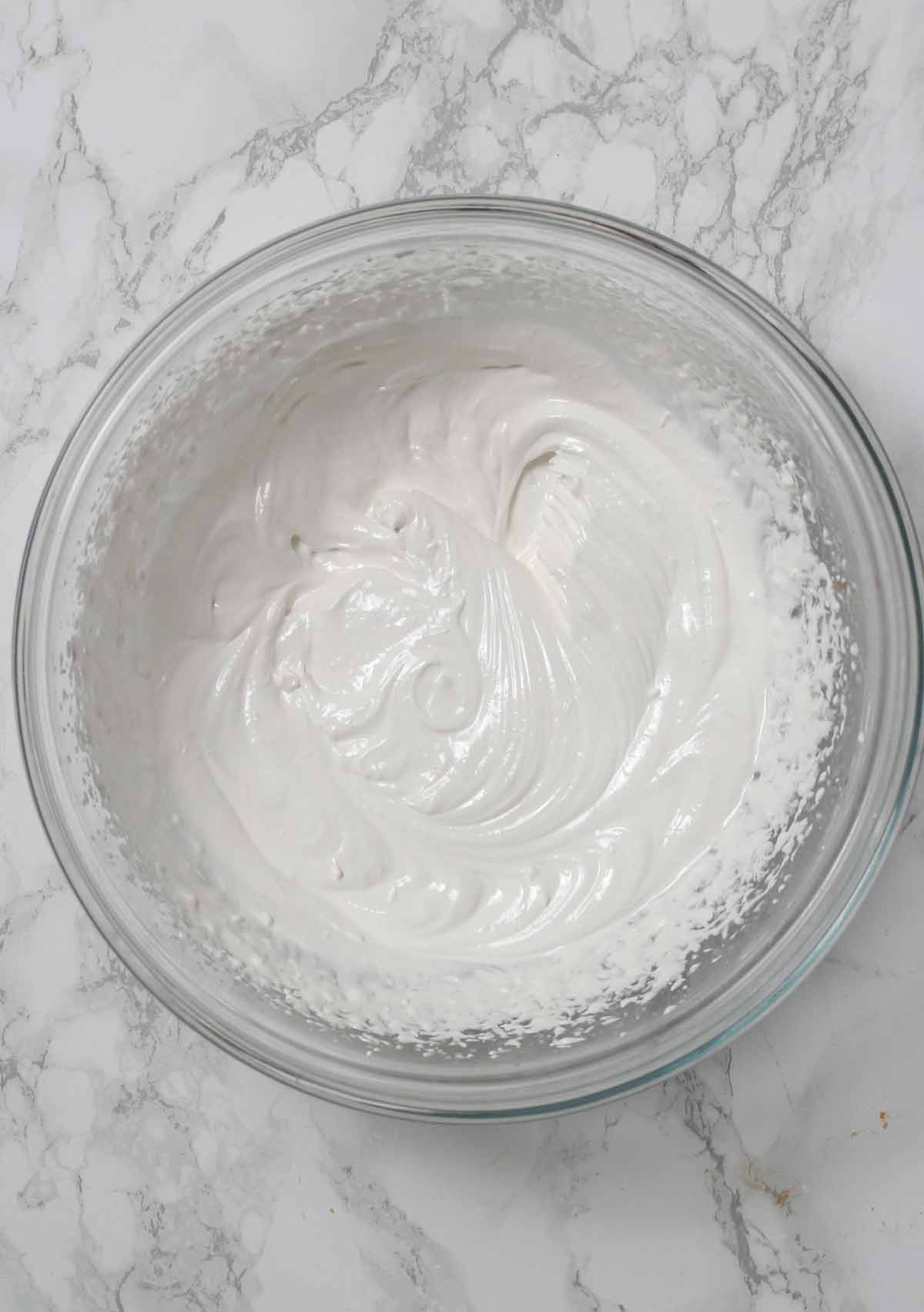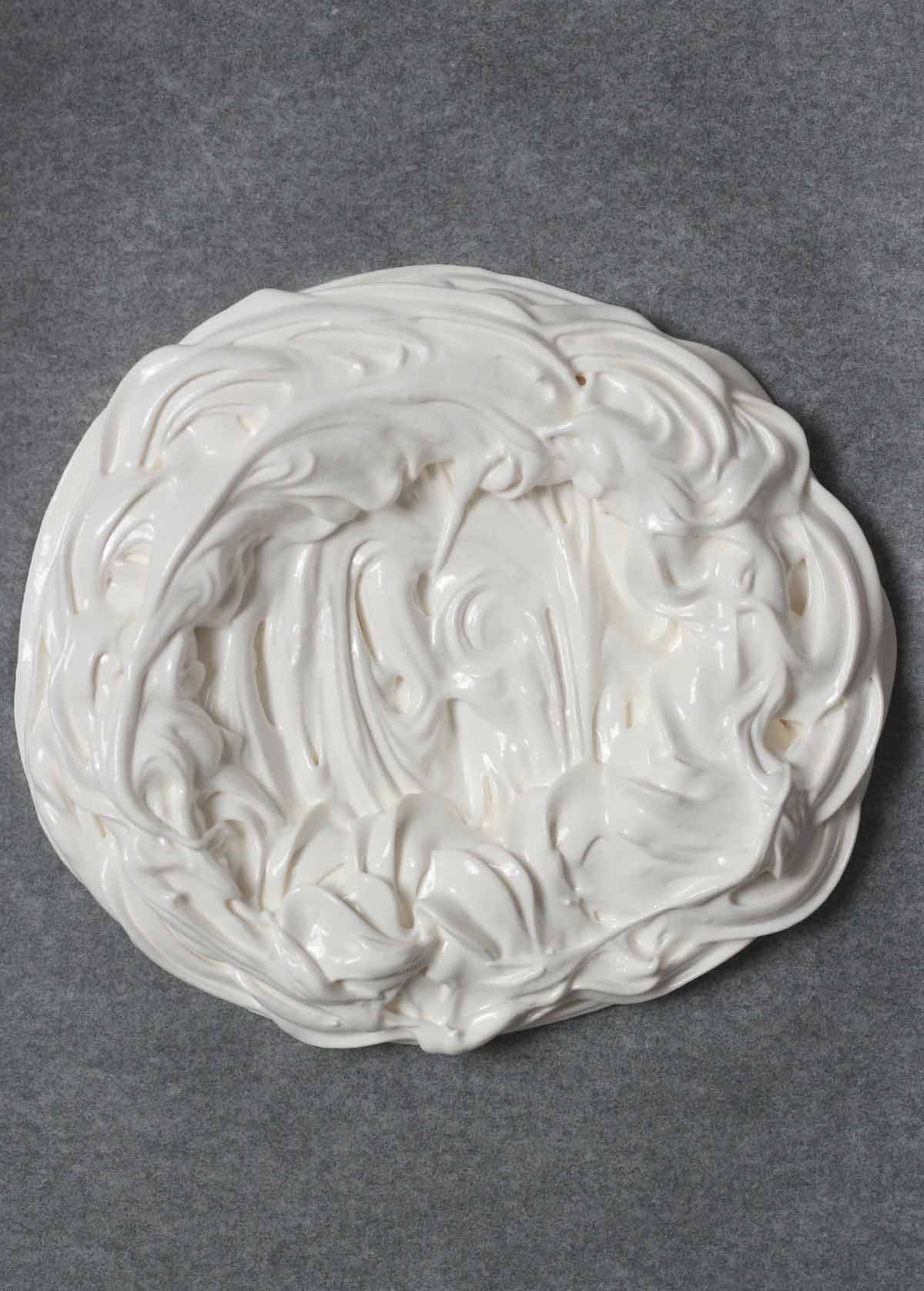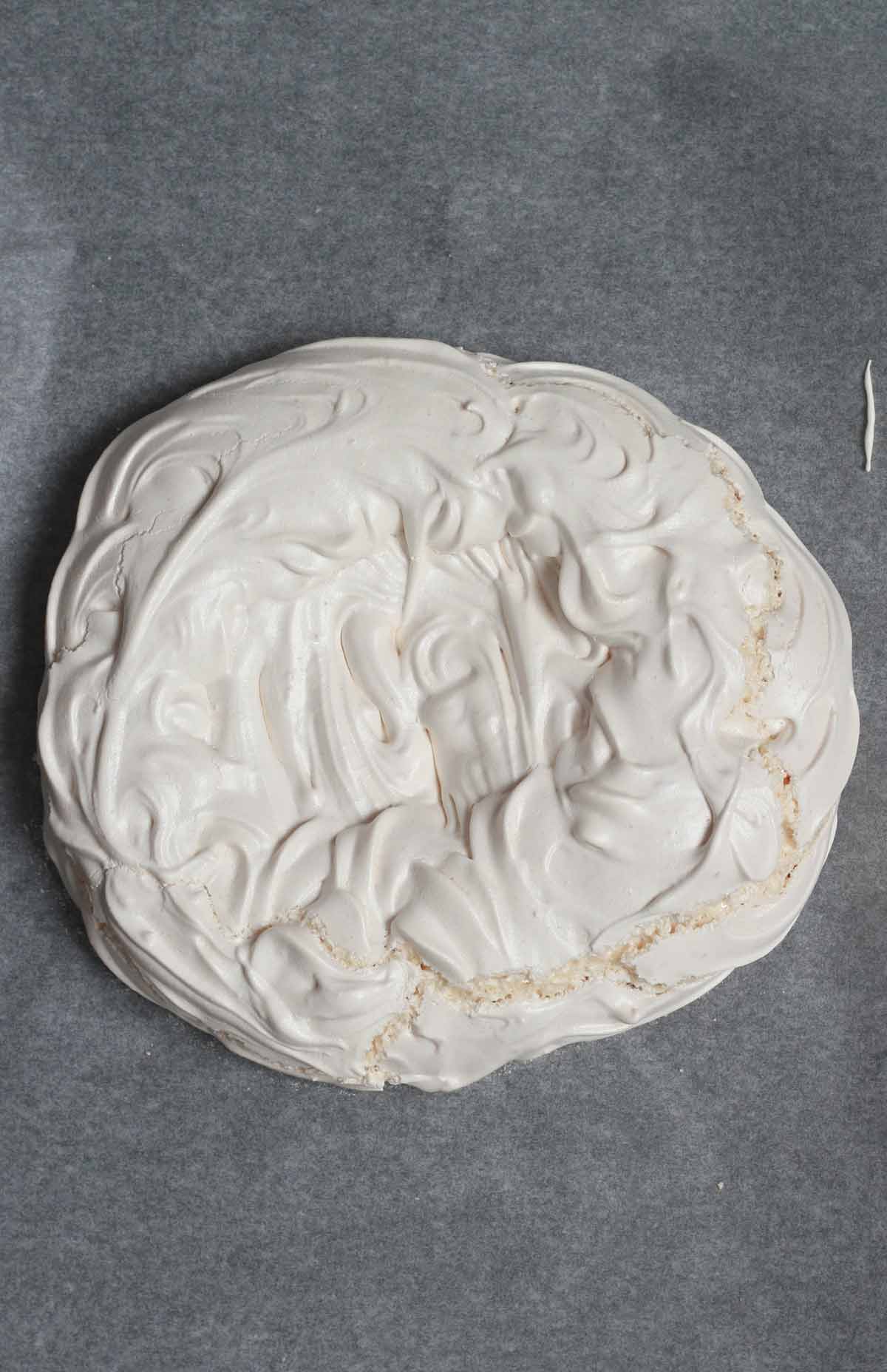 Best dairy-free whipped cream for Eton mess
I personally like using Elmlea plant double cream in my desserts because it's cheap and always available from my local store (Tesco). Here are some others that you can use:
Schlagfix (this is already sweetened so no need to add any extra sugar)
If you use a different type of vegan cream and are wondering if it'd work in this recipe, as long as it whips up nicely then it'll be just fine! So feel free to use your favourite whipping cream if I haven't listed it here.
Strawberry puree or strawberry jam?
Traditionally, Eton mess is made with sweetened strawberry puree but because it's quicker and cheaper, I used strawberry jam. Yes, I know it's not the same thing but it does the job! I found the flavour to be a bit stronger using the jam which I liked. It was also easier to drizzle for decoration.
If you want to make a strawberry puree, you'll need an additional 150g of fresh strawberries. Simply blend them up into a puree, along with 1 tablespoon of icing sugar.
How to make vegan Eton mess
Now for the fun part!
Add 5 tablespoons of strawberry jam to a small bowl and mix thoroughly until smooth and runny.
Swirl a small amount of jam around the inside of 6 serving glasses or jars.
Crush the pavlova into bite-sized pieces and roughly chop 250g of strawberries.
Whip up your vegan cream with 1 tablespoon of icing sugar.
Gently fold the strawberries and pavlova pieces into the whipped cream, saving some for sprinkling on top.
Drizzle the remaining strawberry jam over the creamy mixture and gently fold it in a little.
Divide your Eton mess equally between the 6 serving glasses. Sprinkle over the remaining pavlova and strawberry pieces and enjoy!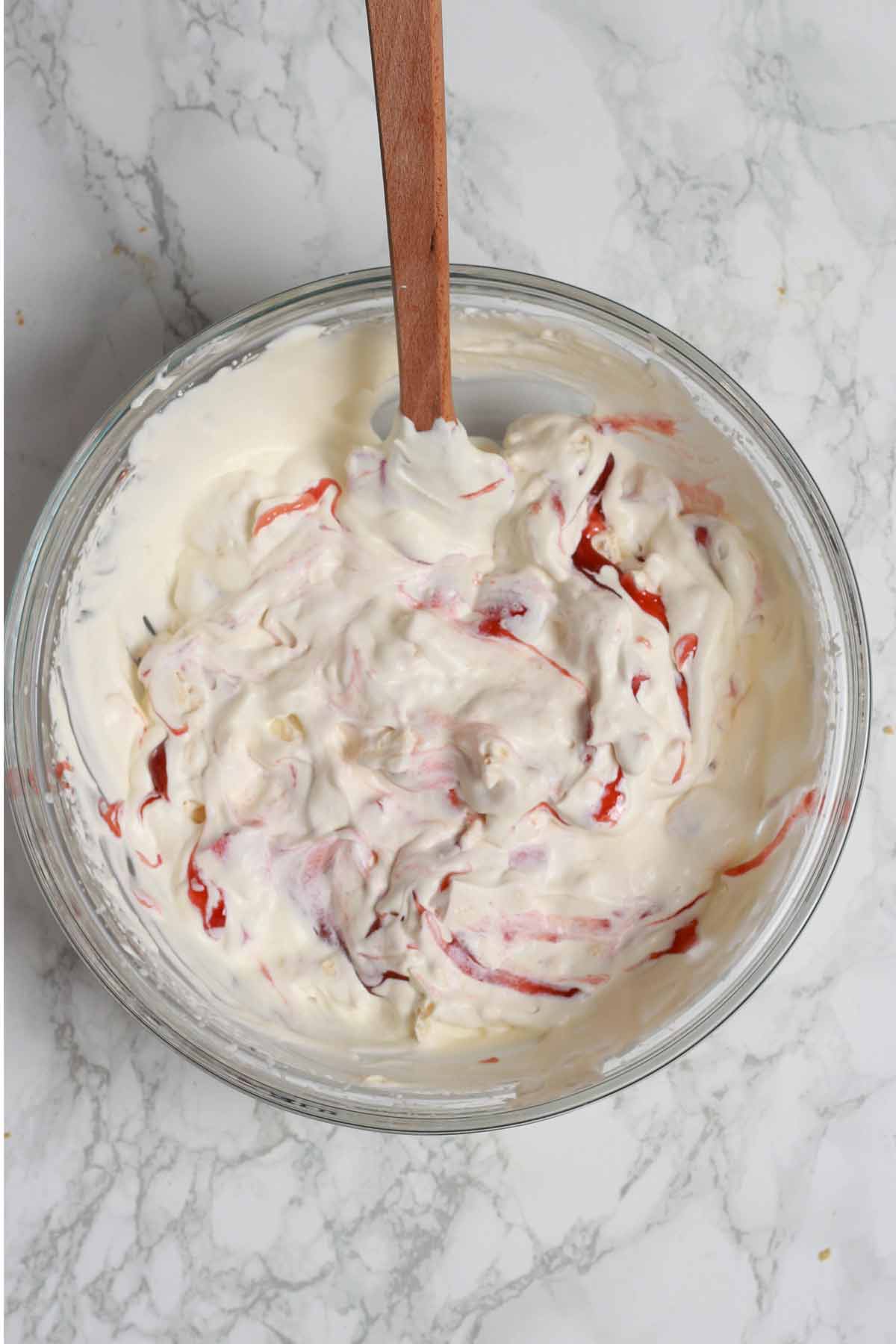 FAQ:
How should I store vegan Eton mess?
I don't recommend storing Eton mess because it's quite a fragile dessert, especially when making it with vegan cream. It's best enjoyed immediately but it can be kept in the fridge for up to 12 hours.

The pavlova will keep well in an airtight container at room temperature for 2-3 days so you can make that in advance and assemble the dessert on the day.
Can I freeze it?
I don't recommend freezing this dessert due to its delicate nature.
More fruity vegan desserts:
I hope you enjoy this dairy-free Eton mess recipe! If you make it at home, please let me know what you think by leaving a comment and rating below! xo

Vegan Eton Mess
Dairy-free whipped cream with fresh fruit, eggless pavlova pieces and strawberry sauce.
Cooling time (for the pavlova)
4
hours
Ingredients
For the pavlova:
80

ml

Reduced aquafaba

(see notes)

¼

Teaspoon

Cream of tartar

(sub for white vinegar)

150

g

Caster sugar

⅛

Teaspoon

Xanthan gum

(optional, helps the pavlova to hold shape)
To assemble the Eton mess:
5

Tablespoons

Strawberry jam

(or strawberry puree made from 150g blended strawberries and 1 tablespoon icing sugar)

270

ml

Dairy-free whipping cream

(I used Elmlea plant double)

1

Tablespoon

Icing sugar

(omit if you're using cream that's already sweetened)

250

g

Fresh strawberries
Instructions
For the pavlova:
Preheat your oven to 130°C (110°C for fan ovens). Line a tray with baking paper.

Add the reduced aquafaba to a medium-sized bowl, along with the cream of tartar. Use an electric whisk to whisk it for a minute or so until it becomes pale and frothy.

While still whisking, slowly add in the caster sugar, around 1 tablespoon at a time. When all the sugar is used up, continue to whisk until you have a stiff, glossy meringue mixture. You should be able to turn the bowl upside down without it moving.

If using xanthan gum, add and very briefly whisk it in.

Pipe or spoon your pavlova onto the lined baking tray. Bake for 2 hours, then without opening the oven door, turn the oven off. Leave the pavlova to cool for 4 hours.

Once cooled, remove it from the oven and gently peel off the baking paper.
Assembling the Eton mess:
Mix the jam thoroughly in a small bowl to loosen it. Drizzle a small amount around the inside of 6 serving glasses or jars. Keep the rest aside.

Break the pavlova into bite-sized pieces and roughly chop the strawberries.

Whip the dairy-free cream with the icing sugar until thick. Fold the pavlova and strawberry pieces in, saving a small amount for topping.

Swirl the remaining jam over the mixture and gently fold it in.

Divide the vegan Eton mess between your 6 serving jars or glasses. Top with the leftover pavlova pieces and strawberries, and enjoy!
Recipe Notes
To reduce aquafaba, weigh out the liquid from two 400g cans of tinned unsalted chickpeas. Place it in a saucepan and simmer on medium-high heat. Transfer it between the saucepan and a bowl to weigh it periodically until it has been reduced by half (I started with 180g and reduced it to 90g). Place it in the fridge overnight or for at least a few hours to chill- this will help it to congeal like egg whites.
This dessert is best enjoyed immediately. It will last up to 12 hours in the fridge.
Nutrition Facts
Vegan Eton Mess
Amount Per Serving (1 serving)
Calories 287
Calories from Fat 126
% Daily Value*
Fat 14g22%
Sodium 57mg2%
Carbohydrates 40g13%
Protein 1g2%
* All values are an estimate only and will vary depending on the food brands used.
BakedByClo is a participant in the Amazon Services LLC Associates Program, an affiliate advertising program designed to provide a means for sites to earn advertising fees by advertising and linking to Amazon.com. This site may contain some of these links to Amazon.com & other affiliate programs. If you make a purchase through one of those links, BakedByClo will receive a small commission from the purchase at no additional cost to you.