Vegan Easter Nests (Cornflake Cakes)
These vegan Easter nests cornflake cakes are the perfect Springtime treat! They're easy to make and require no baking, making them a perfect on-theme Easter treat for children to help with.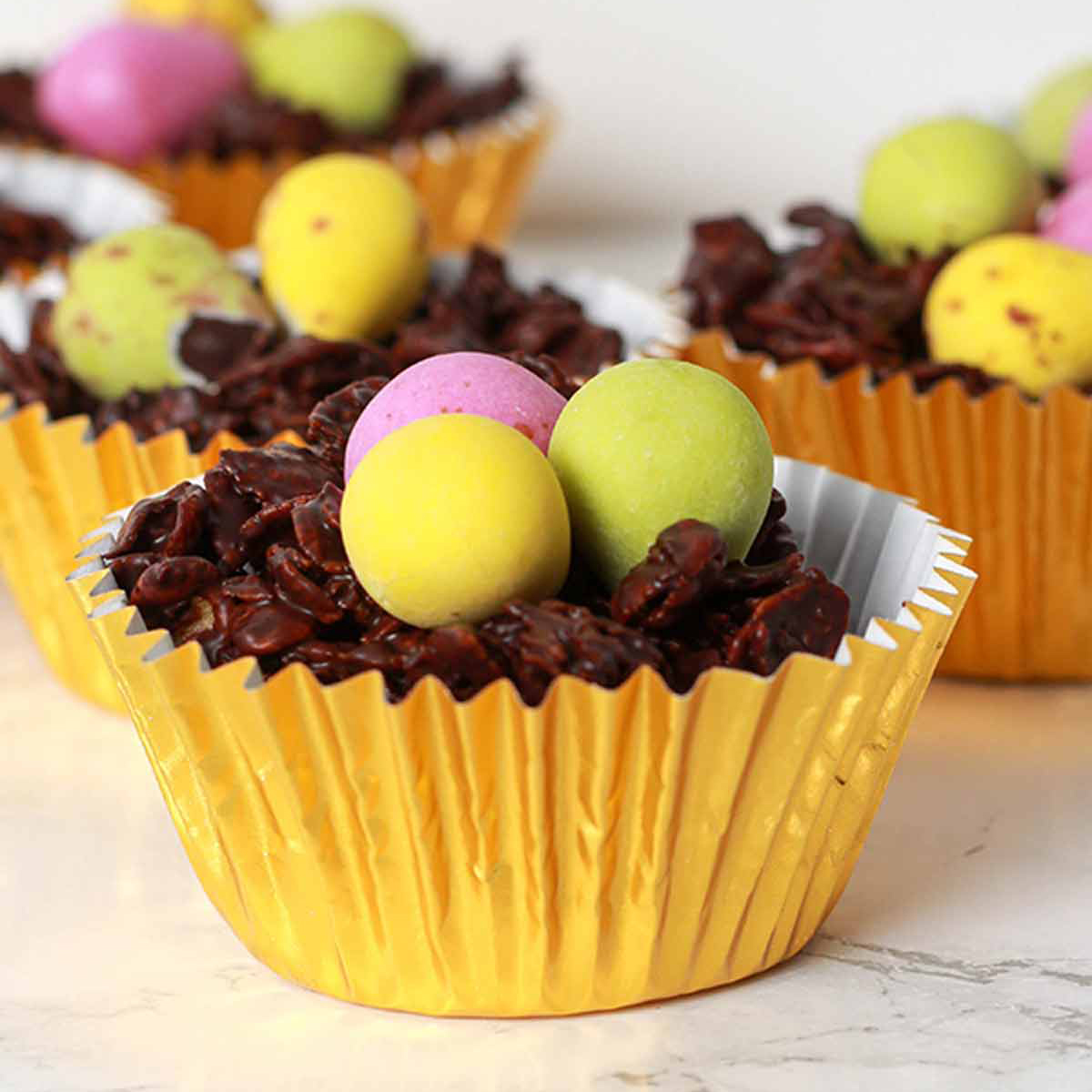 I made chocolate "Rice Krispie" cakes last year and the post is beginning to gain traction now which is great to see! I realised many of my most popular posts are quick, simple, no-bake treats like those so I thought I'd make another recipe to add to the collection. And since it's Easter, what better no-bake treat to make than vegan Easter nests?
My mum and I used to make these all the time when I was a child and despite the simplicity of the recipe, I always finished feeling like an absolute star baker.
Making the cornflake cakes vegan was really easy with a few simple swaps. I used dairy-free chocolate and some vegan-friendly cornflakes, and of course some dairy-free chocolate eggs instead of the Cadbury Mini Eggs I used to use.
I couldn't find golden syrup anywhere when I went to make this recipe so it's slightly different to my chocolate Rice Krispie cakes. If you want a little bit of extra flavour and a softer texture, you can add some vegan margarine and golden syrup. I must admit that there isn't a huge difference so if you don't have the golden syrup and margarine lying around already, just go with the melted chocolate and cornflakes! They will taste fabulous either way.
Ingredients you'll need for this recipe:
As I mentioned above, I used a simple mix of chocolate and cornflakes for the nests but if you like, you can add 2 tablespoons of vegan margarine and 2 tablespoons of golden syrup to the pan as you melt the chocolate. Please note you need to add BOTH ingredients to prevent the chocolate from seizing.
Vegan cornflakes. Beware that not all cornflakes are vegan-friendly! Check out some of the brands I've listed down below for reference.
Dairy-free chocolate. Any vegan chocolate you like will work well in this recipe. I made two batches of these- one using dark chocolate and one using dairy-free 'milk' chocolate and I have to say that I much preferred the sweeter 'milk' chocolate. My favourite chocolate to use is Nomo creamy choc.
Chocolate eggs. For decoration. I used Doisy and Dam Good Eggs but you can use any dairy-free chocolate Mini Eggs or other decoration that you like.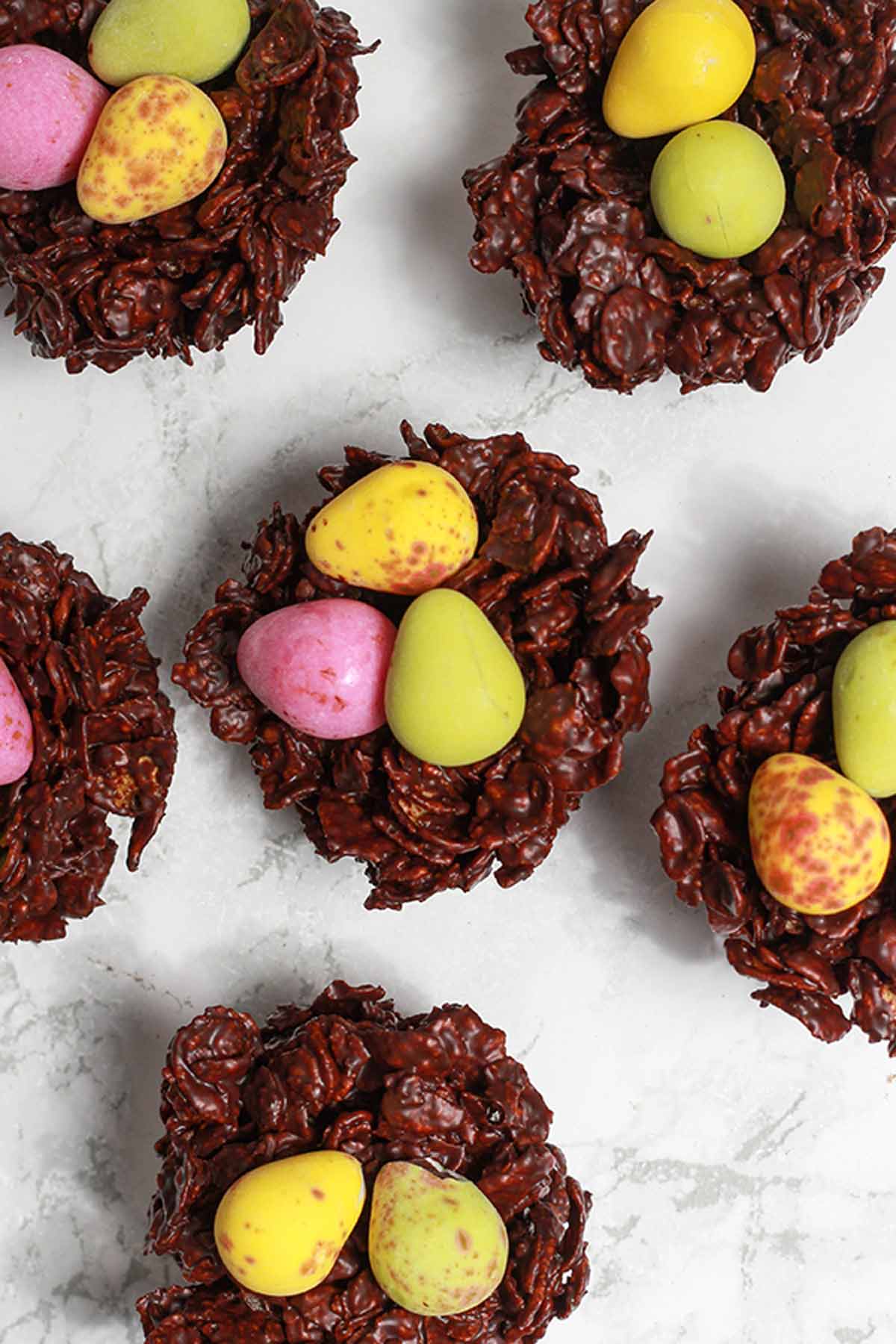 Finding vegan-friendly cornflakes
Are Cornflakes vegan? Most of the time, no. The big brands tend to add animal-sourced Vitamin D which is a real shame because otherwise they would actually be vegan-friendly!
I've found that some of the free-from cornflake cereals are suitable for vegans. Using free-from cereals also means there'll be no gluten in this dessert, making it a perfect treat for anyone in the family who might have allergies!
Just be careful to check the ingredients before you buy and check if it's marked as vegan or not. Just because it's free from milk, eggs and gluten, it may still contain Vitamin D from an animal source. Here are some of the vegan-friendly cornflakes I know about:
Tesco free-from (these are the ones I used)
Go Free (I've used these before and they are great. They are available in most large supermarkets but are a little more expensive than the own-brand versions.)
Dairy-free chocolate mini eggs
Of course, the most important part of vegan Easter nests is the eggs that go on top! Most traditional recipes you'll find online for Easter nests use Cadbury's Mini Eggs but they are made with dairy, sadly.
Fortunately, Doisy and Dam have made the perfect replacement, their Good Eggs, which are made with dark chocolate instead of milk chocolate. They are very similar to Mini Eggs (although a bit richer) and look almost identical!
A few other brands have came out with dairy-free chocolate eggs this year, although they're not made with a candy shell. If you don't mind the lack of colour, try one of these alternatives instead:
Another alternative would be to use small balls of colourful fondant. This Dr. Oetker fondant set is free from gelatine and other non-vegan ingredients, and it's available to buy from most UK supermarkets.
More vegan Easter desserts:
How to make chocolate Vegan Easter Nests
Step 1:
Line a cupcake tray with 12 paper liners and set it aside. This will help to mould the nests into shape.
Step 2:
Measure out 250g of your favourite vegan chocolate. Break it up into small pieces and place it into a heat-proof bowl over a bain-marie.
Gently stir the chocolate every so often until the chocolate has melted completely and there are no lumps left.
Step 3:
Remove the chocolate from the heat and let it cool for a minute or two. Add it into a large bowl along with 170g of corn flakes. Use a wooden spoon to mix them together thoroughly, until all of the cereal is completely covered in chocolate.
Step 4:
Divide the mixture up equally between your cupcake cases. No need to press them down in place- as the chocolate sets, it will help the cereal stick together easily.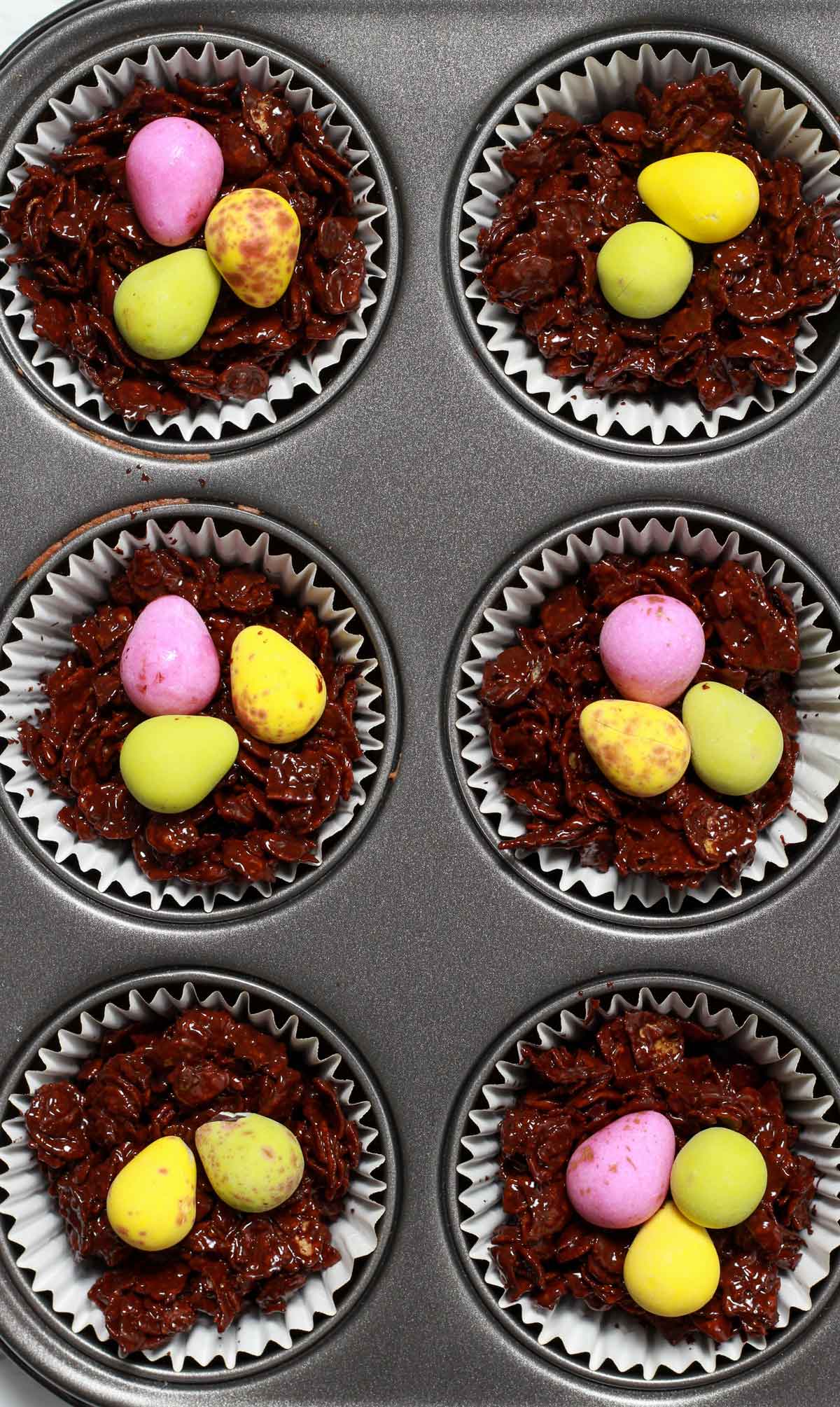 Step 5:
Top each cornflake nest with a few of your mini egg chocolate candies, while the chocolate is still wet.
Place the nests in the fridge for 1-2 hours until fully set and enjoy!
FAQ:
How long will these chocolate vegan Easter nests last for?
They'll last for around 5 days if stored in an airtight container. You can keep them in or out of the fridge, it's up to you!
Can I freeze them?
I haven't tried it yet but I wouldn't recommend it because the cereal is quite fragile and may end up soggy. It's best to eat them fresh.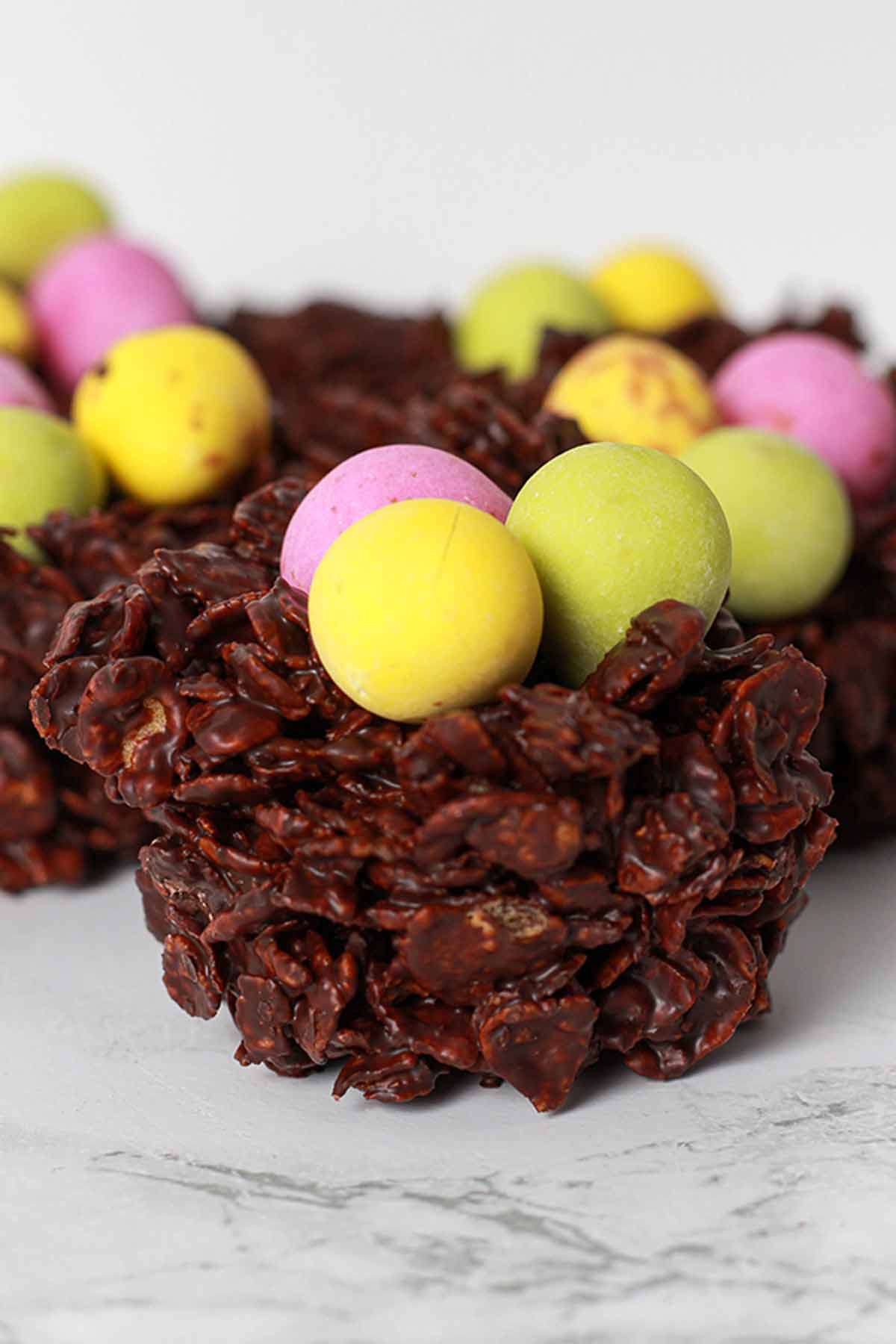 More vegan Easter desserts:
That's all for now. I hope you enjoy the recipe and if you make these vegan Easter nests at home, please let me know. Leave a comment and/or rating below to let me know what you think! If you like this post, make sure to check out my round-up of more vegan chocolate cakes! xo

Vegan Easter Nests (Cornflake Cakes)
Dairy-free chocolate cornflake cakes with colourful eggs on top.
Instructions
Line a cupcake tin with 12 paper liners.

Gently melt the chocolate using a bain marie and set aside to cool for a minute or two.

Add the chocolate to a large bowl with the cornflakes and mix thoroughly until all of the cereal is covered with chocolate.

Divide the mixture up into your 12 cupcake cases then add a few of the chocolate eggs on top for decoration.

Place the nests in the fridge for 1-2 hours until the chocolate has fully set.
Recipe Notes
Store in an airtight container for up to 5 days.
Nutrition Facts
Vegan Easter Nests (Cornflake Cakes)
Amount Per Serving (1 cornflake cake)
Calories 204
Calories from Fat 81
% Daily Value*
Fat 9g14%
Sodium 29mg1%
Carbohydrates 27g9%
Protein 2g4%
* All values are an estimate only and will vary depending on the food brands used.
BakedByClo is a participant in the Amazon Services LLC Associates Program, an affiliate advertising program designed to provide a means for sites to earn advertising fees by advertising and linking to Amazon.com. This site may contain some of these links to Amazon.com & other affiliate programs. If you make a purchase through one of those links, BakedByClo will receive a small commission from the purchase at no additional cost to you.