Are Mini Eggs Vegan? Everything You Need to Know
Mini Eggs are a popular chocolate treat at Easter. They're crunchy, brightly coloured, candy-covered chocolates that are used for egg hunts, baking and snacking on. But are Mini Eggs vegan? Keep reading to find out!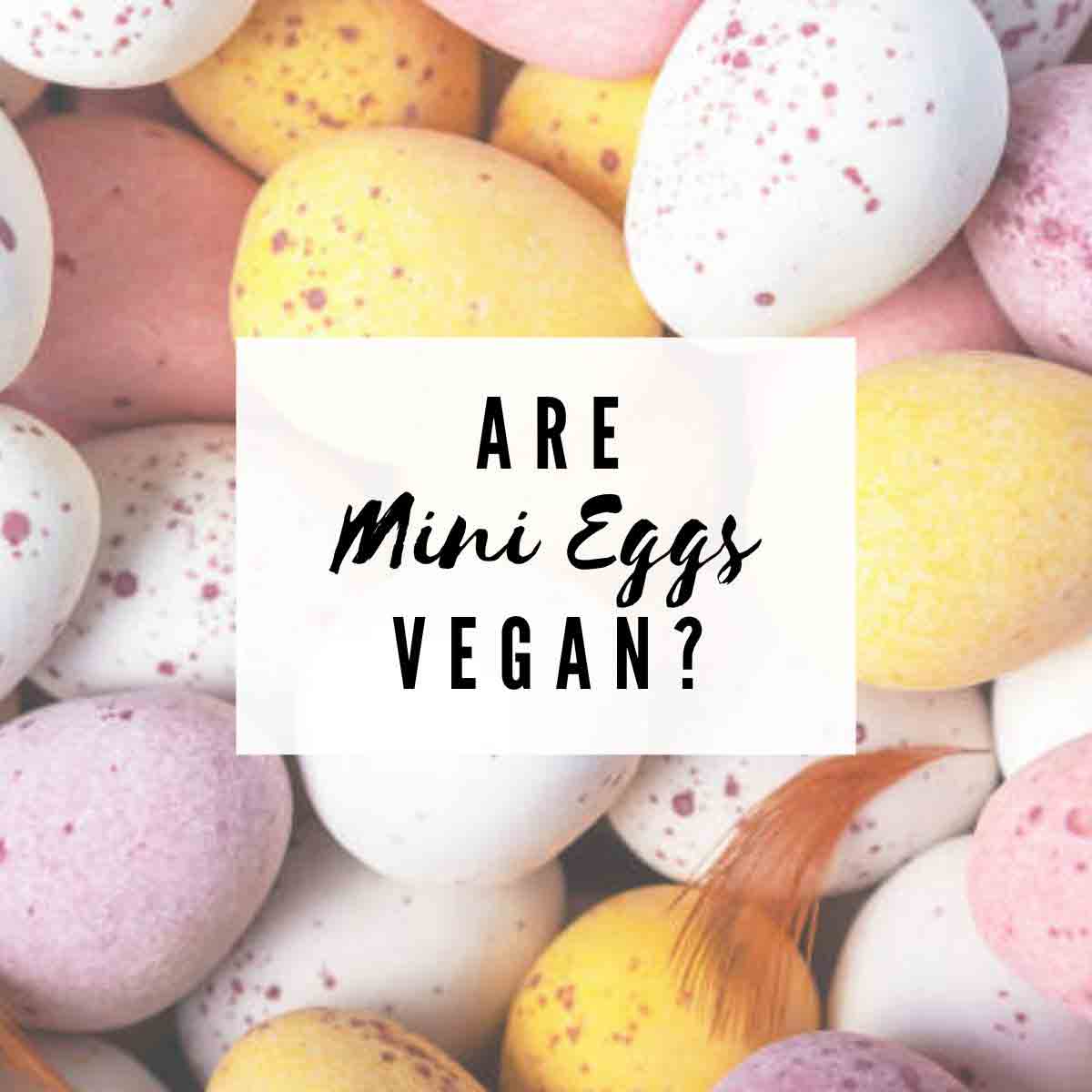 Mini Eggs are popular chocolate treats, created by Cadbury in 1967. You can most commonly see them on the supermarket shelves around Easter time.
They are small, chocolate-shaped eggs with a colourful candy coating and a speckled pattern. They come in four colours- white, pink, purple and yellow, but they all taste relatively similar. Other Mini Eggs products include a chocolate bar, nest cakes and Easter eggs.
Mini Eggs Ingredients
What are Cadbury's Mini Eggs made of? Let's take a look! According to their website, their Mini Eggs ingredients are:
Sugar, milk, cocoa butter, cocoa mass, dried skimmed milk, dried whey (from milk), vegetable fats (palm, shea), milk fat, emulsifiers (E442, E476), modified maize and tapioca starch, maltodextrin, colours (anthocyanins, beetroot red, paprika extract, carotenes), flavourings.
Are Mini Eggs Vegan?
As you'll probably be able to tell from the ingredients above, Mini Eggs are not vegan. This is because they contain milk. They also contain e-number 442, also known as Ammonium Phosphatides, which is sometimes not vegan either.
Are they vegetarian?
Mini Eggs are vegetarian but not vegan. They contain no gelatine or other meat-based ingredients.
Are they gluten-free?
Yes. Mini Eggs are gluten-free. They don't contain wheat or any other wheat-derived ingredients. They are not labelled as gluten-free but do not typically contain any cross contamination warnings about wheat.
Is Mini Eggs chocolate bar vegan?
Let's take a look at Cadbury's Mini Egg chocolate bar ingredients:
Milk, Sugar, Cocoa Mass, Cocoa Butter, Vegetable Fats (Palm, Shea), Whole Milk Powder, Emulsifiers (E442, E476, Sunflower Lecithins), Rice Starch, Thickener (Gum Arabic), Flavourings, Colours (Anthocyanins, Beetroot Red, Curcumin), Maize Protein.
Again, because of the milk and e442, the Mini Eggs bar is not vegan either.
Is it vegetarian?
Yes, Cadbury Mini Egg bar is suitable for vegetarians. It is free from gelatine and other meat-based animal products.
Is it gluten-free?
Yes, the Mini Egg chocolate bar is gluten-free because it does not contain wheat or wheat-based ingredients.
Can You Get Vegan Mini Eggs?
Yes! There are a few vegan alternatives to Mini Eggs if you'd like to get some this Easter! One of the most popular alternatives, and similar looks and taste wise, are Doisy and Dam Good Eggs. These are made with dark chocolate instead of milk, so they're a little more bitter than Cadbury's, but they are free from milk and suitable for a vegan diet!
Here are the other vegan Mini Eggs I could find: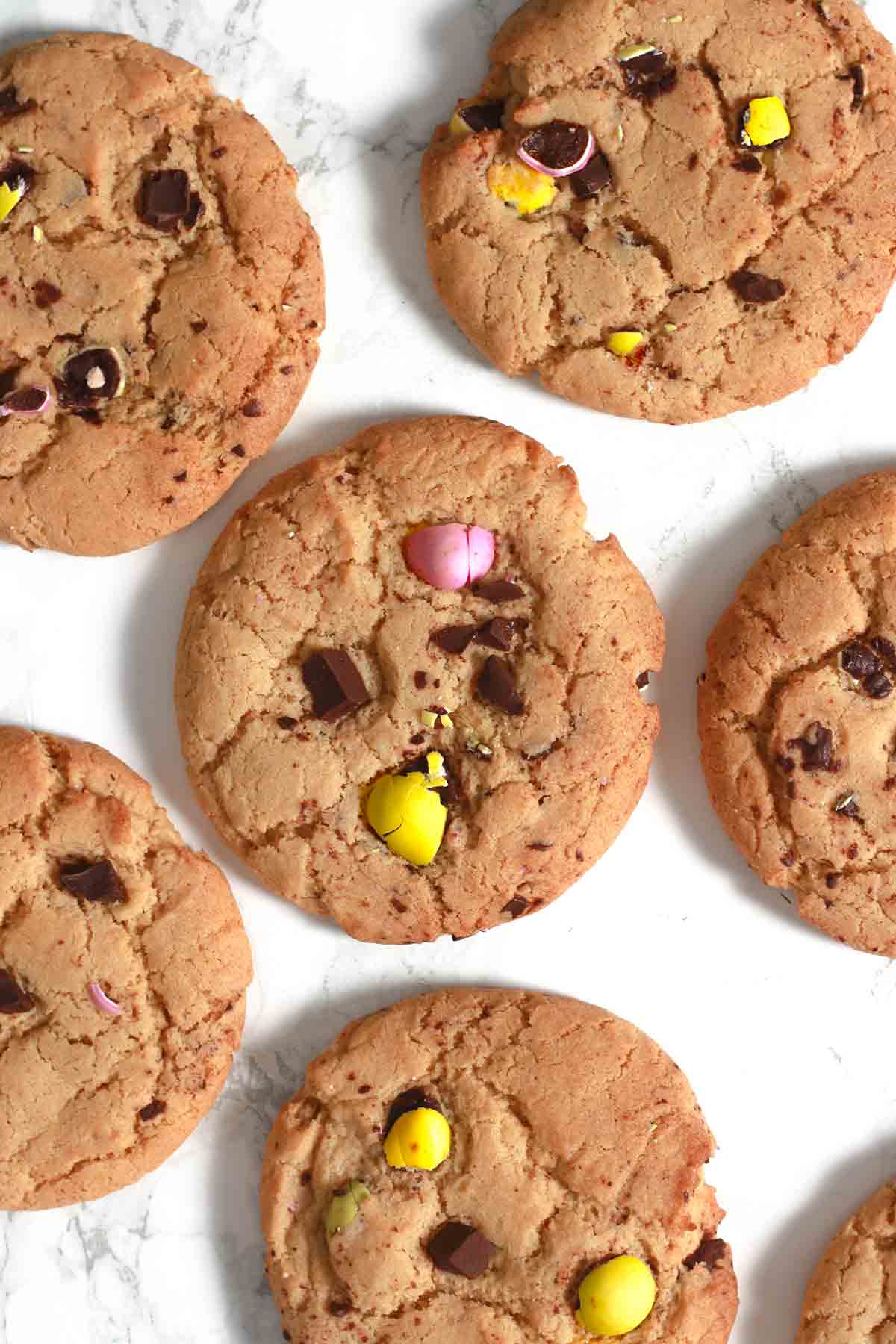 Ways to use dairy-free Mini Eggs
Aside from just popping them in your mouth for a quick snack or dessert, how else can you use Mini Eggs? I use them in baking recipes around Easter time to give them a super on-theme look. Here are my favourite recipes to use them in:
Summary
So, are Mini Eggs vegan? No, they are not suitable for a vegan diet due to the milk and e442 ingredients. The Mini Egg chocolate bar is not vegan either due to the same ingredients being present in the recipe. Both products are suitable for vegetarians and for a gluten-free diet. There are dairy-free alternatives to Mini Eggs which are suitable for vegans.
BakedByClo is a participant in the Amazon Services LLC Associates Program, an affiliate advertising program designed to provide a means for sites to earn advertising fees by advertising and linking to Amazon.com. This site may contain some of these links to Amazon.com & other affiliate programs. If you make a purchase through one of those links, BakedByClo will receive a small commission from the purchase at no additional cost to you.