Thai Mango Sticky Rice
Vegan Thai mango sticky rice is a soft, creamy, sweet rice-based dessert. As the name suggests, it's served with fresh mango which gives a cool, zingy contrast to the super sweet rice. You'll love this dish because not only does it taste good, it's also naturally gluten-free and oil-free!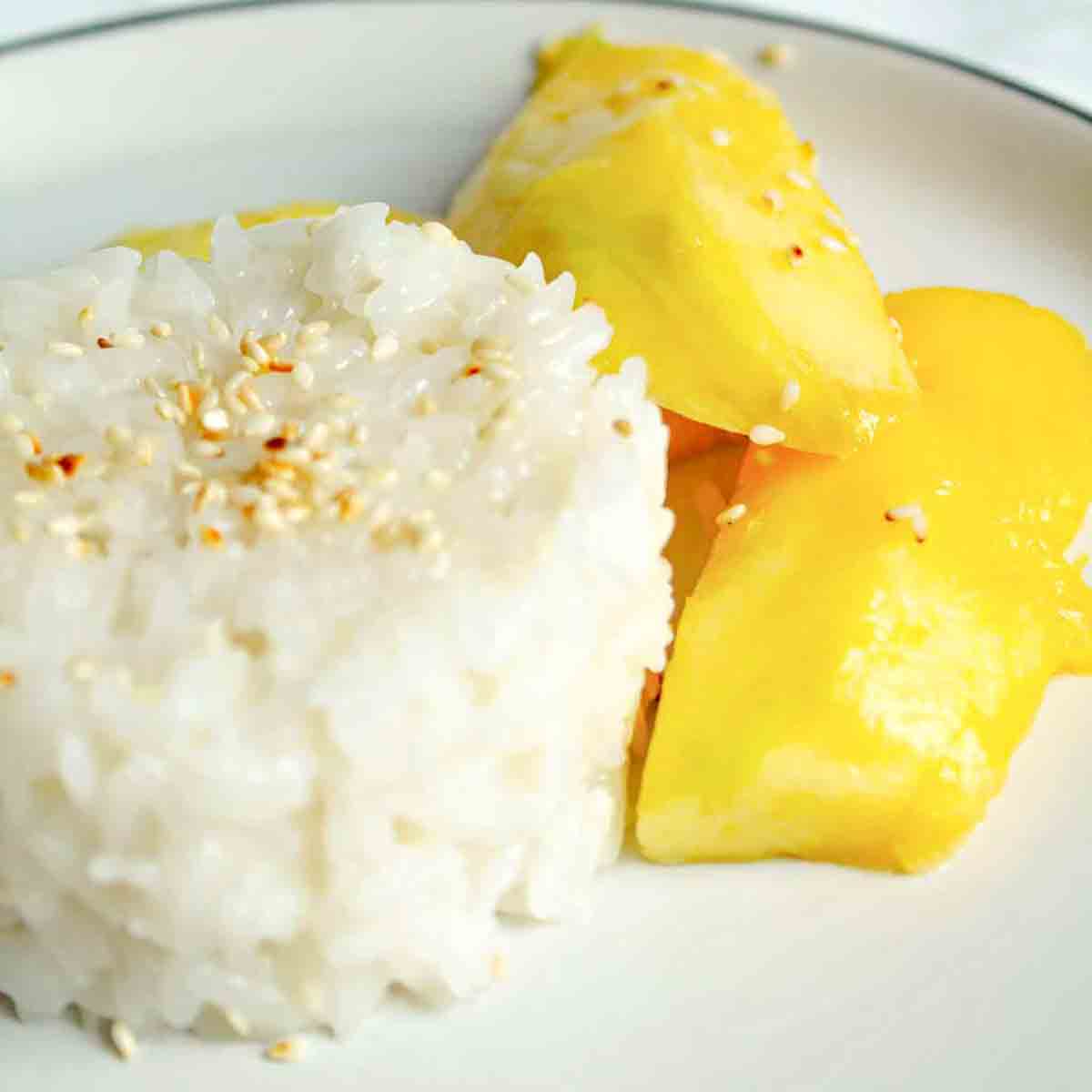 Mango with sticky rice is a traditional Thai dish that's typically made with glutinous rice, coconut cream and sugar. And of course, it's served with fresh mango. You can also top it with some toasted sesame seeds or mung beans for an extra special addition.
I first heard about this delicious dessert when I visited Bangkok way back in 2012. It was my first time travelling solo at the grand old age of 19 and I wanted to experience all that Thailand had to offer.
Of course, for a huge foodie like me, that meant trying lots of new cuisine. I fell absolutely IN LOVE with Thai food, especially the food from the street stalls.
Because the British pound went a long way in Thailand, I lived like a queen the whole time and got to try a LOT of food. My two favourite dishes were Pad Thai and Thai mango sticky rice.
I also got to take a traditional Thai cooking class, where I learned to make these dishes myself. I can't remember exactly which cooking class it was that I took but I can remember that the teacher was amazing! In broken English, she gave me her best tips for authentic Thai sticky rice and even gave me a little recipe card to take home with me.
Tips For The Best Mango Sticky Rice
Use glutinous rice
Unfortunately, regular white rice will not work well for this recipe as the rice won't stick together well enough. Instead, it's best to use glutinous rice. The term "glutinous" refers to the glue-like texture the rice produces when cooked. It sticks together very well to make things like rice balls- which of course makes it perfect for this mango sticky rice recipe!
You can find glutinous rice at most Asian supermarkets. Alternatively, you can use Thai jasmine or sweet rice which you'll find at most regular supermarkets.
Wash and soak your rice
Washing and soaking the rice brings out its flavour and ensures it's cooked evenly when steaming. Put the rice in a bowl, wash, drain and repeat until the water runs clear- there should be no cloudiness at all.
Once the rice is sufficiently washed, pour some fresh cold water over it and leave it to soak for at least 4 hours, but preferably overnight. The longer you soak the rice, the better your dessert will be.
Steam the rice, don't boil!
Steaming is essential to get that sticky texture we're after here. It also helps the rice to better absorb the coconut milk mixture. Boiling the rice will result in a mushy puddle on your plate.
I used a bamboo steamer (which I purchased at my local Asian supermarket for £2.50) lined with baking paper. I find this to be the most efficient way to steam my rice. You can purchase a similar one on Amazon here.
If you don't have a steamer, you can also use a stainless steel sieve and cover it with a dishcloth. I've tried this in the past and it does work well but takes longer for the rice to cook. Also, be careful NOT to use a plastic sieve because it will catch fire.
Use full-fat coconut milk
For best results, use full-fat coconut milk (the kind that comes in a can). This will give you the rich, creamy element that Thai mango sticky rice is so well known for.
The riper the mango, the better!
They're quite hard to come by here in the UK, but extra ripe mangoes are best for this recipe. You want them to be as sweet as possible, to contrast well with the creaminess of the coconut rice.
How To Make Vegan Mango Sticky Rice
Step 1:
The first step to this recipe is preparing your rice. As mentioned previously, you need to wash the rice until the water runs clear then soak it at least 4 hours in advance.
Step 2: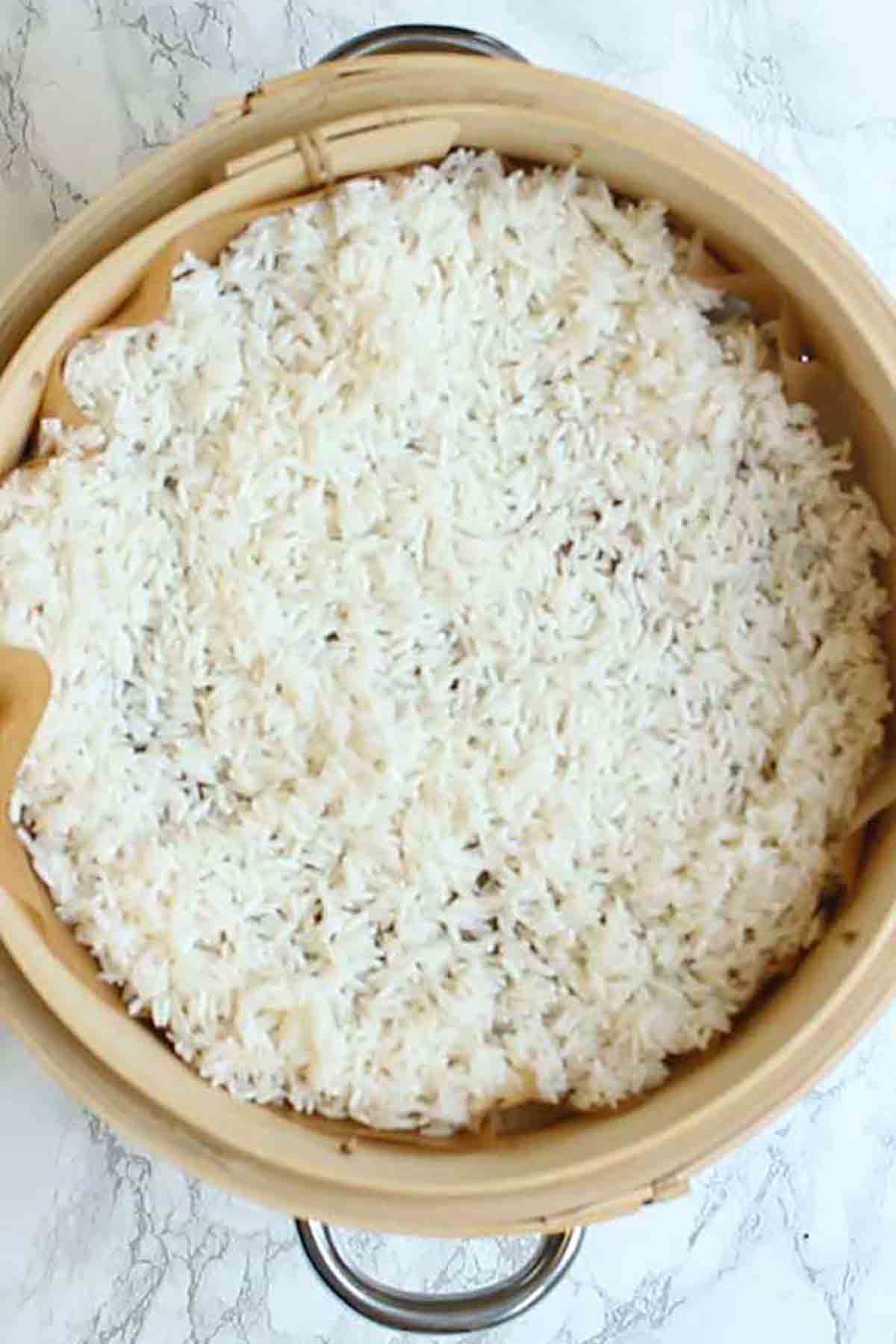 Once you've washed and soaked the rice, transfer it to your steamer. Place the steamer over a large pot of boiling water, leaving around a 2-inch gap between the water and the steamer. Place the lid on it and cook for 20 minutes. After this time, the rice should be tender but sticking together.
Step 3:
Now that your rice is ready, it's time to prepare the coconut sauce.
Place the coconut milk in a small pan along with the sugar and stir continuously over a low heat until all of the sugar has dissolved. Transfer around 1/4 of this mixture to a separate bowl and place it in the fridge. This will be your serving sauce.
Pour the rest of the mixture over your steamed rice, stir slightly, then leave for 10 minutes. This will give the rice enough time to absorb the coconut milk. You should end up with a creamy-looking rice pudding.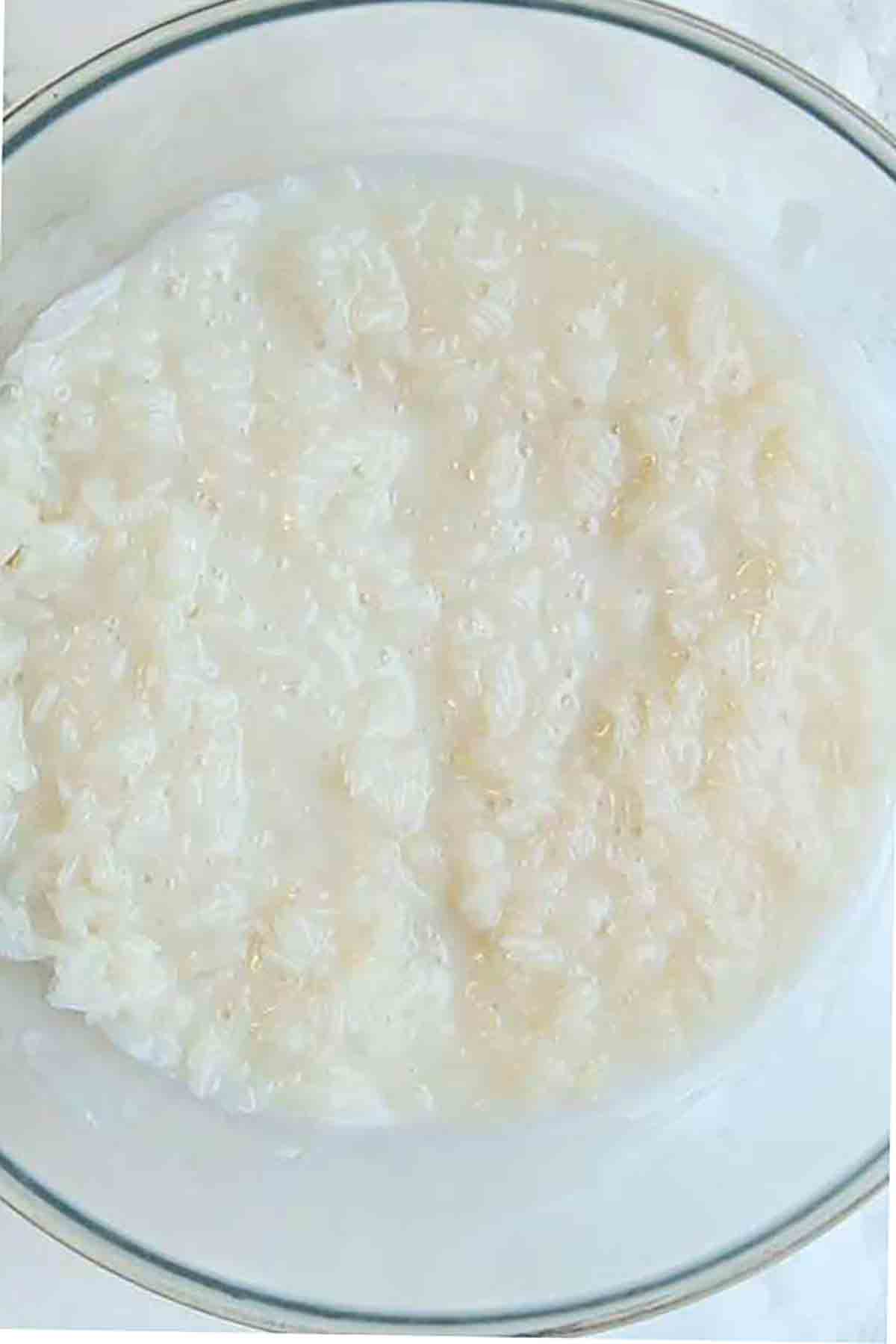 Step 4:
Cut your mangoes into slices and place them in a dish with a serving of the coconut rice.
If you like, you can also toast some mung beans or sesame seeds and sprinkle them on top. I personally couldn't find mung beans in my local stores so I used sesame seeds and I LOVED the nutty flavour they added. You can buy mung beans online.
Take the bowl of remaining sauce out of the fridge and pour some of it on top.
How Long Does Thai Mango Sticky Rice Last?
In my experience, this dish is best served fresh but it will stay good for around 2-3 days. You can store it in an airtight container in the fridge to keep it nice and moist. The mango and sesame seeds/mung beans won't last quite as well, so make sure to add them just before you're about to serve the rice.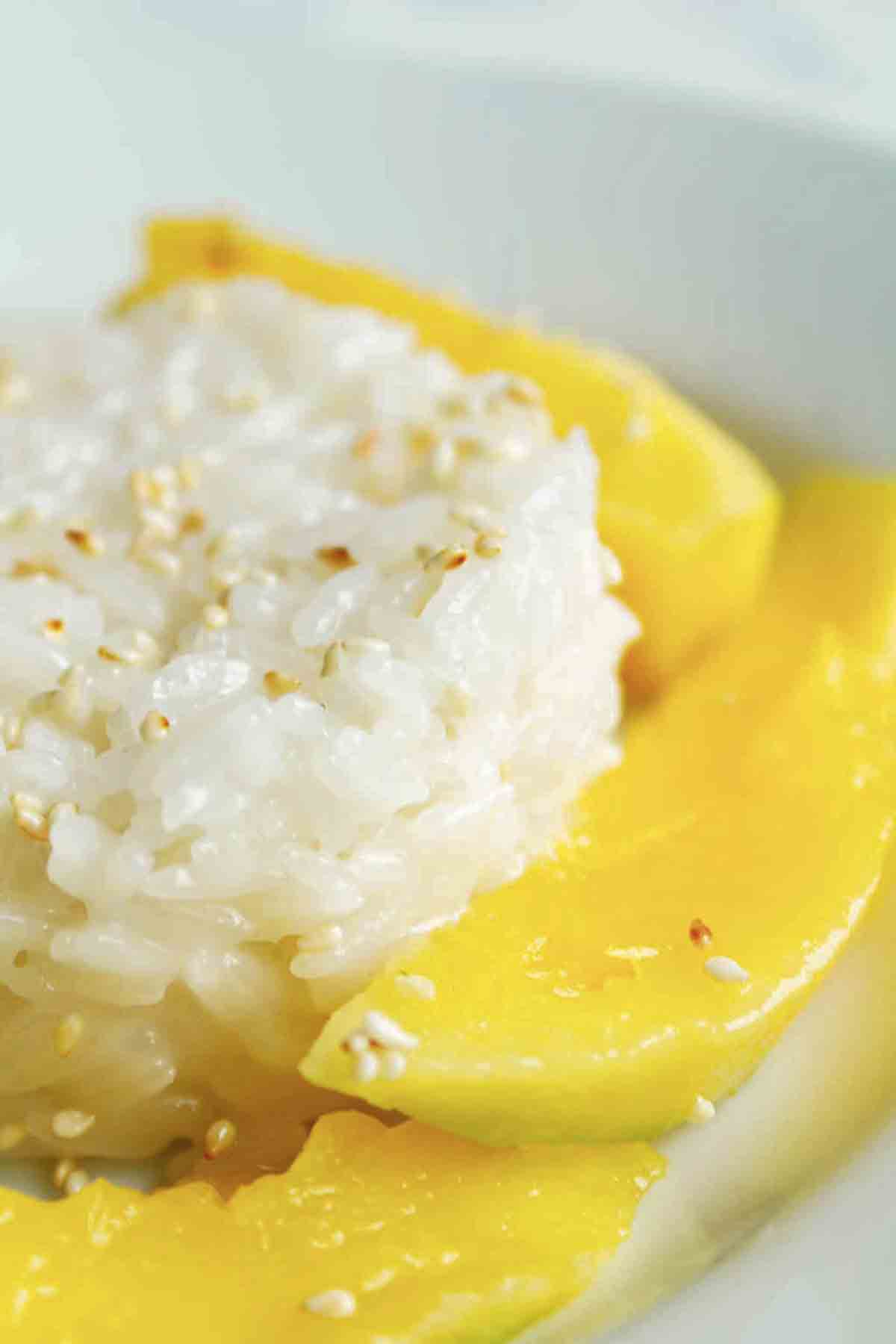 I hope you love this vegan mango sticky rice as much as I do. Let me know how you get on by leaving a comment or rating below. Enjoy! xo
More vegan desserts:

Vegan Mango Sticky Rice
A naturally vegan rice dish with creamy coconut and fresh mango.
Ingredients
275

g

Glutinous rice

120

g

Caster sugar

1

can

Full-fat coconut milk

(400ml)

1-2

Ripe mangoes

3

Tablespoons

Toasted sesame seeds

(you can also use toasted yellow mung beans for more authenticity if you can find them!)
Instructions
Wash the rice thoroughly using a sieve. Rub the grains together until the water runs clear. Leave the rice to soak in cold water overnight or for at least 4 hours.

Drain the rice then transfer it into a bamboo steamer. Place it over a large pot of boiling water, leaving a 2 inch gap between the water and the steamer.

Place the lid on top and steam the rice for 20 minutes, or until the rice is cooked through.

While the rice is steaming, gently heat the coconut cream and sugar together in a small pot until the sugar dissolves completely.

Once the coconut cream mixture is cooled, place about 1/4 of it into a separate bowl and put in the fridge to chill. This will be your serving sauce.

When the rice is cooked, place it in a bowl and stir in the coconut mixture. Leave for 10 minutes until the rice absorbs the liquid.

Serve with mango slices, a sprinkling of toasted sesame seeds and the remainder of the sauce.
Recipe Video
Recipe Notes
Can be stored in an airtight container in the fridge for 2-3 days. Add mango and sesame seeds immediately before serving to avoid them becoming soggy.
Nutrition Facts
Vegan Mango Sticky Rice
Amount Per Serving (1 serving)
Calories 380
Calories from Fat 135
% Daily Value*
Fat 15g23%
Sodium 1mg0%
Carbohydrates 60g20%
Protein 4g8%
* All values are an estimate only and will vary depending on the food brands used.
BakedByClo is a participant in the Amazon Services LLC Associates Program, an affiliate advertising program designed to provide a means for sites to earn advertising fees by advertising and linking to Amazon.com. This site may contain some of these links to Amazon.com & other affiliate programs. If you make a purchase through one of those links, BakedByClo will receive a small commission from the purchase at no additional cost to you.