20 Vegan Food Gift Ideas to Buy In 2023
Looking for the best vegan food gifts? This post is for you! It includes all of the best edible gifts to buy in the UK, whether you're looking for a sweet treat or something savoury. So if you're struggling for food gift ideas this Valentine's Day or Christmas, this post will help you out.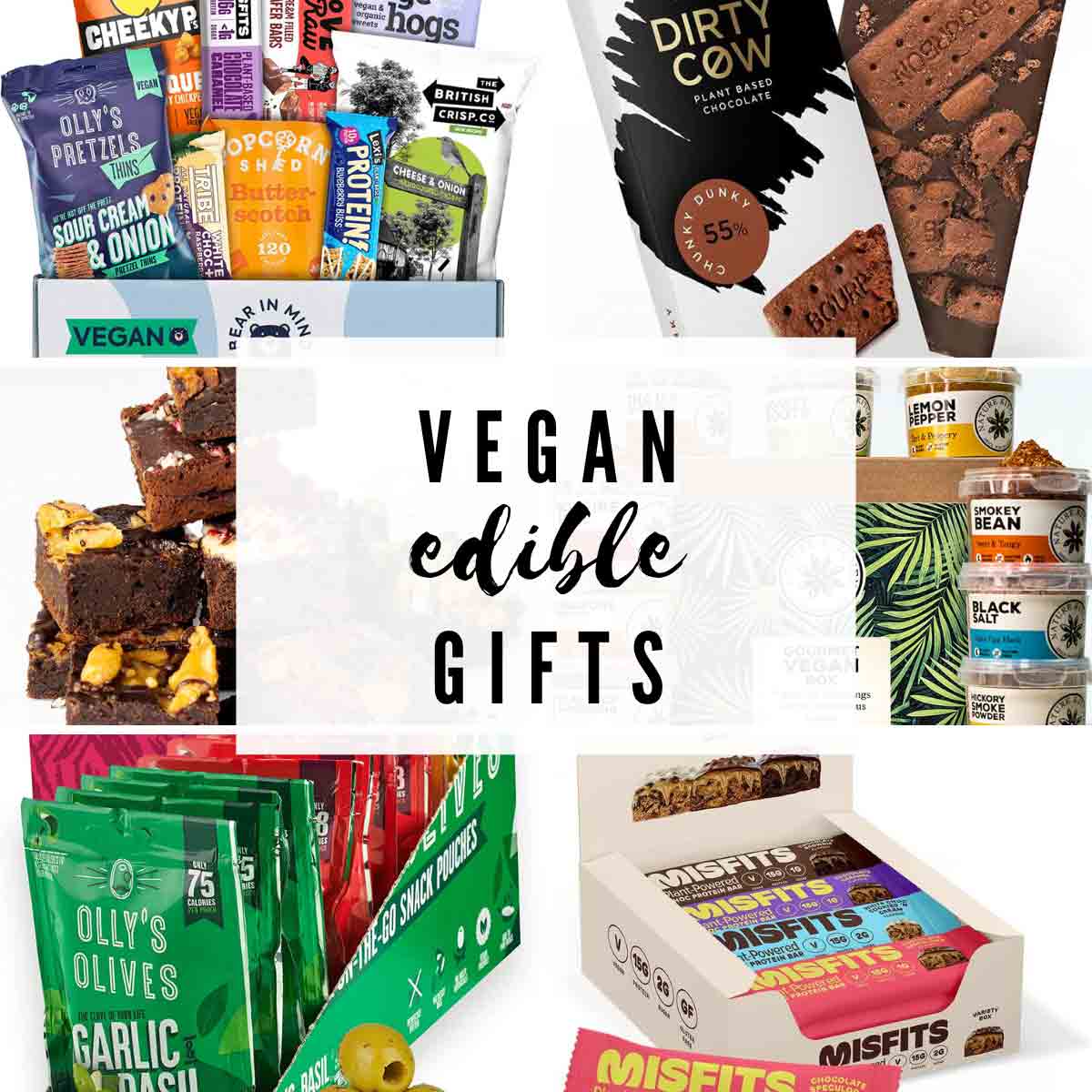 Valentine's Day is just around the corner and I've been thinking a lot about the best vegan food gifts to hand around to my loved ones.
I am a keen baker so it's a given that my partner, friends and family will usually receive some kind of homemade baked good. But what about if you're looking for something more polished and put together?
For those of you who prefer to buy your edible gifts, there are plenty of options! There's even some super cute vegan wrapping paper out there to wrap them too!
I have found 20 of the best UK vegan foods to gift in 2023. Some of them are well-known brands, while others are smaller businesses that I have purchased from and really enjoyed. Let's take a look…
Related post: Vegan Valentine's recipes
Best vegan food gifts to buy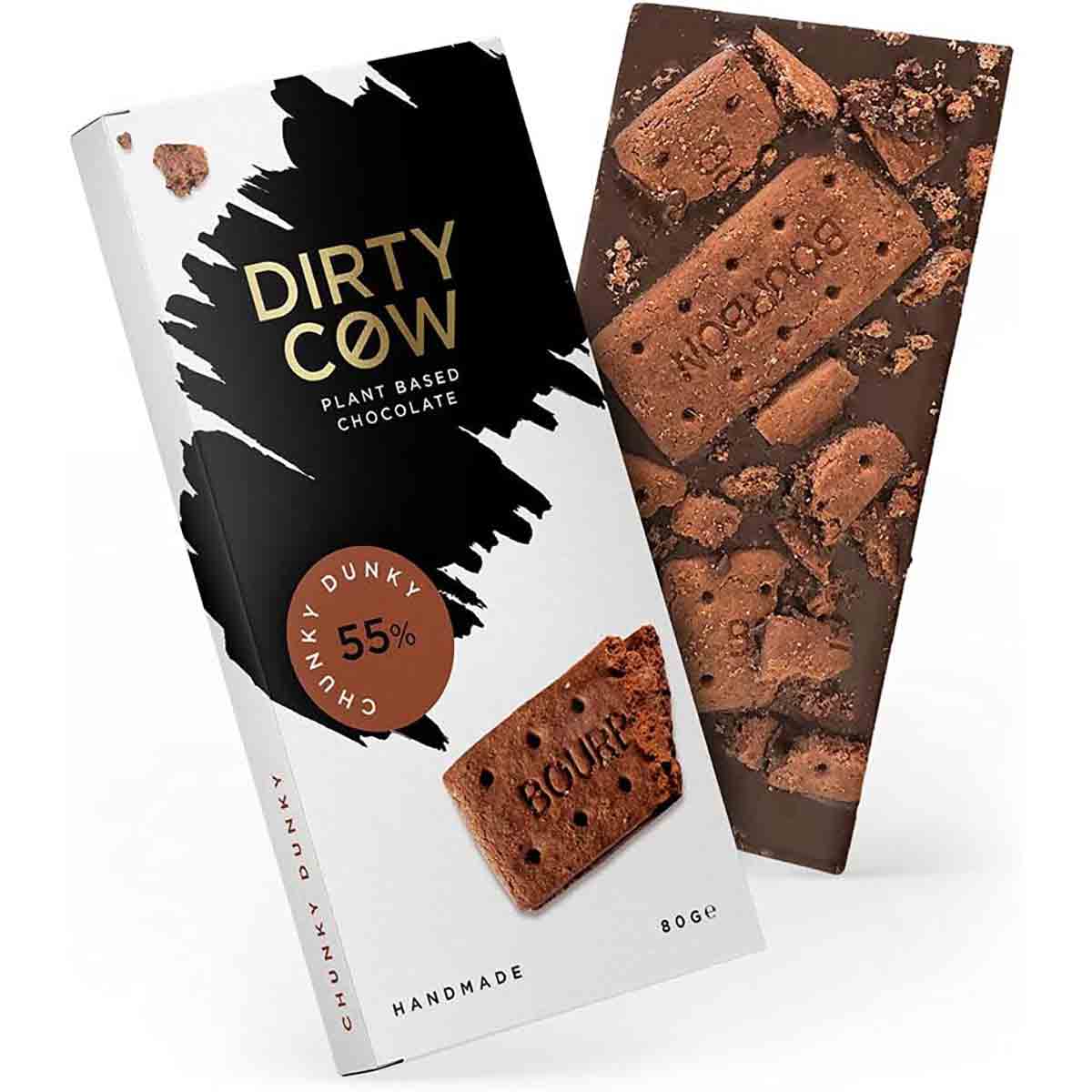 This is a great chocolate brand that I can personally vouch for. They have 13 flavours of chocolate bars to choose from, including one with bourbon biscuit, one with honeycomb and one with pretzels. They also sell vegan cream liqueurs!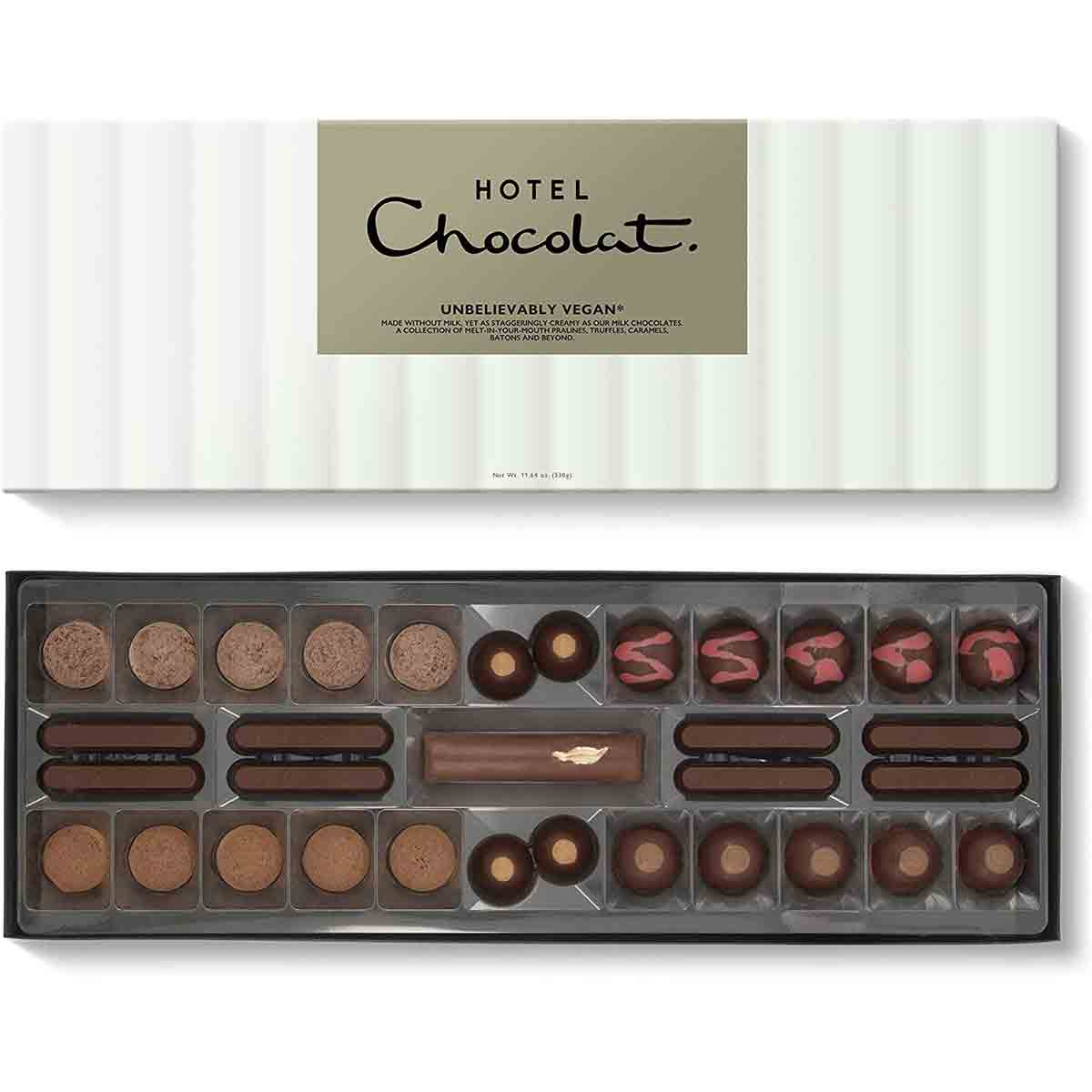 A classic selection of vegan chocolates from Hotel Chocolat. Their chocolate is AMAZING and makes the perfect vegan gift.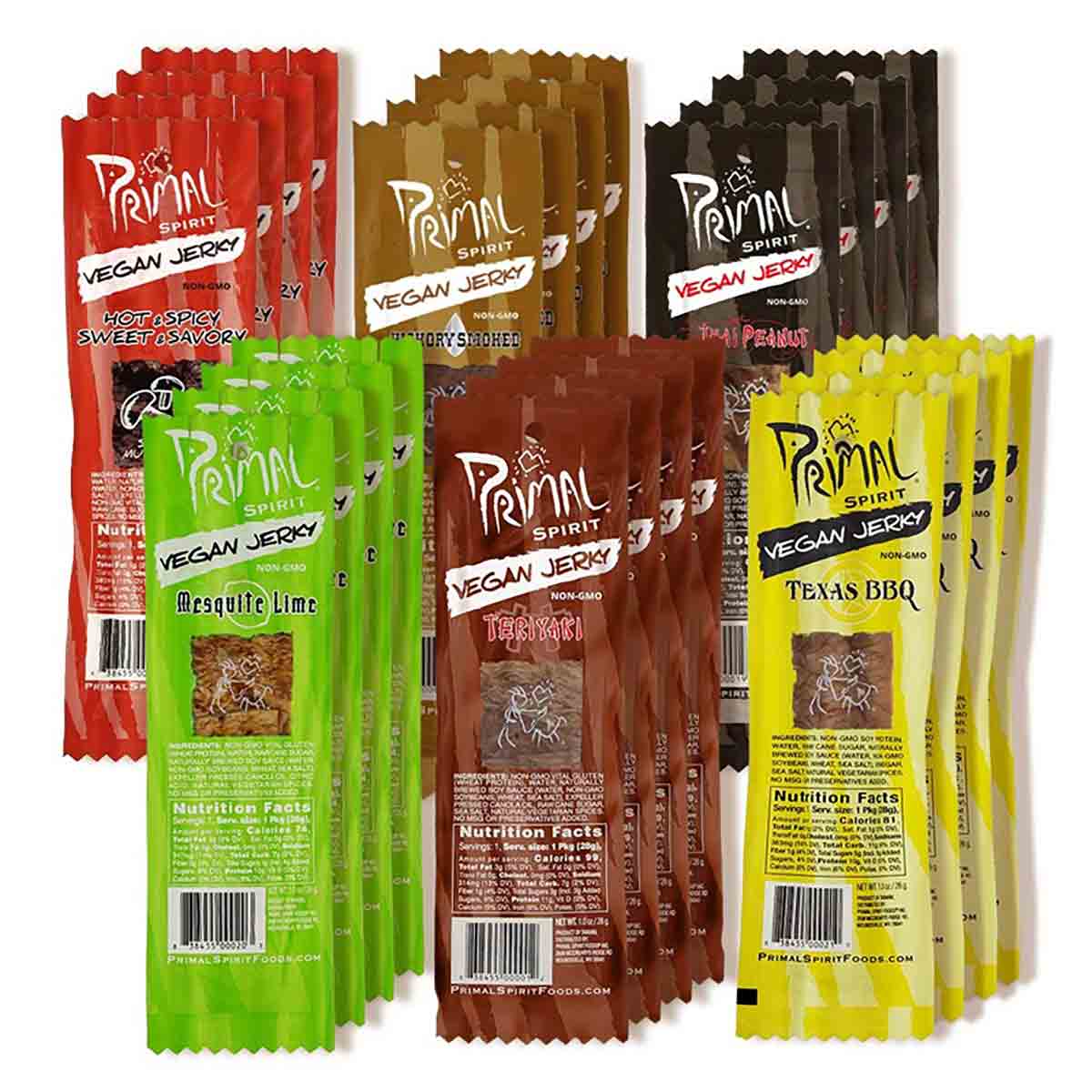 If you've been on the lookout for savoury food gifts, this jerky is just the thing! It comes in a variety of flavours including hot and spicy, lime and Texas BBQ.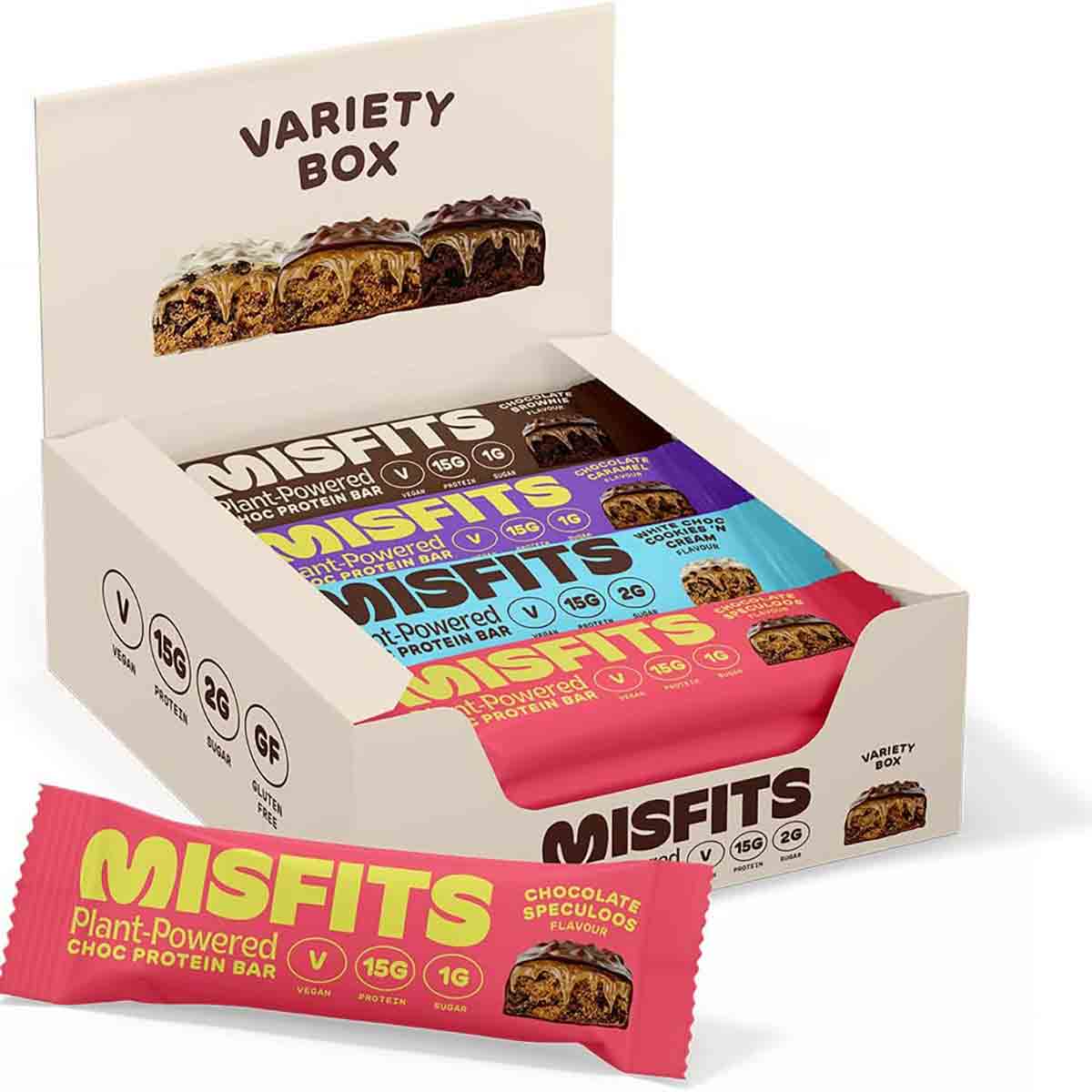 If your recipient is into health and fitness, gift them these delicious Misfit protein bars. They taste just as good as chocolate bars but have a little extra nutrition in there. You can choose just one flavour or try them all in the variety pack.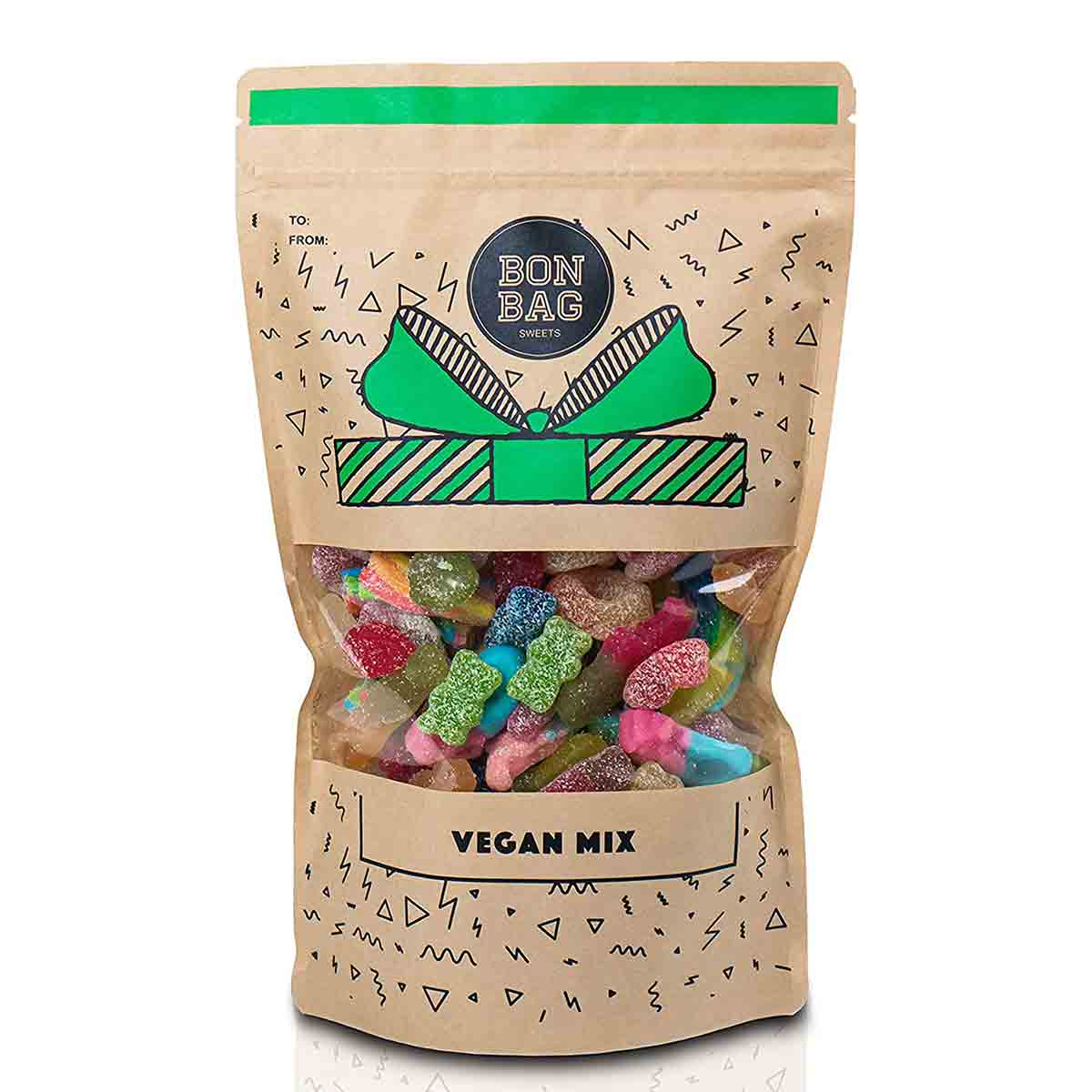 What says edible gift more than a 1kg bag of vegan pick n mix sweets?! These Bon Bag sweets include all of the old favourites such as fizzy cola bottles, watermelon slices and love hearts. Yum!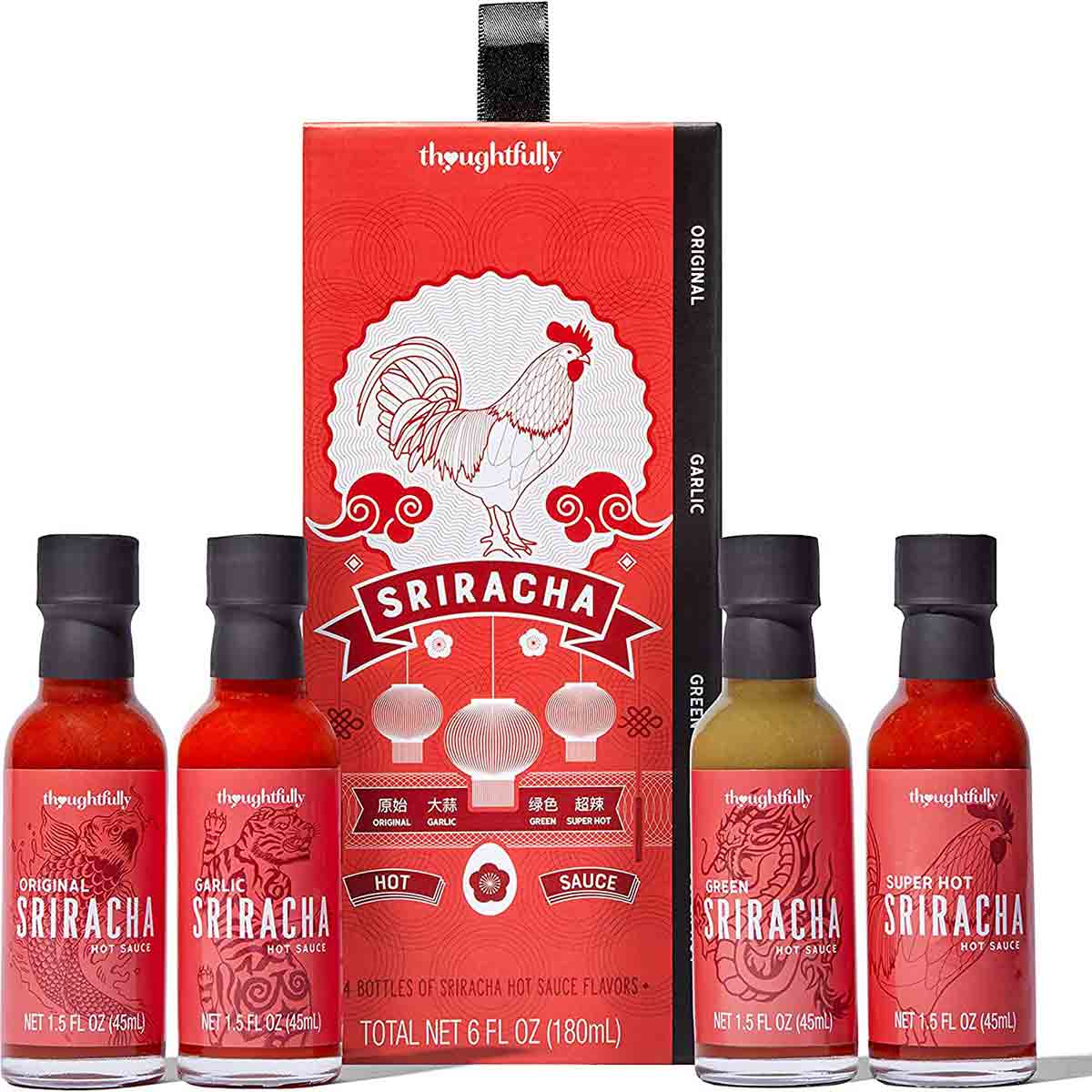 The perfect vegan edible gift for any spice lovers in your life. This set comes with 4 bottles of sriracha hot sauce- original, green, garlic and super hot.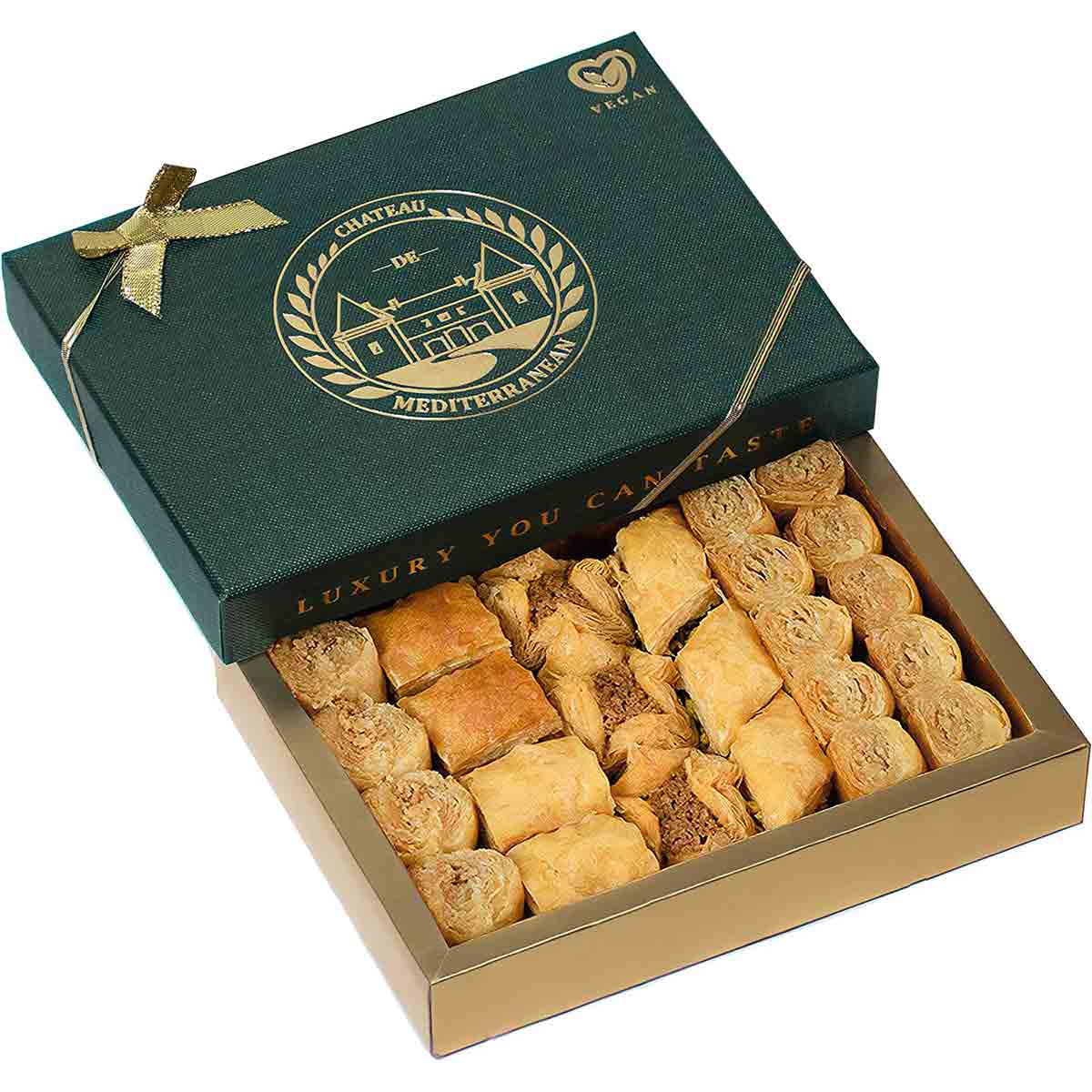 A luxury selection of baklava made without dairy or honey. Makes a great change to the traditional chocolate box.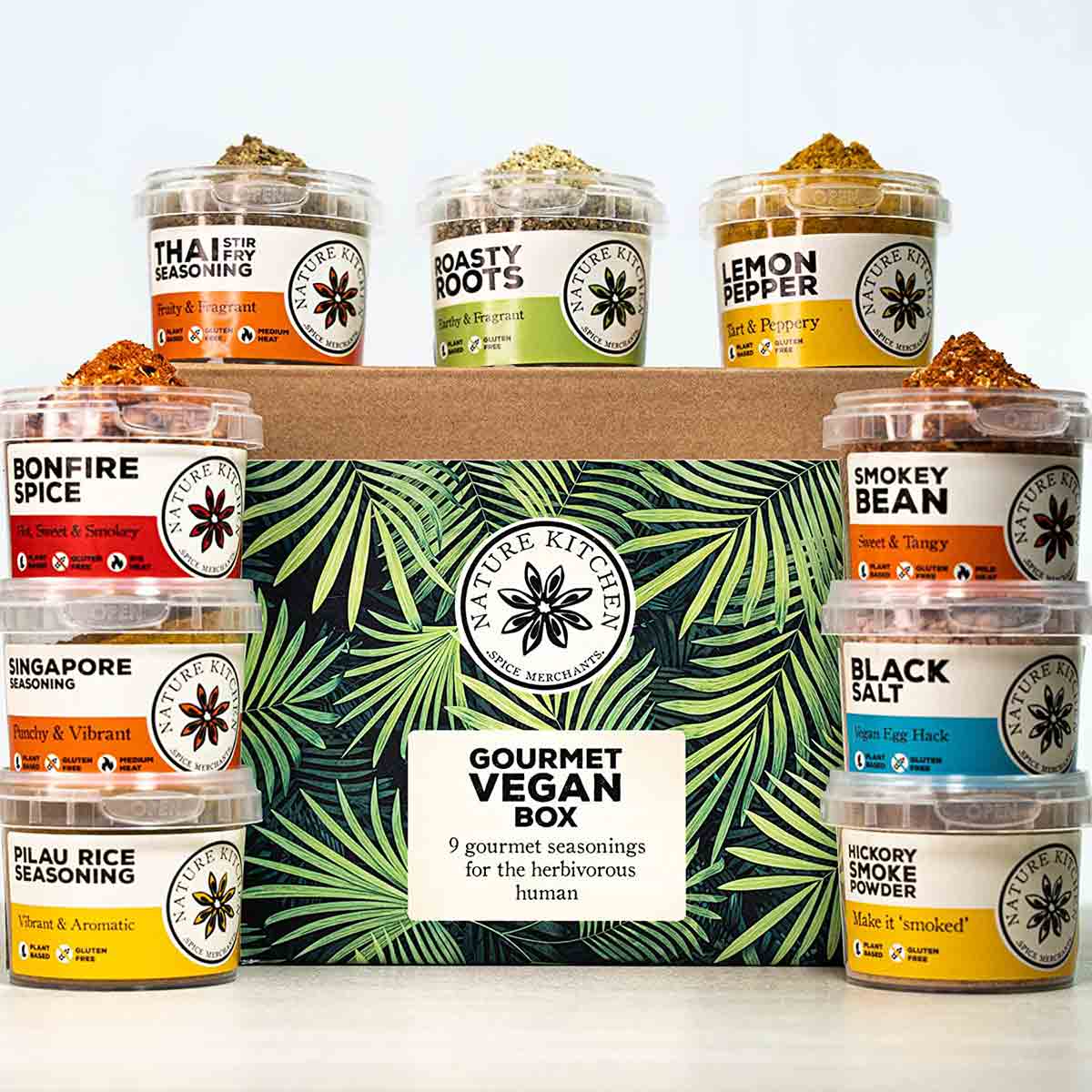 9 Vegan and gluten-free herbs and spice pots- the perfect gift idea for the cook in your life. Great for making stir fry, burgers, stews and more!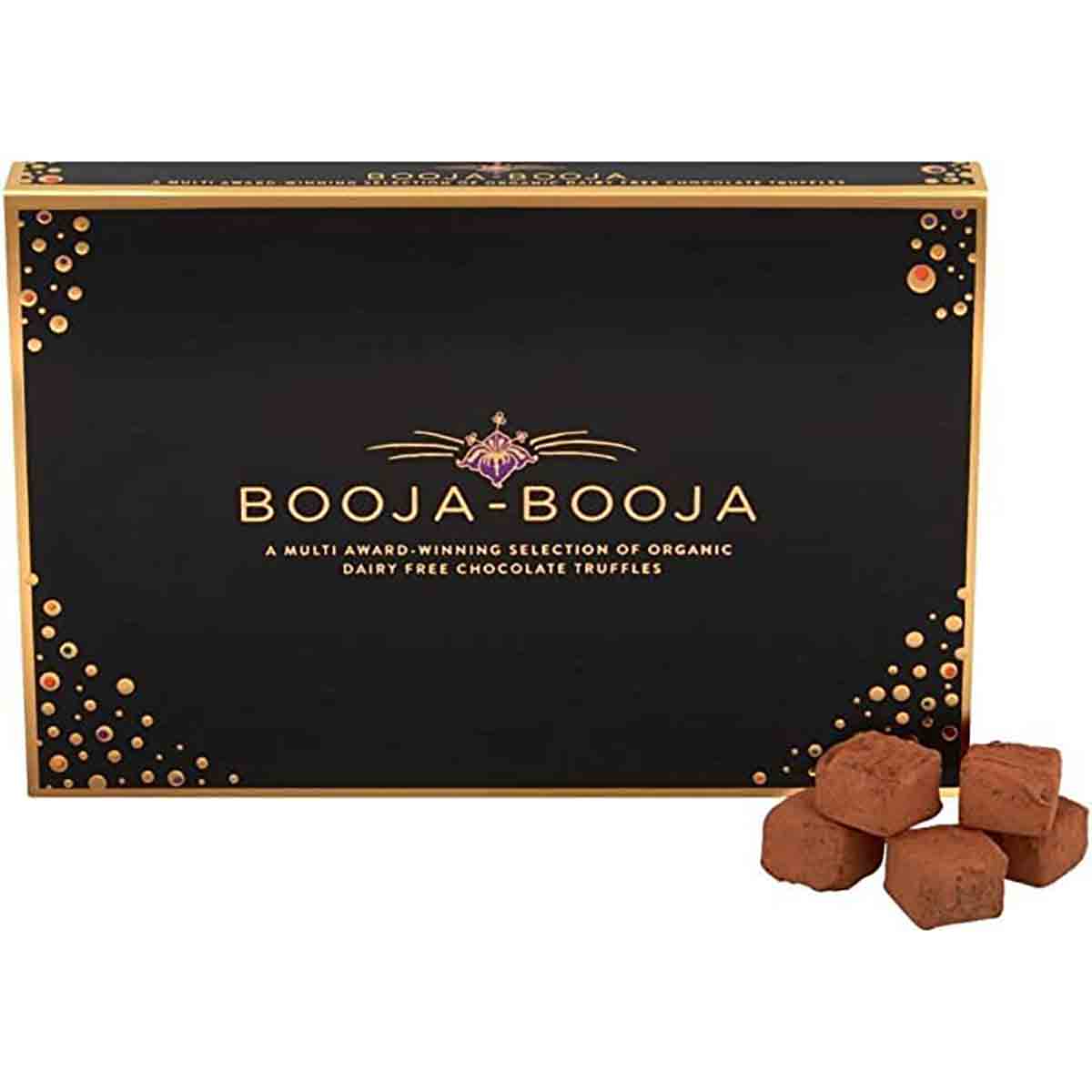 This award-winning truffles selection includes tasty flavours such as rhubarb and vanilla, hazelnut and almond salted caramel. They are my personal favourite vegan chocolates EVER. They look, taste and feel so luxurious, making them a great vegan edible gift to buy for your loved one.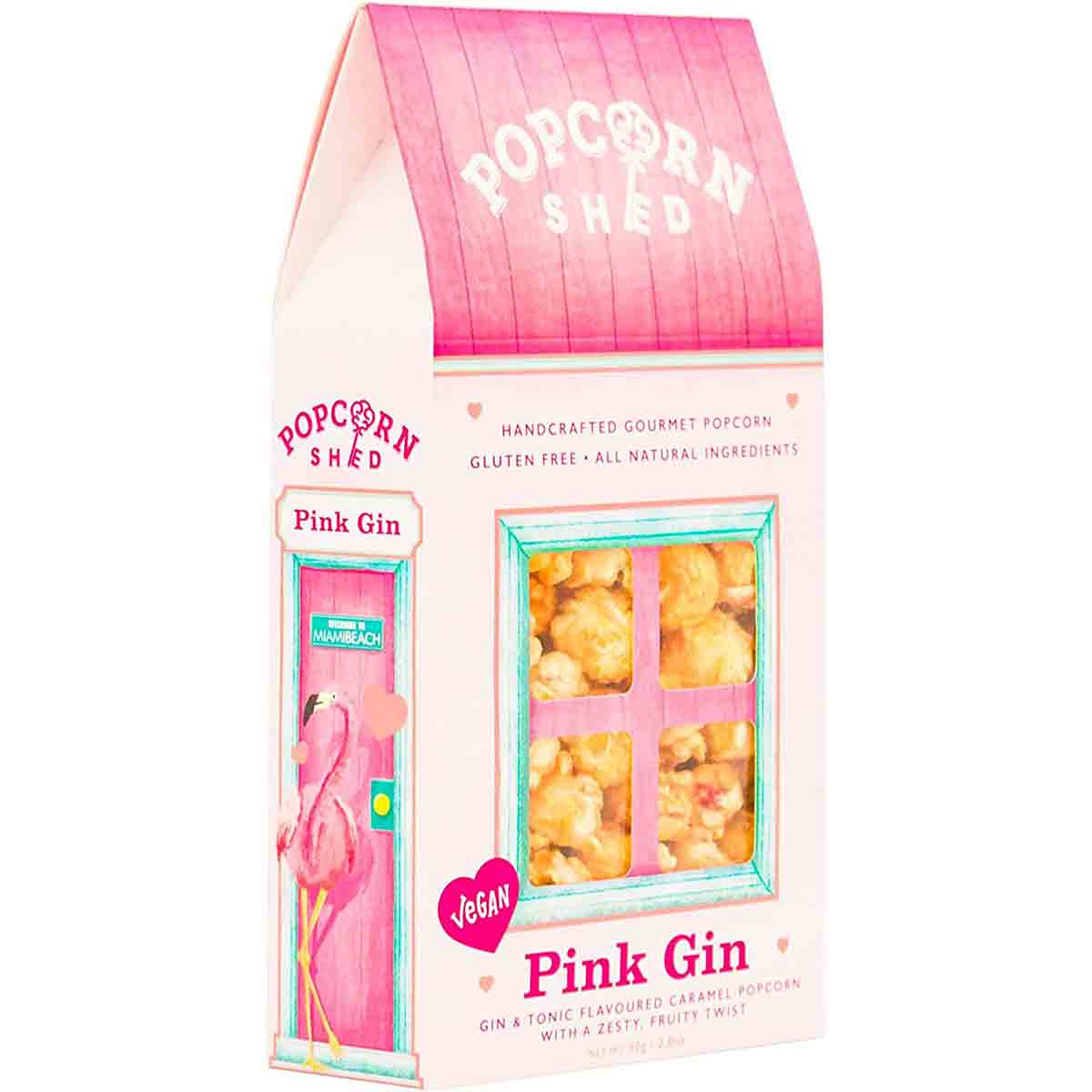 The Popcorn Shed make some lovely vegan popcorn many interesting flavours, with cute packaging to match. This one is perfect for the gin lover in your life!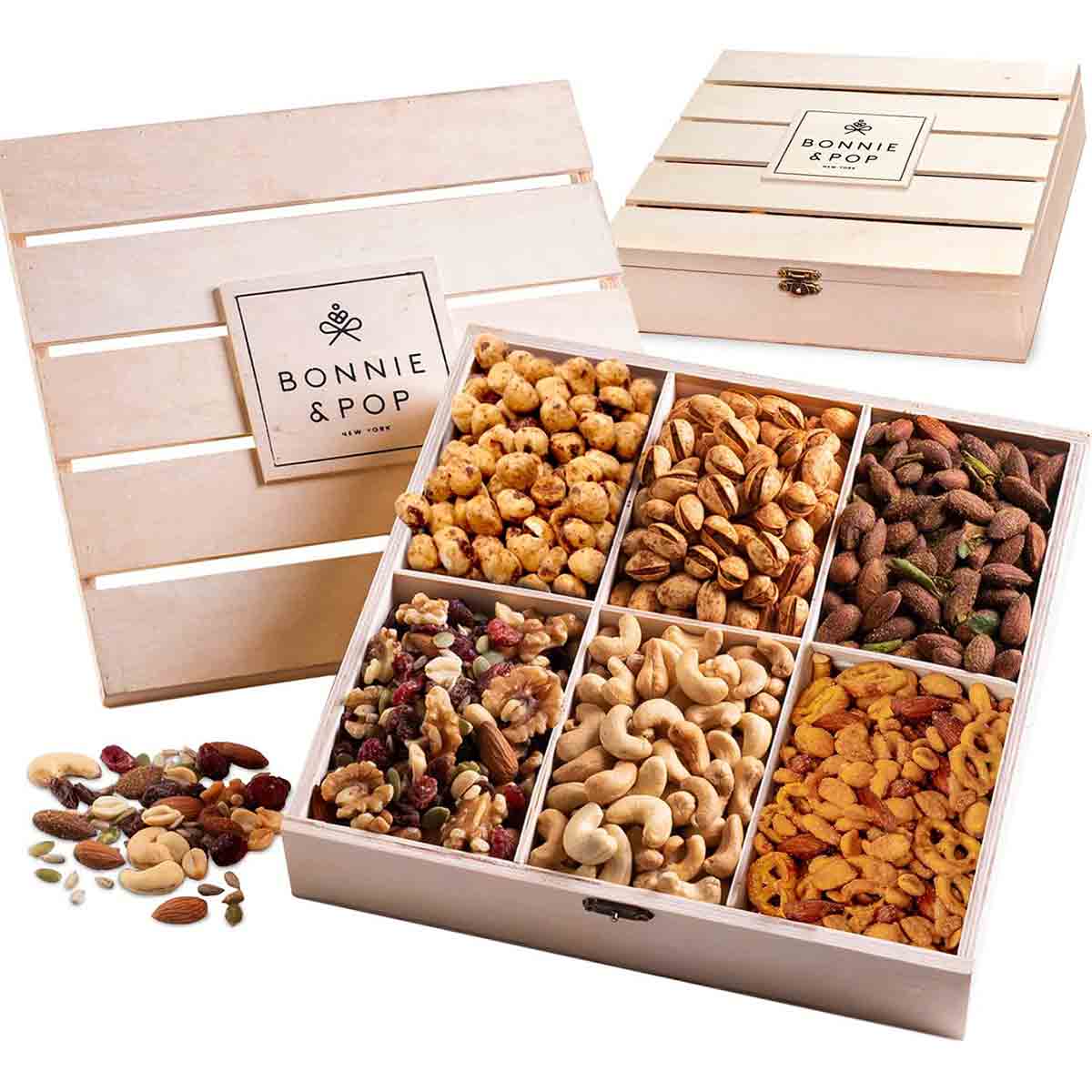 A variety of flavoured nuts, packaged together nicely in this little gift box! The best food gift for any savoury snack lover.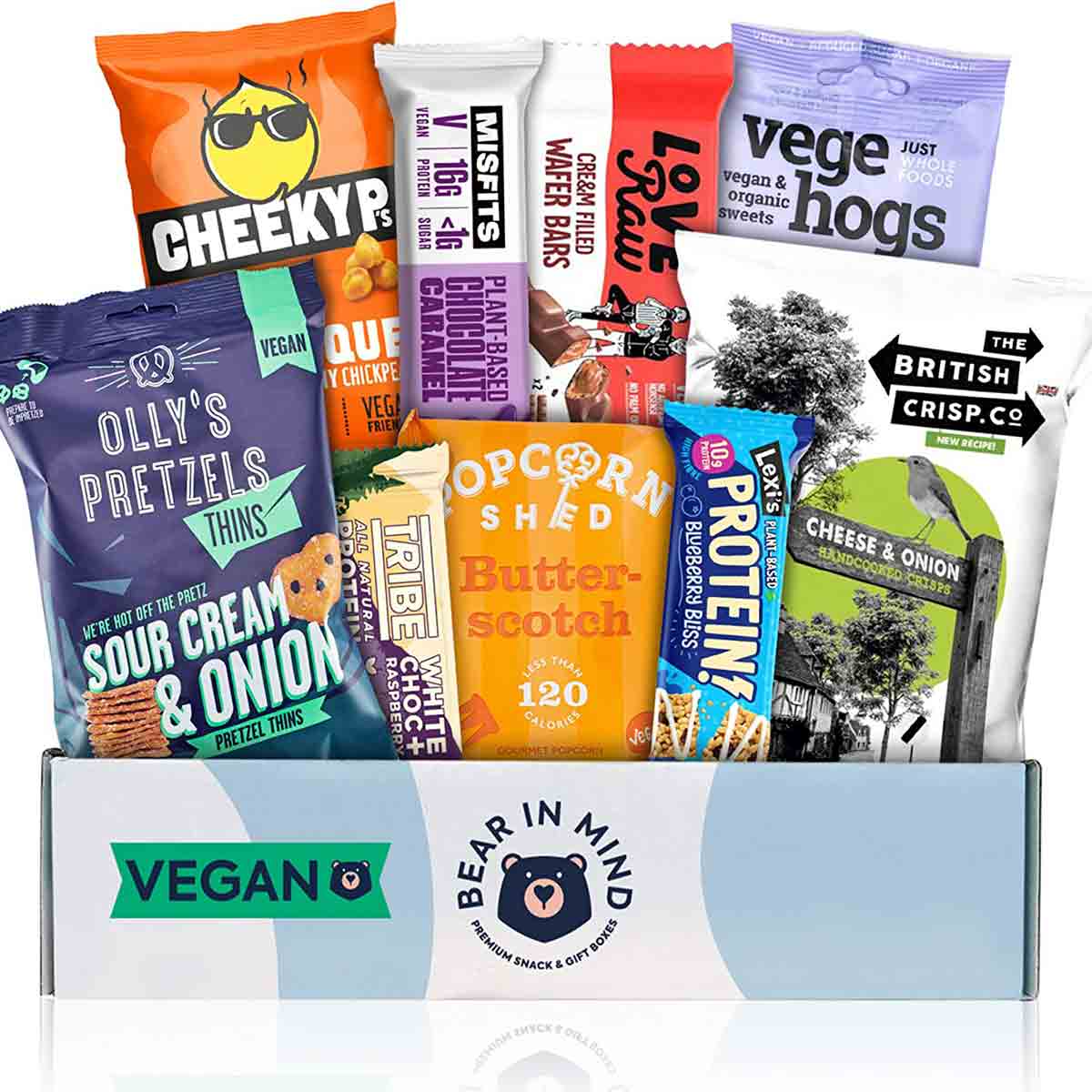 If you can't decide on sweet or savoury, get a little bit of everything with this hamper. It includes pretzel thins, popcorn, protein bars, crisps and more. Because it includes a wide range of products, this is one of the best vegan food gifts you can buy if you're trying to decide between a few things!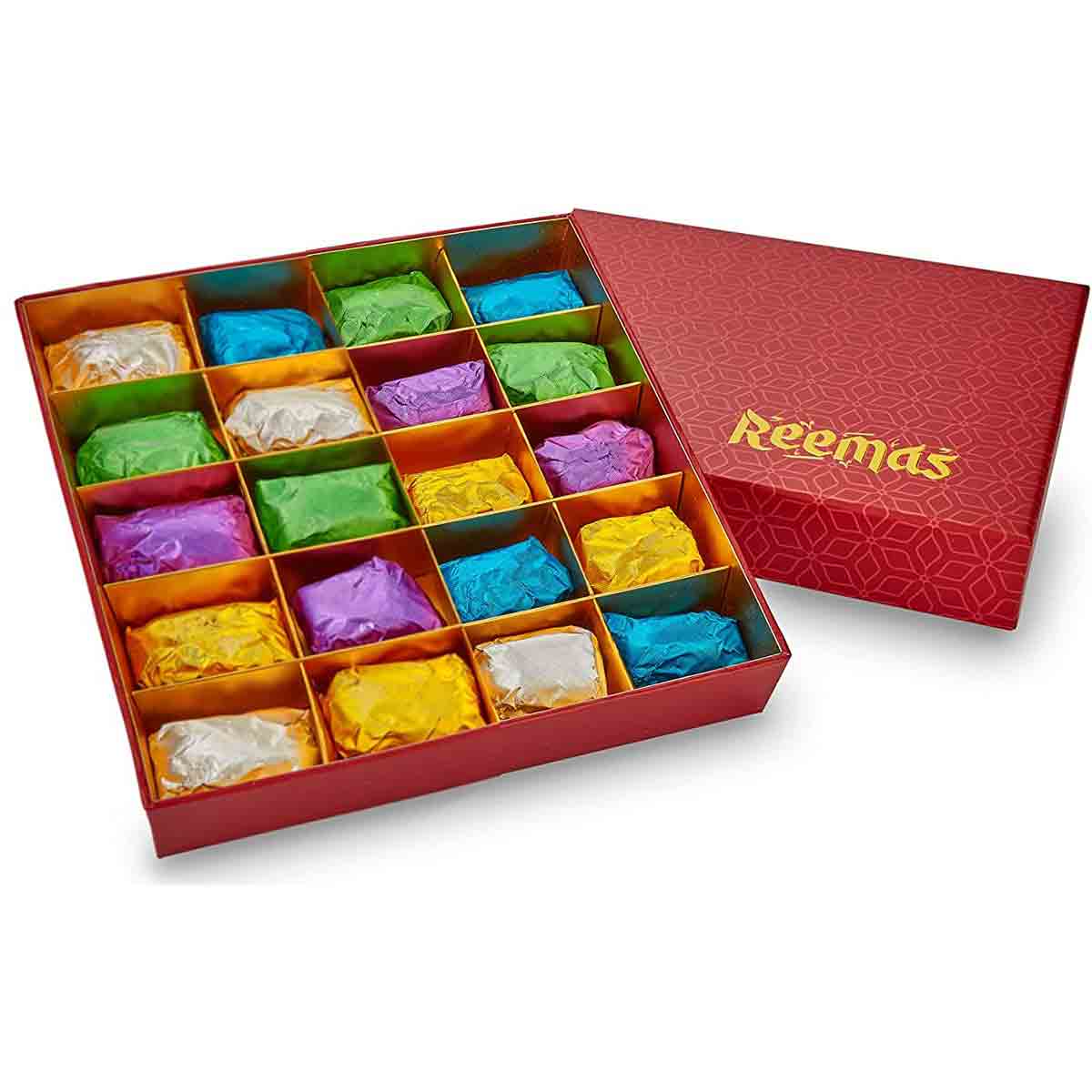 These nut-filled dates are a great healthy vegan food gift idea if you're looking for something a little more nutritious. They come in a cute box which is prefect for gifting.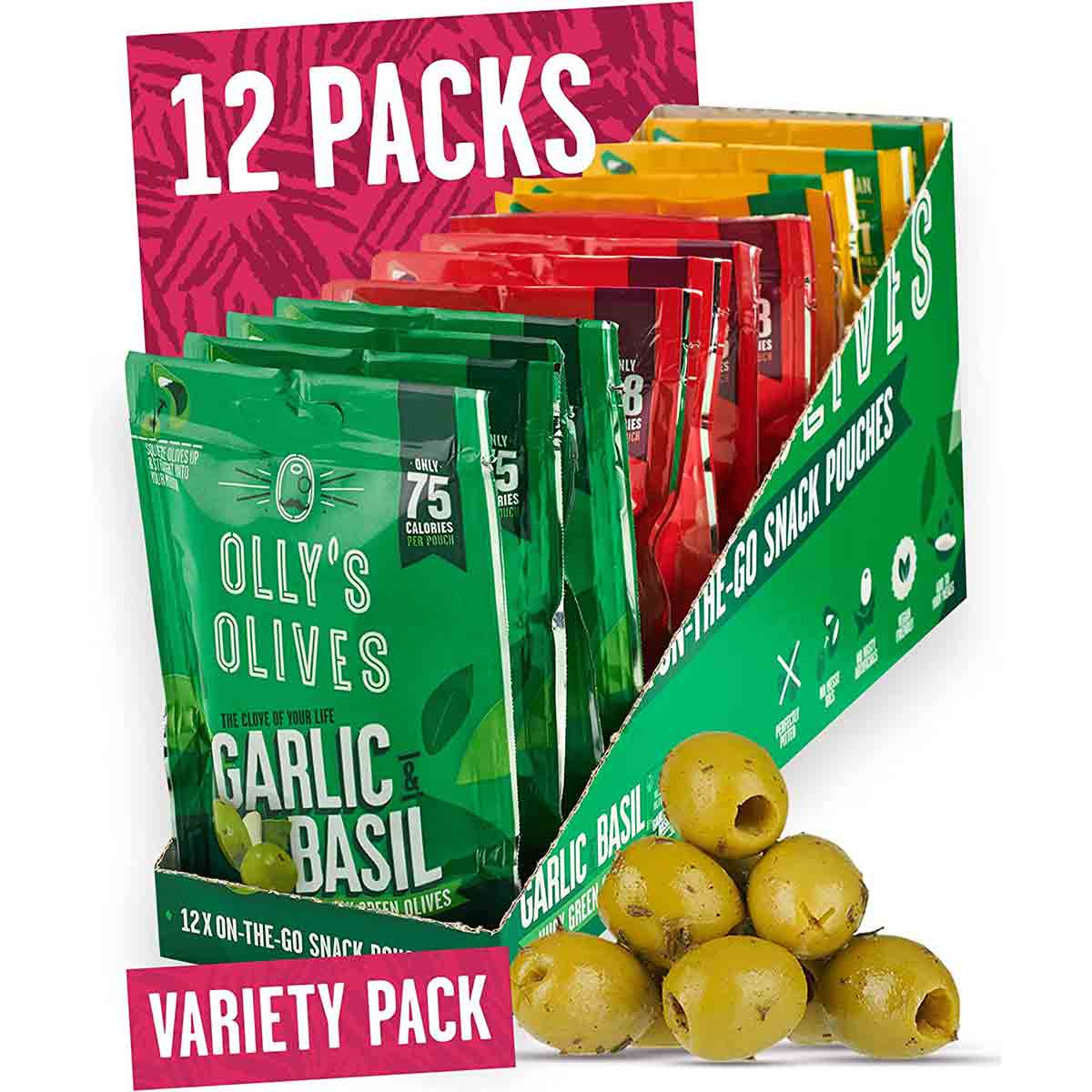 Another healthy vegan food gift, these olives come in three flavours- garlic and basil, lemon and thyme, and chilli and rosemary. If your recipient prefers salty foods to sweet, these olives would be perfect.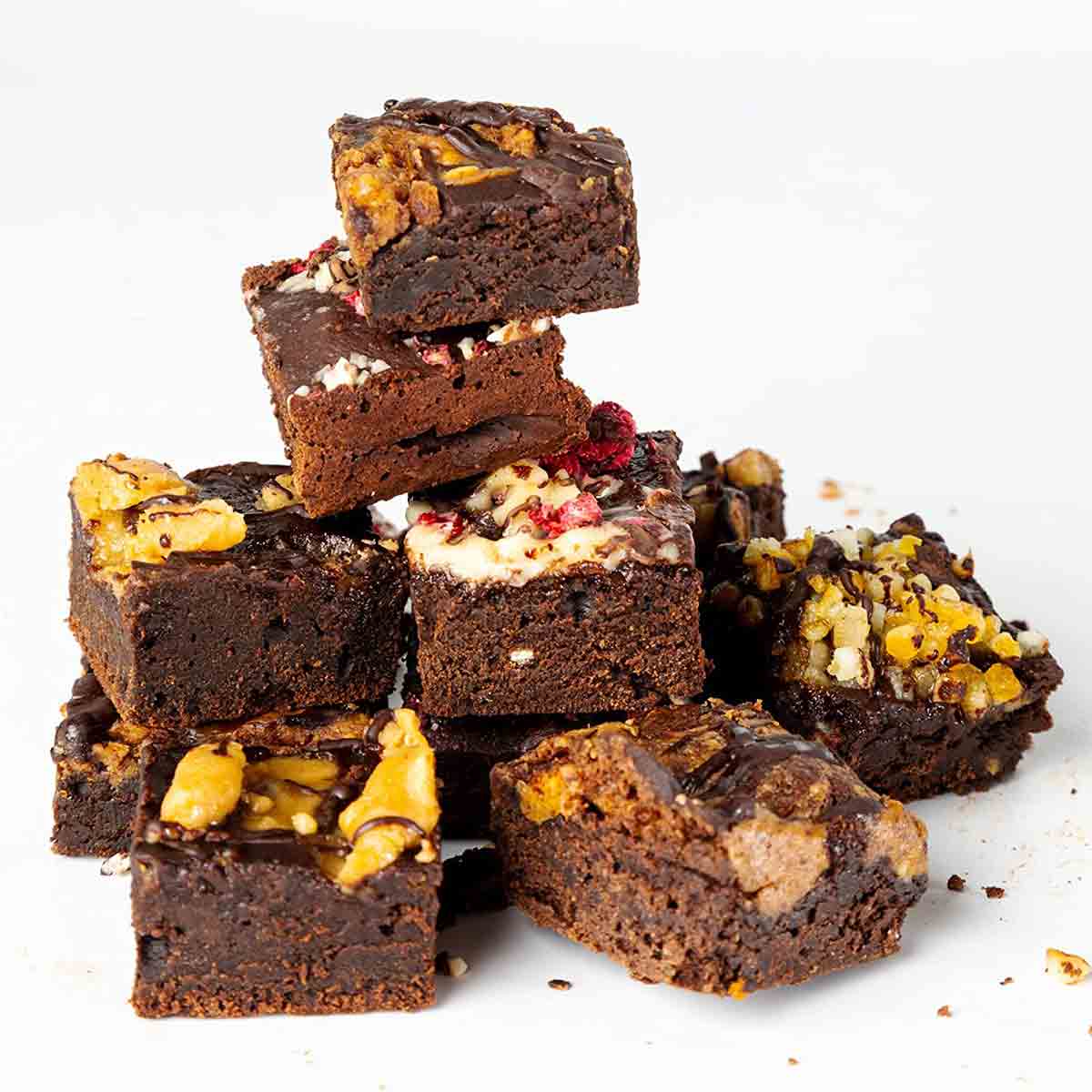 If you're not much of a baker, let The Sweet Reason Company do the work for you. Homemade vegan brownies delivered straight to your door! The flavours included in this gift box are salted caramel, chocolate orange, white chocolate raspberry and peanut butter.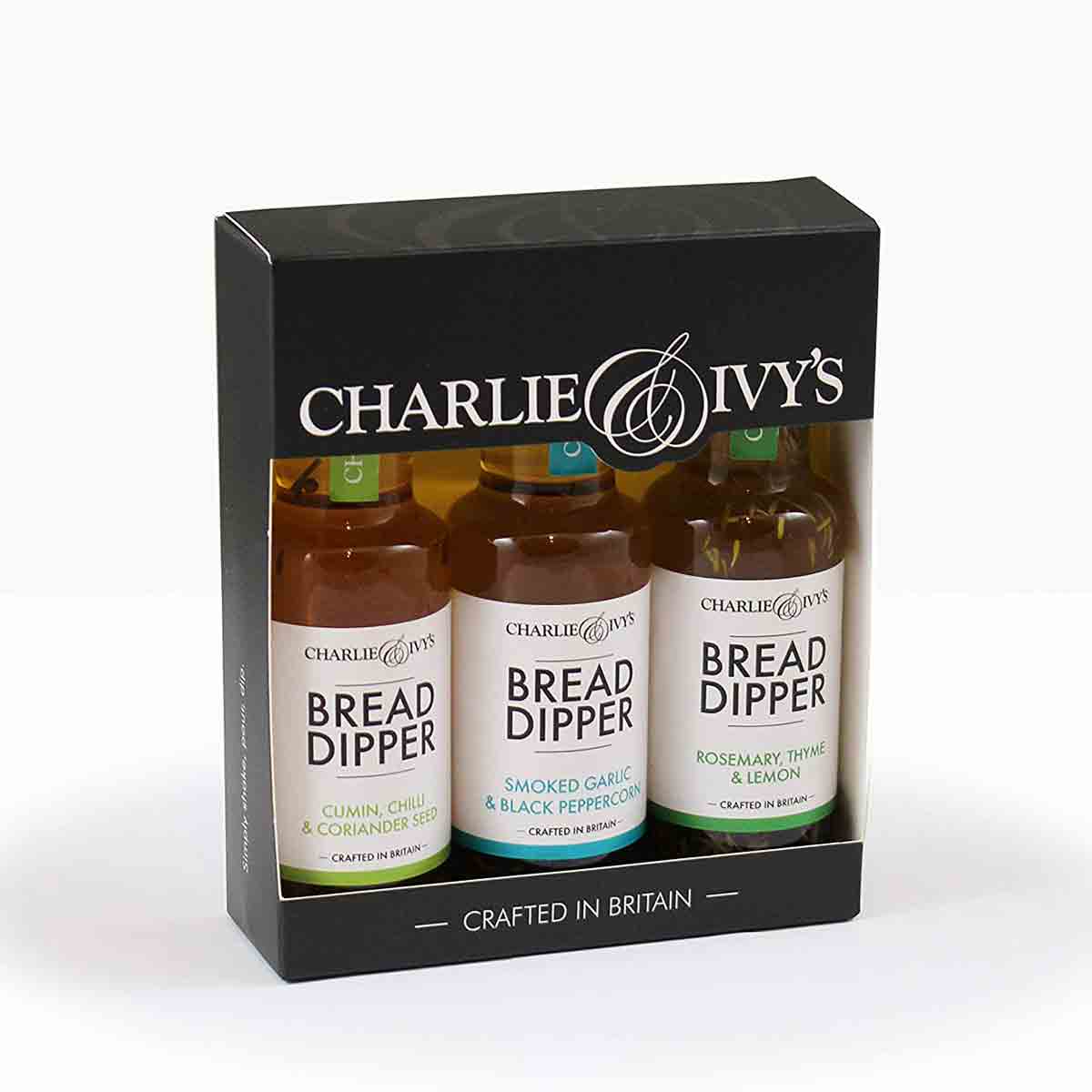 Who doesn't love the classic bread and dipping oil combo? This set contains three flavours of oil- cumin, chilli and coriander seed, smoked garlic and black peppercorn, and rosemary, thyme and lemon.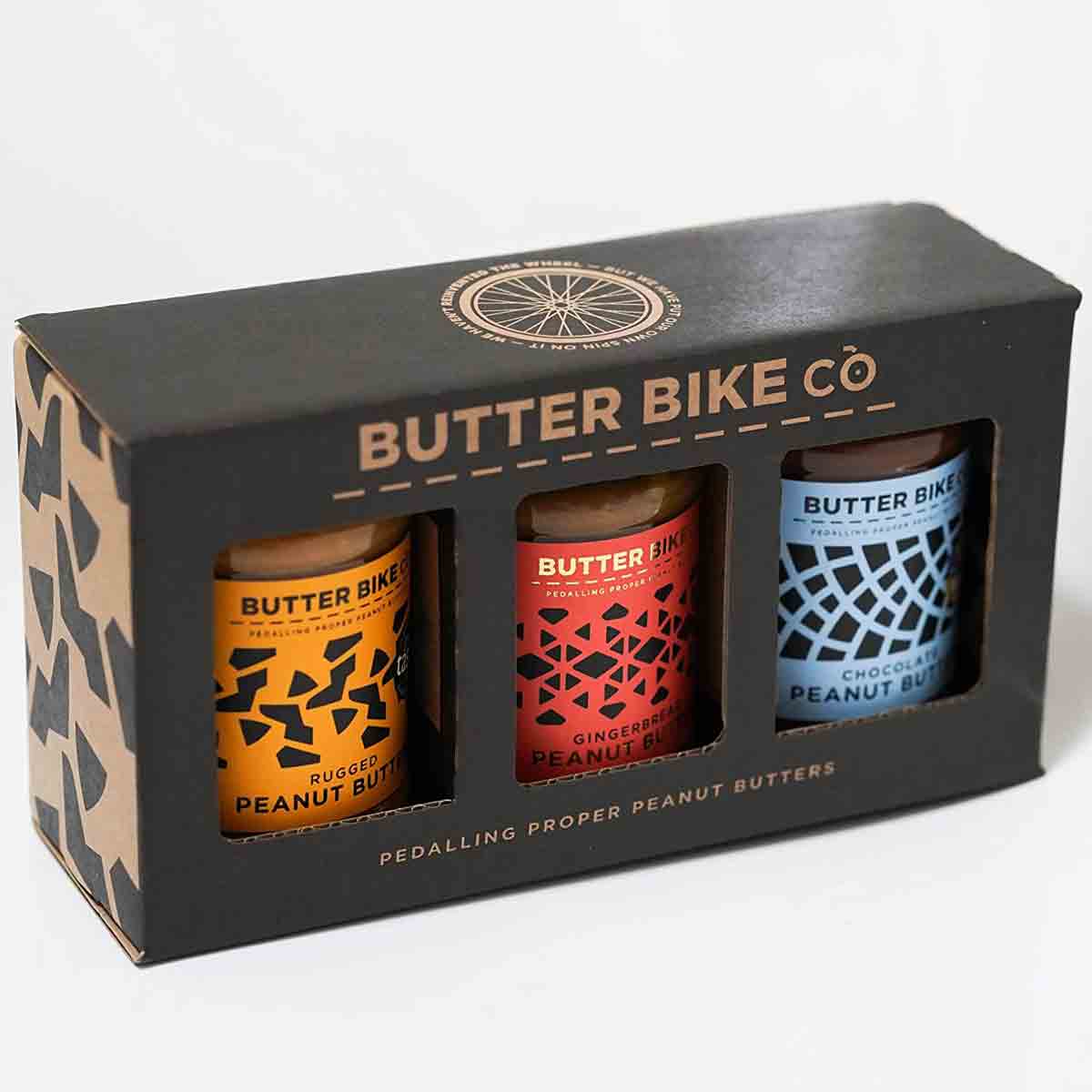 A 3-pack of vegan-friendly craft peanut butter. Comes in rugged (crunchy), chocolate and gingerbread flavours.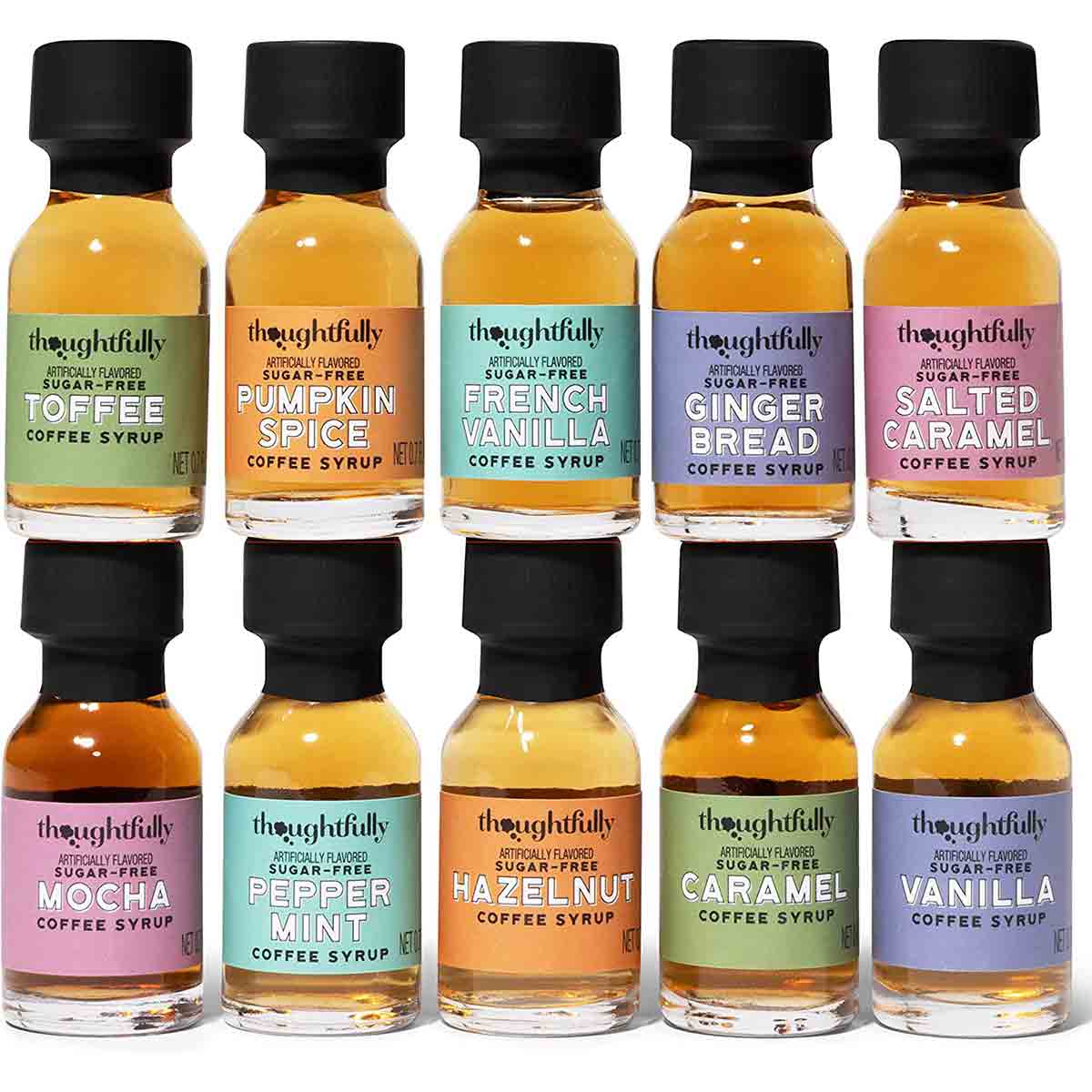 The perfect food gift for any coffee lover in your life. This pack contains 10 mini bottles, including the flavours mocha, French vanilla and toffee.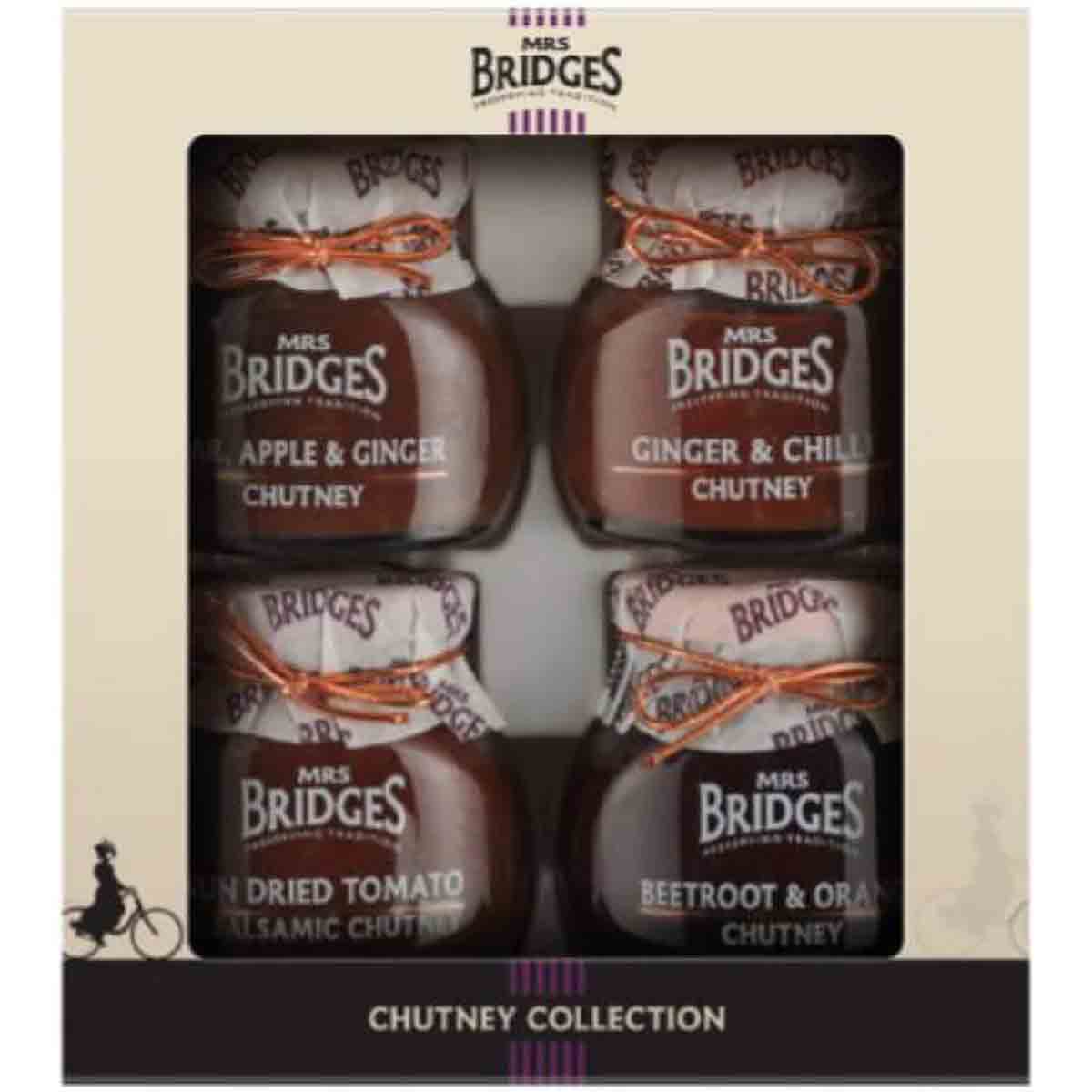 A selection of 4 vegan-friendly chutney pots in super cute packaging. Perfect for serving with crackers and some vegan cheese!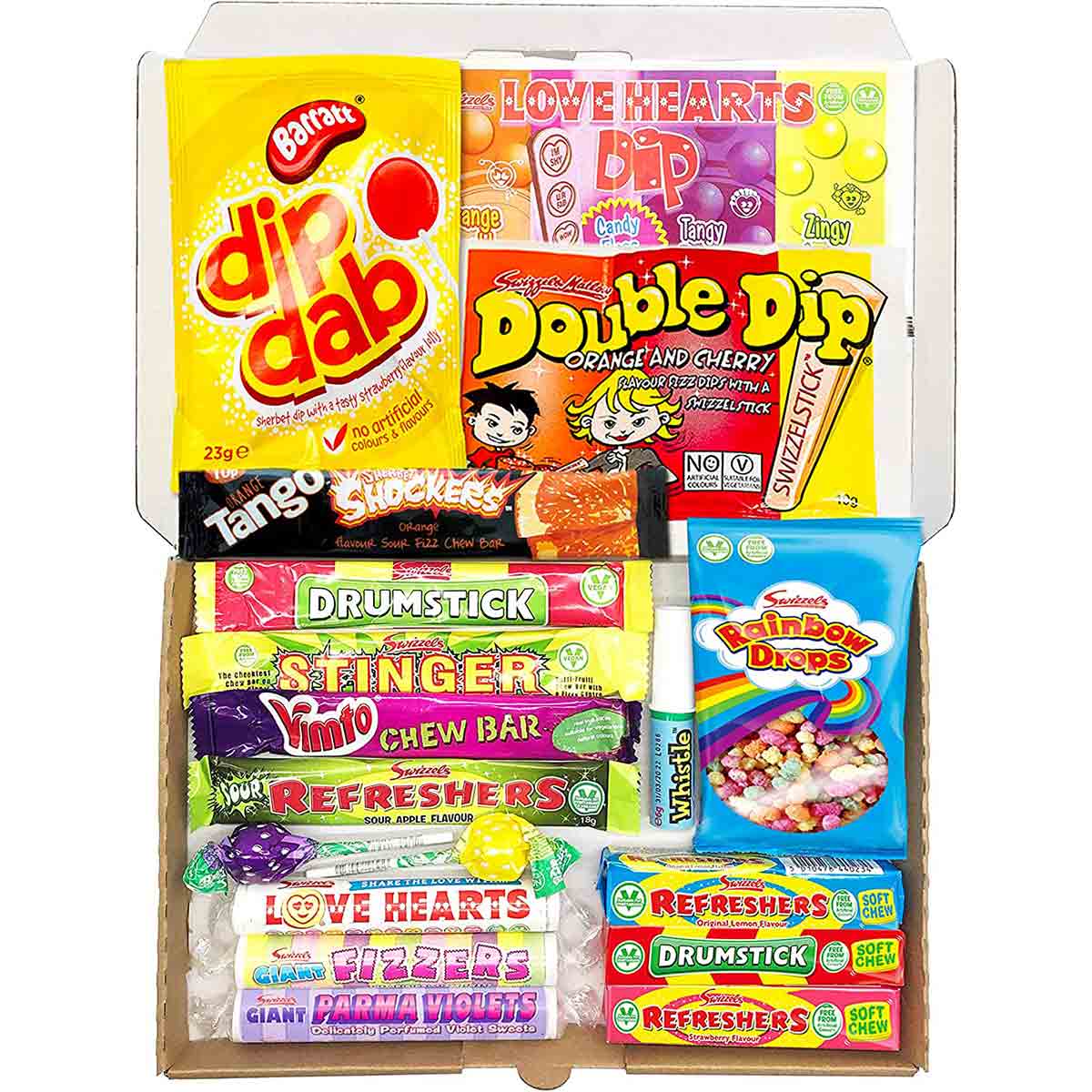 All of the retro classics in one box- Love Hearts, Parma Violets, Dip Dab, Refreshers and more! It can be posted through the letterbox too which is always a bonus!
---
I hope you like this list of vegan food gifts for 2023! Check out my edible gift recipes post if you prefer to make something from scratch. Enjoy!
BakedByClo is a participant in the Amazon Services LLC Associates Program, an affiliate advertising program designed to provide a means for sites to earn advertising fees by advertising and linking to Amazon.com. This site may contain some of these links to Amazon.com & other affiliate programs. If you make a purchase through one of those links, BakedByClo will receive a small commission from the purchase at no additional cost to you.