25 Vegan Desserts With Oats
If you love vegan desserts with oats, this is the post for you! There are plenty of options to choose from, with everything from flapjacks and cookies to bars and energy bites.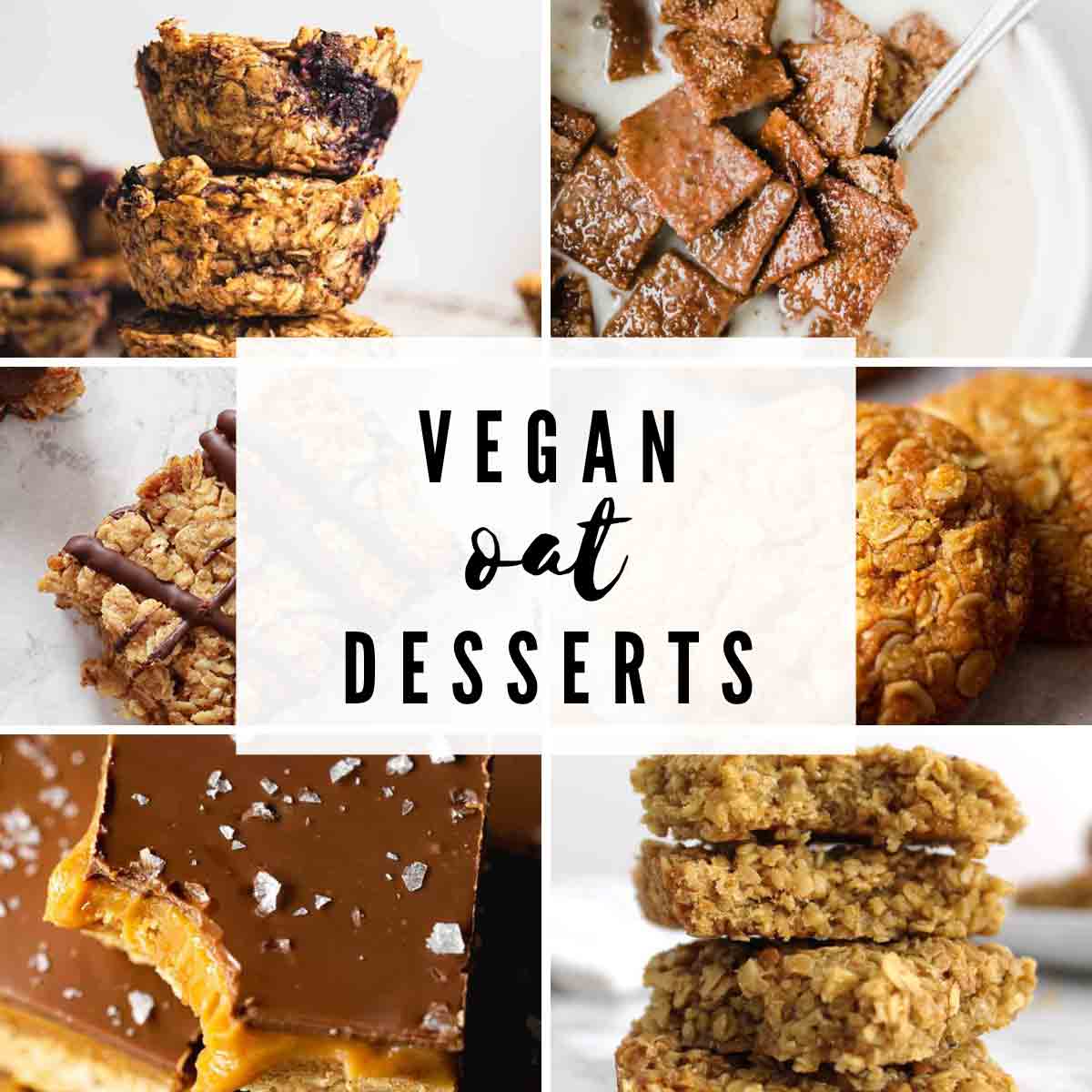 It's another round-up post and this time it's for vegan oats desserts. Ever since I made my first flapjack recipe, I have been hooked on the rough, crumbly texture that baking with oats provides. They also make a delicious, healthy breakfast and can be used in so many different ways.
I've teamed up with some other bloggers to bring you this list of 25 vegan desserts made with oats. I hope you like the post, and don't forget to go show the other blogs some love. Enjoy!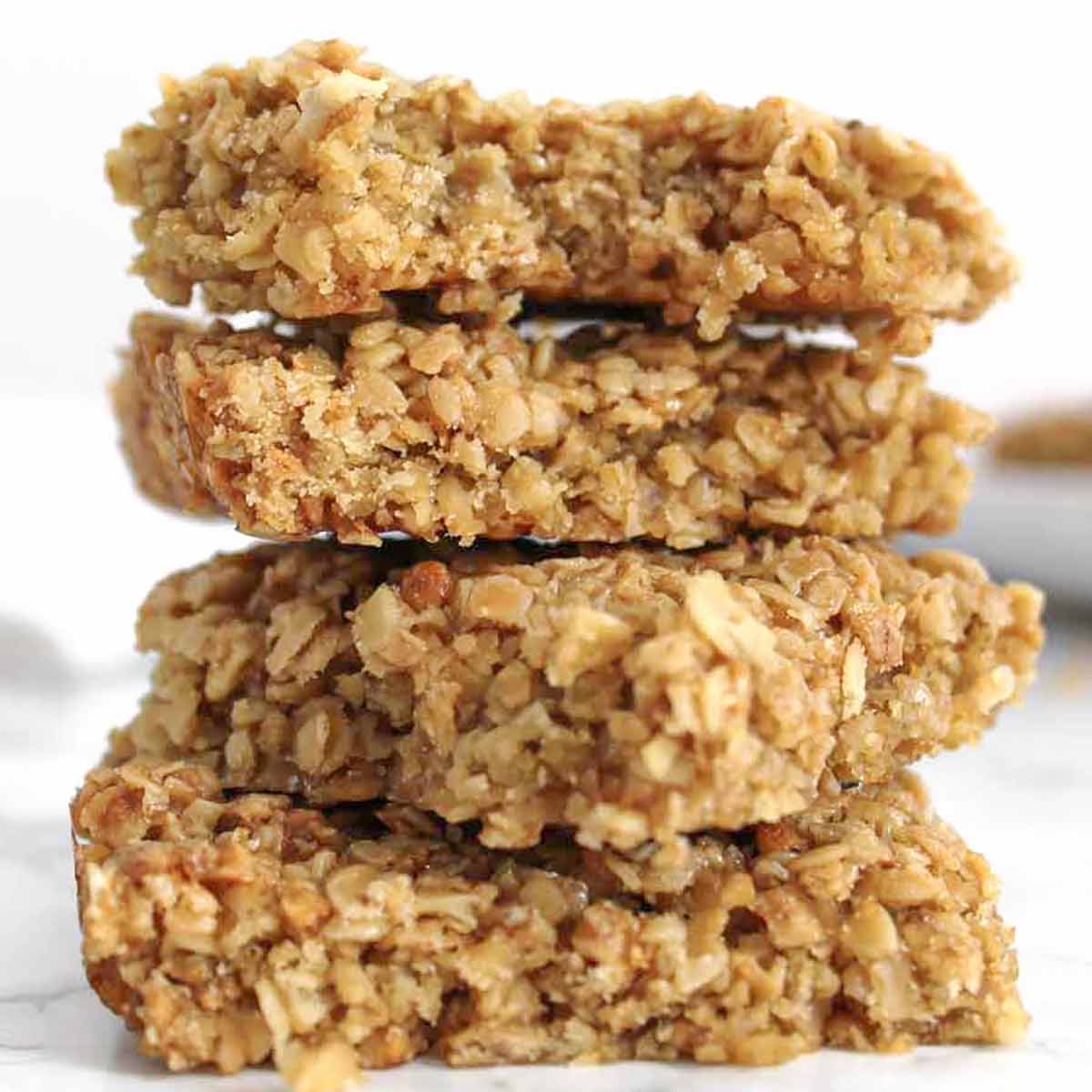 Soft, chewy British flapjacks made with oats, brown sugar, golden syrup and dairy-free margarine. Just whip these 4 simple ingredients together for a delicious dessert or snack.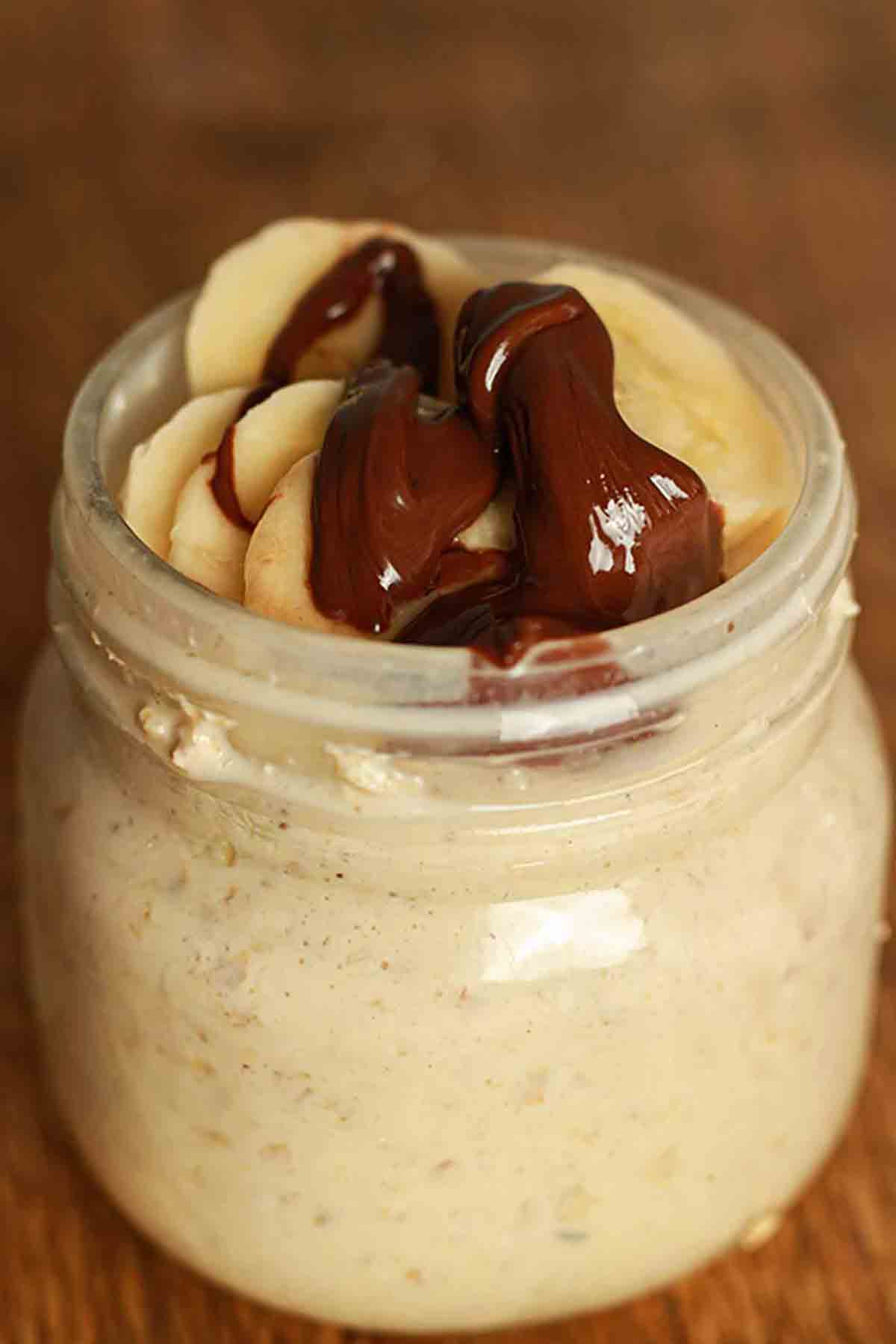 Overnight oats are not just for breakfast! If you're looking for healthier treats, these are just the thing. Top them with anything you like for a sweet, nutritious snack.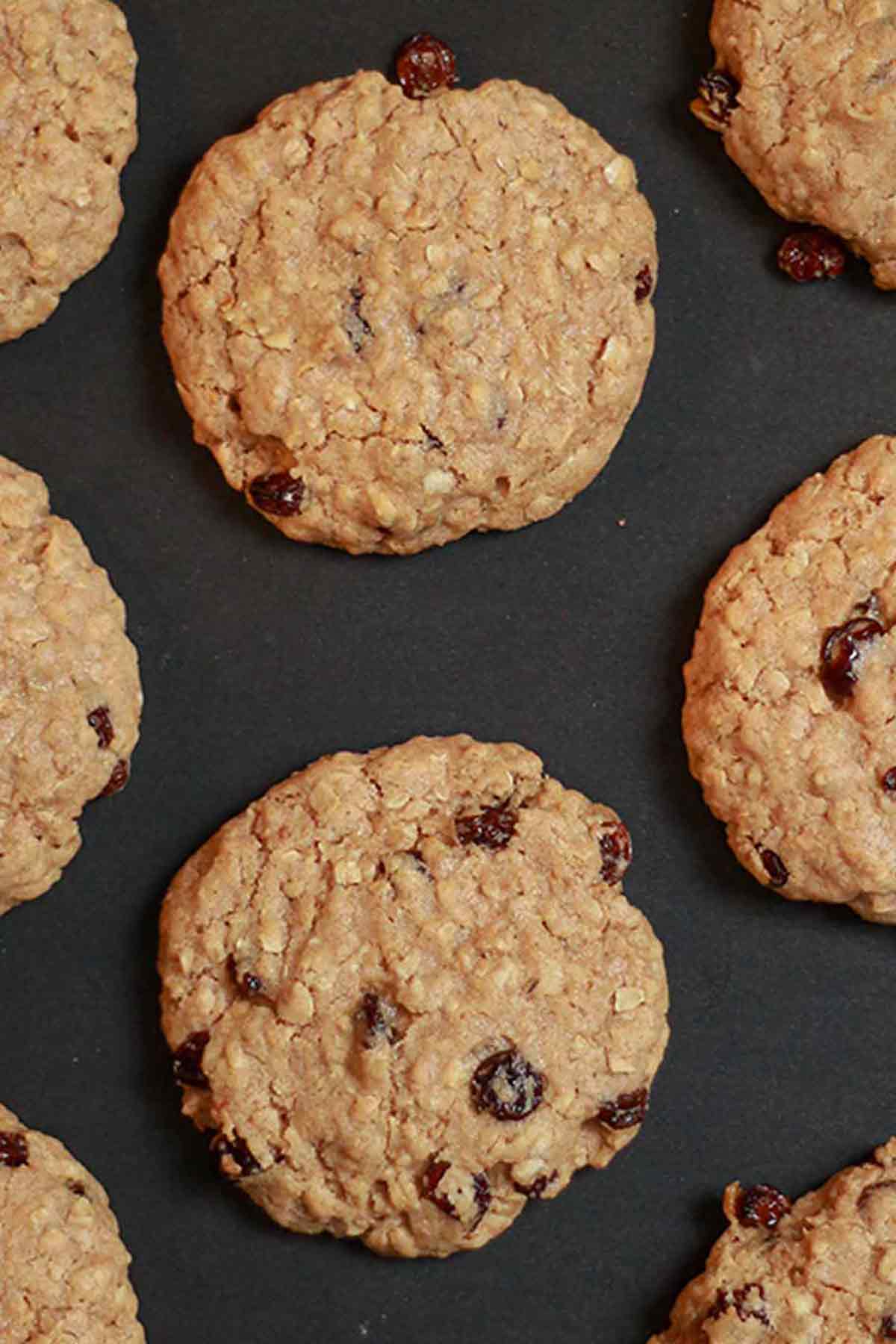 These cookies are one of my favourite desserts with oats. They are similar to the Subway style cookies because I veganised their recipe! Sweetly spiced with cinnamon and packed with juicy raisins, these will hit the spot every time.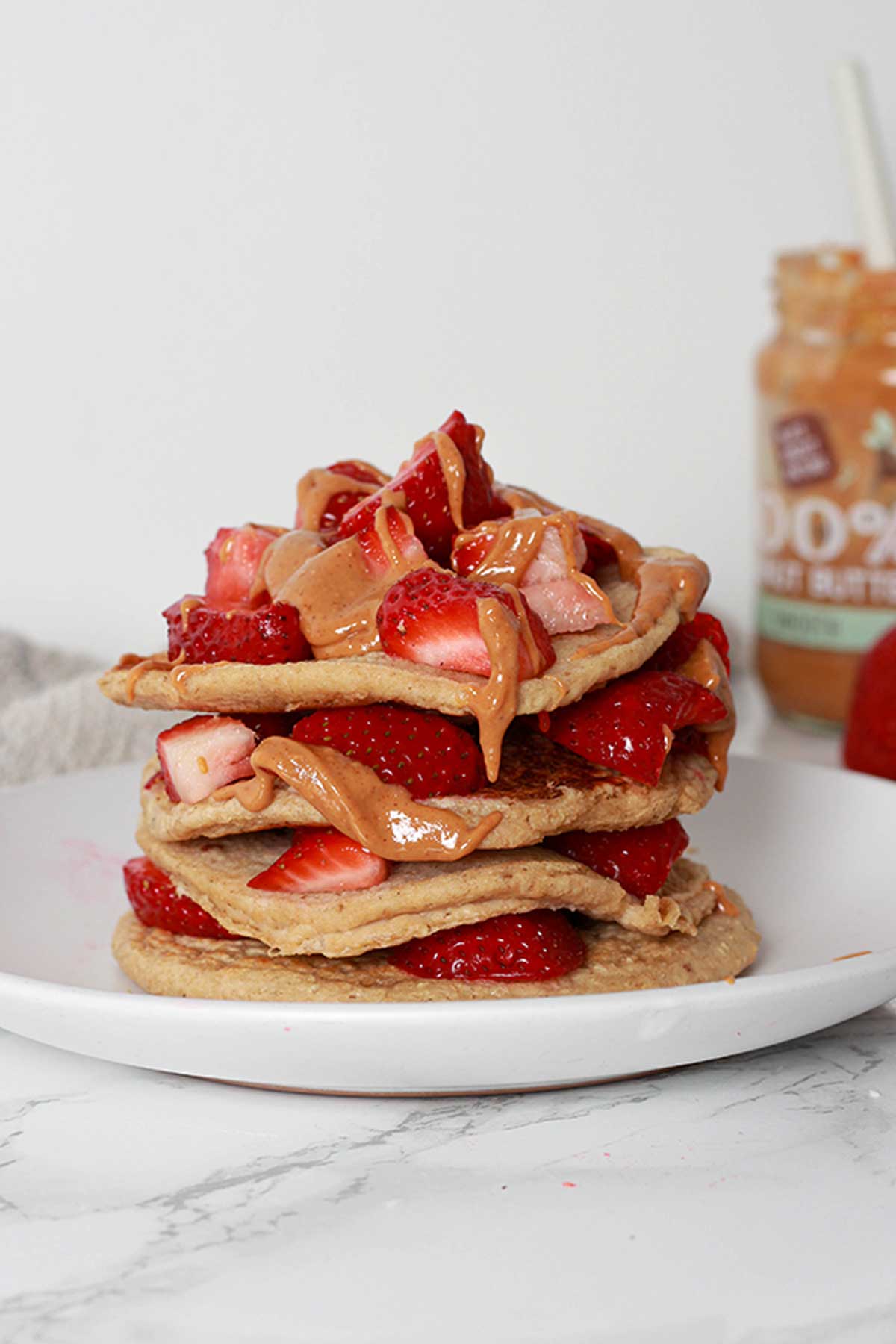 Healthier pancakes made with oat flour for some extra fibre. Packed with protein and complex carbs, these make a satiating dessert that will be enjoyed by everyone!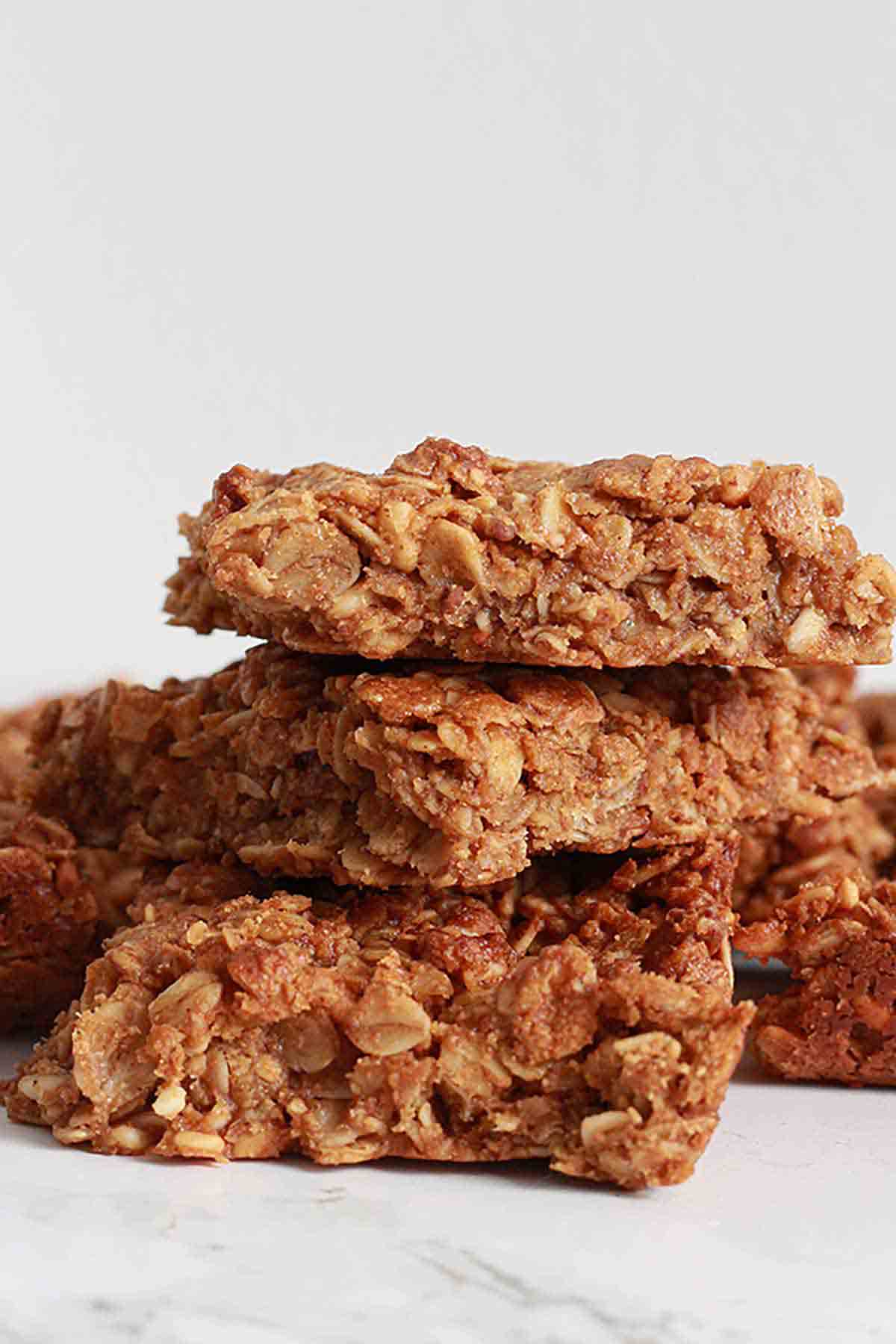 If you like flapjacks then you can try these peanut butter ones too! Soft, chewy and gooey, packed with nutty flavour.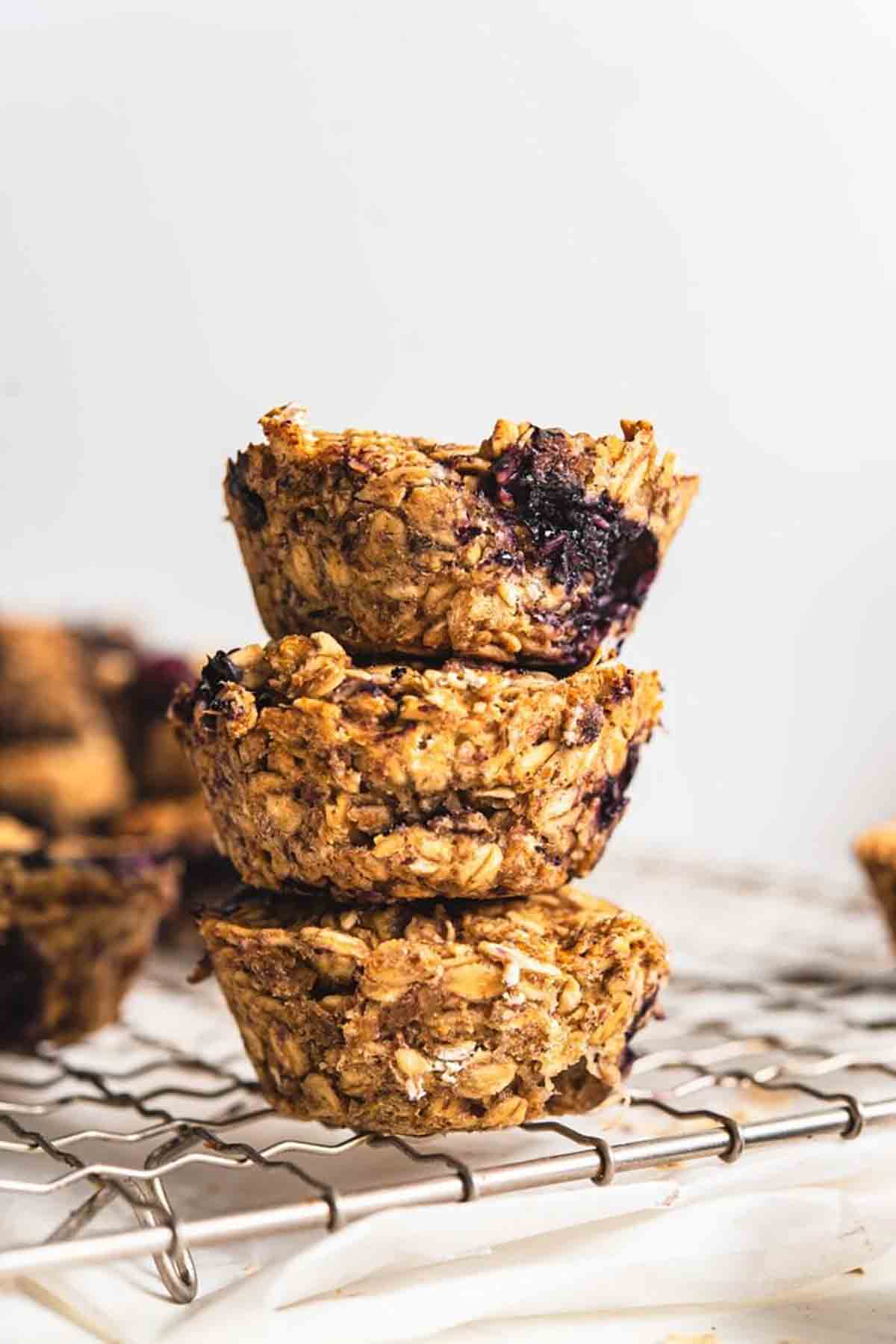 These vegan baked blueberry oatmeal cups are so easy to make with just a few healthy ingredients. They're sure to be a new weekly staple the whole family will love!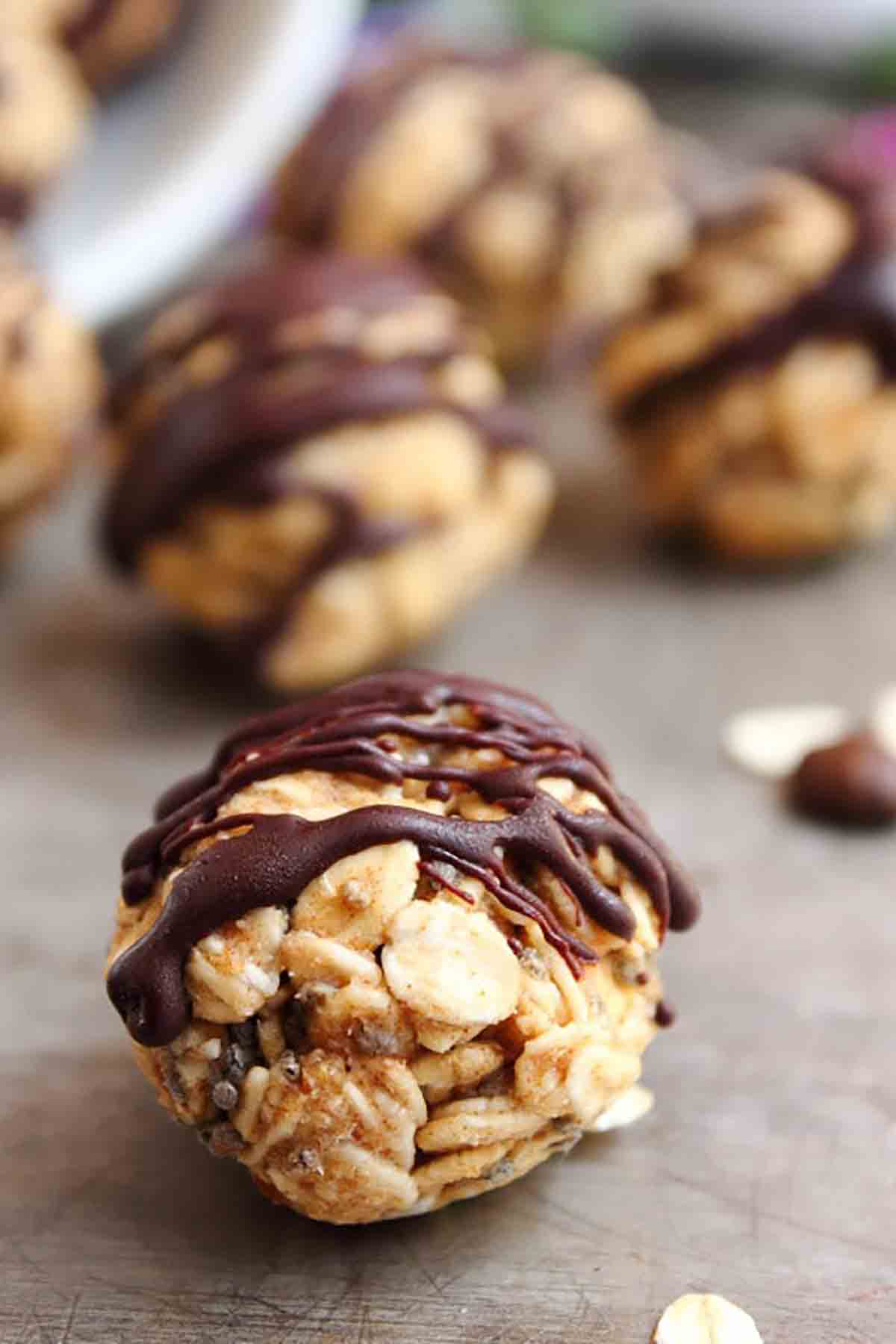 Satisfy your sweet tooth cravings the healthy way with these salted caramel chia energy bites. They're naturally sweet, gluten-free, and vegan desserts made with oats and chia seeds!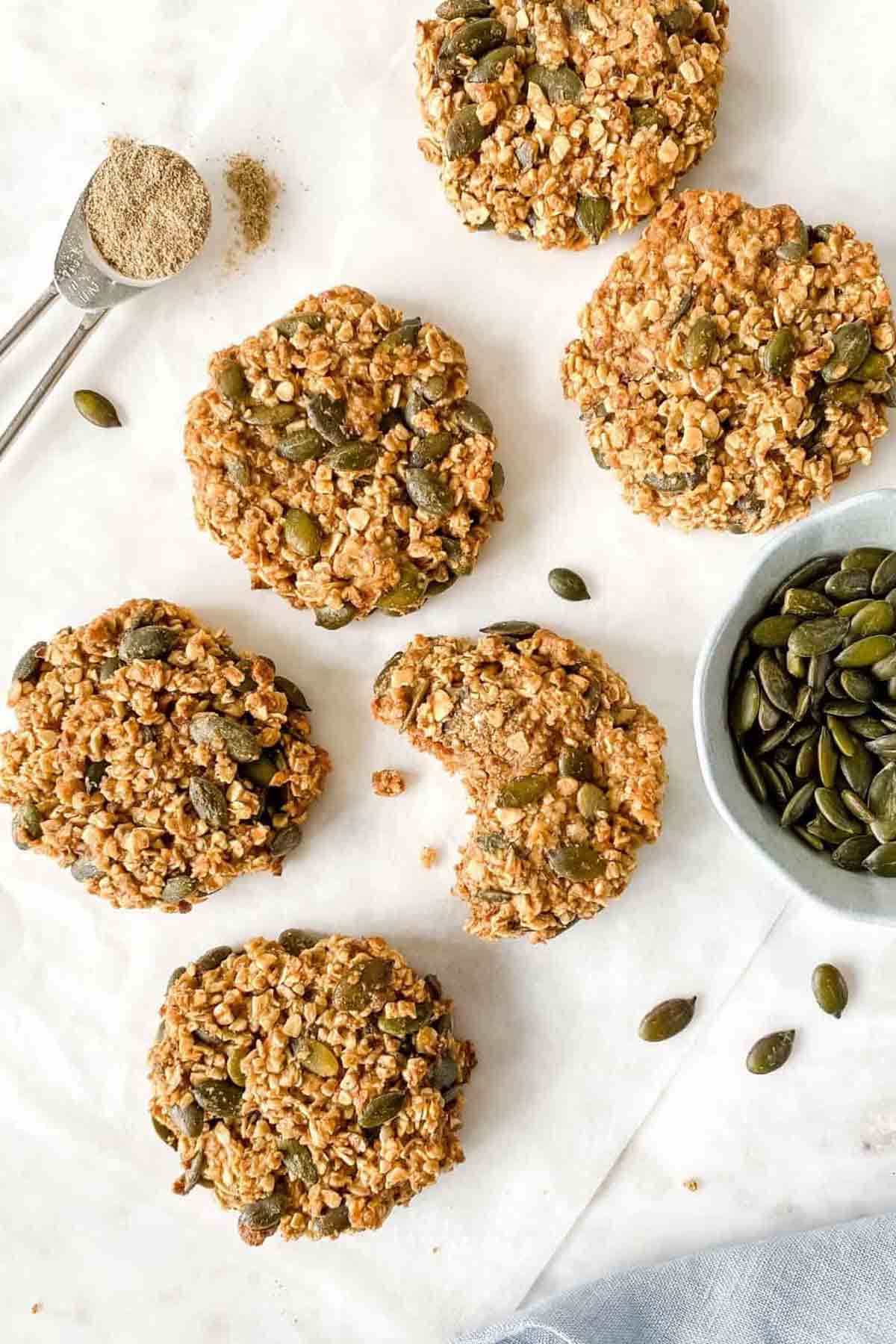 These cardamom oatmeal cookies are a tasty snack, with lots of spice and so much flavour. Easy to make and they come together in about 30 minutes!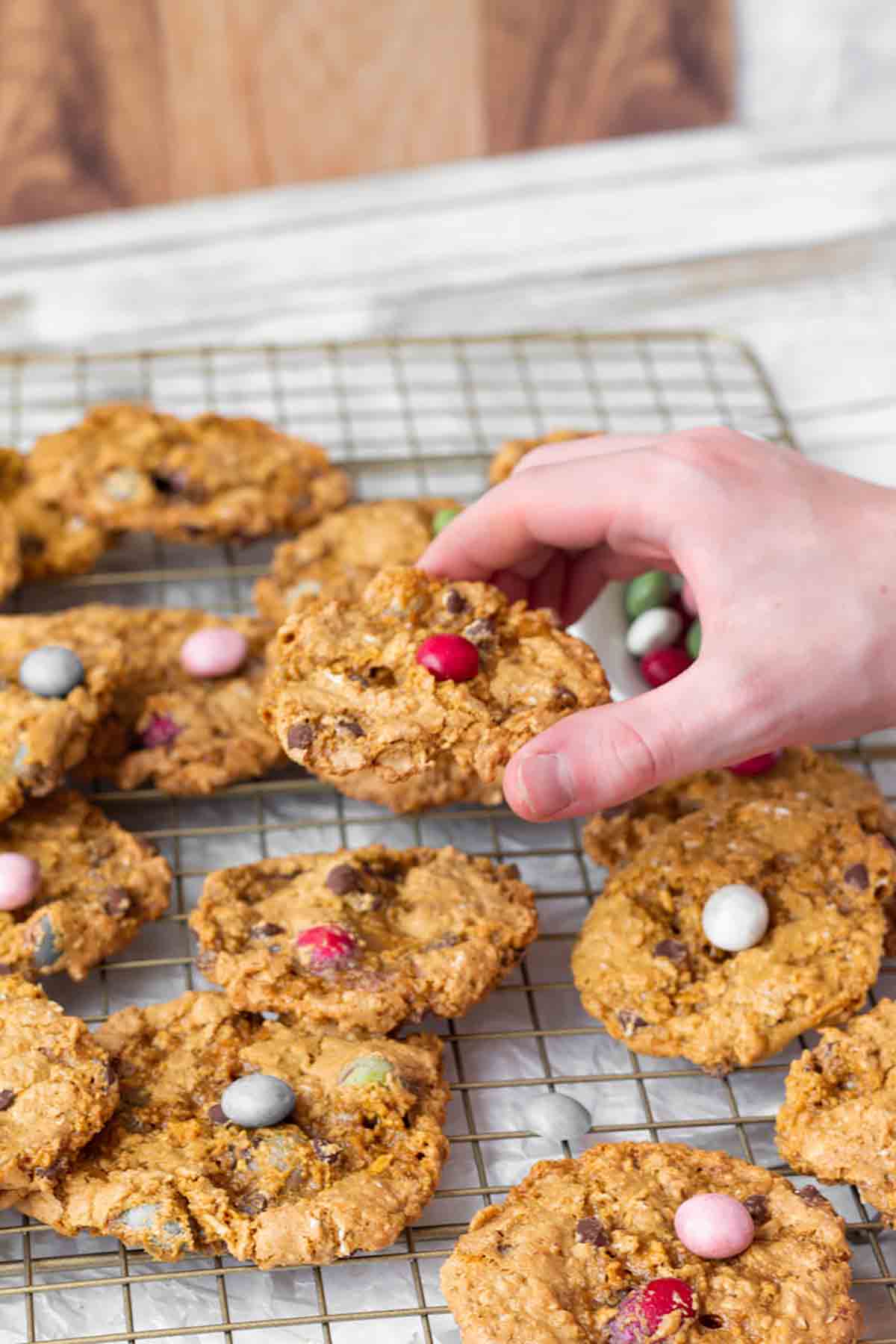 These vegan nut-free monster cookies use oats as the main ingredient in this fun cookie. They are easy to whip up which makes them perfect for making with the kids.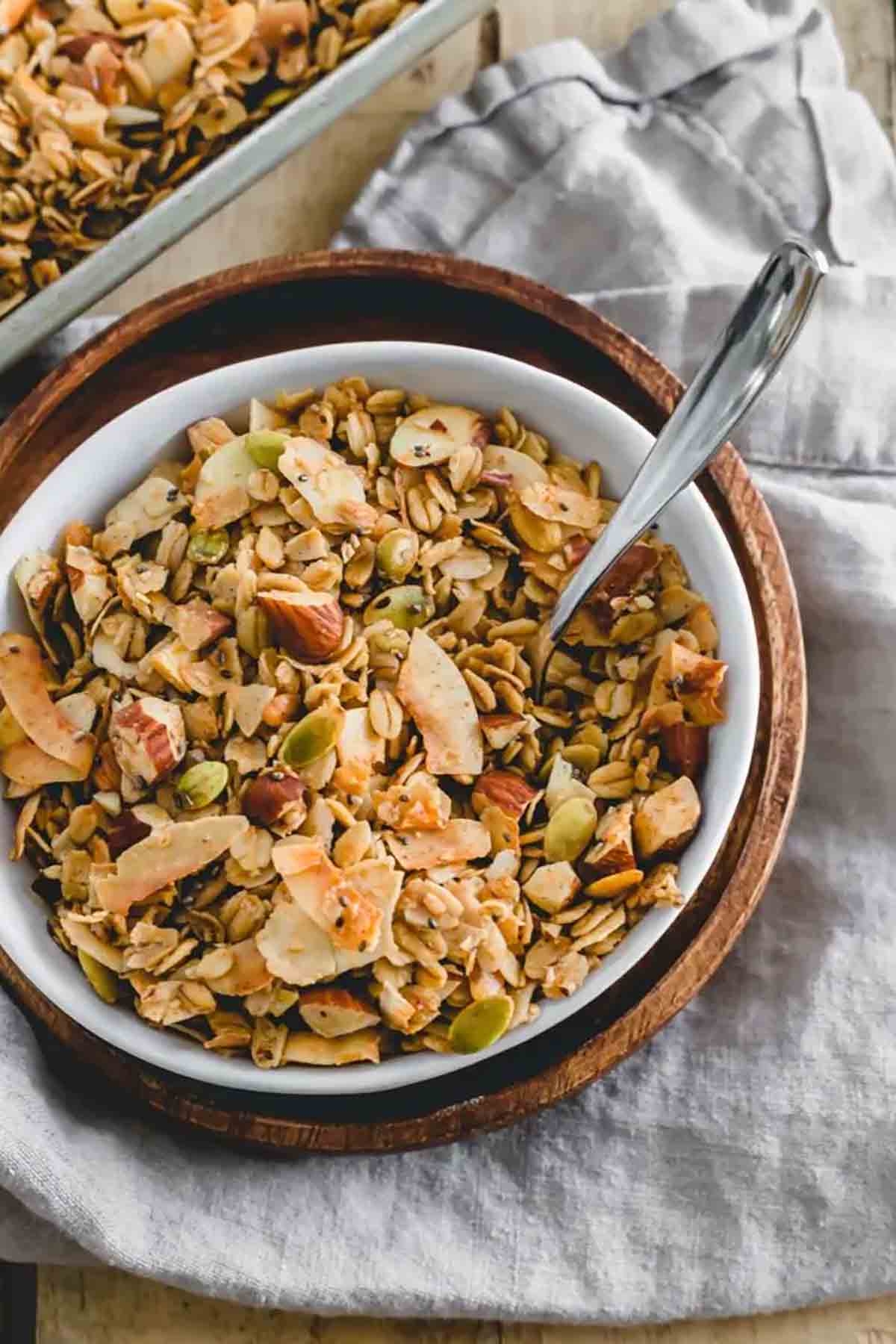 This granola makes the perfect sweet snack, paired with dairy-free yoghurt or milk. With hints of vanilla and cinnamon, and a good crunch, you won't be able to stop at just one bowl.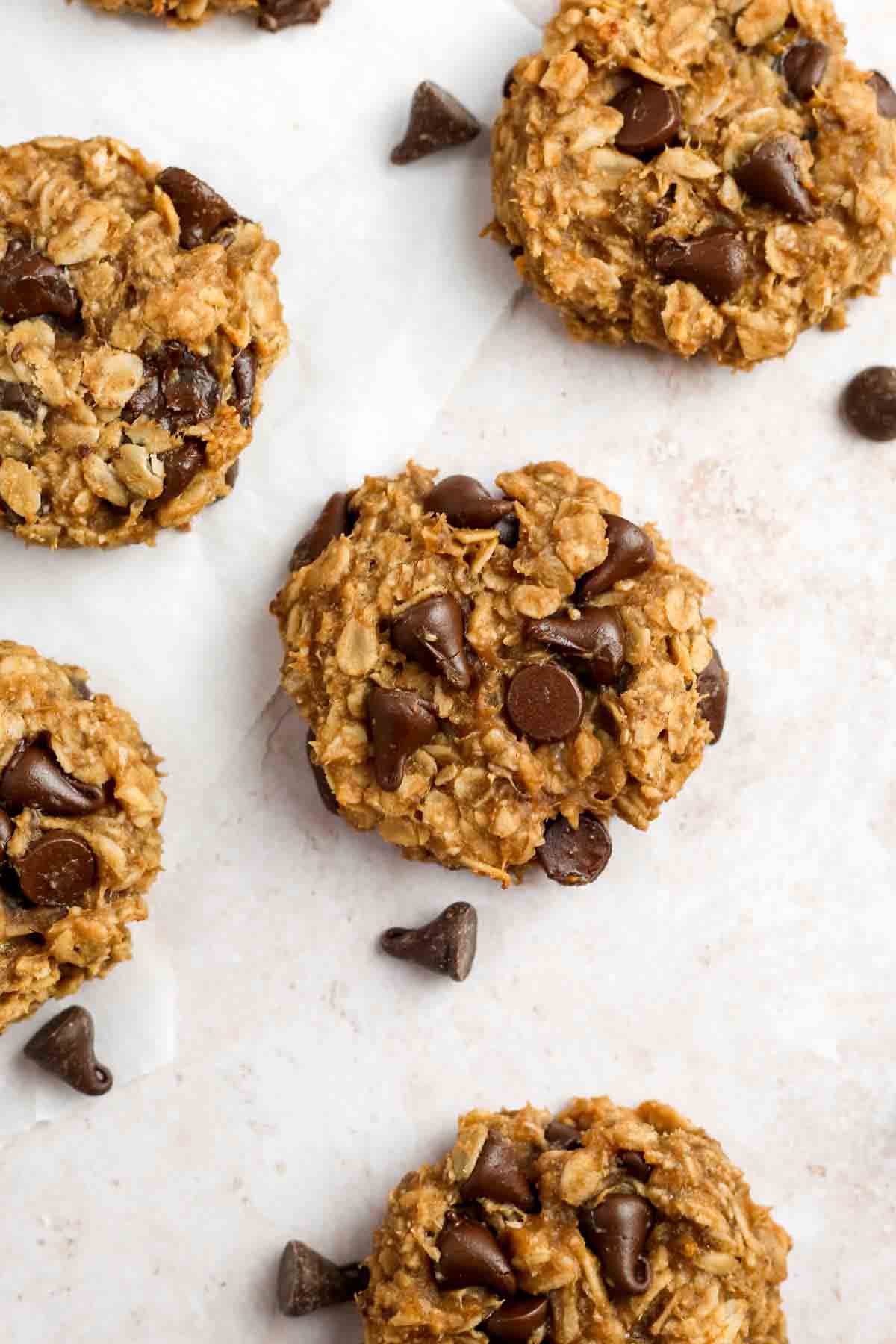 Enjoy these delicious banana oatmeal cookies made from only 4 simple ingredients. They are perfectly sweet and the addition of vegan chocolate chips makes them even more delish!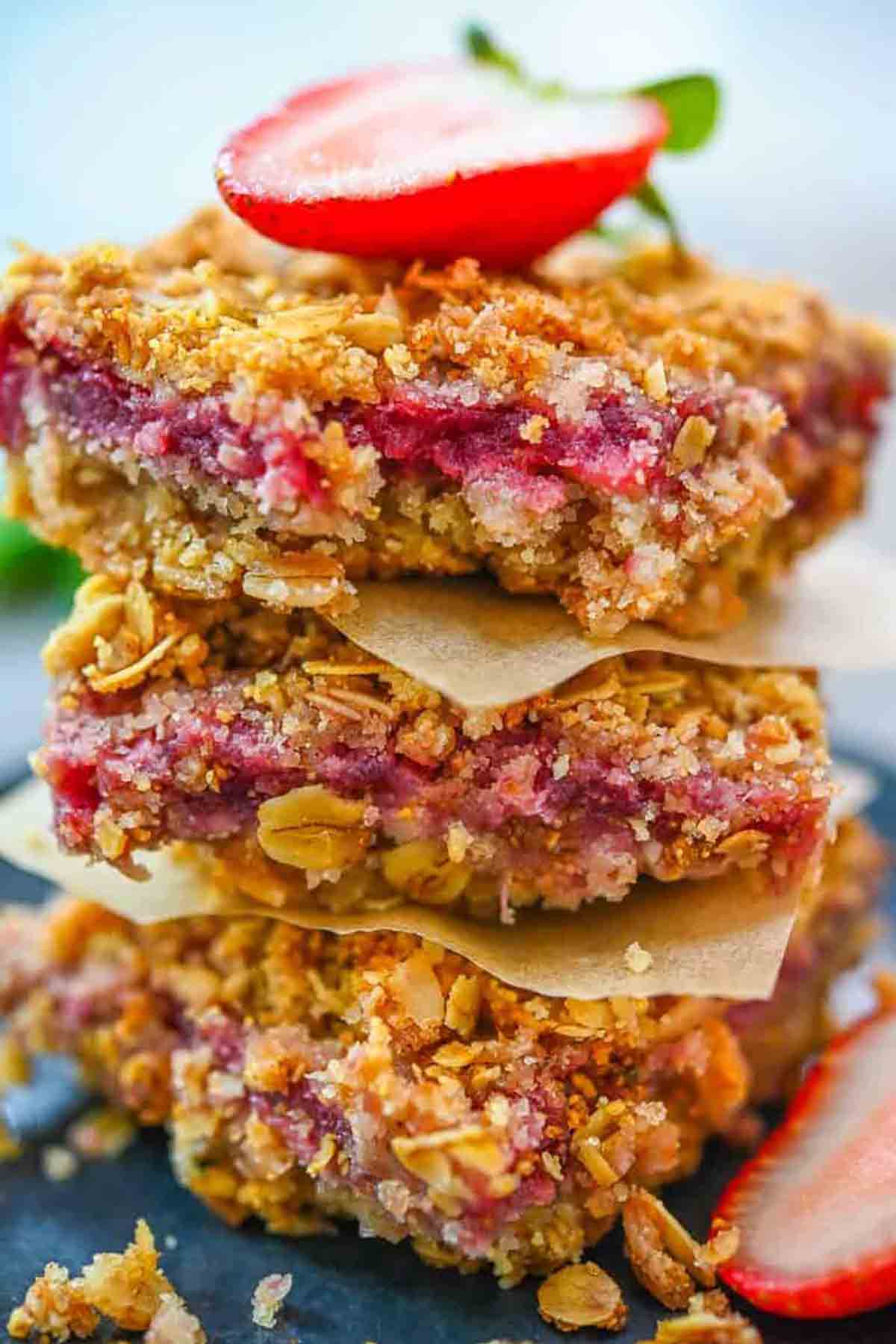 Chewy, fruity oatmeal bars with a gooey strawberry filling. You'll only need 10 ingredients and just over an hour to make them!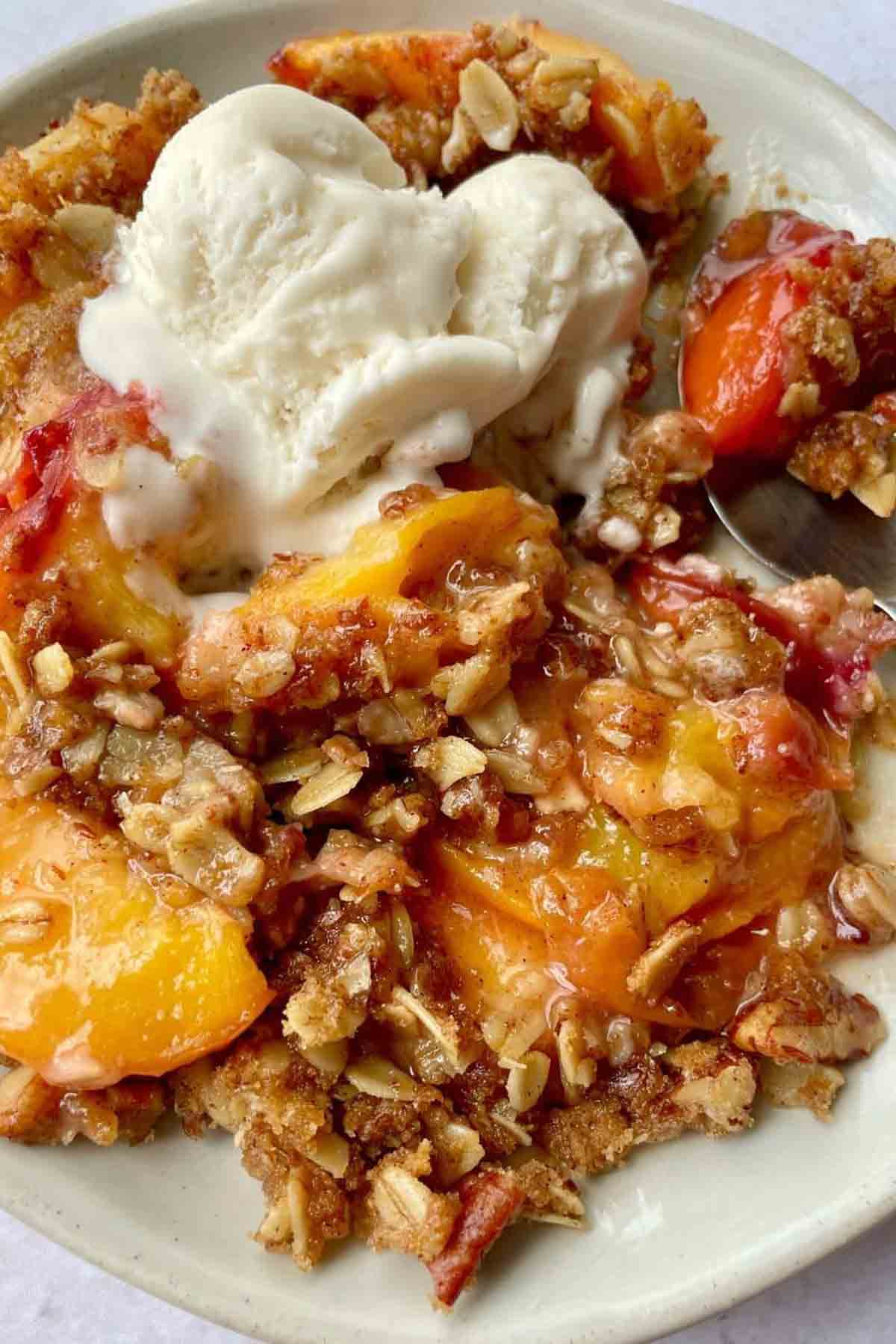 If you have some peaches lying around, try making this peach crisp. It's a delicious vegan dessert made with oats, fresh peaches and crunchy pecans.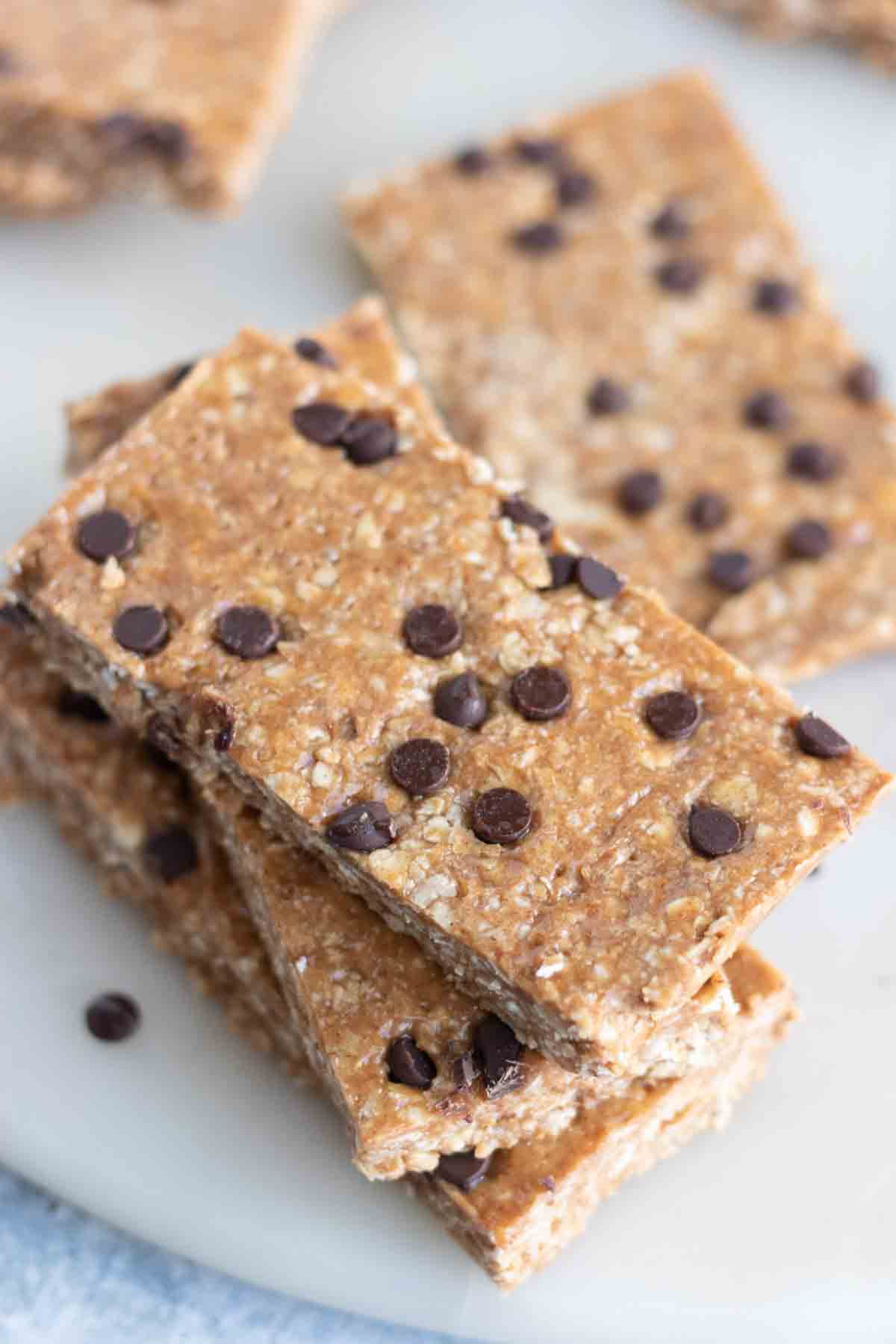 An easy 5-ingredient granola bar recipe that requires no baking. These are perfect for an on-the-go dessert or snack.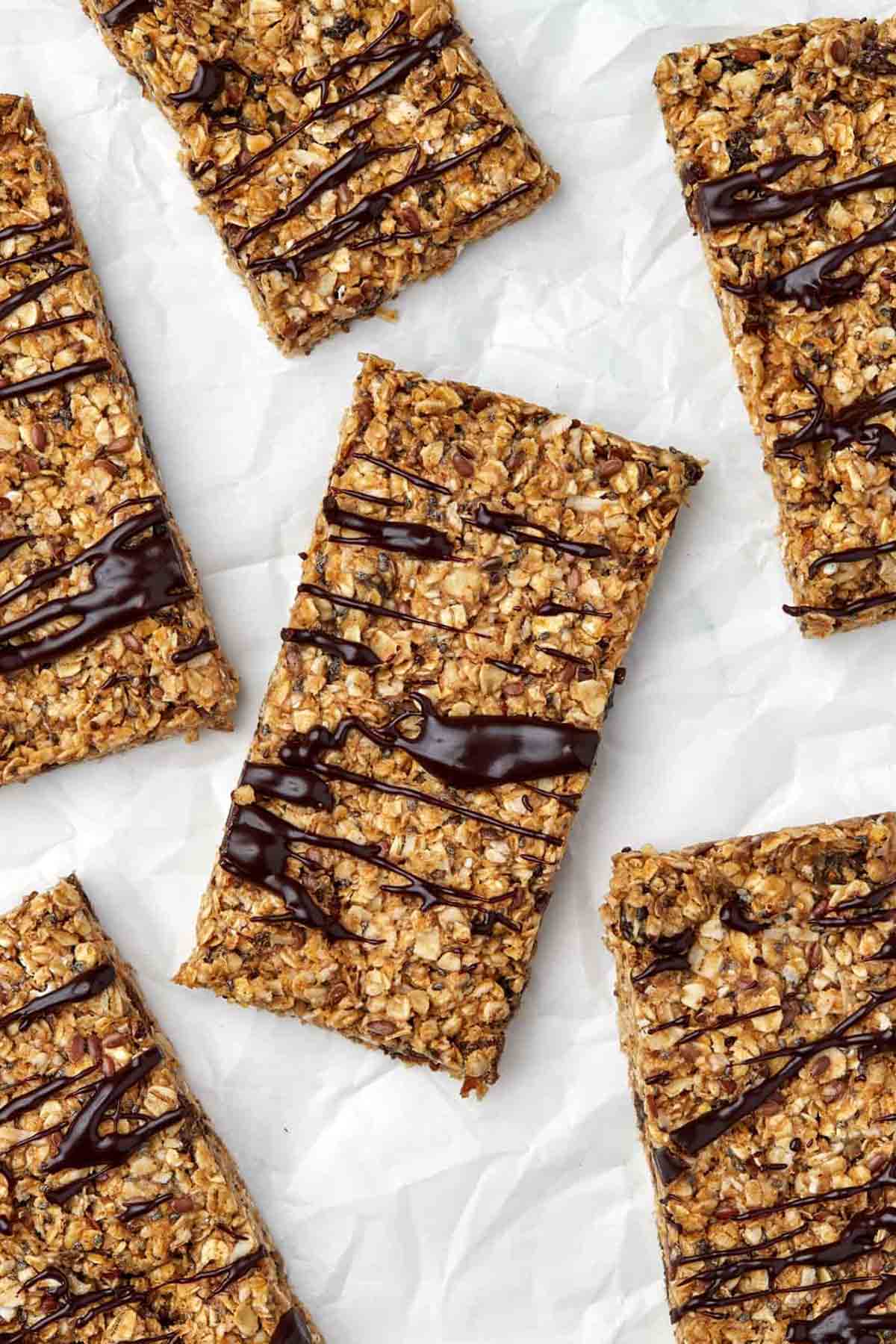 Make these homemade energy bars for a wholesome dessert with oats that will keep you full for longer! Topped with a chocolate coffee drizzle for an extra kick of flavour.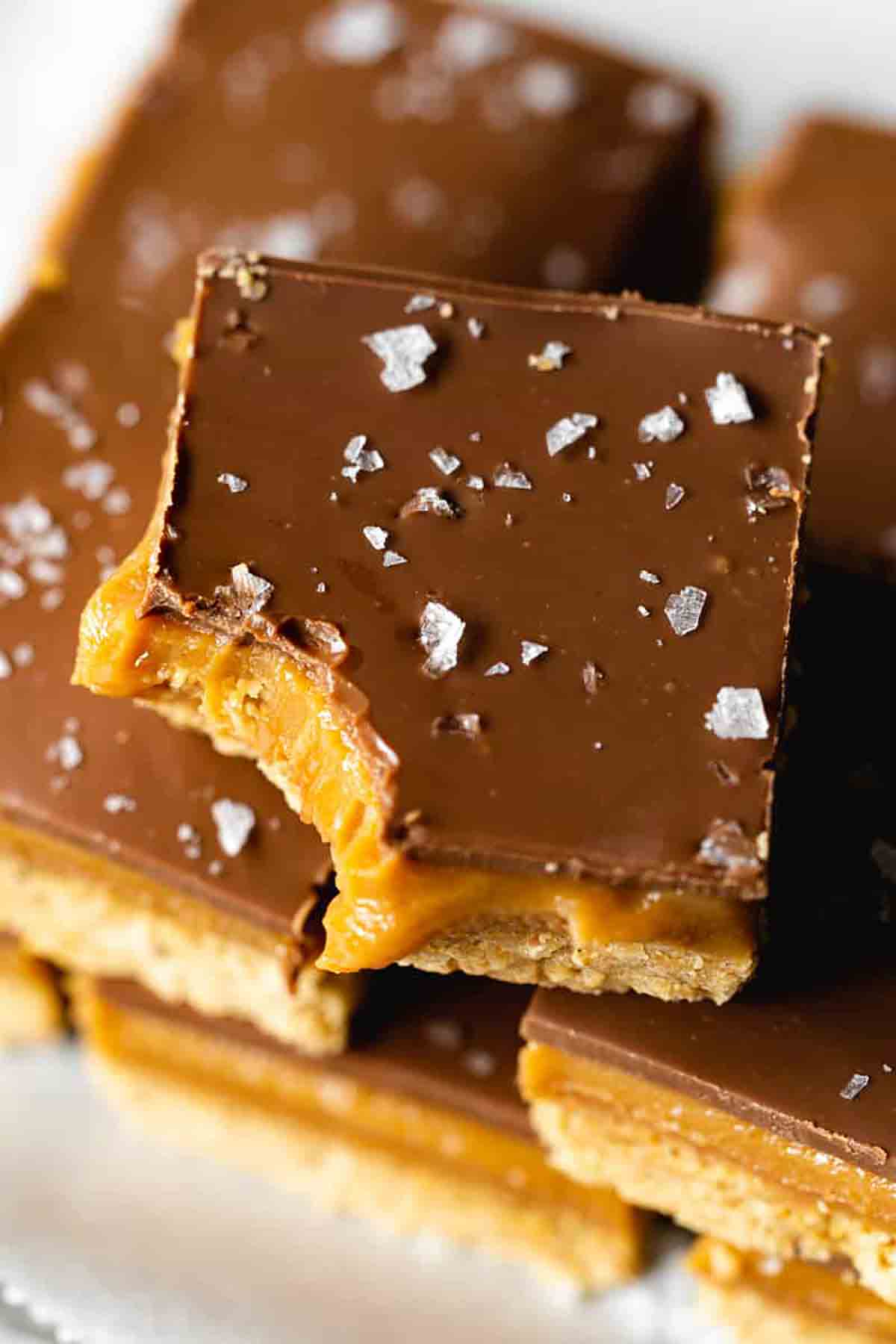 Vegan chocolate peanut butter oatmeal bars with an oaty base, peanut butter caramel and chocolate coating. The recipe makes a big batch and they're perfect for meal prepping!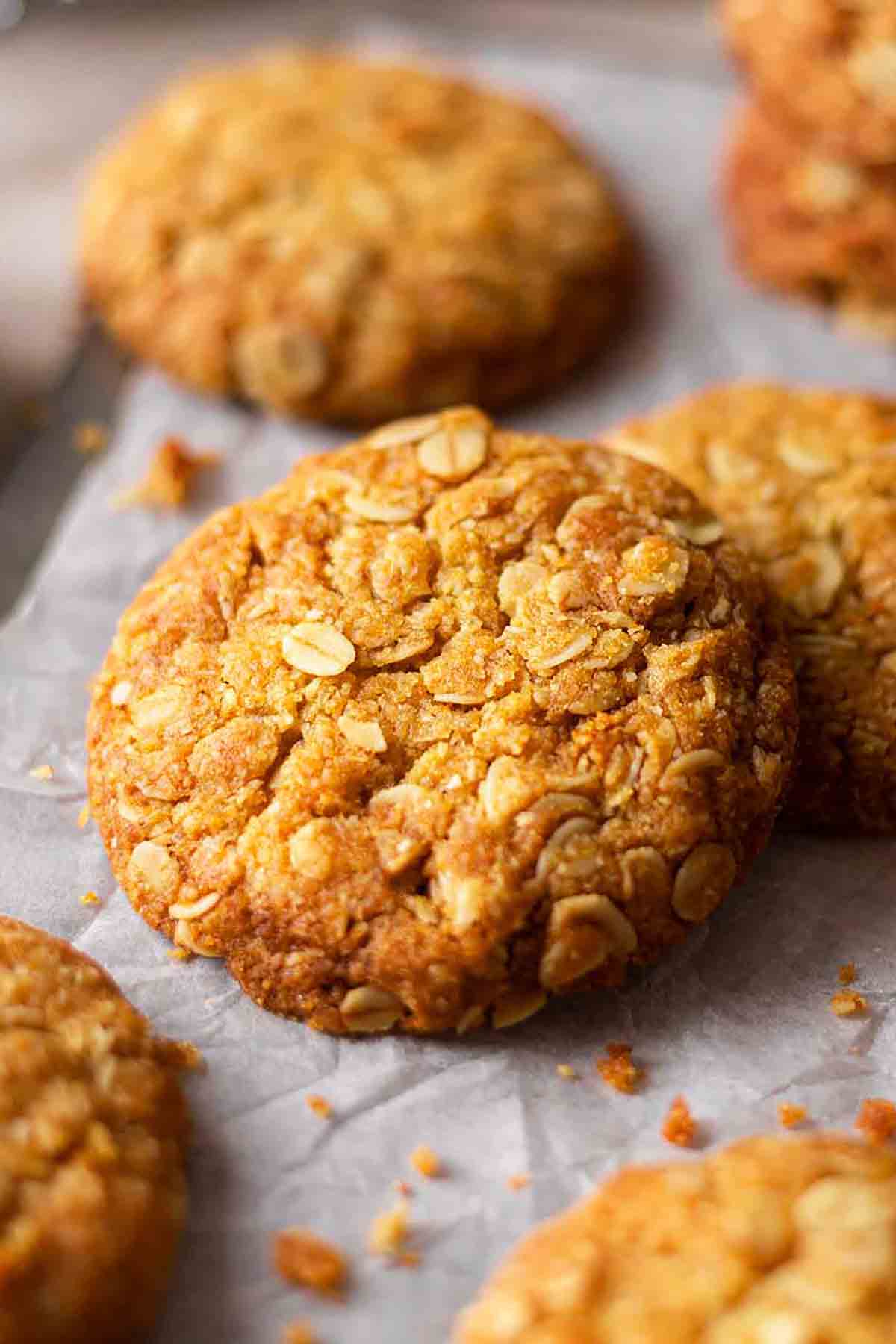 Anzac biscuits are a classic Autralian and New Zealand dessert made with oats. With hints of coconut and caramel, these biscuits are irresistibly chewy and crunchy.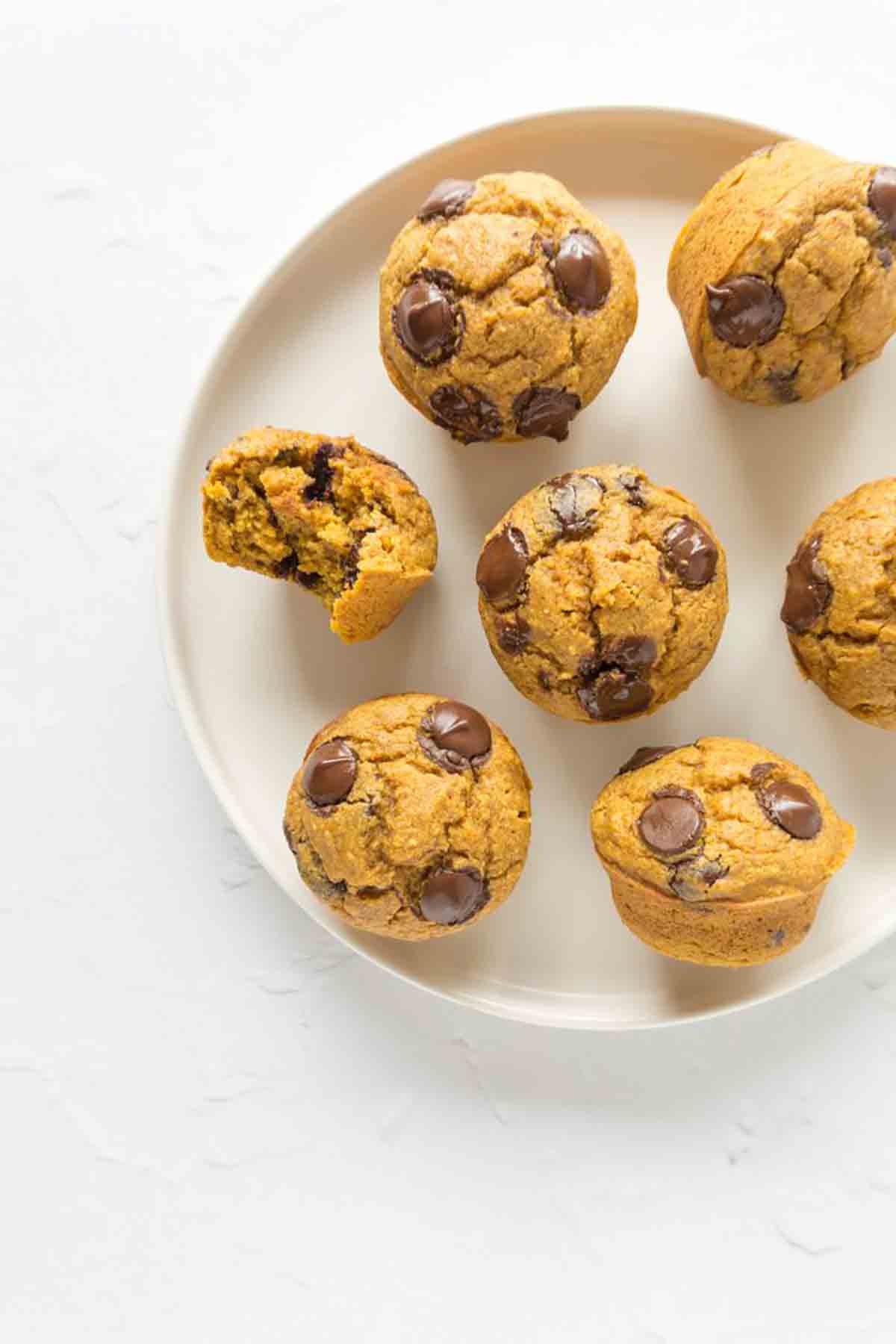 These pumpkin muffins are the perfect soft texture thanks to pumpkin and oat flour. They are the perfect sweet treat to accompany your morning coffee.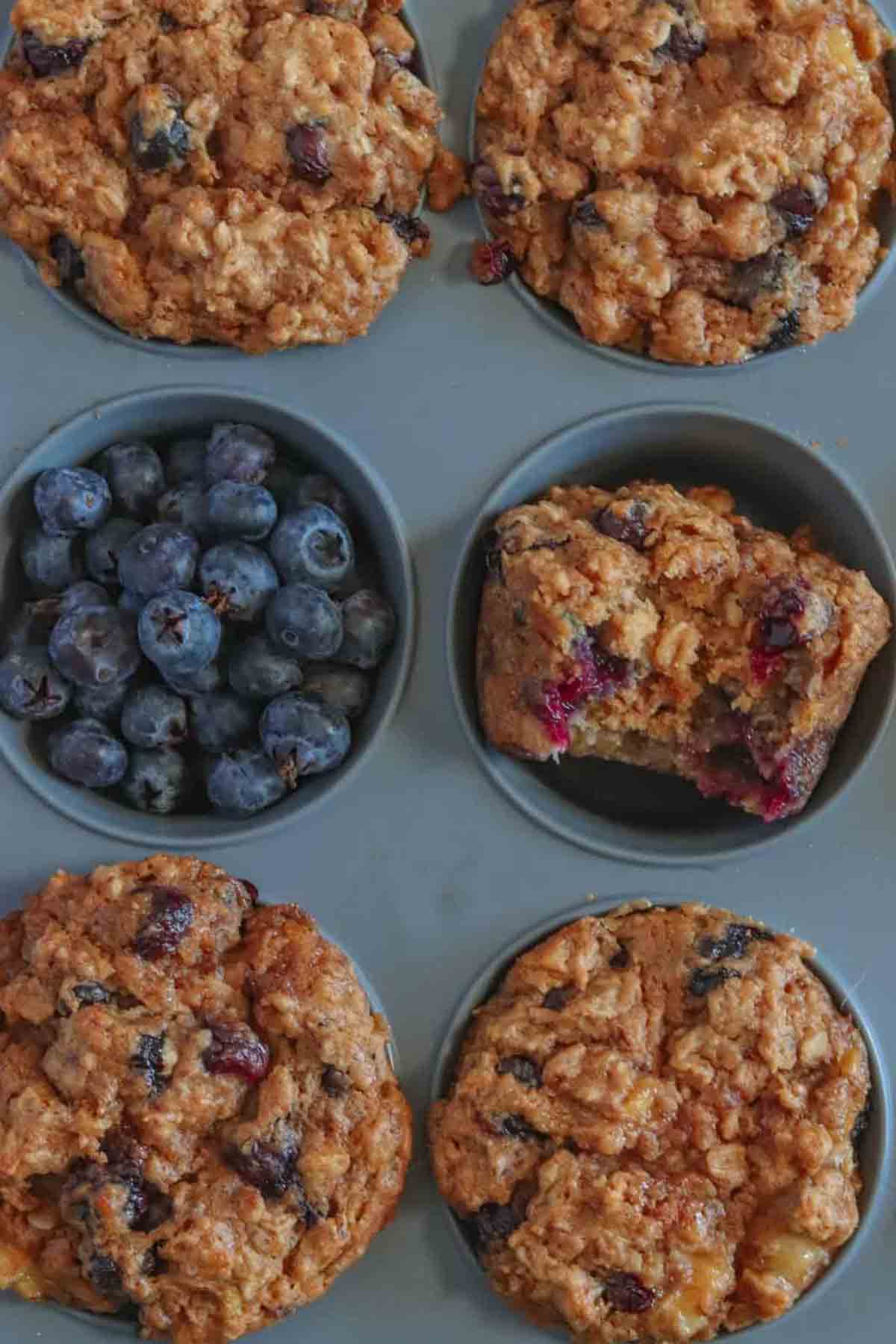 The perfect muffins for breakfast or dessert, made with oats, bananas and blueberries. The recipe is made up of simple, easy to find ingredients and takes just 25 minutes to make.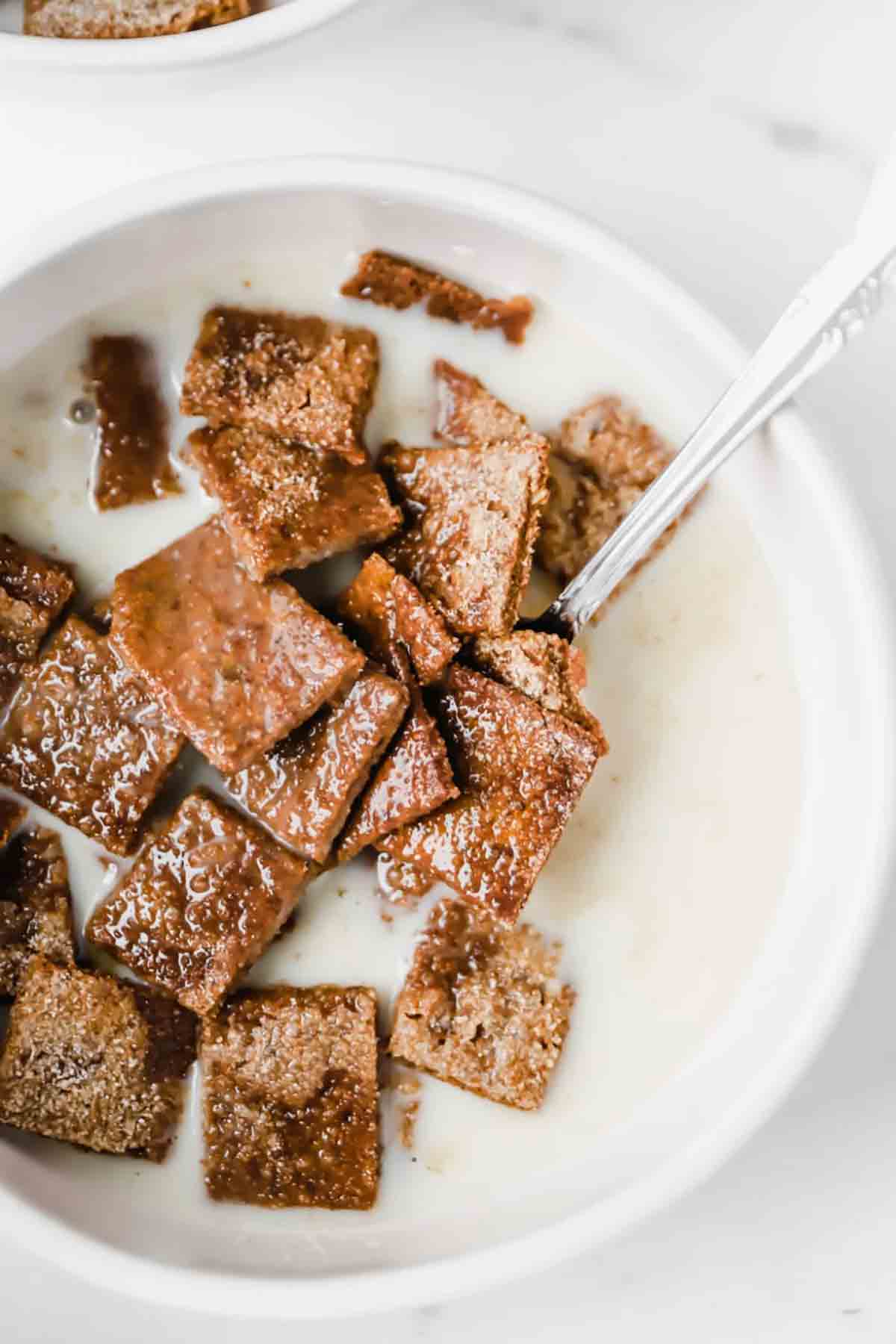 This homemade Cinnamon Toast Crunch tastes just like the real thing, but is vegan and gluten-free! It's a delicious breakfast treat that will make you feel like a kid again!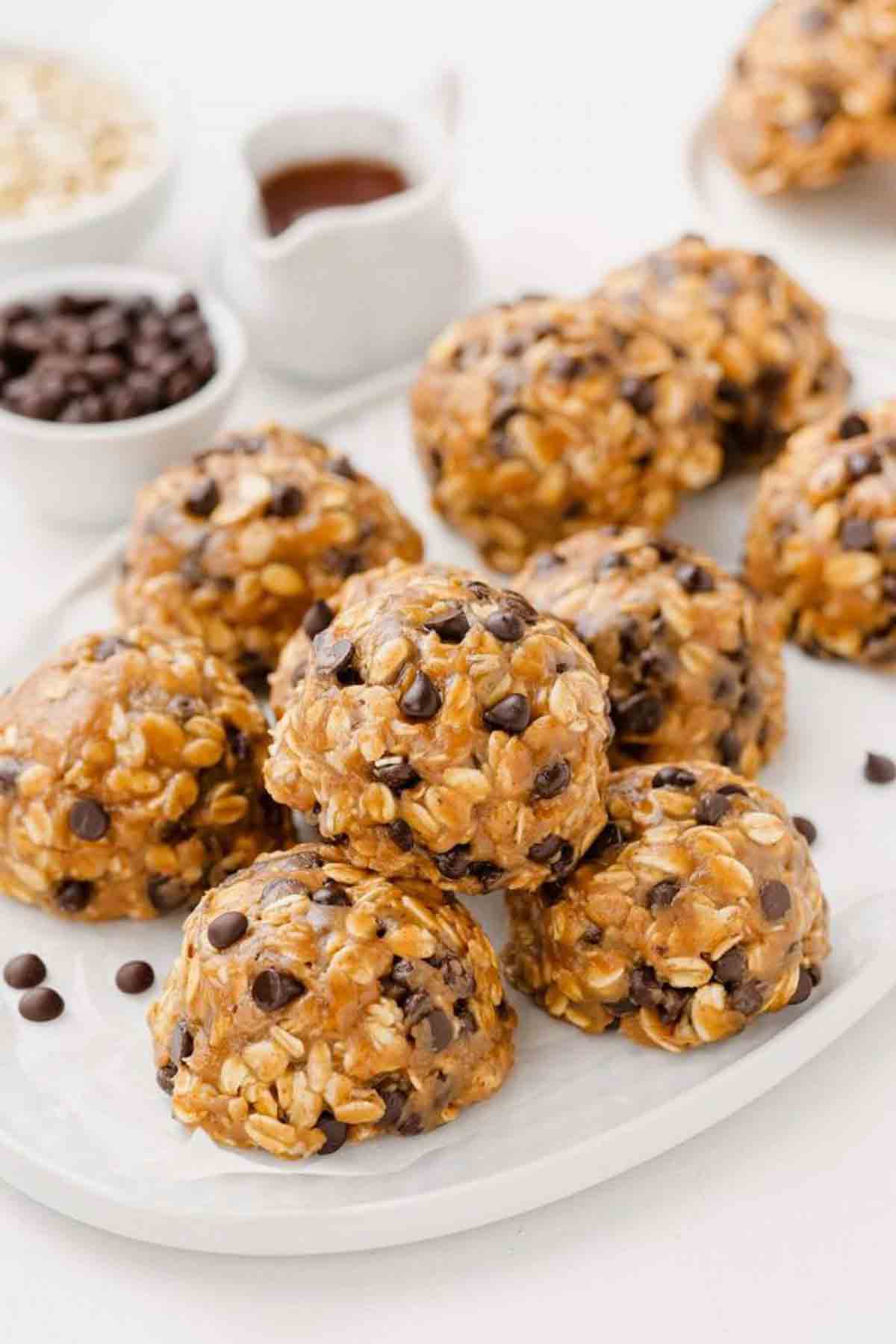 These oatmeal cookies are loaded with almond butter and require no baking! They have a caramel-like texture and are super easy to make. Add chocolate chips or cinnamon and raisins to your preference.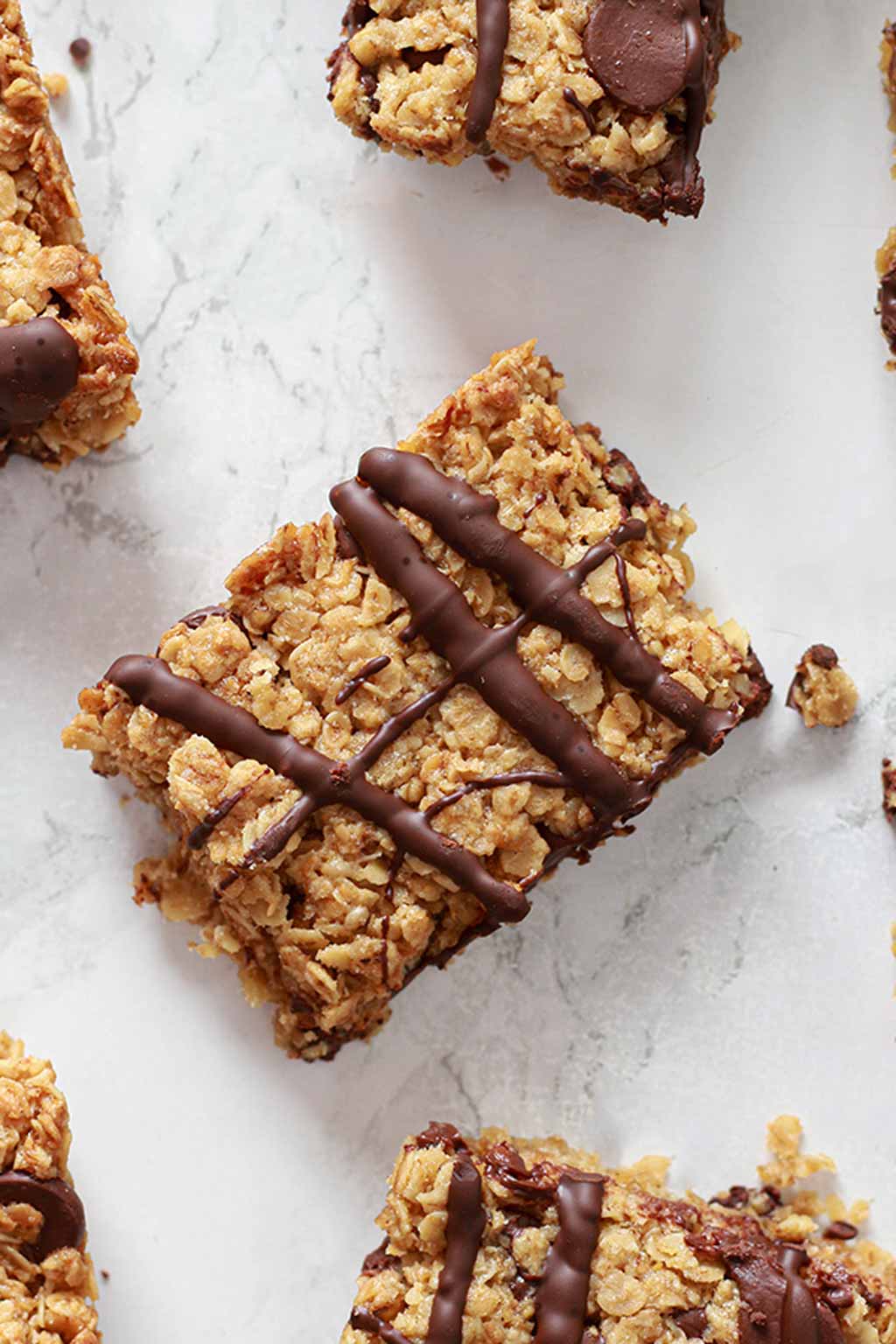 Gooey, chewy chocolate chip flapjacks with a dairy-free chocolate drizzle on top. A must try recipe for all chocolate lovers.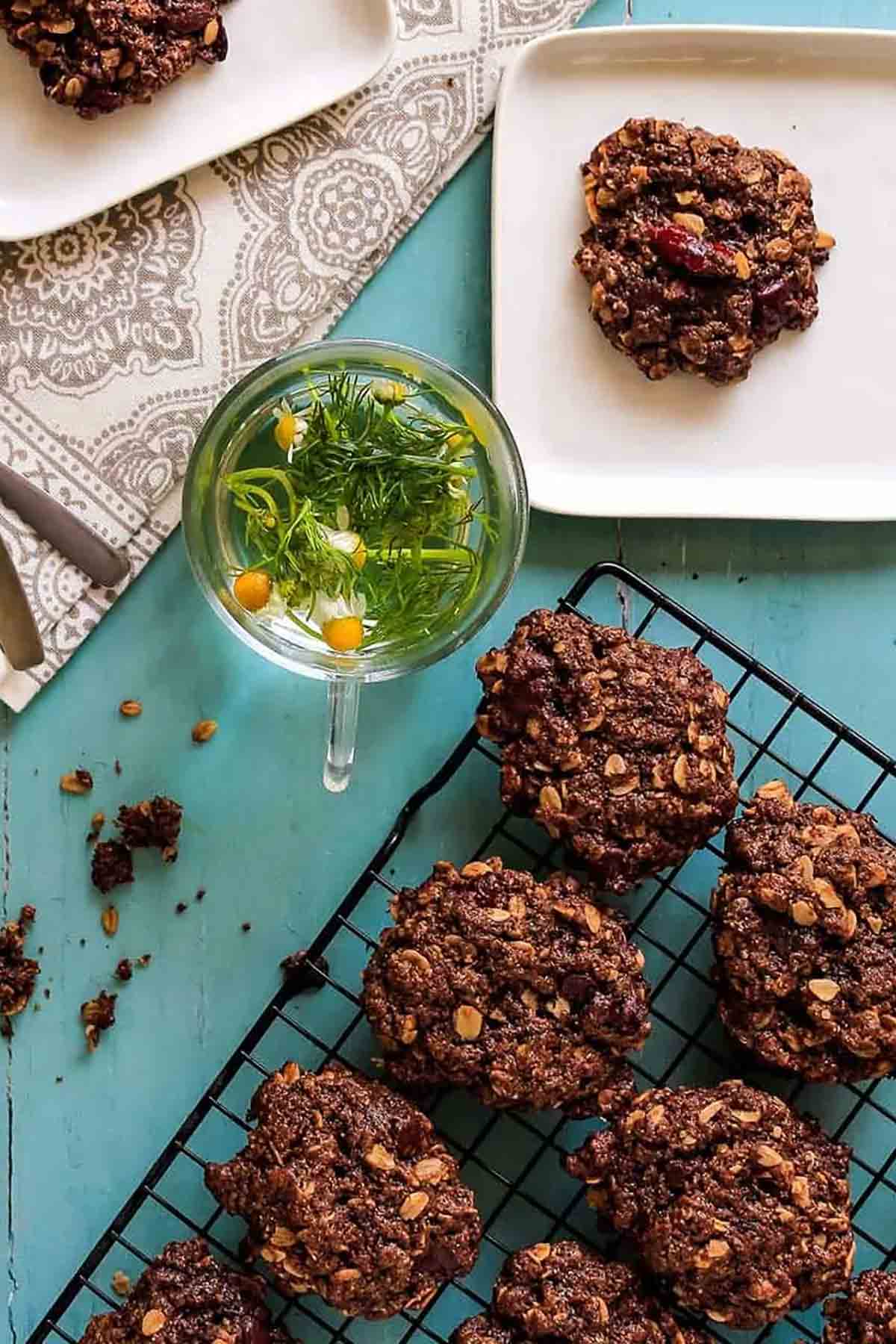 These vegan chocolate oatmeal cookies are full of rich dark chocolate flavour, crunchy cacao nibs, and dried cranberries. They are the perfects cookie for snacks or a lunch box treat.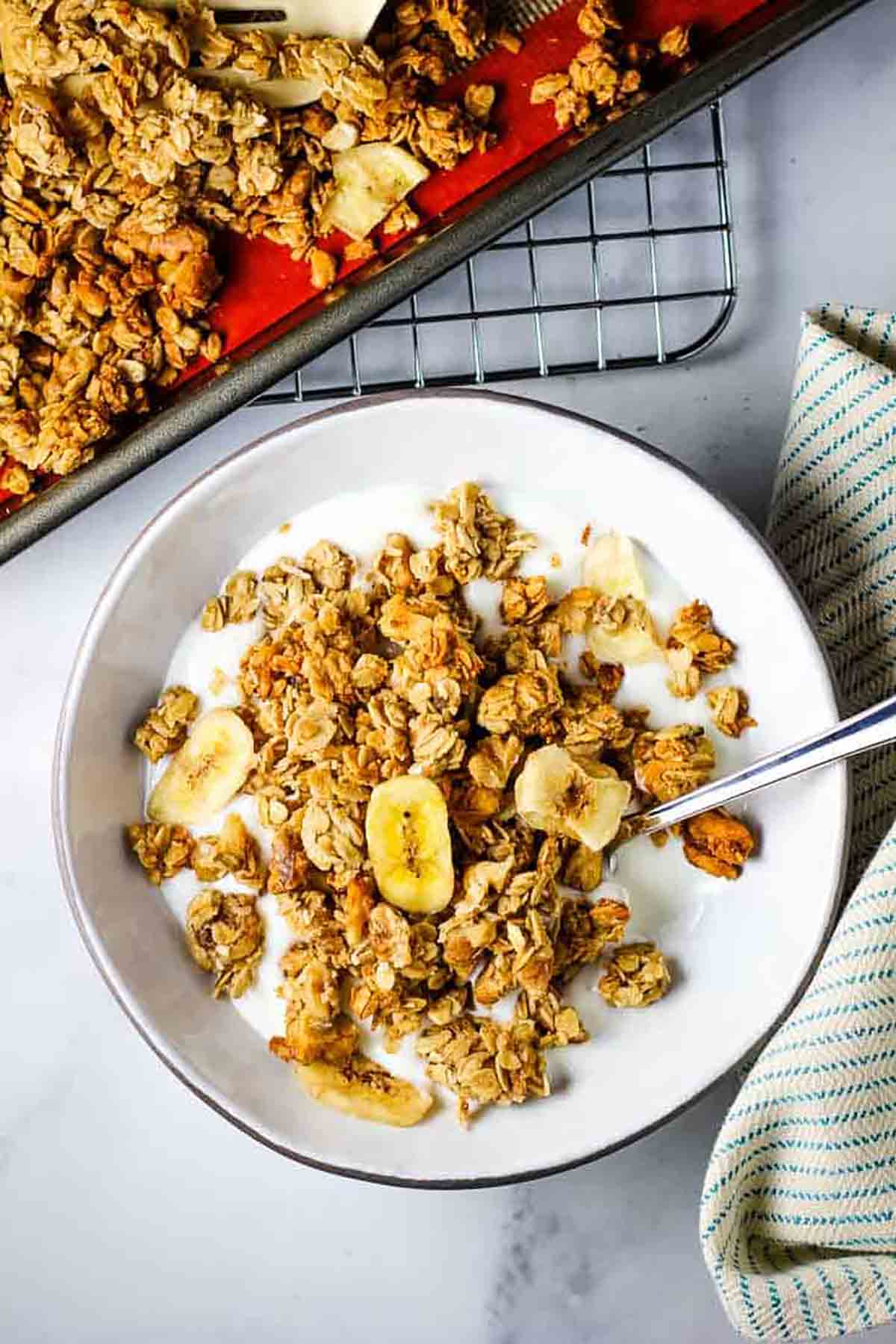 This peanut butter banana granola is naturally vegan and delicious over coconut yoghurt.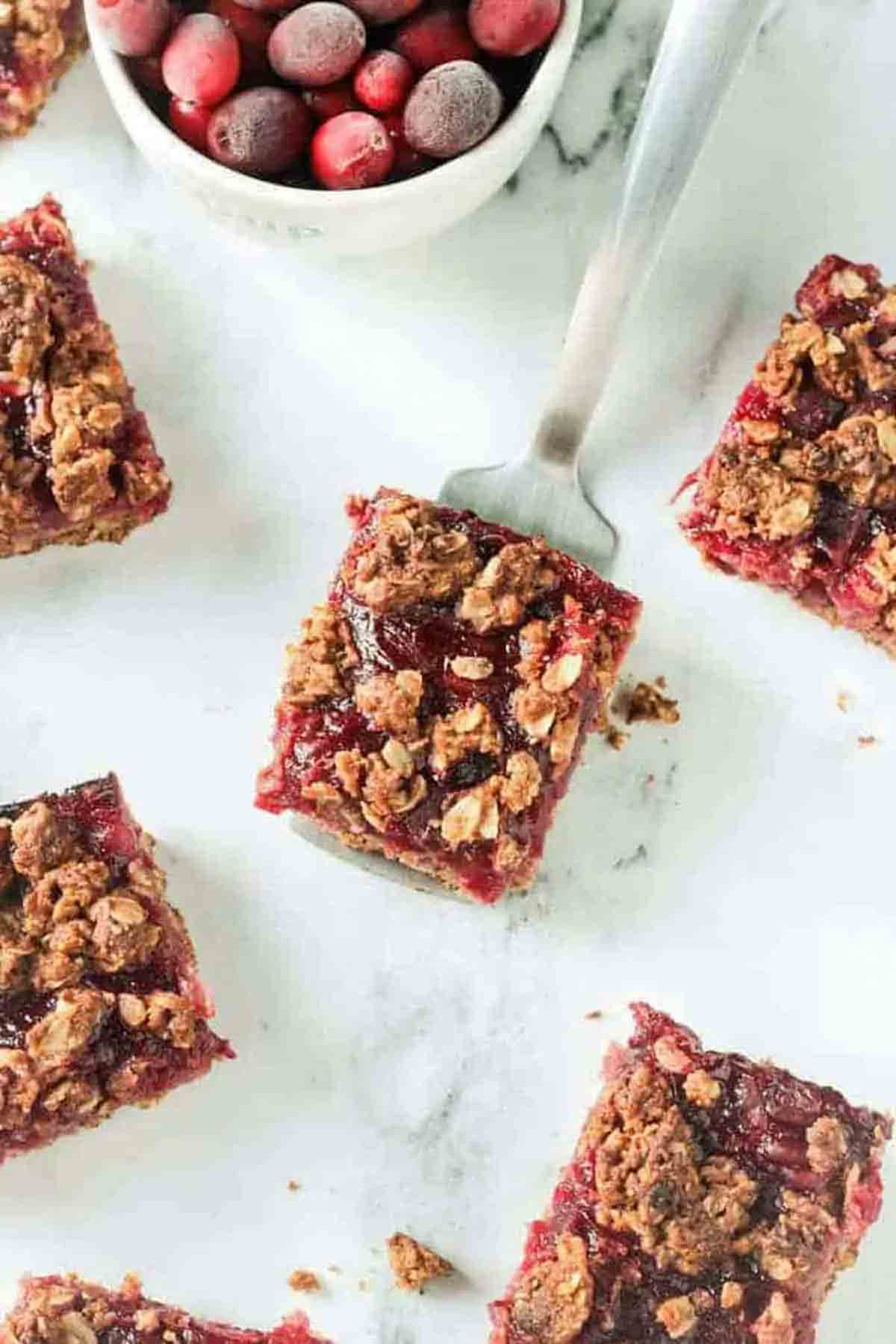 A soft oatmeal base with a sweet and tart cranberry sauce filling and a crumbly oat topping. You'll need 11 ingredients for this delicious vegan dessert with oats that's bursting with flavour!

25 Vegan Desserts With Oats
The best vegan oats desserts to satisfy your sweet tooth.
I hope you enjoy this list of vegan desserts with oats. If you make any of the recipes, do let me know how it goes by leaving a comment below. Happy baking! xo
BakedByClo is a participant in the Amazon Services LLC Associates Program, an affiliate advertising program designed to provide a means for sites to earn advertising fees by advertising and linking to Amazon.com. This site may contain some of these links to Amazon.com & other affiliate programs. If you make a purchase through one of those links, BakedByClo will receive a small commission from the purchase at no additional cost to you.