Vegan Cranberry Muffins
These vegan cranberry muffins are soft, fluffy and tall, just like the bakery style. Packed with sweet, dried cranberries, they make a tasty dessert, snack or afternoon treat. You'll only need 7 ingredients to make them and they are super easy!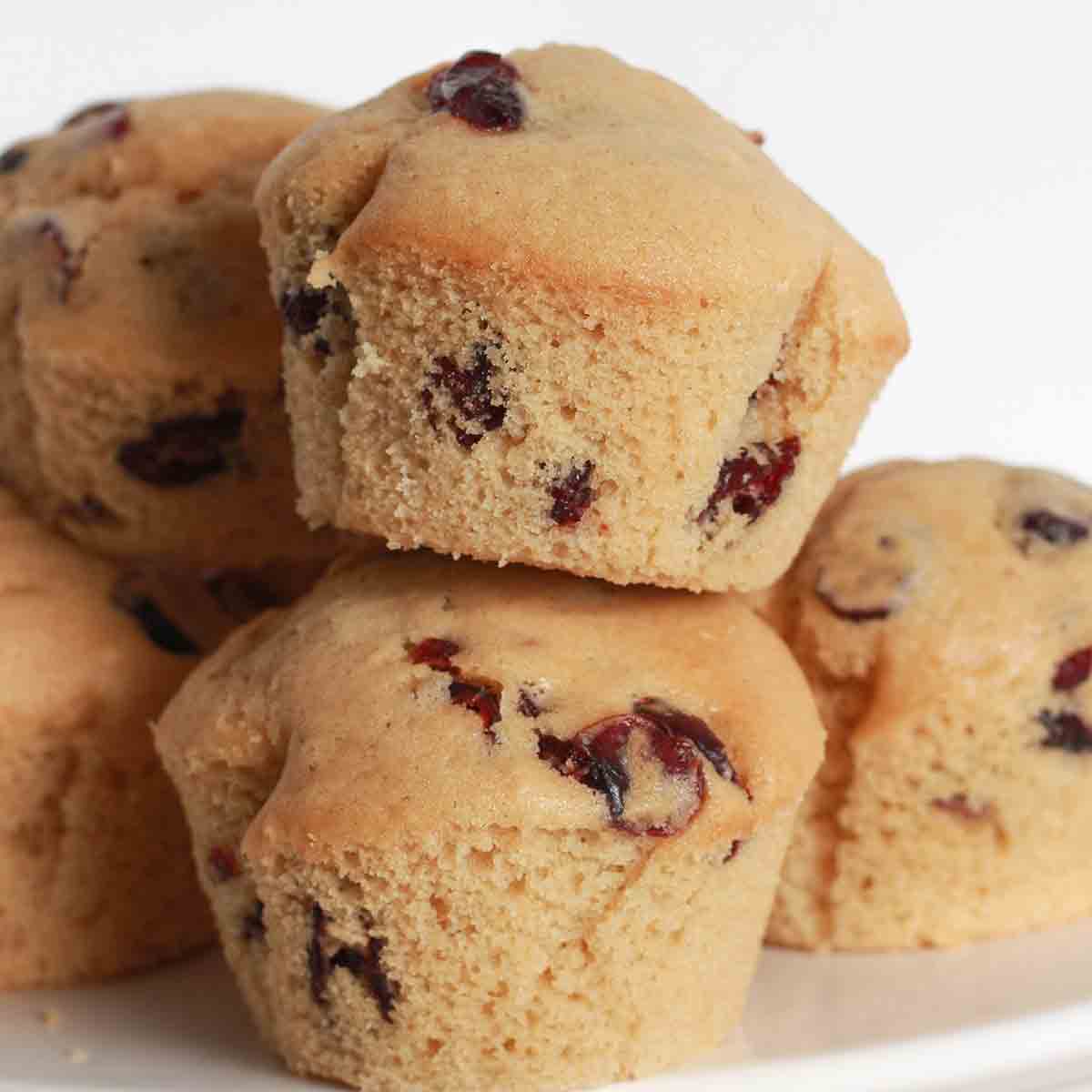 I posted this recipe in my newsletter last year and totally forgot to get around to posting it on here too! It's such an easy, delicious muffin recipe that always tends to be a crowd pleaser. They're great for enjoying alongside brunch or for a quick on-the-go snack.
They can also make a good addition to meal prep; because they don't contain fresh fruit, they'll last for a few more days than something like blueberry muffins would. There's nothing like a fluffy, sweet muffin to perk up your afternoons during the week.
Ingredients you'll need:
The ingredients to make cranberry muffins are fairly simple and easy to get a hold of. Let's take a closer look.
Self-raising flour. Self-raising flour vs plain flour– the type of flour you use really matters for muffins! Self-raising flour is regular flour with raising agents already added to it. This helps to create tall, fluffy muffins without the need for any extra baking powder or bicarbonate of soda.
Caster sugar. Is sugar vegan? It sure is, if you're in the UK! Caster sugar is best for baking because it has a much finer, smoother texture than granulated sugar.
Brown sugar. Just like caster sugar, brown sugar is vegan-friendly. I recommend using soft light brown sugar for this recipe.
Vegan margarine. Vegan margarine refers to the soft type that comes in a tub, not the blocky one. I like Vitalite but you can check out my Best Vegan Butter For Baking post to see my other recommendations.
Soy milk. Unsweetened, organic soy milk is the best milk for vegan baking so I recommend using this if you can. If you have allergies, oat milk is the next best option.
Vanilla extract. This adds some extra sweet flavour that compliments the tart cranberries very well.
Dried cranberries. I recommend using dried cranberries over fresh ones. This is because the dried ones are sweeter, usually because of added sugar or fruit juice concentrate. Fresh cranberries are incredibly tart and wouldn't taste too nice in muffins. Sugared cranberries do exist they don't seem to be very common at all in the UK. Dried cranberries for the win!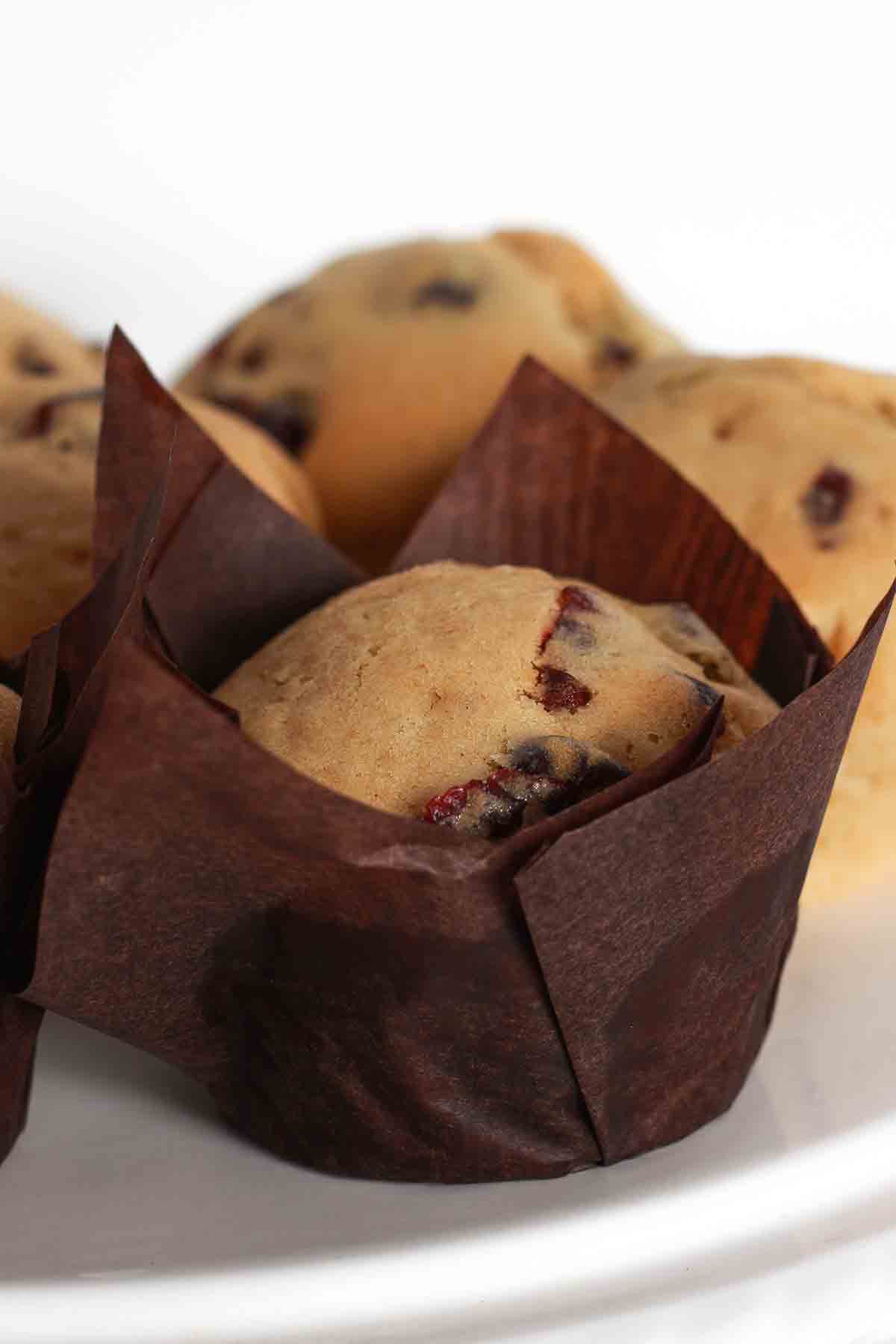 Equipment
Along with the above ingredients, you'll also need a muffin tin and some muffin liners. And of course, the basics like a mixing bowl, wooden spoon and a food scale. I used these muffin cases from Amazon. If you use a cupcake tin/liners, please note that the baking time will need to be reduced- around 15-20 minutes should do the trick. You'll also end up with way more than 12 so if you prefer to use cupcake cases, you can half the recipe.
How to make vegan cranberry muffins
Let's take a look at how to make these tasty treats. It's so much easier than you might think!
Step 1:
Preheat your oven to 180°C/350°F (see my oven temperature conversion chart if needed). Line a muffin tin with 12 muffin liners.
Step 2:
Mix together 350g of self-raising flour, 140g of caster sugar and 100g of soft light brown sugar together in a large bowl.
Step 3:
Next, add 160g melted dairy-free margarine, 270ml unsweetened soy milk and 2 teaspoons of vanilla extract to the bowl. Mix it all together until you have a smooth batter.
Add 125g of dried cranberries to the batter and gently fold them in.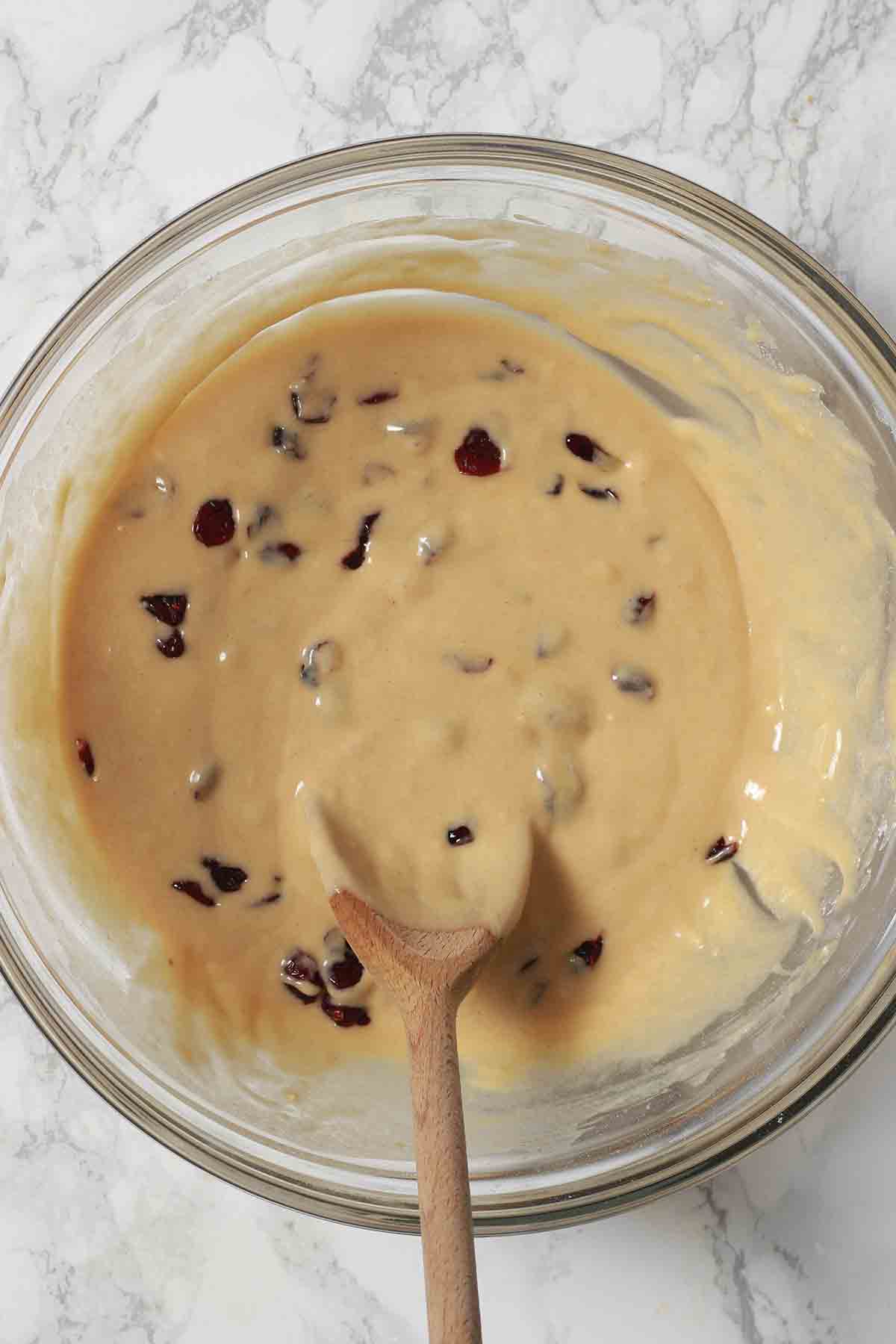 Step 4:
Divide the muffin batter between your 12 muffin liners. Pop them on the middle shelf of your preheated oven and bake for 20-30 minutes. Start with 20 minutes and check every so often until a toothpick through the middle comes out clean. Deeper muffin cases will take closer to 30 minutes.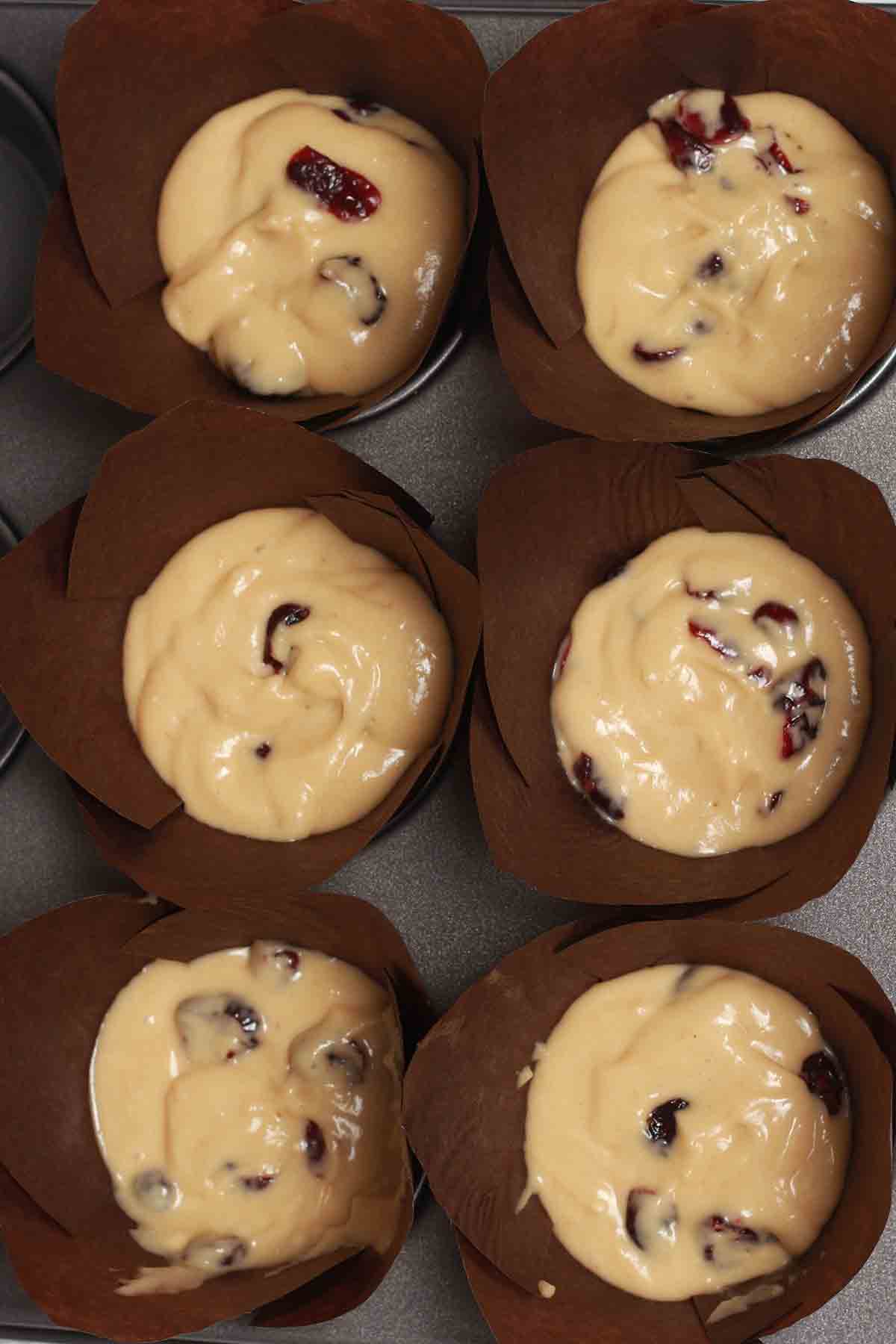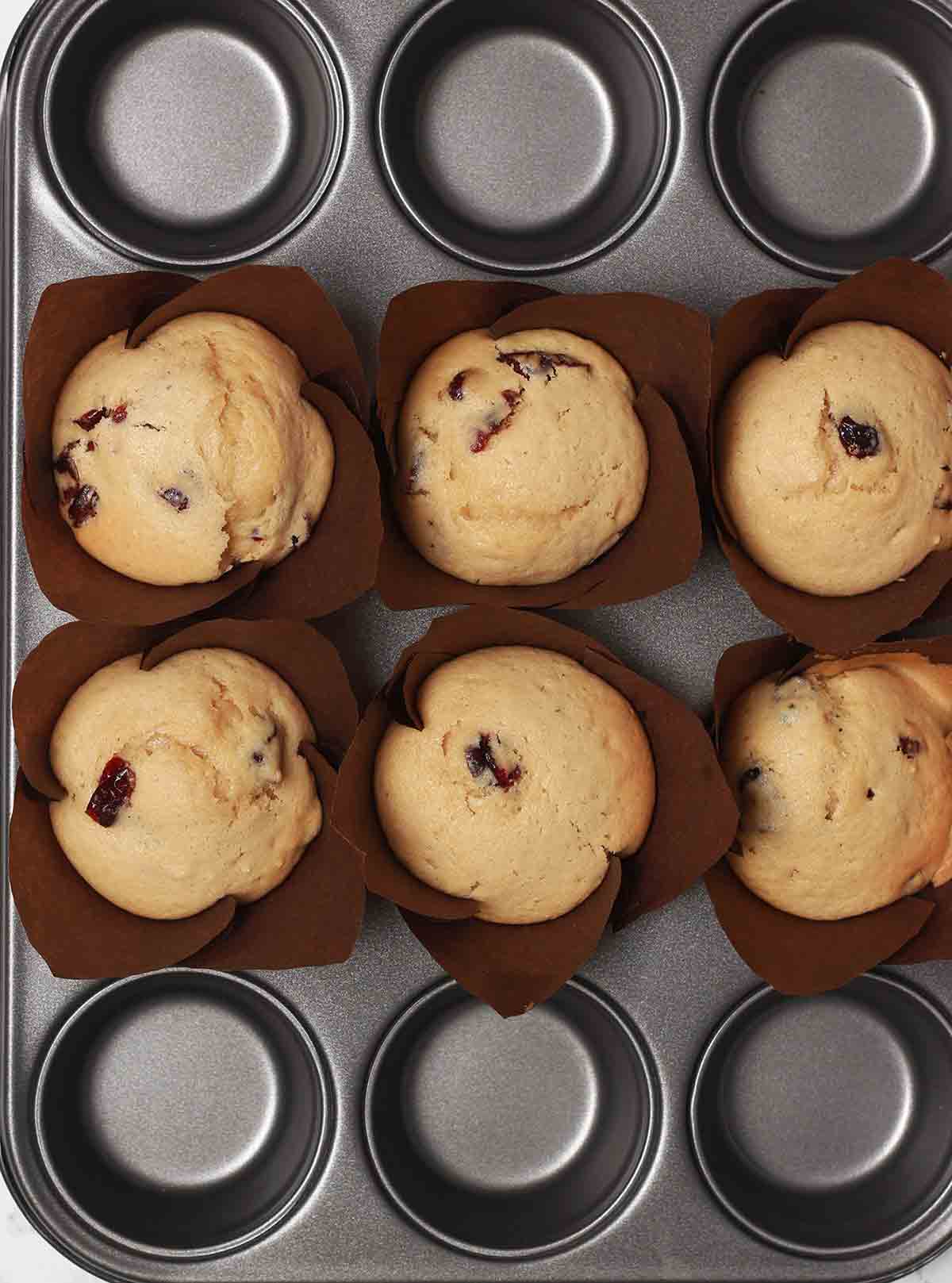 Step 5:
Once baked, place the muffins onto a wire rack and leave them to cool completely. You can enjoy them as is or add an icing sugar dusting for extra sweetness.
FAQ:
How long will vegan cranberry muffins last for?
If you keep them in an airtight container in a cool, dry place such as a kitchen cupboard, they will last for around 4-5 days. You can add some kitchen paper into the container to help them stay fluffy for a little longer.
Can I use fresh cranberries?
I do not recommend using fresh cranberries unless they are the sugared type. You muffins will be quite sour otherwise. If you are using sugared cranberries, make sure to fold them in very gently so that the juices don't interfere with the level of moisture in the batter. Nobody likes a soggy muffin!
Can you freeze them?
Yes. Cranberry muffins are great for freezing. Place them in an airtight container and freeze them for up to 2 months. If you prefer to be able to take one out at a time, you can freeze them on a baking tray first then transfer them to a freezer bag. This will stop them from sticking together in the freezer.

To defrost the muffins, transfer them to a wire rack and let them sit out at room temperature for an hour or two until fully thawed. Do not refreeze them.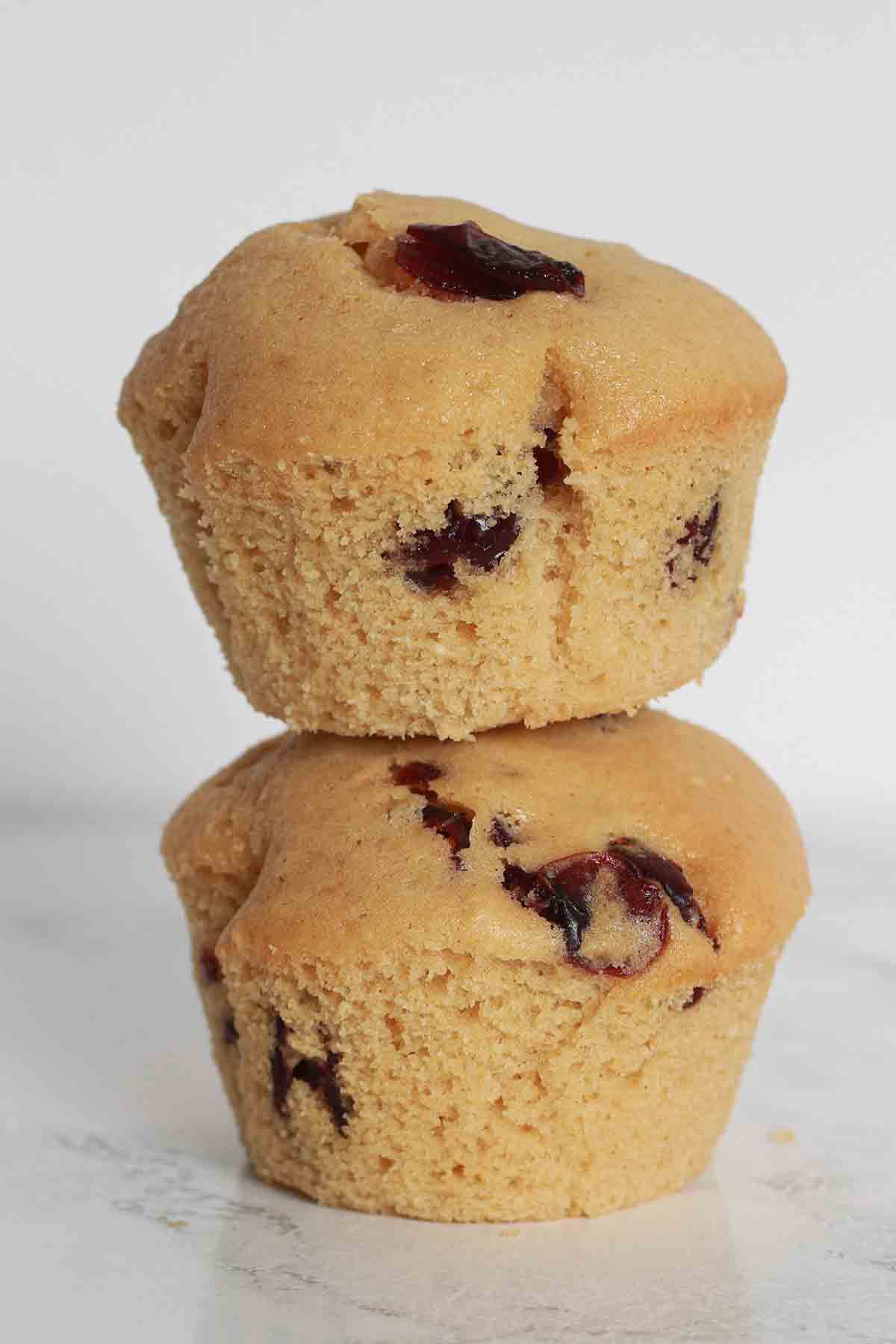 More vegan muffin recipes:
I hope you enjoy these vegan cranberry muffins. If you make them yourself, please let me know how you get on by leaving a rating or comment below. Happy baking! xo

Vegan Cranberry Muffins
Eggless muffins with dried cranberries throughout.
Ingredients
350

g

Self-raising flour

140

g

Caster sugar

100

g

Soft light brown sugar

160

g

Vegan margarine, melted

270

ml

Unsweetened soy milk

2

Teaspoons

Vanilla extract

125

g

Dried cranberries
Instructions
Preheat your oven to 180°C (or 160°C for fan ovens). Line a muffin tin with 12 muffin liners.

In a large bowl, mix the flour and caster sugar, brown sugar together. Then add the melted margarine, soy milk and vanilla extract. Mix well to make a smooth batter.

Fold in the dried cranberries.

Divide your muffin batter equally between the cases and bake for 20-30 minutes (this will vary depending on the depth of your tin/liners). You'll know they're ready when a toothpick comes out clean.

Once baked, transfer the muffins to a wire rack and leave them to cool completely before enjoying.
Recipe Notes
Store in an airtight container for up to 5 days.
Nutrition Facts
Vegan Cranberry Muffins
Amount Per Serving (1 muffin)
Calories 272
Calories from Fat 72
% Daily Value*
Fat 8g12%
Sodium 76mg3%
Carbohydrates 48g16%
Protein 4g8%
* All values are an estimate only and will vary depending on the food brands used.
BakedByClo is a participant in the Amazon Services LLC Associates Program, an affiliate advertising program designed to provide a means for sites to earn advertising fees by advertising and linking to Amazon.com. This site may contain some of these links to Amazon.com & other affiliate programs. If you make a purchase through one of those links, BakedByClo will receive a small commission from the purchase at no additional cost to you.