Vegan Peppermint Truffles
These vegan peppermint truffles are made with a mix of dark and white chocolate and are topped with a sprinkling of candy cane pieces! This is an easy, festive, no-bake recipe that is perfect for making with kids!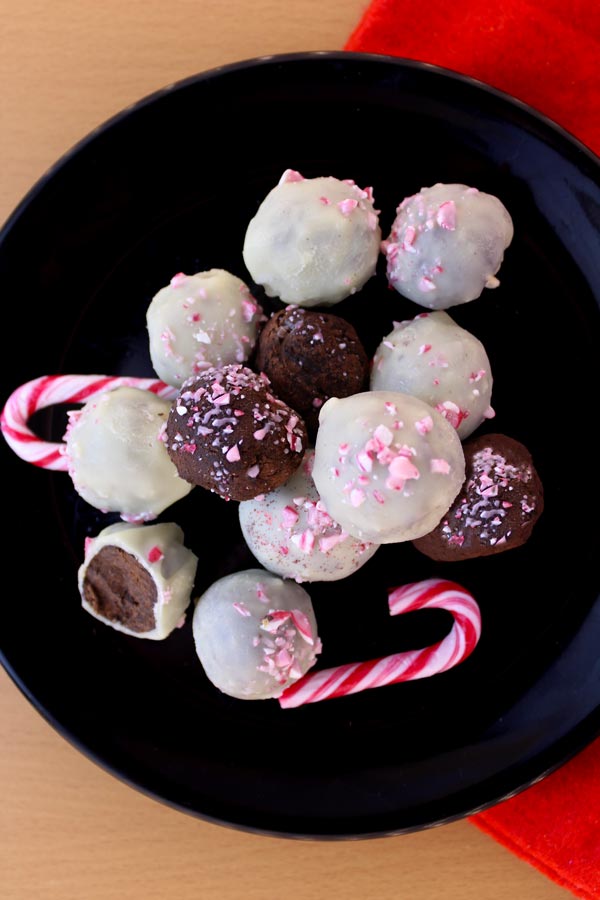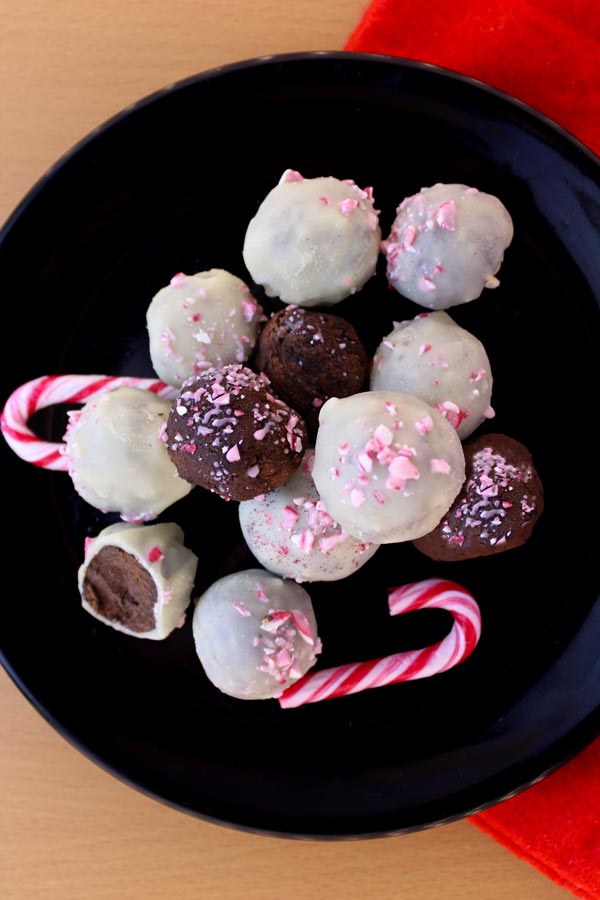 We are now officially into the month of December. And you know what that means…
Christmas recipes!!
I have so many lovely Christmas dessert recipes coming up for you all this month. First up are these delicious white chocolate peppermint truffles.
They're decorated with small pieces of candy cane which matches the peppermint flavour and makes them look so cute and festive!
These make a great edible Christmas gift!
Truffles and Christmas have always gone hand in hand for me.
Ever since I started getting pocket money as a preteen, I'd visit my local ASDA every Christmas.
In secret, I'd buy my mum (and practically every other family member) some super cheap flaky chocolate truffles for £1.
I know, what a baller.
And I can't lie, there was definitely more than one occasion where I ate a whole box to myself before I got around to wrapping and gifting them.
Even though they were cheap, they were SO good. But sadly, they weren't suitable for vegans.
Although veganism is becoming more and more mainstream each day, finding sweet treats that don't cost an arm and a leg is still a bit difficult.
I recently went to buy some vegan Christmas truffles from my local health store until I realised they were £10.
For FOUR TRUFFLES.
I'm a firm believer in #treatyoself but that was just ludicrous.
So, I went home and made some myself. These were a fraction of the cost and so much more unique!
These are also a tiny bit healthier than most store-bought truffles out there too, and they're so rich that you'll only need one or two to satisfy your sweet tooth.
More no-bake vegan desserts: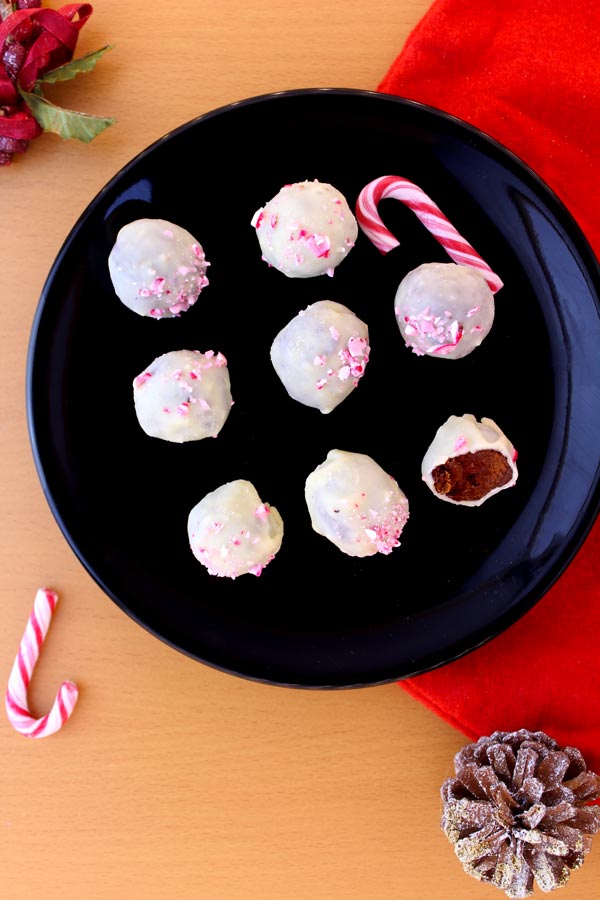 How to make vegan peppermint truffles
Step 1:
Melt 200g of dark chocolate (make sure it's vegan-friendly) in a pan.
I recommend using chocolate that has at least 60% cocoa for best results. I typically use Tesco 74% chocolate as it's high quality but still quite sweet.
Step 2:
In a separate pot, heat 100ml of full-fat coconut milk until small bubbles start to form around the edges. Remove it from the heat as soon as this happens.
Pour the coconut milk over the melted chocolate and let it sit for 5 minutes without stirring.
When the 5 minutes is up, give the mixture a good stir. Let it cool then transfer it to the fridge for 2 hours, or until it becomes firm enough to shape with your hands.
Step 3:
Once chilled, remove the mixture from the fridge. Take around 1 tablespoon at a time and roll it into a ball. You should end up with 12-15 truffles.
Step 4:
Melt 200g of vegan white chocolate and add 1/2 a teaspoon of peppermint extract. Let it cool for a minute or so but don't wait too long as white chocolate sets quite quickly.
Roll each truffle ball into the white chocolate and set it on a wire rack with baking paper underneath. Sprinkle over some crushed candy cane pieces while the chocolate is still wet.
Place the truffles in the fridge for 1 hour to set then enjoy!
FAQ:
Where can I find vegan candy canes?
Most candy canes in the UK are suitable for vegans. In fact, I've never actually seen any that aren't, but that's not to say they're all free from animal products.

Ingredients that you'll need to look out for are things like beeswax, shellac and carmine (also known as cochineal).
How should I store the truffles?
In an airtight container in the fridge! They'll taste OK if kept at room temperature but I like the firmer texture they have when cold.
How long will they last?
Around 1 week if stored in the fridge.
Can I freeze them?
Absolutely! These freeze very well.

Once set, just pop them into an airtight container for up to 4 weeks. To defrost, transfer them to a plate in the fridge for a few hours until edible.

Vegan Peppermint Truffles With Candy Canes
Rich, dark chocolate truffles with a white chocolate peppermint coating and a candy cane topping!
Ingredients
200

g

Dark chocolate with at least 60% cocoa solids

(7oz)

100

ml

Full-fat coconut milk

(⅓ cup + 1 tbsp)
For the white chocolate peppermint coating:
200

g

Vegan white chocolate

(7oz)

½

Teaspoon

peppermint extract

1-2

Vegan-friendly candy canes

(crushed)
Instructions
Melt the dark chocolate over a low heat.

In a separate pan or pot, slowly heat the coconut milk until bubbles are just beginning to form at the sides.

Pour the coconut milk over the melted chocolate and let it sit for 5 minutes without stirring. After the 5 minutes, stir well until you have a slightly thick, smooth mixture.

Transfer this mixture into a dish and refrigerate for 2 hours, or until the mixture is firm enough to roll into balls.

Once the mixture has chilled, take 1 tablespoon at a time and roll it into a ball. You should end up with 12-15 truffle balls. Place them back in the fridge for now.

Melt the white chocolate in a pan over a very low heat, add the peppermint extract and mix. Remove the pan from the heat and allow the chocolate to cool down for a minute or two. Don't leave it too long as white chocolate sets a lot quicker than dark.

Roll each chilled truffle ball into the melted white chocolate and sprinkle some pieces of crushed candy cane on top.

Place them back in the fridge to set for 1 more hour before serving.
Recipe Notes
Store in an airtight container in the fridge for up to 1 week.
Nutrition Facts
Vegan Peppermint Truffles With Candy Canes
Amount Per Serving (1 truffle)
Calories 162
Calories from Fat 99
% Daily Value*
Fat 11g17%
Sodium 7mg0%
Carbohydrates 13g4%
Protein 2g4%
* All values are an estimate only and will vary depending on the food brands used.
BakedByClo is a participant in the Amazon Services LLC Associates Program, an affiliate advertising program designed to provide a means for sites to earn advertising fees by advertising and linking to Amazon.com. This site may contain some of these links to Amazon.com & other affiliate programs. If you make a purchase through one of those links, BakedByClo will receive a small commission from the purchase at no additional cost to you.