This vegan orange and cranberry biscotti is sweet, crunchy and super festive. Eat it as is or dip it in some dairy-free white chocolate for an extra special Christmassy snack.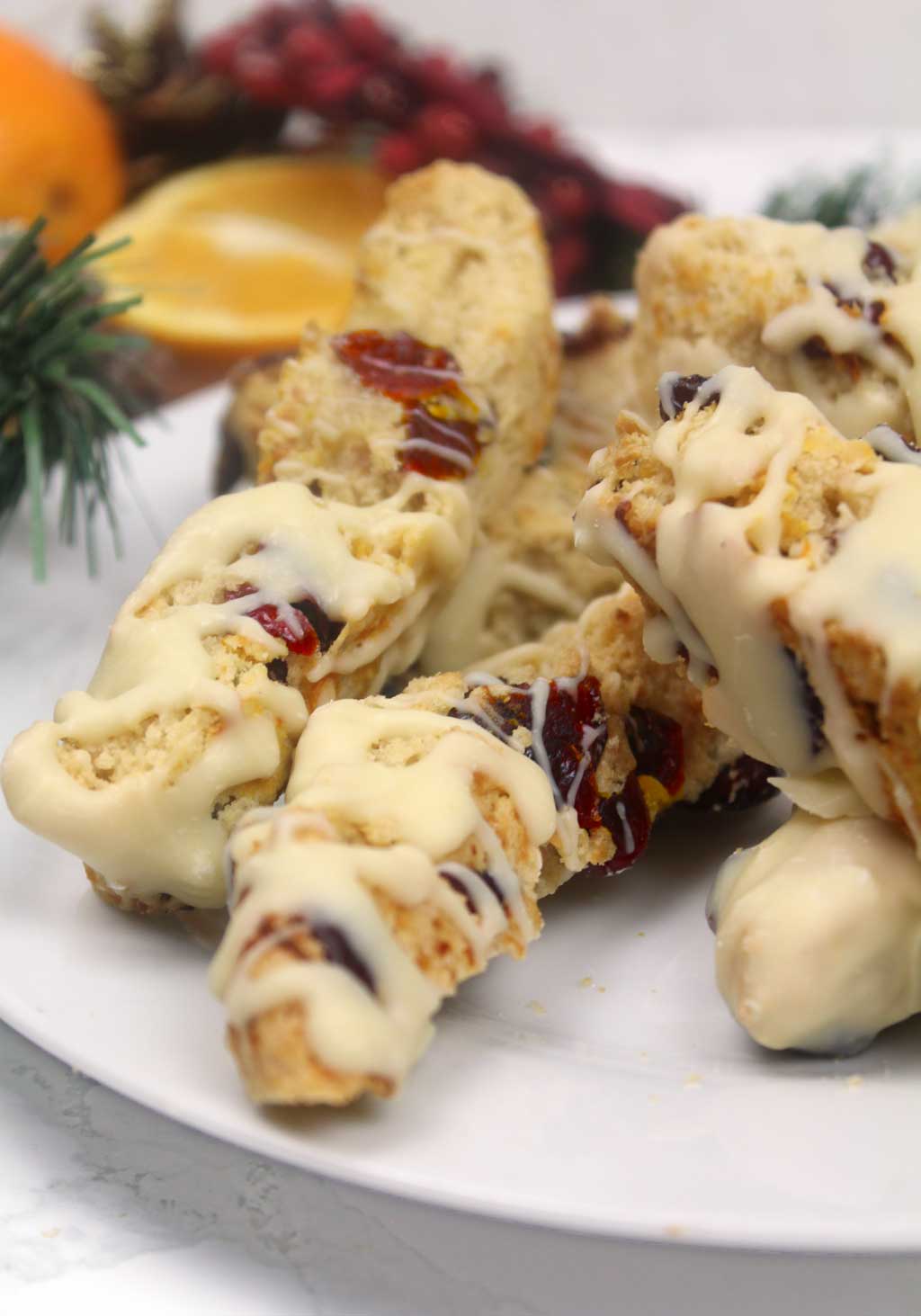 Have you ever visited a new place and got sad that you couldn't try the local delicacies because they weren't vegan friendly?
On a recent trip to Italy, that's exactly what happened to me.
Don't get me wrong, I absolutely loved my trip there. Italy is so beautiful.
But I have to admit, I was secretly a little disappointed that I wasn't able to find vegan-friendly biscotti. (Although the savoury vegan options in Italy were great!) So that I decided I would make some of my own one day.
And that day has finally come.
Seeing as it's the festive season, I added some cranberries and orange zest to the mix to give it a Christmas-y touch. The citrus-y smell that fills your house as it bakes is incredible!
I plan to test it again soon with some Christmas spices like cinnamon or ginger. I think that would take this recipe to the next level!
What Is Vegan Biscotti?
If you don't know what biscotti is, it's a super crunchy Italian cookie, and the name translates to "baked twice".
The traditional recipe contains eggs, however, I was easily able to make it vegan by using dairy-free margarine instead. It replicated the taste and texture perfectly.
You can add whichever flavourings or mix-ins that you like to this recipe. Most commonly, you'll see people add almonds or other nuts to their biscotti. But for me, orange and cranberry biscotti just screams CHRISTMAS.
Want More Vegan Christmas Desserts?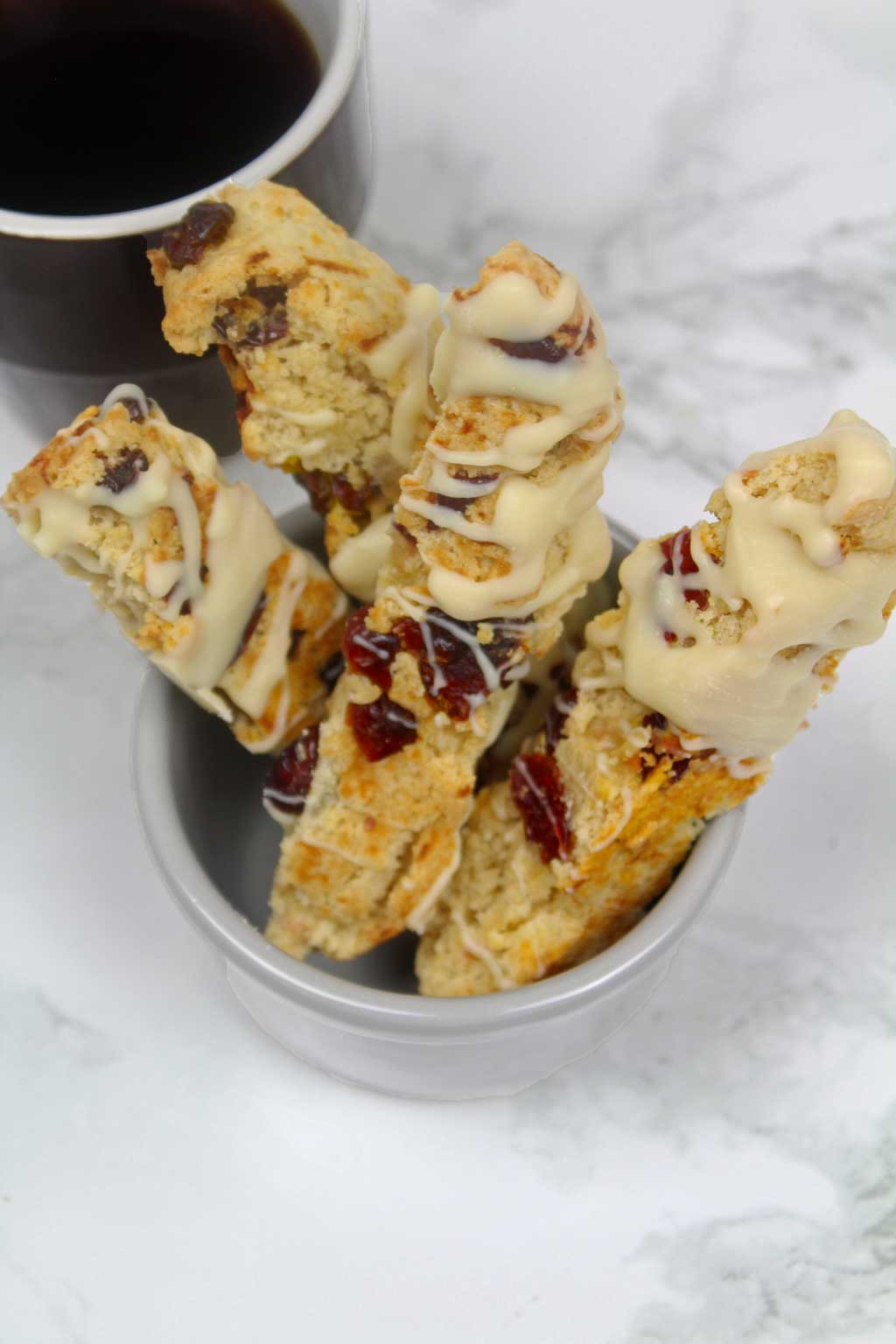 How To Make Eggless Orange and Cranberry Biscotti
Step 1:
Preheat your oven to 180C/ 350F. Line a large baking tray with parchment paper and it set aside for now.
Step 2:
To a large bowl, add 170 grams of plain flour (1 + 1/3 cup) and 1 teaspoon of baking powder, then mix it together.
Step 3:
Add 75 grams of vegan margarine (5 tablespoons) to the bowl. Use your fingers to rub it into the flour and baking powder until you get a mix that resembles fine breadcrumbs.
Stir in 100 grams of caster sugar (1/2 cup).
Step 4:
Add 2 teaspoons of vanilla extract and 4 tablespoons of water to the bowl and mix with a spoon until everything begins to stick together. Then use your hands to form a dough.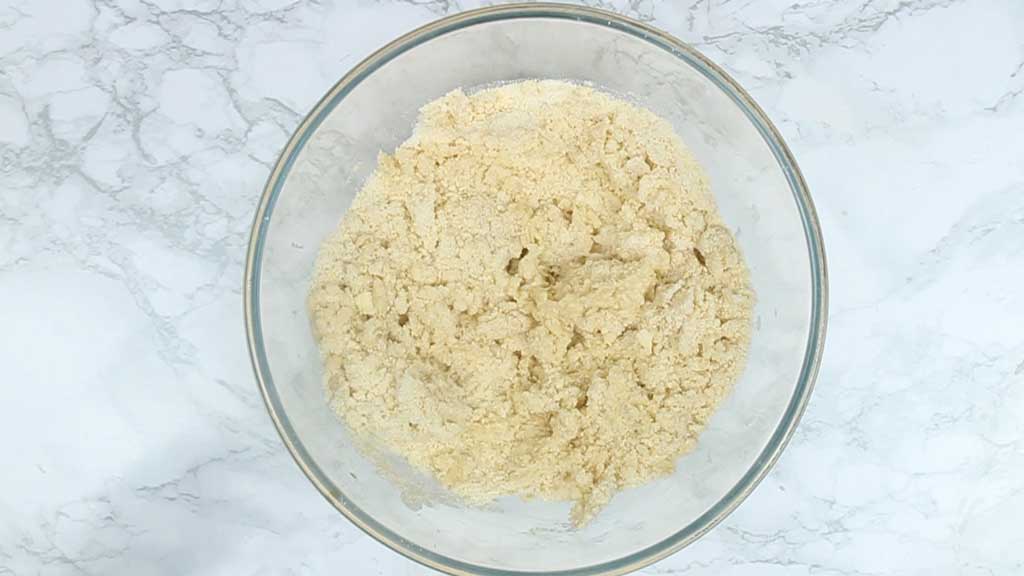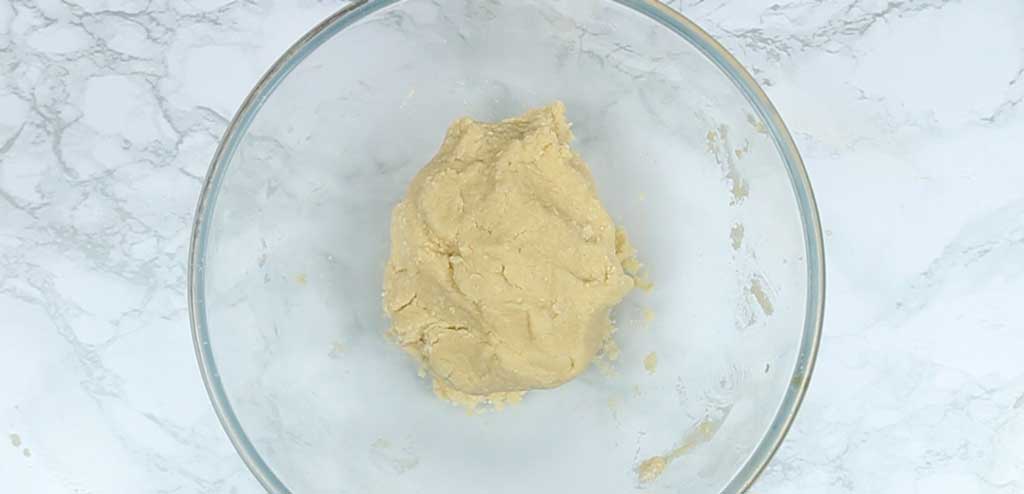 Step 5:
Add in 85 grams of dried cranberries (3/4 cup) and around 3 tablespoons of dry orange zest. Then gently knead them into your biscotti dough.
I like to grate my orange zest in advance and leave it to sit out for around an hour before using it. This gives a chance for any juice to dry up and prevents it from making the dough too wet.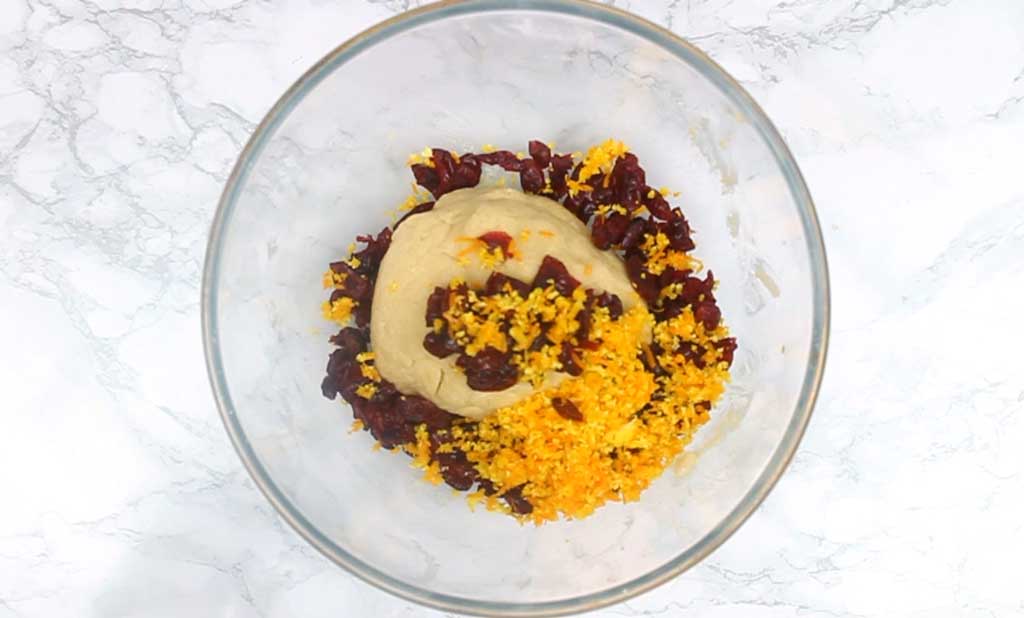 Step 6:
Split the dough into two equal pieces and use your hands to mold both pieces into a log shape.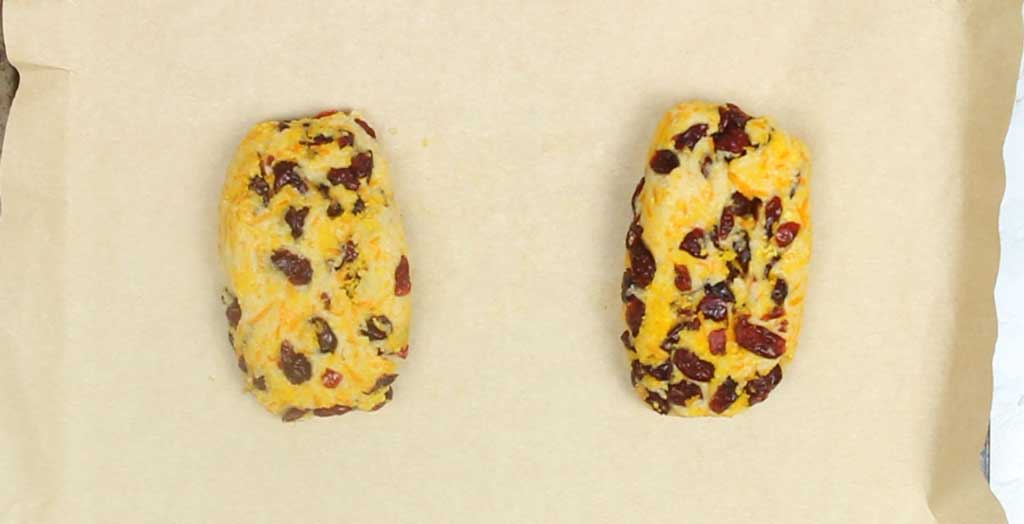 Place the logs onto your lined baking tray and bake for 30-35 minutes. The logs should have expanded at this point and the orange zest will be slightly golden brown.
Step 7:
While the dough is still slightly warm, use a serrated (bread) knife to cut each log into equal slices.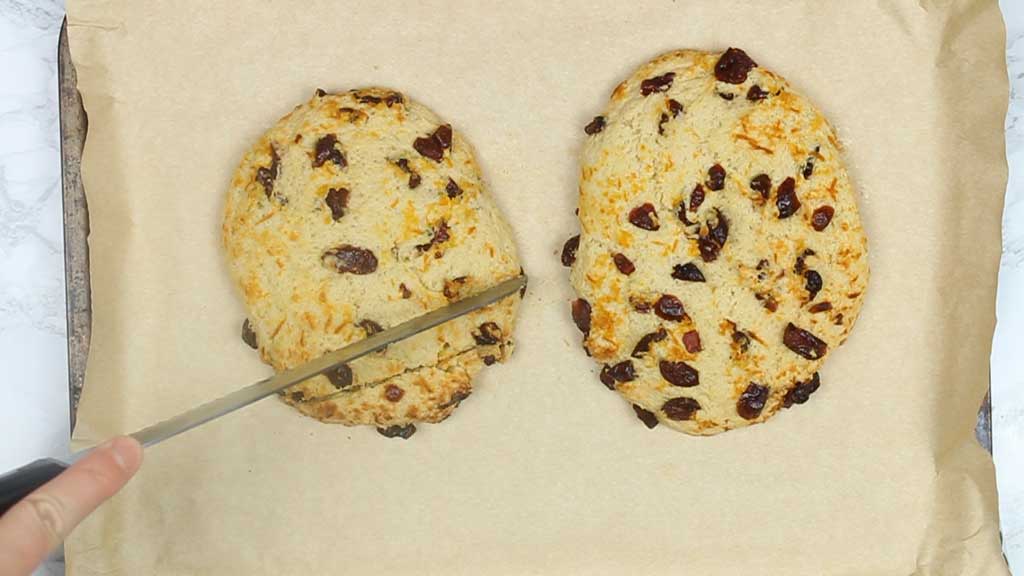 Lay the slices on your baking tray and return them to the oven for 10 more minutes.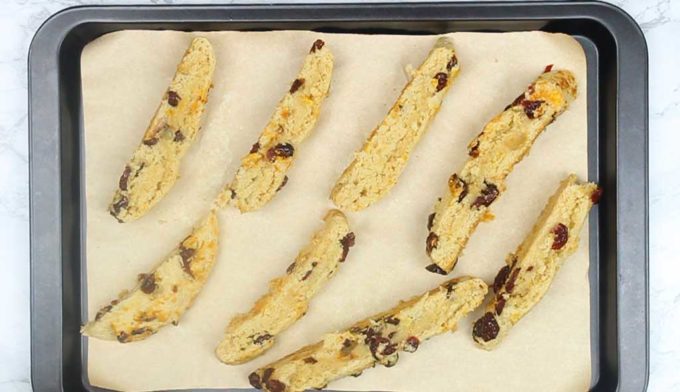 I like to flip the slices over after 5 minutes to make sure they are cooking evenly. I tested this recipe twice- the first time I didn't flip them and the second time I did. They definitely came out crispier the second time.
Allow your vegan biscotti to cool completely on the baking tray before removing them.
Step 8:
When they're cooled, you can enjoy them as they are (note: they taste delicious served with some hot chocolate!) or you can go a step further and dip or drizzle them in chocolate.
I used the same vegan white chocolate that I always use for baking but feel free to use milk, dark or anything else that you like. You'll need around 200 grams of chocolate (7 oz) for this part.
I tried both dipping and drizzling but I found that I liked the way the orange and cranberry biscotti looked much better with just a slight drizzle. It allowed the cranberries to "pop" more.
It's totally up to you though, of course you can do whatever you prefer!
Can I Freeze Orange And Cranberry Biscotti?
Vegan biscotti should keep for around 1 week in an airtight container at room temperature. But if you want to freeze them to keep them even longer, you absolutely can.
Place the slices into a large airtight container lined with a sheet of baking paper and freeze for up to 1 month. Make sure they're not too close together otherwise they'll stick when freezing.
Thaw them at room temperature and enjoy as usual!
Can I Freeze The Biscotti Dough?
You can also freeze the dough if you want to prepare in advance but still have freshly baked biscotti. Wrap the dough tightly in cling film or place it into an airtight container and freeze for up to 3 months.
When you're ready to bake it, thaw it at room temperature, shape it into logs and bake as per the instructions.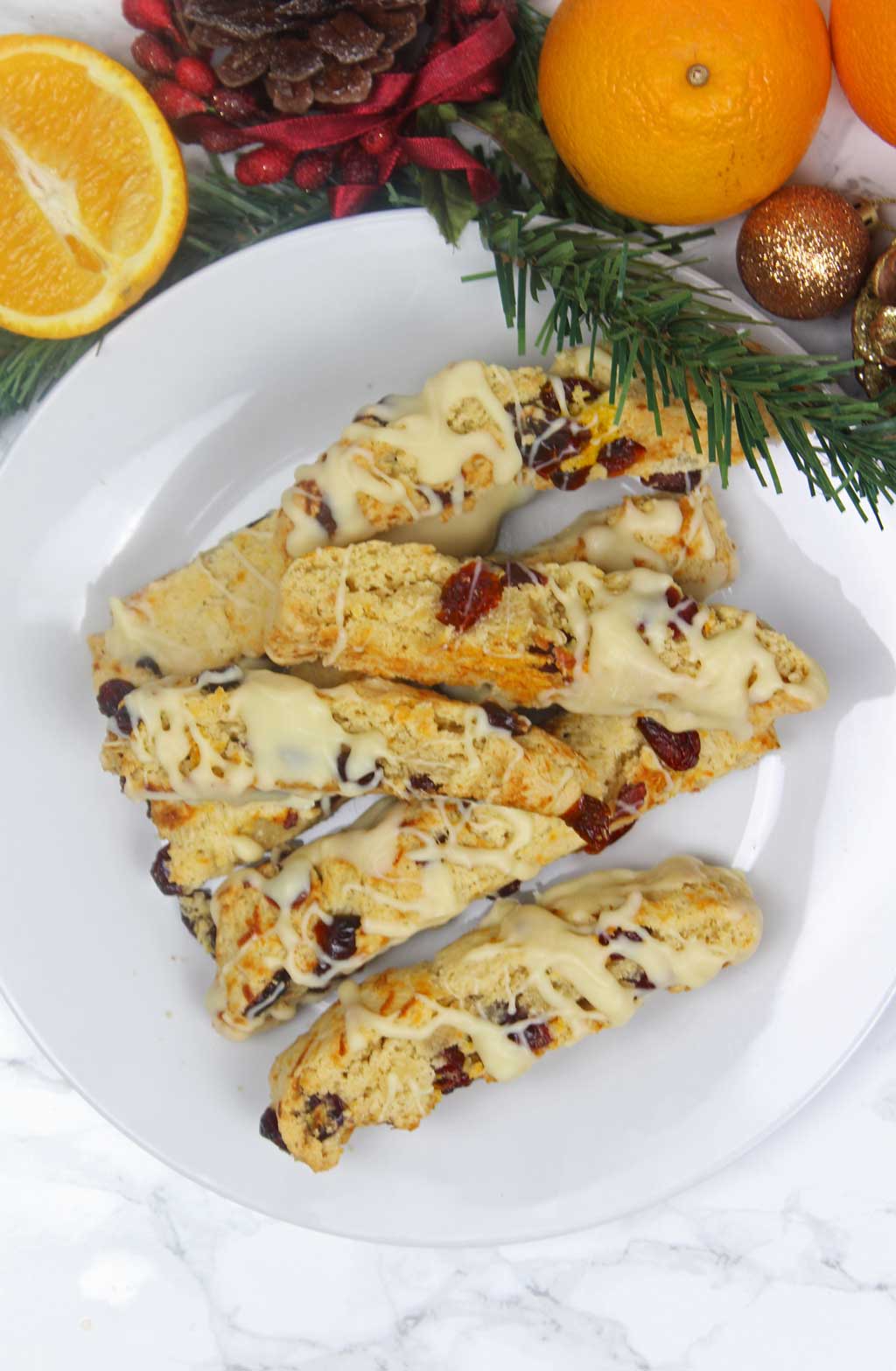 I hope you enjoy my festive, vegan take on biscotti! If you make it at home, please let me know how it went by leaving a comment or review below. I love hearing from you!
Happy baking!xo

Vegan Orange And Cranberry Biscotti
Crunchy Italian biscotti without the eggs. Flavoured with festive cranberries and orange zest.
Keyword:
orange and cranberry biscotti
Ingredients
170

g

Plain flour

(1+⅓ cup)

1

Teaspoon

Baking powder

75

g

Vegan butter or margarine

(5 tablespoons)

100

g

Caster sugar

(1 cup)

2

Teaspoons

Vanilla extract

4

Tablespoons

Water

3-4

Tablespoons

Orange zest

(make sure it's dry)

85

g

Cranberries

(¾ cup)
To top (optional):
200

g

Vegan white chocolate

(7oz)
Instructions
Preheat your oven to 180°C/ 350°F. Line a large tray with baking paper.

Add the flour and baking powder to a large bowl and mix it together.

Add the vegan butter and use your fingers to rub it into the flour until you have a mixture that resembles fine breadcrumbs.

Stir in the caster sugar.

Now add the vanilla extract and the water and mix with a spoon until it all begins to stick together. Use your hands to bring it together to a dough.

Knead in the cranberries and orange zest.

Divide the dough into two equal pieces and mold each piece into a log shape. Bake for 30-35 minutes until it's starting to become golden brown.

Using a serrated knife, gently cut the warm log into slices. Lay the slices flat on your baking tray and return them to the oven for a further 10 minutes, flipping them over half way through.

Allow the biscotti to cool completely before removing them from the tray.

Enjoy them as is or drizzle with vegan white chocolate.
Recipe Notes
*Store in an airtight container for up to 1 week.
Nutrition Facts
Vegan Orange And Cranberry Biscotti
Amount Per Serving (1 slice)
Calories 160
Calories from Fat 45
% Daily Value*
Fat 5g8%
Carbohydrates 25g8%
Protein 1g2%
* All values are an estimate only and will vary depending on the food brands used.