Vegan Condensed Milk Caramel
This vegan condensed milk caramel is quick, easy and delicious. It's suitable for using in a variety of desserts, including millionaire shortbread, banoffee pie and more.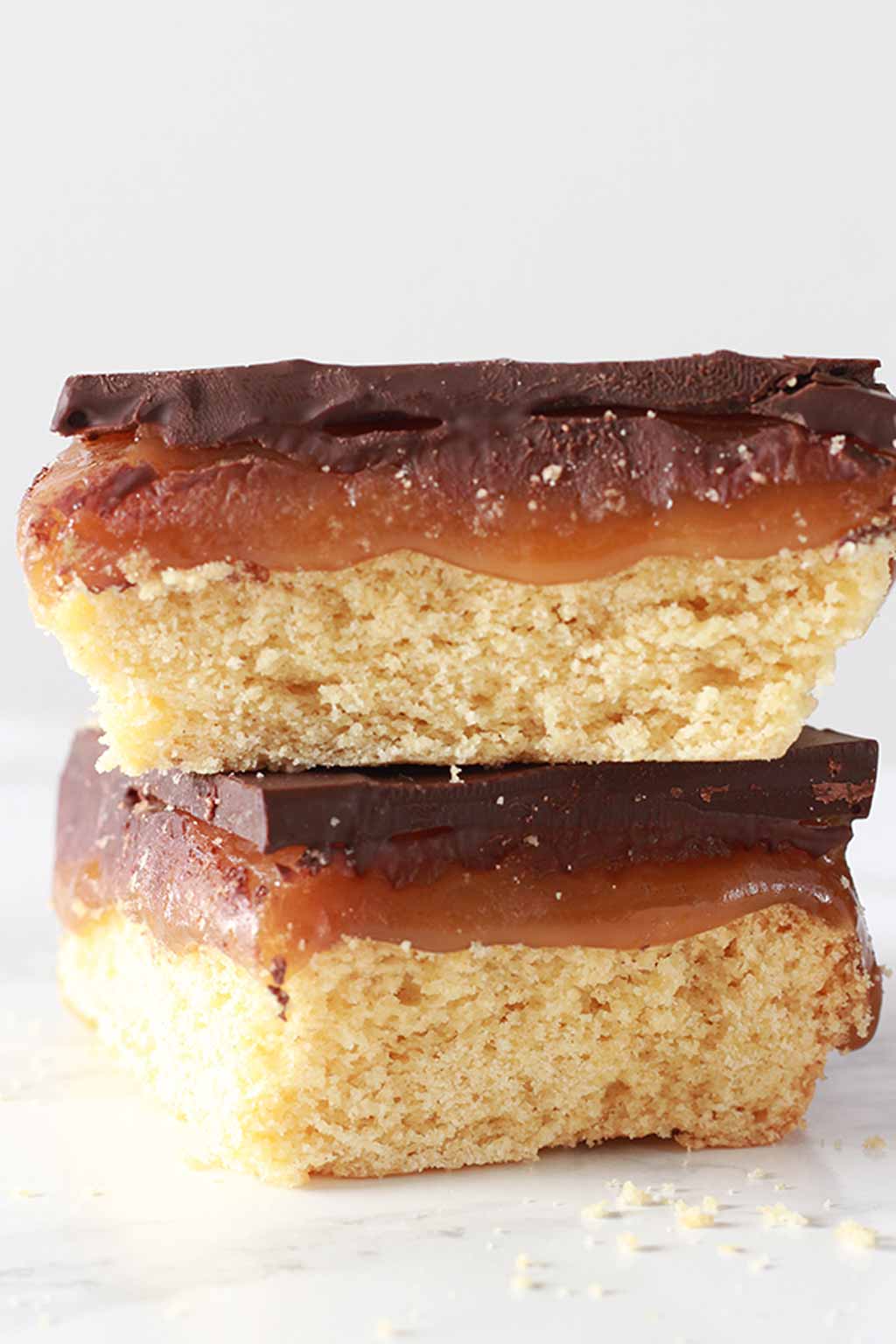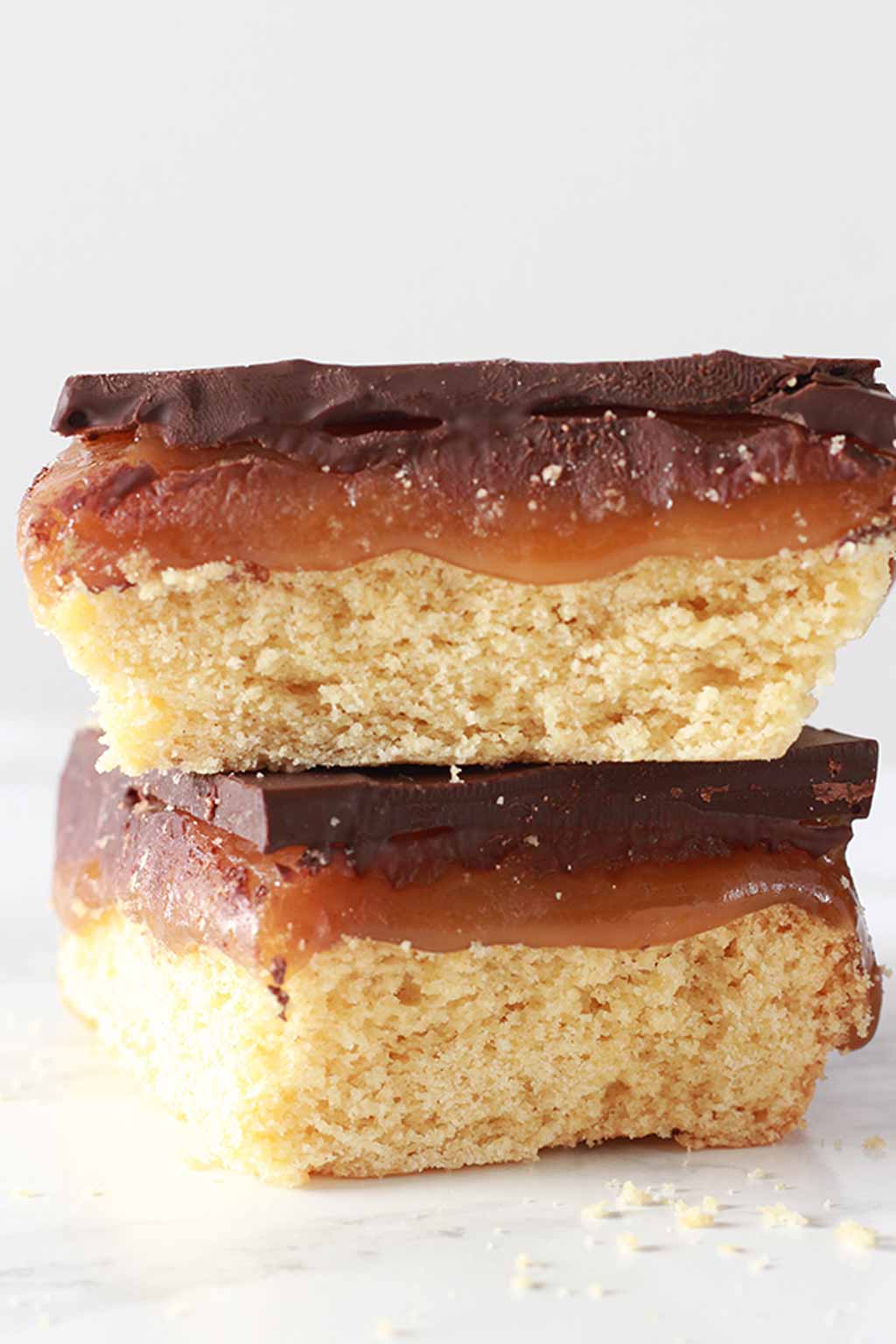 This has been a long time coming but I'm glad to finally be writing up my condensed milk caramel recipe!
I made caramel for this first time ever when I created my millionaire shortbread recipe. I had originally been using a from-scratch recipe that consisted of soy milk, sugar and vanilla, but I had a few people asking for a condensed milk version too.
So your wish is my command…here it is!
All you'll need for this recipe is 3 simple ingredients (or 4 if you're feeling fancy). They are:
Vegan condensed milk
Soft brown sugar
Vegan margarine
Vanilla extract (optional)
I would also really recommend using a jam or candy thermometer if you can. It's not essential but it will help to ensure the caramel is exactly the correct temperature for setting. If you don't use one, there is a risk that the caramel will set too hard or too gooey.
You can purchase a jam thermometer from most places that sell homeware (and there are loads on Amazon too). I always use this one I purchased from Dunelm a while ago.
Where can I get vegan condensed milk?
Vegan condensed milk is becoming a little more popular as veganism becomes more mainstream. The ones I know of so far are Nature's Charm and Biona, which are both coconut condensed milk, and Carnation, which is rice and oat-based.
I have made this caramel with both Nature's Charm and Carnation and I have to say I prefer the Carnation one. The flavour is more subtle in my opinion. It was also cheaper and it was easier to get a hold of as it's sold in most UK supermarkets.
Feel free to use whichever type you like though. You can even make your own if you feel up to the challenge! I haven't tried making my own condensed milk from scratch yet but there are lots of recipes online.
How to make vegan condensed milk caramel
Step 1:
Weigh out 640g of dairy-free condensed milk and place it into a large, deep, non-stick pot.
Add 120g of vegan margarine, 100g of soft brown sugar and 1 teaspoon of vanilla extract.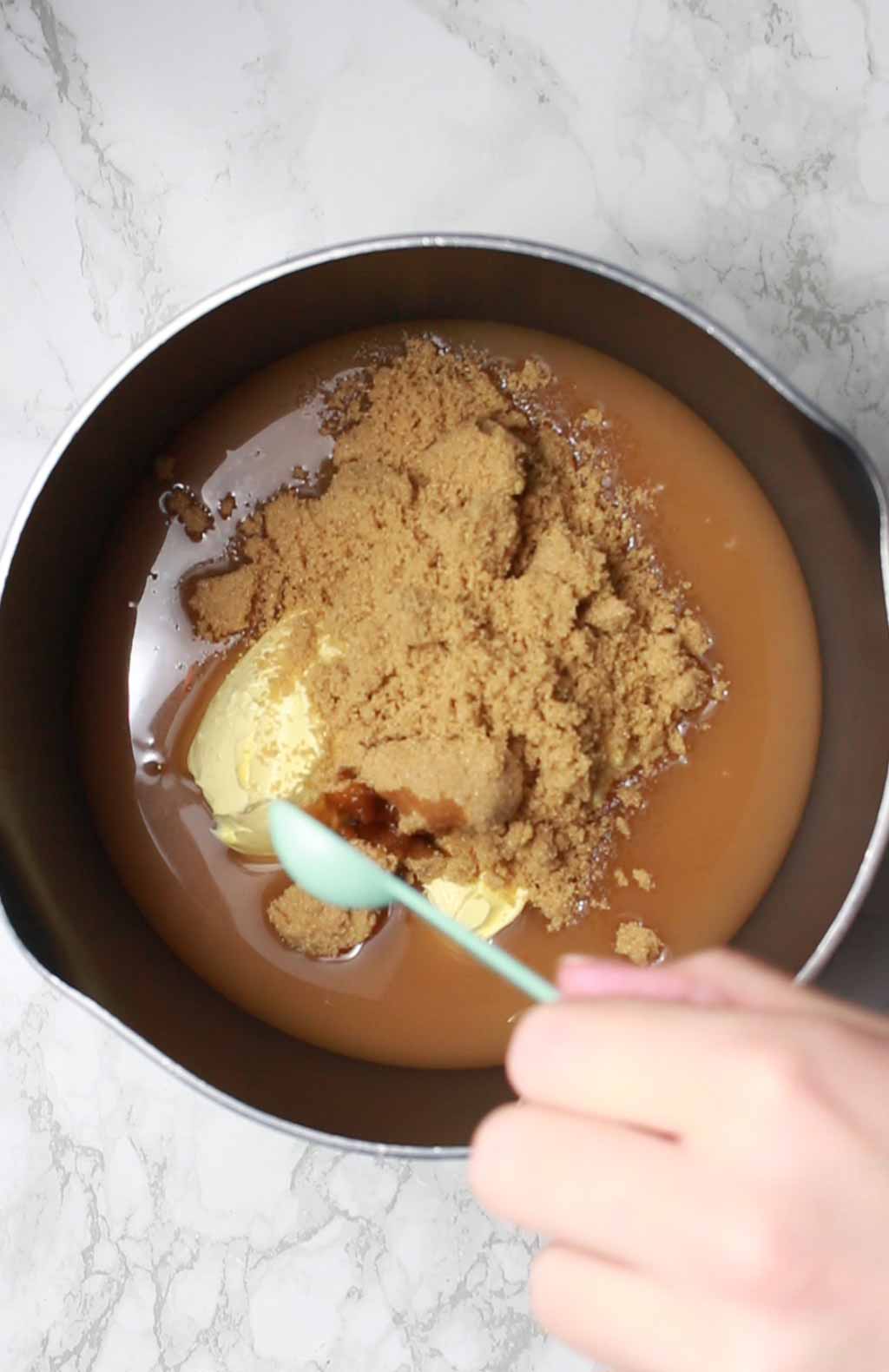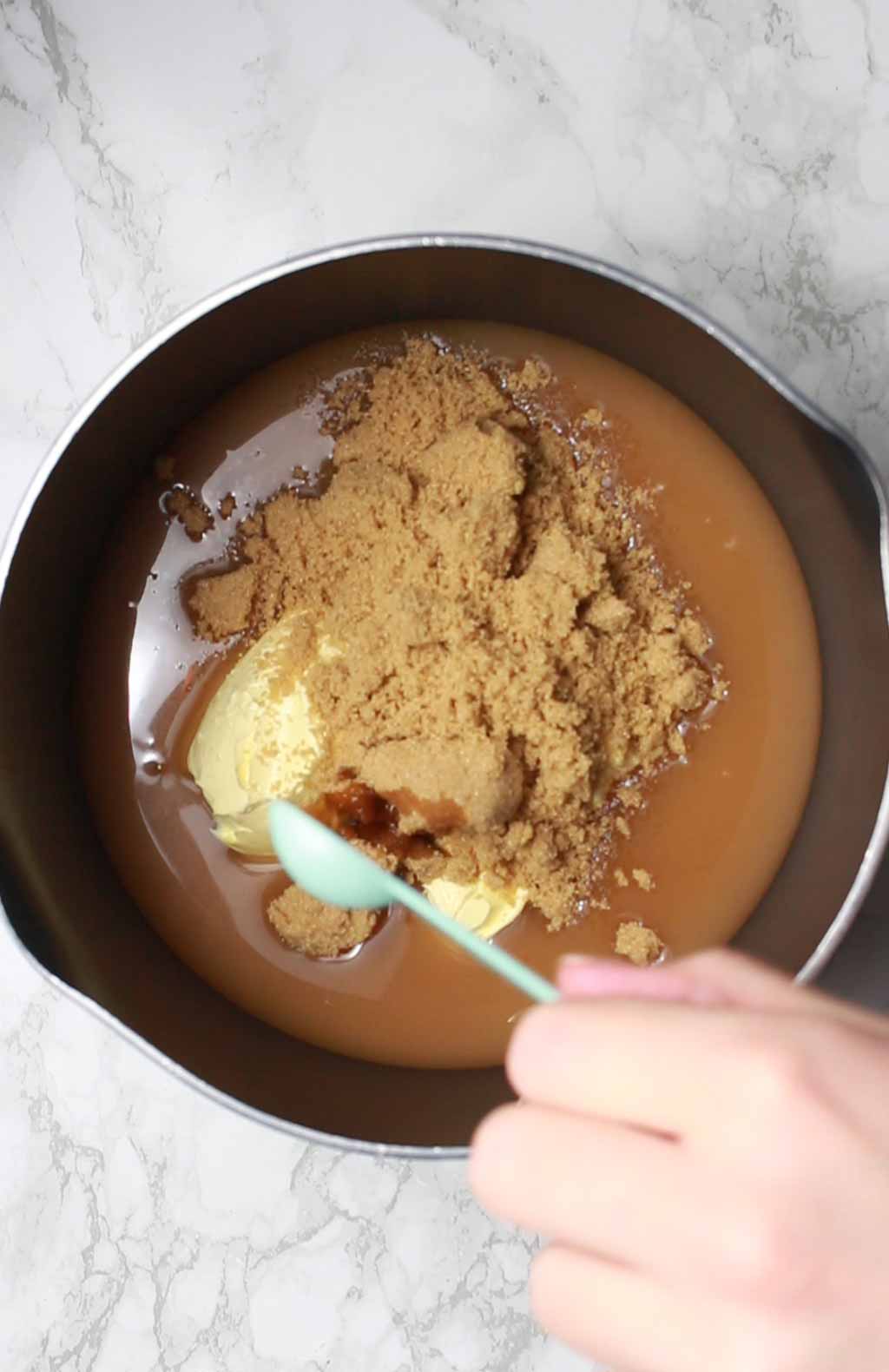 Step 2:
Place the pot over the stove and turn the heat to low. Gently mix it every so often until the butter has melted and everything is nicely combined with no lumps.
Step 3:
Turn the heat to high and stir continuously using a rubber spatula. The mixture will bubble and darken in colour.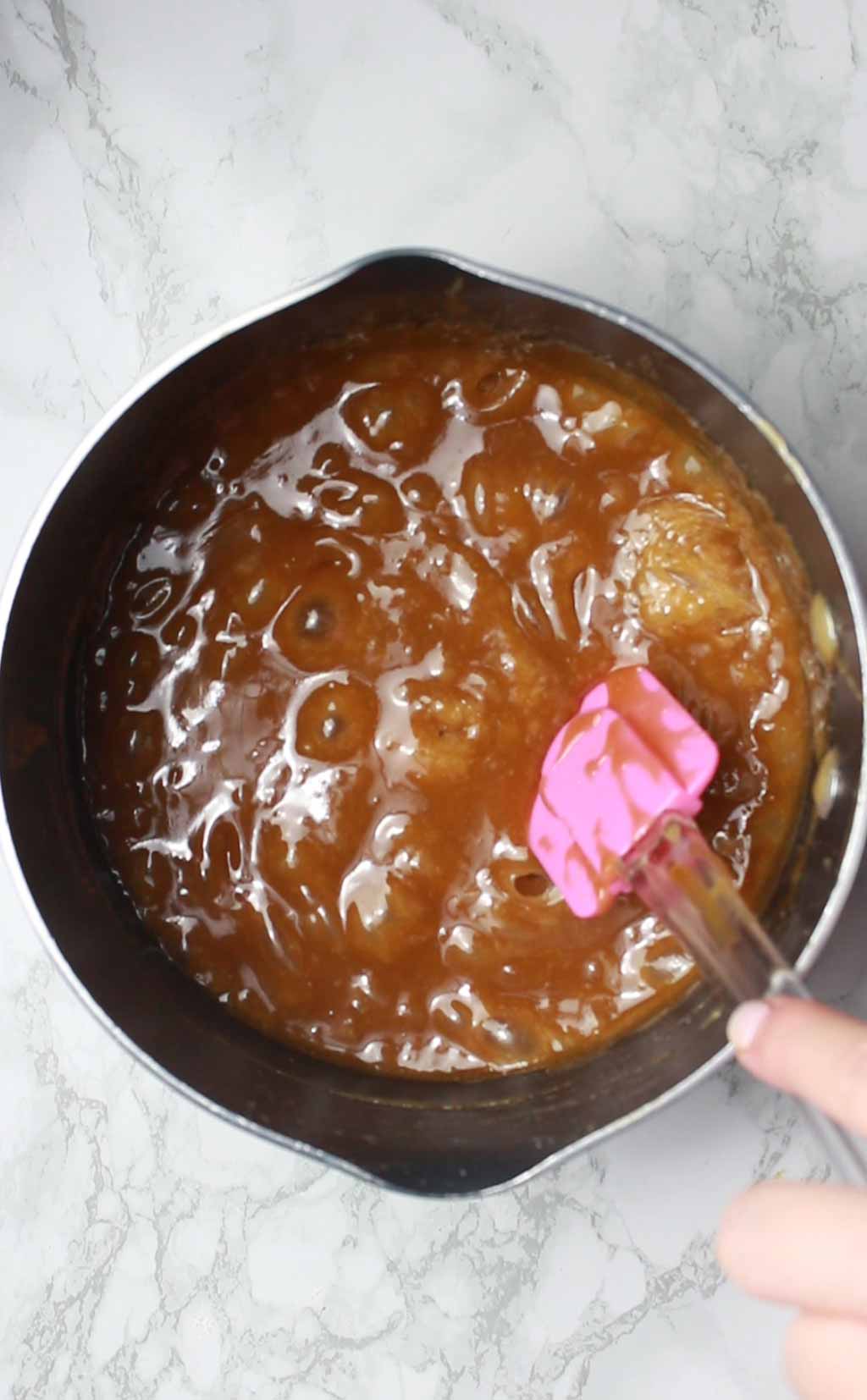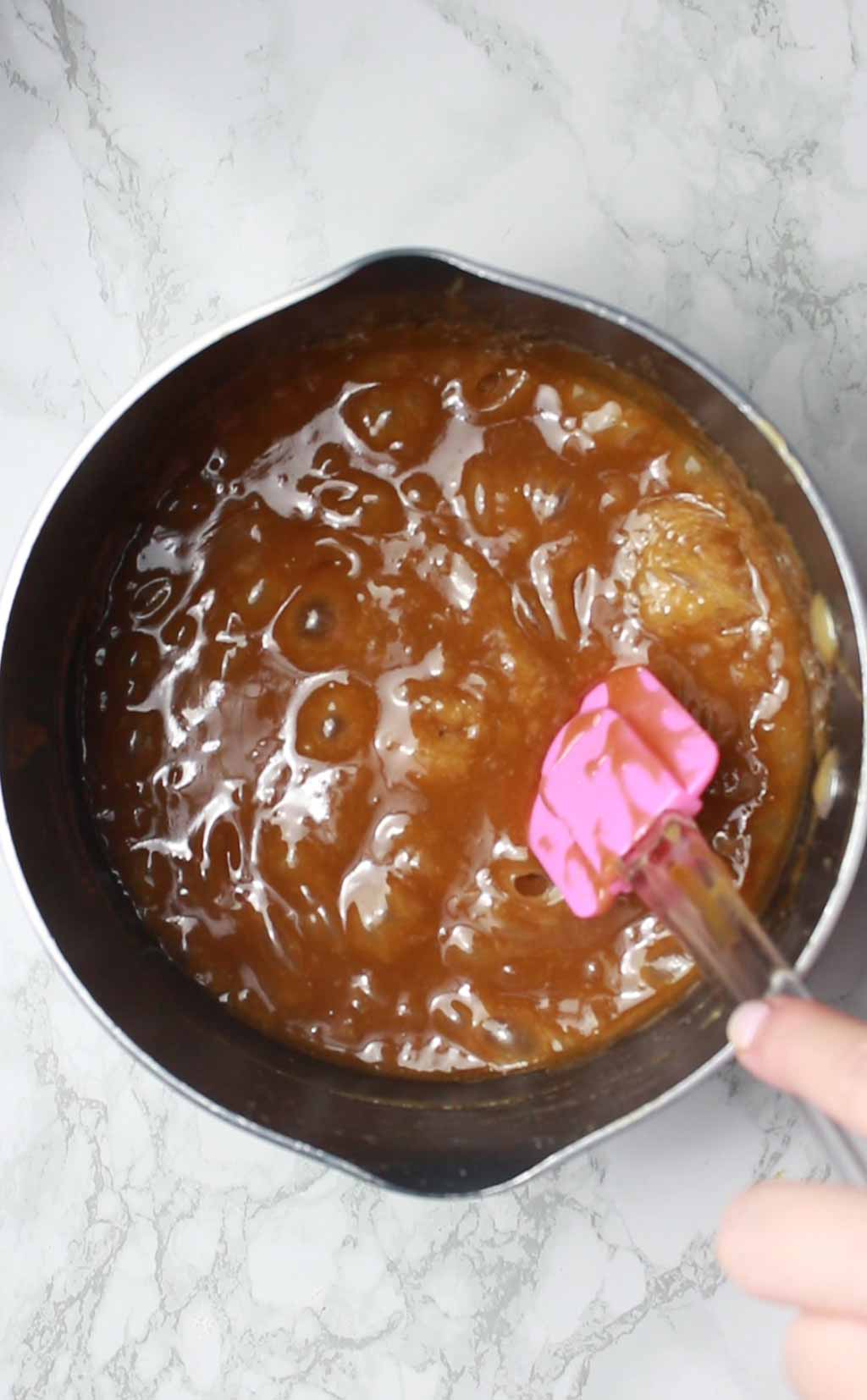 When the temperature reaches 118°C on a jam/candy thermometer, remove it from the heat. If you don't have a thermometer, remove it from the heat when it begins to pull away from the sides of the pot.
Leave the caramel to cool for a minute or so, until the bubbling dies down.
Step 4:
Pour the caramel over your dessert of choice while it's still runny. It can be used on a shortbread base to make millionaire's shortbread, on a biscuit base to make banoffee pie, or anything else you desire!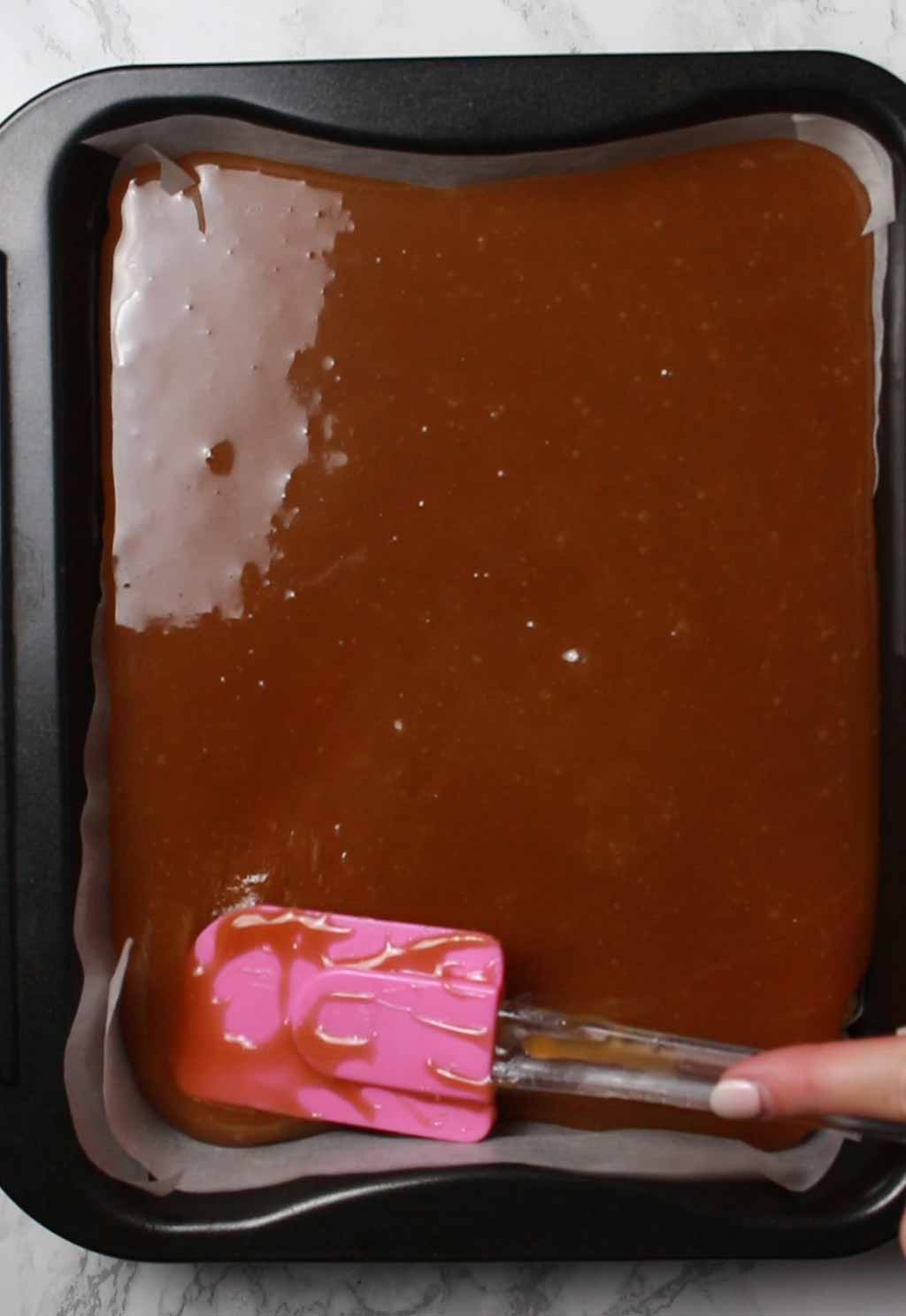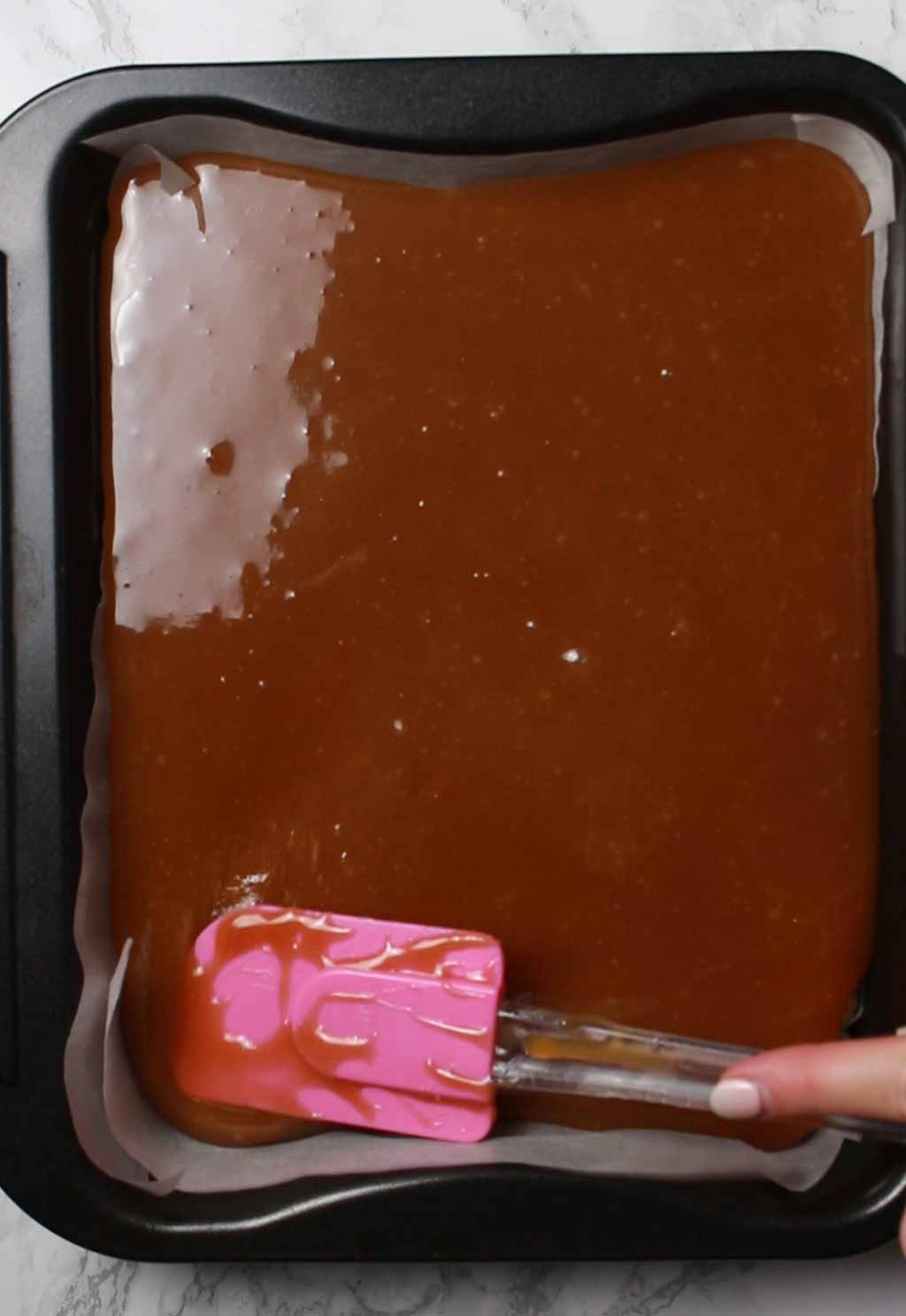 Once the caramel has been poured and evenly spread out onto your dessert, let it sit at room temperature for around 30-60 minutes to set before adding anything else on top. It should be completely cool and firm to the touch.
FAQ
Do I really need a thermometer to make this caramel?
It's not absolutely essential but I do highly recommend it, especially if it's your first time making caramel. Without using a thermometer, you can tell when the caramel is ready when it starts to pull away from the sides of the pot. There is a risk when doing it this way though ; the caramel may end up a little to soft or too hard and brittle.

Using a thermometer lets you measure the exact temperature which will ensure the caramel is the correct consistency.
Can I store it for later?
This recipe makes a chewy caramel (much like the centre of a Twix bar) that will become firm pretty quickly after taking it off of the heat. I recommend using it in your chosen dessert straight away then leaving it to set.
What can I use this caramel for?
The most obvious one is millionaire's shortbread but it can also be used for things like banoffee pie, homemade Twix bars or on top of brownies. Whatever your heart desires!
Can I freeze the caramel?
No, I don't recommend freezing this one. It's best to use it immediately.
That's all for now! If you make it yourself at home, please let me know by leaving a rating and/or comment below! xo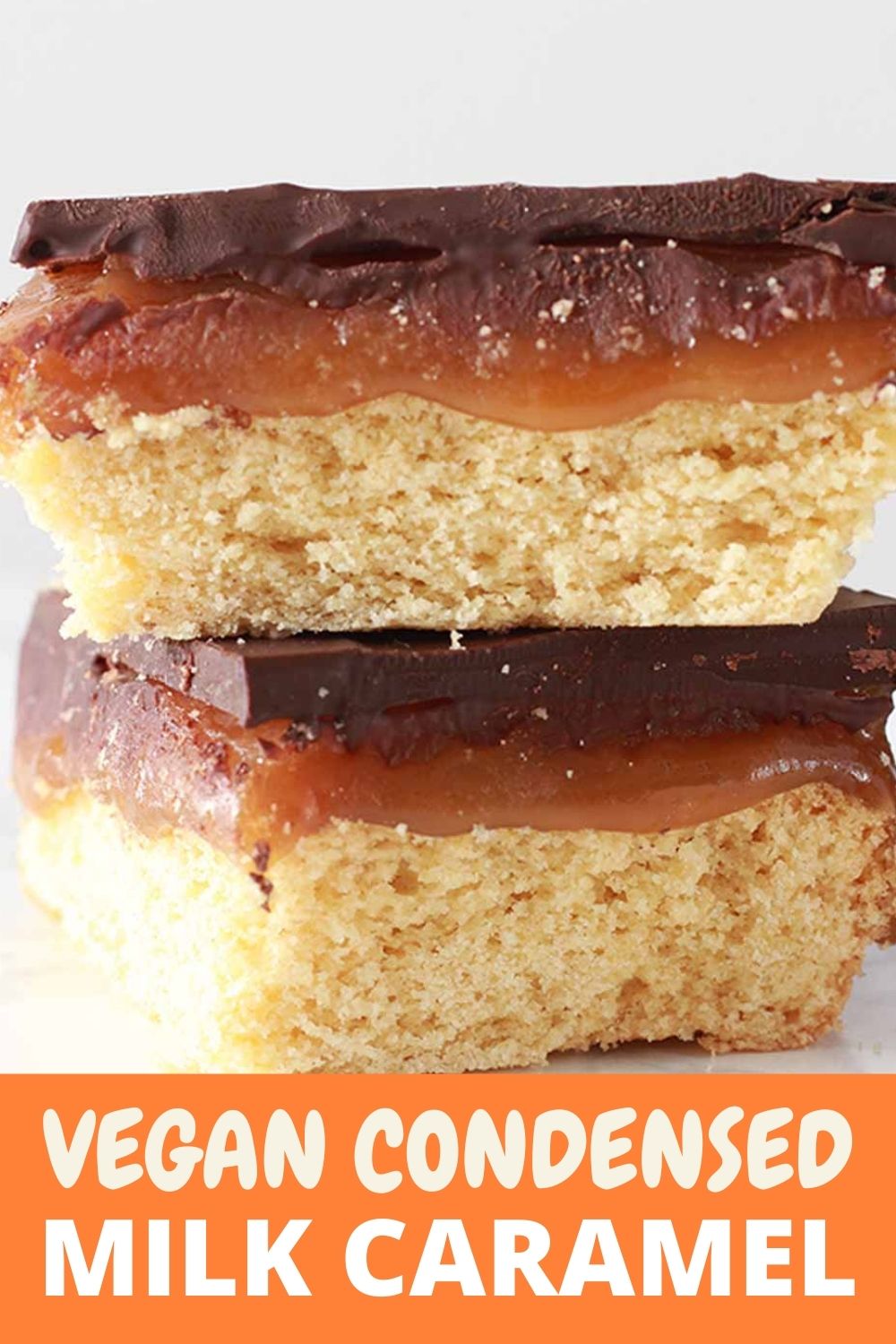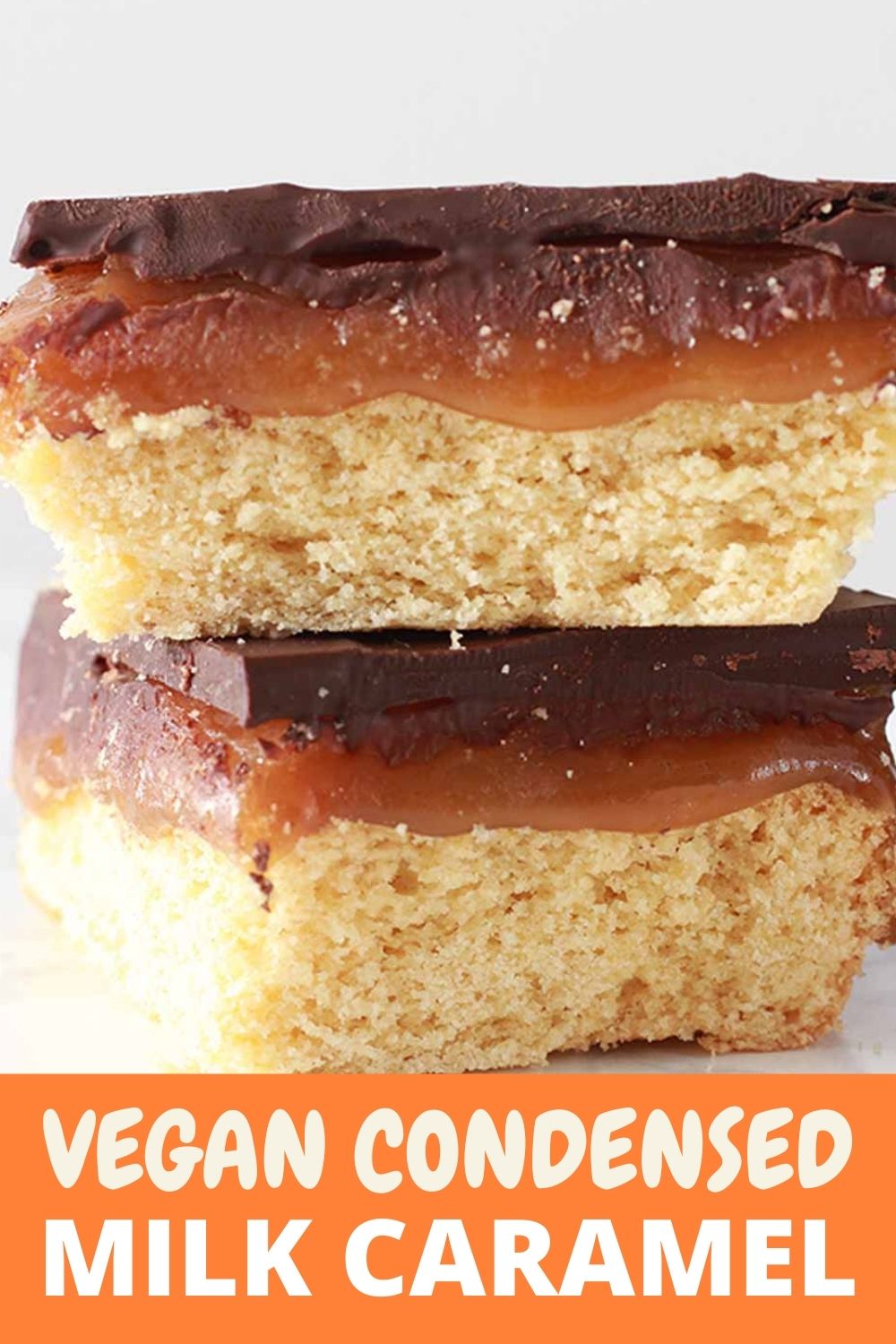 Vegan Condensed Milk Caramel
Dairy-free alternative caramel recipe for using in desserts.
Ingredients
640

g

Vegan sweetened condensed milk

(I used Carnation's)

120

g

Vegan margarine

100

g

Soft brown sugar

1

Teaspoon

Vanilla extract

(optional)
Instructions
Place all of the ingredients into a large non-stick pot and set the heat to low. Stir occasionally with a rubber spatula, until the margarine has melted and all of the ingredients are combined.

Turn the heat up to high and stir continuously until it reaches 118°C on a jam/candy thermometer. You'll know it's ready when it starts to slightly thicken and pull away from the edges of the pot.

Remove the caramel from the heat and let it sit for a minute or so until the bubbling stops. Use it immediately for caramel shortbread or any other dessert you like.
Recipe Notes
The caramel will set quickly so I recommend using it immediately.
This caramel is chewy like the inside of a Twix bar. If you want a softer caramel, heat it to 114

°C instead.
Nutrition Facts
Vegan Condensed Milk Caramel
Amount Per Serving (1 /12th)
Calories 260
Calories from Fat 90
% Daily Value*
Fat 10g15%
Sodium 57mg2%
Carbohydrates 41g14%
Protein 1g2%
* All values are an estimate only and will vary depending on the food brands used.
BakedByClo is a participant in the Amazon Services LLC Associates Program, an affiliate advertising program designed to provide a means for sites to earn advertising fees by advertising and linking to Amazon.com. This site may contain some of these links to Amazon.com & other affiliate programs. If you make a purchase through one of those links, BakedByClo will receive a small commission from the purchase at no additional cost to you.