Vegan White Chocolate Torte
My last Christmas recipe of the year is this beautiful vegan white chocolate torte. It's rich, creamy and velvety, and the Gingernut biscuit base cuts through the sweetness to give a slight kick. If you love white chocolate, this recipe is for you!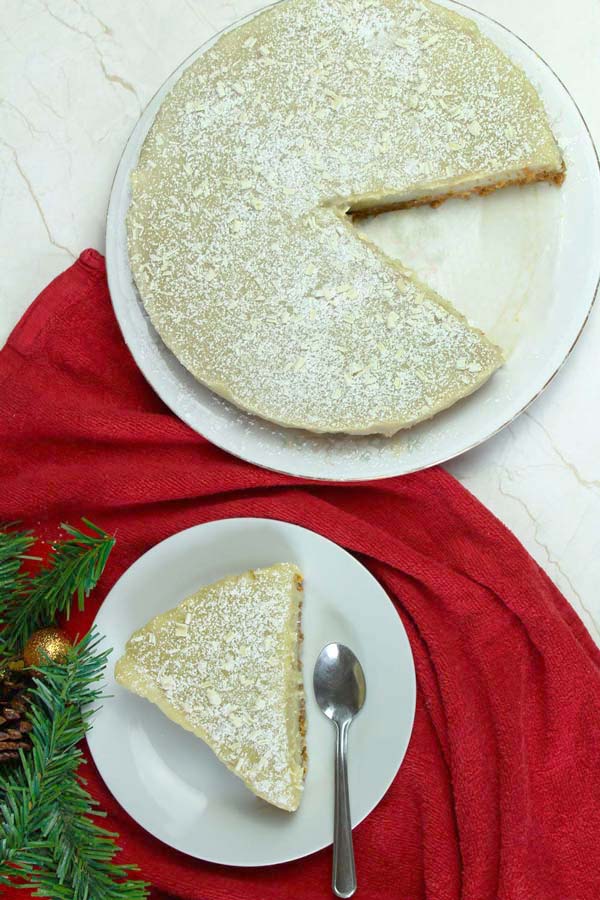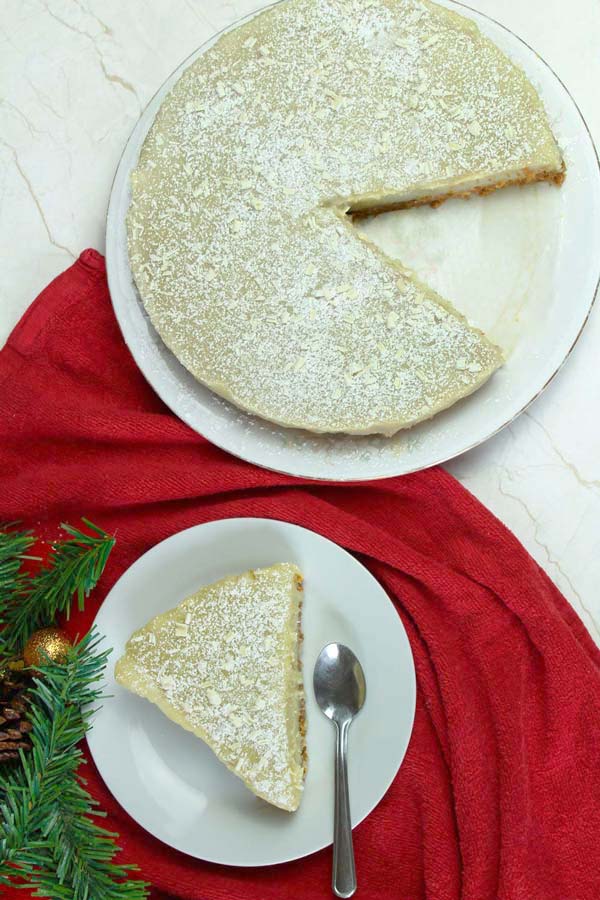 Do you want to know a secret?
I'm not celebrating Christmas this year.
Yup. Despite all of the festive recipes I've been making, I'm not really that into Christmas.
Don't get me wrong, I absolutely love the lights, decorations, Christmas cheer and cosy nights in. (And the food. I'm totally here for the food.)
But aside from that, I'm really not into the consumeristic side of Christmas which seems to be what it's mostly about these days.
I hear everyone around me complaining that they have no money to buy gifts. But when I tell them simply not to, they tell me that not giving gifts makes them feel guilty.
Crazy. Because most of us don't even know why we celebrate Christmas.
So this year, I'm choosing not to.
And not in the "Bah! Humbug!" kind of way. But more in a, "I'm saving my money and going on holiday instead" kinda way.
Tomorrow, I'm off to sunny Tenerife with my boyfriend, until the 28th. YAY.
But before we go, I wanted to make one last Christmassy recipe because I needed another excuse to eat more Christmas food you've all been loving them so far!
This week, I made a delicious vegan white chocolate torte with a gingery, crumby base.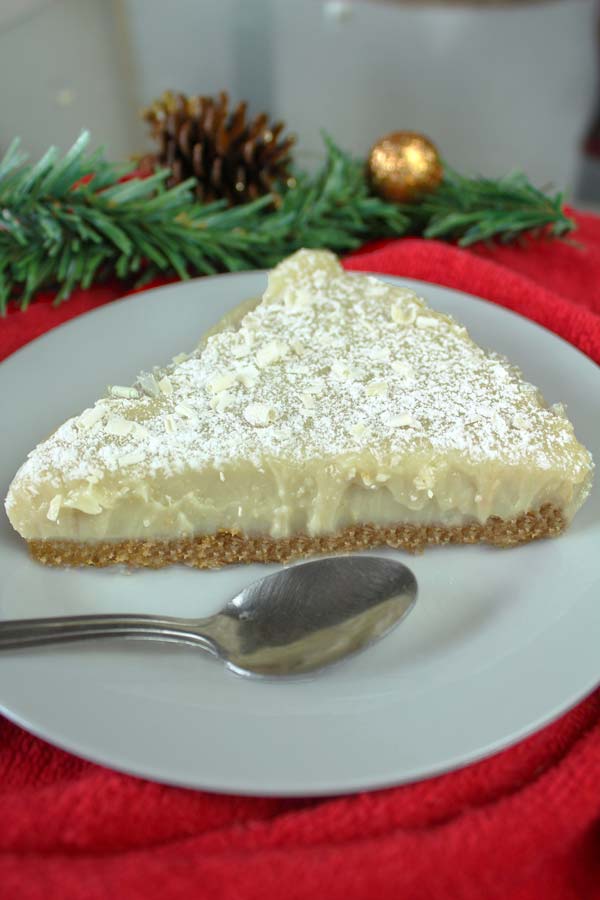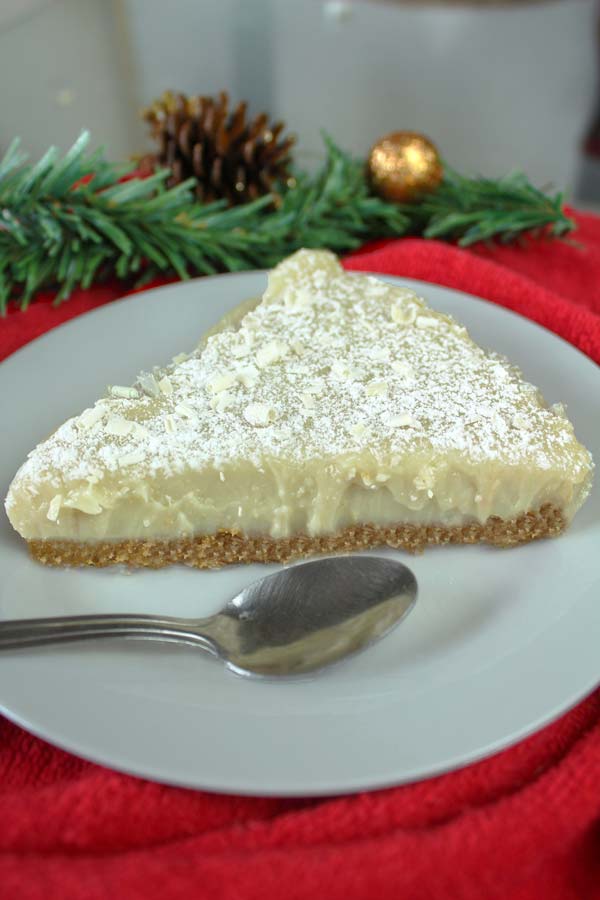 Vegan white chocolate torte with a ginger nut base
I adapted this recipe from my vegan chocolate tart recipe and it turned out amazingly the first time, much to my surprise.
I was worried the white chocolate would be overpowering but the gingernuts balance it out perfectly.
The texture reminded me of cheesecake but a little bit richer. As lovely as it was, I couldn't manage more than one slice at a time because it was so filling.
This vegan white chocolate torte requires no baking!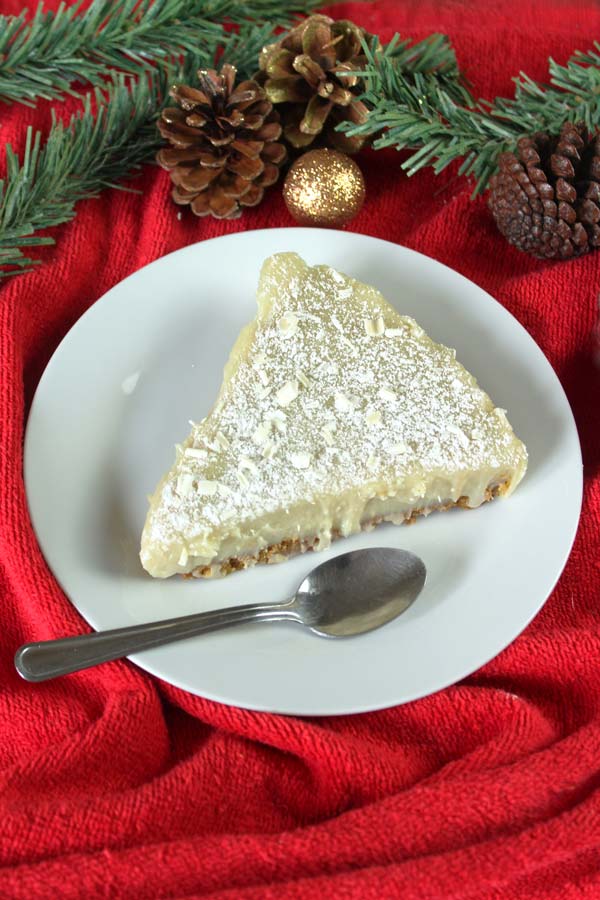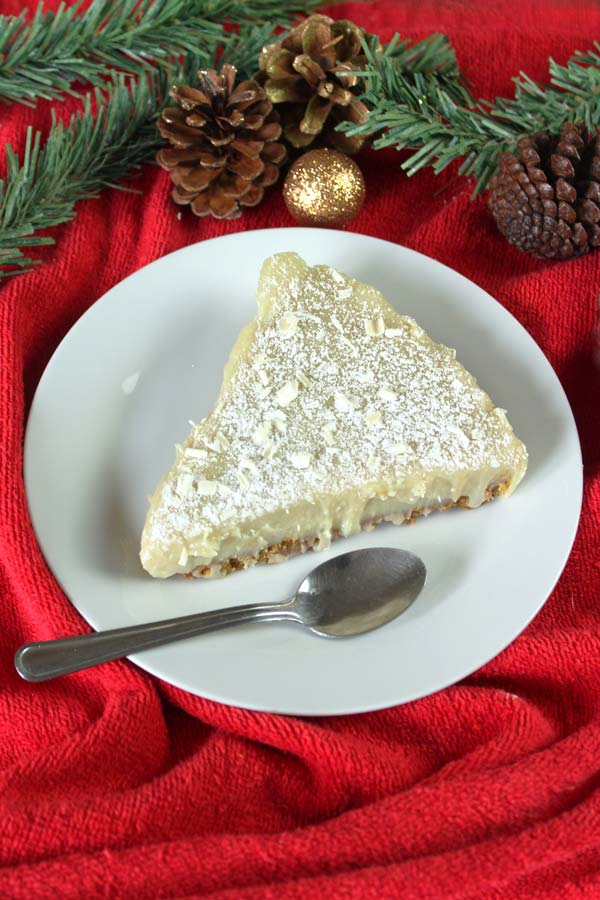 This is a super easy, no-bake recipe which makes it perfect for little ones to help with. It'd also make a great Christmas day dessert if your baking skills aren't that advanced.
It looks so classy and festive once it's set in the fridge!
If you give this recipe a go, please tag me on Instagram because I love seeing your creations so much!
Merry Christmas if you're celebrating, and happy baking!
xo

VEGAN WHITE CHOCOLATE TORTE
A creamy, cheesecakey, white chocolate dessert with a zingy ginger crumb base.
Ingredients
For the base
300

g

Gingernut biscuits/cookies*

(10.5 oz)

90

g

Vegan butter, melted

(3/8 cup before melting)
For the filling
600

g

Vegan white chocolate

(21 oz)

375

ml

Soy cream or full-fat coconut milk

(1½ cups)
To top (optional)
Chocolate shavings

Icing sugar

(to dust)
Instructions
Line a 9" round cake tin and clear some space in your fridge.

Blend the Gingernuts in a food processor to make fine crumbs. If you don't have a food processor, you can crush them with the end of a rolling pin.

Add the melted butter to the biscuit crumb and mix until combined.

Press the mixture into the lined cake pan and pop it in the fridge while you prepare the filling.

Melt the white chocolate over a very low heat. In a separate pan, heat the cream until bubbles form at the sides.

Pour the cream over the melted chocolate and leave to stand for 5 minutes. Stir the mixture until combined and pour it into the cake pan, over the biscuit base.

Place back in the fridge to chill for 4 hours until slightly firm.**

Top with white chocolate shavings and dust with icing sugar before serving.
Recipe Notes
*Most are egg and dairy free but double check
**Don't worry if your vegan white chocolate goes a funny colour when melted. Once set, it will return to a beautiful white colour.
Find vegan white chocolate options in my chocolate guide.
BakedByClo is a participant in the Amazon Services LLC Associates Program, an affiliate advertising program designed to provide a means for sites to earn advertising fees by advertising and linking to Amazon.com. This site may contain some of these links to Amazon.com & other affiliate programs. If you make a purchase through one of those links, BakedByClo will receive a small commission from the purchase at no additional cost to you.