Vegan Almond Butter Cookies
These vegan almond butter cookies are soft, chewy and great for those with peanut allergies! They're super easy to make, with just a handful of ingredients, and are sure to be a crowd-pleaser!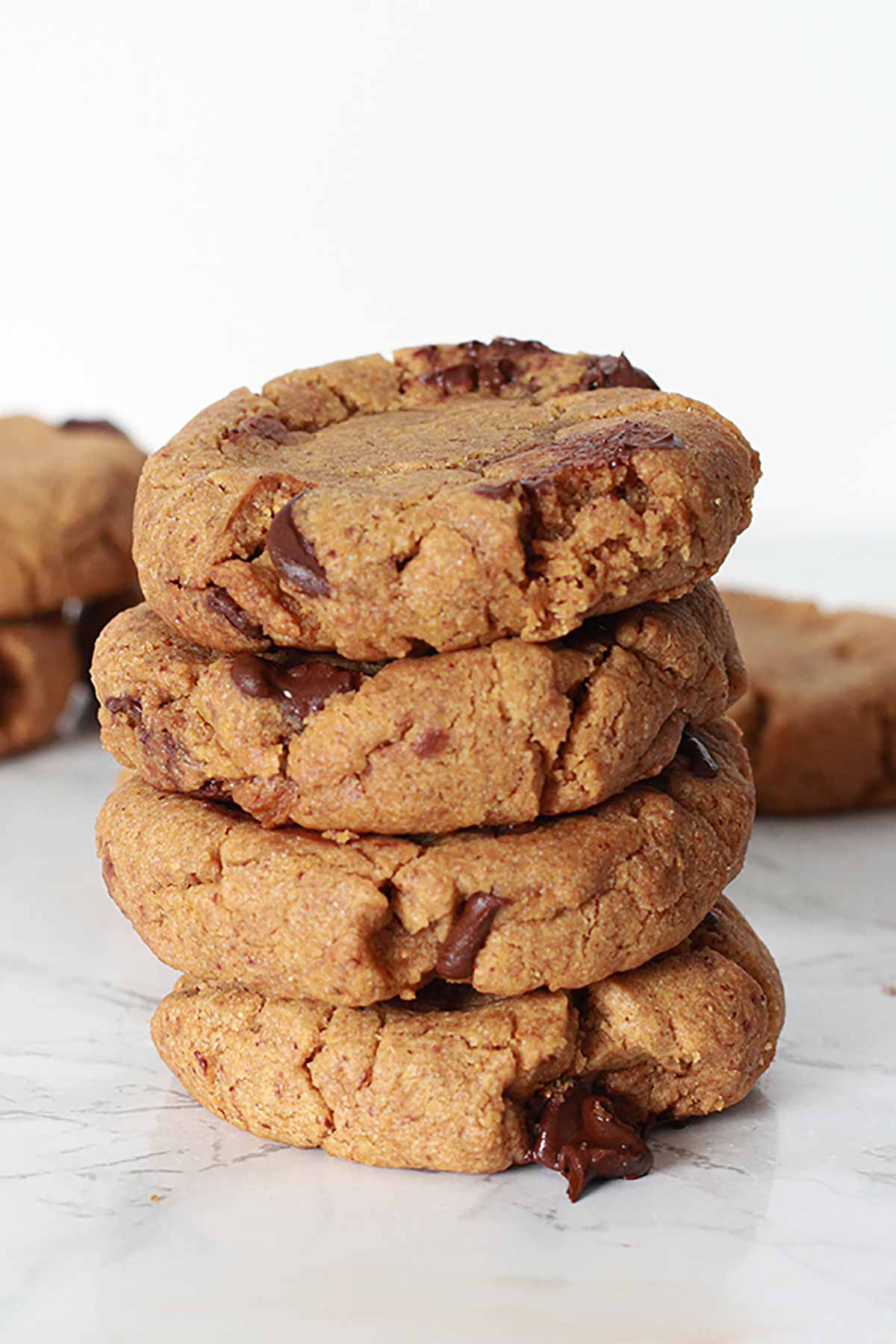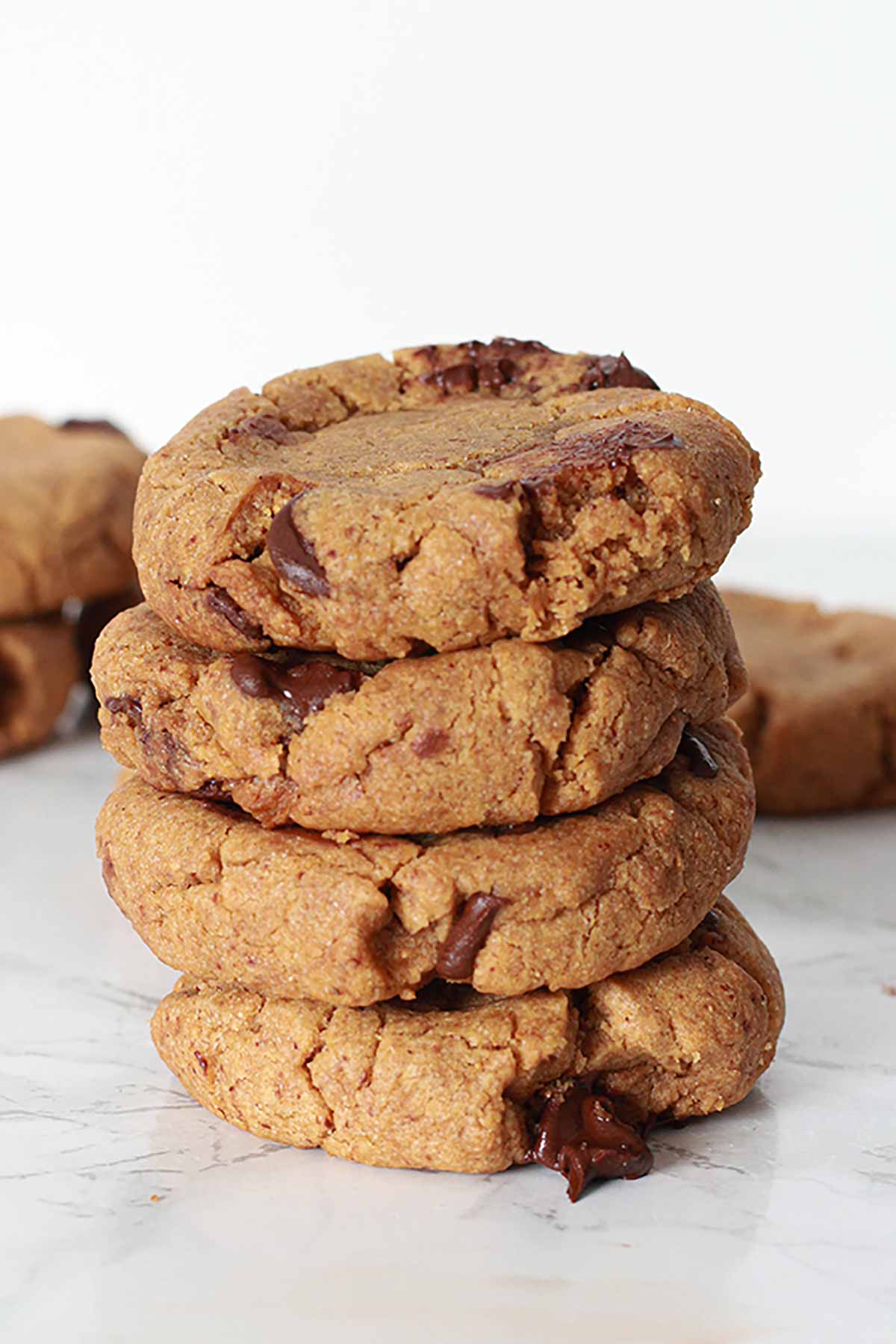 It's been a while since I made my peanut butter cookies and I've since had a few people tell me that they substituted the peanut butter for almond butter and had great results.
Seeing as so many are allergic to peanuts, I thought it would be a great idea to dedicate a whole post to almond butter cookies.
These cookies are soft and chewy inside with ever-so-slightly crunchy edges. They're made with a mix of brown sugar and caster sugar which gives the perfect texture. So if you like your cookies on the softer side, then you're going to love this recipe!
They taste brilliant all alone if you want the almond butter to be the star of the show. But I wanted to add a little something extra so I made these with chocolate chips. I have to say, the combination is outstanding and I highly recommend doing the same if you can.
More vegan cookie recipes:
Which almond butter is best to use for this recipe?
I recommend using a natural style almond butter for this recipe if possible. This will give the strongest flavour and prevent any extra ingredients from interfering with the texture of the cookies once they're baked.
By natural style, I mean the kind that is made using 100% roasted almonds and doesn't have any other additives added to it. Salt is fine but try to avoid those with added oil, sugar or flavourings. I used Meridian almond butter which I purchased from Tesco. I've listed some other good brands below: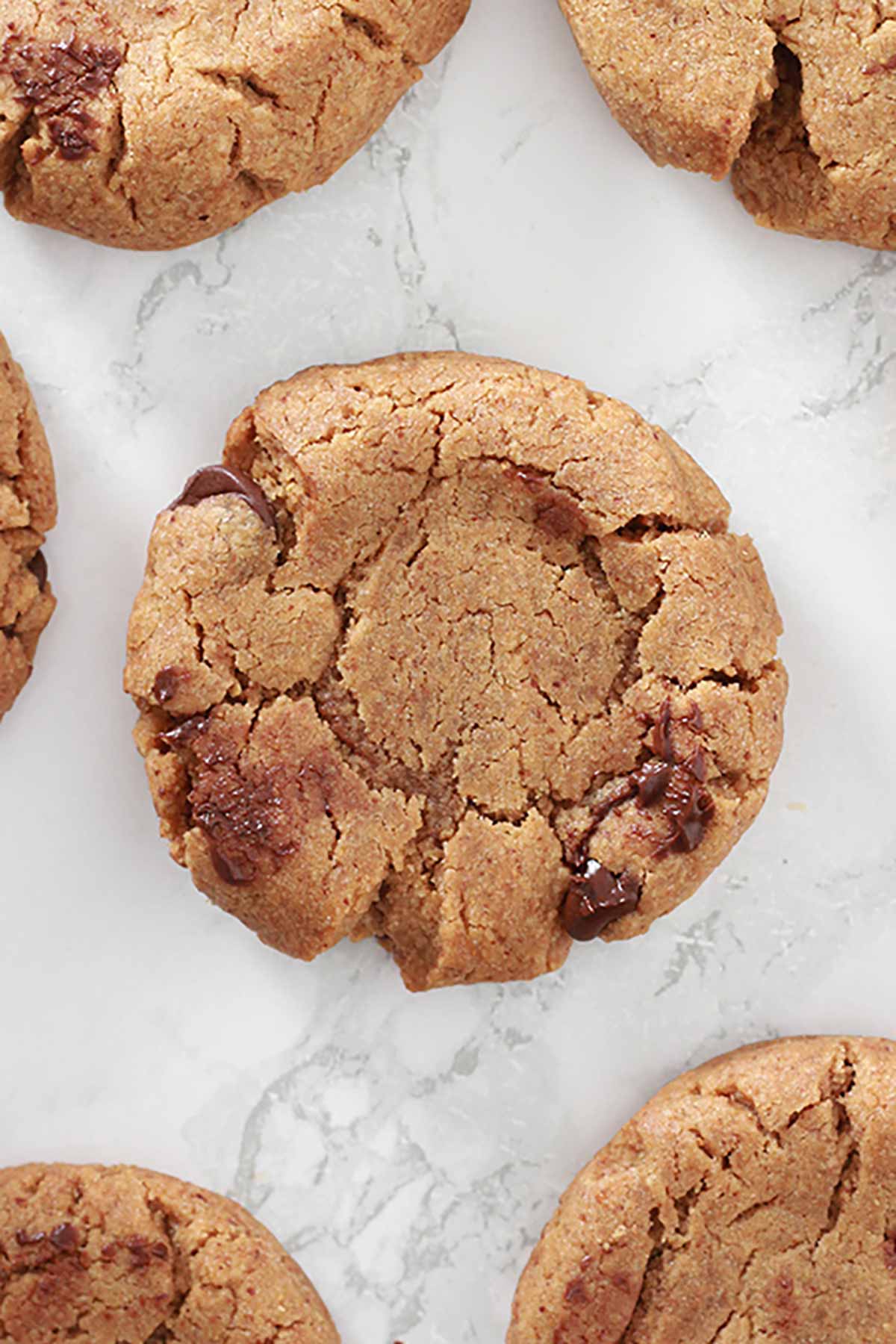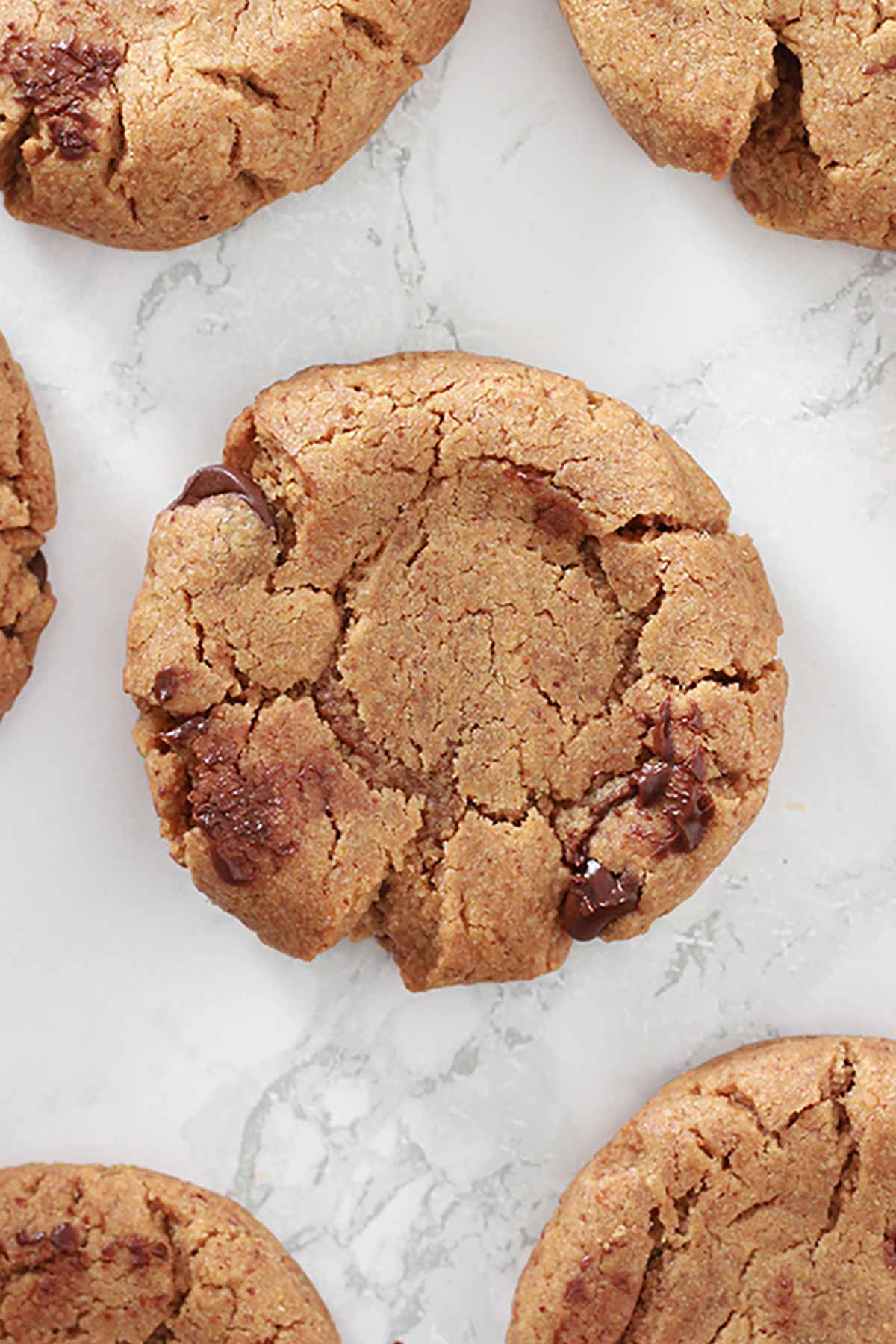 Alternatively, you can make your own almond butter by putting some roasted almonds in a high power food processor and processing until smooth and creamy. You'll need to stop to scrape down the sides every so often- first it will turn flour like, then into a ball, then into a smooth butter!
I also recommend using smooth almond butter for the best results. If you use the chunky kind, the small pieces of almonds may make it hard to roll the cookie dough into balls before you bake them.
If your almond butter has salt added to it, you can omit the pinch of salt that the recipe calls for, otherwise the cookies may be a little too salty.
Ingredients you'll need:
One of the great things about vegan almond butter cookies is that you only need 9 ingredients to make them! Or 8 if you decide to omit the chocolate chips.
Almond butter: The main ingredient!
Vegan margarine: Adds an extra bit of flavour to the cookies and helps to keep them soft.
Caster sugar: Adds sweetness and moisture.
Brown sugar: More sweetness and gives the cookies their soft and chewy texture.
Vanilla extract: Adds flavour to the recipe.
Flour: Gives the cookies structure.
Salt: Provides a tasty contrast to the sweetness .
Baking soda: Helps the cookies to rise a little bit as they bake.
Chocolate chips: Adds delicious flavour and extra texture.
How to make vegan almond butter cookies
Step 1:
Preheat your oven to 180°C/350°F, or 160°C/325°F for fan or convection ovens. Have a non-stick cookie sheet to hand or line a tray with baking paper.
Step 2:
First, we mix the wet ingredients together. And yes, sugar is considered a "wet" ingredient in baking, even though it's technically dry.
In a large bowl, mix together 190g of almond butter, 120g of vegan margarine, 100g of caster sugar, 100g of soft brown sugar and 2 teaspoons of vanilla extract.
You can use light or dark brown sugar, whichever you prefer, but I personally like the light brown sugar because the dark one is a lot richer.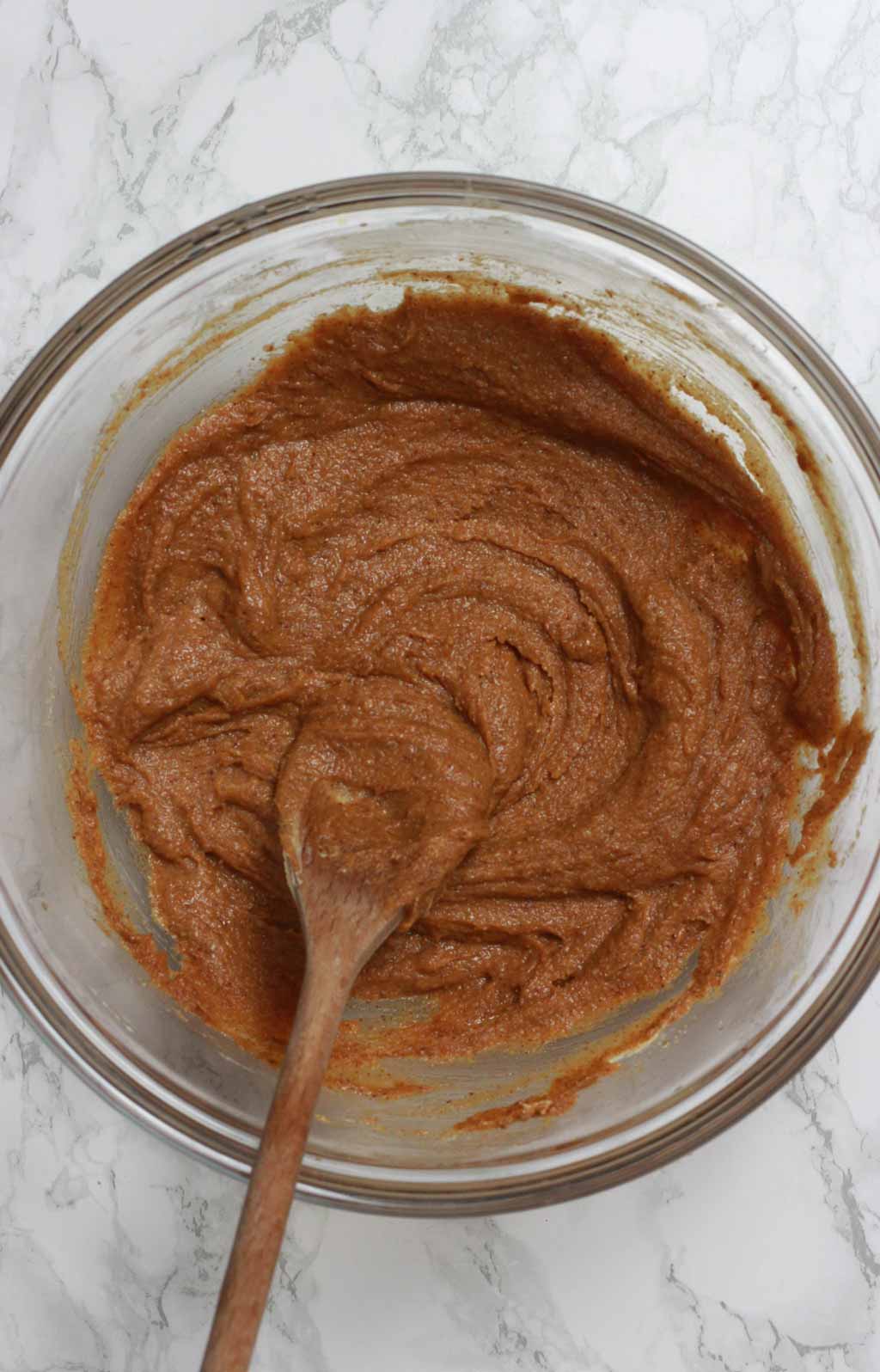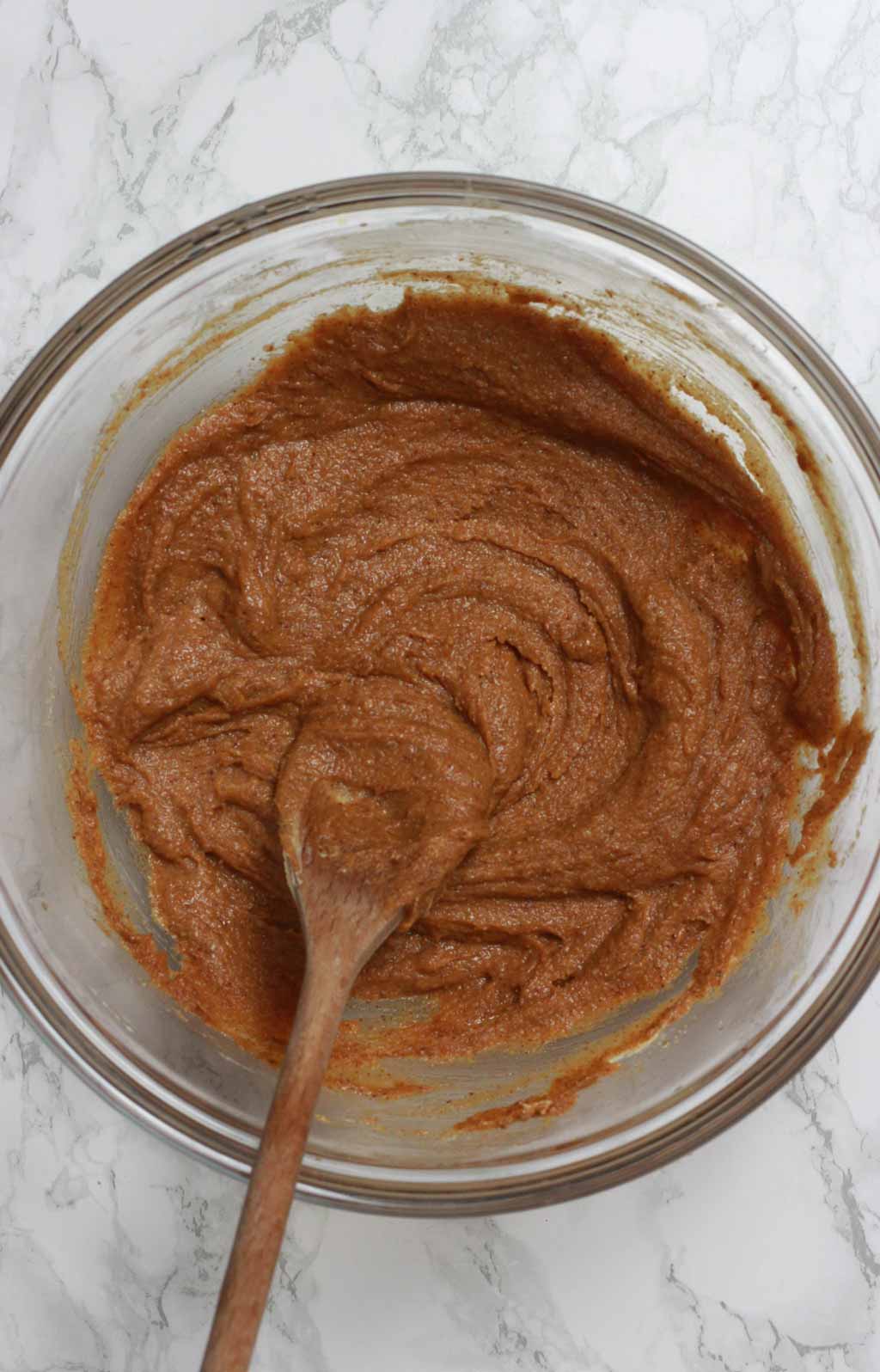 Step 3:
Once all of your wet ingredients are mixed together nice and smoothly, add 230g of plain/all-purpose flour to the bowl along with 1/2 a teaspoon of baking soda (also known as bicarbonate of soda and not to be confused with baking powder).
Mix the dry ingredients in and use your hands to press it into a dough. You can use a splash of plant-based milk to help it stick together if needed. I used around 1 tablespoon of soy milk but this will vary depending on which brand of margarine you use.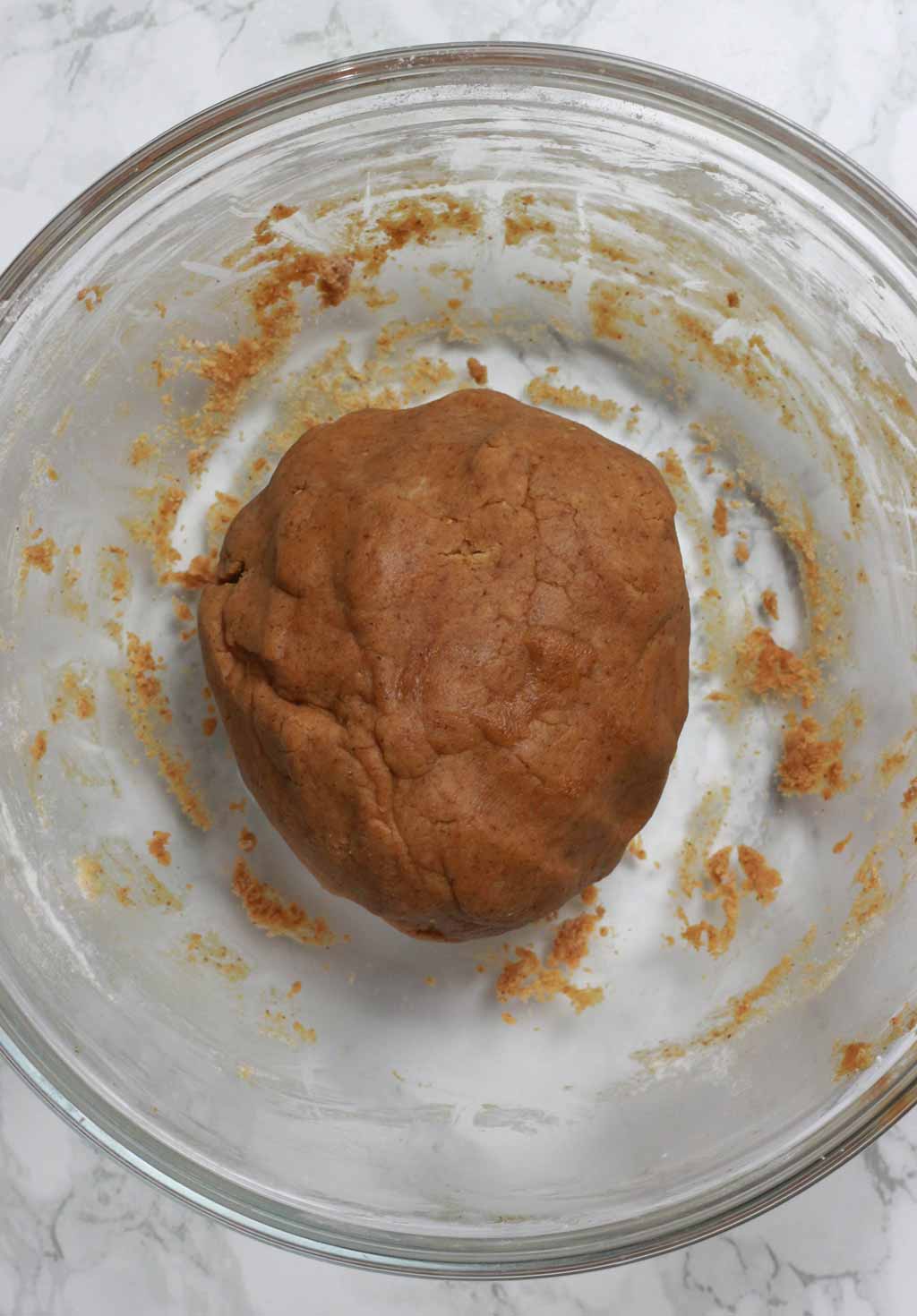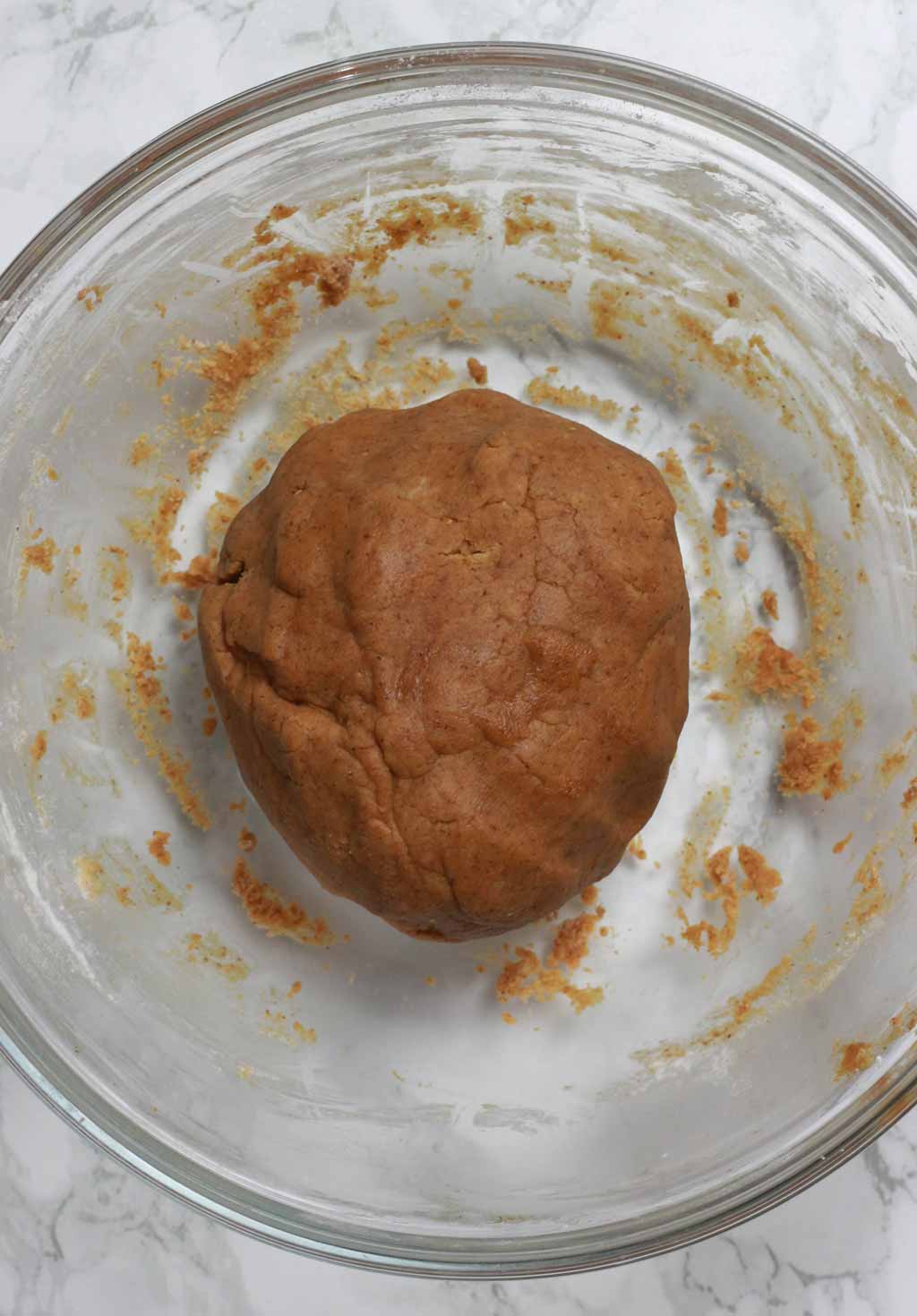 Step 4:
Add 80g of vegan chocolate chips to the dough and knead them in gently with your hands.
Cover the dough and put it in the fridge for 20 minutes to chill.
Step 5:
After the 20 minutes are up, remove the dough from the fridge and gently warm it up in your hands until soft. If it starts to fall apart, you can add a little more plant-based milk.
Divide the dough into 12 equal-sized pieces. Roll each piece into a ball and flatten to around 1/2 an inch thick.
Step 6:
Place the discs of cookie dough onto your baking tray and bake for 15 minutes. Leave them to cool completely on the tray before removing them.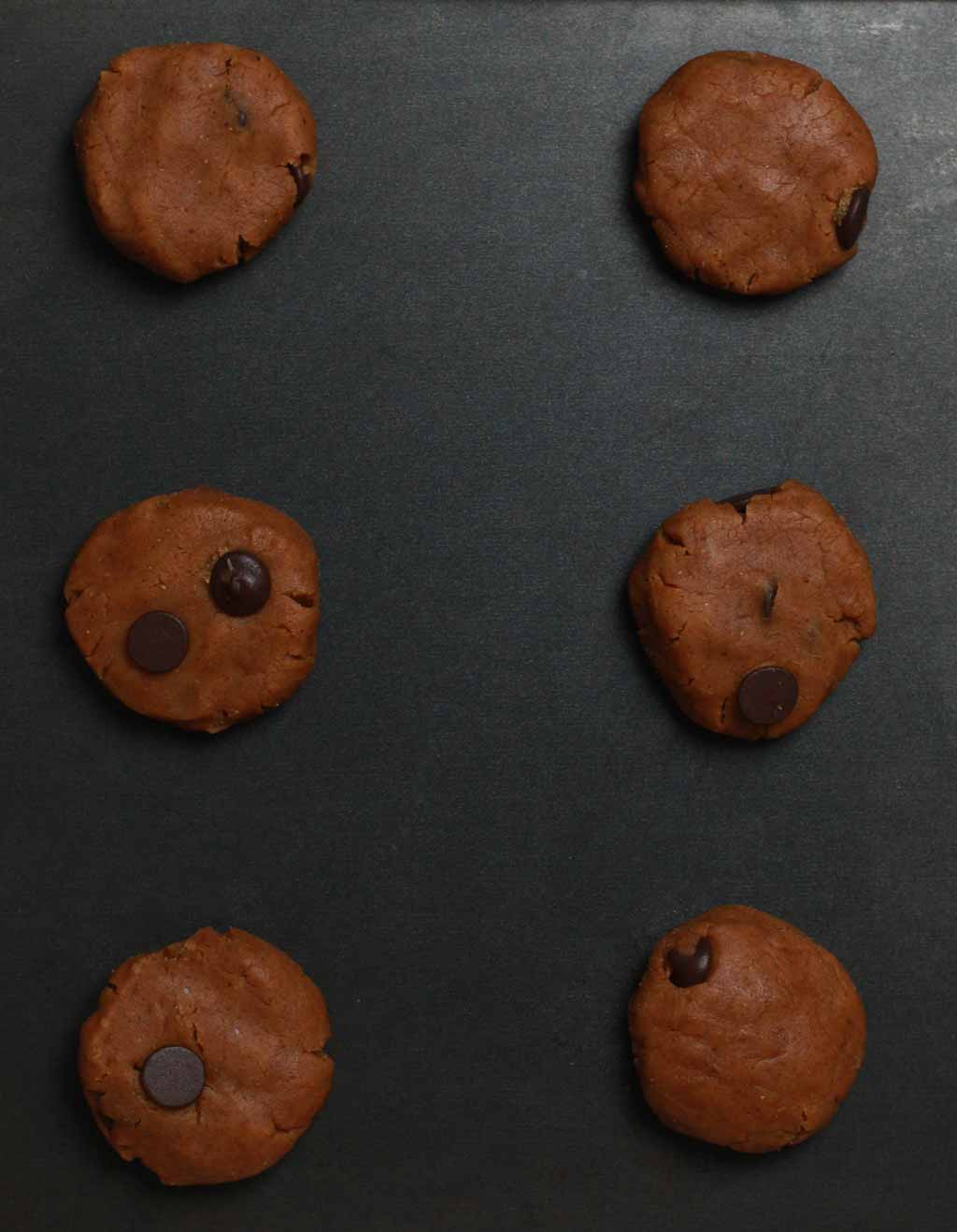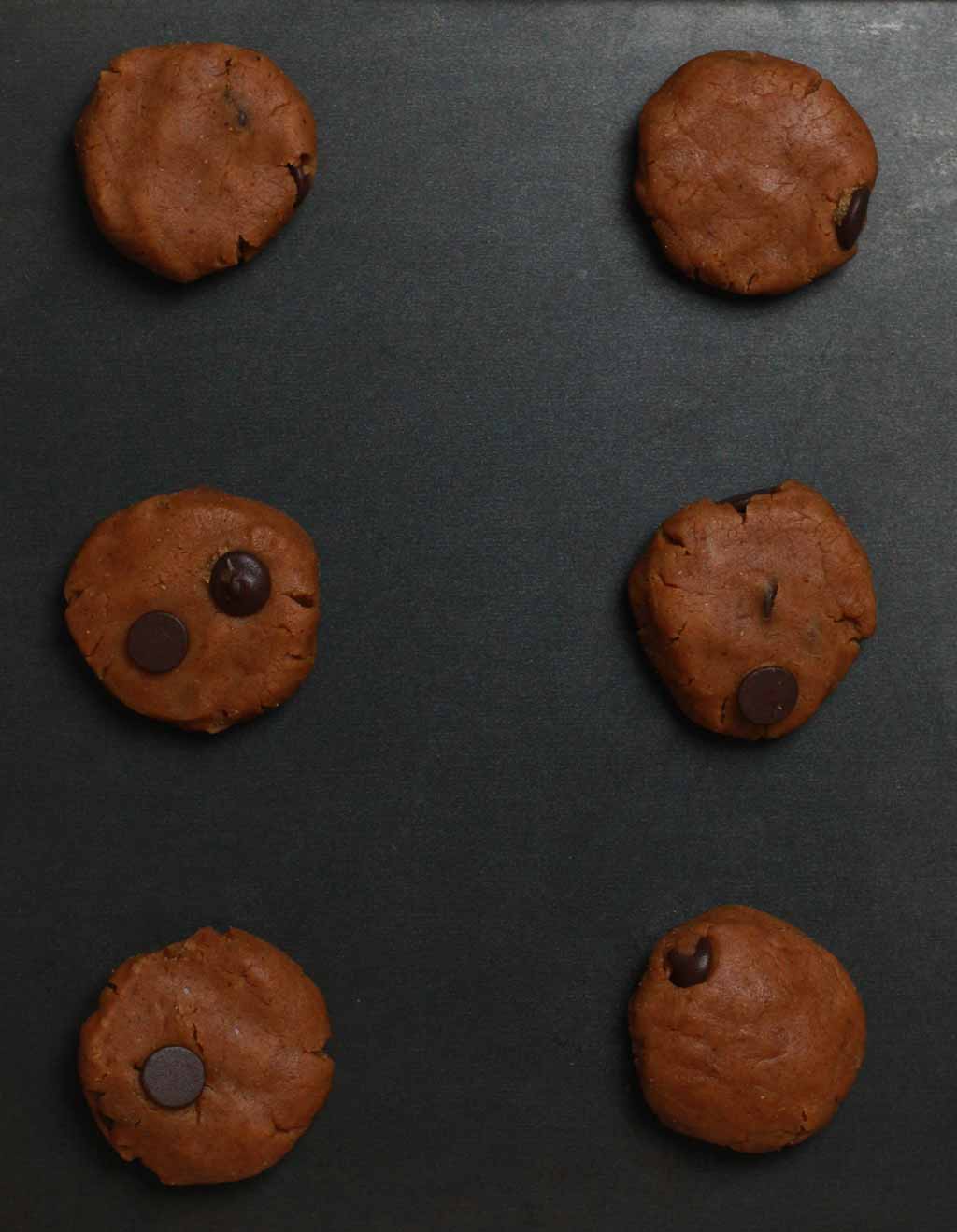 FAQ:
How should almond butter cookies be stored?
They're best kept in an airtight container in a cool, dry place such as a kitchen cupboard. Alternatively, you can wrap them up tightly in tinfoil.
How long will they last?
If stored appropriately, they will taste best if eaten within the first 5 days after baking.
Can I freeze them?
Yes. These cookies can be frozen in an airtight container or ziplock bag for up to 2 months. When you're ready to defrost them, transfer them to a wire rack or plate and let them sit at room temperature for an hour or so until fully thawed. Do not refreeze.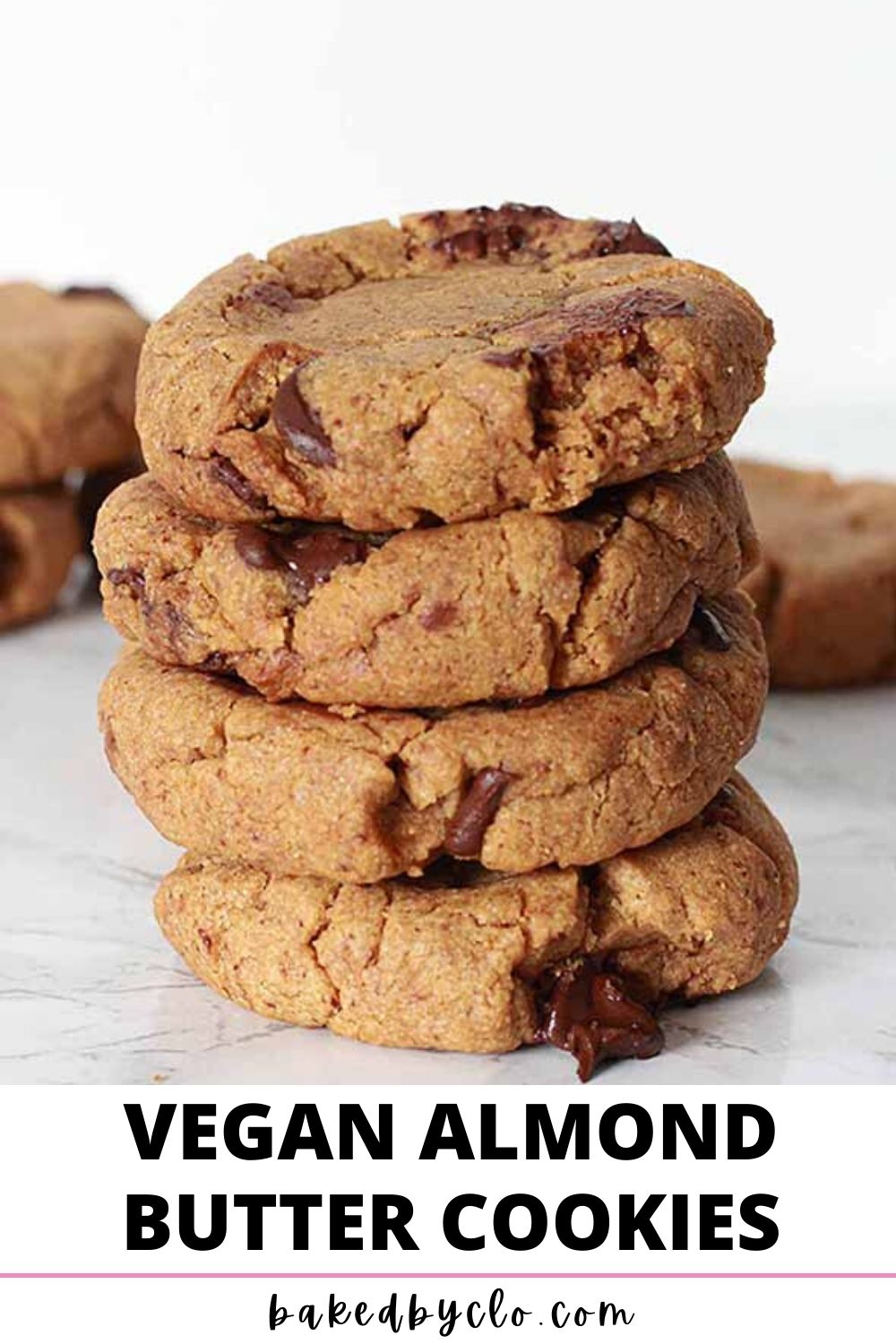 Vegan Almond Butter Cookies
Soft chocolate chip almond butter cookies without eggs or dairy.
Ingredients
190

g

Natural style almond butter

(¾ cup)

120

g

Vegan margarine

(½ cup)

100

g

Soft brown sugar

(½ cup)

100

g

Caster sugar

(½ cup)

2

Teaspoons

Vanilla extract

230

g

Plain/all-purpose flour

(1+¾ cups)

½

Teaspoon

Baking soda

Small

Pinch

Sea salt

Up to 3

Tablespoons

Plant-based milk

(if needed, to help the dough stick together)

80

g

Vegan chocolate chips

(~½ cup)
Instructions
Preheat your oven to 180°C/350°F (or 160°C/325°F if you're using a fan or convection oven). Have a non-stick cookie sheet to hand or line a tray with baking paper.

In a large bowl, mix together the almond butter, margarine, brown sugar, caster sugar and vanilla extract until smooth.

Add the flour and baking soda to the bowl. Mix until it starts to stick together then use your hands to press it into a dough. Add the plant-based milk to help it stick together, starting with a small splash and adding more if needed.*

Add the chocolate chips and knead them into the dough.

Cover the dough and place it in the fridge for 20 minutes to chill.

Once chilled, soften the dough in your hands then divide it into 12 equal-sized pieces. Roll each piece into a ball then flatten to around ½ an inch thick.

Bake for 15 minutes. Let them cool on the tray completely before removing them.
Recipe Notes
*Depending on the brand of margarine you use, you may not need to add any plant-based milk at all. The dough should be quite firm and not break apart.
Store in an airtight container at room temperature for up to 5 days.
Nutrition Facts
Vegan Almond Butter Cookies
Amount Per Serving (1 cookie)
Calories 323
Calories from Fat 153
% Daily Value*
Fat 17g26%
Sodium 44mg2%
Carbohydrates 36g12%
Protein 6g12%
* All values are an estimate only and will vary depending on the food brands used.
BakedByClo is a participant in the Amazon Services LLC Associates Program, an affiliate advertising program designed to provide a means for sites to earn advertising fees by advertising and linking to Amazon.com. This site may contain some of these links to Amazon.com & other affiliate programs. If you make a purchase through one of those links, BakedByClo will receive a small commission from the purchase at no additional cost to you.