Are Gingerbread Houses Edible? They Can Be!
Gingerbread houses are an iconic Christmas tradition. Whether you're baking one from scratch or using a kit, they are super fun to make, and building one is a great festive way to spend time with loved ones. But are gingerbread houses edible, or are they supposed to be a cute Christmas decoration? Let's take a closer look at that.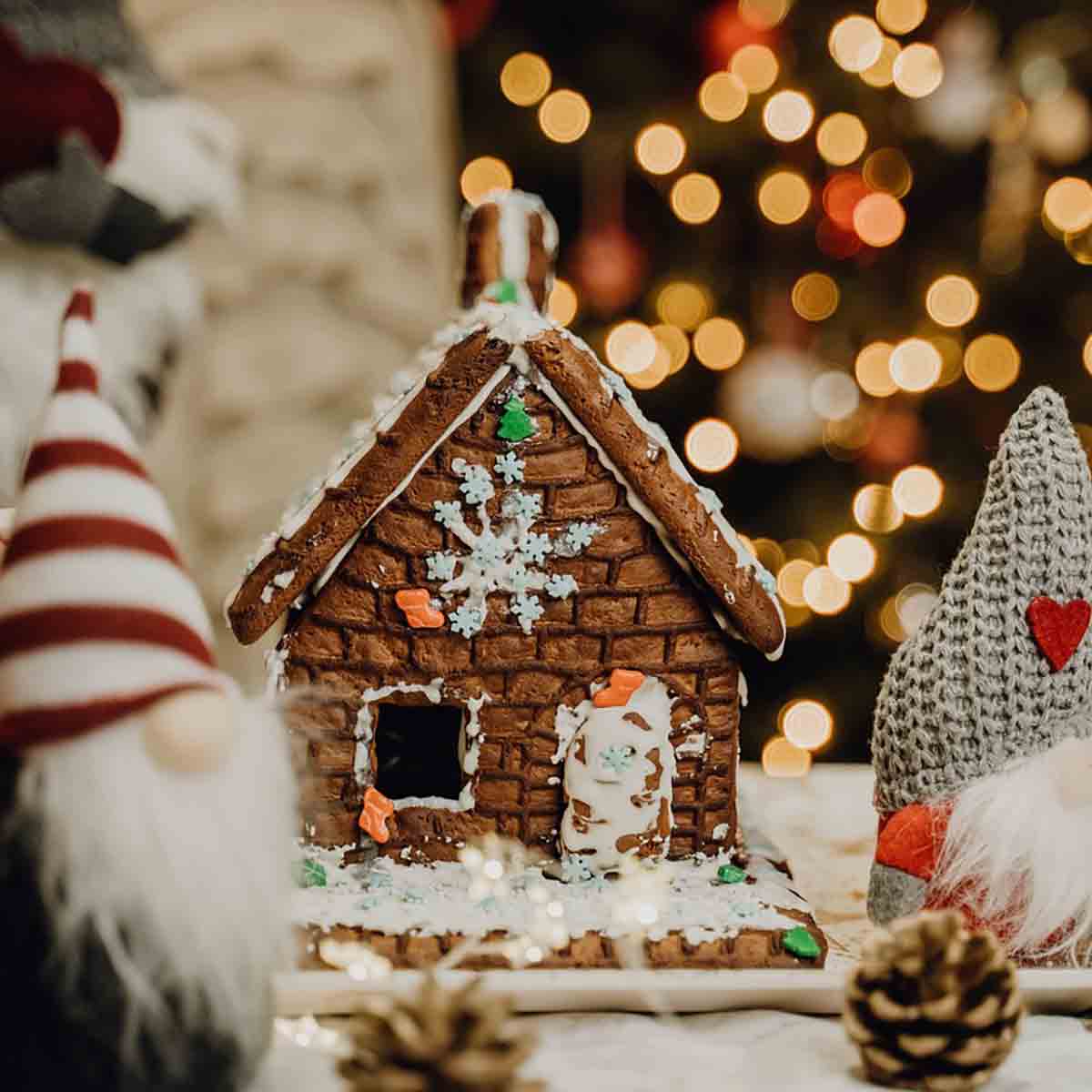 The first time I ever made a gingerbread house was at the grand old age of 21. I bought a ready-made kit from a local store and excitedly invited a friend over to help me build it. But it took SO much longer than anticipated and by the time we were done, the enthusiasm was well and truly gone. We didn't know what to do with the finished product so it ended up in a box in my cupboard, where it sat for the next few weeks getting stale until I threw it away. What a waste!
I made another gingerbread house 2 years ago, this time from scratch, and so many people asked me if gingerbread houses were edible (as we were eating it, lol). I thought I'd write a post to clarify that.
The History of Gingerbread Houses
The tradition of gingerbread houses began way back in the 16th century, following the popular fairy tale Hansel & Gretel, which involves a witch who lives in a house made of gingerbread. According to this article, German bakers were inspired by the story and began making small houses made out of lebkuchen.
Making a gingerbread house can be considered both baking and arts and crafts. If you're making it from scratch, you need to bake gingerbread cookies in various house shapes (usually using a template), prepare some homemade royal icing and source your own decorations. Edible gingerbread house decorations can include things like candy canes, gummy sweets in various colours and chocolate buttons. For artificial decorations, you can use ornaments, fairy lights, or craft materials such as felt and tinsel.
Of course, you can also use a gingerbread house kit, which includes ready-shaped gingerbread cookies, premade icing and a selection of decorations for you to use. A kit is a great option for inexperienced bakers or those with children.
Are gingerbread houses edible?
Whether or not you can eat a gingerbread house depends on a few different things. Let's take a look:
Gingerbread
Decorative gingerbread houses often use either a super sturdy gingerbread cookie dough or salt dough, neither of which are particularly enjoyable to eat!
Edible gingerbread houses use a softer type of gingerbread cookie dough. It should be just firm enough to hold together and no more. I recommend using my vegan gingerbread recipe.
Decorations
Some houses include non-edible decorations such as fairy lights or Christmas ornaments. Obviously, you can't eat these! However, the more common decorations such as candy, baking sprinkles, and chocolates are of course perfectly fine to eat, whether they're on a house or not.
Kits
Some kits provide edible gingerbread pieces and decorations, making it simple to assemble and eat the gingerbread house. Other kits include pre-decorated house pieces that are made solely for decoration. Before purchasing a kit, make sure to read the description on the packaging to double-check.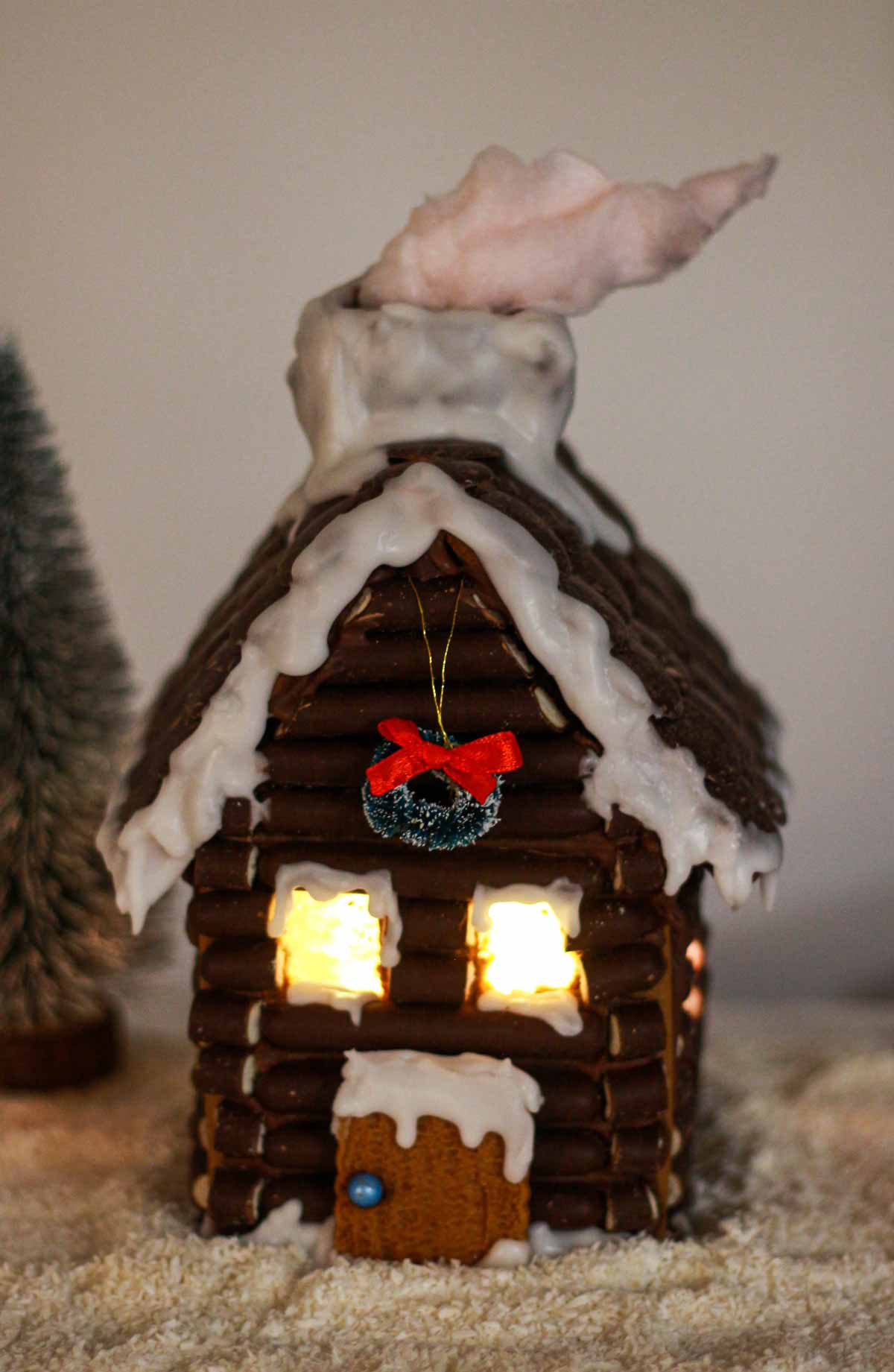 My homemade gingerbread house is pictured above and it was made with the following components:
Gingerbread. The walls, roof and chimney were made from a soft, edible gingerbread dough.
Royal icing. I made my royal icing from scratch and added cocoa powder to half of it. This helped me achieve the pictured combo of white and brown icing.
Chocolate fingers. I used these as the 'logs' for my house walls. I wanted it to look more like a log cabin than a house.
Chocolate buttons. These were used as the roof tiles.
Stained glass windows. I replicated stained glass by placing crushed boiled sweets in the window holes before baking, so even the windows were edible!
A biscuit door. The door is made from a Biscoff biscuit and an edible cake decoration, glued on with royal icing.
A Christmas tree wreath. This is a non-edible decoration I got from a craft store. It was easy to remove but you can also make an edible version out of green and red icing.
Fairy lights. I placed fairy lights inside of my house to shine through the stained glass windows. Even though these were obviously not edible, they were so easy to remove, meaning we were still able to eat the house.
Candy floss. I used candy floss to make edible 'smoke' coming out of the chimney.
How to make sure your gingerbread house is edible
Choose the Right Recipe. Use a softer gingerbread recipe that's made for eating. Most of the top 'gingerbread house recipes' on Google are edible.
Use edible decorations. Use candy decorations and icing that are safe for consumption.
Enjoy within a few days. Eat the gingerbread house within a few days before the gingerbread softens too much or the decorations become stale.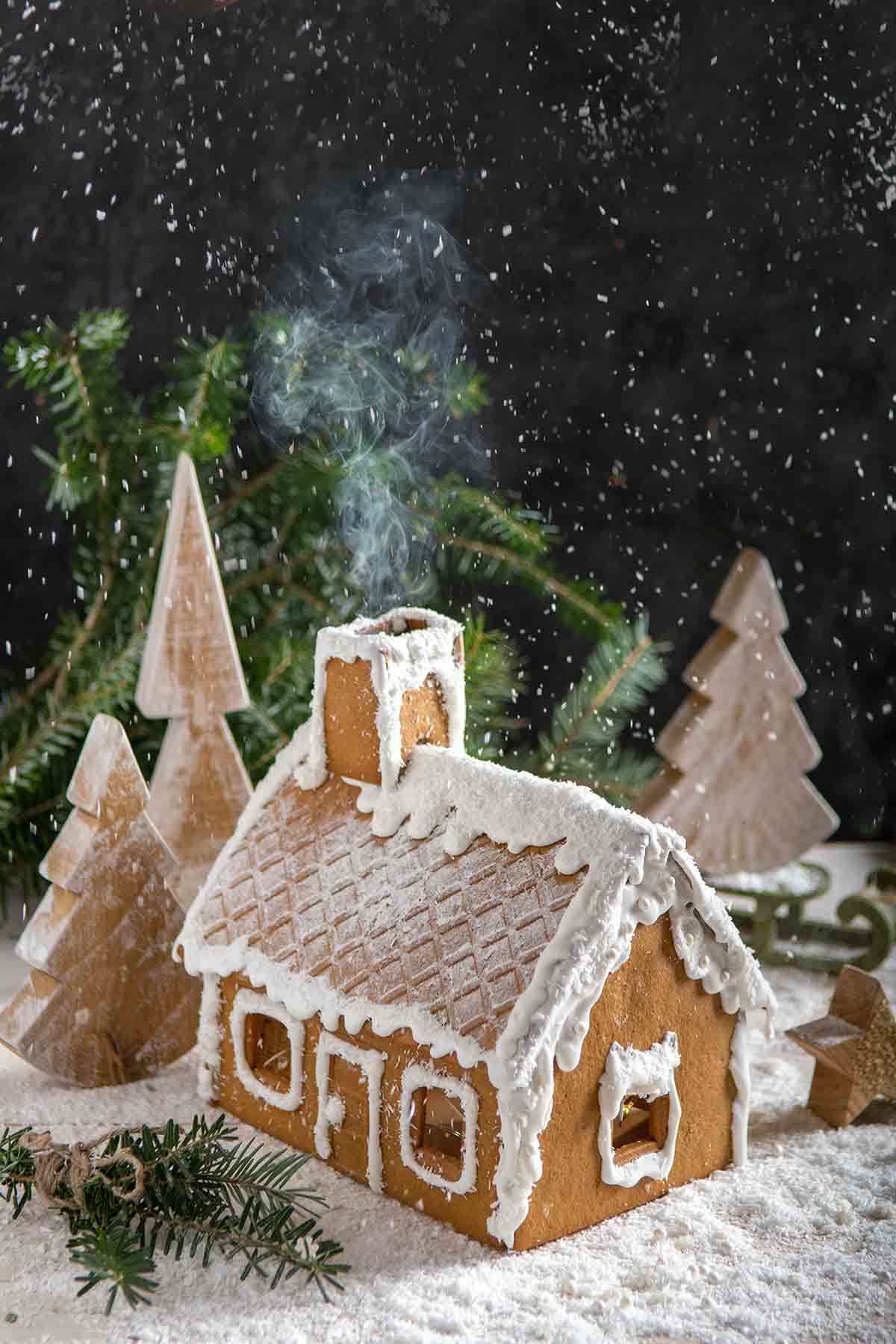 Summary
The answer to whether gingerbread houses are edible lies in the type of recipe or kit used. Traditional gingerbread houses, made with a softer gingerbread recipe, are almost always edible, while those made for decoration are usually not. Decorations and icing are typically edible but it's best to always double-check.
BakedByClo is a participant in the Amazon Services LLC Associates Program, an affiliate advertising program designed to provide a means for sites to earn advertising fees by advertising and linking to Amazon.com. This site may contain some of these links to Amazon.com & other affiliate programs. If you make a purchase through one of those links, BakedByClo will receive a small commission from the purchase at no additional cost to you.