30 Vegan Sugar Free Desserts
Looking for vegan sugar-free desserts? This post will help you out. Whether you like your desserts made with sugar-free sweeteners or prefer them naturally sweetened with fruit, you're sure to find a new favourite recipe here!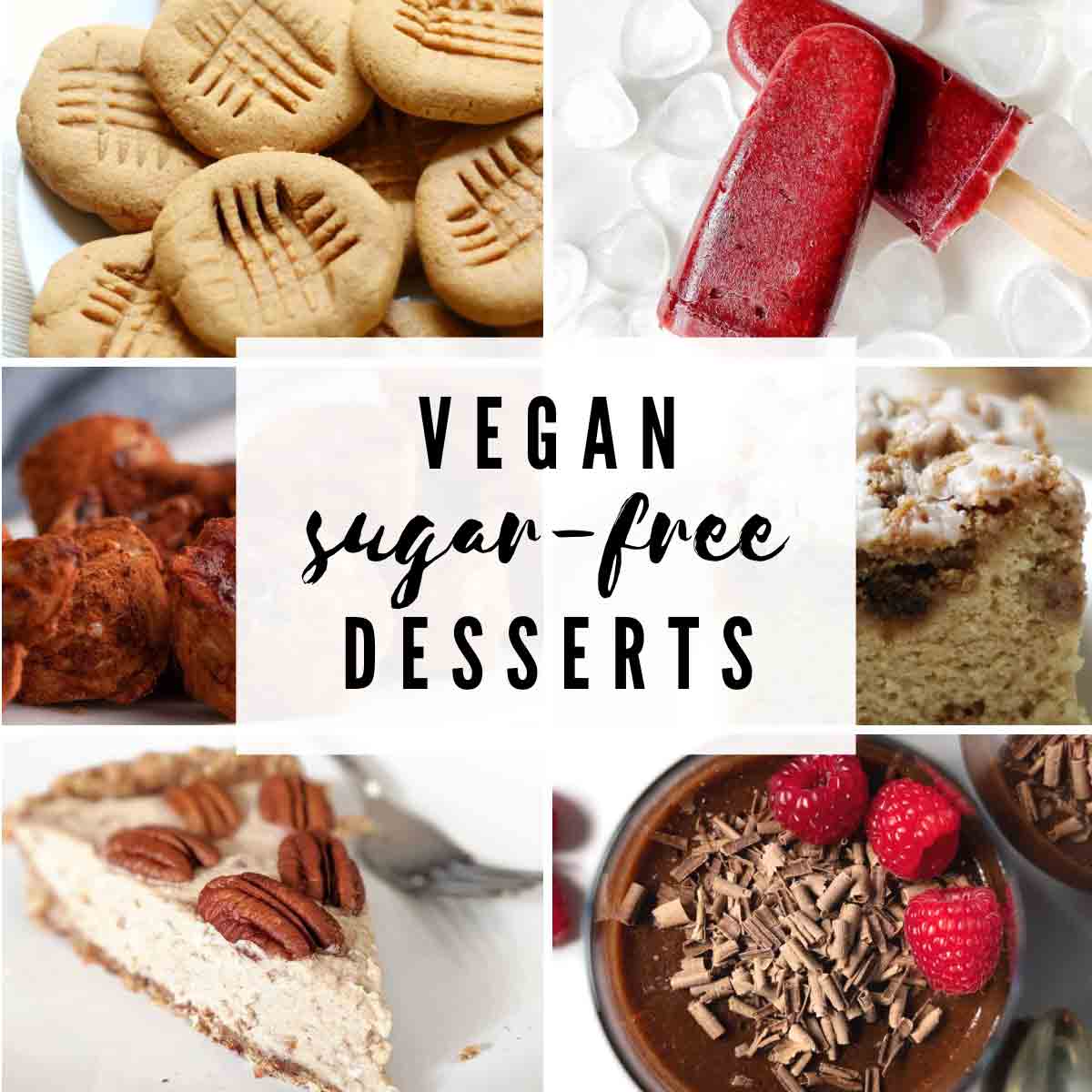 Have you noticed that vegan desserts tend to be loaded with sugar and flour? It's understandable, since eggs and dairy can't be used, but it can be frustrating if you don't want to spike your blood sugar.
Believe it or not, I am actually quite the health enthusiast when I'm not baking. Sugar-free vegan baking is definitely not my forte (believe me, I have tried) but I do try to keep my sugar to a minimum and I wish there were more vegan sugar-free desserts out there.
I recently created a roundup post of vegan flourless desserts and to make this one, I used the help of some talented food bloggers. They have managed to crack the code and make some delicious vegan desserts that are free from sugar. All of the recipes in this post are either sweetened with sugar substitute sweeteners or fruit like dates and bananas. None of the recipes contain cane sugar, coconut sugar, maple syrup or agave nectar.
The best vegan sugar free desserts
The recipes below are divided up into categories: Cookies, mousses and puddings, cakes and pies, frozen desserts, and bars and bites. To access your desired recipe, simply click on the "get the recipe" text. I hope you enjoy the desserts!
Vegan sugar-free cookies
Let's start off with the cookies, shall we? Here are sugar sugar-free vegan cookie recipes for you to choose from.
Mousses and puddings
Next up are the mousses and puddings. Whether you are a chocolate lover or prefer fruity sweet treats, there's a suitable recipe for you here.
Cakes and pies
Next are the cakes and pies. Here are the 3 best sugar-free recipes.
Frozen sugar free desserts
Love your desserts frozen? Try one of the tasty recipes below!
Bars and bites
Lastly are the bars and bites. This category includes everything from brownies to truffles!
That's all for now! I hope you enjoy these vegan sugar free desserts. Leave a comment below to let me know which recipes you'll be making. Happy baking! xo
BakedByClo is a participant in the Amazon Services LLC Associates Program, an affiliate advertising program designed to provide a means for sites to earn advertising fees by advertising and linking to Amazon.com. This site may contain some of these links to Amazon.com & other affiliate programs. If you make a purchase through one of those links, BakedByClo will receive a small commission from the purchase at no additional cost to you.