30 Easy Vegan Cinco De Mayo Recipes
If you're looking for vegan recipes for Cinco de Mayo then you've come to the right place! This roundup post contains 30 delicious recipes including snacks, sides, starters, mains, desserts and drinks!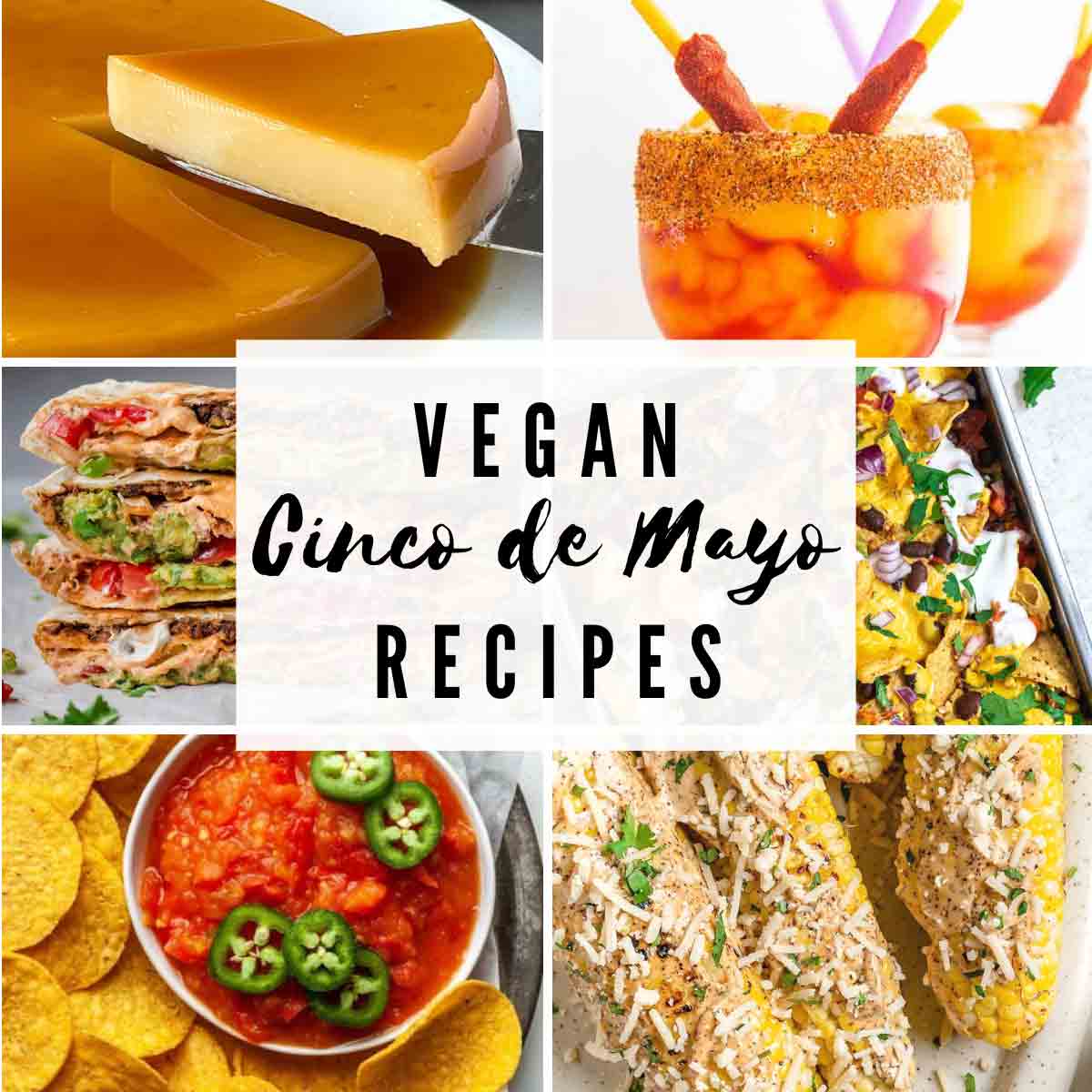 It's almost Cinco de Mayo so I thought I'd create this roundup post with all of the best vegan Mexican recipes for you to try.
Cinco de Mayo, or the 5th of May, is a celebration to commemorate Mexico's victory in the Battle of Puebla in 1862. Although apparently, the holiday is more celebrated in the USA than in Mexico!
I've seen many of my US friends celebrate it over the years and the food they make always looks amazing, which gave me the idea for this post.
Using the help of some other food bloggers, I'm bringing you this list of 30 delicious recipes. Below you'll find vegan Cinco de Mayo desserts, snacks, drinks and more. If you use any of the recipes, please let us know how it goes by leaving a comment. Enjoy!
The best vegan Cinco de Mayo recipes
I've split this post up into 4 categories: Snacks, sides & appetisers, mains, desserts, and drinks. To access the full recipes, simply click the pink 'get the recipe' button beside your desired recipe.
Snacks, sides and appetisers
First, let's start with the snacky foods! The recipes below include salsas, guacamole, salads and lots more.
Mains
Next up are the vegetarian and vegan Cinco de Mayo main meals! These can be served at parties or enjoyed as a simple dinner.
Vegan Mexican desserts for Cinco de Mayo
Next up are the desserts. These Mexican desserts are suitable for vegetarians and vegans and make the perfect ending to any meal.
Drinks
Last, but not least, are the drinks. Here are 3 delicious cocktails you can try this Cinco de Mayo.
There you have it, 30 vegan Cinco de Mayo recipes! I hope you liked this post. If you found it useful, please give it a share using the share buttons on this page. Enjoy! xo
BakedByClo is a participant in the Amazon Services LLC Associates Program, an affiliate advertising program designed to provide a means for sites to earn advertising fees by advertising and linking to Amazon.com. This site may contain some of these links to Amazon.com & other affiliate programs. If you make a purchase through one of those links, BakedByClo will receive a small commission from the purchase at no additional cost to you.