Is Honeycomb Vegan?
Honeycomb candy is a hard, crunchy, golden-coloured treat that has been around in the UK since the 1920s. It's also known as honeycomb toffee and cinder toffee, and you'll most often find it covered with chocolate if you buy it in shops.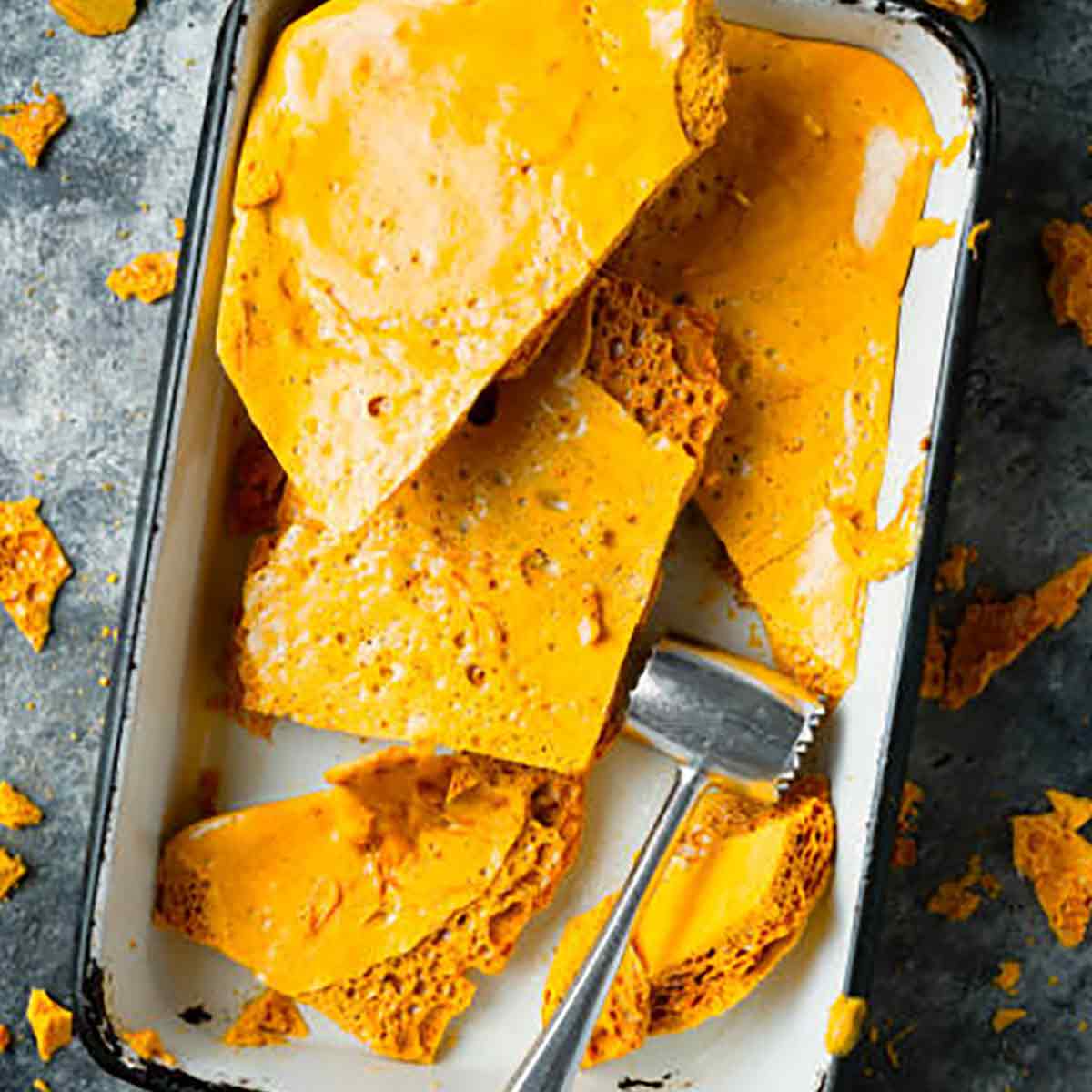 Is honeycomb vegan?
When it comes to the confectionary cinder toffee type, honeycomb is vegan. Despite its name, it doesn't actually contain any honey. It's named that way due to its appearance, which resembles real honeycomb.
Just to be clear, real honeycomb that is built by honey bees is not vegan. Bees make honey for themselves (not for humans), to keep as food during the Winter. If you remove the honeycomb from the hive, you also need to remove the honey.
This means the bees are being deprived of their food source, as well as their honey-storing space. Bee keepers typically feed the bees sugar syrups instead, so they can take their honey and honeycomb, which counts as animal exploitation.
What is honeycomb made from?
The traditional recipe contains just 3 ingredients: golden syrup, sugar and baking soda.
Golden syrup is a thick, golden invert sugar which is suitable for vegans.
Sugar is almost always vegan in the UK. If you're from the US (where they sometimes process sugar using bone char) and want to know if your honeycomb is vegan, look for the vegan symbol on the packaging.
Baking soda is a salt that is typically used as a raising agent. This is what helps to create the honeycomb-like appearance. It is free from animal products but make sure to check the particular brand you're using to ensure it's cruelty free.
All you need to do is heat the syrup and sugar together until it reaches the hard crack stage, then quickly whisk in your baking soda. It will become thick and golden in colour, at which point it can be poured into a lined baking tin to set and harden.
Is Cadbury's Crunchie vegan?
The Crunchie bar is probably the most well-known honeycomb treat available to buy, especially in the UK. Sadly, Crunchie is not vegan because it is coated in milk chocolate. According to Cadbury's website, the ingredients in Crunchies are as follows:
Sugar, glucose syrup, cocoa butter, cocoa mass, skimmed milk powder, whey permeate powder (from milk), palm oil, milk fat, emulsifier (E442), flavourings, coconut oil.
As you can see, there is skimmed milk powder, whey powder and milk fat in the chocolate, meaning Crunchies are not vegan. E442, also known as ammonium phosphatide, may also not be vegan, depending on where it was sourced from.
You can easily make your own honeycomb from scratch and cover it with vegan chocolate though. There are tonnes of recipes online if you'd like to have a go at making your own.
Summary
Honeycomb is vegan if we are talking about the golden, crunchy confectionary that is also known as cinder toffee. It is free-from animal products, unless it is coated in chocolate, which may contain milk. Real honeycomb that comes from a bee hive is not vegan-friendly. It is something bees make for themselves, not for humans.
BakedByClo is a participant in the Amazon Services LLC Associates Program, an affiliate advertising program designed to provide a means for sites to earn advertising fees by advertising and linking to Amazon.com. This site may contain some of these links to Amazon.com & other affiliate programs. If you make a purchase through one of those links, BakedByClo will receive a small commission from the purchase at no additional cost to you.